It's slick, incredibly stylish, and amazingly well toned. ESP LTD EC-1000 is an electric guitar for guitarists who know what they want and are not shy to get it. Is this guitar your best choice too? Our ESP LTD EC1000 review will help you decide.
ESP is known to produce high-quality electric guitars with striking designs and tons of unique character. Their beautiful instruments are accompanying rock and metal guitarists on their musical journey for many decades now.
To name just a few of their prolific players, think of the likes of Kirk Hammet, James Hetfield, Tom Araya, Ron Wood, Alex Skolnick, and many more.
LTD is ESP's subsidiary founded in the 1990s and focusing on a mix of semi-professional quality and affordability.
Its EC-1000 is in fact a vague reedition of the famous ESP Eclipse line which provided us with some of the coolest looking (and best-sounding) instruments on the market.
These guitars boast extraordinary rock-ready sound with massive sustain reinforced by the original set-neck design. Understandably, they also come with their price.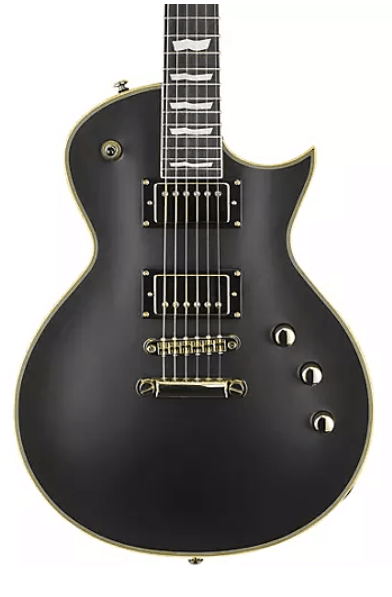 Let's discuss EC-1000's qualities one by one and see if this cool guitar has some weaker points too.
Here's a brief overview of ESP LTD EC-1000's basic parameters and specifications:
Body Type
Set-Neck, Single Cutaway
Body Material
Mahogany
Neck
Mahogany
Frets
24-fret rosewood fingerboard
Pickups
Neck Pickup: EMG 60

Bridge Pickup: EMG 81

(humbuckers)

Warranty
Limited lifetime warranty
Latest price
Click here find the latest price
Core features of ESP LTD EC-1000
ESP LTD EC-1000 is one of those (relatively rare) guitars that have their design and sound perfectly balanced. It sounds just like you would expect it to (or hope for it to) by looking at the instrument, and it looks exactly how you want it to look if you like the way it sounds. Here are its most important features one by one:
Body
ESP LTD EC-1000 has a distinctive Les Paul-style design with a small yet sharp cutaway and set-in neck. Both of these features are not only good looking but they also provide you with great playability – you can access all 24 frets on the 24.75″ rosewood fingerboard fast and easily to engage in some serious shredding.
The mahogany top of this guitar is slightly arched, just enough to provide your hand with gentle support wherever you rest it. This design is derived directly from the ESP's Eclipse guitar, so if you like this older bestseller, you should love the new LTD reedition too.
The guitar weighs approximately 9.5 pounds which is a standard for a full-bodied electric instrument of this size. It feels sturdy, dense, and highly durable. In comparison with some other similar guitars (e.g. Gibson Les Paul), EC-1000 feels a bit slimmer in your hands. This probably also contributes to the great overall playability of this instrument.
A small weak point to consider: The frets on this guitar definitely needed more attention. Their edges feel a bit sharp and uneven, so prepare to do some polishing before you get into some serious riffing.
Sound
If you're after a raw, massive, and uncompromisingly brutal sound, ESP LTD EC-1000 might be just what you need. Although you surely can teach this instrument a trick or two from any musical genre and style of play, there's no doubt about the main purpose of its existence: this guitar was meant to rock, and it uses various features and components to excel in this field.
We've already mentioned the set-in neck – this not-so-typical type of construction is widely known to provide wonderful sustain and increased ease of play. Another important feature that gives this guitar its unique voice is a set of two great EMG humbucker pickups.
These are the pickups many metal players use to replace the original electronics of their other guitars. ESP LTD EC-1000 comes with them right out of the box, which is surely something to admire.
Other features

ESP LTD EC-1000 also comes with a locking TonePros TOM bridge with set screws on each side of the bridge plus a stop tailpiece. This mechanism provides the instrument with a reliable tuning and dependable stability of tones, which is definitely a must if you're planning to take this guitar on a big stage in front of a live audience.
The layout of control knobs on this guitar goes as follows: Volume/Volume/Tone, and Toggle Switch. What this guitar doesn't have is a tremolo, so if you're used to this feature, ESP LTD EC-1000 might not be your guitar of choice.
Reliability
ESP LTD guitars usually boast exceptional durability and this instrument is no different. It's made of solid dense tonewood and all the components feel very firm and reliable too.
The only thing I found a bit worrying is the super-tight jack. I literally had to force my cable in and out of it which made me wonder if this eventually wouldn't lead to some damage on either of the connectors.
Also, I've noticed that the metal parts of this guitar started to fade in color surprisingly quickly. This might be an expectable problem with gold-plated metal components, but I still find it a bit frustrating.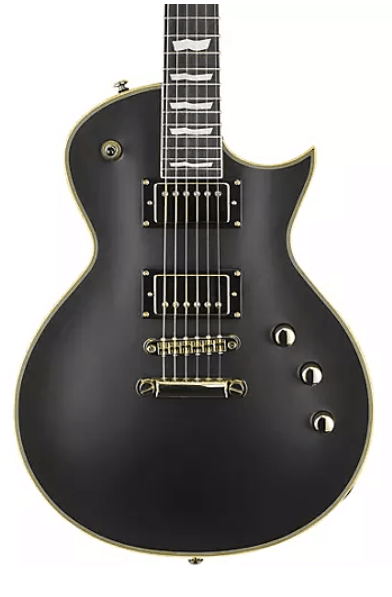 Pros of ESP LTD EC-1000
These are some of the main reasons why you might want to consider the purchase of ESP LTD EC-1000:
Set neck for great sustain
Most of the guitars on the market have traditional (and cheaper, less demanding to make) bolt-on neck design. However, if you crave super-long sustain, you should definitely look for a guitar with a set-neck design. In this regard, ESP LTD EC-1000 has exactly what you're looking for.
Massive metal-ready sound
If you're playing rock, metal, or any other hard and heavy subgenre, ESP is, in general, one of the most recommendable guitar brands for you. This particular guitar will surely amaze you with its full-bodied voice that is just perfect for some frantic shredding.
EMG pickups
California-based EMG produces some of the most popular and sought-after humbucker pickups on the market ever since its establishment back in the 1970s. They are especially good for metal thanks to their unapologetic sound. Many guitarists automatically replace their guitar's pickups for EMGs, so it's a great advantage to get them out-of-the-box.
Stunning design
If you're looking for a guitar that says "I am special" at very first sight, ESP LTD EC-1000 is going to satisfy you. Although in comparison with some of the other iconic ESP guitars (e.g. the legendary ESP Arrow) this model looks quite traditional, the thoughtful details like golden lining and unique abalone inlays always remind you that this is a real stunner.
Stable tuning
Conveniently lockable TonePros tune o'matic bridge is your guarantee of a constantly stable tuning on and off the stage. Performing artists will surely find this feature extremely useful since it allows them to focus fully on their performance and forget about the technicalities of tuning.
Cons of ESP LTD EC-1000
Yes, even ESP LTD EC-1000 has its weaker points. Here are some potential issues you might want to consider before your purchase:
Price is higher
ESP LTD EC-1000 might not be the most expensive guitar on the market, but it's surely out of the economy range. Although this guitar certainly has many strengths and benefits, you'd probably be able to find a similarly good guitar for a lower price if you tried.
Nevertheless, if you're convinced that this is your instrument of choice even though it's out of your budget, you might want to consider getting yourself a second-hand EC-1000. High-quality guitars usually work very well even after several years of service.
Some mediocre details
In most regards, ESP LTD EC-1000 looks, feels, and acts as a premium instrument. Somewhat botched details such as sharp and uneven frets can therefore genuinely surprise you. Fortunately, it takes just a little patience and skills to smooth the frets into a desirable state. Still, I consider this a weak point.
Similarly, I find it a bit disappointing how quickly the metallic finish of the components oxidates, or how much effort it takes to push your cable into the guitar's jack connector. I believe that this instrument deserved a bit more attention to details given how well it is equipped and designed.
No tremolo
Honestly, I don't really miss a tremolo with this guitar, and I am pretty confident that many other EC-1000 players won't either.
Nevertheless, if you are used to this feature and need to have it on every guitar you own, beware that this instrument doesn't come with a factory preinstalled tremolo, and it's also quite problematic to find a separately sold tremolo that would fit it.
Are there any alternatives?
ESP LTD M100FM is another great electric guitar by Electronic Sound Products.
In comparison with the EC-1000 we're discussing today, this instrument is more basic and also more affordable.
Nevertheless, it has great potential especially in the hands of an enthusiastic beginner or intermediate players.
Its body is made of a single basswood piece with a flamed maple top. The guitar feels relatively light and its thoughtful shapes and curves give your hands all the freedom of movement they need.
Just like EC-1000, M100FM also has a locking nut for flawless tuning. It will definitely suit mostly rock and metal players. but its sound is a little less edgy and slightly more versatile.
ESP LTD M100FM Electric Guitar | Amazon
When you're ready to rock, the LTD M-100FM is as well. Despite its low price, the M-100FM offers a flamed maple top over its basswood body, along with an extra thin-U-shaped maple neck for the ultimate in fast shredding on its 24-fret rosewood fingerboard.
Buy at Amazon
We earn a commission if you make a purchase, at no additional cost to you.
Have you focused on ESP LTD EC-1000 mostly because of its predisposition for metal and hard rock sound?
If you're willing to invest a bit more, you should definitely check out the brand new Jackson Pro Series Dinky DK2.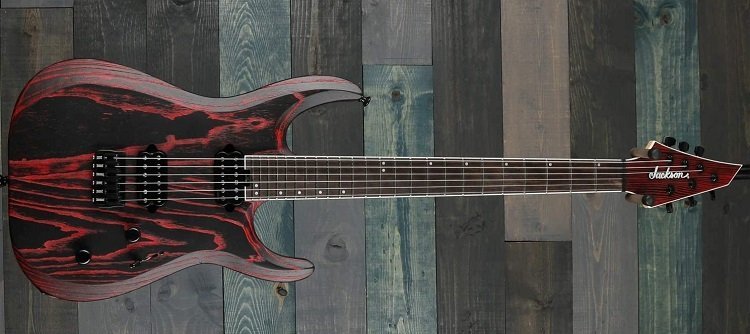 Its hard'n'heavy soul shines through every inch of its strikingly beautiful body.
This beauty was launched at NAMM 2020 and immediately gained a reputation as the newest go-to for metal guitarist.
It sports a great combination of Seymour Duncan JB and Seymour Duncan '59 pickups and curves designed for speed and accuracy.
Moreover, it also has a great tremolo – the double-locking Floyd Rose 1000 Series.
Jackson Pro Series Dinky DK2 | Amazon
Pro Series Dinky DK2, Natural Okoume Electric Guitar Natural" "With premium features and outstanding vibe and performance, JacksonaTMs Pro Series Dinky is a metal machine.
Buy at Amazon
We earn a commission if you make a purchase, at no additional cost to you.
09/29/2023 10:46 pm GMT
FAQs
Question: Is the ESP LTD EC-1000's body smaller than a Gibson LP?
Answer: ESP LTD EC-1000 is often compared to Gibson Les Paul due to many physical similarities of both instruments. In fact, the dimensions of these two electric guitars are almost identical, but the EC-1000 is thinner and therefore also lighter.
Question: What country is ESP LTD EC-1000 manufactured in?
Answer: ESP LTD guitars were traditionally produced in Korea. However, as of 2018, al ESP LOTD EC-1000 are being made in Indonesia.
Question: What kind of strings are recommended for ESP LTD EC-1000?
Answer: Out of the box, ESP LOTD EC-1000 comes with 10-gauges strings (46/36/26/17/13/10), non-trem. If you need to replace them, it's a recommended to choose similar strings by any brand of your choice.
Question: Does ESP LOTD EC-1000 have a bolt-on neck?
Answer: No, ESP LOTD EC-1000 has a set-neck design, which means that instead of being screwed on the body with a set of bolts, the neck is glued in the body through a dovetail elementa. This eliminates the small gap between the neck and the body ands allows the guitar to maintain its tone and provide improved sustain.
Question: Is ESP LTD EC-1000 the best ESP LTD guitar?
Answer: Every player will probably find his or her own favorite, but generallyt speaking, ESP LTD EC-1000 is definitely one of the brand's all-time bestsellers with many strenghts and advantages.
Final thoughts – Should You Get Yourself an ESP LTD EC-1000 Guitar Right Now?
ESP LTD EC-1000 is a beautiful, exceptionally equipped, and great sounding instrument that has a lot to offer not only to beginners and intermediate players but to advanced guitarists too.
It certainly appeals mostly to those who prefer playing heavier genres, allowing them to enjoy the benefits of its great sustain, aggressive sound, and physical predispositions for a super-fast style of play.
If this guitar fits into your budget (it's not the cheapest electric guitar on the market), and you can live without a tremolo (which is not included), you'll probably end up being pretty satisfied with your purchase.
I really like that ESP LTD, although being promoted as the 'more affordable' subsidiary of its parent company, uses top-quality electronics and components on this guitar.
If you consider the market price of its EMG humbuckers or TonePros TOM bridge, this guitar will save you hundreds of potential replacements right out of the box.
On the other hand, I was also slightly disappointed with some of the details like the sharper frets, the fading metal components, and the little-too-tight jack connector. But given all the other qualities of this instrument, I believe these details shouldn't be a dealbreaker.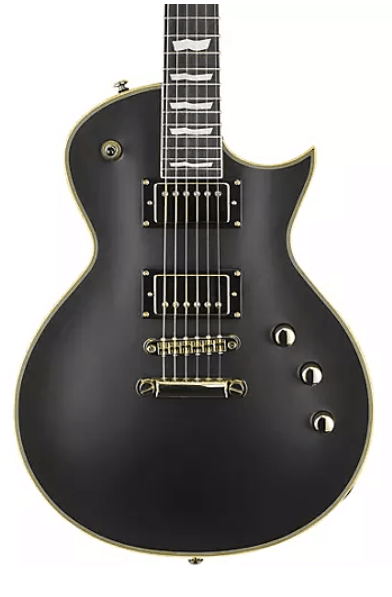 Latest posts by Jodie Chiffey
(see all)