This guide will look at the best guitar strings for Les Paul Epiphone guitars and include my personal recommendations. If you're fortunate enough to be an owner of a Les Paul guitar, then you will know the importance of ensuring every aspect of the instrument is right.
You don't buy a Ferrari and hang some fluffy dice on show, and you don't purchase a Les Paul to affix some nasty strings to.
Les Paul produces some of the most iconic guitars globally that are loved by musicians in just about all genres. For example, the Les Paul Epiphone 1959 is a favorite of Frank Lero (My Chemical Romance) and Noel Gallagher (Oasis); read more about this guitar in our full Epiphone 1959 review.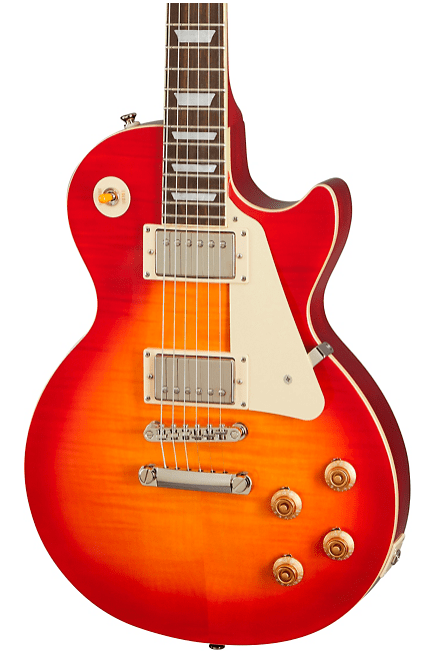 The list of professional, famous musicians who choose Les Paul is vast; its sound is unrivaled and suitable for every type of music, from alternative rock to Britpop. However, amateur and even beginners are gravitating more towards the Les Paul now, and this is partly due to its legacy and its reputation.
Before we look into how to find the best strings for Les Paul, I will outline my recommendations, just below, before discussing why I have made these choices later on in the post.
At a Glance: 6 Best Guitar Strings for Les Paul Epiphone Guitars
My Bottom Line up Front: For me, the top choice is always going to be Ernie Ball 2221 Nickel Regular Slinky Electric Guitar Strings 3 Pack. I have used these strings for decades and although I know they're not perfect, they're as good as! My second choice would be the D'Addario NYXL1046 Light Electric Guitar Strings.
Shopping for the Best Strings for Les Paul Guitars
The Gibson Les Paul is undoubtedly one of the most iconic guitars to have ever been made, and using the best strings for your Les Paul is crucial to ensure it performs to its maximum potential. The longevity and durability of Les Paul guitars are unrivaled. Whether you have chosen a genuine Gibson or a remade Epiphone, my guide will include the ideal strings for you.
However, there are a few things to consider when looking at how to find the right strings for your guitar, and as every musician is different, it mostly comes down to personal preference when selecting your strings.
Interesting Read: Is It Worth Buying Guitar Strings in Bulk?
Below are a couple of general things to think about when looking for your perfect Les Paul strings:
String Gauge
The gauge of strings is basically how thick they are. You will find that the thicker the string on a guitar, the lower the noise produced, with the notes becoming higher as the strings gradually thin. This is due to thicker strings producing more prominent bass frequencies naturally, with lighter strings being more comfortable at higher frequencies.
String gauge is measured using a simple system that refers to the string's diameter by 1/1000th of an inch – the higher the number, the thicker the string. For electric guitars, most players will opt for light strings due to how easy they are to bend, but their brighter sound isn't for everyone.
Let's have a little look at the benefits and downfalls of the various string types:
Thin Strings
Generally, thin strings are recommended for beginner players, and this is for a couple of reasons. Firstly, light strings don't need a lot of finger strength to fret. In addition, thin strings don't hold much tension across the fretboard (compared to thicker strings) and are easier to bend.
Thin strings can be pretty fragile and don't have the same level of durability as heavier gauge strings. This can mean that you'll have to become an expert at changing and replacing your guitar strings and have the available funds to keep purchasing new strings.
Best genres: Country, Pop.
Medium Strings
Medium strings tend to be the best balance for most genres and styles, from metal to rock and jazz to blues. Medium strings have enough thickness to obtain a chunky rhythm while still being able to produce a nice tonal balance.
The downside to medium strings is that they can struggle with defining the sound in one direction, and they aren't as loud as heavier strings or as bright as lighter strings.
Best genres: Good (but not great) with all genres.
Thick Strings
If you are a metal or blues player, you'll likely gravitate towards heavier gauge strings. Tonally, thick strings sound warm and resonant and can be tuned lower yet retain a crisp tone, even at drop C and beyond.
Thick strings are slightly more challenging to pick, but this is nothing a determined player cannot become accustomed to.
Best genres: Blues, Metal, Rock.
String Material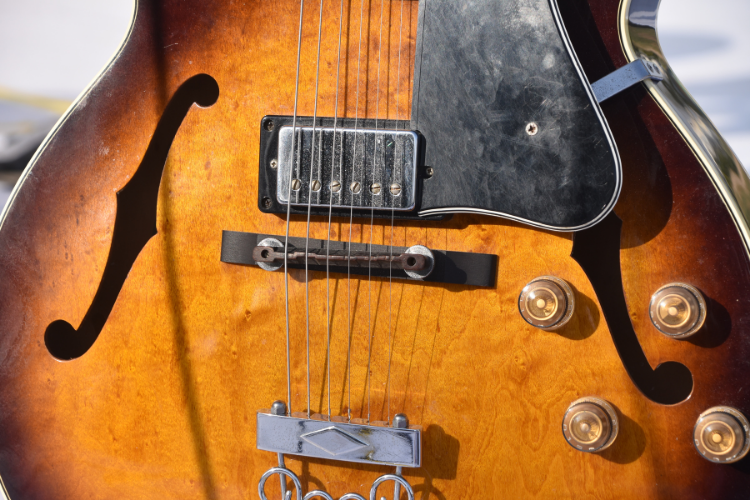 Generally, there are two materials used for electric guitar strings, and each has its own advantage.
Nickel
Nickel is the most common material for guitar strings and is favored by players who want a more classic tone. Nickel strings come in the following variations: pure nickel, nickel-plated, and nickel-wound; pure nickel is more tonally transparent, nickel-wound is the warmest of the variants, while nickel-plated sits somewhere in the middle of the two.
Nickel strings are comfortable to play with, pretty durable, and easy to operate. However, they aren't often thought of as a choice to result in the wow factor.
Steel Strings
Steel strings are a solid choice for modern musical styles that require a bright and punchy sound. Some experienced players can find the tone of steel strings to be excessively brittle, and they can be a fiddly choice.
The durability of steel strings is their main advantage over nickel strings, but their sound may not suit all players.
Selection Criteria
To ensure every reader was able to benefit from this guide, here are the things I looked for:
Availability
There is nothing worse than your last string snapping and being left unable to play until a new pack arrives. To ensure readers didn't experience this, I looked for strings that were available now and had a good history of being in stock. I also looked for strings that had subscription services, repeat order systems, or multipacks available.
Price
To ensure that players with different budgets could find their perfect Les Paul strings, I looked across the price points and found the best options in each bracket.
Reviews
So that this post could remain as unbiased as one person could make it, I wanted to ensure that other players were as impressed with the strings as I was. For this reason, the strings included in this post have received good-to-excellent feedback from verified consumers online. You don't just have to take my word for it!
String Gauge
Again, remaining unbiased, I have included string gauges that I may not personally choose but that I know other players would. This guide contains a selection of strings to suit all preferences.
Best Strings for Les Paul
Ernie Ball 2221 Nickel Regular Slinky Electric Guitar Strings 3 Pack – #1 Top Pick

3 Packs of Strings
Gauges 10-13-17-26-36-46
Made in the USA

Find Here
Dunlop DEN1046 – #1 Top Budget Pick

Gauge range from .010 – .046
Medium Strings
Excellent Price

Find Here
Ernie Ball 2721 Regular Slinky

New Alloy Formation
Gauge Range from .010 – .046
Multipack Options Available

Find Here
GHS R+RL Light Electric Guitar Strings

Gauges 10-13-17-26-36-46
Long Established Brand
Plenty of Buying Options

Find Here
D'Addario NYXL1046 Light Electric Guitar Strings

Exclusive Revolutionary High Carbon Steel Alloy
Bundle Options Available
Excellent Longevity

Find Here
DR Strings Pure Blues Nickel Big N' Heavy Electric Guitar Strings

Vintage Construction Techniques
Pure Nickel Wrap Wire
Value for Money Bundle Options

Find Here
As touched upon in my post about the best-balanced tension strings, I am a massive fan of the Ernie Ball brand. I appreciate that not everyone is, but the Ernie Ball 2221 Nickel Regular Slinky Electric Guitar Strings 3 Pack is certainly worthy of its place in this guide.
I use these strings currently on my Aria714-MK2 -Fullerton- (absolutely not in the Les Paul league, but it suffices). I find the strings easy to bend and pick, and that play is always comfortable and stress-free.
The Ernie Ball 221 produces a balanced tone regardless of the genre, although due to their hex-shaped and nickel-plated steel wire, the sound can be a little too bright for some. As much as I adore these strings, and they are my go-to, I am aware that they aren't the most durable on the market.
The price of these strings and bundle buying options does make them good value for money and means that you'll always have a spare set to hand when the inevitable does happen.
Pros
Signature Slinky Feel
High-Carbon Steel Hex Core
Nickel-Plated Steel
Leading American Brand
Online Best Seller
Multipack
Cons
Fluctuating Prices
Can be Fairly Fragile
The Dunlop DEN1046 is a reliable set of strings suitable for a Les Paul. They're medium gauge and nickel-plated, which results in a consistent tone and makes them a good choice for a range of genres.
Dunlop has been a major brand at the forefront of guitar string production for many years, and its reputation has gone unchallenged.
I found the DEN1046 to be brimming with tonal character, with a full-bodied tone easily achievable. The strings are pretty expressive and respond to even the slightest change in dynamics, which is perfect for players who want to create unique musical nuances that Les Paul is all about.
There is a surprising bite power with the DEN1046's, making them an excellent choice for heavier styles of music. An issue I have found is similar to the Ernie Ball 221 strings is that the Den 1046 are not the most robust out there and can be prone to snapping during more vigorous play.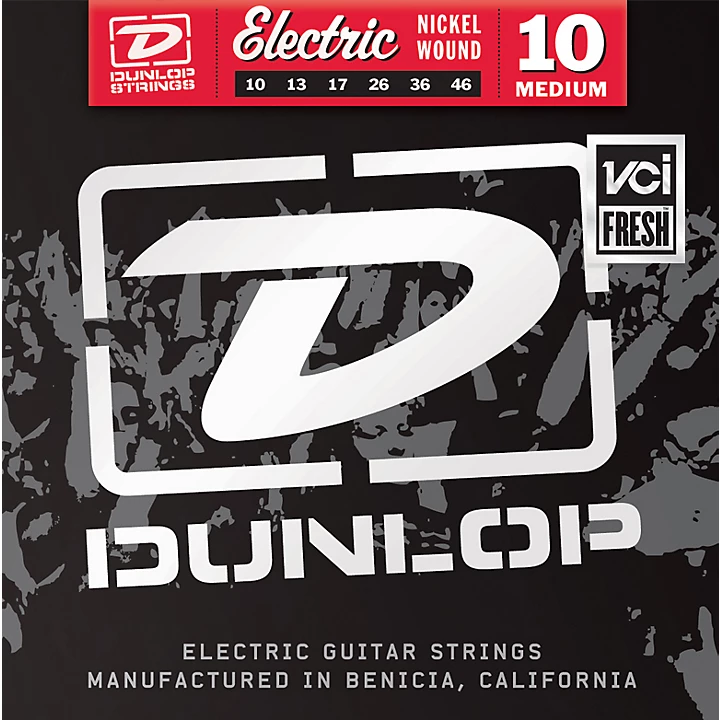 Pros
Excellent Value for Money
Budget-Friendly Bundle Buy Options
Dynamically Responsive
Ideal for Heavier Styles of Music
Cons
Not the Most Robust Strings Out There
The perfect Ernie Ball strings for the Les Paul guitarists must be the Ernie Ball 2721 Regular Slinky; simply legendary. These strings are a favorite amongst guitarists across the genres due to their perfect blend of stability, tension, and smooth playability.
These are next-generation strings constructed via a brand new, innovative alloy formation. This has resulted in a much more refined overall sound, an increased higher output, and ultimately a massive improvement on the longevity of older Ernie Ball strings.
The 2721 strings are made of a specialized blend of colt and iron, which attracts the magnets in Les Paul pickups more effortlessly than regular alloy strings. The playability is absolutely fantastic, and these strings are enough to remind you of the reason you started to play – fun!
When it comes to feel, the Cobalt strings are smooth and slinky, without feeling flimsy or delicate. My issue is that if you're expecting little-to-no transition from traditional EB strings, you're in for a shock, as this upgrade does take time to get used to, for some.
Sonically, the EB Cobalt 2721 strings are sure to evoke the defined, powerful lows of the Les Paul and offer ample sustain, clear highs, sweet harmonics, and a focused midrange.
Pros
Excellent Longevity
Extra Magnetic Alloy
Balanced Tone
Fantastic Playability
Cons
Expensive for Ernie Ball
Totally Different Feel to Regular EB Strings; Can take time to become accustomed
The GHS R+RL Light Electric Guitar Strings are smooth underhand, highly playable, and an excellent choice for a Les Paul.
What piqued my interest with these strings was actually the packaging; rather than the conventional method of wrapping each string in paper, GHS has opted for a process called nitro-packing, where each string is housed in its own nitrogen-sealed packet for a 100% sterile environment. This significantly improves the durability and longevity of the strings.
With a new-string freshness, there's a bright tone with the GHS strings that seem to last much longer than other strings on the market. The strings are light gauge, making them a good choice for melodic, softer guitar playing, but their remarkable strength makes them suitable for rock and metal players too.
I found very little negativity regarding these strings. My only honest criticism is that there doesn't seem to be any multi-buy offers or discounts available (at the time of researching).
Pros
Improved Longevity
Special Nitro-Pack Process
Maintain Good Tone
Excellent for a Range of Styles
Cons
Cost-Effective Multipacks Don't Seem to be Available.
Many people looking for strings will face this question: Ernie Ball Vs. D'Addario; the two leading players for many types of strings. If this sounds like you, then we have previously advised on Ernie Ball Vs. D'Addario strings in a full guide, but if you'd like to know more about the D'Addario NYXL1046 Light Electric Guitar Strings, then stay with me.
To get the negativity out of the way right now, there's no mistaking that the NYXL1046 strings are an expensive choice.
However, the reputation of this brand in the field of the electric guitar is exemplary. Producing a wide and varied selection of strings to cater to all playing the uniques, styles, and tones, D'Addario has a strong, loyal following, and many believe these strings are perfect for a Les Paul guitar.
The NYXL 1046 strings have been uniquely constructed using reformulated nickel plate windings, which – similar to the EB Cobalt strings – results in an increase of magnetic properties, which gives some valuable sonic advantages over other strings.
Les Paul is famous for its crunchy attitude, and paired with these extra magnetic strings will result in even more output from your guitar. Due to the strings being fusion twisted, they're more durable than most and bend much further under pressure without the worry of snapping. The tuning stability is impressive, and I found these strings to score highly in all areas.
Pros
Adds Genuine Crunch to Les Paul Tone (and similar)
Enhanced Mid-Range Presence
Improved Tuning Stability
Very Strong and Robust Strings; possibly unbreakable?
Cons
The DR Strings Pure Blues Nickel Big N' Heavy Electric Guitar Strings are a great choice for Les Paul players who love the ability to mix things up and include a high-energy style of play. With excellent creativity being their greatest advantage, I have found that these strings work well, whether you're simply strumming chords or blazing riffs. They're pretty perfect.
The DR strings are up to the versatility task of Les Paul's play while staying true to the pure blue tones of their original intention. Building upon vintage and old-school construction techniques, these strings burst with classiness and character to perfectly compliment the Les Paul.
Slightly more expensive than most due to their timely construction process, the DR strings are a good investment for those wanting long-lasting strings that one expects to cost a little more.
The strings are encased in a pure-nickel wrap wire, which is highly durable and worth the product's price point (in my opinion). Moreover, there are significant financial savings to be had with the multipack buys.
The most significant benefit of the meticulous design process is the consistent tone, improved sustain, and robustness of the strings. Whatever style you want to play on your Les Paul, you can guarantee that these strings will be up to the job.
Pros
Meticulously Constructed Strings
Excellent Sound
Good for Creative Play and Range of Styles
Cost-Effective Multipack Buys Available
Increased Sustain
Made in the USA
Cons
Won't Achieve a Bright, Brassy Sound (personal preference as to whether a pro or con)
Frequently Asked Questions
Question: What is the Greatest Alternative to a Les Paul?
Answer: The biggest issue with excellent guitars such as the Gibson Les Paul is the price tag – it is simply too much for many musicians, even when pre-owned. However, the Epiphone Les Paul Special is an excellent alternative that is considerably more affordable.
Epiphone's look fantastic, they feel like a Gibson, sound almost like a Gibson, and you can easily convince yourself it is a Gibson.
Read our previous full review on the Epiphone LP Special II to see if you agree with this answer.
Question: How Much of a Difference do Guitar Strings Really Make?
Answer: It can be easy to wonder how much difference strings will actually make when essentially they all do the same thing. However, there are sometimes vast differences in many areas of the strings, from their design and production to manufacturing, right through to packaging – it will all have a bearing on how the strings will perform.
A light, inexpensive set of non-branded strings will allow you to play the guitar. But, strings of higher quality will allow you to truly express yourself through your music, be more durable, have greater longevity, and ultimately be an investment.
Question: What Strings do Les Paul Guitars Come With?
Answer: Gibson Les Paul guitars ship with a standard set of .009-.046 gauge strings. But, this doesn't mean that you have to stick with these strings, or even the same gauge.
Question: How Often Should I Clean My Strings?
Answer: Ideally, you should be cleaning the strings on your Les Paul after every single use. It isn't hard to get into the habit of this and will increase the longevity of your strings. Each time you play, you leave oils, dirt, and debris behind on the strings, which, if not cleaned, will lead to a build-up that will affect the playability.
Find out how to properly clean your guitar strings, and ensure you stick to a routine to optimize the lifespan of your strings.
Best Guitar Strings for Les Paul Epiphone – My Verdict
I make no bones about my appreciation of the Ernie Ball 2221 Nickel Regular Slinky Electric Guitar Strings and feel they will always be featured in my guides about strings. However, I was highly impressed with the upgraded Ernie Ball 2721 Regular Slinky strings and see these as a definite contender for the future.
When it comes to strings for a Les Paul, you have to factor in what it is you want from your guitar playing.
If it's versatility with room for creative expression, then the DR Strings Pure Blues Nickel Big N' Heavy Electric Guitar Strings are a super solid choice. These meticulously constructed strings produce an excellent sound on the Les Paul but won't reach those bright and brassy tones. There are great financial savings to be had with multipacks of the DR strings, too.
There are some valuable sonic advantages with the D'Addario NYXL1046 Light Electric Guitar Strings for the Les Paul, and this pairing results in some pretty amazing music. I like the enhanced mid-range presence and improved tuning stability, but I do appreciate that these aren't the most affordable strings around.
For those wanting a lighter gauge string set, the GHS R+RL Light Electric Guitar Strings are an ideal match for a Les Paul for players who favor softer melodies over metal and rock. My only critique of these – albeit greatly inexpensive strings – is that multibuys don't seem to be an option.
My top budget pick is the highly affordable Dunlop DEN1046 strings. They aren't the most robust strings on the market, but for under $5, you get some pretty remarkable play out of them, and their response to dynamic changes is outstanding.
Latest posts by Jodie Chiffey
(see all)