If you're into metal and hard rock styles, then it is likely you will have heard about Jackson guitars.
In this post, I will outline my chosen best Jackson Dinky guitars to help you to learn about the different choices you have today when it comes to finding the right JD guitar for you.
Jackson guitars are hugely popular and loved by musicians the world over. From Megadeth to Randy Rhoads, those who want to achieve high-flying solos or develop crushing riffs can't go wrong with a guitar by Jackson.
My Jackson Dinky guitar guide features five of the best around to suit every style and budget. If you want to know my thoughts right now, then they're just below.
Bottom Line Up Front: If you're looking for highly affordable, then the Jackson Dinky JS11 has an unbelievable price point for a top-rated beginner's guitar and is available in a range of colors. Those looking for something more advanced would be hard pushed to find better than the Jackson JS34Q Dinky Electric Guitar, offering outstanding value for money; this is an absolute steal!
At a Glance: 5 Best Jackson Dinky Guitars
Editor's Pick: Best Jackson Dinky
About Jackson Guitars
Jackson Guitars was founded by Grover Jackson in 1980. Grover obtained part ownership of a guitar manufacturing and repair business in California during the late 1970s. However, the brand wasn't born until Grover was approached by a local guitarist (Randy Rhoades) about designing and building him a signature guitar.
The result was a unique take on the Gibson Flying V, named the Concorde.
Jackson continued to create innovative guitar builds throughout the 1980s that became prized by the hard rock shredders of the time. From the sleek body design to the pointy headstock, Jackson guitars were crafted to stand out in a crowd. These guitars still blow people away today, and when it comes to Dinky's, there's a lot of choice.
Why Should I Choose a Jackson Dinky Guitar?
Jackson Dinky is way up there when looking for the best electric guitar for metal. With smaller, lighter bodies, Jackson Dinkys are made for speed and maneuverability and are exceptionally easy to wield and play, enhancing shredding capabilities.
There are many reasons why it makes sense to consider a Jackson Dinky, but the main benefits are as follows.
Jackson Dinky for Shredding
If you perform an internet search for the best electric guitars for shredding, you're going to see – over and over again – lots of Jackson guitars returned. This is because they're among the best – if not the best – guitars for shredding.
Smaller and lighter than most, Jackson Dinky are high-performance guitars that replicate the Super Strat; without copying the high price point. Everything about these guitars is geared for speed.
Smaller Body; Makes it Very Ergonomic
One of the greatest qualities of Jackson Dinkys has to be their smaller bodies, which make for excellent playability. If you want to perform all night long, the instrument must be comfortable to hold and play – you don't get more ergonomic than a Jackson Dinky.
Various Options for Beginners and More Advanced Players
Over the brand's 40-year history, there have been some incredible builds. In 2022 we have a wealth of Jackson guitar models to consider, including; Shadowcaster, Star, Kelly, Kelly Bird, Dominion, Fury, Concern Bass, Demmelition Fury, Spectra Bass, Warrior, PC 1, Monarkh, MF 1, Rhoads, Soloist, San Dimas, and, of course, the Dinky.
Now, each of these models offers something unique to the player. Whether you're an electric guitar beginner and it is ease-of-play you need, or you're more advanced and require an incredible platform for musical expression, there's pretty much guaranteed to be a Jackson guitar to suit.
Jackson Guitars Affordability
Unless you're looking for a special edition Jackson guitar, you will find these electrics to be within the affordable range; some just a couple of hundred dollars.
While this may lead you to think that there must be something lacking in the construction or craftsmanship, I don't believe this to be the case – at all.
Jackson guitars are an excellent choice for beginners due to their price points. The brand is aware that today's market is primarily younger rockers and metalheads, so they have built their guitars to appeal to this audience.
While they may be reasonably inexpensive electrics, Jacksons can be upgraded relatively simply, meaning a player isn't restricted as their play advances.
My Selection Criteria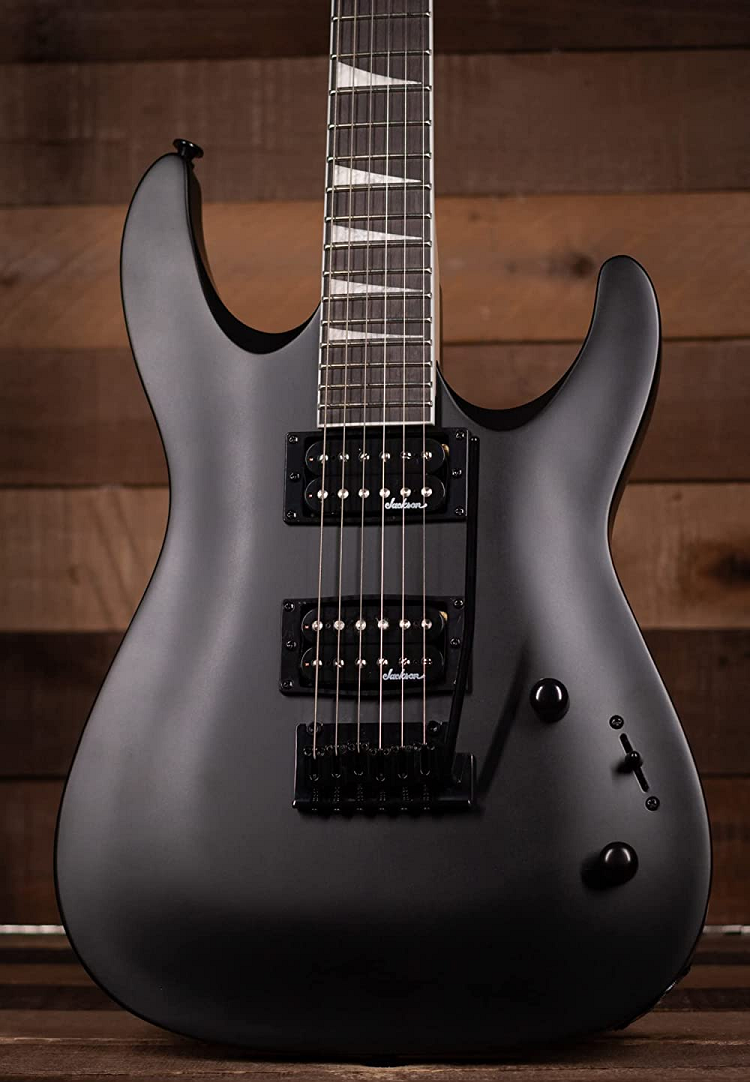 While I will admit I found it challenging to stick to a condensed list of favorites, my product criteria was pretty strict. Here are some of the things I took into consideration to find my five best Jackson Dinky guitars.
Availability
How irritating is it to read up on a product, decide it's perfect for you to then find it isn't in stock? I can assure you that every Dinky featured I was able to get hold of at the time of writing this piece. None were discontinued, out of stock, or with long shipping waits.
Design
Jackson Dinky designs vary, so to ensure I catered to every reader's taste, I tried to avoid featuring very similar guitars. This way, you have a greater choice and can see just how different these guitars can be.
Are Jackson Guitars Good Quality?
The brand is known for its high quality, so this comes as standard with all the Dinkys you will find here.
Consumer Feedback
I wanted to ensure that other consumers were pleased with their purchase of a Jackson Dinky. While you're never going to get 100% positive (especially online!), the guitars here have many more good reviews than they do bad.
Jackson Dinky Prices
As touched upon, Jackson Dinky Guitars are within the affordable range, but there are some that I would consider to be touching the higher end.
I have featured guitars across the price points to ensure readers with every budget can find a suitable guitar in my guide.
My 5 Best Jackson Dinky Guitars
The first thing I need to discuss about the Jackson JS34Q Dinky Electric Guitar is the stunning finish; just awesome. I am reviewing the transparent red finish, which looks much lighter online than in real life, where the red is a lot deeper and the black swirls more apparent.
There is a transparent purple option, which I haven't seen in real life, but I believe the color again to be darker than online.
Looking in more detail at the JS34Q, I am a little disappointed to see that the Floyd Rose Bridge is not licensed; however, I found no issues with this, and it may as well be official for the quality.
As soon as the guitar is strung up, it holds tune exceptionally well. Some players have opted to replace the humbucker and found it to make no difference; the fitted one is just awesome and sounds great. I love the maple neck; it is comfortable to slide up and down and looks great with the white trim finish.
I have found some mixed reviews about the JS34Q, with some stating it to feel toy-like. While it is lightweight (which is a major advantage to some, including me), I found the quality to be good-to-excellent across the board. While it may feel very light, it sounds and plays amazingly. The clean tones and distortion are on a par with a much more expensive guitar.
If you're looking for a compatible amp, I would suggest considering a combo amp for metal; however, if you stick with a name like Marshall, you're not going to go far wrong.
I found the tuners slightly fiddly and have heard some bad things about them from other players. While not a deal-breaker, 2-3 seem to have a lot of play, yet this doesn't matter too much once locked.
The Jackson JS34Q Dinky Electric Guitar is magnificent, and for the price point, you get a whole lot of guitar for not a lot of money.
Editor's Pick: Best Jackson Dinky
Pros
Stunning Finish
Great Fun to Play
Smooth, Sleek Neck
Solid Electronics
Good Pick up
Outstanding Value for Money
Cons
Prop65 Warning for CA Residents
Mixed Reviews Regarding Feel
2-3 Tuners Little Fiddly Initially
Swift, deadly, and affordable, the Jackson Dinky JS11 Electric Guitar has made it easier than ever to get the classic Jackson tone, playability, and image without having to part with much money. This Jackson is one of the best values in modern shred-style instruments, and the more I got to know the JS11, the more I couldn't believe the price point.
The JS11 features a gloss-finished solid poplar body and a bolt-on maple speed neck. The neck has been reinforced with graphite which results in rock-solid stability. The flat 12-in radius Amaranth fingerboard handles bends effortlessly allows for simple chording, and feels great for rhythm playing.
Other features include all-black hardware, die-cast tuners, and 22 jumbo frets.
There are several high-gloss finishes to consider, including Metallic Blue, Metallic Red, Black, and Snow White. I was very impressed with the careful packaging of this guitar and the fact you can use it straight from the box with minimal tuning setup needed.
Finding the best electric guitar is no easy task. Still, if you want an excellent instrument that costs little more than a meal out (these days), then I wholeheartedly recommend the Jackson Dinky JS11 Electric Guitar.
Pros
Remarkable Value for Money
Lots of Stunning Color Options
Use Straight out of the Box
Rock Solid Construction
Lightweight
Cons
Electronic Components are Basic
Prop65 Warning for CA Residents
To start with drawbacks, the Jackson Dinky JS22 DKA Arch Top Natural Electric Guitar is not exactly versatile – in my opinion. If you're into heavier genres like metal and hard rock, then the JS22 may be your jam; if you're not, then this guitar isn't going to wow you.
Those with great experience may find it a little lacking, and if you are able to spend a little more, there will be a more impressive guitar out there. But, Jackson is renowned for its affordability, and when it comes to the JS22, you don't get much more guitar for your buck.
However, don't write off the Jackson Dinky JS22 because it's actually a pretty incredible guitar; the build is good, the hardware is reliable, the sound is pretty phenomenal, and there's excellent shredability due to the smooth, fast neck, huge cutaway, and 24 frets.
I have previously recommended this guitar in my best guitars for Rocksmith (check that out if this is something you're interested in). Overall, if I was given this budget and told to find a fantastic guitar for metal, the JS22 is one I would strongly consider.
Find out, in great depth, what some of the other guys at Guitar Space thought of the guitar in our full Jackson Dinky JS22 review.
Pros
Nice Quality Finish; Rosewood and Maple
Easy Playability
Produces Amazing Sound
Lightweight
Good Tuning Stability
Budget-Friendly
Cons
Not Versatile Across Genres
Some of the craftsmanship tells of the cheaper build

The solid coloring options of the Jackson Dinky JS32 DKA Arch Top Electric Guitar are my favorite so far; they look insanely slick and stylish. However, one thing that bugs me is the price fluctuations between the finishes – up to $30 in some cases. I don't fully understand why, yet the options are pretty special – I especially like the Neon Orange model.
The body of the JS32 is basswood, which is used in around 80% of affordable guitars. Reason why? It's cheap, yet it works extremely well. I found it to have an interesting effect on the lower tones of the JS32. While not as impressive as a mahogany build, it is enjoyable and really brings something to the table with this guitar.
The maple wood neck is reinforced with graphite, providing extra longevity. The neck is bolt-on but done so expertly you can barely tell. I found the neck to be super smooth, allowing for speedy shedding.
Fundamentally, this is a nice-looking and good-quality guitar that offers good value for money – color depending. I found it to be highly beginner-friendly and perfect for rock or metal genres.
Jackson JS Series Dinky Arch Top JS32 DKA | Amazon
Melding classic style with modern materials and construction, the Jackson X Series DKA-R EX Extreme Dinky is another assertive step forward in the world of high-tech guitars that exceeds the demands of today's most discerning players.
Buy at Amazon
Buy at Sweetwater
We earn a commission if you make a purchase, at no additional cost to you.
12/04/2023 01:31 am GMT
Pros
Good Value for Money
Excellent Longevity
Durable Build
Stylish Appearance
Reinforced Neck
Cons
Price Changes Color Depending
Some Issues with Tuning Stability
Like the other guitars I have featured, the Jackson X Series DKA-EX Dinky Electric Guitar gives you a Strat-style body shape with dual humbuckers and comes in at an affordable price. The DKA-EX has an extreme archtop and body contours, including a handshake heel which provides optimum comfort when playing.
Again, the maple neck has graphite reinforcement offering a good-to-excellent level of durability, and the neck is ridiculously sublime to play up and down.
Clarity is retained, yet there are aggressive, biting tones due to the Fishman Fluence Modern humbucking pickups. There is a Jackson-branded Floyd Rose double-locking tremolo system – optimizing the metal genre.
I have played guitars that are more than triple the price point on the DKA-EX and have not been half as impressed – this is an excellent blend of quality and affordability that is hard to get right.
I found the guitar easy to play, that it offers a great sound and the Fishman pickups make it that little bit more special than the other Jacksons featured in this guide.
Pros
Perfect Blend of Quality and Affordability
Excellent Playability
Fishman Fluence Pickups
Optimum Comfort
Perfect for Metal
Cons
Some consumers had issues with initial tuning.
The Best Alternatives to Jackson Dinky Guitars
Not fully convinced this is the right choice for you? Here are a few comparable guitars to consider:
The Squier Affinity Series Stratocaster is an ideal option for those who need an affordable, budget-option guitar that won't let them down. All guitars in the Squier Affinity Range would also suit a beginner player due to their lower price and ease of play.
The guitars feature high-quality Alder bodies (also used on high-end Fender guitars) and comfortable 'C' necks. There is solid, chrome hardware, single-coil strat pickups, and a 5-way pickup selector.
There are lots of different colors and finishes to choose from. If you like the look of a Fender Stratocaster but have the budget for a Jackson Dinky, then the Squier Affinity Series is one to look at further.
Pros
Solid Electronics
Passable Pickups
Straight, Smooth Neck
Level Frets
Very Similar to High-end Fender Guitars
Affordable
Cons
Very few; however, some players do mention a fragile paintwork finish prone to scratches.
Comparable to Jackson Dinky in regards to price, those looking for smaller guitars may want to consider the Epiphone SG Special – this is one of Epiphones' most popular models and ideal for players with smaller hands.
The Epiphone SG Special is an entry-level electric guitar, so it has to be expected that the materials aren't reminiscent of higher-value instruments. However, they're not bad. All of the hardware is chromed, which offers a good level of longevity and a nice cosmetic contrast between the body's darker color.
Because this is such an affordable electric, it is a surprise to see the solid alder body, which produces a high-quality tone usually found in top-end guitars. I love the slim-taper 'D' neck and found it to be super easy to shred.
Pros
Good for Shredding
Fun to Play
Hugely Affordable
Good Feel
Cons
Tuning Stability Fairly Poor
The Rogue RR100 is the brand's take on a classic design. Its price is astonishingly low, yet I found many impressive things about this very budget electric guitar. Firstly, it is great fun to play and incredibly easy, making it certainly one to consider for a first electric.
There are many color options, more than with most, so you're sure to find one appealing. Most consumers are more than happy with their purchase and state the price point to be surprisingly low for the quality of guitar you get.
I liked the sound and versatility of the Rogue RR100 but did find a few issues with tuning stability.
Rogue Rocketeer Electric Guitar | Amazon
The Rocketeer RR100 electric guitar is Rogue's take on a classic design, built for ease of playability. It is constructed with a lightweight contoured double-cutaway paulownia body.
Buy at Amazon
We earn a commission if you make a purchase, at no additional cost to you.
12/04/2023 01:31 pm GMT
Pros
Remarkable Value for Money
Lots of Color Choices
Fun to Play
Cons
Tuning Stability Isn't Great.
Frequently Asked Questions
Question: What Warranty is on Offer with Jackson Guitars?
Answer: For guitars purchased after January 1, 2000, there is a limited lifetime warranty against any defects. The brand is noted for its after-sales support and is readily contactable to discuss any issues via its website. This is also where you should register your Jackson to be eligible to use their warranty.
Question: What are the Best Strings to Use on a Jackson Dinky?
Question: What Accessories Come with Jackson Guitars?
Answer: While no accessories are included with any of the Jacksons featured here, there are recommended add-ons and bundle buys. These include cases, straps, picks, and pick holders. All are available at Guitar Center!
Rounding up – My Best Jackson Dinky Guitar
While I'd be happy to play any of the Jackson Dinky guitars I have reviewed, there are a couple that shine more than the rest – in my opinion. The Fishman pickups are a huge advantage of the Jackson X Series DKA-EX Dinky Electric Guitar, and this is incredibly fun to play. However, it is over budget for those looking for a small financial outlay.
With such a solid construction, the Jackson Dinky JS11 Electric Guitar is one of the best value guitars I have found. If value for money is your priority, then this is definitely worth exploring further. I love the various color options but appreciate that the electronics may be a little basic for a more experienced player.
My top pick is the Jackson JS34Q Dinky Electric Guitar, and for me, this has very few drawbacks. The JS34Q is great fun to play, features solid electronics, and offers outstanding value for money.
Editor's Pick: Best Jackson Dinky
Latest posts by Jodie Chiffey
(see all)