With over 12,000 positive reviews and a huge online fan base, I had to check out this brand and its wares. In my Stringjoy Guitar Strings review, you'll find out everything I have learned about the brand, its strings, and which my favorites are.
Starting with just $500 in his pocket, the man behind the brand started the Stringjoy company with next-to-nothing. Yet, his passion and expert eye for detail have placed Stringjoy among today's leading guitar string brands.
I've written a pretty lengthy piece about Stringjoy guitar strings, including reviews of my favorite and a buyers guide. However, if you simply want to know my findings now, they're just below.
At a Glance: Best Stringjoy Guitar Strings
My Bottom Line up Front: I was most impressed with the Stringjoy Signature 8-String and found these to meet my needs the best. If you're looking for something a little cheaper, the 9.5-46 Stringjoy Balanced Super Light offers excellent value for money.
A Brief Guide to Buying Stringjoy Strings
Knowing how to choose the right guitar strings can be tricky. But really, it comes down to personal preference and the sound you want to get from your guitar as to what the perfect strings for you are.
Stringjoy has an extensive catalog of strings, so whatever your style, there's bound to be a set of Stringjoys to suit.
When looking to buy Stringjoy strings, here are a couple of pointers.
Retailers
Stringjoy strings are pretty tricky to get hold of internationally and from my usual nationwide joints! You're often best with this brand buying directly from them, especially if you want to set up a subscription service to ensure you never run out.
The strings are available elsewhere, sadly not my favorite store Guitar Center, but you can certainly get them from Amazon. The benefit to Amazon over the brands' website is that if you're a Prime user, you'll get your strings the next day. However, the cost is slightly higher than when buying direct.
String Gauges
Once you know the most convenient retailer for your Stringjoy strings, the next step is choosing the correct gauge of string. Gauges are the thickness of the string and measured in thousandths of an inch. For example, a 9.5-in gauge means .009.5 inches thick. A typical 42-in gauge is .042 of an inch.
Generally, the thinner the gauge, the easier it is to bend and play. But, there are some drawbacks too, such as them being more prone to snapping and not having as much sustain or volume. I have also found them to be more inclined to fret buzz.
Thicker gauges can be more challenging to play and less comfortable as they require a lot more finger pressure to bend and fret. However, the advantages are that they are more robust and tend to snap much less frequently, and they produce a better tone with more sustain.
Thinner strings tend to have more of a tinny, high-pitched, and brassy sound compared to thicker strings, which produce a deeper and richer sound.
String Material
As mentioned, the Stringjoy catalog is extensive. You will find all the popular and some of the less popular but equally great string materials. Nickel wound strings tend to be a popular choice, as they're perfect for creating the sharp, bright sound you want from an electric.
However, pure nickel strings have a fuller, warmer sound that some guitarists prefer. Stringjoy also has a natural string range, including bronze phosphor strings; I found these to have a stunning, earthy, and woody sound that is ideal for acoustics.
Selection Criteria
When I was researching Stringjoy guitar strings for this article, here are some of the things I was looking for:
Good Reviews
I wanted to recommend strings to you guys that other consumers have had a good experience with. This way, you have more than my opinion to go on – and as we know in the music world, one musician's favorite is another's last choice!
So, I thought it mattered a lot that I had some backing from fellow, unbiased players.
Availability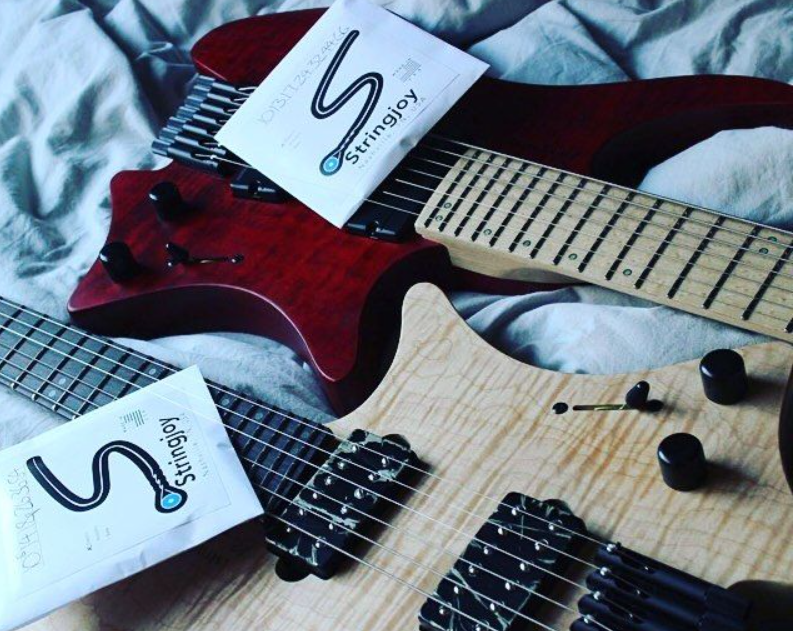 I thought it important that the strings I reviewed were available for you to buy today. So often, it is the case that you'll read a review guide to find the product out of stock or even discontinued. You have my word that every string set reviewed was available to buy at the time of writing.
Gauge Selection
For fairness, I included a selection of gauges so that every musician could find a suitable set of strings from Stringjoy in this guide.
Quality
I believe all of the Stringjoy strings that I have studied to be of very good quality. It is to be expected that lower gauges are more sensitive, but this will be across the board with all brands. In my opinion, all the strings featured here tick the quality box.
Affordability
You will find Stringjoy strings of varying prices in this piece to ensure that whatever your budget, there will be a product suitable here.
Guitar Type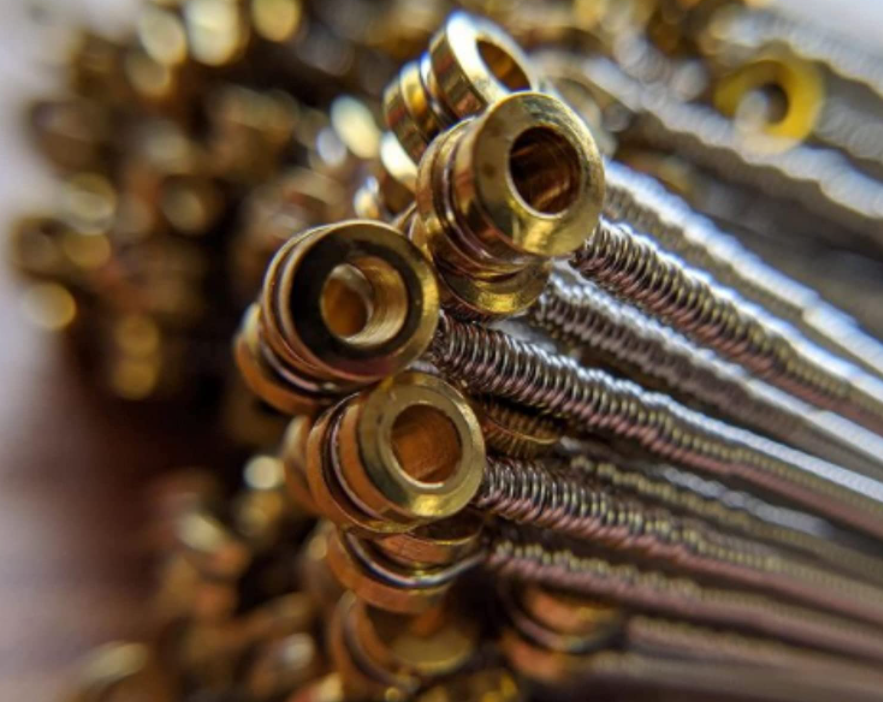 Most of the strings here are for electric guitars; however, I have included a couple that are designed for acoustic guitars. This way, nobody is left out, and players of both types of guitars can find a suitable set of Stringjoy guitar strings.
String Material
I have included a range of string materials, including nickel wound, pure nickel, and bronze, so that players with all preferences can learn more about their favorite material by Stringjoy.
Best Stringjoy Guitar Strings
Stringjoy Signature 8-String Heavy Nickel Wound Guitar Strings – #1 Top Pick

11/90 Gauge
Heavy Bottom Medium
8 String Set

Find Here
Stringjoy Balanced Super Light – #1 Top Budget Pick

9.5/46 Gauge
Balanced Tension
6 String Set

Find Here
Stringjoy Naturals | Medium Gauge Phosphor Bronze Acoustic Guitar String

13/56 Gauge
Corrosion Resistant
Rose Gold Color

Find Here
Stringjoy Broadways | Classic Light Gauge (10-46) Pure Nickel Electric Guitar Strings

10/46 Gauge
Pure Nickel Strings
6 String Set

Find Here
Stringjoy Signatures | Balanced Light Plus Gauge (10.5-50) Nickel Wound Electric Guitar Strings

10.5/50 Gauge
Excellent All Rounder Strings
Nickel Wound

Find Here
#1 Stringjoy Signature 8-String Heavy Nickel Wound Guitar Strings – #1 Top Pick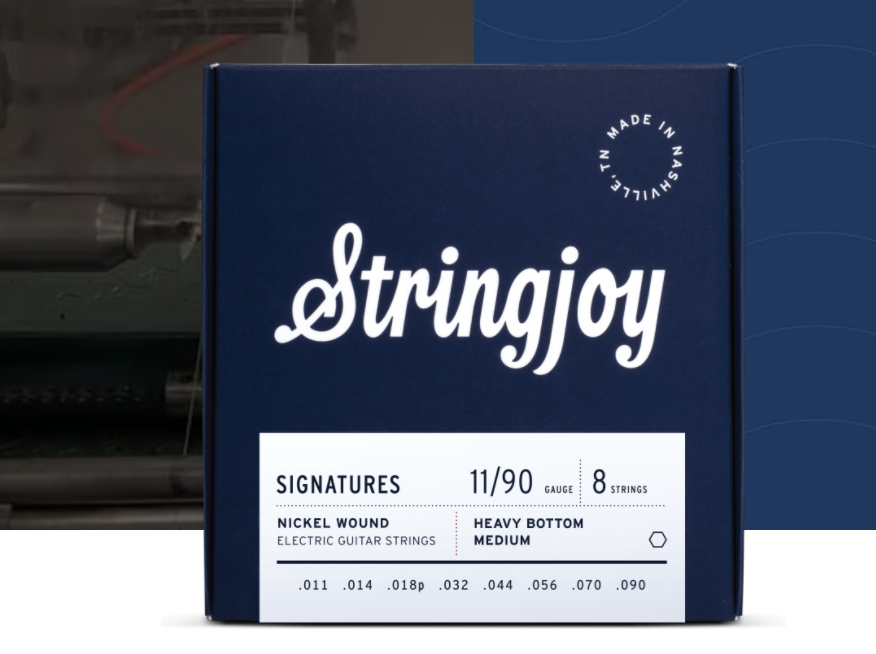 I make no secret of the fact that I am a huge Ernie Ball fan on this site. However, what may come as a surprise is that I found the Stringjoy Signature 8-String Heavy Nickel Wound Guitar Strings to be on a par; possibly even slightly more impressive. The major advantage these strings have over my usual EB choice is their incredible durability.
Even after pretty vigorous play and extended play, I found that these strings were still box fresh and eager for more! There was no looseness and certainly no snapping, which, as any EB fan knows, is a huge issue.
The strings are highly robust, which may be down to their stringent quality control process that arises before dispatch. Three separate people inspect these strings before they're sent out, which is an unheard-of process for mass-produced strings, but in my opinion, something that is certainly going to pay off for the brand.
Tuning was no issue, and not only did these strings tune easily, but they also remained in tune. I found the sound to be superior to many other strings I have tried; it is loud, powerful, and even. They're really comfortable with strumming due to their hexagonal shape, and I could find little fault with these strings. One drawback is that they're a little more expensive than most.
Pros
Excellent Sound
Comfortable Feel
Easy to Tune
Remain in Tune Well
Cons
#2 9.5-46 Stringjoy Balanced Super Light – #1 Top Budget Pick
Word on the street is that the 9.5-46 Stringjoy Balanced Super Light are the best for the Gibson Les Paul, and have always used light strings for my (knock-off, replica) Les Paul, I was keen to put these to the test! Firstly, the playability and feel are great; this is something that many other players agree on.
I found that the tuning was stable and that you could go back to the guitar multiple times after different time periods to find that you're able to pick up where you left off. I would rate the 9.5-46 as the perfect string set for those looking to record music due to their convenience, durability, and outstanding sound.
Consumer reviews for these strings are remarkable – rarely do you find any product rated as highly as these strings are, and the negative feedback is minimal. Players cite them as 'the best strings they've ever found' and their' favorite strings of all time.'
Another great thing about these strings is their superb value for money, at less than $14 on Amazon, with free prime delivery available.
Pros
Exceptional Positive Online Feedback
Great Value for Money
Outstanding Tuning Stability
Comfortable
Fun to Play
Ideal for Les Paul (and similar!)
Cons
A few reviews mention excessive packaging
A couple of comments about receiving a dead string
#3 Stringjoy Naturals | Medium Gauge Phosphor Bronze Acoustic Guitar String
I was in awe of the warm, mellow sound produced with the Stringjoy Naturals. They're expertly made, with great attention to detail, and this really shows from the moment you open the pack. Everything has been so carefully planned and designed that initial observations are of a superb product worth well more than its price point.
Sadly, I did find the strings to be perhaps a tad uninspired across the highs and lows, but thankfully the mids were extraordinarily bright and clear. Heavy strummers may want to look elsewhere, but these strings would be a good choice for fingerstyle players.
The strings have incredible durability and feel super strong even after extended play. I love the material choice and know this should lead to a fantastic lifespan, but having the subscription service is still helpful for backups.
Pros
Beautiful, Natural, Warm Sound
Excellent Longevity
Bright and Clear Mids
Perfect for Fingerstyle Players
Cons
I have played with better strings for highs and lows, which is a little disappointing.
#4 Stringjoy Broadways | Classic Light Gauge Pure Nickel Electric Guitar Strings
Pure nickel strings aren't for every musician, but if they're your jam, then you may be impressed with the Stringjoy Broadways | Classic Light Gauge Pure Nickel Electric Guitar Strings. The reviews for these strings are simply incredible, and it seems everyone who has tried them has decided there's no going back to their originals.
I found them extremely comfortable to play with and very kind to the fingertips. They tune well and have the tuning stability one has come to expect from this brand. The sound is phenomenal. It is full, warm, with clear definition and plenty of volume – and it certainly fills a room well.
I personally love the woody, authentic characteristics and feel these would be the perfect strings for those who play folk, blues, or jazz. The strings are rose gold in color and look stunning against a sunburst acoustic such as my Yamaha FG700S Acoustic Folk Guitar (see our best 7 Yamaha acoustic guitars to find out more about the FG700s).
Pros
Perfect for Folk, Blues or Jazz
Woody, Authentic Sound
Stunning Rose Gold Color
Pure Nickel
Supreme Comfort
Cons
They don't feel as robust as other strings by the brand.
#5 Stringjoy Signatures | Balanced Light Plus Gauge Nickel Wound Electric Guitar Strings
If you go on to purchase the Stringjoy Signatures | Balanced Light Plus Gauge Nickel Wound Electric Guitar Strings, then you'll note immediately that there's a heavy low E string, which is surely destined to be used for drop tunings.
Even when fresh out of the box, the strings hold tuning well, and the tone is immediately consistent.
Many players have opted for the 10.5-50 for pop-punk, rock, and metal, and I have read many consumers state the same guitar is ideal for them – this is the Telecaster. Other players suggest them to be the perfect strings for a Les Paul. However, I found them to work well with a range of guitars and really bring them to life.
I did find some criticism with these strings. I noted a couple of comments regarding breakages and that there is delayed shipping outside of the US when ordering direct from the brand's website.
Further reading: Find the best strings for a Telecaster guitar here.
Pros
Super Stable Tuning
Consistent Tone
Ideal for Punk, Rock, and Metal
Cons
Delayed Shipping outside of US
Some Mentions of Breakages
Frequently Asked Questions
Question: How Long Do Stringjoy Guitar Strings Last?
Answer: I believe Stringjoy guitar strings to have one of the best lifespans out there at the moment, and this is something I regularly found during my research for this piece – people cannot believe their longevity! Generally, you may expect around 3-months out of a set of strings, but I would state – with confidence – that this will be more so with this brand.
You can do certain things to increase the length of the strings, such as regular cleaning and safe storage. Find out how to properly clean your strings to give them the greatest lifespan.
Question: Will I be Tied into the Websites Subscription Service?
Answer: Absolutely not. You can cancel your subscription service at any time or amend it once you have learned what your ideal repeat delivery is. Learn more here.
Question: What Kind of Warranty is There With Stringjoy?
Answer: This is where I believe the brand really shines; their customer service is second-to-none, which shows with their warranty. There is a 90-day return policy; providing the packet is unopened, they'll send you a single string when/if needed or in with your next order.
If you have any problems, there are so many ways you can contact the guys at Stringjoy, including face-to-face, email, social media, or phone. I have found them to be really responsive and super helpful – even if you just have a question, they're happy to help.
Stringjoy Guitar Strings – My Verdict
I am honestly super impressed with this all-American company and love everything about what they stand for – good quality, all-American craftsmanship, and materials, superb customer service, and there's value for money too.
I was most impressed with the Stringjoy Signature, as these are the closest to my current strings and most suited to my needs. However, the Stringjoy Broadways are a strong contender.
If value for money is essential, then you would get this in abundance with both the 9.5-46 Stringjoy Balanced Super Light and the Stringjoy Signatures.
Latest posts by Jodie Chiffey
(see all)