Are you looking to acquire a hollow body guitar kit but don't know where to start? Well, whether you're a beginner or you just need a refresher, we've got your back. In this article, we'll delve deep and uncover some of the best hollow body guitar kits that are out on the market at the moment, and let you in on what we think is the best and why.
We'll look at premium and cost-effective brands, and discuss the specs, pros, and cons of each, and finally our verdict as to which one you may want to consider By the end of this article, you'll hopefully have a better idea as to which hollow body guitar kit is right for you.
Let's start out with an overview of these 5 beautifully crafted hollow body guitars.
5 Best Hollow Body Guitar Kits – an Overview
What are The Main Advantages of Hollow Body Guitar Kits?
Hollow body guitar kits are a sub-genre on its own. They are completely empty on their insides and produce a sound of its own. The guitars held much hype around the 1930s, but only a few manufacturers remain. It has a unique neck pickup that provides big fruity tones.
They blend acoustic and electric tones with boomiest low ends. Consequently, hollow body guitar kits have gained wide recognition among jazz musicians. And, it is often known as a jazz box guitar. Legendary bands such as The Beatles had famously utilized the Epiphone Casino in their music. It has also been used by Pat Metheny, Joe Perry, and John McLaughlin.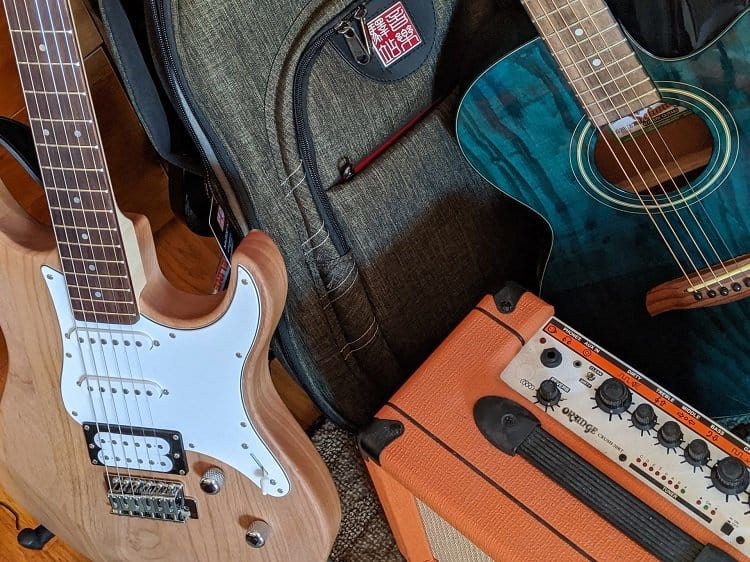 On the other hand, why should you use a hollow body guitar? Here are just a few reasons why you might want to consider testing them out:
Big, Warm Sound
The sounds a hollow body produces is loud and present. It provides round, warm tones which you can expect from classic guitars tones. However, they are more springy in their sound.
It can cut through treble while still being clear, which is why jazz guitarists prefer it over solid body guitars. It essentially adds tonal complexity to enrich music and songs beyond traditionally possible.
Ease of use
Given its structural components, hollow-body guitars are relatively easy to use and maintain. They are a plug-and-play kind of instrument that only requires basic upkeep. It can be plugged into both effect pedals and amplifiers or played acoustically.
Travel-friendly
With typical models being just under 9-10 pounds, the guitars are fairly easy to hold and travel with. Although finding specialized cases may be difficult since they have fallen out of mainstream popularity, you can still find cases that fit.
Originality
The unique tonal qualities of a hollow guitar are no easy feat to accomplish. It tests your skills of creating tonal harmony and displays your expertise over your instrument.
Therefore, if you want to show your skills, a hollow body might be right for you. Curating a hollow body guitar kit is essential. That's why we make it easier for you to find the best bodies, cases, straps, and picks to help you get started.
What to Look For With Hollow Body Guitar Kits?
With so many gorgeous guitar bodies on the market, decision making can be difficult. That said, there are simple rules you can follow to make sure you're making the right decision for yourself.
Starting off with having a realistic idea of what you need. There are lots of exciting and alluring options or deals, but not all of them will be a fit for you. When it comes to hollow-body guitars, their design stands out. They look like acoustic guitars without a soundhole. You can find an array of colors and designs to fit our own personal aesthetic as well.
Aside from aesthetics, the structural construction and quality of the guitar also make a difference. Given its hollow interior, its wood quality makes all the differences in its tones. If you want a punchy sounding guitar that can deliver warm, rounded tones, it needs to be built as well.
If you like the tones but find the distortions a bit unsavory, you may want to opt for a semi-hollow body guitar; such as the Epiphone Wildkat Semi-Hollow Body,Ibanez AS73 orthe Ibanez Artcore AM93.
Moreover, you should pay attention to each guitar's dimensions and weight. While hollow builds are relatively lighter and do not cause any reported issues. It may be essential to note if you travel a lot and for case finding purposes. Additionally, it also verifies the quality of wood and construction.
Lastly, your budget may ultimately influence your decision. Hollow body guitars are a niche and not a standard instrument. Add their rarity, and you have options that range from approximately $350 to $800. The price will depend on the quality of make, brand name, and other design elements.
When it comes to helping you find your perfect guitar, our list comprises several options to help you make informed purchases. It even explores a widely popular Do-It-Yourself option, which has been widely popular. After all, what better way to explore a new instrument than by constructing it yourself. That said, we have an array of other popular options for you to check out.
5 of The Best Hollow Body Guitar Kits on the Market
The Fret Wire brings a hollow body guitar kit that allows you to create music and the instrument. It comes in a natural basswood/maple body while providing you with all the tools you need to build your own guitar.
This kit comes with a pre-fretted neck with a dual-action truss rod and fretboard. Designed to keep your ease in mind, it provides easy instructions on how to assemble each figure. You can customize the guitar according to your own preferences and have the finish you need to create a truly fitting piece for yourself.
It is also among the lightest of the bunch, coming in at only 7.68 pounds, which gives guitarists the control they need. Moreover, once set up, the instrument can be played—plugged or unplugged—as any other hollow guitar.
Specifications
25 x 17.4 x 2.8 inches
Weight: 7.68 pounds
6-string hollow body guitar
Pros
Pre-drilled, easy to assemble
Archtop and arch back
3-way toggle switch
Lightweight and travel-friendly
Reasonably priced for a hollow body kit
Cons
A bit higher priced compared to other DIY guitar kits
Does not produce the same sound quality as other manufactured guitars
Peavey is an old name within an audio equipment game. Their take on the hollow body guitar is definitely alluring. It is a bit on the heavier side, being 12 pounds in weight. As a result, the sounds produced are similar to that of a semi-hollow guitar.
According to the company, their electric hollow body guitar plays like a jazz and fusion player's dream. It is made for quickly transitioning between playing up and down the fretboard without care.
On the other hand, it provides access to its upper registers with smooth ease. This is achieved by giving a slight angle to the neck, thereby providing comfortable access. Additionally, it has an adequate radius, which will make it easier to use by a variety of different players.
Specifications
Size: 35.5 x 17.5 x 3.45 inches
Weight: 6.6 pounds
6-string Hollow Body electric guitar
Pros
High-quality construction
Warm, rounded tones similar to semi-hollow body guitars
Provides value for money
Cons
Tone Knob may need adjusting
When it comes to hollow-body guitars, Ibanez offers the most comprehensive selection. It has many variants with their own specifications—including semi-hollow guitar options. The AF55 combines many of its best features, all under a $350 price tag.
It stands out from the rest based on its simple, yet refined aesthetics alone. It is constructed entirely out of maple wood to provide tight resonance with minimal feedback.
This gives it the flexibility you'll need to transition between muted jazz tones to jumping into punk rock. It is fitted with an ACH-ST humbucker at the neck and an ACH-ST at its bridge to enhance its beefy tones.
The mahogany neck adds its own unique flair and is bound to a rosewood fretboard for a comfortable feel. It weighs a standard of 10.55 pounds, which makes it easy to carry or travel with, additionally, in terms of its dimensions, it's definitely one more compact than its alternatives. Given the manufacturer is actively producing the model, cases and accessories will be readily available.
Specifications
Size: 9.1x 9.1 x 9.1 inches
Weight: 10.55 pounds
6-string electric Hollow Body guitar
Pros
Aesthetically pleasing design
Bound, full-maple hollow body
Great value for money
Suitable for beginners and intermediate guitarists.
Cons
Will need a little adjustment to eliminate fret buzz
The Ibanez AG75 is one of the most highly rated hollow body guitar kits, often praised for its pure sound. Unlike many similar guitars that sound low when unplugged, the AG75 is still able to deliver a good baseline pitch.
While being a bit wider than the rest, the guitar is most suitable for travel among the bunch. It is pretty lightweight coming at 9 pounds. It also features Artcore's signature core neck for great pickup.
It's SureGrip III knots allow for precise control with its non-slip functionality. The body has been beautifully crafted from maple wood, and its finish helps it stand out.
Specifications
Size: 38.5 x 3 x 14 inches
Weight: 14 pounds
6-string electric Hollow Body guitar
Pros
Classic jazz tones with a modern design
Lightweight hollow body guitar
Nickel plated hardware
Art 1 Bridge System
Cons
A bit pricey
Does not come with a hard case
Gretsch is one of the oldest manufacturers of hollow-body guitars; therefore, it's popularity among guitarist is not surprising. The brand's Streamliner model showcases a retro design and delivers a traditional bass-heavy tone perfect for jazz and blues music.
It is designed for the big and bold to show off their talents and go beyond the norm. It is a commanding guitar for power players with updated electronics and elegant strums to deliver impactful tones.
Owing to its sophisticated and complex sounds to its BT-2S humbucking pickup. It has a superior definition with a tighter sound bass to its robust lows. Additionally, it provides unfettered highs and throaty mid-tones to deliver a truly unique sound experience.
Keeping the professional guitarist in mind, each element is laid on for quick and smooth transitions. Overall, it is a solid piece of equipment with lasting power and astoundingly authentic sound.
Read our full Streamliner Review.
Specifications
Size: 46.3 x 18 x 5.5 inches
Weight: 12 pounds
6-string electric Hollow Body guitar
Pros
Laminated maple back and front body
High-sensitivity pickups
Warm, rounded and balanced sound
Designed for professionals
Cons
Expensive as compared to other options
May not be beginner-friendly
Does not come with its own hard-case
Frequently Asked Questions
These are some of the commonly asked questions about Hollow Body guitar kits:
Question: How to build hollow body guitars?
Answer: Given its traditional tones and complex sounds, building your own guitar from near-scratch could be a rewarding project. Customizing your own guitar means you can adjust each and every element to truly make it your own. As mentioned above, there are DIY options available on the market. Their tones might not be as refined and fine-tuned as their commercially sold counterparts. Still, they could be a good start for beginners and younger individuals.
Question: Should you buy a hollow or semi-hollow guitar?
Answer: While being similar due to their construction, a hollow body provides more complex sounds. In contrast, the semi-hollow will be more stable. If you plan on using your guitars in recording sessions, semi-hollow may prove to be better and less airy. Whereas live audiences may appreciate the fuller, louder and rounder tones of the former.
Question: Can Hollow Guitars be used for more than jazz?
Answer: Hollow body guitars are referred to as a niche due to their specialty use. Its sounds perfectly fit within the jazz aesthetic and therefore increased in popularity within its circles. There is a bit of a learning curve to understand the instrument and adjust it according to your settings, but it should work well and mesh with any genre of music. The artist ultimately creates music harmony. An instrument's effectiveness will depend on the musician's skill and vision.
Conclusion: Which Hollow Body Guitar Kit is the Best?
You can't necessarily go wrong with any of the above options. They stand out because of their quality construction and the traditional tones they provide. For some, it may come down to the dimensions. Traveling musicians will find lightweight options more appealing. On the other hand, beginners might not choose a suitable low-to-mid-tier option.
Our choice has to be the beautifully crafted Ibanez AG75BS Artcore Hollowbody Guitar. Given a good guitar is an investment, the AG75BS is a pack worth every cent. It has a traditional but pronounced sound quality with added flexibility.
Gretsch Streamliner Hollow Body Guitars may be the one if you're looking to start a professional set-up. It encompasses all the qualities you need with a durable construction that could last several studio or live sessions.
That said, not everyone needs an expensive guitar. The Fret Wire's Hollow Body DIY Kit offers fun recreation and customization options. Similarly, Peavey JF1TRANSRED JF-1 Hollow-Body is a reasonably priced specialty jazz instrument that should be perfect for beginners. All in all, the decision ultimately lies in your own preferences.
Lastly, if you need help learning the guitar, here's a quick guide on finding the right options for you. You can also check out our Electric or Acoustic Guitar sections to read more reviews.
Read More: How to find the Best Electric Guitar