Who doesn't love the sound of a nice warm nylon acoustic guitar or the bright pluck of the steel string?I assume that the same love just described is what brought you to this very article.
Well, for those deeply passionate about their craft, can actually take the crafting to their instrument by constructing their own guitar.
This can make a couple of thousand dollars worth of craftsmanship, available for under $100.You might be wondering, what exactly goes into the craftsmanship? What are the pros and cons of constructing my own instrument?
Perhaps you're even wondering, what are the best DIY guitar kits (acoustic or electric)? All of these questions will be answered as you read on, and perhaps you will get more out of this article than you originally intended!
For music lovers or friends of music lovers alike, this article is for you. Whether you're intending to construct a guitar for your own use and collection or even build one for a dear friend.
Keep calm and read on to learn the best DIY guitar kits!
To get right to the point, here's the TL:DR on our best DIY Acoustic & Electric Guitar Kits:
What is a DIY Guitar Kit?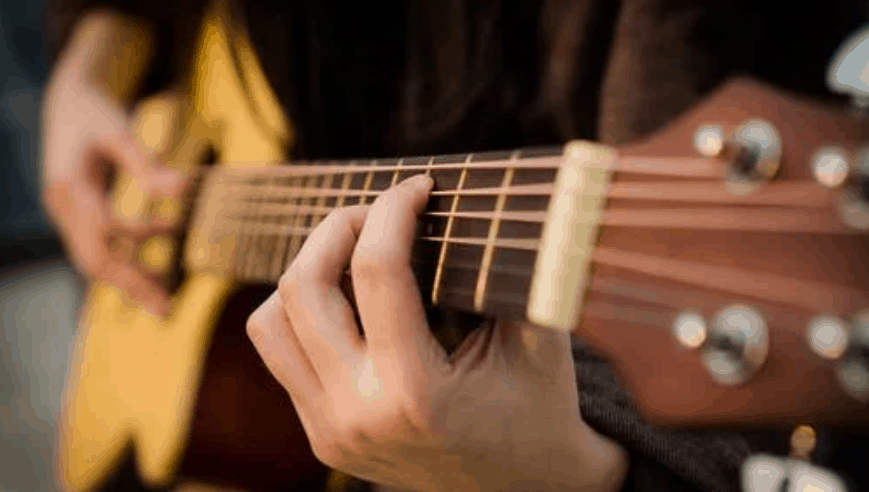 A DIY guitar kit is literally a guitar that hasn't yet been put together — giving you the opportunity to assemble your instrument piece-by-piece. Depending on the vendor, you can get a collection of necessary parts, tools, and instructions that are dire for you to be able to assemble your instrument.
These guitar kits come in two flavors: acoustic, and electric. Many brands like Martin, Solo, and Hosco have taken the initiative to supply stores with their own acoustic guitar kits making a new age in musical instrument consumption. The musicians are now the crafters behind their favorite brands and models!
Why Should You Consider a DIY Guitar Kit?
Before you continue reading, it's important we understand why. Firstly, it's the cheaper alternative, to be able to spend as little as $200 – $300 for an instrument that can sound like a $1,500 – $2,500 instrument. You get a lot of bang for your buck this way, so to speak.
Secondly, for those who have inclined abilities artistically, love crafts, woodworking, etc. this can truly feed your soul and provide a second outlet as an additional hobby. What's worth even more is that you can say it's yours. You constructed it, yourself and really put your own personal touch on your instrument.
Thirdly, as much as it can feed your soul, it will also challenge you as well. For those who have never constructed their own instrument before, it is a very delicate process and needs to be followed carefully. Lastly, it's good to understand what goes into making an instrument, so you can better understand how to care for it.
There may be a time where the strings need replacing, or you need to change the machine heads or provide it with more moisture so the wood doesn't dry out or whathaveyou.
These are very minimal points to why you should consider a DIY Guitar Kit in your near future. Most of all it's an experience. Caring for one's instrument is part of the process, this provides you with a deeper level of understanding.
What are the Top 5 DIY Acoustic Guitar Kit Brands?
Stewart MacDonald is a brand amongst the Acoustic Guitar Kit industry that holds the highest reputation. This is the go-to brand for most musicians who are looking to build their own guitar — or at the least buy the necessary tools to do so.
It's a great brand, but not without its downsides. Kits like the Luthiers Mercantile International kits (LMI) are customizable while Stewart MacDonald kits are not. This can bring up scenarios where you might need to buy a new fingerboard if the kit you have is of rosewood, while you'd prefer ebony.
This can apply to other parts of the guitar, you'd prefer changes in as well. Aside from being stuck with a part of the guitar you might not prefer, these guitars are great for beginners, that would like a guitar of quality. For advanced musicians, they should go with a brand like LMI, however.
Known widely for their selection of acoustic guitars, Martin has some of the best. Their 1833 Shop also sells kits and a limited selection of tools. The kits might be a little basic as they are modeled after their own variety of guitars. A downside to this, however, is that the kits offer very little selection, although they aren't too high on the pricey-side.
Furthermore, like Stewart MacDonald's guitar kits, these cannot be customized. So if you're looking to change the neck or the body based on the type of material, you're a little out of luck. Despite this, however, you're still getting a guitar that will not only look good but sound good as well.
The look of the guitar might not matter too much if you are already a fan of Martin's brand acoustic guitars. However, one thing must be said — Martin is a great brand of acoustic guitars, but for a DIY acoustic guitar kit, you'd be much better off with a StewMac or LMI kit.
Solo guitar kits might be few in the selection, however, they do offer some bang for your buck. They typically ship quickly, and the parts are of quality, despite the cheapness of their cost.
The tough parts of assembling a guitar are generally already taken care of, like the woodcutting, drilling, and shaping — including the fret leveling and dressing. You would still require a minimal amount of woodworking skill and knowhow, however, this shouldn't be a terrible challenge for a beginner. Just make sure you have the proper tools to get the job done properly.
A highly reputable company in the world of instrument luthiers, and very excellent when it comes to acoustic DIY guitar kits. They allow you the freedom to customize each individual part of your guitar kit. This might be intimidating for beginners, in which case, I'd likely refer them back to Solo, StewMac, or Martin brands, as they come as they are.
However, for the experienced woodworker and musician who knows what they are doing, this can be very appealing. The kits are typically in excellent quality, however, might be a little complicated and require some assistance and quite a bit of tooling.
Not typically known for their acoustic guitar kits, but their electric guitar kits. These acoustic guitar kits are typically difficult to assemble, however, are of competitive quality.
DIY Guitar Kit VS Pre-Built Guitar
Getting into assembling your own acoustic guitar can be quite the endeavor if you are new to the whole process. However, there are many benefits to doing so, as well as many challenges along the way. Building your guitar yourself can outweigh these challenges, as they offer you a sense of pride. One you can hear, feel, and play with your own fingers.
Pros of a DIY Guitar Kit
Firstly, you get the option of customization. When you are ordering parts for instance, from a vendor like Luthiers Mercantile International LMI, you get the option of specifying every element you wish to be a part of your instrument. This can be from the material of the instrument to the wiring and the pickups. This will be a one-of-a-kind unique instrument that stands out as yours, and yours alone.
Secondly, it's a learning experience. From learning, "where do I begin?" to adding the finishing touches to your masterpiece, this will teach you so much about your instrument, from the craft of your craft. You'll slowly come to find that each individual piece comes into play to ultimately affect its playability and overall tone and sound. This can help make you a better player in the long-run.
Lastly, it can be a rewarding past time or hobby if you will. Yes, building a guitar by hand is quite a challenging endeavor once you begin. You might feel like you're way in over your head! You might even make a few mistakes. Cut something too short, bolt something on wrong or too tight, make a scratch or two — it's all a part of learning. After your first time, though, it gets easier, and you have the best diy guitar kits to walk you through every step!
Cons of a DIY Guitar Kit
First things first, there is a learning curve to the whole challenge or how some put it, "debacle" of putting together your own instrument. It won't just happen that your instrument will become a masterpiece to be hung up and shown to the world on your first try. You might make some errors, and errors can cost time, and maybe a little money along the way. This can lead to some minor frustration.
The second point to be made since we're talking about cost — cost! People get into building guitars thinking that they will immediately be saving money, due to the cheap cost of the kits themselves, that's not always the case! Buying the wood, hardware, and electronics can add up!
Furthermore, since this is likely your first time, you will need to make a one-time-purchase of the right tools to get the job done, along with extra wood, hardware, and electronics for potential mistakes that might occur. Yes at first, buying a production model guitar will be the cheaper option.
That isn't to say that getting really good at building guitars yourself won't save you money in the long run though if you are quite the connoisseur of guitars or enjoy selling them.
Lastly, time. Building a guitar takes time, as do most things. You won't get it done in a few hours, or even a day, as some things like watching paint and wood stain drying are out of your control.
Applying holes through drilling, or simply cutting, gluing, sanding, painting and wood staining multiple coats take time too. You need to exercise your patience and treat it as a therapeutic activity. Enjoy the process!
What is Needed to Construct Your Own Guitar Kit?
It's very important that when you are about to begin the process of actually assembling your guitar kit, that you have the necessary tools to get the job done right. This means, having a pair of String Cutters and not a pair of scissors you bought from the nearest dollar store.
If you want the job done right, then you must get the right equipment. If you're looking for shortcuts, you might as well pay someone else to do it, or buy a guitar that's already assembled. I cannot stress this enough.
Work Mat – This is completely optional: It can create a soft and padded workspace for your guitar to protect it from falling over, getting scraped, and whatnot while you are working on it.
Top Picks for Guitar Care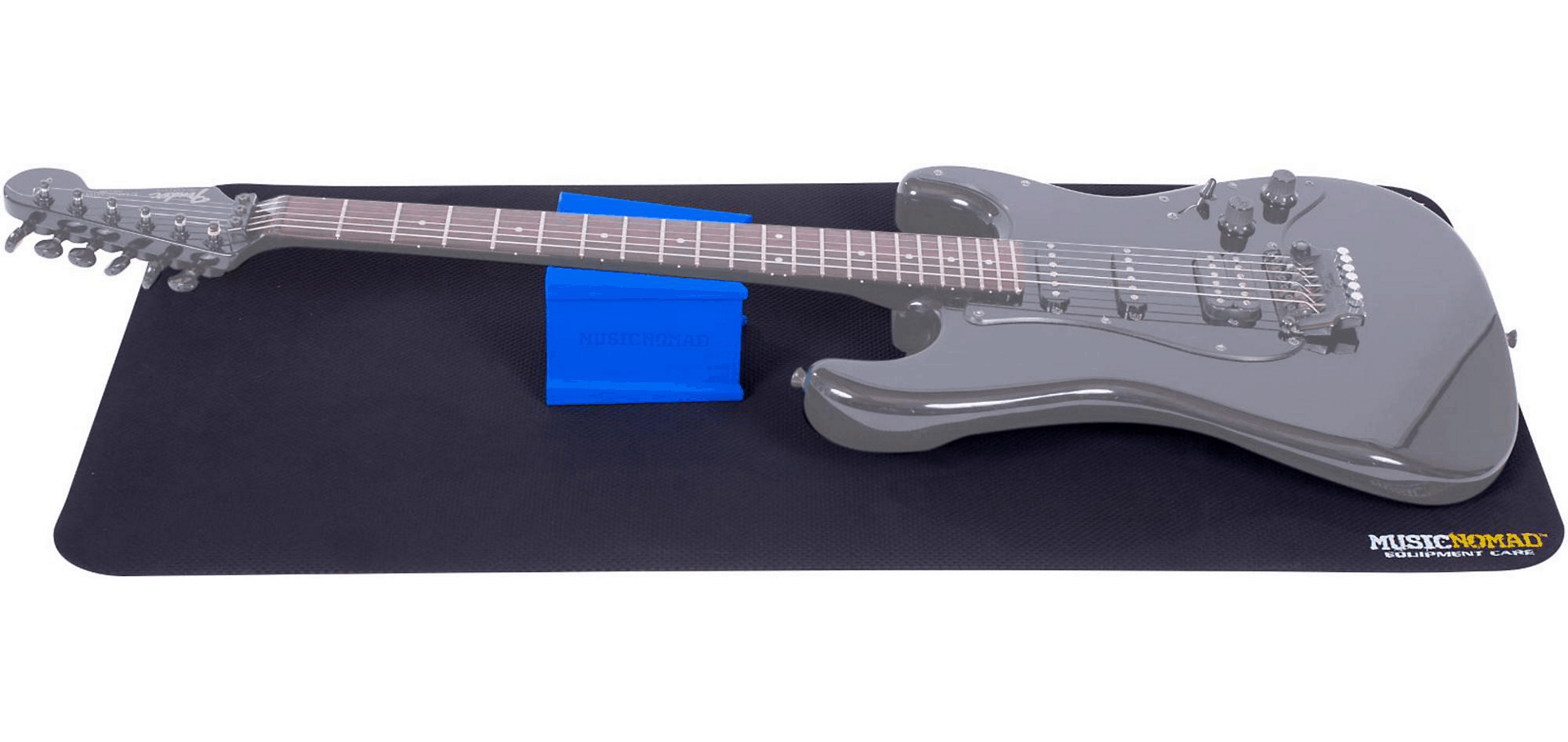 Allen Wrench – Also known as "hex keys", these are required for tightening up components like the saddle, neck, and setting the nut pressure pads of the guitar. Your kit would likely include one, however, it can't hurt to have a spare.
Screwdriver – Screwdrivers are a necessity. These help you tighten and loosen the bolts on the guitar, provided that you have the proper size of screwdrivers to fit these bolts and screws that are included in the kit. The screwdrivers won't be included, so it's important you carry a few before tackling this project.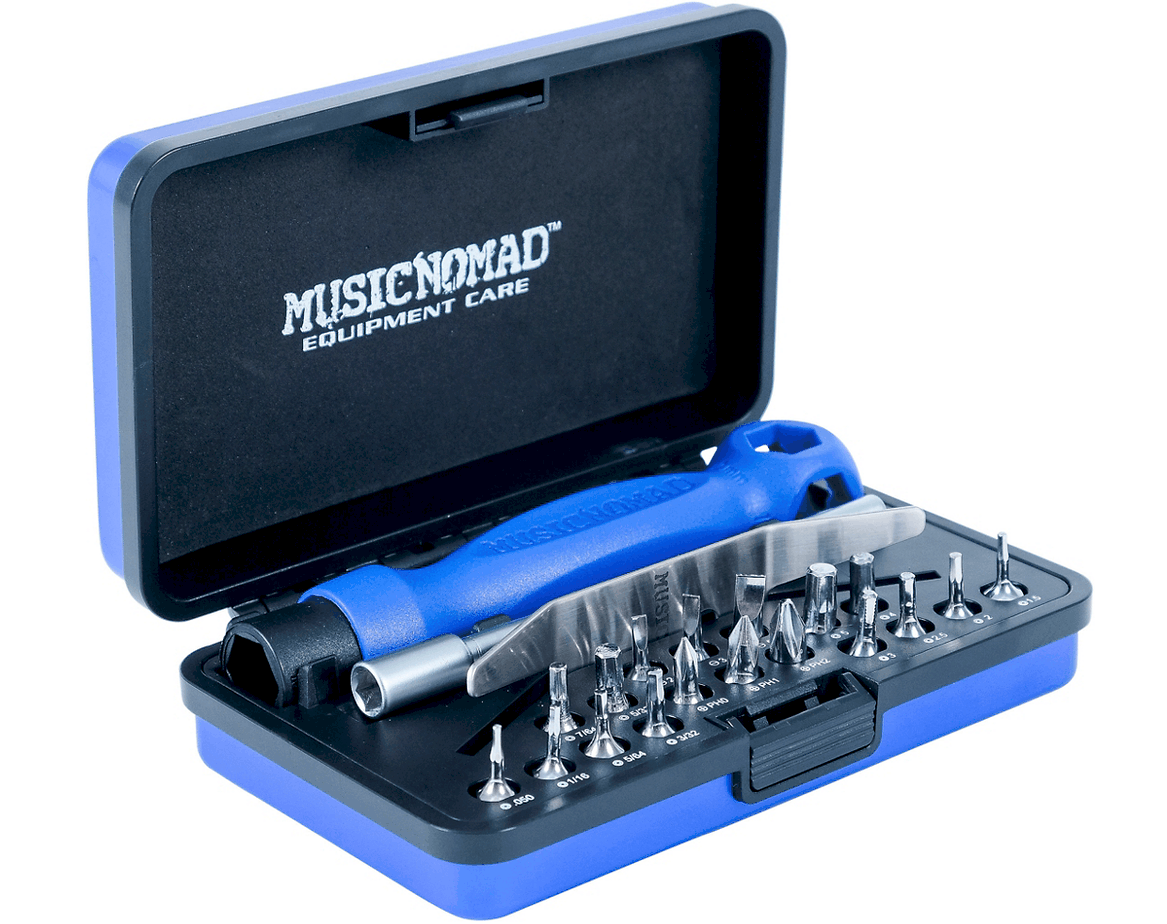 String Cutter – This does exactly what the name implies! A string cutter can cut the string to the desired length. It is recommended that you use a string cutter, and not a pair of scissors for instance because when you are dealing with metal and nylon strings, you want a clean cut. A string cutter will give you your desired outcome.
String Winder – This is for convenience-sake. A string winder simply turns the tuning pegs, so that you don't tire your hands by the repeatedly twisting motion. This helps you put in pegs a lot easier.
Ruler – This is meant to help you keep your measurements precise, especially when spacing out components. You will want a ruler that not only measures centimeters but in millimeters as well! You don't require anything further than that, as long as you have the standard measurements on the ruler.
Truss Rod Wrench – An important part of the kit to have, even if your guitar kit already has one. Better safe than sorry. This adjusts the pressure and relief on the neck of the guitar. The sizing should be adjusted according to the truss rod bolt on the guitar neck.
What are the Best DIY Acoustic Guitar Kits?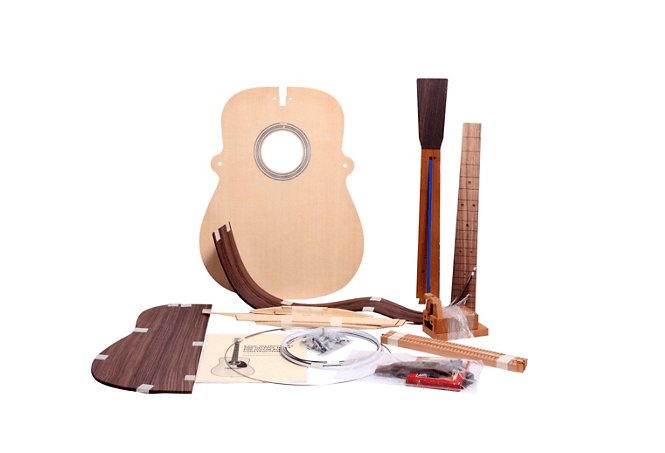 This guitar kit makes it easy for beginners to assemble their very first guitar, themselves! All of the critical steps have been handled for you by skilled luthiers, which include, the neck-joint machining, the soundboard finishing, thickness sanding, fretboard slotting, and side shaping.
Following these steps yourself will provide you with some of the skills of a luthier as you install and trim the braces, back, neck, fretboard, soundboard, etc. and provide the necessary production and care into your instrument. This kit includes quality parts with clear instructions for a good cost.
However, it doesn't come with a case and it requires some patience and attention to detail so that you can assemble it properly. The reviews from the average consumer are a mixed bag. Some are absolutely glowing, while others find it to be a more daunting task than first anticipated.
For instance, this 2/5 star review states, "if you are not a craftsperson, then this will be complicated. This is because when I bought the set, I was fairly confident in putting it together. However, things changed, because I was missing some of the necessary tools required to put it together".
Then the glowing review, 5/5 stars says, "It sounds just as nice as it looks! However, I should say, it sounds easier than it looks. No joke. I have done fine woodworking in the past and already own many of the required tools to put this together, however, despite that, I was still missing some special tools to get the job done!
It will look and sound amazing if you follow it step-by-step, however, if you take shortcuts, it will definitely show in the craftsmanship".So, when buying Martin for their guitar kits, take these reviews with a grain of salt. They still are one of the top brands in acoustic guitars, and that says a lot.
This kit comes with everything necessary for building yourself a Parlour Acoustic Guitar. You'll come to find that some woodworking, shape, fret leveling, and drilling has been professionally handled, making the rest of the task relatively easy.
You will, however, require minimal woodworking skills/knowledge to complete this project. This might also include some tools and finishing supplies.
Included with the kit, you'll find the fully assembled parlor body with a spruce top and mahogany back and sides. Some chrome hardware. Scaling at 25.5″ lengthwise, overall length at 41″. You'll find that the fingerboard is of Black Walnut, with 20 frets and a 2-way truss rod.
The head of the guitar contains the machine heads with bushings and mounting screws. Next, the bridge is pre-shaped and includes pins. Lastly, as a bonus, there is a set of strings thrown in. Contains Free Delivery from Amazon. Content may be returned if it's untouched in original packaging.
The reviews for this brand may be few in number, but all of them seem to have the same opinion: 5/5 Stars. One person states, "I'm really glad that I found this acoustic guitar for my husband. He's been talking about getting a guitar like this for a while.
"The delivery of it was very fast, and everything seems perfect, all of the pieces were there". Another review says, "Everything arrived right on time! The guitar's wood was in great shape, however, it seems like there was some plastic that was peeled away around where the pickguard is, as I noticed a visible scratch."
Furthermore, two of the dot inlays on the edge of the neck were missing. Other than that, I'm still very happy with the product and their quick delivery".
Acoustic DIY kits are fairly new in the music industry and finding a solid and reputable DIY acoustic guitar kit is really hard. However, on the other side, there are plenty of high-quality, tested electric DIY kits as well.
Now that we've seen covered the best acoustic DIY kits, we'll take a look at DIY electric guitar kits alternatives worth considering. Here are some of my favorites:
Electric DIY Guitar Kits We Recommend
The Fretwire DIY electric guitar kit single cut AAA guitar kit has high-quality materials for you to build your dream guitar. With the body materials made out of mahogany, you're going to get a stunning sound from this instrument.
Plus, you'll find a tune-o-matic bridge, with a 3-way toggle control. This means that you'll have the ability to fully customize the sound that your electric guitar is making. In other words, the two-tone and two volume knobs that come for you to install on this instrument mean that you can truly blend the sound of this guitar however you want it.
Moving on, you'll find that the fretboard is made out of rosewood and has a twelve-inch radius. This will put your fret count at 22. But, the style of this fret is standard, which isn't a breaking point for many people who are interested in a DIY building kit.
The biggest downside is that there's only a right-handed option available. But, this downside is complimented with the HH pickups that you'll get to add to your DIY guitar. Plus, the neck is made up of maple. And while the neck joint is set in, it comes with a 1 ⅝ inch nut width.
Keep in mind that the truss rod is pre-installed, so you may have to be wary about the action on your guitar. With a 24.75-inch scale length, the entirety of this guitar is finished off with a vintage pickguard and a maple veneer.
Read also: How to Find the Best Fretwire Guitar Kits.
This is one of the most unique DIY guitar kits on the market. That's because this DIY guitar kit features a two-string guitar. Each neck has six strings on it, leaving you with 12 strings in total.
Inside of this kit, you'll have everything that you need to build your own 12-string instruments. One of the necks in this DIY kit comes with a traditional setup. All you have to worry about doing with this DIY kit is adding your own finishing touches to both the neck and the body of the guitar.
Also, keep in mind that this 12-string guitar kit isn't just a bunch of random pieces that you'll hope will turn into a guitar. The neck that comes in the DIY guitar kit has been custom-fitted to the shape of the body. This means that you can expect both of the necks of the guitar to snuggly fit up against the guitar.
You'll also find that there is a fretted neck and a pre-drilled body. Plus, you'll also notice that there is hardware and the electronics you need to get this guitar up and going.
Keep in mind that the wood used to build this guitar will come unfinished. So, this means that you may need to work on patching any rough areas with some sandpaper before you go ahead and apply any type of finish.
Have any of the hollow body guitars that you've been looking around for not cut it for what you're in the need of?
You may feel like you just need to start from scratch and put together your own DIY guitar kit. The Fretwire rockabilly style DIY hollow body guitar kit is the exact kit that you've been looking for.
All you have to worry about doing is putting together an instrument. And, you'll have to put on all of the finishing materials to make this guitar look pretty. The neck of this hollow-body guitar has been custom fit to ensure that it fits snuggly with the body of the guitar.
Just be sure to pick up some sandpaper. This is because you'll need to sand down the wood material of this guitar before you move forward with finishing it!
Pyle-Pro PGEKT18 S-Style
This offers you the capability fo building your own instrument without the need of spending much money at all. The street price is $ 100.00, with a 5/10 building difficulty. You'll find that there isn't much out of the ordinary with this kit, as it requires everything that you need to build your own guitar.
The only thing that you're required to do is to bring your creative side to the building process. Given the price of the instrument, it may require some patience and research on your end. Now, while there are varying thoughts on its quality, many people stand unanimous that price-wise, it's very much worth it.
The customizable headstock and the neck wood get much praise. However, there may be some issues with the hardware, to be more specific, the nut. However, it shouldn't be a problem. This is a good starting point for future luthiers and should be considered.
This DIY Strat-style guitar has no branding, therefore, is fairly cheap! For $100.00, with a 5/10 building difficulty, this guitar can be yours. All of the desired parts to build this guitar are included within the kit. You'll notice within the unpolished cutaway okoume wood Strat body.
The neck, crafted from maple; the fingerboard as composite ebony. Unfortunately, there are no specs that you are given to look at, reviews say that it has a thin profile. It comes pre-drilled making it easy for you to mount hardware and a neck joint. You'll also notice that the pickguard comes with pickups and controls, including a Strat-style tremolo bridge and tuners.
You'll get an affordable DIY kit out of this that exceeds many of the expectations, based mostly on the quality of the wood supplied. Its incredibly simplistic build, thin profile, and frets all come together for something nice and affordable. One downside is although most are satisfied with the hardware, you may want to swap out the tuner, to avoid tuning problems. Taking out electronics is typically recommended to get the most of the good wood quality.
This guitar is based on the Telecaster. In fact, this model, in particular, allows you to assemble the guitar immediately, as much of the drilling and routing work is done for you. This allows you to focus on customization! For $ 160.00 and a building difficulty of 7/10 this guitar can be yours!
This guitar has a solid basswood body and a single-cutaway shape, as mentioned most of the routing makes it ready for its assembly (including the solid maple neck and the Indian rosewood fingerboard). The headstock comes in a blank form, therefore it may be routed however you wish. It also includes electronics, without the need of any soldering, nickel-plated hardware, guitar strings, and a cable!
Many recommend this as a good kit for beginners, as it's very easy to build only if you go for the default configuration. Experts would have fun with this due to the fact that it's fun to personalize. Some users complain about the neck alignment, but more experienced users can adjust this themselves.
Saga TC-10 Electric Guitar Kit T Style | Amazon
If you enjoy expressing yourself through the process of making music, you are sure to love the chance to express yourself by making your own custom guitar. By using the easy to follow instructions provided and a few simple tools, the Saga TC-10 Electric Guitar Kit makes it simple.
Buy at Amazon.com
We earn a commission if you make a purchase, at no additional cost to you.
Stratocaster Style guitar from Saga. Coming with everything you need to build it, pre-drilled basswood body, maple neck, hardware, guitar cable, strings, etc. For $ 170.00 and a building difficulty of 5/10 this guitar can be in your hands!
The body that's included comes with a flamed maple veneer for athletics, and the neck has a rosewood fretboard! It includes pre-drilled holes, and electronic components pre-wired on the pickguard. Many people are very please with the wood used in this kit, including the routings as they make the build very straightforward.
Overall it's a fun kit for beginners to assemble. There are some people, however, who are displeased with the pre-sealed finish of the guitar, however, overshadowing that is the hardware complaints, mostly about the tuners.
StewMac S-Style
We've got another Strat-style guitar. Furthermore, it's from StewMac for $ 205.00 and a fair building difficulty of 5/10. This is aimed towards most beginners who want to learn the way to build a guitar. They use a mahogany body, coming with pre-drilled parts to fit in, which includes the neck joint for the guitar's maple neck to be easily bolted in!
The headstock allows some customization as it's not prerouted to shape. The hardware includes tuners, a tremolo bar, a bridge, a pre-wired pickguard, a guitar cable, and 2 sets of strings!
Many people love the wood and the positioning of the pre-drilled holes. This makes life easier for most when it comes to building it! Issues typically pertain to missing parts, and bad-tuning pegs.
Yet another kit that uses the Les Paul design at the base. Featuring a single-cutaway body, that is crafted from basswood and pre-routed to make assembling a lot easier — the top of the body contains a flamed maple veneer to give it a more premium appeal, especially if you decide to pair it with transparent or semi-transparent finishes.
The neck is of maple, the fingerboard is of rosewood, and the headstock is of the default boxy-shape, however, it may be reshaped to your particular preference. The needed components are included, which comes with two humbucker pickups, tuners, a bridge, and a tailpiece, and lastly, its internal electrical components, and knobs with a pickup switch.
It costs around $ 250.00 the most out of these guitar kits and contains a building difficulty of 6/10. Most people find it an easy build and very fun! But the most praised aspect is the bang for the buck and praising of the wood quality. There are the select few, who deemed this a daunting experience and complained about the roughness of the fingerboard and the neck joint.
Saga LC-10 LP Style Electric Guitar Kit | Amazon
Saga LC-style electric guitar kit has an all solid arch top basswood with flamed maple top, shaped and routed neck, fretted rosewood fingerboard and adjustable truss rod steel and heavy nickel plated hardware and the electronic parts are mounted on the pick guard so soldering is required.
Buy at Amazon.com
We earn a commission if you make a purchase, at no additional cost to you.
09/23/2023 02:46 pm GMT
Best DIY Acoustic & Electric Guitar Kits FAQs
Question: Are DIY guitar kits worth it?
Answer: Guitar kits are worth it for someone who has the time and the necessary skills to assemble them properly. The buying price of guitar kits will be cheaper compared to readily-made guitars. The price difference between a guitar kit for someone who's bought one, compared to the readily-made guitar, can be used to upgrade and even change their parts as they wish.
Question: Are StewMac guitar kits any good?
Answer: If you are somebody who is looking to put together the best quality guitar out of the box, then look no further because StewMac is an easy choice, but naturally costs more. The Fretwire does have the most kit options available, and was the easiest to assemble despite not having any pre-wired components.
Question: Is it cheaper to build or buy a guitar?
Answer: Now, in just about any case, it's much cheaper to buy than build a guitar. As tempting as it might be, building an electric guitar from parts is not cost-effective in the least. The simple fact is that the guitar manufacturers produce or buy their parts at a much lower cost than what you can buy them for.
Question: Are solo guitar kits any good?
Answer: The good thing about Solo guitar kits is that they can sound and play just as well as any guitar that you might see or buy in the store if you're willing to put in the extra work and buy yourself better hardware. The best thing about a kit guitar is that you can spend what you want on it and make it what you want. So for instance, you buy a $ 200.00 kit, you put in 20 -30 hours of work on it and you can get a very nice finish on the guitar.
Conclusion on DIY Guitar Kits
Now, you should feel confident in knowing all you need to in order to construct your very first DIY acoustic guitar kit. Yes, it's going to be a challenging first experience, but all the more rewarding! Perhaps this will lead you down a new hobby, or perhaps, something you can share with others.
What brand would you prefer to go with? Do you have a favorite model? Could you see yourself putting in the work to construct your very own acoustic guitar?
We wish you all the best in your endeavors. Keep calm, and rock on.
Further Read:
Latest posts by Guitar Space Team
(see all)