If you are a musician who is looking to get their hands on an affordable semi-hollow body electric guitar that will give you the taste of playing on an authentic semi-hollow, the Epiphone Wildkat is the guitar you're going to want to take a look at.
The Wildkat is perfect for Blues, Jazz, and Rock. If you're more creative with your playing style, you could even try Country, Alternative rock, and may even get away with Country on this guitar.
This guitar is great if you are looking to play in a smaller sized band, a studio guitar, or just to jam out with friends of yours. Due to the semi-hollow body of this guitar and the tuning pegs that were installed on this guitar, the Wildkat does struggle to maintain consistent tuning but does a good enough job to be great if you're looking to play some street music.
As long as you're not looking to blare tons and tons of sound, this guitar will suit you just fine.
If you're worried about the reliability of this guitar, especially since it's more of a budget guitar, keep in mind that the Wildkat is popular because it's a great budget guitar.
Despite the price tag, Epiphone took their time and really made a guitar that's going to withstand years of wear and tear.
There are a few flaws in the overall paint job if you're really looking to pick apart the guitar, but again, this is a budget guitar.
With all of that said, let's talk about the features that this guitar has to offer to you:
Mahogany body
Maple top
Maple neck
Rosewood fingerboard
Slim Taper "D" neck
Archtop body style
Glued to neck
24.75-inch scale
1.68-inch nut width
Pearloid dot inlays
12-inch fingerboard radius
P-90R Dogear classic neck pickup
P-90T Dogear classic bridge pickup
Master volume control, two pickup volume controls, one tone control
22 medium jumbo frets on the fretboard
Bigsby 870 Vibrato trapeze tailpiece
Metal vintage-style Epiphone badge headstock
Default strings are D'Addario 10-46
When you take the first place at the Wildkat, you're going to see a lot of different stuff on this guitar. There are two P90 pickups that provide this guitar with the sound that it's famous for. Along with a three-way selector switch (toggle switch) that you can also find on a Les Paul. There are two volume controls for each of the single-coil pickups (one single coil pickup on the neck and one pickup on the bridge), a master tone control, and a master volume on the cutaway.
The body of the Wildkat is a single cutaway, which provides users with a great amount of access to top frets, especially for users who happen to have smaller hands. If you take a quick glance at the F holes on this guitar, you are going to find the block underneath of the bridge, but the rest of the guitar is hollow.
In comparison to the Epiphone ES 335, the body of the Wildkat is a bit thicker; the overall size of this guitar is just as big as a Gibson Les Paul, but a bit heavier than a Les Paul.
Epiphone Wildkat Semi-Hollow Body Build
Epiphone's Wildkat does not follow the traditional flow of a semi-hollow. Most semi-hollow body guitars have a center block of wood with a hollow body around the block of wood. However, Epiphone comprised the Wildkat with a piece of solid mahogany body that's hollowed out.
The top of the body is laminate covered with a flamed maple veneer. The maple veneer on top of the laminate provides the top of this guitar with an extremely authentic feel.
The neck of this guitar is maple with a piece that has a modified Les Paul profile and a rosewood fretboard. If you've ever played with the Epiphone ES 335, the Wildkat definitely feels much smaller than the ES 335. Matter of fact, the Epiphone Wildkat is much more comparable in size to the Gibson Les Paul.
In the guitar community, there is a lot of talk about whether or not the Epiphone Wildkat is an 'authentic' semi-hollow body guitar. Personally, I would say that this answer would really all depend on what type of guitar you compare it to.
In order to fairly judge the 'authenticity' of the semi-hollow body from the Wildkat, you should really only compare this guitar in the price range that it was built for. Especially when considering how authentic the vintage sound that this instrument produces.
If we were to compare the Epiphone Wildkat to the Gretsch 5623, which is a guitar that has a similar build to sound to the Epiphone but isn't comparable in a price range, the Wildkat comes across as a bad attempt at a knock-off.
At the end of the day, if you're going to forgive the price difference between these two guitars and compare these instruments, Epiphone has a lot of catching up to do before it comes close to the Gretsch 5623.
Cosmetically, the biggest flaw that a decent amount of people, myself included, have noticed is that there is a bit of bleeding of black paint on the Bigsby tremolo.
Epiphone Wildkat Semi-Hollow Body Playability
The factory finish that Epiphone set up this guitar is great to play with if you're looking to start playing after pulling it out of the box. The action is set low, which is due in part to the fret scale and the semi-hollow body construction.
One thing that I thought was annoying about the Epiphone Wildkat sits in the mix of cosmetics and playability. The Epiphone badge that's on the headstock didn't sit even to the headstock facia, which caused rattling.
While this rattling didn't come through the amplifier, it was still annoying to hear while I was trying to test the limits of the sound that the Wildkat could produce. I feel like this is something that Epiphone could easily fix at the factory to minimize some work that beginners may have to do to perfect the guitar.
I also didn't like that the Wildkat didn't come with a pickguard. However, this is both a pro and a con. If you're a beginner who is looking to just start out creating sound, you're going to have to watch your technique right off the bat if you're really looking to preserve the finish of your guitar.
However, as someone who has a lot of experience under their belt, not having a pickguard kind of forced me to pay a lot of attention to my technique, which forced me to play with much more finesse. This is helping me to improve my playing technique, which I thought was great!
Epiphone Wildkat Semi-Hollow Body Hardware
Combining a vintage tremolo bridge with a Bigsby stopbar tailpiece is something that can be extremely difficult to deal with. Especially on guitars that are high-end and super expensive.
When Epiphone released their Wildkat with both a vintage tremolo bridge and a Bigsby tailpiece, a lot of people were shocked that a budget semi-hollow was released that included these two components.
However, if you are someone who has a bit of experience playing the guitar, you would be surprised that the combination of the tremolo bridge and the Bigsby tailpiece doesn't really require a whole lot of patience to adjust.
The hardware on this guitar works well, as long as you don't go too hard on the whammy bar. One of the most disappointing parts of the hardware on this guitar were the tuners. The tuners on this guitar don't hold tuning very well. I would highly recommend upgrading the tuning and control knobs on this guitar, as the tuners on this instrument don't hold tuning very well.
Epiphone Wildkat Semi-Hollow Body Electronics
The electronics on the Wildkat aren't anything too fancy, as Epiphone installed a set of Epiphone P90 pickups in the Wildkat. The Epiphone ES 339 is a guitar that's very comparable to the Wildkat. It has a set of humbuckers installed in it, which is the main difference between the Wildkat and the ES 339.
Without humbuckers installed in the Wildkat, the pickups that this guitar uses do tend to limit the genres that the Wildkat would fit comfortably in. The P90 pickups that are installed in the Wildkat are hooked up to individual volume knobs for both pickups, a master volume control, a master tone control, and a pickup selector switch.
This is a very simple and common set up but does serve practicality to this guitar.
Epiphone Wildkat Semi-Hollow Body Sound
The two P90 pickups that are installed in the Wildkat make this guitar perfect for blues and rock, with the ability to dabble in the jazz genre. This guitar has incredible range, excellent projection, and a decent sustain.
While the Wildkat does not sound like a high-quality guitar that's worth thousands of thousands of dollars, this instrument is a close second and is worth the considerably small investment for a quality semi-hollow body.
I found that when I switched up to the neck pickup, added a small amount of reverb, and a bit of overdrive, and I was able to create a hazy electric blues tone. However, flip over to the bridge pickup and there was a lot more bit but the overall tonal quality still hints at a Gibson-esque resonant sound, even though the guitar's cosmetic appearance pays a few tips to Gretsch.
I really enjoyed the solid block of wood in the center of the guitar, because I found that it did an amazing job of preventing unwanted feedback, even when I was a little too heavy on my drive.
I found that when I was really heavy on my drive, I got the rowdiness sound that you find in rock and roll. When I pushed it a little further, I was able to dabble in some moderate metal before the feedback became too much to deal with.
Epiphone Wildkat Semi-Hollow Body Pros and Cons
Pros
Really unique cosmetic appearance
Great for blues and rock and roll
Performs extremely well with light to medium gauge strings
Produces amazing clean tones
Loud enough to play without an amp if you're looking to play acoustically for practice
Cons
The headstock rattles
The tuning knobs that come factory installed on this guitar aren't of the best quality
Doesn't come with a pickguard
Epiphone Wildkat Semi-Hollow Body Alternatives
If the Wildkat sounds like a great guitar for you, but you're looking for something that's just a bit different, here are a few other alternatives guitars to consider:
Gibson ES-335: This semi-hollow body guitar users 57 Classic and Super 57 Classic pickups, a 'C' neck profile, and the entire manufacturing process of this guitar is completed in the United States of America. The ES-335 from Gibson offers a semi-acoustic electric guitar tone with the high-quality hardware and electronic system that's always associated with the Gibson name.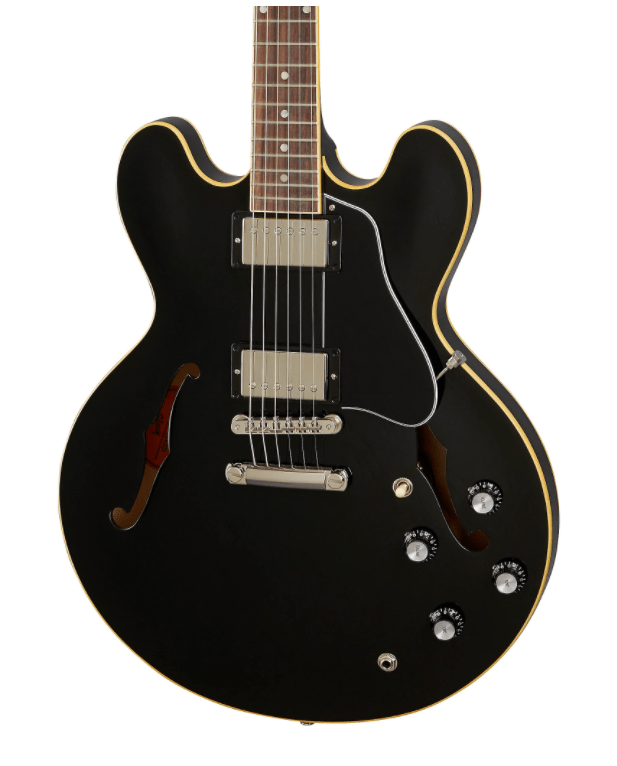 Other Options:
Conclusion: Epiphone Wildkat Semi-Hollow Body Review
Epiphone certainly changed the expectations in the market when it comes to semi-hollow body guitars. This by creating a semi-hollow body electric guitar with a low-price tag and a decent performance.
While this isn't the best semi-hollow body on the market today, it does offer a great option for beginners who are looking to get their hands on a semi-hollow. Epiphone was able to treat budget shoppers or beginners with a taste of a genuine semi-hollow body guitar.
If you're looking for a guitar that will grow with you as you expand across Blues, Jazz, and Rock music, the Epiphone Wildkat is going to a guitar that's not going to be a disappointing investment.
However, I would highly recommend that you prepare to upgrade the factory strings with a heavier gauge string, while also replacing the tuning pegs on this instrument.
While replacing the tuning pegs aren't necessary, they are going to help maintain consistent tuning on your instrument, which will make your life easier. I hope you enjoy your Wildkat adventures!
Further Reading