Today we'll discuss some of the best headless guitar kits that are currently available on the market.
Headless guitars are certainly not for everyone – but once you discover all of their innovative features and undeniable advantages, it's really easy to fall in love with them.
Some of the guitars and guitar bundles we'll be reviewing will suit mainly learning beginners with limited budgets. Others boast premium quality and prestigious brand names – a combination that, understandably, makes them more expensive, but also more attractive to experienced and professional players.
Regardless of your personal preferences and budget, we hope that you'll be able to find your headless guitar of choice among them.
First, let's start with a short overview of the products we're going to discuss today.
Best Headless Guitar Kits – an Overview
Model
Dimensions
Color
Included
Price range
Traveler Guitar Ultra-Light

6-string Acoustic Guitar Kit

32 x 12 x 5 inches/4 pounds
Black Walnut/Maple/Rosewood
Guitar, Gigbag, Pack of picks, 1 Lithium-ion battery, Adapter, Headphones
$
EART Headless Solid-Body Electric Guitar W2
35.5 x 17.5 x 3.45 inches/6.6 pounds
Blue/Black/ Natural/Purple
Guitar, basic tools (additional accessories can be bought separately)
$
Asmuse LEAF Headless Electric Travel Guitar
34 x 14.5 x 4.25 inches/8.23 pounds
Blue/Black/Green
Guitar, Bag, Repair tool
$$
Bootlegger Guitar Spade Pro Series Boutique Travel Electric Guitar
30 x 10 inches x 1.5 inches/5 pounds
White/Black/Honey
Guitar, Hard Case, Tools
$$$
Steinberger GT-PRO (GTPROBK1) Solid-Body Electric Guitar
44 x 18 x 8 inches/9.1 pounds
Black
Guitar, basic tools (additional accessories can be bought separately)
$$$
Our Pick
What are The Main Advantages of Headless Guitar Kits?
The difference between a standard and a headless guitar is quite obvious – it's all about the missing headstock, which normally houses the guitar's tuning mechanism.
Of course, the absence of head doesn't mean that these guitars cannot be tuned – all tuning mechanisms are instead usually relocated to the bridge of the guitar, so your headless guitar can be used very similarly as a standard one.
Headless guitars are mostly used by progressive instrumentalists who prefer innovations to vintage traditions. These instruments are very popular among young and experimental players, but they could also be seen in the hands of such legendary guitar players like Mark Knopfler, Eddie Van Halen, or Sting.
Never tried playing on a headless guitar before? Here are some good reasons why you should consider trying it out:
Lightness
If you compare a traditional electric guitar with its headless counterpart, you will immediately notice how light and compact a headless guitar feels.
This is great for smaller or younger players, but you'll surely also appreciate it if you suffer from back pain or some other health condition that limits your physical abilities. Headless guitars are also nicely balanced, which eliminates the common nose-diving sensation.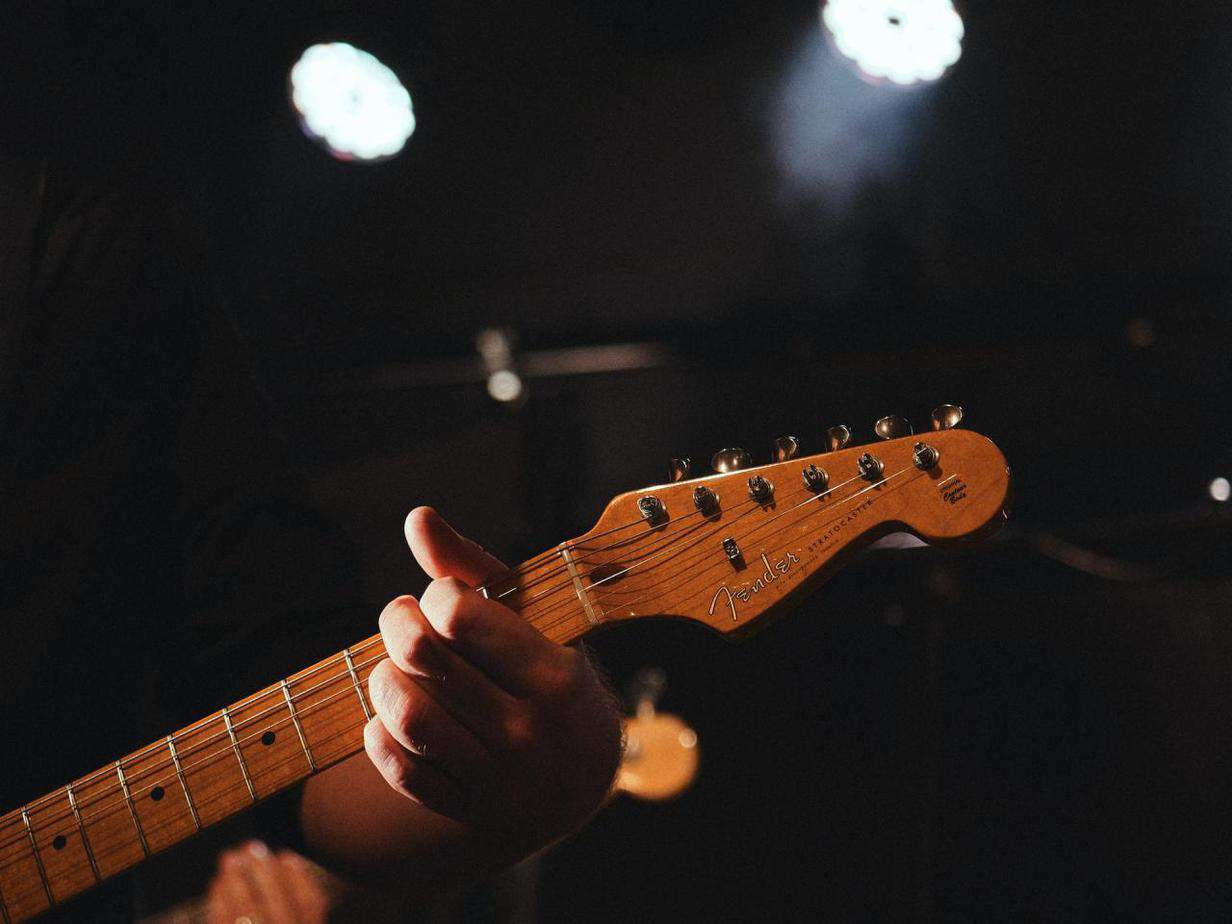 Ease of use
Stringing or tuning a headless guitar is much easier than it might appear. In fact, it's even faster and simpler than restringing a normal guitar. This attracts many beginners who find headless guitar a perfect introduction to the musical world.
Travel-friendly
Headless guitars are not only lighter but also significantly smaller and more compact, so they are a perfect match for younger players or guitarists with smaller hands.
This also makes them perfectly fit for traveling – some of the producers even openly advertise that their guitars will fit overhead compartments in airplanes, others include sturdy travel cases in their kits.
Sound consistency
Headless guitars are also believed to be able to achieve better intonation and a wider array of consistently sounding notes. The headless guitar uses zero frets like normal open-note frets which helps with eliminating the common fret buzz across the whole fretboard. This gives players many innovative options and musical possibilities.
Originality
Who wouldn't like to stand out from the crowd? For many guitarists, the headless guitar is simply something new to try – an exciting experiment, that can be very rewarding and introduces you to a whole new universe of ideas and inspiration.
The advantages of buying your headless guitar in a kit are obvious. Bundles provide a great value-for-money by combining your guitar with various compatible accessories and add-ons – these might include gig bags, hard cases, straps, picks, stands, and various useful tools.
Unfortunately, not all manufacturers offer their guitars in such value kits. But if you can't find a headless guitar kit of your choice, you can always create the whole set-up yourself by buying various compatible accessories separately.
What to Look For With Headless Guitar Kits?
Choosing the right musical instrument is never easy – especially if you're just at the beginning of your musical journey and don't really know what to look for and what to avoid.
Picking the best headless guitar is no different, with the exception of fact that your options are much more limited. Let's discuss some important details you should consider before making the purchase.
The first thing you'll probably notice when looking at a headless guitar is its distinctive design. Sometimes headless guitars look very similar to a normal guitar with the exception of a missing headpiece.
But most of them have a much more striking appearance with various untypical shapes, futuristic proportions, and beautifully weird color combinations.
Of course, appearance should not be the only reason to buy your new headless guitar. Apart from the attractive looks, you should also look for top-quality hardware and construction that will allow you to enjoy your new instrument to the fullest and achieve the full-bodied sound you're after.
One of the important details you should look for is a conveniently working tuning knob, that is not too tight and not too loose, which is a minor, yet relatively common issue with headless guitars.

Cannot decide if a single bridge guitar will work well for you? Bridges with all strings attached to a single object are easier to set up and install, therefore many beginners prefer them.
On the other hand, fanned frets offer a longer scale on the lower strings, which inspires an innovative approach and various alternative tuning possibilities.
If you plan to travel with your guitar, you should pay attention to its dimensions and weight too, but since headless guitars are generally smaller and lighter, this shouldn't be an issue.
Another important factor is your guitar's durability – smaller dimensions sometimes make the instrument more fragile and prone to damage. High-quality guitars should be made of first-class wood and have durable metal/aluminum components that won't allow the instrument to lose any of its qualities on the road.
Another important factor to consider is, understandably, your budget. Headless guitar kits can cost you anywhere between $200 and $700, so the prices are quite comparable to "normal" electric guitars.
The price depends mainly on used materials, the prestige of a brand, or included accessories. Last but not least, decide whether you're looking for a semi-acoustic or standard electric headless guitar. Our list contains worthy representatives of both groups.
Although the exact prices of instruments we discuss in this article might change quite frequently, we're indicating their price range on a scale $-$$-$$$. For updated price quotes just click on the product names and check their prices directly at the seller.
5 of The Best Headless Guitar Kits on the Market
Traveler Ultra-Light (ULA MPS) guitar is a compact yet full 24-frets 3/4″ scale electro acoustic travel guitar with an Eastern American maple neck through body.
Being only 28-inches long, this guitar perfectly fits in an airplane overhead compartment. The lap rest is detachable too for even easier transport. Its tiny weight (less than three pounds!) also makes this guitar highly ergonomic and comfortable to carry around and play.
Traveler Ultra-Light is allegedly the smallest and lightest full-scale electroacoustic guitar on the market. It contains a proprietary in-built tuning system that basically uses very standard tuning machines, which were just relocated inside the instrument's body.
Thanks to this innovation, what you get is a 31% shorter & 43% lighter guitar that can do anything you would expect from a standard instrument with a headstock.
Thanks to its user-friendly connectivity, you can simply plug your Traveler into any recording device or standard/battery-powered amp of your choice – the instrument has a common ¼" output and piezo pickup that is renowned for its bright, clear, and articulate tones.
Ultra-Light is a great all-rounder – besides being able to stand for a standard electric guitar when plugged into an amp, it's also a convenient practice instrument when unplugged.
One disadvantage is that this guitar lacks a volume control knob (you'll have to use your amp control). Note that it's also not very recommendable to use this guitar as an acoustic performance instrument, since it's almost unhearable without the power. Learn more with our 3/4 vs full size guitar comparison.
Specifications
Size: 32 x 12 x 5 inches
Weight: 4 pounds
6-string electroacoustic headless guitar
Pros
Full-scale
Standard connectivity
Very compact, great for traveling
Great price
Cons
There's no volume control
The guitar is almost silent when unplugged
EART instruments are on the market for more than 20 years now, but it's quite possible that you have not even heard about them before since they are primarily oriented on the Asian market Nevertheless, it's fair to say that they have a lot to offer to Western guitar players too.
EART produces affordable headless guitars that are able to surpass one's expectations quite easily. At first, you'll surely notice their distinctive design – carbonized African redwood shows off its incredible satin finish in colors that simply can't be overseen. The shape of this guitar is aggressive yet playful, perfectly suitable for various styles of rock and metal genres.
But EART guitars are not just good looking, they are also meticulously crafted with attention to every little detail. Do not expect any sharp frets, flaws in the finish, or other sloppy details. This guitar features a five-piece neck with 24 satin-polished frets that certainly won't hurt your hands, although the neck is a bit thicker and might not suit small hands perfectly.
The instrument also has a fixed bridge and closed double coil pickups that produce impressively mature sound. It produces crispy highs and clear lower tones. Whether it's a rehearsal, training at home, or gigging in a club, all this beautiful headless guitar needs to shine is a good set of strings and a capable player.
Specifications
Size: 35.5 x 17.5 x 3.45 inches
Weight: 6.6 pounds
6-string headless electric guitar
Pros
Quality and detail-oriented construction
Beautiful design
Nice and mature sound
Great value for money
Cons
The neck is thicker and less comfortable
Our Pick
Asmuse headless guitar may be much smaller than most of the regular electric guitars, but it offers an impressive full-scale experience that you would expect from any standard instrument. LEAF is a portable and conveniently compact instrument suitable for both traveling or performance.
If you want a perfect looking headless guitar, Asmuse LEAF boasts a lovely tiger eye finish that will surely attract a lot of attention wherever you take it. You can choose between black, green, or blue color. All pickups and switches are made of aluminum and tastefully match the overall design of the body.
LEAF comes with two switchable single-coil pickups, oval "C" shaped neck with rosewood fingerboard and 24 medium-size frets. The neck is made of maple, while the body is constructed of mahogany wood, which is a sought-after material for musical instruments mainly for its great resonance and ability to sound even better as it ages.
This guitar is a wonderful companion to practicing in small spaces or while you're on the road. Once you plug it in your favorite amp, you'll uncover it's surprisingly big potential – whether you're craving crystal clears or thundering grinds, Asmuse can keep up with you in every regard.
Unfortunately, you will likely come across some fuzziness when you turn the volume really high, so this instrument might not be 100% suitable for large venue performances.
Specifications
Size: 34 x 14.5 x 4.25 inches
Weight: 8.23 pounds
6-string electric headless guitar
Pros
Beautiful design
Musical versatility
Quality details
Affordable price
Cons
Heavier and larger than some other headless guitars
Fuzzy tones on high volume
Our Pick
Asmuse Headless Electric Guitar | Amazon
Designed headless with locking nut, to protect the guitar strings, so It's not easy to slip out of tune. The folding size is much smaller than the regular electric guitar, it's portable and convenient for travel or performance.
Buy at Amazon.com
We earn a commission if you make a purchase, at no additional cost to you.
12/04/2023 09:06 pm GMT
Bootlegger Spade is a beautiful, 25.5-inch scale, 5-pound, 24-fret travel guitar that has a lot to offer. The body of this guitar consists of a three-piece maple core and swamp ash wood body wings.
The neck is made of maple while the fingerboard is cut from exotic Brazilian cherry Jatoba. The whole instrument features a beautiful natural honey finish. Alternatively, you can opt for a white or black version.
The guitar features two Alnico humbucker pickups, standard control knobs for volume and tone, and there's also a three-way toggle switch. A monorail bridge works as effective isolation for each of the strings in order to ensure optimal vibration and perfectly articulate tones.
Spade is a top-quality musical instrument that is totally capable of serious performance, but thanks to its dimensions, weight, and included hard case, it can also be used as a convenient traveling guitar that will endure almost anything.
Bootlegger is a renowned brand that specializes in professional instruments and gear. This also means that it costs significantly more than some of the cheaper headless guitar kits we've discussed previously. But given the wonderful quality of its sound, reliability of its hardware, and stunning appearance, this investment is definitely worth it.
Specifications
Size: 30 x 10 inches x 1.5 inches
Weight: 5 pounds
6-string electric headless guitar
Pros
Professional quality
Monorail bridge for isolation
Comes with stylish hard case
Lighter and smaller than many other headless guitars
Cons
Any list of headless guitars would be incomplete without at least one of the magnificent Steinberger guitars. Their name comes from their creator, innovative instruments designer, and manufacturer Ned Steinberger.
This fearless pioneer in the field of headless guitars and bass guitars brought his first instruments on the market back in the 1970s, nowadays they are considered pretty much legendary.
GT-PRO Deluxe is a solid-body headless electric guitar that will immediately draw your attention thanks to its bold neck-through style. It sports a three-piece maple neck with a beautiful rosewood fingerboard and 25.5″ scale length. The guitar's top and wings are again made of maple.
Steinberger headless guitar GT-PRO is fitted with a set-up of humbucker pickups controlled by a single pair of volume and tone knobs. There's also a five-position pickup switch selector and locking tremolo (R-Trem) featuring a signature double bridge. Tuning is handled with a direct-pull system. The sound of this guitar is a full-bodied rock twang that won't leave you disappointed.
What's a bit annoying is that this instrument comes out of the box in a rather unpleasant setup. Prepare to do some adjusting and tuning before being able to enjoy this guitar normally. Given its brand and all the professional-grade hardware, this headless guitar is also one of the most expensive in its class.
Specifications
Size: 44 x 18 x 8 inches
Weight: 9.1 pounds
6-string electric headless guitar
Pros
Beautiful design
Very good pickups producing full-bodied sound
Exclusive brand with a rich history
Thoughtful and professionally crafted details
Cons
Bigger and heavier than most headless guitars
Quite expensive + most of the accessories have to be bought separately
Requires adjusting before first use
Frequently Asked Questions
These are some of the commonly asked questions about headless guitar kits:
Question: How do headless guitars work?
Answer: A traditional guitar has the tuning pegs mounted on its headstock. Contrary to that, a headless guitar or bass guitar has strings fixed below the zero fret, which eliminates the sole purpose of a guitar head. This construction has various advantages – a headless guitar is lighter, smaller, and produces more open tones.
Question: How do you tune a headless guitar?
Answer: Tuning a headless guitar is actually easier and faster than tuning most of the regular guitars. All you have to do is lock the bridge, then tune every string to pitch with direct pull-tuners. After that, unlock the bridge and check if the tuning is right. If it needs more adjustment, turn the knob located at the guitar's base. Clockwise turning will result in a sharper tone, counterclockwise turning will have the opposite effect.
Question: Is it worth building your own guitar?
Answer: Building your own guitar with a DIY kit is surely an inspiring and rewarding process. Headless guitars can be built from a scratch too. However, it takes a lot of skills, time, and patience to build a DIY guitar that actually has some real musical qualities. If you want to achieve top results, be prepared to invest in a 'serious' kit that can cost pretty much the same as a standard, fully assembled guitar.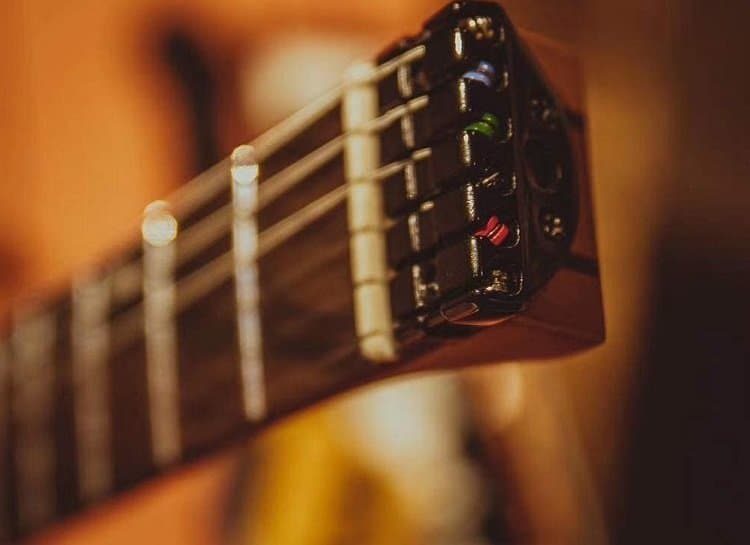 Conclusion: Which Headless Guitar Kit is the Best?
Which headless guitar kit is going to be your best match? That depends on various factors. If you're at the beginning of your musical career and hesitate to commit to some big investment, you should be perfectly happy with one of the cheaper instruments we've discussed in this article. EART W2 Guitar, for instance, comes with surprisingly good sound and quality, and its appearance is beautifully unique too.
But if you're able and willing to invest a bit more, we would strongly advise you to try Bootlegger Spade Guitar. This guitar simply provides the best ratio of all important qualities: it's perfectly sized for traveling, very light-weight, full of thoughtful details, extremely durable, and its sound will satisfy even professional guitarists.
We hope you enjoyed reading this article and found your new headless guitar kit in our list. If you'd like to read more inspiring texts from our experts, continue reading our guide to the Top Guitars for Left-Hand Players or our list of the Best Semi-Hollow Guitars You Will Truly Adore.
Our Pick
If We Had To Pick: Bootlegger Spade Guitar
Bootlegger Spade Guitar is the perfect headless guitar kit if you are willing to invest a bit more. It features the best overall ratio of important qualities as well as compact and lightweight design ideal for traveling used among many professional guitarists.
Check Price
We earn a commission if you make a purchase, at no additional cost to you.
12/05/2023 07:26 am GMT
Latest posts by Jodie Chiffey
(see all)