As it turns out, not every guitar is a fingerpicking guitar, so today, we have given you the top 5 best fingerstyle guitars so you know where to start, as well as some basics guitar to get you going.
While it is true that you can fingerpick any guitar, you will want to play fingerstyle (otherwise know as "fingerpicking style") on guitars that are suited for that type of guitar playing.
Up Front Best Fingerstyle Guitars
In a hurry? You can read my full article for all the details, but to cut to the chase, my top recommended best fingerstyle guitar option for most players is the Takamine GD20-NS Dreadnought available here. Otherwise, if you have a bit of budget, upgrade to the Taylor Big Baby here.
Continue reading for the full buying guide…
Our Pick
But, what exactly does it mean to play fingerstyle?
Playing fingerstyle is a style of playing guitar that can be applied to all genres of music. Fingerstyle is when a player plucks the strings using their fingers (or fingernails), rather than using a pick. Fingerstyle playing used to be heavily used in folk style playing, but it has now reached across all musical genres- including rock.
Fingerstyle picking can range from a very simple folk-style, also known as "Travis picking", all the way to incredibly difficult and complex styles. There are several different names that fingerstyle is called in the music world, such as fingerpicking, pattering picking, etc.
In fingerstyle playing, you are only allowed to play on a classical guitar; however, you can play fingerstyle in any genre of music. You can find fingerstyle playing in many different genres of music, including Celtic, blues, jazz, classical, rock, and many more.
Fingerstyle playing allows a guitar player to perform multiple parts at once; for example, a bass line, accompaniment, and melody, all at once.
Here's a video on How to Play Fingerstyle, from Cordoba Guitars:
What is a fingerstyle guitar?
A fingerstyle guitar is a guitar that has a lighter construction in comparison to a guitar designed for bluegrass, rock, or other genres of music. The reason why fingerstyles guitars are constructed to be lighter is because the player needs less energy to produce sound using the fingers, in comparison to playing with a pick.
This means that the fingerstyle guitar has to be dramatically more responsive with a lighter touch.
It is very popular for fingerstyle guitars to feature wider string spacing; the string spacing can be as wide as 59mm, but the average us 57mm, which is 4mm that your basic acoustic guitar. This extra spacing allows extra room for your fingers to move around and you not have to worry about hitting another string; the extra spacing comes in handy when playing arpeggios.
The nut width on the average fingerstyle guitar is 1 11/16 inches (43mm) in comparison to the 1 ¾ inches (45mm) on the average guitar.
Criteria used to evaluate the quality of a fingerstyle guitar
It's very easy to become overwhelmed by all of the choices of guitars that you can choose from while going shopping for your dream guitar. If you are a beginner, you are more than likely to get confused about all of the different speculations and information that manufacturers provide shoppers with.
There are a countless number of guitars that are available on the market, in every single style that this world has to offer. But, how do you know how to evaluate the quality of a guitar if you're not sure how to tell the difference between different details that each guitar has?
That's why we've created this guide to help you decide between all of the guitar choices out there!
Here are the criteria that we use to evaluate the playability, quality, and value for your money:
Portability
Feel of the guitar
Mechanical aspects of the guitar
Materials that the nut and bridge are made from
Bracing
Tuning pegs
Materials and composition of the body
Whether the guitar has a solid top or not
Intonation
Sound projection of the guitar
Price range of the guitar in comparison to other guitars in their quality
Our Pick
The Takamine GD20-NS Dreadnought Natural Acoustic is often referred to as the 'dirt-cheap luxury'. Why? The GD20-NS is affordable for all level players, beginning included; on top of that, it plays like a guitar that's worth thousands of dollars.
If you are a player who is looking for a guitar that produces a different sound, check out the Takamine GD20-NS! The unique combination of solid mahogany neck and solid cedar body ensures that this guitar produces a warmer sound.
This guitar is perfect entry-level musicians, due to the slim neck that's sported on this guitar.
GD20-NS is easy to play, which makes it perfect for beginning guitarists. Due to the slim cord shape of the neck, your hand won't feel fatigued as quickly, in comparison to playing on a traditional size neck. The size of the neck also allows players to play more comfortably, which helps to allow players to play at a faster tempo.
If you are looking for a professional sounding guitar, but afraid the dreadnought style size will affect how well you play, I would suggest this guitar to you. Also, the pin-less bridge makes changing strings on this guitar a breeze! You won't have to worry about losing your pins or breaking them while you're changing out your strings.
The GD20-NS is also popular among singers, produces, and song writers of all musical genres (as the sound quality from this guitar is so pure, it doesn't fit exactly into one genre). The Takamine GD20-NS Dreadnought Natural Acoustic is a high-quality guitar with rosewood fretboard that's offered at an affordable price.
If you are looking for a guitar that plays like a million bucks, but aren't willing to shell out a million bucks, this is the perfect investment for you to make.
While it is easy to play, the GD20-NS also provides players with a unique, rich, and full sound. The price may make you think otherwise, but the GD20-NS does not sound like a cheap guitar; the warm and inviting tone that comes from this guitar is a favorite among may professional musicians.
On top of the stunning sound that the GD20-NS produces, it's also gorgeous to look at! The only downside about the guitar is that your purchase does not include a hard case guitar; if you are looking to travel with your instrument, I would suggest purchasing a hard case guitar, which can range from $60 to $200 (for the latest prices and discounts, check here).
However, if you just plan on learning for yourself, all you will need is a soft case (also called a gig bag) to store all of your supplies and your guitar.
Takamine is a brand that's known for having irresistible guitars; their GD20-NS is not any different. The GD20-NS is a pure guitar that offers premium features for beginning players, sturdiness for intermediate players, and significant tone perfection for professional players and musicians.
The total output of this guitar, tonal quality, simple and elegant appearance and cosmetics of the GD20-NS make it worth several thousand dollars, but instead, it's on the market for only a few hundred!
For more information on the Takamine GD20-NS Dreadnought Natural Acoustic, read my full review here
Runner-Up
Taylor Big Baby Acoustic | Guitar Center
If money isn't the parimary concern, the Big Baby Acoustic is an EXCELLENT value for a premium fingerstyle guitar (around $600). A great pick for beginners and experienced players alike.
Check Price
We earn a commission if you click this link and make a purchase at no additional cost to you.
The Taylor Big Baby work great as a lead acoustic guitar, due to the bright sound; the Taylor Big Baby works great for live performances, people who want to play just for personal satisfaction, or people who are looking to perform in a studio.
Taylor Big Baby is an affordable, smaller sized dreadnought, but plays like a full-sized dreadnought at a minimal price! Despite having a smaller body than the regular dreadnought guitar, the Taylor Big Baby packs a full sound, with an incredibly sound projection.
While they are called Big Baby guitars for a reason, the Taylor Big Baby doesn't feel like a small guitar while you're playing it; it's a resonant, light, and very durable guitar. If you are worried about the feel of the guitar, the finish that Taylor put on their Big Baby it easy on the skin; it doesn't cause irritation and doesn't wear off, even after years of playing.
The Baby Taylor is a light, bright, and articulated model that is easy to play fingerpicking on. Big Baby Taylor responds well to all types of percussion, but especially well picking and strumming.
Taylor says that their Big Baby is great to travel with, because of the reduction in size, but will put on a professional performance just as well as any guitar that costs several thousand dollars. The Taylor Big Baby is a basic and simple guitar; it's a quality choice in a guitar if you're looking to only have a moderately priced spending trip.
If you are someone who travels a lot, this Taylor guitar would be perfect for you. The Big Baby is an affordable starting option for beginners, but a great travel companion for seasoned players; it's just shy of being a full-sized guitar, which makes it a lot easier to travel with.
Despite having a smaller body than the regular dreadnought guitar, the Taylor Big Baby packs a full sound, with an incredible sound projection.
To learn more about the Taylor Big Baby Acoustic Guitar, read my full and awesome review here
Best Budget Pick
While the legacy of Fender's guitars are known world wide, the Fender CD-60 Dreadnought Acoustic Electric is described to be a guitar that has concert level sound projection, consistent tonality, and a high-quality build.
Whether you are a beginning guitarist, or just someone who is just looking to add to their travel collection, and you are looking to make a good investment, the Fender CD-60 offers a medium-quality instrument for a value that isn't too pricey.
If you are a beginner and you are just looking for a basic acoustic-electric guitar, this is most definitely suitable for you.
The CD-60 is also said to maintain a consistent sound while played in different settings, while producing enough sound to satisfy both beginning and intermediate players. This guitar does a fairly good job producing a deep and moderately rich tone while strummed.
Fender claims that the CD-60 is suited for a beginning guitarist, as well as people who like to travel with their guitar and are looking for an affordable, yet high-quality instrument to add to their collection.
Maybe you are just looking for a guitar that can travel with you and you are not worried too much about the quality sound coming from your guitar, I would also suggest this instrument to you.
There are three choices to choose from when deciding on the physical appearance of your guitar; black, sunburst, or natural.
While the CD-60 isn't going to replace the Taylor (above), this guitar will certainly be a wonderful first guitar, or a back-up guitar to take with you while you are on the road. Plus, you won't have to shell out thousands of dollars in order to have a professional quality instrument that will grow with you as you become a better player! The Fender CD-60 Acoustic Guitar's attention grabbing design and superb sound demands it to be played.
For the full rundown on this fingerstyle guitar, the Fender CD-60 Dreadnought Acoustic Electric Guitar, please read my full review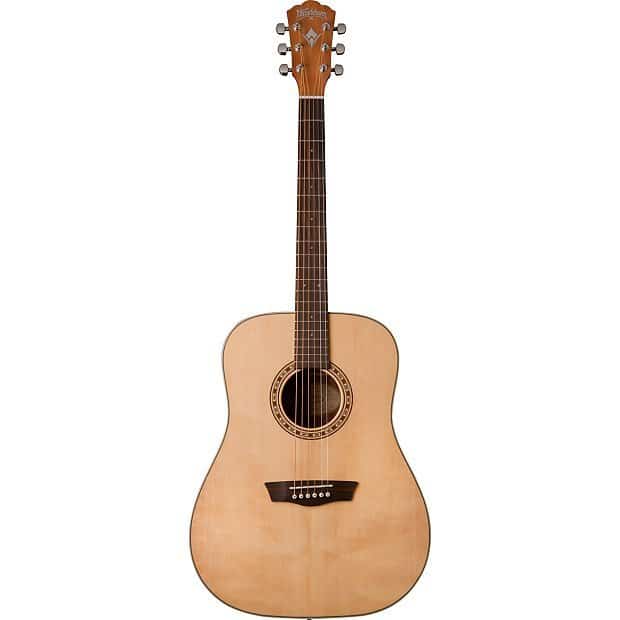 Washburn claims that the WD7S is unmatchable at its price range due to the tone, quality, sound projection, and unique guitar features that the WD7S offers. This is a guitar that will grow with you; if you are serious about playing, you will only have to make the investment in a quality guitar once.
The Washburn WD7S Harvest Series Dreadnought Acoustic guitar is known for delivering professional sound at a beginner's price.
If you are looking for an acoustic guitar that is going to produce clear tones for decades to come, the WD7S is going to be your pick. Whether you are a beginning guitarist or just someone who is looking to add to their collection, I would most definitely suggest making the $200 investment and adding this beauty into your life.
As Washburn described, the WD7S truly is a guitar that will grow with you are your skill level advances.
While the dreadnought body style may make you think that the WD7S will become uncomfortable to hold after a long period of time, the construction of the neck offers lightweight and comfortable playing.
Whether you are looking to perform in a one-on-one setting or in a live audience, the WD7S does deliver crystal clear, powerful, and full sound for your favorite chords.
The dreadnought body shape ensures that there is a wide selection of tones that can be produced, as well as excellent sound projection.
The WD7S is known for its high-quality sound projection, but also for being able to keep a solid sound integrity.
Washburn ensures that their WD7S is able to produce loud, sharp, and clear tones while strummed; on the other hand, if the WD7S steel stings are fingerpicked, the instrument produces a mellow, soft, and sweet tone.
This guitar is a great fit for beginning players, as the construction of the neck provides extraordinary comfort that is not usually found in the average dreadnought guitar. If you are someone who is looking for a guitar that will grow with you as your age and you become a better guitarist,
the WD7S will be certain to show you the quality workmanship of the guitar through its sounds and tones.
To learn more about the Washburn WD7S Harvest Series Dreadnought Acoustic Guitar, read my full review here
Yamaha FG800 Folk Acoustic Guitar | Musician's Friend
Yamaha's FG800 Folk Acoustic Guitar is a reasonably priced entry-level acoustic guitar featuring one of the most popular tonewoods - solid Sitka spruce - for the top. Other features of the FG800 include a rosewood fingerboard and bridge, black and white body binding, die-cast tuners, and a tortoise pickguard.
Check price
Buy at Guitar Center
We may receive compensation from the companies whose products we review. We only recommend products that we believe in and test.
Are you looking for a super affordable fingerstyle acoustic guitar? The Yamaha FG800 Solid Top Fingerstyle acoustic guitar is not only an affordable guitar, but it'll help you to slay all of your acoustic guitar goals.
The FG series from Yamaha is surging in popularity because of the new construction that Yamaha's offering on this series. As a result, this is leaving many people with outstanding quality and increased playability.
What sets this fingerstyle acoustic guitar apart from other fingerstyle guitars on this list is that it comes with scalloped bracing. The scalloped bracing helps to support the natural sound this instrument is capable of producing. Also, the scalloped bracing makes both the top part of the guitar durable and a lot stronger.
Moving on, you'll find that there are a rosewood fretboard and a NATO neck installed on this fingerstyle acoustic guitar. This means that these words will help to contribute to a stabilized sound production. Keep in mind that this is a full-size guitar, so this isn't something you'll want to purchase if you're shopping around for a stinker style guitar that's ideal for smaller children or people with smaller hands.
You will also have the ability to choose between a grand concert body and a dreadnought body. If you're somebody that's only looking to play fingerstyle, I would highly recommend that you choose the Dreadnought body style. This is because it's going to be a lot easier for you to handle and manipulate the guitar.
At a Glance: Best Guitars for Fingerstyle
| Model | Washburn WD7S Harvest Series Dreadnought Acoustic Guitar | Fender CD-60 Dreadnought Acoustic Electric Guitar | Taylor Big Baby Acoustic Guitar | Takamine GD20-NS Dreadnought Natural Acoustic | Yamaha FG800 Solid Top Fingerstyle Acoustic Guitar |
| --- | --- | --- | --- | --- | --- |
| Top Wood | Solid Spruce | Laminated Mahogany | Solid Sitka Spruce | Solid Cedar | Spruce Wood |
| Bracing | Quarter Sawn Scalloped Sitka Spruce bracing | Scalloped X Bracing | Taylor Standard Big Brace X-Bracing | Quarter Sawn X-Bracing | Scalloped Bracing |
| Back and sides material | Mahogany | Laminated Mahogany | Layered Sapele | Mahogany | Nato wood |
| Neck material | Mahogany | Laminated Mahogany | Layered Sapele | Mahogany | Nato |
| Fingerboard material | Rosewood | Rosewood | Genuine African Ebony | Rosewood | Rosewood |
| Frets | 20 | 20 | 20 | 20 | 20 |
| Nut Width | 43mm | 43mm | 42.86mm | 42.8mm | 43mm |
| Scale | 25.5 inches | 25.3 inches | 25.5 inches | 25.3 inches | 25 9/16 inches |
| Dimensions | 18 x 46 x 7 inches | 19 x 45 x 7 inches | 16.5 x 43.5 x 7.2 inches | 44 x 20 x 6 inches | 42.5 x 20.7 x 6.1 inches |
| Finish | Gloss or matte | Gloss | Varnish | Natural | Gloss |
| Hard case included | No | Yes | No | No | No |
| Body style | Dreadnought | Fender Style Dreadnought | 15/16 dreadnought | Dreadnought | DeadnoughT |
| Price | $190 -$200 | $200-$250 | $400-$450 | $300-$400 | $199.99 |
| Acoustic Electric | No | Yes | No | No | No |
| Best genre suited for | All genres | Country, bluegrass | Country, alternative | Country, alternative, jazz | jazz, contemporary music, blues, world music |
| Strings | 6 strings/ steel | 6 strings/ steel | 6 strings/ steel | 6 strings/ Nylon strings | Yamaha FS50BT or D'Addario EXP11 |
| Manufacturer | Washburn | Fender | Taylor | Takamine | Yamaha |
FAQs About Fingerstyle Guitars
Is fingerstyle guitar hard?
Fingerstyle guitar playing can be hard if you are a beginner and if you are still learning how to play basics. With enough practise, fingerplaying will become easier, but some players still continue using pick held even after years of practise, because they find it more convenient.
Do you need long fingernails to play fingerstyle guitar?
There is not a written rule that longer fingernails help in playing better, however, lots of musicians keep their fingernails longer because they are more effective for strumming.
What strings are the best for playing fingerstyle guitar?
Every fingerstyle player will have different preferences, but for me, the best strings for playing fingerstyle guitar will always be gauge strings. When it comes to electric guitars, make sure that the strings are 0.10, and with acoustic 0.12.
Some Final Notes on Finding the Right Fingerstyle Guitar
Steel String Guitars vs Nylon String Guitars: While you are looking at different fingerstyle guitars, you will see two main types of strings that these types of guitars are strung with: that is the nylon string and the steel-string. If you are looking at a guitar that has steel strings (steel-string acoustic) but wants to have a guitar strung with nylon, go purchase a pack of nylon strings and re-string your guitar! That way you won't have to go purchase a whole new guitar!
Guitarists who play the fingerstyle technique usually use stings that have a lighter gauge in comparison to guitar players who strum. While it's okay to use a heavier gauge string, you may find that trying to play certain techniques to be more difficult.
If you are just getting started in learning how to play fingerstyle, you may want to start out with a light gauge of strings, just to see how they feel for you. If you are a beginning guitarist, new to learning how to play fingerstyle, or have smaller hands, I would suggest using a lighter gauge string. 012-054 happens to be the most commonly used gauge for fingerstyle guitar strings.
If you don't enjoy the feeling or the light gauge strings, you can always re-string your guitar with extra light gauge strings or medium gauge strings. Another option for fingerstyle players to use is to purchase a mix of extra light gauge, light gauge, and medium gauge strings and customize their guitar, by applying different gauges to each string. Experiment and see what works best for you! Maybe read a book or two if you'd like!
Every single guitarist is different, to make sure that you experiment with all of the different options that are available. If you have the opportunity, try going to a local guitar (or music) store and play the guitars that you are interested. Make sure that you ask any questions that you have, because you want to make sure that the guitar you pick is perfect for you!
No matter what guitar fits you budget, whether you are a beginner or an advanced musician, what materials you desire to have your guitar made from, or what you want your guitar to sound like, there is a fingerstyle guitar out there for you!
Our Pick
Further Reading on Acoustic Guitars for the Fingerstyle Guitarist:
Danny grew up playing anything that looked like a guitar. Since some kids just don't know how to grow up, he continues to write about guitars because you can do that these days.