The Washburn WD7S Harvest Series Dreadnought Acoustic is known to have incredible tone and quality. The WD7S body features a solid SITKA spruce top; SITKA spruce is a wood that you will find on some of the most expensive guitars that the world has to offer.
The SITKA spruce has a glare-free satin finish on the top, allowing the natural sheen that accentuates the beauty of the wood the guitar was built with. Washburn claims that as SITKA spruce ages, the tone improves. The back and sides are made from mahogany that has been glossed with a satin finish.
The dreadnought body shape ensures that there is a wide selection of tones that can be produced, as well as excellent sound projection. The sides and back are made from mahogany that sports a gloss finish. The mahogany neck hosts a rosewood fingerboard that has 20 frets and a bone nut.
The hardware that Washburn installed inside of the WD7S Harvest Series Dreadnought Acoustic ensures that there is stable string precision, as well as constant and excellent pitch. The tuning machines are placed on top of the headstock.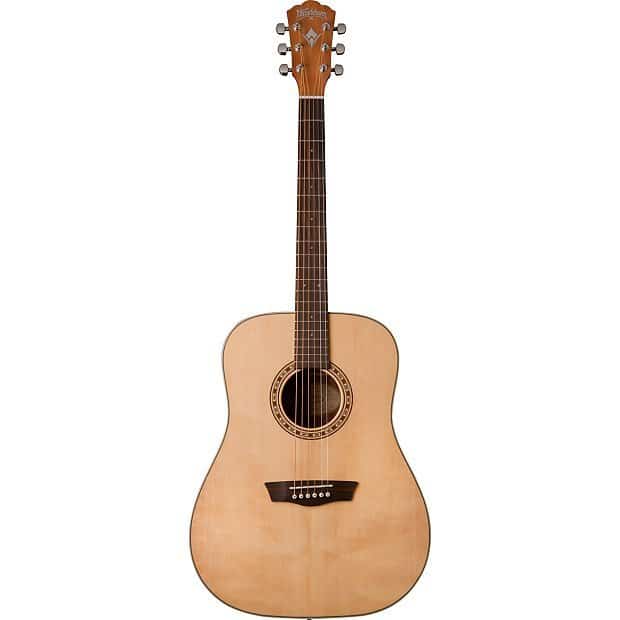 Criteria:
It is most definitely very easy to become overwhelmed by the massive guitar market that's available; there are a countless number of guitars available in every single style in the world.
In order to know how to evaluate a guitar's quality to make sure that the guitar you're looking at is the proper one for your needs, you need to understand what criteria is used to evaluate a guitar's quality.
This review of the Washburn WD7S Harvest Series Dreadnought Acoustic Guitar will look at the following criteria:
The playability to the WD7S
The materials that this guitar is made from
Who the WD7S is the best guitar is best suited for
The tone
The value of the WD7S for your money
Overall, I would recommend this guitar. For $200, you are going to be purchasing a high-quality guitar that will grow with you, as you progress.
It's a one-time investment that you are going to make, instead of re-purchasing a guitar every time your skills outgrow your old guitar. It's a Martin quality guitar, without the price tag of a Martin guitar.
Plus, it's a guitar that has the ability to change genres, as the sound and tonality of the WD7S fits perfectly with whatever you choose to play. Whether you want to play privately or dream of playing in front of large, live audiences, the WD7S is a guitar that will grow with you.
What does Washburn advertise the WD7S to be?
Washburn describes the WD7S Harvest Series Dreadnought Acoustic to be a performance-friendly guitar, due to the cutaway. Washburn also claims that the WD7S is unmatchable at its price range due to the tone, quality, sound projection, and unique features that the WD7S offers.
The manufacture of the WD7S claims that this guitar is great for beginners, due to the price range and the build of the guitar. While the body is a classic dreadnought shape, the neck is smaller, which allows inexperienced players (or players who have smaller hands) to get used to holding a guitar.
Features of the Washburn WD7S Harvest Series Dreadnought Acoustic:
Dreadnought body style
Solid spruce top
Mahogany sides and black
Mahogany neck
Multi-ply binding
Rosewood bridge
Chrome die-cast tuners
Dot inlay
D'Addario EXP-16 light set phosphor bronze steel strings
5" scale
43mm nut width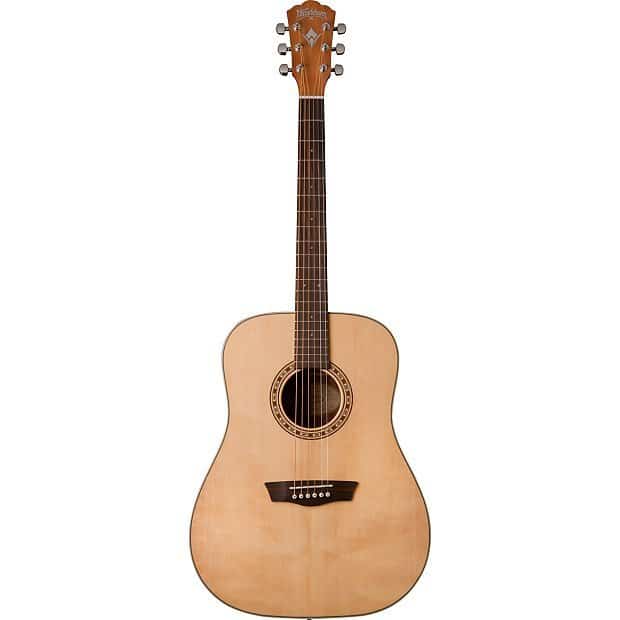 What genre is the Washburn WD7S Harvest Series Dreadnought Acoustic Guitar for?
If you're a beginner looking for an inexpensive guitar, the only downside about this beauty is that it may be a little bit above your budget. However, this is a guitar that will grow with you; if you're serious about playing, you will only have to make the investment in a quality guitar once.
If you are looking for a relatively inexpensive guitar that has the same exact quality as one that costs more than three thousand dollars, this is the perfect acoustic guitar for you.
The Washburn WD7S Harvest Series Dreadnought Acoustic Guitar works great for all genres out there; but, this guitar is perfect for live performances. The dreadnought body of this acoustic delivers large and loud.
While the natural nature of this guitar is to produce loud sounds, the build of the WD7S ensures that the integrity of your sound remains intact.
When fingerpicking on the steel strings on this guitar, the WD7S produces soft, warm, and mellow tones. However, if you're strumming, your guitar will produce sharp and clear tones that won't muddy up inside of the sound hole.
Does the WD7S work as advertised?
The Washburn WD7S Harvest Series Dreadnought Acoustic guitar is known for delivering professional sound at a beginner's price. As Washburn described, the WD7S truly is a guitar that will grow with you are your skill level advances.
Whether you're looking to perform in a one-on-one setting or in a live audience, the WD7S does deliver crystal clear, powerful, and full sound. At a fraction of the price, you are making a lifetime investment in a guitar that you'll be able to play for years and years to come.
If you are interested in what the WD7S sounds like, check out this YouTube video!
Pros of the WD7S:
The neck is narrow, which makes it easy for people who have small hands to play
Full sound production, due to the use of only solid woods in the construction of the body
Made in America
Visually appealing cosmetics
Can handle low action without producing any buzzing; this makes it easier to play while you hold down strings that are four frets apart
Cons of the WD7S:
No cut-out
If you are a beginner who is looking for an inexpensive guitar that's still high quality, you may find this guitar to bit on the pricier side
While the neck is smaller, the body is dreadnought sized
There are no plug-in options
If you're left handed, you're going to want to check out another guitar. This is a guitar that's specifically for right handers!
The case is sold separately
Other alternatives to consider
If you're worried about purchasing from a brand that isn't known to be as trustworthy as other well-known brands, the acoustic guitar is a great guitar to consider! The GD20-NS sports a solid cedar top, with mahogany back and sides.
The GD20-NS offers a beautiful combination of tonewoods that offer a new take on the GD20-NS classic body. Due to the solid cedar top on the GD20-NS, this guitar produces an elaborate tone that works well with all sorts of musical genres and styles.
The Seagull S6 is well known to be a wonderful entry-level guitar. Why? While the pricing and feel of the guitar is great for beginners, the sound and tone quality does not make the guitar appear to be cheap.
If you're a beginner looking for a quality guitar and are looking to spend a little bit less than $200, you should look like at the Seagull S6 Original! This guitar is offers a 1.72 inch nut width; add the slimmer nut width and the combination of wild cherry back and sites, the Seagull S6 gives this guitar a warm, full, and rounded sound!
What's our final verdict?
If you're looking for an acoustic guitar that is going to produce clear tones for decades to come, the WD7S is going to be your pick. While the dreadnought body style may make you think that the WD7S will become uncomfortable to hold after a long period of time, the construction of the neck offers lightweight and comfortable playing.
Whether you are a beginning guitarist or just someone who is looking to add to their collection, I would most definitely suggest making the $200 investment and adding this beauty into your life.
Read More:
Danny grew up playing anything that looked like a guitar. Since some kids just don't know how to grow up, he continues to write about guitars because you can do that these days.