In this article, we are going to be exploring 2 digital recorders – the Tascam DR 05 vs Zoom H1.
When it comes to portable, digital recorders, we have come a long way in recent years. Digital recorders can now be small enough to fit in a pocket and record at previously unfathomable quality settings. With digital recorders capable of a multitude of technical functions, it is an exciting market at the moment.
Digital recorders have their place in the music industry, whether for the beginner or a professional instrument player. Many students can use digital recorders to their advantage and record their lectures, they're also used by journalists, in film applications, and of course for bands.
Better Battery Life
In this article, we're going to look closely at the Tascam DR 05 and the Zoom H1, explore the specs, pros, and cons and look into some alternatives that you may want to consider, further down the page.
Before we go into full detail about the Tascam DR 05 vs Zoom H1, let's first see what sets them apart.
Main differences between the Tascam DR 05 vs the Zoom H1
The main differences between the Tascam DR 05 vs the Zoom H1 are:
The Tascam DR 05 has a 17-hour battery life, whereas the Zoom H1 has 10 hours of battery life
The Tascam DR 05 is compatible with a USB, whereas the Zoom H1 is compatible with a Mini USB
The Tascam DR 05 weighs 4.01oz, whereas the Zoom H1 weighs 2.08oz
The Tascam DR 05 takes x2 AA batteries, whereas the Zoom H1 takes 1 AA battery
Although there are notable differences, there are also many similarities. They're both highly rated recorders online, come with 32 GB storage, have MP3 and Wave formats, similar bit rates, and sampling frequency. There's also not a whole lot of difference in their retail prices.
Key Specifications
Exploring Tascam DR05 vs Zoom H1 features
Now that we have seen a side-by-side comparison of features, let's explore each digital recorder more thoroughly.
The Tascam DR 05 provides high-quality, portable recording in either WAV or MP3 formation, with 96kHz/24-bit high-resolution audio. The microphones are Omni-directional and handle 125 dB SPL, with this level of sensitivity every detail will be captured. The recorder has mini-jack stereo input so people could use an additional microphone if required.
You can operate the Tascam DR 05 easily and quickly with just one thumb. Operations, such as adjusting levels, adding marks, deleting bad takes, and recording audio is only a button press away. Other features include; variable speed audition, low-cut filtering, and chromatic tuner. There is also a multilingual menu, making this globally universal.
There are three different auto level modes – Auto level, Peak Reduction, and Limiter, which reduces the risk of accidental distortion when recording. In addition, there is a Level Align function that will smooth out any unwanted jumps in volume during playback. The built-in speaker allows for a quick check-back of the recordings.
The Tascam DR 05 has a Dictation Mode which enables users to jump back and forth in preselected increments when they are playing a file back. Combine this with speed control to make the transcribing of minutes a much easier task. Users can drop-in and replace parts of existing recordings with the Overwrite mode and one level of 'undo'.
This is a great product for a variety of occupations – or hobbies -, such as voice-over work, podcasting, songwriting, and live streaming, producing studio-quality audio at the touch of a button.
Tascam DR 05 Features
High-quality portable stereo recording
Handheld and easy operation
Micro SD/SDHC/SDXC cards
Can be used with Mac and Windows
Supported audio formats: Wave, MP3
Stereo condenser microphone
Switchable filter
Recording level setting (manual)
Three options of automatic level control when recording
Overwrite function with one level of Undo
Dictation mode designed for human voice recording and transcription
Self-timer
Automatic tone generator
Speed audition that's variable speed audition
Repeat/loop function
Playlist feature to play files in a certain order
Resume function
Jump back function
Equalizer
Built-in loudspeaker
Headphones
Quick menu button
Chromatic tuner function
Clear, backlit LC display
Multilingual
Versatility
The versatility of the Tascam DR 05 is perhaps its biggest selling point. Whether you're a gamer, YouTuber, leading journalist, student, or recording artist, the Tascam DR 05 has the features to increase the professionalism and overall quality of your work. It also makes life easier and more convenient in a number of ways; the one Undo overwrite function is a definite time-saver.
Better Battery Life
Audio
You can record clear audio wherever you are with the Tascam DR 05. In addition to handheld recording, it can also be used as a USB audio interface because of its two inputs and outputs. This makes it a handy tool for home-based professions where studio-quality audio is a must, for example; podcasters, live streamers, or online/virtual music teachers.
There are six reverb effects to the input and output signal, with an Overdub feature too which allows the user to record other parts – maybe a guitar solo – over a previously made recording. Overdubbing will create a new file and leave the original unaffected, so re-recording is simple.
Use software for music development, in addition to your portable recorder, for faster and greater results.
Reliability
With up to 17 hours of battery life, the Tascam DR 05 can be used for an entire day without the need to be charged. It supports SDXC cards in addition to recording media, and these have extremely large data capacities. One stereo file in 16-bit CD quality can hold up to 896 hours worth of recordings.
The powerful, portable Zoom H1 captures sound and samples audio for a wide variety of purposes. Used professionally in conferences, journalism, seminars, musical performances, and for video productions, it is still in the affordable range for students, enthusiasts, and newcomers.
Capturing sound with clarity and definition, the Zoom H1 is great for any type of live audio recording. The microphone input is a stereo mini-jack that can take two mic signals, condenser microphones that require 2.5 volts plug-in power can also be connected.
There is a built-in speaker on the Zoom H1 back panel for fast monophonic monitoring of the recordings and the UBS port allows digital input from the recorder to your PC or Laptop. Once connected to your computer, recordings can then be imported into editing software – WaveLab is already supplied.
The design of the Zoom H1 is rugged yet compact and it is able to record high-quality sound anywhere. Featuring a mic enclosure to protect it from damages, it's a robust recorder that's safe in a pocket, jacket, tossed into a backpack, or out in the field.
It also comes with free downloads for Sternberg's Cubase music production software and WaveLab LE audio editing software.
Zoom H1 Features:
Streamlined body with a matte finish
New protective mic enclosure
Built-in stereo 90˚ X/Y condenser Microphones
One-touch button controls
10-hour battery life
Localized and intuitive menus
Easy operation
Low-cut filter for elimination of wind noise and rumble
USB port
SD card reader function
Mounts directly to tripod, or to a mic stand with optional adapter
1.25" monochrome LCD display
Distortion-free recording
Records directly to SD and SDHC cards
Up to 32 GB
Easy-to-Use Menus and Controls
Comes with free music production and editing software
Enhanced Playback and Control
MP3, Wave format
Quick Start Guide included in the box
Versatility
The Zoom H1 has been designed with creators of all kinds in mind. The advanced one-touch button controls, built-in 90-degree X/Y stereo mics, and distortion-free recording making it the perfect tool for professional projects. Its small size, light-weight, and durable design mean it's great to travel with to record anything, anywhere.
Our Recommendation
Audio
Distortion-free audio is promised with the Zoom H1, due to its advanced onboard limiter. Users can capture band practice, concerts, football games, and other loud events without compromising audio quality.
One-touch playback speed controls allow you to easily transcribe lectures, meetings, or interviews and for musicians, the A-B repeat is a handy feature for learning or rehearsing music. It can auto-record, pre-record and self-time with high-quality audio, at the touch of a button.
Reliability
My favorite feature of the Zoom H1 is the mic protection. This, combined with the 10-hour battery life (for continuous recording), means that it won't let you down if you're out for the day. Users have rated this online as extremely durable and highly reliable.
Tascam DR 05 vs Zoom H1 Pros and Cons
Tascam DR 05 Pros
Great battery life
Overdubbing
Great sound quality
Great features – Dictation Mode, Overwrite, One-Click Undo
Tascam DR 05 Cons
Plastic chassis
Can not be conveniently used for live sets (doesn't work over USB)
No protector over the USB plug
Singletrack recording only
Zoom H1 Pros
Sound quality
Ease of use
Microphones
Easy setup
Zoom H1 Cons
Build quality – many reviews mention this
Reliability – I have seen a lot of users complain of breakages or the product having many errors
Battery life
Storage
Are there any alternatives to the Tascam DR 05 and the Zoom H1?
If you're not yet sold on the Tascam DR 05 or the Zoom H1, then here are a few alternatives for you to consider:
The Tascam DR-40X Portable Digital Recorder is named portable, not handheld, as it is designed more for mounting over holding – although this can still be comfortably done, given its small size and low weight. 4-channel mode means users can opt for dual recording and nondestructive overdub channels, etc.
This product has an auto-record function and an up-to-two-second pre-record facility, along with a self-timer to allow time to get yourself, or your instrument, ready before recording starts. The microphones are high-quality, unidirectional stereo that record in A-B and X-Y positions.
There are location markers, support for playlists, auto-gain correction facility, digital EQ, a limiter, and various optional accessories too, which include; a remote control, windshield, and external battery pack.
Functions as a 2in/2 out USB audio interface makes the portable recorder compatible with PC, Mac, or iOS.
A high-end price for an online best-seller, the Zoom H4n Pro 4-Track Portable Recorder has a four-channel recording capacity, with built-in stereo microphones, up to 140 dB SPL. The X/Y microphones provide spectacular stereo imaging that is unrivaled.
This recorder is professional-grade and has 3 different recording modes: Stereo Mode, 4-Channel Mode, and MTR Mode. This isn't just an improved Zoom H4 model, it is superior in every way. With incredible natural-sounding preamps and a super-low noise floor, users can record anything with extraordinary realism.
With different, optional, Zoom accessories available to advance your equipment even further, this portable recorder can deliver superior sound, ease-of-use, and incredible features for all users.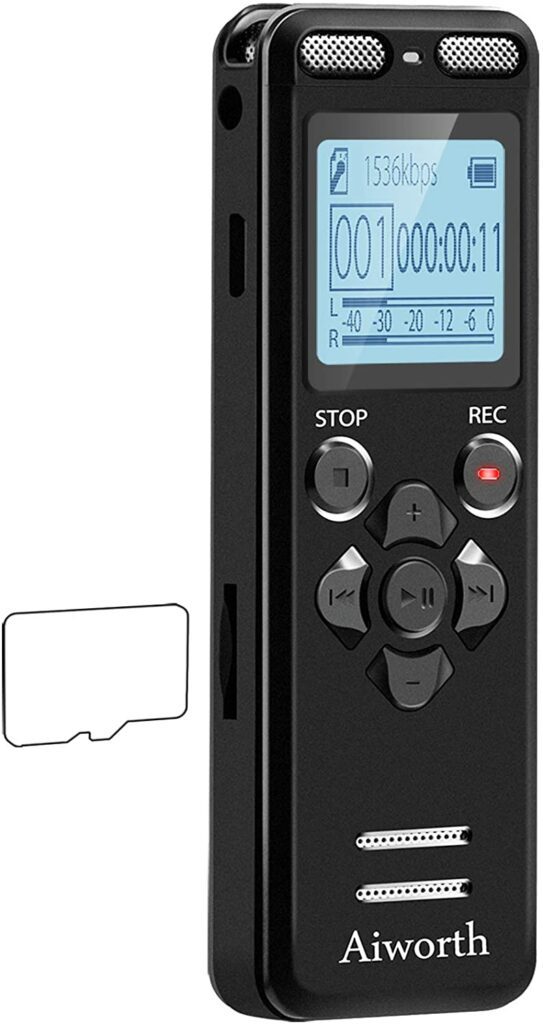 The budget-friendly Aiworth Digital Recorder comes in at less than half the price of the Tascam DR 05 and Zoom H1. It offers dual-mic PCM high-quality sound, with up to 45 hours of continuous recording. Simply designed and easy to use, this comes with a graphic user guide and video tutorial support.
With 16 levels to play speed, jump to where you want to listen, rewind, and fast forward this is primarily a voice recorder for students, journalists, secretaries, medical professionals, and lecturers. It's not a contender for serious musicians, but an affordable option for those who need a recording device to simply record from time to time.
High-end but affordable, the Zoom H2n Digital Recorder is a 5-in-one recording device that's been well received by various online communities. Use 2 standard AA batteries for over 20 hours of continuous operation.
This handheld recorder is the only portable device to have four different recording modes and 5 different built-in microphones. It can handle anything from local videography to live concerts and loud events.
FAQs about Tascam DR 05 vs Zoom H1
Question: How much should I pay for a digital recorder?
Answer: Portable, digital recorders are priced anywhere from under $30 to over $600 online – there's a significant price difference. The more you pay, the more advanced features you should expect to find.
With the Tascam DR 05 and the Zoom H1, these aren't the brand's most expensive models, nor are they their cheapest, so you can expect high-quality materials, great sound-quality but that there may be some tech missing that you'd get with a higher priced model.
Question: Where can I find bargain prices for the Tascam DR 05 or the Zoom H1?
Answer: There are offers and sales all the time online, you could also reduce your financial outlay but looking at second-hand recorders. Keep a lookout for seasonal deals too like Black Friday or Cyber Monday to save some money on tech.
Question: Should I buy a digital recorder as a gift for someone?
Answer: Music professionals are professionals because they are enthusiasts! For this reason, it is wise to leave the gift buying of technology alone, we have previously written a guide for gift buying to help.
When it comes to technology, you may not know exactly what the recipient is looking for and, as detailed above, there are small differences that can mean big things for the user.
Our Verdict – Which is the Best, Tascam DR 05 or Zoom H1?
With both portable recorders, you're sure to get a high-quality piece of kit. The Tascam DR 05 has a much longer battery life, of 17 hours, which has to be a major plus. It also has the downside of little product protection and the plastic chassis isn't favored by users.
Better Battery Life
With the Zoom H1, you get a simple, immediate setup and overall ease of use, but the downsides to this recorder seem to be focused on limited storage, low battery life, and many reviewers speak of breakages and a low build-quality.
During my research of both items, I have come across many more negative reviews for the Zoom H1 than I have for the Tascam DR 05. However, I like the fact that the Zoom H1 is compatible with many handy accessories like a windscreen, USB cable, AD-17 AC adapter, padded shell case, tripod stand, and an MA-2 mic stand adapter.
If you purchase the accessories, there to help protect the Zoom H1, then I feel that this should override the negative reviews that mention breakages and damages. So, for my money, I would opt for the Zoom H1.
Our Recommendation
Latest posts by Jodie Chiffey
(see all)