Stevie Ray Vaughan is a name that surely rings a bell to most guitarists, especially if they are into blues and rock music. He was born in 1954, and despite having a short career that ended tragically due to a helicopter accident, Stevie Ray Vaughan, or "SRV", left a timeless legacy. Let's get on with our complete Stevie Ray Vaughan bio and gear he used throughout his career.
Stevie was originally from Dallas, Texas, and started to play because of the influence of Jimmie Vaughan, his older brother who is also a blues musician. Stevie eventually moved to Austin, where he got into the local scene with the bassist Tommy Shannon and the drummer Chris Layton, who were known as "Double Trouble".
Stevie Ray Vaughan & The Double Trouble quickly achieved success. They were catapulted to fame thanks to their debut album "Texas Flood", which came out in June 1983. Stevie played around the world and influenced thousands of guitarists with his electrifying style and sheer power.
He had a troubled life that involved drugs and alcohol abuse, went into rehabilitation and came back to continue touring and recording albums that were highly acclaimed. The accident that took his life happened after a live performance, in August 1990.
5 Thing You Need to Know About Stevie Ray Vaughan
Stevie Ray Vaughan was considered the seventh greatest guitarist of all time by Rolling Stone.
SRV and his bandmates from Double Trouble were inducted into the Rock and Roll Hall of Fame, 25 years after his death, in 2015.
He was primarily a Fender Stratocaster player. He always played them in live performances, and rarely used other models. His most famous Stratocaster was nicknamed "Number One".
Stevie Ray played in Eb tuning, or a half step down from standard tuning. This gave him a deeper sound and also helped him play his very heavy strings more easily.
David Bowie invited Stevie Ray Vaughan to play lead guitar on his record "Let's Dance", which became Bowie's most successful album.
Stevie Ray Vaughan's Main Guitar: Fender Stratocaster "Number One"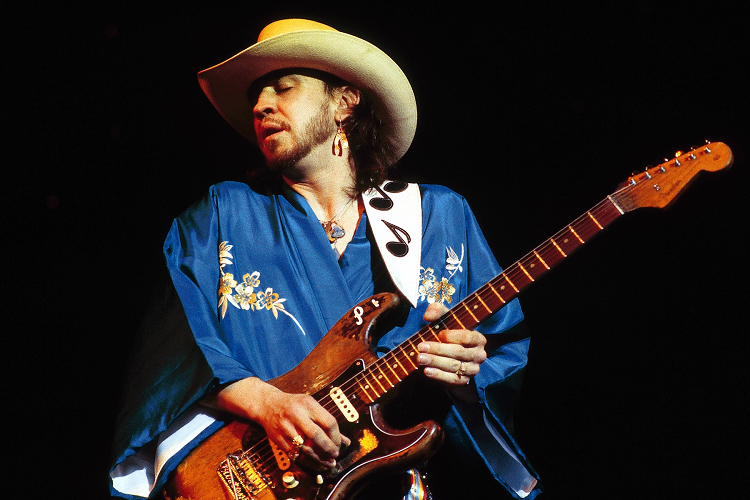 Stevie's first guitar was a hollow body Gibson Messenger ES125T, a gift from his brother Jimmie Vaughan. However, Stevie quickly became fond of the Fender Stratocaster, and he made it his main guitar.
His most notably known instrument was nicknamed "Number One". This guitar suffered countless modifications, containing parts that were manufactured in different years.
The body is from 1963, the neck is from 1962 with a rosewood fretboard, and the pickups are from a guitar that was built in 1959. The neck has a thick D profile that Stevie was very fond of.
Some of the other interesting features of this guitar include an upside down tremolo arm, which he had installed in order to emulate some of the techniques used by Jimi Hendrix, who played a righty model as a lefty guitarist.
The original pickguard was replaced with a black one, and Stevie glued his initials "SRV" on it. It also features a "Custom" plate just under the tremolo system.
He bought this guitar second hand in 1973 from a music store in Austin, Texas. It already had some wear on it from the previous owner, who was also a musician from Texas. However, Stevie took it to another level throughout his journey with this guitar.
His technique was raw, intense and heavy, which translated into an extremely worn guitar body, as you can easily tell by any video or photograph of Stevie playing live. If you look closely, you can also spot a few cigarette burns on the headstock.
This guitar was constantly being repaired by Stevie's techs. It needed refretting frequently due to the wear on the frets caused by his playing, and he also broke whammy bars often.
As for the strings, Stevie changed his string gauge often throughout his career. In any case, he always used very heavy strings. One of his most common string gauges was .013, .015, .019, .028, .038, .058.
The fact that he played in Eb tuning made it easier to bend these monster strings, but it is still hard to do comfortably. However, Stevie was known for playing very aggressively and big strings were a substantial part of his huge tone.
In time, the original neck became nearly unplayable, and Stevie decided to replace it with the neck from another of his guitars.
Later, there was an accident that caused stage rigging to fall on the guitar, breaking the headstock. After Stevie passed away, the original neck was put back in, and the instrument was given to Jimmie Vaughan, his brother.
Other Important Guitars Played by Stevie Ray Vaughan
Stevie spent most of his time playing his Number One Stratocaster, but he had other important guitars throughout his career that he used in the studio and during live performances.
This section will go over some of the main instruments played by Stevie, other than the famous "Number One".
Red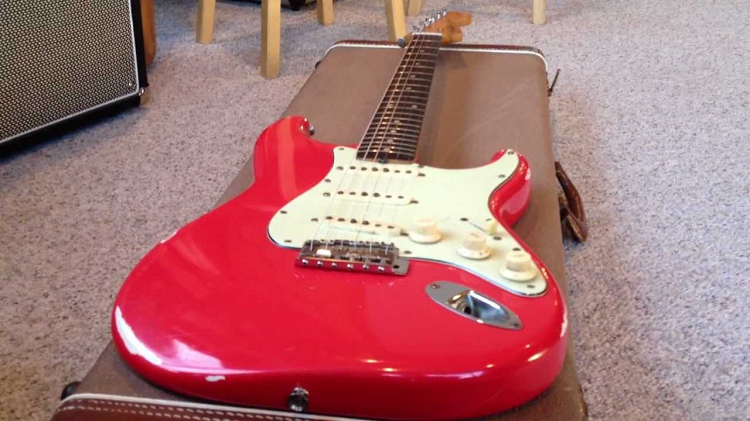 "Red" was a 1962 Fender Stratocaster that Stevie bought in 1983. He got it from Charley's Guitar Shop, and it originally had a sunburst finish. Stevie decided to have it repainted in Fiesta Red, which was what gave the guitar its nickname.
He played this guitar frequently, had the neck replaced with a lefty model in 1986, and also added his initials to the pickguard as he had done to his "Number One" Stratocaster.
Lenny
"Lenny" is one of the guitars that had the most sentimental value to Stevie, for a few reasons. The main one is the story of how it came to be his: he initially saw it at a store in Texas, but couldn't afford it at the time.
His wife noticed how interested he was in the guitar, so she talked some of his friends to pitch in and got it to him as a birthday gift.
It is a 1963 Fender Stratocaster that originally came with a rosewood fretboard. Stevie decided to have it replaced by a maple neck that Billy Gibbons had given to him before.
It features other interesting details such as his initials on the pickguard and neck plate. Stevie used this guitar to record "Lenny", one of his most emotional compositions, dedicated to his wife, Lenora.
It was auctioned in 2004 and it is now in possession of Guitar Center.
Yellow
Another guitar named after a color, Stevie's "Yellow" was another Fender Stratocaster that was gifted to him by Charley Wirz. It was a 1959 model that had been previously owned by Vince Martell, the lead guitarist in Vanilla Fudge.
You can hear Stevie playing Yellow in his original recording of the song "Honey Bee".
The guitar's body had been modified before to be able to fit humbuckers, but once in Stevie's hands, he had a new pickguard made for it which accommodated a single pickup in the neck position.
The body was repainted in yellow, which gave it its nickname. Just like Red and the Number One, it also has Stevie's initials on the pickguard.
Charley
Charley was a very special instrument for Stevie. It was a custom instrument built for him by Charley Wirz in 1983. It was shaped like a Stratocaster, and instead of the usual pickups, it featured a trio of Danelectro lipstick pickups.
This guitar only had two knobs, a master volume and a master tone. It also featured a white finish and a rosewood fretboard. Charley Wirz also engraved "To Stevie Ray Vaughan, more in '84" in the neckplate before giving it as a present.
Main
"Main" was one of Stevie's most eye-catching guitars out of his collection. This custom built Stratocaster was given to Stevie as a gift from Billy Gibson in 1984.
It was built by the luthier James Hamilton in New York City. Featuring a maple body with a flamed top and a neck-through body construction, the detail that stands out the most is the custom inlay with Stevie Ray Vaughan's name all across the fretboard.
When he received it, it had active pickups made by EMG, but he wasn't very fond of their sound, and eventually had them replaced with vintage single coils.
Scotch
"Scotch" is a Fender Stratocaster that Stevie got in late 1985. The exact place where he acquired it is not known, but it was most likely in Virginia or Baltimore.
This guitar was left mostly stock, except for the custom pickguard that his guitar tech built for him: a tiger striped pickguard with his initials.
He used this guitar a lot during the last 5 years of his career, and you can see it on the cover of the record "Live Alive", released in 1986, although it had the original white pickguard at the time the photograph was taken.
Guild JF6512 Acoustic Guitar
This 12 string Guild is probably the most well known acoustic guitar played by Stevie. Ironically, it did not belong to him, but his friend and assistant, Timothy Duckworth.
You will recognize this guitar from Stevie Ray's performance on MTV Unplugged, where he performed acoustic versions of "Rude Mood", "Testify" and "Pride and Joy".
The Guitar Amplifiers that Stevie Ray Vaughan Played
Stevie Ray Vaughan used mostly Fender amps throughout his career, but he also had a habit of blending different amps together. He enjoyed using a Marshall amp to get clarity and the Fender amps set very loud to get overdrive.
He also used other amplifier brands in the studio and live performances, like Mesa Boogie, Soldano, Peavey and Roland.
Fender Super Reverb
The Fender Super Reverb was one of the staples in Stevie Ray Vaughan's setup. He typically used two blackface models from the '60s, and blended both of them with other amps at the same time.
Super Reverbs are loud and have a very punchy sound, thanks to the 4 10″ inch speakers that they are famous for. They feature a pair of 6L6 tubes and put out 40W of power.
These were the main amps that Stevie used to get overdriven sounds, but he eventually started using Fender '59 Bassman reissues instead.
Marshall Club & Country
Contrary to what the vast majority of guitarist does, Stevie actually used this Marshall combo for its clean tone, while everyone goes after Marshall amps for their overdriven sounds.
However, this amp has 100W of power, which gives it a lot of clean headroom. It contained two 12″ Celestion G12-80 speakers.
He also blended it with other amps, such as his Fenders.
Fender Vibroverb
Stevie Ray Vaughan was also known for playing a pair of 1964 Fender Vibroverb combos. These amps were used for his overdriven tones, frequently pushed hard by an Ibanez Tube Screamer pedal.
He also used one of these amps to play through the Fender Vibratone, a speaker cabinet developed by Fender with rotating speakers that emulated the Leslie sound. You can hear this tone in "Cold Shot" and "The Things That I Used To Do".
Dumble Steel String Singer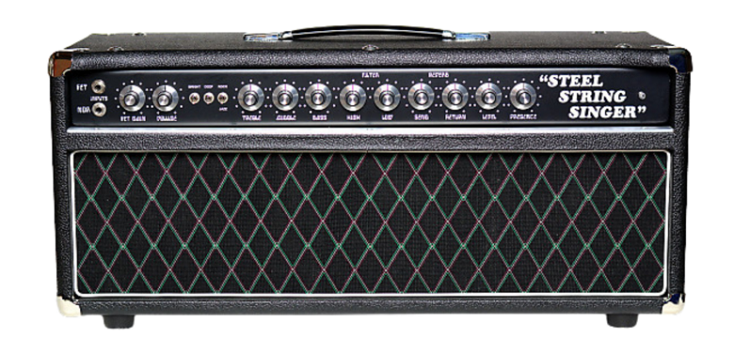 The late Alexander "Howard" Dumble was one of the world's most famous amplifier builders. The Dumble amps are regarded as some of the finest guitar amps ever invented, and Stevie found out about them while recording his record "Texas Flood".
After he fell in love with the amplifier's clean sound even when being pushed very hard, he decided to order one for himself. His model, a Steel String Singer, was customized with higher power (150W instead of 100W) and a different set of tubes to make it sound even more intense.
Vertex Effects has designed a few guitar pedals that try to capture the Dumble sound, and one of them was inspired by the Steel String Singer.
The Pedals and Effects Used by Stevie Ray Vaughan
Stevie Ray Vaughan wasn't a player who focused on effect pedals a lot. If you're trying to put together a rig inspired by this legendary guitarist, you won't have to get as many pedals as you would for a David Gilmour inspired rig, for example.
Still, there are a couple of pedals that play a very important role in getting close to Stevie's tone, and those are the ones that we will discuss here.
Ibanez Tube Screamer
The Ibanez Tube Screamer is one of the pedals that accompanied Stevie the most, and it is one of the staples of his signature sound. There are several versions of this pedal, and he used a few of them.
He mostly used the TS-808, TS9, and TS10. It is known that he mostly used the TS9 from 1982 until about 1988, when he started using the TS10 more frequently.
Stevie Ray Vaughan is the reason why so many people play Stratocasters through Fender amps being pushed by a Tube Screamer.
He mostly used them as clean boosts, setting the volume control very high, and the gain fairly low. Since Fender amps tend to have a less pronounced mid range, these pedals work wonders with them, since they emphasize the mid frequencies the most, allowing the guitar to cut through the mix more effectively.
Dallas Arbiter Fuzz Face
Even though he mostly used Tube Screamers to push his amps into overdrive, Stevie also used Dallas Arbiter Fuzz Face pedals sometimes, most likely influenced by Jimi Hendrix, who made these pedals insanely popular among guitarists.
He preferred germanium transistors, which unfortunately have a bigger degree of variation between pedals with the same circuit, unlike silicon transistor fuzz pedals.
At a certain point, his technician Cesar Diaz made some modifications to the circuit that suited Stevie's sound and approach better, and was also more reliable.
Tycobrahe Octavia
The Octavia pedal was also made popular by the legendary Jimi Hendrix. It consists of a fuzz circuit that produces a sound that is one octave higher than the pitch you play.
Stevie also used the Roger Mayer Octavia to achieve the same effect, but he preferred the sound of the Tycobrahe design. He was particularly fond of using them stacked with the Ibanez Tube Screamer.
Vox V846 Wah
Stevie preferred the Vox wah over the Crybaby, and he had several of them. He even used two of them at the same time when recording "Say What!".
Stevie owned a V864 wah that had belonged to Jimi Hendrix. It was given to him by his brother Jimmie Vaughan, who had acquired it from Hendrix himself.
Fender Vibratone
The Fender Vibratone is one of the most interesting products developed by Fender, despite only being sold between 1967 and 1972.
It is a speaker cabinet with a rotating speaker that sounds similar to the Leslie that is generally used with Hammond organs. However, the Vibratone was designed with the electric guitar in mind.
It is only a speaker cabinet, meaning that you still need a guitar amp to use it. Stevie typically used a Fender Vibroverb combo amplifier to do this.
This effect can be heard on tracks such as "Couldn't Stand the Weather" and "Cold Shot".
Some of the Classic Recordings Featuring Stevie Ray Vaughan
Even if he did not have the longest career, Stevie Ray Vaughan still left us a large collection of records, and some of them are among the most influential in the blues scene.
Stevie drew inspiration from other blues legends like Muddy Waters, Chuck Berry, Albert Collins, Freddie King, etc. He also influenced countless guitarists such as John Mayer, Kenny Wayne Shepherd and Doyle Bramhall II.
You can check some of his most famous and important albums below.
Texas Flood (1983)
This is arguably the most important album that Stevie Ray Vaughan & The Double Trouble released.
It came out in 1983 and featured timeless tracks such as Pride and Joy, Texas Flood, and even a version of the nursery rhyme "Mary Had a Little Lamb". Stevie was so talented that he could take anything and give it his twist with electrifying blues licks, amazing swing and incredible vocals.
Six of the ten total tracks of this record were written by Stevie, while the rest were versions of previously recorded songs by other artists. One of his most emotional tracks ever recorded, Lenny, is present in this album.
Couldn't Stand the Weather (1984)
Just one year after their debut album, Stevie Ray Vaughan & The Double Trouble released "Couldn't Stand the Weather". They recorded it in New York City under the Epic Records label. In this record, Stevie still decided to include a large portion of covers, which made up half of the whole record.
One of his most highly acclaimed covers is present on this record, "Voodoo Chile", which is also one of his best displays of the Vox wah pedal.
This album opened with one of Stevie's most recognizable riffs in "Scuttle Buttin'". The riff itself is not extremely complex or difficult to play, but executing it at Stevie's speed with the same kind of confidence and swing is a massive challenge.
It only took five weeks for the record to hit the one million sales mark.
Soul to Soul (1985)
"Soul to Soul" came out the following year, in 1985, and featured new sounds such as organ and saxophone in some of the tracks. Stevie used a distinct technique on the opening track "Say What!", in which he used two wah pedals at the same time.
One of its most famous tracks is "Look at Little Sister", a strong, intense blues tune with a swinging piano, a saxophone solo and superb guitar parts by Stevie.
In Step (1989)
"In Step" is a record worth mentioning for several reasons. It was the last record released by Stevie while he was alive. It was also his final album recorded with Double Trouble. He passed away in a tragic helicopter accident the following year.
The title of this record refers to the fact that Stevie had just come out of rehabilitation, after a long time struggling with his alcohol and drugs addiction. It was well received at the time, and still remains a well referenced blues album today.
Some of the most popular tracks from this record include "The House is Rockin'", "Crossfire" and "Riviera Paradise".
The Sky is Crying (1991)
"The Sky is Crying" carries sentimental value due to being released after Stevie Ray Vaughan & The Double Trouble's tragic death. It consists of a compilation of songs that they had recorded during their years together, and features some of the most appreciated songs from this legendary group.
Among the most popular picks, you should listen to Stevie's version of "Little Wing", originally written by Jimi Hendrix, "Chitlins con Carne", a jazz guitar instrumental written by Kenny Burrell, and "Life by the Drop", a song written by Doyle Bramhall that Stevie played on a 12 string acoustic guitar.
The variety of styles, dynamics and transparency of Stevie's influences are just a few of the things that make this album a must have for fans of this timeless guitarist and his band.
Getting Stevie Ray Vaughan's Sound on a Budget
In order to get close to Stevie Ray Vaughan's tone without spending a huge amount of money, you have to establish some priorities and figure out what are the components of your rig in which you would like to invest the most in.
It should consist of a Stratocaster style guitar, a Fender style amp (it doesn't need to be a Fender, but it would be best if it is a tube amp), and not a lot of pedals.
The Tube Screamer is the only one that is really essential, but others like a wah pedal and a fuzz pedal are always welcome if you can fit them into your budget. Also, if you want to get close to the tone that he got with the Fender Vibratone rotary speaker cabinet, you can try to find a cheap stompbox that emulates this effect.
Here are a few suggestions to get you started:
The Guitar: Squier Classic Vibe '60s Stratocaster
If you're putting together a Stevie Ray Vaughan inspired rig, the only possible guitar choice is a Stratocaster by Fender, Squier or a different brand that makes S-Style guitars with single coil pickups.
Any other guitar doesn't make much sense, since it won't get you in the same territory as the Strat does with its pickup configuration, unique tone and a tremolo arm.
If you're trying to protect your budget, a Squier Classic Vibe Stratocaster offers a fantastic compromise between price and quality.
They are extremely good for their usual price tag, and they are also great guitars to upgrade little by little. If you have it set up by a professional luthier and replace the stock pickups by a quality set, you will have an amazing guitar that only cost you a fraction of what a Fender American Stratocaster would cost.
There is a '60s inspired model that will get you closer to the specs of the Stratocaster that Stevie Ray Vaughan played the most. You could change the pickguard to a black one to get even closer to his "Number One" look.
If you happen to have a bigger budget, maybe you should look at the Fender options, such as the American Standard Stratocaster. You can also find good deals second hand, but you should always try the guitar before buying it to make sure it is in good condition.
GuitarCenter – Squier Classic Vibe 60s Stratocaster Electric Guitar 3-Color Sunburst
The Amplifier: Fender Blues Junior IV
The amplifier is a piece of gear that is worth investing little bit more money on. If you play an entry level guitar through a good sounding amplifier, you will get a better result than if you play an excellent guitar through a mediocre amp.
Because of this, the Fender Blues Junior IV is my suggestion, since it is one of the most affordable tube amps that Fender currently builds.
It has enough volume for most situations (bedroom, rehearsals, small to medium gigs), a crystal clear clean tone which is typical of Fender, a smooth natural overdrive when you crank up the volume, and a sweet, lush real spring reverb.
Another nice feature of this amplifier is that it has controls for Pre Gain and Post Gain, meaning that you can get overdriven sounds at a low volume. With some amps such as the Fender Deluxe Reverb, you can only get overdrive from them by playing at very high volumes, which is not ideal for most players.
If you can't stretch your budget enough to accommodate this amplifier, you can go with a solid state alternative.
However, you will most likely not make the most out of your gear, such as the overdrive pedal you will use to push the amplifier's front end. You could go with a more accessible model such as the Fender Champion 40 combo.
The Effect Pedals
Ibanez Tube Screamer
This is the pedal that can't be missing from a Stevie Ray Vaughan inspired rig. It was one of the most important elements of his legendary tone, if you disconsider his technique and focus more on the gear that will get you in the ballpark of what you are going for.
The Ibanez Tube Screamer comes in several shapes and sizes. Stevie was known for using mostly the TS-9 and the TS-10.
If you have the chance to go to a music store that has several different models, you should spend a little while trying them out side by side and see which one sounds the best to you.
You should try to use them with different settings (high volume with low gain, medium volume with medium-high gain, etc.) and in different places in your signal chain, depending on which effects you also have.
There are also several brands other than Ibanez that manufacture their versions of the classic Tube Screamer circuit with their own tweaks and modifications.
Here are few suggestions that would make for excellent candidates to fill this spot on the pedalboard:
Vox V845/V847A Wah
Stevie Ray Vaughan used a wah pedal for some of his most famous recordings, such as his version of "Voodoo Chile" and "Say What!".
He was seen using Vox wah pedals most of the time, and even owned one that used to belong to Jimi Hendrix himself. Because of this, you will most likely get closer to his wah tone if you go with a Vox model.
Currently, there are two main options from their collection that you should consider. The V845 is their standard model, perfectly capable of delivering classic wah tones and easier on your budget. If you can afford to spend a little more, you can go with the improved V847A model.
Dunlop Germanium Fuzz Face Mini
You can consider the Tube Screamer and the Wah to be the main pedals that you would include in this rig. Apart from these, I would think of the next pedals almost as "extras".
They can definitely get the job done in some situations, but they aren't something that you would be using all the time. One of those pedals is the Fuzz Face.
Stevie used these pedals in a variety of situations, and you can tell he's likely using a fuzz pedal when his lead tone sounds like the amp is about to blow. The sound is heavy, dense, sustained and compressed in a way that the Fuzz Face excels and handles differently from other pedals such as the Tube Screamer.
Dunlop manufactures a relatively inexpensive version of the germanium transistor Fuzz Face which you might find interesting:
Danelectro Billionaire Big Spender
Stevie Ray Vaughan used the Fender Vibratone rotary speaker cabinet on a few of his most notable recordings, such as "Cold Shot" and "Couldn't Stand the Weather".
This cabinet was like a Leslie, but designed specifically to be used with an electric guitar, meaning that it emphasized the frequencies that matter the most for the instrument, unlike a Leslie, which is generally used with a Hammond keyboard.
You can get close to this sound with a pedal such as the Danelectro Billionair Big Spender, which is not expensive at all and provides you with an interesting texture that can be applied in several different scenarios.
FAQ: Frequently Asked Questions About Stevie Ray Vaughan's Guitars and Gear
Question: What was Stevie Ray Vaughan's Main Guitar?
Answer: Stevie Ray Vaughan's main guitar for the most of his life was his Fender Stratocaster "Number One". This guitar features parts that were manufactured in different years, and was heavily modified and repaired throughout Stevie's career.
It is a 1963 body with a 1962 neck with a rosewood fretboard. The pickups were taken from a 1959 Fender Stratocaster. Other interesting features include the upside down tremolo and very heavy strings, which were a big part of Stevie's signature tone.
Question: What effects did Stevie Ray Vaughan use the most?
Answer: Although Stevie Ray Vaughan wasn't a very big effects user, he had a few pedals in which he relied to achieve the sound that was in his head.
The pedals that he used the most were definitely Ibanez Tube Screamers. He mostly used the TS-808, TS-9 and TS-10 models, and set them up with a high volume and low gain to help push his amplifiers into overdrive.
Other effects that he used include the Vox V846 Wah, the Dallas Arbiter Fuzz Face, the Tycobrahe Octavia, the Univox Uni-Vibe and the Fender Vibratone.
Question: Did Stevie Ray Vaughan Know How to Read Music?
Answer: Stevie Ray Vaughan did not know how to read sheet music, but that never stopped him from composing and interpreting some of the finest blues music that the world has seen.
He commented during interviews that he just learned how to play by listening to records of his favorite guitarists such as Lonnie Mack, Django Reinhardt, and Jimi Hendrix.
While composing, he would often record himself, listen to what he had played and slowly improve the ideas he had come up with.
Question: How do you Get a Tone Similar to Stevie Ray Vaughan's?
Answer: Despite not being very heavily processed with effects, Stevie Ray Vaughan's tone is very challenging to match. For starters, you should definitely be using a Fender Stratocaster or a similar guitar, preferably tuned down to Eb tuning, and with a set of heavy strings.
Stevie had really strong hands and used strings that almost no other guitarist bothers using because they can be very difficult to bend. However, they are surely a part of his huge, intense tone.
As for the amp, a Fender type amplifier should work well. To give it that extra kick, you should use a Tube Screamer style pedal with the volume set quite high and the gain at a low level. This will push the amp into overdrive and give you a more natural sound.
Of course, this means that you will be playing significantly loud. Volume is also a key element of Stevie Ray Vaughan's tone, and unfortunately, to many players, this can be a real challenge.
Aside from the gear, the technique is just as important. Stevie played hard, both with his picking hand and fretting hand. If you play soft all the time, it will be difficult to achieve the same emotion that he evoqued with his electrifying style of playing.
Question: What is Stevie Ray Vaughan's Most Successful Record?
Answer: Released in 1983, "Texas Flood" is arguably Stevie Ray Vaughan's most popular record. It features hits such as "Pride and Joy" and "Texas Flood", as well as a heartfelt rendition of his own composition "Lenny", dedicated to his wife, Lenora.
Latest posts by Gustavo Pereira
(see all)