This post will focus on the best-balanced tension guitar strings to help you to choose the right strings for your guitar, depending on the tone and sound you want to achieve.
Balanced tension guitar strings are something we talk about a lot at guitar space, but we've not yet covered what they actually are, nor how to choose the best one for your wants. Enter this post.
I have rounded up what I believe to be the very best balanced tension guitar strings on the market today, and, as always, I have listed the pros and cons for each product before finishing up with my personal favorite.
Before we go any further, the best-balanced guitar strings (in my humble opinion) are featured just below.
At a Glance: 4 Best Balanced Tension Guitar Strings
What are Balanced Tension Guitar Strings?
Not every guitarist knows how to choose the right strings for their guitar, and with the internet now bursting with online music stores, as well as virtual marketplaces, the choice available can be overwhelming, especially when they all claim to be the best.
This post is about balanced tension strings, which for some, are indeed the best option.
Firstly, let's define tension. Tension on a guitar string relates to the scale length, pitch, and mass, which is pretty well associated with the gauge. For a player, the more tension applied to a string, the harder it will be to bend and produce the sound you want. You'll feel this on most guitar strings.
I believe that a set of authentic, balanced tension guitar strings results in a more natural play and allows for greater musical expression. But, that is my personal opinion.
It is true, however, that tension plays a considerable role in playability, tuning stability, and tone.
A looser guitar string can go very sharp when initially hit before settling back into tune. The higher the tension, the more consistent the tuning of the string is when played, which reduces the pitch blend.
In addition, thicker strings produce a less harmonic sound, lacking clarity and being generally dull. Balanced strings differ from traditional strings, and for many, are a great improvement.
Balanced tension guitar strings are a newer development in the guitar world. They aim to keep the same tension across all the strings, meaning that when you go from one string to another, they should feel very similar under your tips. This can make play more comfortable and certainly reduces the numbness, aches, and cuts on fingers.
There aren't many benefits on the guitar; tuning isn't more stable, no more action across the neck is apparent, nor is it easier to change or replace strings of this kind.
The primary focus of balanced tension guitar strings is the feel under your fingers from one string to another, over any other benefit. The idea behind this is that if there's a consistent feel between strings, there may be a more consistent playing technique.
How to Choose the Best Tension Guitar Strings
If you decide that balanced strings are the best option for you, then here are some pointers to ensure you make the right selection.
Guitar Type
This may seem a silly starting point, but it can be overlooked, especially when purchasing in a hurry. If you have an acoustic guitar, then you need to ensure that the balanced strings you like are appropriate – and the same is said for an electric guitar.
Balanced strings are geared towards an electric guitar primarily, but there's no law against using them with an acoustic; most players wouldn't, however.
Tone
The gauge level on a set of strings relates to the type of tone you will produce. For example, a heavier string gauge will result in a broader, thicker tone. 10-46 is the most common gauge range for electric guitars.
Material
The material of the guitar strings makes a huge difference to the overall sound and playability. The material selection includes nylon, bronze, brass, steel, aluminum, polymer-coated, and silk for acoustic guitars. When looking for electric guitars, the strings will be nickel-plated round wound strings or flat wound strings, known for their bright sound.
4 Best Balanced Tension Guitar Strings
Ernie Ball Regular Slinky Electric Guitar Strings 3-Pack – #1 Top Pick

3 Individually Wrapped Sets
Element Shield Packaging
Bright, Balanced Tone

Find Here
D'Addario EXL110BT Balanced Tension Lite Electric Guitar Strings – #1 Top Budget Pick

Mathematically Optimized String Gauge Combinations
Dynamic Control

Find Here
D'Addario NYXL1046BT Balanced Tension Nickel Wound Electric Guitar Strings

Manufactured by D™Addario in New York
Break-Resistant
High-Carbon Steel Core

Find Here
Stringjoy Signatures Nickel Electric Guitar Strings – Balanced Medium

Made in Nashville
High-Carbon Steel Core
Hexagon Shape

Find Here
Ernie Ball Regular Slinky Electric Guitar Strings 3-Pack – #1 Top Pick
The Ernie Ball Regular Slinky Electric Guitar Strings 3-Pack is the ultimate choice when wanting high-quality, durable strings from a trusted brand. Although not targeting those looking for balanced tension, players receive this when playing with these strings.
I find them very comfortable to play with and easy to pick and bend. They're great value for money, and you can absolutely rely on this American brand when you're looking for strings that won't let you down.
My family, and I, use these exact strings on electric guitars and are not inclined to switch any time soon. It is possibly biased to place these strings in position one, but I fully support this brand and find the strings to be reliable, durable, and affordable.
Playing the guitar with Ernie Ball strings results in a stress-free performance and pain-free (almost) fingers at the end of the session. They're easy to change and replace, and as this pack includes three sets of strings, you'll be sorted for a long time to come.
The Ernie Ball strings produce a balanced tone and are comfortable to play, whether you're strumming or picking. They're made from nickel-plated steel wire, wrapped around a hex-shaped steel core wire, and include specially tempered tin-plated high-carbon steel, which leads to a bright yet well-balanced tone for your electric guitar.
Pros
Leading American Brand
Made in the USA
Precision Wound
Nickel-Plated Steel
High-Carbon Steel Hex Core
Signature Slinky Feel
Online Best Seller
Element Shield Packaging
Rich, Balanced Tone
Cons
Not Unbreakable – Heavy Players Beware!
A Little Pricey
Sound Not to Everyone's Taste
Price Changes Without Explanation
D'Addario EXL110BT Balanced Tension Lite Electric Guitar Strings – #1 Top Budget Pick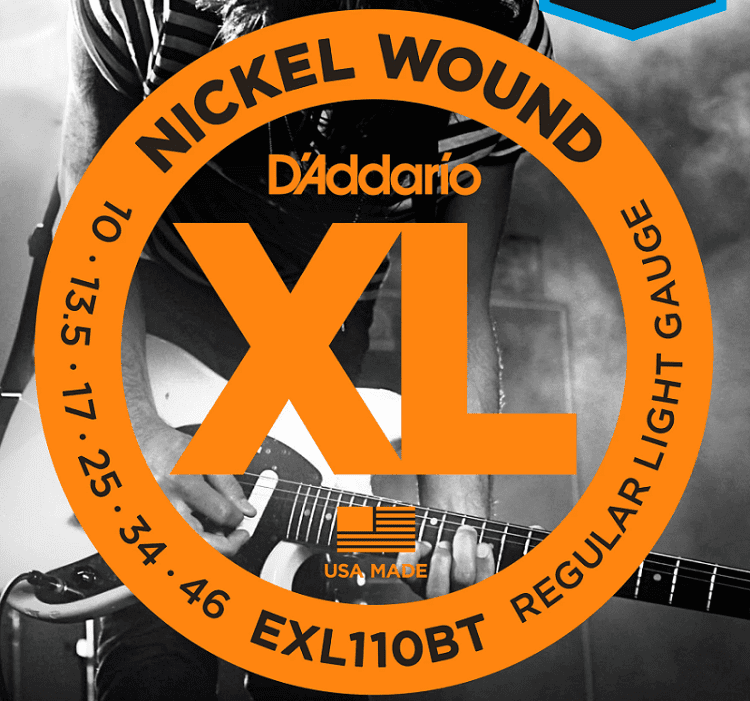 Another best seller is the D'Addario EXL110BT Balanced Tension Lite Electric Guitar Strings, and these strings truly deliver a stellar performance. The balanced strings are precision wound with nickel-plated steel, featuring a high-carbon steel core and a finger-friendly hexagon shape.
I found these strings simple to set up, and play is comfortable from the very beginning with non of the anticipated uncomfortable breaking-in found in many traditional strings.
The EXL11BT are the more popular strings from D'Addario, due to the ideal balance of playability and versatile tone. They feel strong and like they will be able to stand up to a lot of play; I also haven't come across many consumers mentioning breakages – which is a good sign that these strings are pretty durable.
One thing I have found is that these strings seem to be particularly sensitive to sweat and dirt build-up, so if you decide, they're right for you to ensure that you know how to clean your strings properly to keep them in the best condition.
Read our full D'Addario vs Ernie Ball strings comparison.
Pros
Great Price
Easy to Set Up
Comfortable Immediately
Excellent Playability
Nice Sound
Simple Picking
Cons
Seem Pretty Sensitive to Sweat/Dirt Build-up
Some Consumers Mention a Twang Sound
Hexagonal Shape Not to Everyone's Liking
D'Addario NYXL1046BT Balanced Tension Nickel Wound Electric Guitar Strings
The ultimate in strength has to be the steel alloy, newly engineered, break-resistant D'Addario NYXL1046BT Balanced Tension Nickel Wound Electric Guitar Strings. Break-resistant?! This brings a whole new level of confidence to players, but is it true?
I haven't come across a single player who has experienced breakages with these balanced tension strings during my research. I found them to feel exceptionally sturdy, even when vigorously picked, strummed, and bent.
I also found them to get into tune easier and remain there for more extended periods than other strings.
If you have difficulty keeping your guitar in tune, it could be down to several other things, aside from the strings; check that you're doing all you can by reading our guide on the best locking tuners.
The quality of these strings is remarkable. During construction, advanced computer-controlled winding has resulted in a pretty perfect set of strings that feel supreme in design. I like the sound, and it is undoubtedly on a par with what you'd want your electric to sound like.
They're pretty pricey, but I believe this to be justified if you consider the length of time you will have them.
Pros
Supreme Quality
Unbreakable
Easy to Tune and Remain in Tune
Perfect, Balanced Sound
Excellent Design
Cons
Stringjoy Signatures Nickel Electric Guitar Strings – Balanced Medium
Created by Nashville-based musicians, the Stringjoy Signatures Nickel Electric Guitar Strings – Balanced Medium are actually inspected by three additional people to ensure their quality before packaging. What this guarantees is that the strings should not disappoint.
I found the feel of these strings to be highly comfortable, possibly one of the smoothest sets of strings I have found to date. They have been crafted using mathematics to optimize the balanced tension, and this comes out in the performance across the entire fretboard.
The sound is warm, rich, and much less tinny than it can be with an electric. I found that the guitar stayed in tune well with these strings on over several different jamming sessions.
If you decide that these are the balanced tension strings for you, then there's a handy reorder system on the brand's website here to ensure that you never run out.
Related: Stringjoy Guitar Strings Review
Pros
One of the Smoothest String Sets Available
Extreme Comfort When Playing
Warm, Rich Sound
Remain in Tune
Easy Repeat Order
Cons
Some Criticism of Extra Packaging (Although, I should mention this is recyclable)
Questionable Longevity
Frequently Asked Questions
Question: How Much of a Difference Do Balanced Tension Guitar Strings Make?
Answer: When every string on the guitar has the same reaction to the same amount of force, it can certainly feel more natural to play. Although a subtle change to traditional strings, for some, it will make a big difference. I would suggest that those with smaller fingers or arthritis in the fingers can really benefit from less pressure being needed.
As a side note, for players who do have arthritis, I would also recommend investing in some silicone finger caps; the thinner, the better to ensure they don't impair play.
Question: Which is Best: D'addario or Ernie Ball Strings?
Answer: D'Addario is the champion when it comes to balanced tension guitar strings; perform an internet search for this term, and it's this brand that will be returned. However, for many, many guitarists (myself included), there are no better strings than Ernie Ball's.

As regards price, both brands are around the same. Longevity, you may get a little longer out of D'Addario. Quality; I would say pretty much identical. Aesthetics; Ernie strings are shiny strings, which can be a hit with some.

Here is a much more in-depth answer to D'addario Vs. Ernie Ball.
Question: Are Balanced Tension Strings Good for Beginners?
Answer: If you're looking for electric guitars for beginners, then your priority will likely initially be ease of play. With balanced tension strings, you're not guaranteed an easier play, but there will be a more consistent one, which can absolutely help with learning and establishing a rhythm, especially when it comes to chords.

The downside to this is that when someone used to only playing with balanced tension strings moves on to a more traditional type, there could be some regression with technique.
Question: Why Are Buying Options so Limited with Balanced Tension Strings?
Answer: At the moment, there is a major player in the balanced tension guitar strings world. This is D'Addario. Although more brands are introducing this product to their range, the pool is still pretty small, which means that there isn't yet the need for more marketable buying options, e.g., bulk buys in place of singular sets, which can cost as much as postage and packaging in some places.

I would suggest watching this space, and as more guitarists start to see the difference when using balanced tension, the market will have to broaden to keep up.
Question: Is there a Particular Guitar More Suitable to Balanced Tension Strings?
Answer: Balanced tension strings will work well with any electric. I have seen them used with an acoustic, with the results being as you'd expect for any electric-destined string set – poor.

The strings I have featured in this post are all of good quality and should be suitable for whatever model electric you have.
Best Balanced Tension Guitar Strings – My Verdict
Being an avid fan of Earnie Ball strings, I never fail to be impressed with this brand and have featured the Ernie Ball Regular Slinky Electric Guitar Strings 3-Pack as my top pick. There are just so few drawbacks to these strings, and I believe them to be categorized as balanced tension due to their adaptability to almost morph with the player's fingers.
However, I do find that these aren't the most durable or most robust strings on the market. Any fan of Ernie Ball strings will know that buying a couple of packs at a time is necessary; yet they're still one of the leaders in the industry.
For those who need something hardier, I would recommend the D'Addario NYXL1046BT Balanced Tension Nickel Wound Electric Guitar Strings. I felt these strings to be of supreme quality, completely unbreakable, and simple to set up and tune.
I was highly impressed with the design of the D'Addario NYXL 1046BT and loved the perfect, balanced sound. Yes, there are more affordable balanced tension strings out there, but of the same quality, I doubt.
The D'Addario EXL110BT Balanced Tension Lite Electric Guitar Strings and the Stringjoy Signatures Nickel Electric Guitar Strings – Balanced Medium can be considered budget-friendly options.
I found little difference between the two. With the D'Addario EXL110BT, there was immediate comfort and excellent playability. Yet, these strings did seem more sensitive than most to sweat/dirt build-up.
The Stringjoy balanced tension strings are undoubtedly one of the smoothest string sets available and extremely comfortable to play. The strings remained well in tune, and the overall sound was rich and warm.
Some consumers have mentioned issues with excessive packaging, which is recyclable, and some of my research led me to question how long these strings may last.
For my money, I'd always go with Earnie Ball. But, there are some significant advantages to the other strings I have listed. If durability and reliability are your main priorities, then your best bet would be to go for the D'Addario NYXL1046BT Balanced Tension Nickel Wound Electric Guitar Strings.
However, if you just want to try balanced tension guitar strings, it may be wise to opt for our budget pick in the first instance.
Latest posts by Jodie Chiffey
(see all)