Blackstar has been releasing interesting products into the market for a few years now, and many guitarists have adopted them as their amps of choice. Apart from amps that were designed with the gigging and touring musician in mind – high power, a lot of headroom, and tonal variety, this brand also decided to get into the mini amp market, something that has been a part of other huge brands' catalogs, such as Fender, Marshall, Orange, and more.
In our Blackstar Fly 3 review, we will take an in-depth look into this battery-powered amp. This review goes deep into the Blackstar Fly 3, a mini amp that packs more features than your average small amplifier. If you want to get something compact that you can take anywhere with you and play even if there isn't a power outlet nearby, this amplifier is worth checking out, as it might just suit you perfectly!
However, take into account that if you're looking for an amp that can move some serious air and keep up with a full band, this definitely won't work out very well.
Blackstar is relatively new to the scene, forming in 2007 and founded by a group of ex-Marshall employees; it is a British company with a steady following in the music world. Blackstar is known for producing and manufacturing guitar amps, carry-on guitars, and effects units.
The brand is supported by prominent international musicians, including Ozzy Osbourne and The Manic Street Preachers yet their products have highly affordable price tags compared to other brands like Marshall and Fender.
If you're thinking of buying the Blackstar Fly 3, we have all the details you need to make a more informed purchase. By the end of the guide, there will also be a few suggestions of other amps of the same kind that you might want to consider before pulling the trigger on your mini amp.
Blackstar Fly 3 Bluetooth | Reverb
The FLY 3 is a compact mini amp with big functionality and output – the simple yet comprehensive control set allows you to change the sound of your amp with controls for Gain, Equalisation via the Blackstar patented ISF, Delay Time and Delay Level.
Check Price
Buy at Amazon
We earn a commission if you make a purchase, at no additional cost to you.
We will be looking into all the features of this guitar amp, how well it performs, and its pros and cons. We will also investigate some alternatives that are available today.
Firstly, let's look at the key specs of this amp.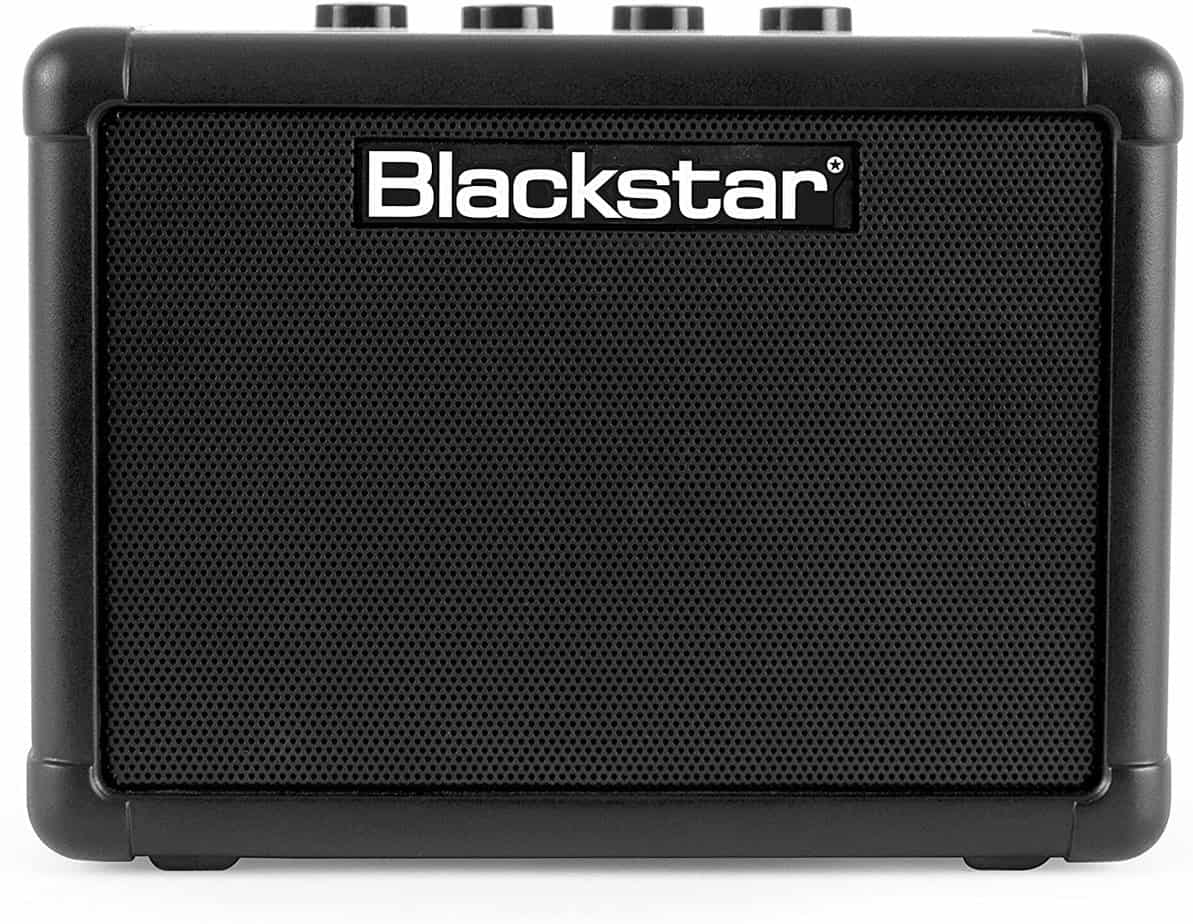 | | |
| --- | --- |
| Power | 3-W solid state (upgrade to 6-W stereo with Blackstar Fly 103 1×3″ extension cab) |
| Speaker | 1×3 inch Blackstar Design |
| 2 Channels | Clean & Overdrive Channel |
| Inputs | Guitar Input, MP3/Line Input |
| Controls | Inout, Speaker Emulated Output, Delay Level, Delay Time, MP3/Line Input, Overdrive Switch, EQ (ISF), Volume, Gain |
| Weight | 0.9kg |
| Dimensions | 170 x 126 x 102 (mm) |
| Latest Prices | See here |
Let's start by taking a general look at its specs and features, and then we'll go in-depth on each one of them and see if this mini amplifier can give you a big sound after all.
Power: 3W
Dual Channels
Speaker: 1×3″ Speaker, Blackstar Designed
ISF – Infinite Shape Feature, controls your tone
Effects: Built-in digital delay
DC- or Battery-Powered
Aux. Input
Headphone out
Emulated line out
At 3w of solid-state power, you know that you aren't going to be moving a lot of air with this amplifier, even if you use pedals in front of it. Either way, if you're buying a mini amp, you're buying it for other advantages other than its volume output. It can still get moderately loud and can keep up with other players if they aren't cranking their amps too much.
Having two channels on a mini amp is a good sign, as some models only have one. You get a clean sound and an overdrive. You can shape the one using the ISF feature, which adjusts some frequencies according to what Blackstar sound engineers decided would sound best on this amp through its 3″ Blackstar speaker. This knob is supposed to take you from a British-sounding tone to an American sound and other colors in between.
The distortion on this amp sounds surprisingly good for its price and size. It is not fizzy at all, and it is usable in several different scenarios. Remember that you can easily record this amp using its emulated line out!
The fact that it comes with a built-in digital delay effect is amazing for an amplifier at such a low price point, so you should take that into account when shopping for a mini amp.
You have the option to plug it into a wall socket, but the main feature of this mini amp is the fact that you can take it outside and play wherever you'd like by powering it with batteries.
The Aux input is always handy to have if you want to play any backing tracks, songs, or any other audio files through the amp while you're playing, and the headphone out can be useful if you really can't afford to make any noise at all in some situation.
The emulated line out is a great tool if you are planning to record any music through this amp. Instead of going through the hassle of recording with a mic, you can just plug this in directly to your audio interface and record comfortably and efficiently.
Core Features of the Blackstar Fly 3
The Blackstar Fly 3 is part of the Fly series, which also includes the Fly 3 Vintage, Fly 103 Vintage, and the Fly 3 Union Jack. Here are the core features of the Blackstar Fly 3:
Battery Powered
Battery amps are an excellent choice for guitarists who travel a lot and want to practice on the go, with an amp that's powerful enough to fill an arena. The Fly 3 Blackstar amp can be entirely battery-powered, with six batteries (preferably rechargeable). Or, when purchased as a combo pack, it can use the included power supply.
We've discovered that, when playing at low volumes, you can expect 50 hours of play when using the batteries. For full blast volume, this reduces significantly to four hours. Quite a difference – and quite an incentive to reduce the volume!
Construction and Quality
We are truly impressed with the build quality of the Blackstar Fly 3. A lot of mini amps can have a flimsy, fragile feel to them and often appear more as toys than amps. However, the Fly 3 is solid.
Yes, it is made from plastic and not solid wood, but it has the feel of a genuine guitar amp – with a superb finishing touch of a metal grill over the speaker.
It's a small, inexpensive amp, and some of this shows in the construction; for example, to control knobs are plastic and of moderate quality level. But, the jacks are solid with no wobble, and the top panel has a crisp, fresh look resembling a much more expensive product.
We found a higher level of quality than we expected overall and feel that the Fly 3 mini amp is a step above many other mini amps for this alone.
Tape Delay
The Blackstar Fly 3 comes with a tape delay effect with tape delay level control, and if you're as into delay as we are, you'll appreciate that it's one of the most useful effects in a musician's toolbox. Delay creates a sense of movement and space in a track to help expand and define the character of your sound.
Many musicians who produce music online will look for delay plugins to recreate what the Blackstar Fly3 is already capable of.
MP3 / Line Input
A fantastic feature, the Blackstar Fly 3 can be used as an MP3 speaker, or indeed as a general speaker for a computer or MacBook. It can also be used for practicing guitarists to play along to backing tracks, and the headphone jack allows for practice to be silent when needed.
Record with the Emulated Output Jack
The emulated output jack provides the ability to record directly to your computer or run tracks through a PA. Again, the headphone jack means this can be a quiet venture. This feature couldn't be simpler to use, you just need to connect the audio input of your computer, chrome book or laptop, to the audio output of the amp, and you're good to go.
Many online programs enable easy editing and have tons of features. We have previously written of the best digital audio workstations to help guide you – and some are even free to use.
Compatible with an Extension Cabinet
You can transform the Fly 3 into a stereo mini guitar amp when pairing with the Fly 103 extension cab and get 6-W of stereo sound. The Fly 3 can also be connected to a portable speaker or computer speaker when traveling too.
ISF Control
Blackstar Fly 3s ISF control works in conjunction with the guitar tone control. This feature allows for players to select the exact guitar tone signature desired. Fully CCW is more of an American characteristic with a more aggressive middle and tight bottom, and fully CW is more of a British characteristic; less aggressive and more 'woody.'
Sound
For a compact, portable guitar amp, you may not expect great volume. But this battery-powered mini amp packs a punch with a big tone – even at the lowest volume setting. The ISF means that you can change the sound infinitely, giving endless possibilities for the tone of the amp. With the tape delay effects, you can make the amp output resonate during play.
Warranty
If purchased from the brand's website, all products come with a one-year standard warranty with the ability to extend to three years. Purchasers have to register for the extended warranty online, and components like fuses and valves only have a 90-day warranty from the date of purchase.
How Does the Blackstar Fly 3 Perform?
We appreciate that the amp is small, it's battery-powered, it's not manufactured by a major player in the industry, and its retail value is low. So, you're probably not expecting great things from the Blackstar Fly3, but here's where you're wrong. According to a large number of guitarists, this mini amp really does it all.
Obviously, 3-W into a 3-inch speaker isn't going to shatter any glass, and we can't expect a tsunami of low-frequency oomph – however, for solo bedroom playing, it is more than adequate. The sound is also very clear, very pure: very Blackstar.
By turning up the Gain, you can expect some pleasing crunch and thickness; there aren't any plasticky buzzes or rattling, even at high volume settings. To obtain the dirty version of the same great sound, you would engage the OD switch – this won't be fizzy or extreme but overdriven.
If you're looking for the best amps for metal music, the Blackstar Fly 3 isn't your jam. Its rock sound is lightweight, but it really is an impressive amp, given its dinky dimensions.
Turning up the Gain brings some pleasing thickness and crunch, and there are no rattles or plasticky buzzes even with Volume at full. Engaging the OD switch takes us into a dirty version of the same great sound – it's not extreme, and it's not fizzy, just overdriven.
Pros of the Blackstar Fly 3
For its retail price and capabilities, we love the Blackstar Fly 3. Here are our favorite aspects:
Price
Did we mention this is a low-cost amp? It takes some getting over when you compare it to amps that cost so much more, for so little more! For newbies, learners, or home players, the Blackstar Fly 3 is an ideal amp that won't break the bank.
Even if you were to purchase the stereo pack in addition to the amp, you'd still be saving a considerable amount of money when you compare prices with other brands, such as Fender or Marshall.
It is also worth mentioning again, that Blackstar was founded with many ex-Marshall employees, who use their knowledge and experience to create great products but at more affordable prices. There's also a really useful official forum where people can ask questions, share tips or discuss Blackstar products with other enthusiasts.
Portability
Weighing around the same as a bunch of bananas, the Fly 3 Blackstar amp is certainly a portable amp. Its highly compact size of 170 mm x 126 mm x 102 mm means it will fit snuggly in any rucksack or satchel, removing the need for amp cases that incur additional expense.
Features
The tape delay on its own is enough to sell the Blackstar Fly 3, but the other features such as the MP3 / line input in addition to this are an added bonus. Users cite that this is a simple, not overly-fussy amp to use and claim that the features are useful, easy, and adaptable.
Feedback
We are old hands at researching instruments and equipment, so certainly not new to finding negative ratings and high levels of criticism for some of the products we investigate. It has to be said that verified purchasers of the Blackstar Fly 3 are all incredibly thrilled with this portable amp on a variety of different platforms.
Guitarists, from bedroom players to street performers, can't praise the Blackstar Fly 3 highly enough. With musicians who have decades of experience claiming it to be 'the best amp they have ever purchased' and others calling it a 'game-changer,' positive vibes are flying high for this low-cost guitar amp.
Warranty
Taking advantage of a pro coverage plan will gain you up to 5 additional years of added financial protection. This is available on the Blackstar Fly 3 at Guitar Center.
If you're looking to purchase the Fly 3 from Reverb, similar additional coverage is in place. For purchases of the Fly 3 mini amp on Amazon, you'd have to contact the individual seller for their warranty information. However, Amazon does support returns for products that arrive faulty or damaged.
Cons of the Blackstar Fly 3
Here are some aspects we should make you aware of:
Low Wattage
The Blackstar Fly 3 is a compact amp with a 3-W, 3-inch speaker. It isn't going to blow your socks off. When you consider the Marshall Code 50 has a 100-W version and a 12-inch speaker, it's really in a different league to the Blackstar Fly 3. There are much more powerful and significantly louder amps out there.
Want More Watts? Pay For More Watts
We can't grumble at the retail price of the Blackstar Fly 3 – anywhere on the web. But, we can point out that the manufacturers are obviously aware of its low wattage and sell an extension cab separately for added power.
Construction
The Blackstar Fly 3 is made of plastic; there's no solid-wood foundation like you get with other – more expensive – amps. The control knobs are too plastic, so if you want an amp that is aesthetically pleasing, the Blackstar Fly 3 can look more like a plastic toy than a serious instrument add-on.
Battery Life
When you're playing at full volume, you will only get around 4 hours of battery time without an extension cab. This can be a huge negative for road trips, busking, or providing a night of entertainment. However, you could override this issue by purchasing rechargeable batteries and a Smart Charger to ensure you have charged/charging batteries on the go.
What are the Fly 3's biggest selling points, and who should get this amplifier?
Without a doubt, the main selling point of the Blackstar Fly 3 is its ability to run on 6 rechargeable AA batteries, which allow you to play for several hours without having to recharge them. If you don't play at full blast all the time, you can get some very long practice sessions out of this amp before you need to recharge its batteries again. Blackstar claims that a full charge can last you up to 50 hours, which is very impressive.
However, if you play at full volume, one charge should give you about 4 hours of playing until the batteries are dead.
It is also great if you are looking for a small and light amp. Other amps might be even smaller than this one, but for the price and the features that it includes despite its reduced size, it is a great deal when compared to every other mini amp in its price range. Most of the other mini amps in this range don't have half of the features that the Blackstar Fly 3 offers, so it really is quite hard to beat its price/quality ratio.
If you value not carrying pedals and you would still like to have at least one effect while playing, you will value the built-in digital delay that is featured on the Blackstar Fly 3. This delay has two controls: a mini knob for the delay level (volume of the repeats) and a normal-sized knob for delay time.
Also, all the connectivity options make this amplifier a very versatile piece of gear despite being so small! For a very fair price, you get Bluetooth, an aux input, a headphone jack, and even an emulated output which turns this amp into a great recording tool.
You should probably not consider an amplifier like the Blackstar Fly 3 if you need an amp to keep up with other musicians during a rehearsal because while it can get moderately loud, it can't compete with a drummer and a couple of other amplifiers playing at a medium volume. For that, you should find a bigger, more powerful amp. You will probably sacrifice the portability and ability to run it on batteries, but that is normal considering how amplifiers work.
Are there any Alternatives?
Finding the best guitar amp for you depends on many things; as this feature is about a battery-powered mini guitar amp, we're going to look into the alternative amps that are relatively similar for fairness.
Even though the Blackstar Fly 3 is a fantastic choice if you are currently in the market for a mini amp that you can play anywhere, there are still other products by other brands that you might want to investigate a little more before pulling the trigger on your next amp! Here are a few suggestions that don't stray too far away from the Blackstar Fly 3's price point:
Out of this list of alternatives, the Boss Katana Mini is one of the best products you can find. The Boss KTN-MINI Katana-Mini Guitar Amplifier comes at a slightly higher cost than the Blackstar Fly 3 but has tons of features, making the higher price understandable. To begin with, the power is already 7-W, and the 6 Alkaline batteries are included. The regular-sized Boss Katana is already the favorite solid-state amp of many guitarists, and its mini version gives you a very similar experience, for a reduced price.
This portable amp has a rich and full sound said to exceed other amps in its class. It is slightly heavier than the FLY 3, weighing 1.2kg and overall a bigger size: 230 x 116 x 181 mm.
There is an AUX input to allow for smartphone connectivity to jam along with your phone's music library or stream from the internet. The Boss KTN-MINI amp also has a recording output with special cabinet voicing to give a real mic'd amp tone.
It isn't feature-heavy, but it works well with metal music, producing some pleasing AC/DC tones – a surprise for a mini amp.
BOSS Katana Guitar Amplifier | Amazon
The BOSS Katana Mini weighs less than three pounds and can be powered with six AA batteries for up to seven hours of operation. You can also use an optional AC adapter (not included). Its compact size, robust carry handle, and battery operation make it the ideal go-anywhere amplifier for your electric guitar.
Buy at Amazon
We earn a commission if you make a purchase, at no additional cost to you.
12/05/2023 03:26 am GMT
Coming in black, white, or red, the Roland Micro Cube would be recommended to others by verified purchases at Guitar Center. It's a 3-W micro amp that is battery-powered, offering 25-hours of play at a time. It comes with an AC adapter and carrying strap.
We love that there is a chromatic tuner built-in this little amp and that it provides tones for any musical style, including heavy rock – thanks to the newly added Extreme amp to kick things up a notch.
The Roland Micro Cube Micro Amp also has a MIC setting, making it compatible with a voice microphone, and it has eight DSP effects meaning the pedal doesn't need to be purchased separately. The Roland Micro Cube is the most expensive mini amp from the entire guide, but it is also the loudest of them all. It also has more effects and tone-shaping features, so if it is within your budget, it is worth checking out.
Roland Micro Cube GX | Musician's Friend
.It features recording/Headphones output and stereo Aux input for MP3/CD players, etc. The MICRO CUBE GX can be powered on batteries (LR6 (AA) type x 6) or a supplied AC adapter. It also includes a carrying strap.
Check Price
We earn a commission if you make a purchase, at no additional cost to you.
The Marshall MS-4 Micro Stack is considerably smaller than the previous amplifiers, and it lacks most of the features that make them such versatile pieces of gear. Nevertheless, if you just want a tiny battery-powered amp to play around with, this might be a good fit.
Marshall MS-4 Micro Stack | Guitar Center
The Marshall MS-4 Micro Stack has 2 speaker cabs with a head. 9-3/4' high. Includes fully functioning gain, volume, and tone controls. Uses one 9V battery.
Check Price
We earn a commission if you make a purchase, at no additional cost to you.
Much like the previous mini amp example, the Honeytone N-10 is also small and quieter than others such as the Blackstar Fly 3 and the Roland Micro Cube. However, this one has a very characteristic and usable tone when cranked. It can be a nice studio secret weapon for overdubs!
Honeytone N-10 Guitar Mini Amp Aqua | Guitar Center
The Danelctro HoneyTone N-10 Guitar Mini Amp cranks like a little hot rod and has a great clean or overdriven sound. The HoneyTone N-10 amp is powered by a 9-volt battery (included) or a Danelectro DA-1 adapter.
Check Price
We earn a commission if you make a purchase, at no additional cost to you.
Orange has always been known for its tasty crunch tones, and the Crush Mini is a small-sized package that gets you close to that sound. The speaker is slightly larger than some of the other amps here, and if you like the Orange aesthetic, go for it!
The Fender Mini '65 Twin is a miniature reproduction of Fender's super famous Twin Reverb amp, one that you have probably heard in countless records and concerts without even realizing it. It doesn't give you all the volume, power, and lush reverb of the original, but it is still a nice mini amp to have in your collection.
Frequently Asked Questions about the Blackstar Fly 3
Question: Does the Blackstar Fly 3 come with a Power Supply?
Answer: The Fly Stereo Pack comes with everything you need, including the extension cabinet and power supply. Check the Blackstar website for availability!
Question: How do I get the Best Warranty on the Blackstar Fly 3?
Answer: If you were to purchase the Blackstar Fly 3 from a retailer such as Guitar Center, there is the option to take out a Pro Coverage plan, which gives added protection and steps in when typical 'wear and tear' coverage ends.
Pro Coverage often includes; 100% coverage for commercial use, accidental damage protection, repair costs for up to 5 years, and free shipping for returns or repairs.
Question: Who is the Blackstar Fly 3 best suited for?
Answer: The Blackstar Fly 3 is best suited for someone who wants to be able to play the electric guitar anywhere without being forced to plug in their amp to a power outlet. Having a battery-powered amp gives you much more freedom, but you must stay aware of how much battery you spend while you're playing and if a mini amp of this kind is loud enough for what you want or need.
Question: How powerful and loud is the Blackstar Fly 3?
Answer: The Blackstar Fly 3 is not a very loud amp by any means. You can't expect a lot of power from a 3-watt amp, but as long as you're not playing with other musicians who have bigger amps than you, this one can do the job nicely. Its main focus is how easy it is to transport and play anywhere, not how loud it is. Inside a bedroom, though, you probably won't feel the need to crank it all the way up.
Question: How much does a full charge last on the Blackstar Fly 3?
Answer: The battery life that you get from your Blackstar Fly 3 depends mostly on the volume at which you play. You power it up with 6 rechargeable AA batteries, which Blackstar claims to last up to 50 hours at low volumes. This is amazing battery life, but at max volume, this figure drops to only 4 hours. Keep this in mind if you need to play for extended periods without being able to recharge your batteries. Having an extra set can also double your battery life easily!
Question: Does the Blackstar Fly 3 feature Bluetooth connectivity?
Answer: Yes, the Blackstar Fly 3 features Bluetooth connectivity, which is a great feature for those who would like to jam along to their favorite songs, backing tracks, or even to use this amplifier as a Bluetooth speaker, without having an instrument plugged in.
Question: Is the Blackstar Fly 3 a good amp choice for a beginner guitarist?
Answer: The Blackstar Fly 3 could be a good amp choice for someone who is just now starting to play the guitar. Apart from having clean and overdrive sounds, it even features on-board delay, which you can start experimenting with early on without having to acquire any pedal. A simple and easy-to-operate EQ section is also an advantage for someone who may not be familiar with how to obtain a good tone from an amp. The line-in input and headphone jack are also great tools to help you learn and practice, which aren't present in every amp on the market.
Final Thoughts on the Blackstar Fly 3 Battery Powered Amp
If you're in the market for a small, light amplifier that still has value to it, the Blackstar Fly 3 is a great option to consider. If you are okay with having an amplifier that isn't very loud, it allows you to play outside as its rechargeable batteries power it. The Blackstar Fly 3 isn't the only amp on the market that promises to work well as both an amp and a mini hi-fi, but we would say it was likely the cheapest.
Once you're on board with the 3 watt mini amp, we don't feel you could be disappointed with the overall performance of this amp. It has a lot going for it and tons of features you wouldn't expect for the price. Don't consider this amplifier if you intend to use it at a band's rehearsal because, at 3 watts, it will easily be drowned out by other instruments. Use it as a practice amp in your bedroom, and to play outside by yourself, or with others if they do not get too loud. Take into account the fact that this amp features a delay effect, something that is rarely found on amps of this size and price.
The sound and power are adequate for bedroom playing, small venues, or street performers, and 50 hours of battery life, at lower volumes, is the most generous we have found for battery-powered amps.
As always, if you have the chance to try out several products side by side at your local music shop, it is highly recommended that you do so!
Blackstar Fly 3 Bluetooth | Reverb
The FLY 3 is a compact mini amp with big functionality and output – the simple yet comprehensive control set allows you to change the sound of your amp with controls for Gain, Equalisation via the Blackstar patented ISF, Delay Time and Delay Level.
Check Price
Buy at Amazon
We earn a commission if you make a purchase, at no additional cost to you.
Read More:
Latest posts by Jodie Chiffey
(see all)