Marshall Amplification makes some of the best guitar amps on the planet, and their "signature" logo is an iconic symbol to have splashed on the backline of any stage setup.
The CODE 50 amplifier is the company's step into the modern world of amps; with all the features you'd expect from an amplifier in 2022. It's a compact and fairly lightweight amplifier that is ideal for studio and recording work, great for gigs, and with all the built-in modeling and effects, is a perfect practice amp too.
The brand new "CODE" range from Marshall fills the gap in their product range with an affordable, all-digital, solid-state amplifier complete with partner smartphone app software and a super user-friendly interface.
The new CODE line-up has 25-watt, 50-watt, and 100-watt versions to suit all guitarists, but the 50-watt is the perfect middle ground that has enough power and volume to satisfy most guitarist's needs but is not too heavy or bulky to carry around.
Great Long Term Value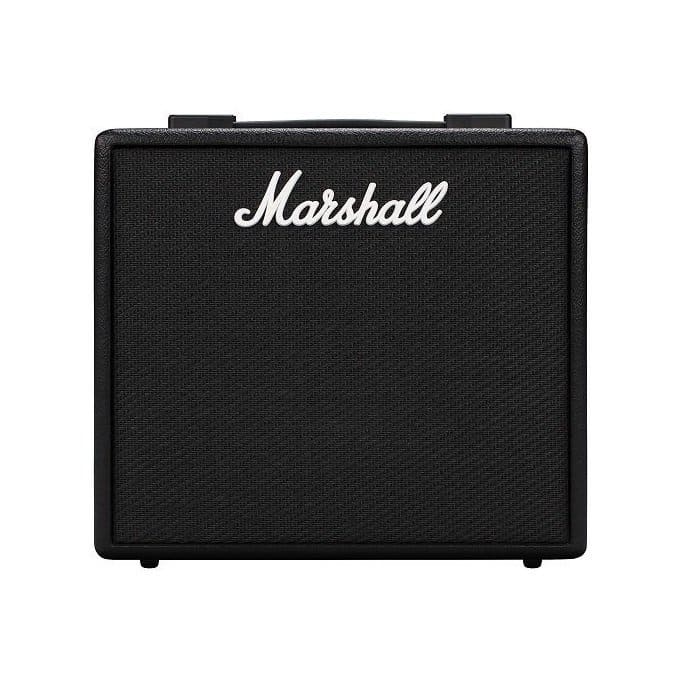 Marshall Code 50 Amp | Guitar Center
The Marshall CODE 50W 1x12 combo combines the Marshall legacy with state-of-the-art technology, culminating in a potent little amp that taps into all the tones you crave.
Buy at Amazon
Buy at GuitarCenter
We earn a commission if you make a purchase, at no additional cost to you.
05/25/2023 10:49 pm GMT
In this review, we'll take a closer look at all the features of this fantastic amp and find out exactly what makes it such a game-changer. Without further ado, here is our in-depth review of the Marshall CODE 50 guitar amp.
The Marshall CODE range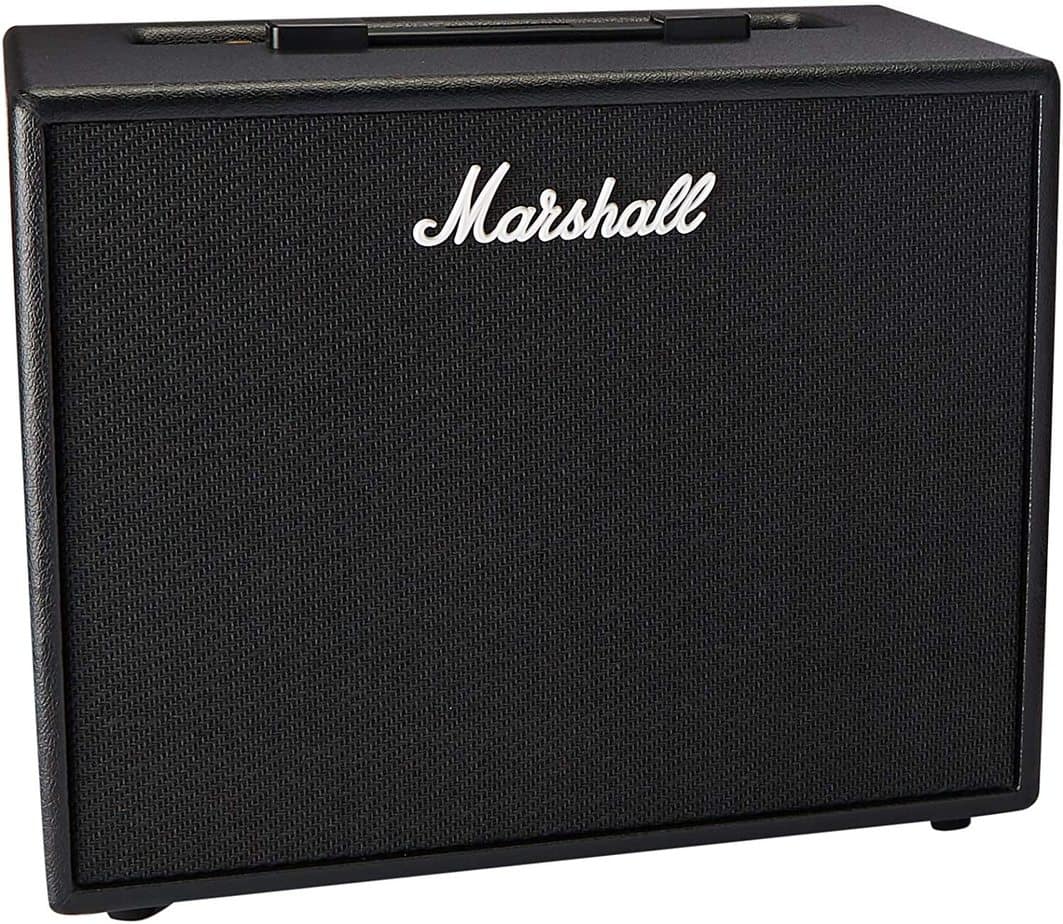 Sound modeling amps have been around for quite some time now, and Marshall has been late to join this growing trend. The CODE range was introduced in 2016, long after amps like the Roland Cube and Line 6 were dominating the market.
Why did Marshall wait so long to jump on the bandwagon? Well, for one, they simply didn't need to; they were already producing some of the best amps in the world, amps that had a tone that other companies were trying to emulate digitally!
Or, maybe they were waiting for all the digital "bugs" to be sorted out before dipping their toe into this uncertain market. Either way, the CODE range is sure to change the game, and Marshall has produced a line of amps that can definitely hold their own in the digital marketplace.
How to choose a digital modelling amp
In the recent past, guitar amps only really came in two versions: a traditional valve amp or solid-state amp, but things have become far more complex.
The world of digital modeling amp is a fairly complicated one. There a many important factors that go into choosing the right digital amp to suit your needs, and all manufacturers have different features that make their amps unique.
Put simply, a modeling amp is a digitally powered amp that uses a mix of analog and digital circuits to emulate the sounds of other iconic amps and effects.
Some amps have just one or two effects built-in coupled with an amp model or two, while others are far more complex and have a vast array of customizable models and effects that can be controlled with footswitches and even via apps on your phone. Here are some of the most important features to look out for:
Sounds
You'll need to ask yourself how many different amp sounds you need, as the more sounds the amp has available the higher the cost is likely to be. Affordable amps have several amp models to choose from, while high-end amps will have hundreds of sonic possibilities.
Effects
Many digital modeling amps have effects built-in too, often not as great sounding as foot pedals, though. If you already have a collection of pedals, this is obviously not a concern, but it's a great addition nonetheless.
Footswitches
If you are using your amp for live performances, footswitch compatibility is a must. Some amps only have the option of changing effects via a footswitch or offer rudimentary tone controls at best, which is very limited for live settings. If you are using the amp more for studio and recording purposes, a footswitch is not a major concern.
Quality
Lastly, the quality of digital modeling is an important factor to consider. Amp modeling and digital effects have come a long way in the last decade or two, and there is very little excuse for manufacturers to make amps with poor sounding modeling.
This is why we love the Marshall CODE series: Marshall waited for the technology to reach the point where they could successfully model their most iconic amp's tone, and have largely succeeded. You are far better off buying an amp with fewer tonal options that sound amazing than an amp with hundreds that sounds mediocre.
Marshall Code 50 Key Features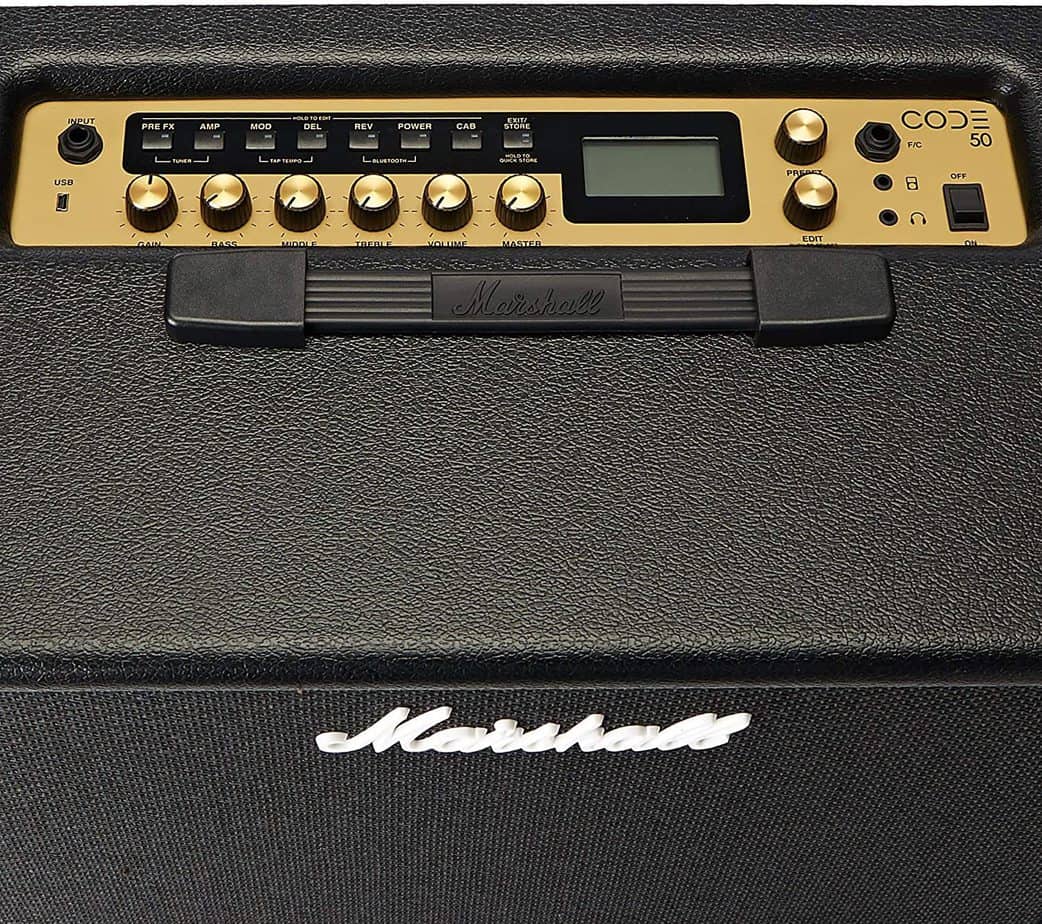 Specifications:
50 watt
1 x 12-inch speaker
14 MST preamp models
4 MST power amp models
8 MST speaker cabinet models
24 adjustable effects
LCD screen
USB output
Built-in tuner
Mp3 input
From the outside, the Marshall Code 50 looks like a slightly modern version of a classic Marshall amp. It is a beautifully simple design with a black cloth over the speaker cabinet, and the amp controls on the top of the cabinet rather than the front.
As with all Marshall amps, the amp is tough and made to last and is constructed from 11-ply Birchwood with fiberboard back. It is not particularly large at 17.8 x 17-inches and 10.7-inches wide and weighs in at around 27-pounds — great for a gigging musician.
It has a 12-inch speaker, making it slightly heavier than you'd expect from a 50 watt amp, but again, it's still not too big to easily lug around.
Controls
With the minimalist design of the speaker cabinet complete with the classic white Marshall logo, the controls and amp functions are what really sets this amp apart from other Marshalls.
The control face is on top of the cabinet and not on the front, which is unusual for Marshall amps. This serves an important purpose, however, making the complex controls easier to access than they would be on the front face.
The controls are divided into two sections: the bottom section is reserved for all the normal controls you'd expect on a guitar amp: volume, bass, mids, treble, and gain.
There is also the standard headphone jack output, aux input, and USB port, plus a built-in tuner. The top section is where all the magic happens, housing the controls for all the effects and digital amp and cabinet simulations, with a screen to access all the presets.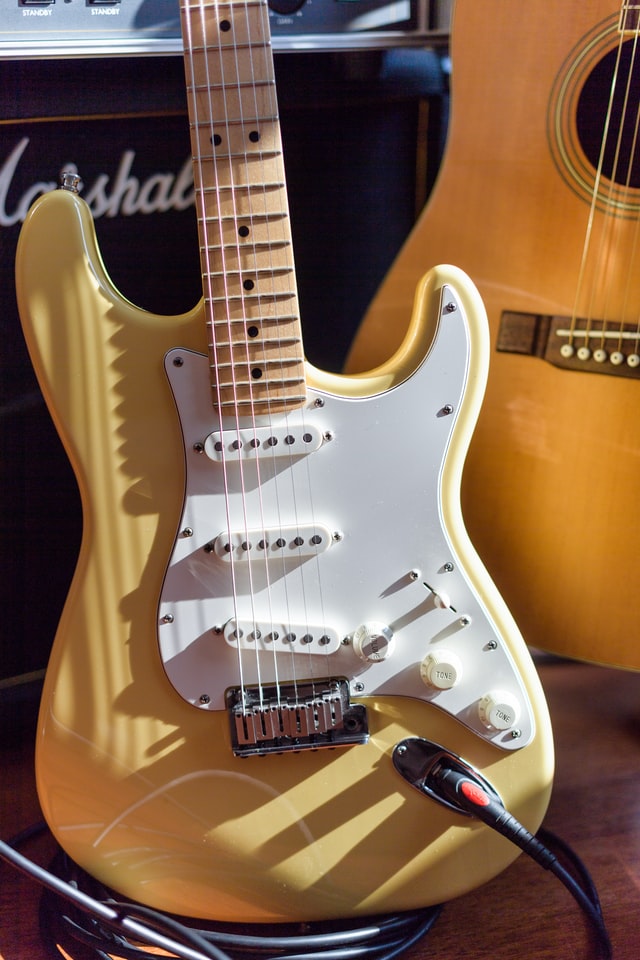 Effects
The Marshall Code Amp is not short of effects and amp modeling, and in fact, it may take some time to navigate everything this amp can do. Marshall partnered with effect-modeling gurus Softube to create and replicate the effects included with the amp, called MST (Marshall/Softube).
The amp comes loaded with 14 MST preamps, 4 MST power amps, and 8 MST speaker cabinets. As you'd expect, almost all these presets are based on classic Marshall amplifiers from the last 50 years, including the likes of the JTM45, the Bluesbreaker, JCM800, and the JCM2000, plus some other classic sounds too.
It doesn't end there; included with these amp models are 24 customizable effects including modulation, delay, reverb, chorus, wah, and overdrive, all with tap-tempo options, adding to a total of 100 different presets all in all.
All of these presets are fully customizable either from the intuitive LCD top panel display or via Bluetooth using Marshall's interface app which allows you to control effects in real-time from your smart device.
The amp has an included USB interface that has several functions. It can be used to update firmware for the modeling section and used for recording directly to your PC.
Great Long Term Value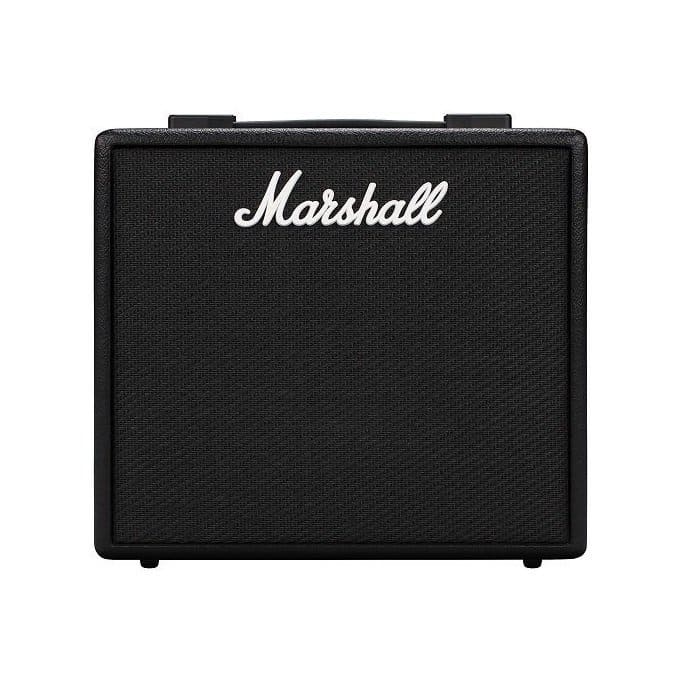 Marshall Code 50 Amp | Guitar Center
The Marshall CODE 50W 1x12 combo combines the Marshall legacy with state-of-the-art technology, culminating in a potent little amp that taps into all the tones you crave.
Buy at Amazon
Buy at GuitarCenter
We earn a commission if you make a purchase, at no additional cost to you.
05/25/2023 10:49 pm GMT
How does it sound?
When it comes to modeling amps, the quality of the built-in effects and amp models is what really matters. With Marshall, you can expect a great sound from the beginning, and the amp on its own without any effects running is everything you'd want from a 50-watt solid-state Marshall. The effects are what really separates the amp from the rest.
The presets built into the Code are fantastic and are about as close as you'll get without plugging into the real thing. Amps with built-in effects are often "washed out" and make your guitar sound flat and plastic.
These amps are often guilty of stripping the guitar plugged into them of its inherent character, meaning a Stratocaster won't sound very much different to a Les Paul. Indeed, this is one of the main reasons guitarists tend to shy away from these amps.
The Marshall Code Amp is different though, and both the effects and amp models have a uniquely authentic sound to them that doesn't take too much away from the guitar that's plugged in. This is a fantastic achievement and is sure to change the game for modeling amps in the future.
The effects themselves are authentic sounding and fully adjustable, including tap-tempo for delays. This is impressive, considering that the amp has an optional footswitch to control all these effects. The options on this amp are almost endless, and guitarists a few decades ago could only dream of having such a diverse palette at their fingertips.
The amp is perfectly loud enough for band practice and small gigs, without getting too muddy or distorting. Overall, this is one of the best sounding modeling amps on the market, with an array of effects that will appeal to guitarists from almost any genre.
Pros
Great build quality
100 different customizable presets
24 customizable effects
Bluetooth connectivity
USB output
Built-in tuner
Compatible with Marshall Gateway app
Cons
Foot pedal not included
No line output
May take some time to learn to use
Why we like it
The Marshall Code 50 has almost endless tonal capabilities and will give you hours of enjoyment with its hundreds of possible sonic combinations. For bedroom rockers this amp is a dream, giving you access to some of Marshall's most iconic amp sounds plus a host of adjustable effects, all of which can be controlled via your phone and footswitch.
The aux input is a great addition, and you can jam along with all your favorite tunes or learn to shred some lead guitar with backing tracks. It's great for beginners and gigging musicians alike and is an exceptionally capable amp for the price.
Where to Buy the Marshall Code 50 Amp
So if you've decided this is the amp for you, where should you pick it up? During the pandemic stocks were hit and miss, so here are a few places I'd check first:
FAQs
Question: Does the Marshall Code 50 come with a foot pedal?
Answer: Unfortunately, no, the Code doesn't come with a foot pedal included. Luckily, the PEDL-91009 foot petal is reasonably priced and exceedingly capable, and we highly recommend purchasing this extra to get the most out of your amp. The pedal allows you to easily switch between amp models and effects, has a built-in turner, and is easy to use.
Question: Can you use pedals with the Marshall Code?
Answer: If you already have a stash of effects pedals at your disposal, you can most definitely combine them with the effects and amp models on your Marshall Code 50. The amp will still sound great, and this will only increase your range of sonic capabilities.
Question: Is the Gateway app compatible with my phone?
Answer: The Marshall Gateway app is available for both Android and iOS and so is ready to roll no matter which phone or tablet you own. The interface is user friendly and quickly connects via Bluetooth, and updates all the effects and amp models on your CODE in real-time.
Conclusion: Marshall Code 50
The Marshall CODE 50 is everything you could want in a guitar amp: a legendary, trustworthy name, iconic sound, rugged build quality, and a wide array of tonal possibilities.
Guitar playing doesn't get much more fun than when jamming with this amp with all the sonic possibilities, plus the option of connecting jam tracks via the auxiliary input and the Bluetooth app option.
The amp is also loud enough for most jamming situations with drummers, but not prohibitively heavy or large to move around. It is reasonably affordable too, considering its capabilities.
We love this amp, and if you are looking for a modelling amp that sounds pretty close to the amps it's attempting to model, the Marshall is about as good as it gets. The only thing you'll be left to decide on is whether to get the 25, 50, or 100-watt model and, of course, what preset to choose first!
Great Long Term Value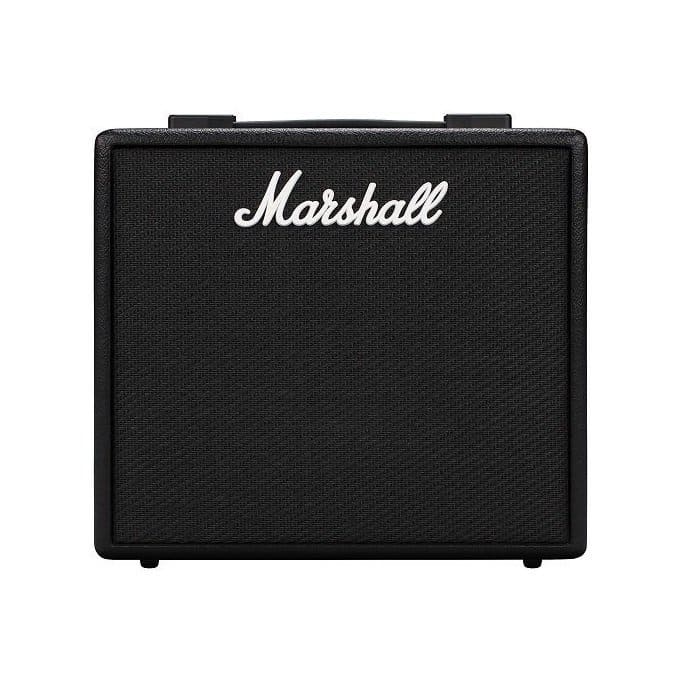 Marshall Code 50 Amp | Guitar Center
The Marshall CODE 50W 1x12 combo combines the Marshall legacy with state-of-the-art technology, culminating in a potent little amp that taps into all the tones you crave.
Buy at Amazon
Buy at GuitarCenter
We earn a commission if you make a purchase, at no additional cost to you.
05/25/2023 10:49 pm GMT
Read More on Guitar Amps:
Latest posts by Kyle Baker
(see all)