In this article, we will be looking at the different Bugera Amps on the market today. We will include information on the various amps by Bugera and look in-depth at what we consider to be the best Bugera amps.
We will also be examining some of the queries and questions that relate to Bugera amps and answer them with factual and relevant information. We will then include our final thoughts to help you to choose the perfect Bugera amp for you.
Before we go into the details of our favorite Bugera amps, let's explore a brief overview of our chosen five that we deem the best and will be investigating further down the page.
Five of the Best Bugera Amps – Overview
What is an Amp?
Forgive us for answering the obvious, but even for those who regularly use an amp, there could be some aspects of it that you're yet to explore. Here we're going to start with the very basics, before moving on to what a good quality amplifier can do for you and your music.
An amp (also known as a guitar amplifier), is an electronic system, or device, that is used to strengthen the weak electrical signal from an acoustic guitar, bass guitar, or electric guitar. Its purpose is in its name – to amplify the sound, through a loudspeaker, or several speakers, that are usually housed within a wooden cabinet.
When you pair an amp with a guitar the sound is optimized. An amp increases the components of the sound quality but this is only when the original sound is good. If the sound is poor, the amp only magnifies the volume. In short, it amplifies the good and the bad.
Why do I need an Amp?
If you keep your playing limited to the home or small venues, an amp isn't always necessary – especially if you have a powerful electric guitar. However, you can create much broader strokes with your choice of an amp, compared to your choice of guitar. What this means is that you can change your tone much more dramatically and drastically with an amp than with a change of guitar.
Although it is possible to play electric guitars without an amp, there won't be as much sound projected as there would be with an amp. Many musicians state that an amp is a crucial guitar accessory, especially for concerts, events, or professional music.
Protecting Your Amp
Just like with your guitar, you want to make sure that you protect your amp to enjoy years of play. After all, they're not a cheap bit of kit and can run into hundreds, or even thousands, of dollars. Purchase from a dedicated, responsible, retailer to start with, such as Guitar Center so that your amp comes with a warranty.
You can often take advantage of a Pro Coverage plan, which will include repairs or a replacement for accidental damage, coverage for commercial use, and repair costs for some years (usually up to around 5). This extra coverage gives peace of mind at a reasonable cost.
Guitar Amp Maintenance
To protect your amp from damages within the home, or on the road, there are several steps you should take, and these are:
Safe Storage – Protect the innards of the amp by positioning it away from a heat source and direct sunlight. It should ideally be placed in a well-ventilated room too. Often an amp can be placed in the corner of a room and rarely moved, which leaves it vulnerable to mold – especially in a room sensitive to dampness. You can avoid a mold build-up by regularly cleaning the amp with a damp, soapy cloth.
For less than $20 you can provide extra protection from everyday hazards by purchasing an amp cover for when the amp isn't in use.
Standby Function – First and Last: Always set the amp to standby before turning on and never switch both switches straight away. This will give the inner tubes time to warm up and give more longevity and a better sound for the here and now.
After playing, turn to standby and leave it for around two minutes. This gives the valves time to cool down and reduces wear and tear.
Volume 0 – The 'pop' sound you can hear when the volume isn't at 0 and you turn an amp on, is a surge of power and although this lasts for a millisecond it has the potential to blow the amp or the speaker.
Guitar Amp Options
Essentially, there are four primary types of guitar amps; Modelling, Solid State, Tube, and Hybrid. Each kind will use a different kind of technology to produce the tone. Amps can be large and bulky, or dinky and portable. Different amps can aid different types of genres, for example, some amps are better for metal than others.
The type of amp you opt for will depend mostly on what you want to use it for, your musical genre, and how big of a budget you have. Here's a brief overview of the different types of
Which type you opt for will depend mostly on what you need your case to do and how much you're willing to spend on it.
Tube Amps
Tube Amps produce the greatest tone and are the pinnacle of amp technology, according to many guitarists. However, this is subjective and whether or not this is factual will always be a subject for debate.
These amps are the original amp, which makes them a nostalgic choice for those wanting to play ''real'' music through – what can today be considered as – ancient technology! Tube Amps tend to be simpler to use and produce rich tones, however, they are seriously heavy, somewhat fragile, and fairly limited in their technological capacities.
Solid-State Amps
Solid State Amps offer a clean, sparkly tone making them a favorite for those who play guitar in styles like Jazz. A great advantage of a solid-state amp is its lightweight and relatively low cost, making them a good choice for players new to amps, who don't want to make a large financial outlay in the beginning, or for those regularly on the road who need a lighter amp for travel.
Modeling amps have taken over Solid State Amps in popularity over recent years.
Modeling Amps
Also known as digital amps, Modelling Amps are considered an evolution over the solid-state amplifier. Using modern technology, the modeling amp can produce a wide and varied range of effects and tones, often with the addition of Bluetooth compatibility.
A great advantage to a modeling amp is its incredible flexibility, with some providing access to hundreds of different amp models and their inbuilt effects. Check out this comparison video to see for yourself if you think a modeling amp is a strong contender for the 'real thing'.
Hybrid Amps
A mix of guitar amp technology, hybrid amps are intended to give the player the best of both worlds. Often guitarists have a strong preference for either the classic tube amp or the modern modeling amp, rather than a combination of the two but the hybrid amp has its place – with its lower retail price being a serious advantage.
5 of The Best Bugera Amps on the Market
Our favorite lowest-priced Bugera Amp is the 'top rated' Bugera T5 5W Tube Amp. A highly affordable amp that offers incredible sound, with a handy headphone jack to boot. This amp gives the ability to produce even and classic tones with a high level of clarity so that even guitarists with limited budgets can achieve the ultimate sound at any volume.
Promising unmatched reliability with smooth frequency response, this 100% hand-crafted amp is also extremely portable – weighing only 4.1 kilograms with dimensions of just 22.2 x 16.51 x 15.49 cm.
Specifications
Power: 5W (tube)
Infinium tube life multiplier
Built-in reverb
Tubes: one 12AX7 (preamp); one EL84 (power amp)
Single input
Single-channel
Controls: phat switch, reverb, volume, gain, 2-band EQ
Attenuation: 5W, 1W, 0.5W
Impedance: 4 ohms
Headphone output
Designed and engineered in Germany
Pros
Budget-friendly
Lightweight & extremely portable
Reliable and integrity sound
Reliable and robust
An incredible variety of sounds
Extremely easy to use
Cons
Some reviews criticize limited functions
Guitarists complain of cheap stock tubes
Unable to get the amps full tonal range with 0.1 and 1-watt settings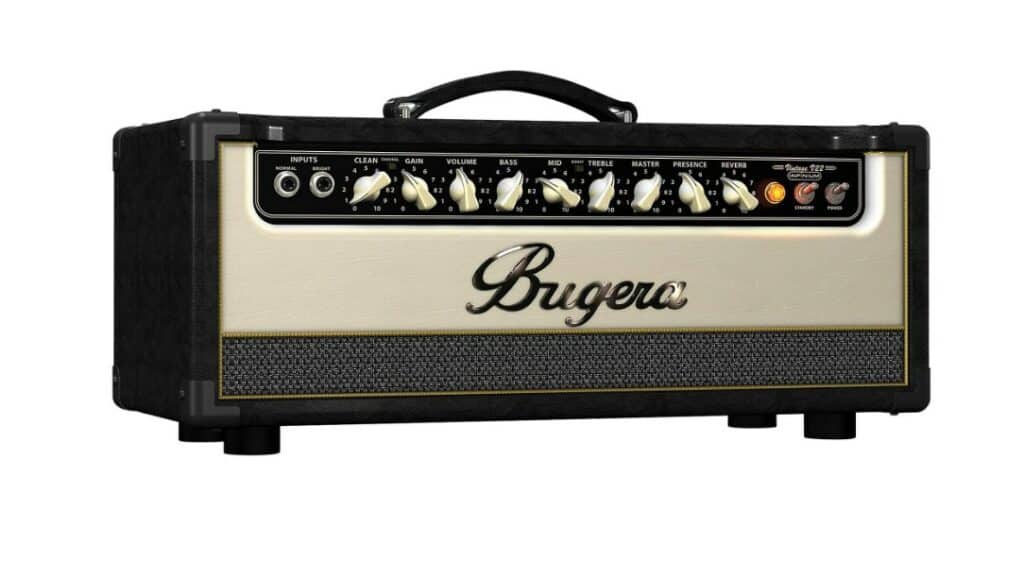 Packing a powerful punch with its 22-watt design, the Bugera Vintage V22HD Tube Amp has three 12Ax7 preamp tubes, an equalizer section with mid, treble, and bass controls, and a normal and bright input to aid matching your guitar to the amp. The mode switch lets you change tubes between pentode and triode operation with a mid-boost function.
This amp offers an old-school vibe with modern diversity and comes with built-in reverb and a footstool for changing channels. It's a highly sought-after model and although we have found it on sale pretty much everywhere, it's also only available for pre-order, so it is worth bearing this in mind for this amp.
Specifications
Power: 22W (tube)
Tubes: three 12AX7 (preamp); two EL84 (power amp)
Two inputs
Two channels
Controls: tripod/pentode, presence, gain, reverb, master, 3-band EQ volume,
Built-in reverb
Impedance: 4, 8, 16 ohms
Infinium Tube Life Multiplier
Footswitch included
Pros
The price/quality ratio is unbeatable
Long life and impressive durability
Good Power Output
Cons
Tough to dial in the gain channel
Reviews mention limited functions
Hard to secure a purchase (at the time of this article being written)
An expensive, but impressive hand-built and full-featured amp, the Bugera V55HD possesses modern features with a vintage style and sound. This boutique-style amp delivers 55 watts of incredible all-tube tone with the flexibility of switchable, independent channels. With a consistent tone with phenomenal reliability, we have struggled to find anything negative about this amp.
Burgas innovative tube life multiplier technology provides excellent longevity and a durable piece of equipment. This amp isn't of the highest financial cost, but it is a substantial investment and not suited for those with limited budgets. Guitarists rate this amp extremely highly everywhere we have looked.
Specifications
Power: 55W (tube)
Tubes: three 12AX7; two 6L6
2 channels
2 inputs
Controls: 3-band EQ, Amazing Mode triode/pentode switch, presence, gain, reverb, master, volume
Built-in reverb
Impedance: 4, 8, 16 ohms
Power tubes life extended up to 20 times with the Infinium technology
Heavy-duty footswitch included
Pros
Comes with footswitch
Fantastic sound for all uses including professional performances
Super on-board digital reverb
Highly portable
Infinium technology
Cons
Expensive
Very similar amps retail much cheaper
The Bugera's BDXD12s custom-engineered 12" turbo-sound speaker claims to provide a phenomenal 1000-watts tonal power, achieving an incredible sonic performance that's also energy efficient, due to its Class D power. It comes with a range of powerful controls which allow flexibility and versatility for the player's individual style.
So you can't comfortably carry it around, due to its 40+lbs weight, but this amp is all about the tone which is consistently crystal clear, whatever your genre may be. It is still considered a lightweight solid-state amp and is relatively compact. We have stumbled across many reviewers who are dubious of its 1000-watt capacity though.
Specifications
Power: 1,000W
Single-channel
Single input
Speaker: 1×12 Turbosound
Controls: 3-band EQ, compressor, clip/mute, volume, mid-frequency shift, high, low, master, gain, -15dB pad, compressor
FX loop
Aux. input
Direct XLR output
Tuner output
Tilt-back design
Ported back panel
Engineered and designed in Germany
Pros
Class D – energy efficient
Tilt-back design, aesthetically pleasing and aids visual and use
Lightweight and compact for travel
Cons
1000-watts disputed in a number of reviews
The mid-high financial range for an amp that's received much criticism online
The most expensive on our list, the Bugera 6262 Infinium amp comes with the brand's revolutionary Infinium tube life multiplier technology and it is said to be the best amp for 80's style rock and heavy metal music. It has volume, tone and is as reliable as a house brick.
The auto-bias and vale check system features mean that valves are simple. Another bonus for this amp is the preamp output on the back which you can put into another studio interface for more tonal customization.
Specifications
Power: 120W (tube)
Tubes: six 12AX7 (preamp); four 6L6 (power amp)
Two channels
Single input
Impedance: 4, 8, 16 ohms
Controls: Reverb, presence, volume, gain, 3-band EQ
FX loop
Preamp output
Infinium Tube Life Multiplier technology
Engineered and designed in Germany
Pros:
Epic sound.
Has similar high-gain tonal characteristics too much more expensive amps.
Includes reverb controls.
Cons:
A plastic logo and cheap tolex can make the amp look of low quality.
Non-Infinium models can be prone to failure.
The leather covering is said to be weak and marks easily.
Frequently Asked Questions
In this section, we'll take a closer look at some of the most common questions and queries we hear when people are looking to purchase Bugera Amps.
Question: Are Bugera Amps Good for Beginners?
Answer: Bugera is a great starting amp, with many retailing at astonishingly low prices – especially in used/good condition. They offer a player the chance to experience playing with an amp, without them having to part with a lot of money. However, it should be said that in the guitar world they're often not considered professional, high-quality pieces of equipment.
To gain an idea of what you can expect with a Bugera amp, check out the brand's YouTube channel.
Question: Why are Bugera Amps so Cheap in Comparison to Other Brands?
Answer: Although great-sounding amps with increasingly good technology, Bugera amps are predominantly made of lower quality materials and components than other brands. A top-end Bugera amp will still leave you to change from a thousand dollars, compare this to brands such as Fender and the price gap is significant.
Question: Can I just use my PC as my Amp?
Answer: Connecting your guitar to your PC offers a great way to start experimenting and recording with effects, plugins, and amp simulators. Although you will need certain software, the good news is that it's very basic equipment that is needed to connect your guitar to your computer.
However, the keyword you should take from the above paragraph is 'simulator'. Your PC is unlikely to produce the same tone and volume as an actual amplifier – still, a good starting point to give an idea of how an amp could help to develop your skill.
The Bottom Line – Which Bugera Amp Should you Buy?
When it comes down to choosing the right Bugera amp for you, there are many factors to consider; do you want a top-end piece of kit? Can you afford a higher-priced model? Do you want modern technology? Or do you just want to dip your toes in the world of guitar amps?
Our recommendation for the budget-friendly, beginner amp has to be the Bugera T5 Tube Amplifier. It's rated a top choice online and is a best seller of the brand and for a good number of reasons, namely its incredible reliability and ease of use.
For those who love the old-school vintage vibe, with the addition of modern diversity, we whole-heartedly recommend the Bugera Vintage V22HD Tube Amp. This amp has a price/quality ratio unlike any other, although its biggest pitfall is that we can only find it in unboxed, new condition for pre-ordering at the moment.
The Bugera BXD12 Bass Combo Amp retails at a similar price to the Vintage V22HD and promises to deliver crystal clear sound, whatever the genre. However, buyers have shared their doubts over the amps 1000-watt claim.
Our most expensive favorite, the Bugera 6262 Infinium Amplifier Head is widely suggested to be the perfect amp for those who want to play rock or heavy metal music and has lots of customization options as well as Infinium tube life multiplier technology.
However, our personal top choice is the Bugera V55HD Infinium Tube Amp and we struggled to find any negative reviews for this amp during our research. It is expensive, but it's impressive and entirely hand-built. It has a stunning vintage aesthetic design as well as a consistently good and reliable performance.
Latest posts by Jodie Chiffey
(see all)