Even just serving a quick glance at the Eastman E10P Parlor Acoustic Guitar, you can tell that you're right next to an instrument that's high quality. While it may be a small size, Eastman certainly made sure that this guitar was not made from low quality materials or poor craftsmanship.
While it is going to cost you around $1,000 to purchase one of the Eastman E10P Parlor Acoustic Guitars, it's a parlor sized guitar that serve to be a quality instrument that you can use for all music styles and genres.
Bottom Line Up Front Verdict: While the price tag may be a bit higher than the beginning guitarist is willing to pay, it is most definitely worth every penny. If you are looking for a high-quality acoustic guitar that has a sound that will fit many different genres, the Eastman E10P Parlor Acoustic is certain to deliver.
The E10P Parlor is known to be a guitar that is extremely easy to play for people of all sizes; it's an instrument that is easy to hold and feels lightweight. The neck and the fretboard are half of an inch below the standard dreadnought length, which makes this guitar play like a real gem no matter the player's size or preference in style.
So, what does the build of the Eastman E10P Parlor Acoustic look like? Well, if we're just talking about the mere looks of this instrument, the sleek look of the front combined with the fiery back size of this guitar makes it very obvious that you are handling an expensive acoustic.
This six-string beauty has a solid Adirondack spruce top, with solid mahogany sides and back. A sturdy mahogany neck sports a high-quality ebony fingerboard that has been designed to reduce fret noise. The E10P has a 24.9 inch scale length, with 19 total frets.
While the hardware of the E10P isn't the most complex, each component that does contribute to this guitar are still in top form; each component has been carefully assembled to ensure that this six-string beauty stays in proper shape for years to come.
The Eastman E10P Parlor Acoustic Guitar has a pack of six chrome vintage open-gear tuners, a two-way adjustable truss road, a hand-fitted dovetail neck joint, an ebony pyramid bridge, a nut width of 1 13/16 inches, and a strung with a pack of 012-054 Martin SP Phosphor Bronze guitar strings.
Eastman made sure to pay special attention to their E10P Parlor to ensure that there were no flaws in the craftsmanship or any buzzing noise in the neck or the fret, which is a common problem among smaller sized guitars.
This is a guitar that I would choose to play over other name brand guitars that cost the same, no matter what their size is. I have found that with some of the guitars that Fender, Martin, and other brands produce, that while the price tag is in the $1,000-$2,000 ranges, the guitars still play like a guitar that costs a third of that price. This Eastman E10P is a wonderful exception, though.
You may be questioning the true versatility of this Eastman because it is a parlor guitar, and parlor guitars are famous for being played in the blues genre, this Eastman is way more versatile than any other parlor guitar on the market today.
When fingerpicking this guitar, this beauty responds with crisp, bell-like tonal qualities. However, if you decide to strum the strings with a flat pick, you do not receive any sound distortion or string buzzing.
Evaluation Criteria
It is most definitely easy to become overwhelmed by the massive guitar market that's available; there are a countless number of guitars available in every single style in the world.
In order to know how to evaluate a guitar's quality to make sure that the guitar you're looking at is the proper one for your needs, you need to understand what criteria is used to evaluate a guitar's quality.
This Eastman E10P review of the parlor acoustic guitar variant will look at the following criteria:
The playability to the E10P
The materials that this guitar is made from
Who the E10P is best guitar is best suited for
The tone and sound quality
The value of the E10P for your money
Is the Eastman E10P Parlor Worth it?
For just a quick summary, I would suggest the Eastman E10P Parlor Acoustic Guitar. This guitar does happen to be very popular among fingerstyle guitar players and slide guitarists. This is a sturdy guitar that's built not only to provide you with unbelievable sound, but also to withstand a lot of the abuse that you put it through.
Overall, I would suggest the Eastman E10P Parlor Acoustic. It's great to just play around the campfire if you're having a campout, play in a solo setting, or to play in a band on stage with.
The hard shell case that it comes with makes it easy to travel around with while keeping the instrument safe (great travel guitar). When you purchase the E10P Parlor, you are also purchasing the case that it comes with the guitar. That means no extra costs in order to keep your instrument safe!
It's also great that the instrument comes with an Eastman Limited Lifetime Warranty, so in case something does happens to your guitar, you have a certain amount of time that you can receive a refund or a replacement for your instrument.
The Eastman E10P Parlor Acoustic Guitar also offers this guitar in a left-handed version, which I also think is really cool.
So, if you are someone who has small hands and you're left handed, I know looking for a quality acoustic guitar is going to be difficult. Save yourself the trouble and take some time to check out this guitar. It's a guitar that I recommend all of the time, because of the sound quality, tonality, and price.
Core features of the Eastman E10P Parlor Acoustic Guitar
Comes with an Eastman Limited Lifetime Warranty
Natural finish
Comes with a hard shell case
High-quality ebony fretboard
Ebony pyramid bridge
Robust projection voice
Warm and balanced tone
9-inch scale length
19 full-size frets
Ebony bridge
Bone saddle
1 13/16 nut width
Standard nickel-silver fret wires
Double adjustable truss rod
Hand carved Scalloped X Bracing
Solid Adirondack Spruce Top
Solid Mahogany sides and back
Dovetail neck joint that has been professional hand-set
Classic Mother of Pearl dot inlays
Black composite body binding
Gotoh vintage-style chrome tuners, which help to keep the strings in perfect tune throughout different playing conditions
Slotted headstock that features a hand-carved diamond volute
Comes strung with Martin medium SP Phosphor Bronze .012-.054 strings
Who is the Eastman E10P Parlor best suited for?
Whether you're a blues player, into jazz, love folk, or acoustic rock, the Eastman E10P Parlor Acoustic guitar is a well-built instrument. The build of this guitar is phenomenal, which is what makes it so versatile.
If you happen to be a student guitar player, someone who wants to play blues, someone who just wants to play at your local bar on Friday nights, or whatever your case may be, if you can afford to pay the price tag, you're going to be investing in an instrument that you will be able to play your whole life.
Does the Eastman E10P Parlor as advertised?
Yes, it does! The Eastman E10P Parlor Acoustic Guitar is a lightweight, travel-friendly acoustic guitar that sports high-quality craftsmanship. If you are looking for a guitar that produces concert ready sound and tonality, you definitely need to check this guitar out.
No matter if you plan to be or are a strumming player or someone who loves to finger-pick, the Eastman E10P Parlor Acoustic provides the same sound quality and resonation when being played in either style. This guitar projects tones and overtones beautifully, while also being poetically resonant.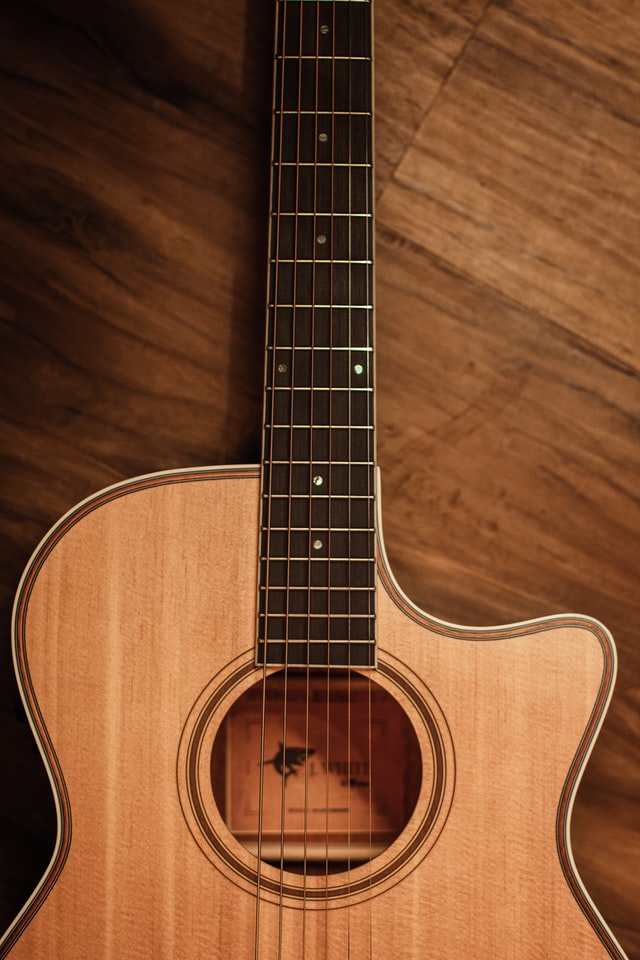 Pros of the Eastman E10P Parlor:
Easy to travel with
Great to use for fingerstyle playing
Still playable even if you have large hands
Looks expensive
Cons of the Eastman E10P Parlor:
Expensive
Doesn't have a place to plug in amp
Only comes with two finish options
Eastman E10P Alternatives
Taylor BT2 Baby Acoustic Guitar
The Baby Taylor is a great companion to travel with, as it delivers tone and volume that is surprising, consider the diminished size of the body. The Taylor BT2 Baby Acoustic Guitar is three-quarters the size of a regular, full-sized acoustic guitar. This acoustic is a popular choice with young learners, because of the smaller body and neck size.
Further Reading: Taylor BT2 Review.
Daisy Rock Wildwood Acoustic Electric Guitar
The Daisy Rock Wildwood Acoustic is a full-scale acoustic that has been designed especially for women. The guitar's narrow and slim neck makes challenging chords and notes easy to reach for a girl who has smaller hands.
The single cutaway body allows free access to the fretboard; the stika spruce top with mahogany sides and back provide the guitar with an amazing tone.
What's My Final Take on the Eastman E10P Parlor Acoustic Guitar?
Bottom Line: While the price tag may be a bit higher than the beginning guitarist is willing to pay, it is most definitely worth the price tag. If you are looking for a high-quality acoustic guitar that has a sound that will fit many different genres, the Eastman E10P Parlor Acoustic is certain to deliver.
Just the experience of being able to test this beauty out was quite the pleasure. While many people don't compare Eastman to top brands like Fender, Taylor, or Martin, I find that this guitar is worth the smaller investment compared to top brands like that are going to ask from you. Overall, a great guitar!
Still Not Sure? Read our round-up of the Best Parlor Guitars.