In 1959, a man named Wayne Mitchell purchased a small store called The Organ Center, which quickly began selling other musical equipment, such as Vox amps. Mitchell soon renamed his company Guitar Center, aware that the face of the music equipment industry was rapidly changing.
Throughout the 1970s, the company grew tremendously, and by the '80s, there were retail locations all over the United States, in cities such as Minneapolis, Dallas, Chicago, Hollywood, and San Francisco.
In 1984, Wayne Mitchell passed away, leaving his legacy to a hand-picked management team that continued the company's success over the coming years—and the company remains strong to this day. By 1985, there were 12 Guitar Center locations around the US, and during the '90s, the store expanded to have just under 70 stores throughout the country.
A strategic move, Guitar Center purchased website Musiciansfriend in 1999 as the internet began to take a stronger hold on the musical instrument market (and retail in general).
Although it is not clear when, at some point Guitar Center began producing its own house brand gear, which is appropriately called Mitchell—named after the company's late founder. As with most store brand instruments, the Mitchell brand is a budget equipment line, angled toward new and curious musicians.
Today, Mitchell manufactures acoustic and electric guitars, basses, ukuleles, banjos, mandolins, and amps. Similar to Musiciansfriend's store brand, Rogue, Mitchell sells starter packs that include a whole start-up kit for learning an instrument, such as a stand, amp, tuner, strap, gig bag, and instructional DVD.
The following review will be on a Mitchell electric guitar, the MM100 Mini Double Cutaway. Read on to learn more!
Best Cheap Electric Guitar for Beginners
Mitchell MM100 Specs
Body: The MM100's body is made of basswood, which is a very common tonewood to use for budget instruments. As a tonewood, basswood has nicely balanced harmonics with a boosted midrange and good dynamic response. The product specs list the body's finish as gloss, but that's only true for the black and red finish options; the "walnut stain" finish is very attractive and has a matte finish with stained woodgrain showing through. The body shape is Strat-esque, but the horns are sharper, the body contour is wider at its middlemost point, and the upper horn appears to reach further and higher than a Strat body's does. There is a nice strum arm contour on the top of the body, making it quite comfortable to play, and the bottom cutaway is large and allows clear access to all 24 frets.
Neck: The MM100's bolt-on neck is made of maple and has a profile of a shallow "C" shape. The fretboard is made of Indian rosewood and has a full 24 medium jumbo frets with dot inlays. A very common neck tonewood combination, maple and rosewood together produce lots of warm overtones with a noticeable immediacy in the highs and mids that softens in the lower range. This combines well with the warmth that the basswood body and scale length (see below) provide.
Pickups: The stock pickups on the MM100 are Mitchell brand HH passive humbuckers with ceramic magnets. The double humbucker arrangement means that there is very little (if any) pickup buzz from the guitar and that there is strong volume response from the pickups, perfect for big solos and thick chords. What's interesting about the MM100's pickups is that they are dipped in paraffin wax (a process called "potting"), which can help produce clearer highs and limits microphonic feedback at high volumes.
Hardware: While the Mitchell hardware is not amazing, it's sufficient for a beginner guitar. The high-ratio tuners are surprisingly good at keeping the axe in tune, which is also helped by the through-body stringing at the bridge, which is in the style of a Tune-o-Matic with adjustable bridge saddles for each strong. The MM100 has the minimum hardware necessary, with just one volume and one tone knob, both of which feel pretty reliable and strong. The 3-way pickup selector switch feels a bit cheap, but it should last you plenty long if you don't slam it around too hard. All of the hardware is black, giving the guitar a clean, pro appearance.
Scale: As the MM100 is a mini-sized guitar, the scale length is shorter than most, coming in at just 22.5" (compared to Gibson's typical 24.75" and Fender's typical 25.5" scale lengths). The 22.5" scale length is standard for ¾-size guitars and produces different tonal responses. Guitars of shorter scale lengths typically have increased warmth of tone because the harmonics are spaced more closely together than on a longer scale length guitar. This results in more of a thick sound, especially with ¾-sized electric guitars, because they don't suffer from having less volume like ¾-sized acoustics often do (thanks to less volumetric resonance space inside the guitar body).
So, how does it sound?
Overall, the MM100 doesn't sound bad. The HH pickups are loud and responsive and are great at minimizing buzz and feedback. They deliver good tone for a beginner guitar, but of course, they do not compare to higher-end pickups on professional guitars.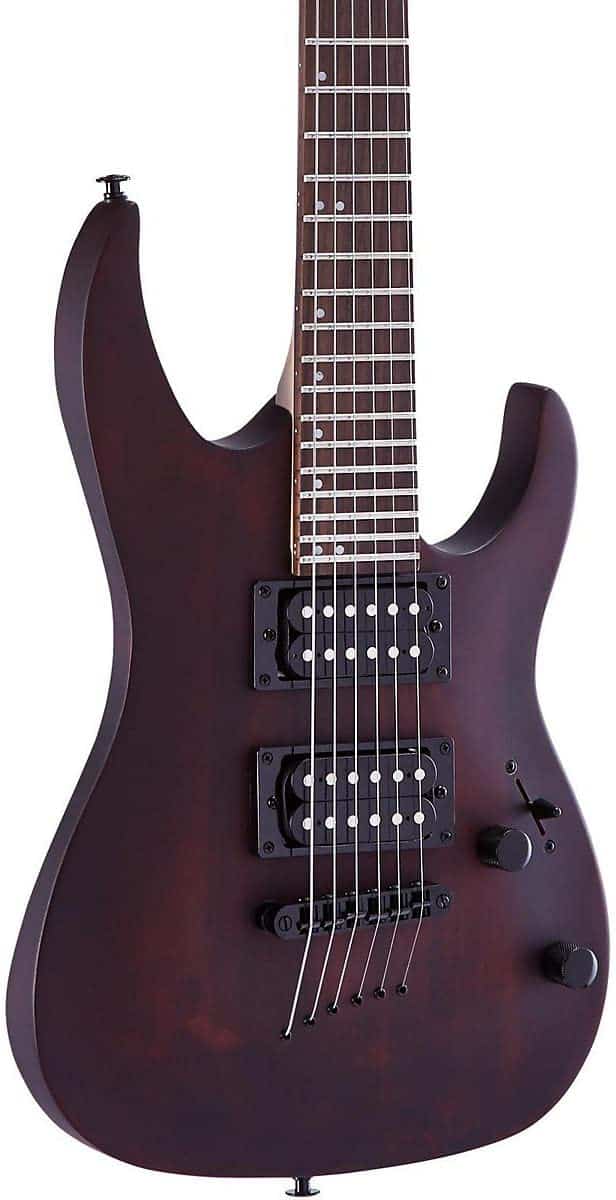 The guitar has good dynamic response and a good amount of warmth, but the pickups do lack some harmonic complexity and sound a little bit dull. As a beginner guitar, though, the pickups are plenty good, especially due to their being potted with paraffin wax.
The through-body stringing design provides a lot of good sustain, even with the shorter scale length, and the adjustable bridge saddles and reliable tuners mean that it gets and stays in tune pretty easily.
Thanks to the versatility of the maple/rosewood neck and double humbuckers, the MM100 can be played well across a wide swath of genres, sounding nice in everything from jazz to blues, rock to metal. The neck is pretty fast, but not super fast, like the Ibanez GRX70QA, for example.
In Conclusion
Pros
Versatile, nice tone with plenty of warmth
Intonation is better than most budget guitars
Potted ceramic HH pickups
Cons
¾-size scale length is not for everyone
Minimal hardware
Pickups aren't great
Best Cheap Electric Guitar for Beginners
Overall, I give the guitar a 4.2 out of 5.
The Mitchell MM100 is a great choice for a beginner guitar player or someone who is just curious about learning guitar but doesn't want to invest too much money into it just yet, coming in at a very affordable $100.
The body feels comfortable to play, the basswood has good warmth, and the bolt-on maple/rosewood neck adds a little bit of presence, warmth, and twang to the tone.
The hardware is reliable, and the intonation is better than most budget guitars in the same price range. It does lack, however, some extras that other budget instruments have, such as a tremolo bar, a third pickup, or more tone controls. But if you're satisfied with the bare minimum, the MM100 would be a great choice for you.
One thing that may turn off some interested guitar players is the scale length, as it is a ¾-size guitar. It feels small in the hands and has different tonal response than other longer guitars (such as 24.75" or 25.5" scale length guitars, which are standard sizes).
If you're purchasing the MM100 for a younger person, someone with quite small hands, or someone who travels frequently, it may be perfect. But for an interested adult with average or large sized hands, a larger-scale guitar may be better, as it will also be a good starting point.
I would suggest visiting a music store and trying some full-scale and ¾-size guitars to compare which you would prefer before making a purchase.
For more options or alternative guitars to try, check out my round-up of the Top 11 Electric Guitars for Beginners!
Latest posts by Guitar Space Team
(see all)