New tech made learning guitar accessible to everyone with a network connection and a device. Just as online recorded lessons were the big thing of 2010, real-time feedback apps are the next big thing now. Even the two all-time rivals, Fender and Gibson, are again head to head on catching guitarists' attention online, each with their way of making it easy and affordable to learn guitar.
Through this article, I will demystify what it is like to learn from the Guitar app and if it's ultimately worth it compared to the proven successful Fender Play.
Fender Play vs Gibson App is not the typical battle of the Stratocaster and Les Paul we have been used to hearing for decades. Neither boasts a premium price nor are aimed at advanced players like their guitars, making it hard to tell what they represent.
There are many questions about guitar apps, and I don't blame you for doubting if they genuinely work. As such, I'll compare both with the viewpoint of a guitar teacher and a studio guitarist who made a career learning and teaching guitar online.
Bottom Line Up Front
As both guitar giants insist on using the latest tech to teach guitar, Fender Play is the one that is ultimately more useful and worthwhile for guitarists with internet friendly approach to classic pre-recorded guitar lessons.
On the other hand, Gibson proves to be worthwhile with its Augmented Audio technology and leans on the fun interactive side of learning songs. While it's a great practice tool that blends in some video lessons, it's still no match for Fender's extensive library.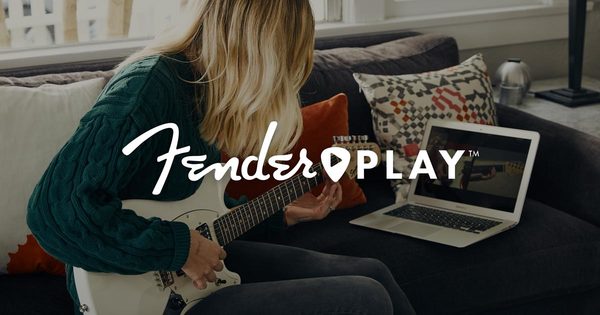 The Gibson App might be the best guitar app, but not the best option for learning guitar online.
Main Differences between Fender Play and the Gibson App
Fender Play is the best choice for learning guitar, while Gibson App is an excellent supplementary tool for learning songs or practicing technique and timing.
The Gibson App uses interactive real-time feedback mixed with video lessons, while Fender Play sticks to delivering the lessons and has yet to implement the feedback mode.
Both have a step-by-step lesson, but Fender Play offers a more substantial learning experience.
Fender Play offers more song lessons. While the Gibson app makes it more fun to practice the songs.
Fender Play offers more backing material than the Gibson App, which is limited to only what you get on screen.
The Gibson App includes some video guitar lessons, but they are not at Fender Play's level in quality and quantity.
The Gibson App offers an innovative Virtual Guitar Tech service, while Fender Play has frequent live streams with the teachers.
Fender Play has an overall bigger community-building aspect than the Gibson App.
Fender Play costs less per month, but both cost the same for the yearly subscription.
Fender Play offers a seven days trial, while the Gibson app is free with basic features and has a 14-day free trial.
Fender Play teaches bass and ukulele along with guitar, while the Gibson app doesn't.

Fender Play – The Easier Way to Learn to Play Guitar
Fender Play stroke a chord when it was launched, bringing a new look and attentive approach to guitar for beginners. It is not the first platform that tested this approach, but it's the first to grow so big in only two years by appealing to a broader public.
To give you a better perspective, I'll go through all that matters to players.
The Website
Fender Play stretches the standard concept of video lessons to the limit by offering an extremely interactive and easy-to-use website. You will know what to do even if you have never picked up a guitar. If you do know what you're looking for, the menu has all the categories; technique, music theory, songs, etc. listed.
Even though I have been playing for almost two decades, I had some gaps in my theory knowledge which were easy to find in the theory section of the menu.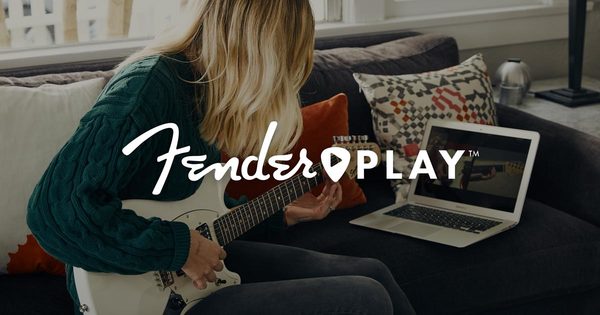 Teaching Method
Fender Play is based on Learning Paths that take players to where they want to go, lesson after lesson. There are learning paths for new players that take you from holding a guitar properly to playing your first songs and more advanced one that focuses on specific genres.
Well-structured lessons and delivery with the short video lesson format successfully avoids confusion for beginners. You save precious time and also know precisely where you left off.
The extra focus on making it beginner-friendly is the downside of Fender Play for intermediate players and advanced ones who won't find the necessary content or delivery from the teachers.
The Songs
Considering it's aimed at new players, most of the songs on Fender Play are contemporary with the necessary dose of classic tunes. I'm not a big fan of too many present-day hits, as they only feature a little guitar work; however, some great songs are rich in musical nutrients and well worth learning.
What I don't like about Fender Play's method of teaching songs is that you will sometimes open a song, and the teachers will skip the 'tricky' parts, only teaching what a beginner can easily learn.
Teachers
To ensure that all lesson has the same quality, the teacher follows a uniform teaching method, which works great for a novice, but can be a turn-off for a more advanced player. Even though the teachers are all professional musicians, some even grammy award winners, they can only share a little of their experience due to the short video lesson format.
There are some lessons from big names such as Cory Wong, Kingfish, Tom Morello, etc. Yet they are mostly to attract new players, not to make a TrueFire masterclass rival.
When I open Fender Play, I see it through my students' eyes, yet if I were to pick a platform for learning an advanced subject, I would choose either Guitar Tricks, Lick Library, or TrueFire.
Value
For the price, Fender Play is unbeatable among most beginner-focused platforms. The monthly subscription is affordable, and the yearly one is even more. Considering a big brand backs it, there are frequent giveaways.
Extra Perks
The platform's teachers continuously go have live steam to take questions, and there's an up-and-coming sense of community aiming to become similar to the one from the all-time classic tabs website Ultimate Guitar.
Fender Play Pros
Excellent tool for just starters and beginners who want to make the jump to intermediate
Saves time and increases focus with the short format video lessons.
Easy-to-navigate website
Proven to work learning paths with great teachers
Very affordable
Upcoming feedback mode
Fender Play Cons
The free trial only lasts seven days.
There's little content for intermediate and none for advanced players.
There's not much player-teacher connection.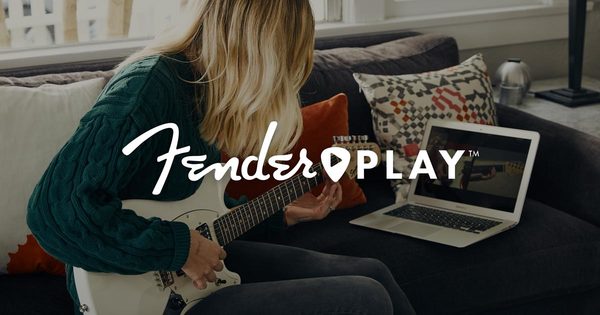 Gibson App – Learning That Motivates
Gibson figured out that it cannot be the App it promises to be if it only relies on feedback technology. Thus they opted to stay true to their vintage brand and mix in video lessons with big names among the continually updated game aspect.
Upfront thought I wanted to make clear that it's not a choice suited for advanced players, just like Fender Play.
Teaching Method
Blending in video lessons and a progressive learning process that works well with thee Audio-Augmented Reality (AR) is Gibson's biggest advantage over most other apps. I love how the App has a laid-out path with daily and weekly targets for beginners and their lessons, and even more how it guides players through all the sections of a song until they master it.
It goes head-to-head with Fender Play's learning paths, but it's still limited compared to live teachers and will most likely remain the best option so for a long time.
The method is good but needs to be more substantial to be the only subscription you need for a long time or even the best option to get started with. To go in-depth about playing and get through initially, I would pick a more standard method based on teachers.
The Video Lessons
The Gibson app gives you some video lessons, but they are not close to being enough. If you're completely new, you need more examples from a teacher showing you the guitar in action and how you should aim to sound. Fender Play teachers do it better, as they are given more screen time.
You do have a few big guest names such as rocker Richie Faulkner, modern blues shredder Jarem James Nichols and others showing their songs, but not many others.
The Songs
Learning songs in a fun way is the Gibson App's biggest advantage. Even though the interface is not the entertaining as Ubisoft's Rocksmith, it gets you through all the right notes and timing. You can pick different difficulty levels for songs and go from strumming the chords to playing them exactly like in the record.
Value
It is an expensive app, but it stays true to the name of being the only guitar app you need as far as guitar apps go. Gibson adds even more value than the typical brand name in the headstock by adding access to the original series of Gibson TV. Music nerds and die-hard guitar fans will love their heroes discussing the things we always wondered about.
Extra Perks
The tuner is remarkable. I'm not implying that the tuner alone makes the subscription worth it, yet it's impressive compared to most free ones.
The Virtual Guitar Tech service is Gibson's extra step over Fender, who is getting there regarding feedback tech. You can book a free meeting with a guitar tech that will guide you to identify your issue and how to make simple adjustments yourself. It is still not enough of a reason to subscribe, as you can only use it if you own a Gibson, Epiphone, Kramer, or Steinberger guitar.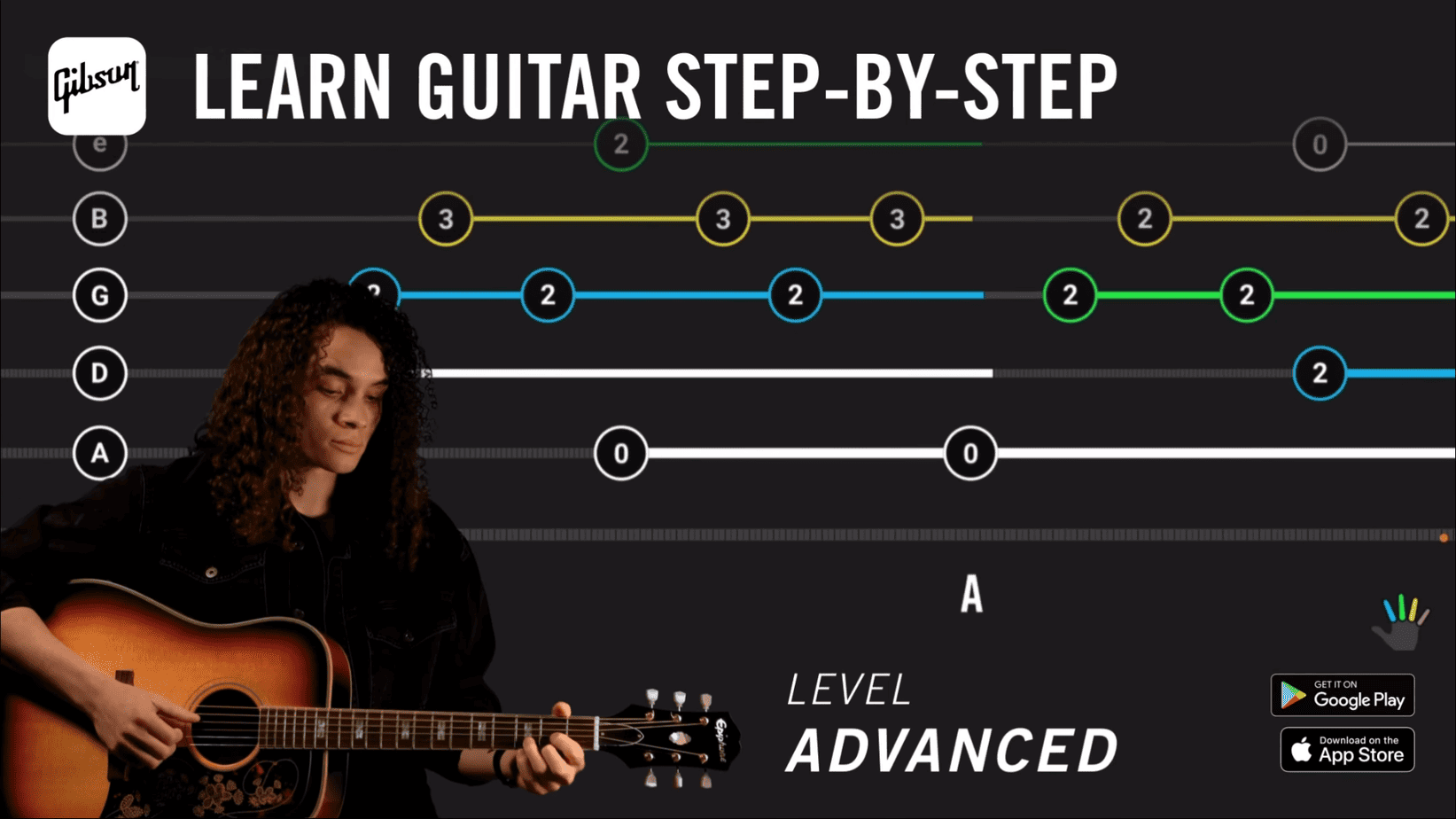 Gibson App Pros
Easy to navigate and progressive path to learning guitar fundamentals and songs
Video lessons are blended into the App.
Access to Gibson TV and a free virtual guitar tech meeting
Continuously updated songs.
14 days free trial
Exceptional mobile tuner
Gibson App Cons
The free version is very limited.
The limited technology makes it helpful only to beginners.
Do Interactive Guitar Apps Help Learning Guitar?
The musical goal of guitar apps, setting aside all the marketing, is to supplement the learning process by giving feedback on your playing as a beginner or just an intermediate. Even though this sounds like the ideal scenario and the interactivity pre-recorded lessons don't' have, it's not that simple yet.
In short, yes, interactive guitar apps help you develop technique and vocabulary and make practicing engaging. However, they are limited to only people new to the instrument as they don't teach the musical side of playing guitar.
Guitar Hero opened guitar lessons pandora's box when Sony released it in 2004. Every App or game that followed walks in its footsteps. Perhaps the tech is better, devices are faster, and real guitars replaced toy ones, but all still have to overcome one major obstacle.
Guitar apps can tell if you're playing the right not on time, but not how you are playing it, nor if you are playing music or only mechanically reproducing a piece.
The Gibson app is one of the few that had the means to compensate for this blending in video lessons and performances, so you at least have a reference of what you should be playing.
Besides this, they are great practice tools that do get positively addicting. You spent your screen time with a guitar in hand, making the necessary repetition needed to nail songs, scales, and exercises entertaining.
Also, timing is a significant issue you address from the start. The sometimes frustrating metronome blends in with the App and feels instinctual rather than a chore.
A hidden benefit of guitar apps is that they stalk you on your phone, just like social media, continuously reminding you to play by bringing in new updates and songs. Sometimes we all need a push to get out of a guitar rut, so why not use a handy app to make the boring stuff fun?
The biggest risk is one I have from experience with a student who was playing Rocksmith+ so much that he became screen depended and would never play guitar if not in front of his PlayStation.
Alternatives to Consider
Since we are on the topic of "next-gen" guitar lessons, I choose a few other apps and my favorite platforms as alternatives.
Yousician is the most similar alternative to Gibson App, and it's the biggest competitor in the mobile world. It is a cheaper app that sacrifices some of the learning content to offer a more fun experience.
I learned about Yousician when Metallica released a few videos teaching songs on the App. It was a great discovery that glued me to the screen; going back and forth between scales and modes, I was too lazy to practice with a metronome.
I like how Yousician merges video lessons with the interface, yet it does feel limiting if you are anything above a beginner or need some very specific thing in mind to practice. If you're still very new to guitar apps, I suggest you try Yousician before considering the costlier Gibson App.
I was introduced to Tom Quayle from his Lick Library lesson teaching Steely Dan tunes. Impressed by the unbelievably fluid legato and explanation, I found he runs one of the best YouTube channels and released a mobile App.
Solo is the best App focused on teaching the guitar fretboard to players of all levels. The App is straightforward, with a simple interface and a one-time modest payment. But it works, as it does not overpromise and bets on the players' desire to find the "sweet notes" when improvising.
There's no better practice tool than "Solo" If you want to take your fretboard knowledge to a new level.
TrueFire – Best Interactive Tabs & Vast Library
TrueFire is the best Fender Play alternative for intermediate and advanced players. In this tech-savvy context, I'd like to highlight how the platform blends interactive apps into all its lessons and even takes it one step further with the "In The Jam" series, where you can solo all instruments on the song.
I only advise it for dedicated players, though, as it can be a very seductive option even for beginners. It immediately grabs any player's attention with legends of the caliber of Steve Vai and Larry Carlton on the home page, and I don't blame anyone for going for the free trial without thinking twice.
FAQ
Question: Which Is Best For Beginners, Fender Plays or The Gibson Apps?
Answer: Fender Play is the best to start playing as it leaves no room for mistakes, and teacher keep players more motivated to go through the initial struggles.
Question: What Instruments Does Fender Play Teach?
Answer: You can learn acoustic and electric guitar, bass, and ukulele on Fender Play.
Question: Do Advanced Players Use Real-time Feedback Guitar Apps?
Answer: In most cases, no, and even if they do, it's not to learn songs or concepts but mostly for the fun part. As a session musician, I would only use the Gibson App's tuner and access to Gibson TV.
Final Thoughts on Fender Play vs Gibson Apps
As it stands now, the Gibson App might be the best guitar app, yet it's not as helpful to learning guitar as the modern-looking teacher-based Fender Play. Teachers are crucial to ensuring you get the basics right and even more so when you get into trickier concepts and want to make the jump to intermediate. Also, one App is still not big enough to give you all you need compared to the vast library Fender keeps expanding.
Fender's beta version of the feedback mode looks promising, and if it delivers, it might even beat Gibson at its own game.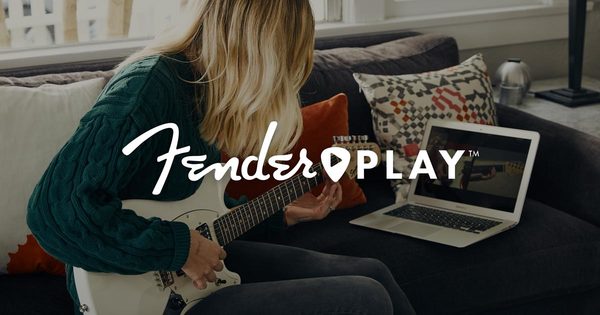 Latest posts by Altin Gjoni
(see all)