Since its launch, Fender Play has set a new standard in short format lessons for beginner and intermediate guitarists. Fender's method removed all the fluff, getting right to the core of teaching guitar. However, the website is now home to 1000+ full songs you can learn, confusing your choice.
To avoid losing the point of the whole focused approach, as a studio guitarist and online teacher, I want to guide you to what I think are the best songs on Fender Play (Full Review Here) you can learn today.
Bottom Line Up Front: To develop as a guitarist, you must continuously challenge yourself and learn from the best players.
Fender Play is full of hundreds of classic guitar tunes that will teach you all the techniques and concepts you need to step up your plain. If you doubt what song to learn next, this guide will direct you towards the one you need most and most suits your style.
Why Fender Play?
I'll immediately say that Fender Play is worth investing in for beginner and intermediate guitarists of all styles. The biggest advantage it has is that the platform is late to the whole world of online guitar lessons, learning from the good and avoiding the bad.
For players who just picked up a guitar, there is a separate category covering all the basics, from cowboy chords to strumming and the much-dreaded F barre chord. It even rivals the YouTube favorites Justin Guitar and Marty Music.

All the lessons keep the same standard in teaching, video, and audio.

The teachers are very prepared and avoid repeating the same concepts needlessly. They are not necessarily famous guitar virtuosos who play in big bands, but all are excellent teachers. You will soon enough find your favorite one from the many.

The website is very user-friendly, making it easy to find what you want. If you already know the basics and only want to cover theory, there's a specific section for that.

New lessons/songs are continuously added.
One thing I'll say from experience is that I never encountered any lesson that is wrong or cuts corners in Fender Play. Believe me; you'd be surprised how many YouTube lessons are not correct; you only notice, however, once you get to the teacher's level.
What Makes a Song Good for Learning?
As my favorite session guitarist, the Nashville ace Tom Bukovac says, "the best thing you can do is learn songs rich in musical nutrients." I took his advice and developed a strong vocabulary I now apply to my everyday session work. Helping you figure out those nutrients in Fender Play songs is how I'll transmit his teachings.
A musically rich guitar song teaches you concepts, techniques, and approaches and expands your vocabulary on the instrument.
I decided to include "rich" songs for different player levels. You don't need to learn them all or place any deadlines. I suggest always picking two pieces, one that you like and is easy to play and one that is tricky and can't play yet.
While learning the first one enriches your playing and gives you a confidence boost, the second pushes you out of your comfort zone. Whatever your level, It's essential to learn new things and even try your hand at songs you can't yet play.
All the songs will teach you something new you can adapt to your playing, an important stepping stone to creating your style. Never underestimate an "easy" song. Even what's considered a "beginner' tune might teach something new to an advanced player.
Best Fender Play Songs for Beginners
The first song I learned to play on acoustic guitar might also be your first. The song uses only two open chords and a simple strumming pattern you could get right in your first months of playing.
The chord extensions are impressive to go back to as an intermediate player. The second chord is a C6/9 which I would not explain to a total beginner in theory, yet I'd teach the easy fingering.
Learning eventually how these chords are formed and how the beautifully crafted vocal melody works with only two chords makes it a treasure for guitarists of all levels.
As with the previous one, this song uses simple chords, does not require much technique, and is easy to learn.
There is a bit of everything that makes up a rock song in "Zombie." It features an arpeggio clean part, distorted power chords, memorable solo. It's a perfect exercise to play in from start to finish and practice using your pedal board to switch effects.
If you struggle with the solo, I suggest playing it first only on one string and then with two, like in the original.
Zombie The Cranberries | Fender Play
Hailing from Ireland, alternative rock superstars the Cranberries combined jangly guitars, powerfully dreamy arrangements, and Dolores O'Riordan's unmistakable vocals to land four Billboard top 20 albums in the '90s.
Sign Up
We earn a commission if you make a purchase, at no additional cost to you.
I recommend this song as an introduction to the blues and a good campfire tune. It's funny when you think that Otis wrote the fun riff that inspired generations of blues players from the boredom of sitting on a dock.
You will learn 7th chords and practice some barre chords. A good exercise is to sing the song while playing and try to get the notes right. You don't need a great singing voice for it, but it's gratifying if you play in a group and the others follow.
The biggest Radiohead hit is likely their easiest song to play. I mainly teach this song to all my students because of the weird chord progression you don't often encounter in rock songs.
I challenge you to the sound fx Johny Greenwood\s playing on his short lead bits. They are not included in the lesson as they are on the record, so you must use your ears.
Getting the clean arpeggios right is an excellent alternate picking exercise.
The biggest challenge is to let the strings ring out and get the distorted muted chugs that happen before the chorus right. I am guilty of messing up the last ones when covering the song live. The timing is tricky and will teach you how to count.
Radiohead – Creep | Fender Play
"Creep" by Radiohead was the band's debut single off of their first album Pablo Honey released in 1993. Its initial release was not much of a chart success but became a worldwide hit after a re-release later the same year.
Sign Up
We earn a commission if you make a purchase, at no additional cost to you.
All upper beginner and intermediate fingerstyle guitarists should have a go at this Kansas classic. You will learn the legendary Travis picking basic patterns and new open chord shapes.
The extra challenge on this song is learning how to play the violin solo on guitar. The call and response technique used on the solo is essential in building melodies on the guitar.
Everyone knows this George Harrison classic. It will teach you how to play rhythm and melody simultaneously and use a capo.
All Beatles songs are sources of musical genius and hide depths of complexity under the simple strumming patterns. Harrison's songs, in particular, have unique guitar parts from which you can learn a lot. They sound easy but are tricky to get right.
The Beatles – Here Comes The Sun | Fender Play
Get ready to learn a note for note version of George Harrison's classic acoustic song,"Here Comes the Sun" It was first released on the Beatles' 1969 album Abbey Road.
Sign Up
We earn a commission if you make a purchase, at no additional cost to you.
Best Fender Play Songs for Intermediate Players
Grunge holds a special place for me due to the complex harmonies hidden beneath the apparently simple riffs. Black Hole Sun will teach you the drop D tuning and how to get out of the "normal" notes to go to unexpected places.
It's not a technically challenging song, yet I consider it intermediate due to the dark grunge feel, which is very specific. Chris Cornell wrote the whole song in 10 minutes; I think it will take longer to master for any beginner or intermediate player.
Soundgarden – Black Hole Sun | Fender Play
Chris Cornell's grunge ballad will get you rocking in multiple time signatures, and have you dive into some quirky chord progressions.
Sign Up
We earn a commission if you make a purchase, at no additional cost to you.
Funk guitar playing is essential in your vocabulary for anything from pop to rock. Percussive playing has its place everywhere and should be on your improvement list.
The main Frusciante riff is perfect for teaching you how to mute the strings with both hands and improve your timing. Getting the right funk feel for the intro riff takes time, even though the notes played are few. A metronome will be your best friend to get it right.
Muting and vibrato are the only two aspects of guitar playing that cannot be directly taught. They become second nature years into your playing if you have the right inspirations and practice enough.
RHCP – Can't Stop | Fender Play
The lead single of 2002's "By The Way," this funky rocker finds the L.A. funk-punk vets mainstreaming their sound a bit.
Sign Up
We earn a commission if you make a purchase, at no additional cost to you.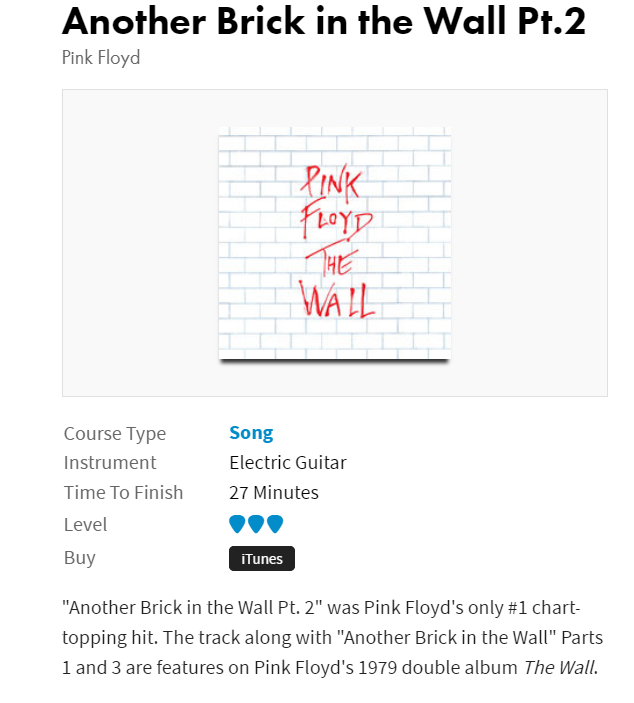 Anything from David Gilmour is a guitar masterclass. The man can do more with a note than most players can with all the fretboards.
The bending, note choice, and space Gilmour leaves both in the rhythm, and lead work are what you should aim to learn from the song. Understanding how to serve the music and that sometimes less is more are crucial for becoming an advanced player.
Don't aim first to get the vibrato similar to his. My tip is to think of vibrato as an effect you had and consciously do it, not just automatically using vibrato on every note you play guitar out of habit.
Pink Floyd – Another brick in the Wall Pt.2 | Fender Play
"Another Brick in the Wall Pt. 2" was Pink Floyd's only #1 chart-topping hit. The track along with "Another Brick in the Wall" Parts 1 and 3 are features on Pink Floyd's 1979 double album The Wall.
Sign Up
We earn a commission if you make a purchase, at no additional cost to you.
There's nothing left to say about Hendrix's impact on the guitar world. All his songs were innovative at the time and still are in many aspects.
The little wing includes unique techniques like double stops, double bends, and soloing while playing rhythm guitar. The solo is not technically challenging, but how Hendrix follows the chords changes is perfect.
It will take some time to master thing tune, but once you do, it will become a jam session staple.
Jimmi Hendrix – Little Wing | Fender Play
"Little Wing" by Jimi Hendrix was recorded in 1967 and can be found on The Jimi Hendrix Experience album, Axis: Bold As Love.
Sign Up
We earn a commission if you make a purchase, at no additional cost to you.
An Extra Challenge
I added some advanced songs on Fender Play which could be a great challenge for you.
It's only one riff with few notes, but its rhythm is very challenging. It's a step up in every way from the RHCP song I suggested.
Vulfpeck – Cory Wong | Fender Play
"Cory Wong" is the final track off of Vulfpeck's 2016 album, The Beautiful Game. The group is a revolving door of members, and this song is named after contributing guitarist Cory Wong.
Sign Up
We earn a commission if you make a purchase, at no additional cost to you.
Dimebag Darell's riffs and solos are a masterclass for all metal guitarists. You will learn how to plan mute like a pro and shred if you pull the song off.
Pantera – Cowboys From Hell | Fender Play
"Cowboys From Hell" is a song by American heavy metal band Pantera. The song first appearing on the band's 1989 demo album and functioned as the band's first single. It was released later on their major label debut album Cowboys From Hell.
Sign Up
We earn a commission if you make a purchase, at no additional cost to you.
All the song is filled with neoclassic rock riffs and leads by the great Randy Rhoads. Give yourself time to learn the tune, as there's a lot you can get out of it.
Ozzy Osbourne – Mr. Crowley | Fender Play
"Mr. Crowley" was first released on Blizzard of Ozz by British heavy metal vocalist Ozzy Osbourne. It features the guitar wizardry of Randy Rhoads, whose unique solos have come to define the metal genre.
Sign Up
We earn a commission if you make a purchase, at no additional cost to you.
Few Words of Advice
Don't ractice what you know; practice what you don't know!
If you're an absolute beginner, the basics are the same; whatever your style or taste, the process is similar. Simple hand exercises, chords, strumming, picking, and then your first song. The criteria for learning songs at this stage is whatever your technique allows you to play.
Once you reach the intermediate level and you can play a lot of songs, be careful not to fall into the trap of only learning things you're comfortable with—the first stage of getting stuck in a rut.
We all get stuck on guitar ruts, playing the same blues licks, and songs. Learning new songs that stretch the limits of your style and technique is an excellent way to get out of a rut,
I recently tried learning some Steve Vai tunes, even though it will be months until I get the alternate picking up to speed. If you think a song from the list is too hard for you, first give it a shot and a few weeks. It's always more manageable once you start learning it.
Don't Let Length Scare You
A long song can be intimidating to learn, especially if a solo is involved. In the session, world length and memorization is an everyday day challenge. Sometimes I have to record multiple songs in one day, and there's no way I can remember all of them.
I found that singing the guitar part in my head often and writing down notes are your two best friends. When it comes to solos, memorizing becomes easier once you have a grasp of chords and scales. Understanding what's happening under the solo, chord changes, and key are a guide.
Try the 1-Minute Chord Changes Exercise.
Struggling with chords is not only a beginner's thing. Believe that even advanced players struggle to make some tricky chord changes on time and have all the notes ring.

The same exercise I have used since I started to play cowboy chords and still do is the 1-minute change. It's very straightforward; you only need to set a timer to 1 minute, pick 3-4 chords, and change them as fast as possible. Play all the strings after each change and ensure the chord sounds clean. You must measure the results weekly and change the chord order once you feel confident.

Give your hand time to rest and repeat the exercise 5 times daily. One week into it, you will notice improvement.
Don't Take Shortcuts
Learning a song is different from mastering it. I might know how to play many songs, yet I only master a handful where I can confidently say I get the timing, fee,l tone, and live performance very close to the original.
The more you explore the guitar, the more likely you will return to the roots and discover new things in old songs. I remember returning to "Californication" from the Red Hot Chilli Peppers as a TV station orchestra hired me to play the song.
Even though I knew the guitar solo note-per-note, I was nowhere close to Frusciante's vibrato and feel. Same with the tone and rhythm guitar, which I could play on time but not well enough to blend in with the band. Sometimes the band leader will ask to play slightly ahead or behind the beat, advanced timing concepts.
I advise you don't skip any details of the lesson and then go back to listen to the original recording.
Don't Learn Only The Guitar Part
Songs are much more than just their guitar parts. I advise you to learn the guitar's vocal melody as well. It will help you think differently, train your ears and make your solos sing!
FAQs
Question: How Much Does Fender Play Cost?
Answer: The Fender Play monthly plan costs $9.99, while the annual membership costs $89.99/
Question: Do Fender Guitars Come With Free Fender Play Memberships?
Answer: Yes, if you buy any of the newly released guitars, like the modern affordable "Player" series, you get a free Fender Play membership.
Question: What Are Some Alternatives To Fender Play?
Answer: Justin Guitar, Martzy Music, Yousician, Lick Library, Tim Pierce's Masterclass, and Paul David's Guitar Mastery are some of the best Fender Play alternatives.
Final Thoughts on Best Songs on Fender Play
My list is just a glimpse of what you can lean on in Fender Play. You don't need to learn the song in a particular order and can even choose entirely different ones. What's essential to get from this guide is the method of picking the song that will most improve your playing.
Latest posts by Altin Gjoni
(see all)