My guitar-playing journey began at the age of 12. My early influences were the music of the day and the albums that my brother listened to. At 14, I started to form my own musical identity and enjoyed listening to rock radio. But, in 1982, the older guys that hung out at the guitar shop were talking about the guitar work on the Steely Dan albums. And, they mentioned the "Kid Charlemagne" solo performed by Larry Carlton.
So, I raced to the record store and asked the clerk for Larry Carlton's albums. He had two solo records, and I purchased both of them. My life changed at that moment, so, I decided to honor that by writing this Larry Carlton guitar player profile.
Larry Carlton was born in 1948 in Southern California and began his guitar journey at the age of six. In junior high school, he heard a recording of Joe Pass and immediately became interested in jazz. He cites Barney Kessel, Wes Montgomery, John Coltrane, and Blues legend B.B. King as influences.
In the late 60s, L.C. wrote jingles and radio commercials and even appeared on television as "Larry Guitar" on a children's show. As his musical reputation grew, he received calls for recording dates requesting the sweet tone that he delivered from his Gibson 335.
In the early 70s, L.C. recorded with The Crusaders and Joni Mitchell's Court and Spark album. And, the rest is history, as they say. Larry became an in-demand session player performing more than 3000 sessions during the 70s and mid-80s. A tall order considering he was performing with The Crusaders and began arranging and producing while filling in the guitar seat.
He built his home studio, Room 335, to focus on arranging and producing projects. Larry co-wrote the Who's the Boss sit-com theme and the Hill Street Blues drama theme during this period.
In 1985, he recorded an all-acoustic jazz album for MCA and transitioned into a solo artist, and 1987 was a highlight year.
He won a Grammy for "Minute by Minute,"
He received a Grammy nomination for his live album, Last Nite.
He successfully recorded and released two acoustic albums and one live album.
He then entered the studio to work on his next project, On Solid Ground.
The all-electric project also received a Grammy nomination in 1989 which was almost one year after Carlton was shot by juveniles in a random act of violence outside his Los Angeles studio.
I could wax on and on about Larry Carlton's accomplishments. But, if this is the first time that you have heard of him, I'm almost sure that you've already listened to his music.
So, let's take a deeper look into the gear behind his sweet tone.
5 Things You Need to Know List
Here are some quick facts for water-cooler banter:
Arguably the most-recorded guitarist in history with more than 3000 recording sessions in the 70s and mid-80s.
He's known for the 'sweet tone' that he generates from his Gibson 335 and Fender Tweed amp.
L.C. has been nominated for a Grammy 19 times and won 4 times.
He successfully transitioned from first-call session ace to solo artist in the mid-80s.
In 1988, Larry was shot in the throat by juveniles outside his private studio in Burbank, CA. But, after intensive therapy, he made a full recovery and finished recording the Grammy-nominated On Solid Ground (1989).
Bottom Line Up Front: Larry's known for three distinct stages in his career.
His studio work where he used his Gibson ES-335 and Fender Tweed setup.
His early solo work in the mid-80s and 90s that marked his Valley Arts guitars and Dumble amp with rack effects sound.
His modern work as a band member with Fourplay and his solo work where he simplified his rig and went back to the Gibson ES-335, a Budo-Drive amp, and rack effects.
Even the modern rig will set you back quite a few thousand bucks. But, you can get in the ballpark with any 335-style guitar with humbuckers, a blackface-style amp, and a few pedals.
The Guitars of Larry Carlton
1969 Gibson ES-335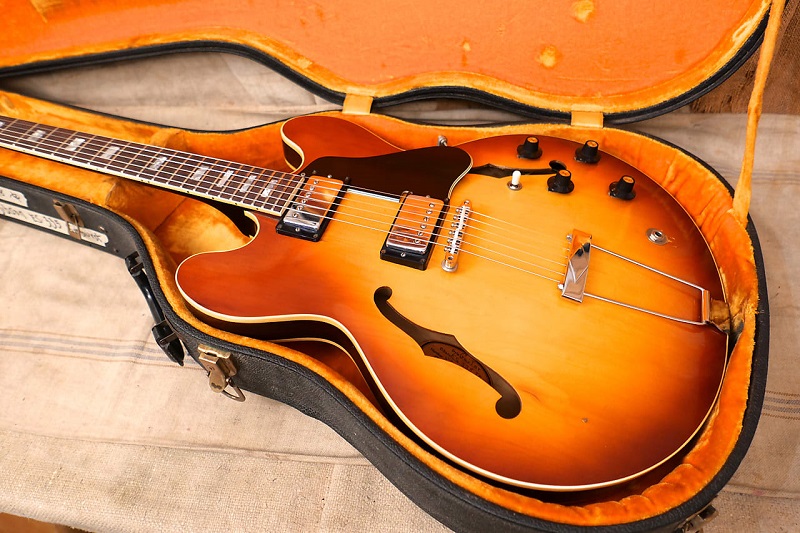 When you're known as "Mr. 335" and your home studio is named "Room 335," and you have a song titled "Room 335," then, chances are, that you're associated with the 335.
Larry personally chose and purchased his 335 in a music store. It was one of three 335 models that were hanging on the wall. His choice behind choosing the 335 "was a practical one." He tells John Bohlinger of Premier Guitar, "I play a lot of different styles of music. For me, I wanted to get a guitar that could cover a lot of different bags so that I wouldn't have to keep switching from guitar to guitar."
The 335 that Larry chose is a 1969 model with a 1968 neck. The 68 neck is made of a single piece of maple and was probably a leftover when Gibson manufactured the L.C. model. In addition to the neck, the other unique qualities that Larry's guitar has are:
The tailpiece is further away from the Tune-o-Matic bridge than other 335 models because the guitar initially came with a trapeze tailpiece.
A graphite nut replaced the original.
Numerous fret jobs.
Schaller tuning pegs.
Besides those fundamental modifications, the guitar has stayed pretty true to its original form. The pickups are the standard PAFs that the guitar came with. The Gibson Larry Carlton signature model follows the specs of this guitar.
Larry uses D'Addario light-top, heavy-bottom strings, gauges .010-.052. And he uses heavy-gauge teardrop picks.
The Sweet-335 Tone
Larry is a very dynamic player and uses changes in picking pressure to create a range of textures from sweet and singing to bluesy and gritty.
He also prefers setting the pickup selector to the middle positions while adjusting each pickup's volume and tone controls to taste. He also switches from the neck to the bridge pickup from time to time.
Valley Arts S-Type and T-Type Guitar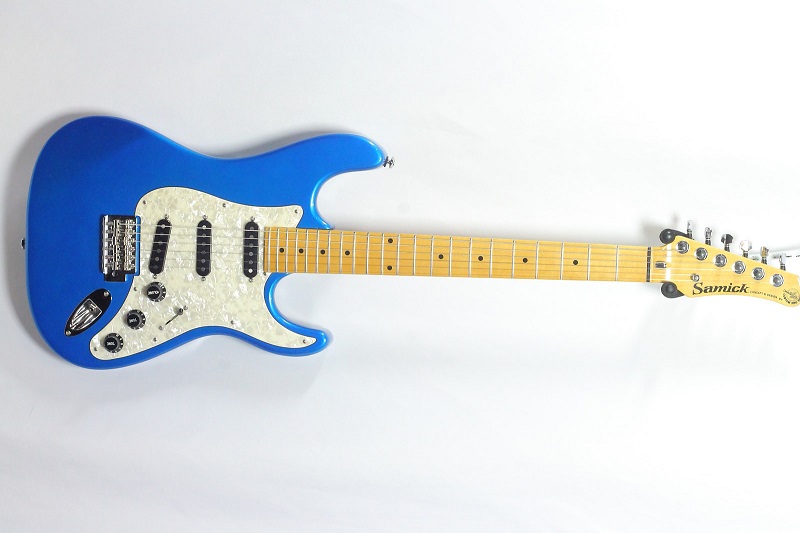 During the late-80s, Larry sidelined his precious 335 and began experimenting with Valley Arts solid-body guitars. He used various Strat-style and Tele-style guitars configured with EMG single-coil pickups.
Also, he used Gibson P-100 stacked P-90 style pickups. Rumors suggest that the P-100s were actually P-90s or custom Seymour Duncan pickups.
Larry's Valley Arts guitars were 7/8-sized, sported set-neck construction, and used the Gibson standard 24.75-inch scale length.
Valley Arts later released two Larry Carlton T-Style signature models, a Standard and a Custom.
The Amps of Larry Carlton
Fender Tweed Deluxe & Princeton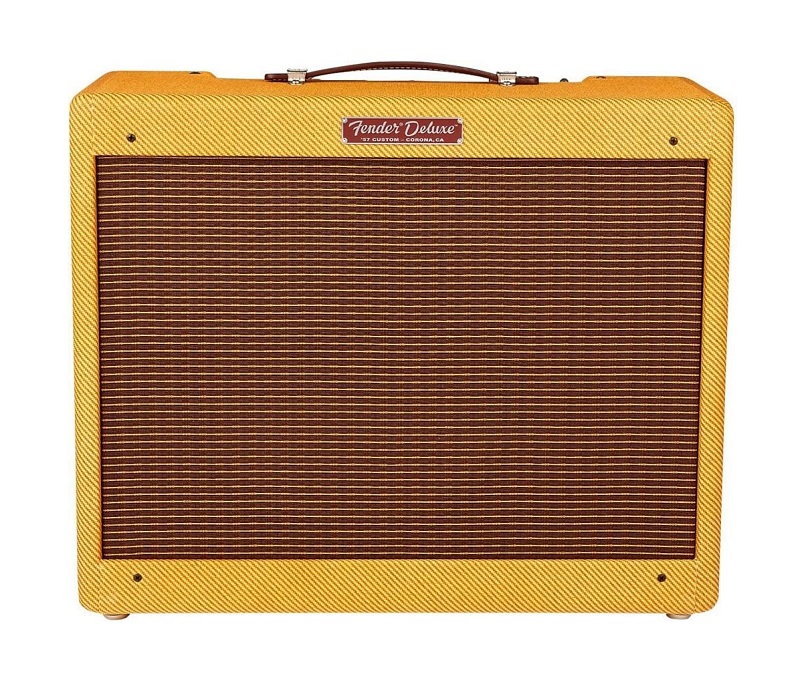 Carlton preferred smaller amps for his studio work, and some modifications were made by Paul Rivera. L.C. used the Fender Tweed/Gibson 335 combination for the "Kid Charlemagne" solo.
There isn't any solid documentation as to the modifications made by Rivera.
Mesa Boogie Mark I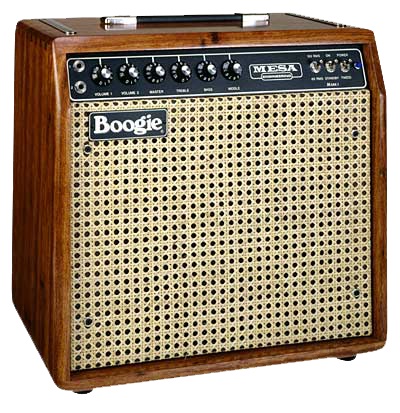 In addition to the small Fenders, Larry was one of the first users of Mesa Boogie amps. He also preferred the Mark I 1 x 12 combo. There's very little written about Larry's experience with this amp, but I thought that it was important enough to mention.
The Dumble Overdrive Special 100-watt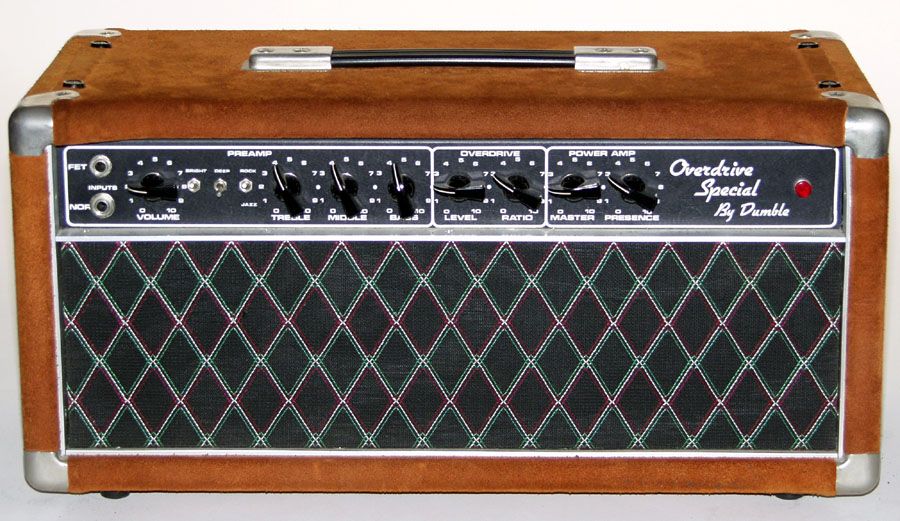 I saw Larry several times in the late-80s and early-90s. This amp drove his tone, and I never heard a better live tone before or since. However, Robben Ford and Mike Landau have come very close.
Larry used the Dumble O.S. Head outfitted with 5881 power tubes instead of the standard 6L6 tubes that were common at the time. Larry stated that he preferred the slower, darker, and warmer tone than the 6L6s.
The amp head drove a sealed and ported Dumble cabinet that housed a single Electro-Voice EVM-12L speaker.
Carlton would set the clean channel to the initial point of breakup. This broken-up, clean tone was his main sound. He would then use the amp's pre-amp to boost and overdrive the sound as needed.
Bludotone Bludo-Drive Amplifier
Although Larry still uses his beloved Fender Tweed Deluxe, he has added the Bludotone to his live setup, and this is essentially a Dumble clone. Brandon Montgomery from Bludotone designed this amp to Larry's specifications.
He keeps one in Europe and one in Japan to avoid shipping the amps when he tours. L.C. uses a Bludo-Drive 100/50 watt for the road and has a Bludo-Drive 50/25 watt for the studio. The head drives a 1 x 12 Electro-Voice EVM-12L speaker in both cases
Effects
Larry's pedalboard during the L.A. session days was rather complex and, for the purposes of this article, we'll focus on his live setup. Larry has begun simplifying his rig during his stint with Fourplay and his solo work
Larry's Wet/Dry/Wet Guitar Rig
On stage, Larry wants to recreate the sound he used in his studio setup.
Dry guitar in the center.
Left and Right guitars in stereo with reverb and effect.
He achieves this by:
Miking the Dumble speaker with a Shure SM57
Sending the SM57 to a Mackie 1604-VLZ Mixer
The Mixer adds the following rack effects

T.C. Electronics M2000 Stereo Reverb (in recent years, L.C. began using a Lexicon MX400)
Roland SDE3000 Delay (in recent years, L.C. started using a Roland SDE1000)

The Mixer's output then goes to the Front of House (FOH)
And to (2) JBL Eon-powered speakers, which Larry places on each side of his Dumble speaker.
In addition to this setup, Larry uses a Sho-Bud volume pedal (modified by Howard Alexander Dumble to keep the tone consistent throughout the volume sweep) and a CryBaby Wah Wah Pedal
Studio Tricks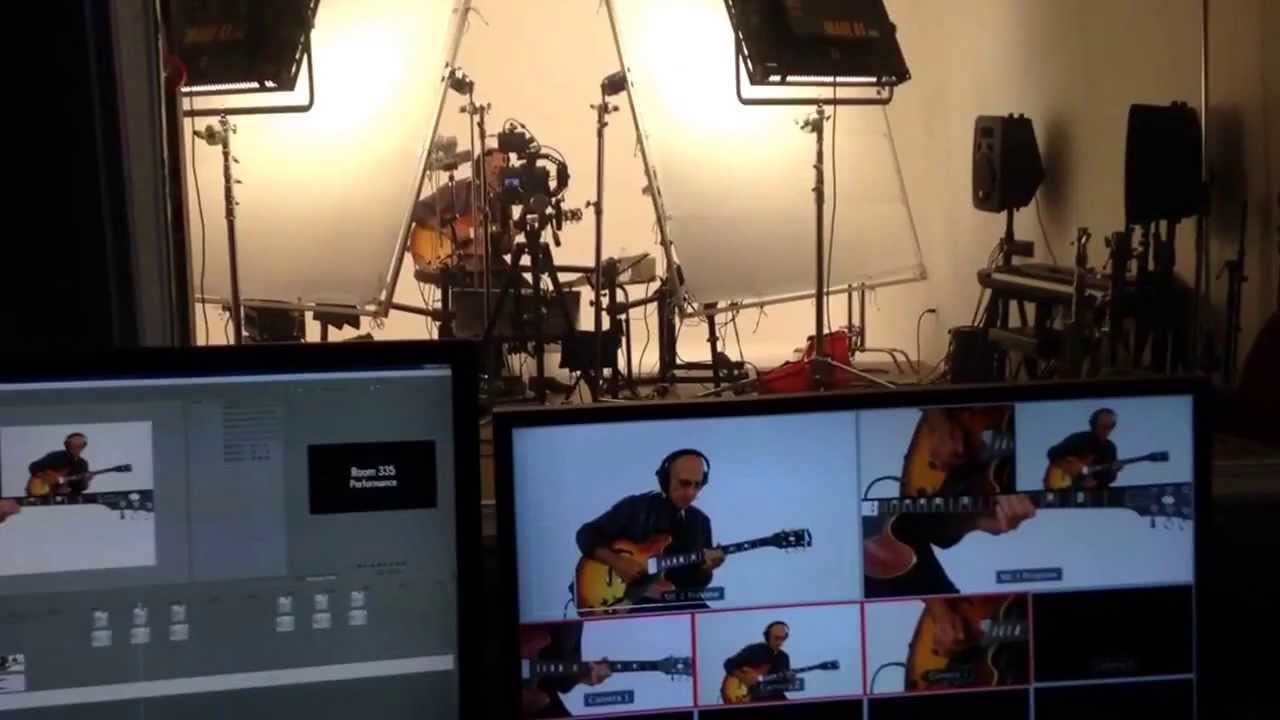 When you've played on as many sessions as Larry has, then I'm sure that you'd pick up a couple of recording tricks.
Larry's quick tips include:
The Dumple Amp is recorded using a Royer R-121 ribbon microphone and Shure SM57 dynamic microphone into Neve 1073 microphone preamps/E.Q.s and Universal Audio LA-3A compressor/limiter. That's it!
Classic Recordings
Steely Dan, The Royal Scam (1976)
Larry Carlton, Larry Carlton (1978)
Larry Carlton, Last Nite (1986)
Larry Carlton, Session Masters (2015)
Larry Carlton & the SWR Big Band, Lights On [Live in the Studio] (2017)
Getting the Sound
Larry Carlton's tone is a tough one to crack. He most certainly reflects the adage that the tone is in the hands
Option 1 $$$$$
If you have the money, then you can outfit yourself with the following:
Gibson Larry Carlton Signature LC-335 Model
You can try to find a Dumble, but only a select few can afford these at six-figure eBay and Reverb prices. Instead, you can try to obtain a Dumble clone. The favorites that I've actually played are Bludotone, Two-Rock, and Fuchs. I've also heard that players have responded favorably to Glaswerks and Ceriatone.
A ported and sealed 1 x 12 cabinet housing an Electro-Voice EVM-12L speaker.
A volume pedal and a wah pedal.
And, you can add your choice of rack effects for chorus, delay, and reverb effects.
Option 2 $$
If you're on a budget (and most of us are), then you could outfit yourself with the following:
Any 335-style guitar with humbuckers and a stop tailpiece
The Dumble sound in a pedal. For example, Hermida Audio Zendrive is excellent, the Custom Tone Ethos is also a fantastic pedal, and the Menatone Howie. Either of these three will do the job nicely; however, there are dozens of other Dumble-style pedals on the market that have received good press and reviews. I just haven't had the opportunity to try them. Also, it's important to pair these pedals with a blackface-style amp.
If you're after Larry's Steely Dan sound, then try a Fender Tweed or Fender Princeton with a 335-style guitar. I prefer the Princeton with stompboxes, and the sound is terrific.
Don't forget a volume pedal and a wah pedal.
Final Tip
Set the amps on the verge of breaking up. Larry prefers a natural overdrive setting and uses picking dynamics with a combination of guitar-volume-and-tone knob tweaking.
Closing Thoughts
I used a blasphemous setup once to try to replicate the spirit of Mr. 335 and was blown away by the results. I used a Headrush pedalboard with a dry extension cabinet in the center. Then, I ran the guitar sound with stereo effects to the Headrush monitors set on either side of the amp. The sound engineer used a Sennheiser 421 to mic the amp and sent the stereo sound to the front of house. DAMN!!!
I had worked with the sound engineer before, and I arrived at the theater early in hopes of trying this setup. He was patient with me, and the result was terrific.
But, no matter how close I get, I continue to tweak my Larry-inspired tone.
Latest posts by Ed Lozano, Managing Editor, Guitar Space
(see all)