You just got your first guitar and as you're going to sit down to start playing a cover of your favorite song, you realize that playing guitar is actually a lot trickier than it first seemed. Playing the guitar can be an extremely rewarding experience, but it can be a difficult instrument to learn, which is why a solidly built guitar course in absolutely essential if you're looking to properly learn how to play.
Buying lessons from a guitar teacher is a very legitimate way to learn to play the guitar, but what a lot of people fail to mention is that investing your money into a guitar teacher can be incredibly expensive, and often fail to mention that you have to get your schedule to match up with the available spots of a potential guitar teacher. There's also always the option of getting a guitar lesson on a DVD or a book at your local guitar shop.
While you can attempt teaching yourself how to play from one of these tools, both of these tools aren't the best way of going about answering a lot of the common questions that beginners have.
As for the reasons stated about why I highly recommend beginners investing in an online guitar course to help get them started on the right track for their musical journey. Don't get me wrong, face-to-face lessons, guitar DVDs, guitar bucks are all great ways to start off learning the guitar and how to play it. However, the above stated educational tools aren't accessible to every new musician, which is why online guitar lessons have quickly grown in popularity.
Today, we're going to talk about some of the most popular free online guitar courses and the absolute best-paid guitar courses that you can find on the internet, which all provide lessons for guitarists of experience levels.
How did you decide what online lesson sites were included in this list?
While we all have personal preferences that differ from one another, we recommend online guitar lessons based upon:
Whether the lessons can be viewed online
Provides resources for guitar players of all experience levels
Has a reasonable monthly or annual fee
The majority of site users leave positive feedback
What are some of the advantages of learning guitar online?
The biggest competition that online guitar courses have is face-to-face guitar lessons, which is totally understandable because a lot of people assume that people that teach guitar are going to be more experienced at guitar-playing (whether that be acoustic guitar or electric guitar) than an actual online lesson instructor.
The argument for online lessons being more productive is that a guitar student is held back by their guitar teacher, as a guitar teacher is only going to have a certain limit of learning materials, teaching methods, and different ways to explain a certain concept or application of technique.
Just in the same way that some people learn better through the application of a technique and other people learn better through visual stimulation, a singular face-to-face guitar teacher is only really going to complement one learning the guitar style. Plus, musicians usually pay their guitar teacher by the lesson, which can be extremely pricey, especially if you're looking for a decent guitar teacher.
Online guitar lessons offer students:
Price effective options
A wide variety of choices
Personalized pacing
Ease of use
My favorite thing about all my guitar lessons is that they give you the ability to learn guitar online at your own speed. This means that if you're somebody that learns at a slower pace than everybody else, you can go back and Rewind or replay specific parts of a lesson as many times as you want to ensure that you truly did the topic of the lesson completely understood.
At the same time, this also means that if you already have a basic understanding of some guitar topics you can fast forward or skip over certain parts of a lesson. It also means that you can learn whenever and wherever you want, instead of learning around when your face to face guitar teacher has time for you.
For the majority of the classical guitar lessons available on the internet right now, you can watch lessons from a smartphone, a tablet, a computer, or a laptop. Plus, there are several online guitar courses out there that allow you to choose what type of lesson you want to take depending upon the type of genre you're looking to learn, the types of songs you're interested in playing, what type of music you're interested in listening to, what type of guitar you have, and your experience level.
You can truly customize the types of guitar courses that you're taking, which is why taking an online course may be so much more beneficial as an educational tool when you're first starting out!
The biggest influencing factor that a lot of beginners may see is the price tag- a decent guitar teacher will typically charge between $40 and $60 each lesson, but an average online guitar course will only cost you around $20 a month. Even if you don't think that online guitar courses the right option for you, just for the financial standpoint alone, I would recommend checking out to see it what an online course has to offer you before investing your money into a guitar teacher.
Read our full list of top most popular songs to learn guitar.
Do I have to pay for online guitar lessons?
No, you don't actually have to pay for an online guitar lesson. There are a lot of different resources outside of paid lessons that offer free online guitar lessons, such as YouTube videos. However, a lot of these online guitar lessons are great to go for a real looking to learn a cover of a song, a simplified version of chords fingering, or a new scale to add it to your warm-up.
If you're looking to truly get a strong understanding of basic guitar techniques understood at the start of your journey (which I highly recommend), paid online courses are going to be your better bet. I would strongly recommend that you start with a guitar course, especially if you have no prior musical or guitar training or background! Starting to learn the guitar from the very beginning with no prior musical understanding can get extremely overwhelming.
But if you're already someone who does know a little bit about the guitar and are only really interested in doing covers of songs, there are thousands of free online guitar lessons that you could find on the YouTuber or other video platforms.
Top-rated paid online lessons sites
Guitar Tricks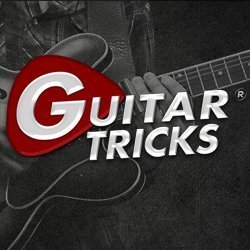 Guitar Tricks is the largest online guitar lesson/course website and is extremely popular for having a selection of resources for musicians of all experience levels to choose from. A monthly subscription with Guitar Tricks will run $19.95 a month or $179 a year, with a 14-day free trial for new members to use to test out the resources that Guitar Tricks offers.
If you decide that you are unhappy with your overall experience on the Guitar Tricks website, Guitar Tricks offers a 60-day refund guarantee if you do decide to upgrade it to a monthly or yearly subscription after your free trial.
Currently, Guitar Tricks has over two million active members and has a stash of over 11,000 lessons for guitar players of all experience levels. There's also a selection of over 600 song tutorials for musicians to choose from, so even if it's a song that you are having problems finding on YouTube or a tab for, your chances of finding a song tutorial for that specific song on Guitar Tricks is pretty high.
Interesting Read: How to Find the Best Online Guitar Courses.
What's really cool about Guitar Tricks in comparison to another online guitar lesson with faith is that Guitar Tricks organizer lessons into four categories, including:
Beginner Lessons
Experienced Lessons
Learn Styles of Guitar
Learn to Play Songs
Pros of Guitar Tricks:
A massive list of songs to learn
Easy to use the site
Always updating, so you never have to worry about a lack of fresh content
Great selection of additional features included with subscription
Cons of Guitar Tricks:
Doesn't have a great selection of songs from extremely popular musicians or bands
Don't have any lessons for bass guitar musicians
Subscription fee doesn't cover the price of 'Full Access' lessons
JamPlay
Coming in at a close second is JamPlay, the world's second-largest online guitar lesson websites that have over 5,000 lessons and more than 500 song tutorials to choose from. A month subscription with JamPlay will run you $14.96 with a 7-Day free guitar lessons trial offer to new members to test out the website, but JamPlay also offers a 7-Day refund after your first initial purchase with their subscription!
JamPlay is a website that offers content that is better suited for an intermediate and advanced guitarist, although they do offer a small selection of content that is a better fit for beginning musicians. However, if you are somebody who already has some musical experience or already has an understanding of the basics of guitar playing, JamPlay is a great website to sign up for. If you are interested in signing up, Jamplay offers diverse pricing plans, as they allow you to pay for a quarterly, monthly, or a bi-yearly subscription.
JamPlay organizes their lessons by:
Genre
Technique
Playing level
What's unique about the Jamplay online guitar lessons in comparison to other lesson sites is that JamPlay offers a section for self-taught guitarists, as well as a live guitar lesson, in addition to the sections that they offer for bass guitar players.
Pros of JamPlay:
Selection of over 85 different teachers
Has an assortment of material and lessons for beginners, intermediate, and advanced musicians?
Great selection of history-changing songs
Cons of JamPlay:
Don't have a comprehensive list of songs from world-famous guitarists
Some of the advanced lessons don't feel entirely complete
TrueFire isn't nearly as popular as JamPlay or Guitar Tricks, but what makes TrueFire stand out from the rest of the competition is that TrueFire allows musicians to purchase single courses. Although TrueFire does provide musicians with a monthly and yearly subscription option that allows you to stream all the content that they have on their website, they also provide musicians with the ability to purchase individual courses and download them as a singular product.
This is really great for members who are only looking to use one product from TrueFire, as you aren't forced to spend money on a subscription that you're only going to use for a month to download one course.
Just as an example of one of the courses that TrueFire offers, musicians were given access to:
21 guitar tabs
11 MP3 Jam Tracks
21 PDF Charts
A total of 4 hours and 59 minutes of video content
However, if you're more interested in following the specific learning path that Truefire offers with their courses, a monthly subscription with TrueFire will run you $19 or you can upgrade to an annual subscription for $199. If you're not quite sure if you're wanting to upgrade to TrueFire just yet, they offer a free 30-day trial for you to test out their services out hey, which will give you access to over 33,000 lesson, 11,000 tabs, and 7,000 tracks!
Pros of TrueFire:
Selection of over 140 different instructors
Private lessons are offered through TrueFire
Great site for advanced musicians who are looking for a challenge
Cons of TrueFire:
Not a great site to use if you're really interested in learning specific songs
Extra features that are offered through TrueFire aren't offered in the subscription
Artist Works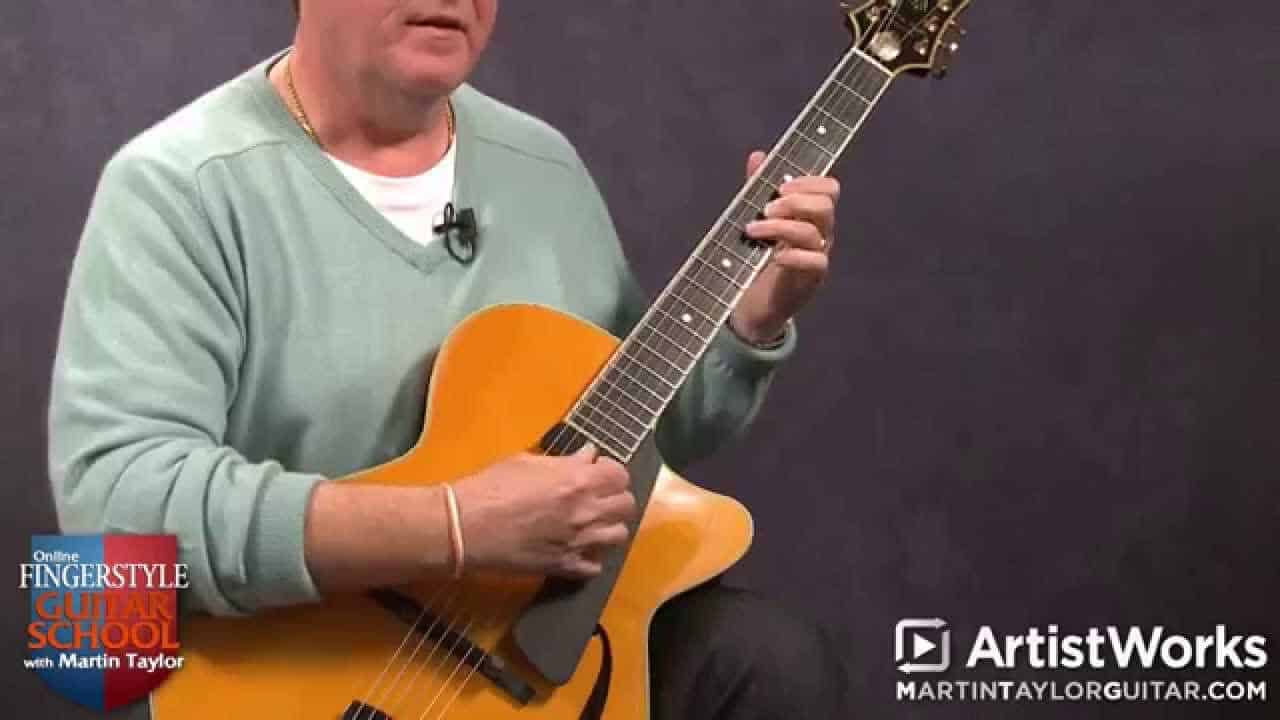 The way that the Artist Works website functions doesn't make individual songs the primary focus, but rather focuses on specific genres and the musicians that perform best in those said genres. That means if you're specifically interested in only learning how to play rock music, Artist Works will give you the option to signing up for their 'Rock Guitar' course (which happens to be instructed by Paul Gilbert).
Signing up for a course specifically made fo type of genre you want to play guitar will give you access to the ins and outs that come with playing said genre, including guitar tricks, tips, and ways to make your sound stand out from other similar genre musicians.
All of the courses offered by Artist Works are taught by some of the country's leading guitarists, which is something that no other online guitar lesson website offers. What also helps Artist Work stand from the rest of the competition is that Artist Works allows subscribers to send in personal videos to their instructors so that they may receive personalized video feedback from their tutor, which provides subscribers for a whole new level of potential for growth.
Thanks to the Video Exchange program that Artist Works offers, students can send in questions or show their instructor a problem that there facing in their video submission, and receive tips, tricks, or personalized help from their instructor.
While the $35 monthly subscription fee is a bit pricier than the other online lesson sites that we've looked at, no other guitar lesson site offers personalized help the way that Artist Works does. Another downside that comes with Artist Works is that you do have to sign up for a three-month plan at a minimum. However, if you sign up for the unlimited plan you'll only be paying a $279 a year which breaks down to $23.35 a month.
In addition to the Video Exchange program, Artist Works encourages connections through a community chat room on their site that allows you to get in touch with musicians who are taking the same course as you. This is a place where you can toss back and forth ideas or challenges that you are facing to help get a new perspective on a problem.
Pros of Artist Works:
Untouchable personalized expert instruction
Unique Video Exchange tool
Interactive community
Amazing selection of courses
Cons of Artist Works:
The website is a bit tricky to operate
In 2017, the world-renowned guitar manufacturer Fender released Fender Play, which is one of the newest online lesson systems to hit the market. While the Fender Play website hasn't been around for more than three years, Fender has an outstanding collection of materials that are perfect for beginners. But if you happen to be an intermediate or an advanced guitarist, I would recommend checking out a different website, as the content that Fender Play has available to musicians of your level happens to be lacking.
Surprisingly, Fender Play doesn't have leading guitar instructors as some of the other online listen websites offer, but the instructors that they do have leading the Fender Play lessons are still friendly and experienced. However, there are actually a surprising amount of ukulele lessons that are offered to subscribing members at no extra cost!
From my own personal experience using Fender Play, I did feel that there was a decent range of songs that they did have available that's what I felt very similar in style to JamPlay and Guitar Tricks. Although I did feel that a good portion of those lessons felt incomplete. Fender Play will run you $9.99 a month or a yearly subscription of $89.99, so this is a cheaper subscription in comparison to the other sites that we've reviewed today.
This lower-cost can excuse some of the extra add-ons that other sites of having that Fender Play don't offer, such as communication with other community members taking the same course as you.
Pros of Fender Play:
Easy to use website
Professionally produced videos
Ukulele lessons available at no additional fee
Cons of Fender Play:
Doesn't have options for advanced guitarists
Doesn't have a large selection of additional tools or features
Top free online guitar lesson sites
Just in the same way as the free samples that you get at the grocery store aren't going to be as big as full-size products you can buy, free content that you get for guitar lessons isn't going to ever be as in-depth as a paid lesson would be.
If you're absolutely against paying for video content for guitar lesson there are actually a lot of free guitar lesson content sites out there, so while these sites may be lacking an organization or overall video quality, the lack of those two features is made up by the massive amount of quantity that these sites are able to cover.
Interesting Read: Comprehensive Fender Play Review or see how Fender Play Compares to:
Justin Guitar is a website that is completely free to use, but the entire purpose of the lessons put on the Justin Guitar website is to point you towards paying for a lesson book or DVD from Justin Guitar. If you don't pay attention, you could very easily end up spending more money at Justin Guitar on their promoted books and DVDs than what a whole year's subscription at Guitar Tricks, JamPlay, or any other of the above-listed sites cost.
Another problem with the lessons that Justin Guitar offers is that the overall video quality isn't as high-quality as the content that you get from paid lessons. With the paid lesson websites, you get access to high-quality instructors, with high-quality filming devices, so you can definitely tell the difference between the paid video content from Guitar Tricks (for example) and the free content that Justin Guitar produces.
In addition, the paid websites are constantly updating the content of their posting, with a huge variety of styles and genres to choose from. Justin Guitar isn't being paid to produce the content that other sites are being paid to produce, so Justin Guitar really can't keep up with the other sites.
If you aren't really all that concerned about the overall quality and are absolutely against spending any money on your guitar education, Justin Guitar does have some decent content to offer. If once you're done looking through the content that Justin Guitar offers and you're interested in furthering your knowledge, I would highly recommend checking out some of the above-paid websites mentioned.
Read also: Best Justin Guitar Alternatives to Consider.
Music Discipline
If you're more interested in finding a free guitar website to use for practicing lessons and drills, Music Discipline is a great (newer) website to use for more unique drills. At the moment, Music Discipline doesn't offer too many lead guitar practice drills if that's what you're specifically looking for.
The way you use Music Discipline is you tell the website how much time you have to practice and Music Discipline puts together a practice drill for you to play through in the amount of time that you entered. You don't need to sign up for an account if you're interested in playing random drills, but if you're interested in getting new lessons every time you practice or designing a custom lesson, I would recommend signing up for an account.
In addition to practice drills, Music Discipline will also help beginners to encourage healthy posture habits and a better understanding of music terminology. Not bad for a free site!
Frequently Asked Questions
Are online guitar lessons effective?
Yes. In fact, online guitar lessons may have advantages over in-person teachers. For one, your options are broader and you can choose to learn from world-famous guitar players like Tommy Emmanuel or Steve Vai. You'll also have access to more tools and you have all the time in the world so you can learn at your own pace.
How long does it take to learn how to play guitar online?
Considering the fact that you are a good and dedicated learner and you'll put in the hours (2 to 3 hours of active practice) every day, you should expect to learn the basic skills of a guitar in about 6 months.
What makes the online guitar lessons different than in person?
When you are going to a local teacher you are bound to learn his style, which may not in particularly fit your style and thus slow your progress significantly, whereas in online lessons there are no boundaries, you can easily find your ideal teacher and style, and you have unlimited access to instrumental files and tutorials at a much more affordable price.
Final Note
If you do decide to go with paid content, I would always recommend signing up for the free trial before you start investing your money into a site to see if it's really something that works for you and your personal needs. Not all the websites that are listed above are going to appeal to what you specifically need as a musician, so maybe take some time and sign up for a couple of free trials before you make a final decision on what website you're willing to give your money to.
On the other hand, if you decide to go with a free website for guitar lessons, keep in mind that you may end up being frustrated by the lack of consistency that you find with these free sites, but you can always upgrade it to a paid lesson course at a later date!
Every musician is different, so what works for your friend may not be something that works for you, so keep in mind that there are always different options out there for you to play around with. Good luck on finding your favorite online guitar lessons site!
Further Research