The early online guitar lessons of the last decade inspired me and millions to pick up the instrument and play. Back in the days when I was a beginner, few channels and online courses were available, and the always smiling Justin Sanderoc was the first who taught me open chords through his "Justin Guitar" YouTube channel. Nowadays, with almost unlimited resources, it's easier to find teachers that fit your style but even easier to get lost. Having learned guitar online up to becoming a studio musician, I'll list some of my top Justin Guitar Alternatives for players of all levels.
Bottom line up front: I still consider Justin and his course to be one of the best. His easy-going approach for beginners is fabulous, as are his intermediate rock and blues courses. However, I find other better alternatives for specific styles and other methods that could work better for some players – especially upper intermediate and advanced ones.
I'll ensure to include alternatives for every level and even free ones. Even if you can't play open strings properly yet – you will find a teacher that can help.
Why Pay for Online Guitar Lessons?
Even though the guitar is an instrument you must explore individually; a good teacher can save you years of struggle.
When I went down the path of learning guitar online, I spent years without picking up a system or teacher, mostly hoping from video to video of whatever I wanted to learn. Even though I had some favorite teachers, Justin being one of them, I never purchased their courses and only learned from their YouTube videos.
Things changed when I got stuck in a guitar rut. You probably have been through the same if you have played for some years. For months I could not improve my playing and only resorted to the same scales, licks, and exercises from way back.
A systematic learning approach, or a method as some like to call it, was what got me through it. More specifically, signing up for the Tim Pierce Masterclass, which I'll detail in this article.
In truth, free lessons are great and sometimes better than paid ones. However, YouTube teachers reserve their best classes and full videos for their courses. You will spend some money but save time and probably even become a better player.
There's also the factor of teacher-to-student relationship that I find very helpful in improving. Spending time learning from the same teacher teaches you a lot about the attitude towards guitar playing.
Picking Criteria for Best Online Guitar Lesson
Each guitar player's approach to learning is different. Depending on your goals, playing style, the music you listen to, your character, and attitude towards practicing – an online course can work better than another.
The first criteria in choosing the top Justing Guitar alternatives is the player level at the lesson is addressed. There's not much point in getting into music style, which is the next, without first getting the basics up. I have made the mistake of immediately going to learn "Master of Puppets" at Lick Library without first learning how to palm mute – a lesson I should have taken months earlier if I had found the right teacher.
The guitar and teaching style of the teacher is crucial. Of all the YouTubers teaching you the blues, not all are great blues players, nor do I believe they get into some important aspects as others would. The same concept applies to guitar music theory or other aspects that some teachers emphasize more than others.
The coherence of the entire method issued is another criterion many courses lack. I already stated the point of how going from A to Z, step by step, is the key to becoming a good player.

The teacher's experience is another criterion that is especially important as you dwell in the realm of intermediate and advanced playing. A teacher is not better than the other because he is a more experienced player; that's a common misconception. However, when you learn about setting up a tone on stage, recording in the studio, or other very specific topics, experience makes all the difference.

Lastly, some online lessons offer useful tabs and backing tracks with your subscription.
Top Justin Guitar Alternatives
It was tough to choose only 3 or 4, so I'll go through what I think are the Top Justing Guitar alternatives. I know the teachers' talents so well that I would not want you to miss the chance of finding your perfect teacher when they're only one click away.
From how to tune the guitar lessons to making the most out of a Strat or improvising over complex chord changes, here are my top courses and teachers.
Marty Swartz was one of the first teachers alongside Justin, who started the online guitar lesson world. What Justin did from the UK, Marty did from his home studio in the US. I credit Marty for teaching me an easy-to-play F chord and my first songs.
I'd put both courses at about the same level on any criteria. I only think a slight difference in their teaching styles and coherence is worth mentioning. Marty focuses more on teaching songs, while Justin has a more build-from-the-bottom approach with the guitar in focus.
Once you get to the intermediate level, I would recommend another course. If you still want to stick with Marty or Justin, I think the second is a more experienced player and a wiser choice.
Pauls Davids is all bearded, Dutch master of the camera and the sweet tone. If you follow him on YouTube, you know his videos are always much better looking and masterfully edited.
Paul is not only a great YouTuber but a very experienced player. He has one of the best acoustic guitar courses where he details both techniques and songs. He is a great electric player, yet I think he shines best when playing and teaching acoustic.
One thing about Paul I appreciate as the player is his detailed approach to songs. He will learn a song exactly how it was played on the record and teach that version without cutting corners.
I would suggest his courses to anyone who can at least play barre chords correctly. An upper intermediate or intermediate player
Fender Play – Best Online Experience
Fender Play is new in the online guitar lesson world and managed to take the best out of what worked and leave out the rest. It overall offers a general holistic approach to guitar for beginners and even intermediate players.
The backing material with the Fender Play subscription is one of the best online. Beyond tabs and backing tracks, tips from even how to choose a guitar pick to the more serious topics are updated weekly. You have weekly live sessions with teachers and a good community of guitarists you can know during these sessions.
If you can't commit to long videos, the short video format of Fender Play might be an excellent choice for you.
Check out our complete Fender Play Review.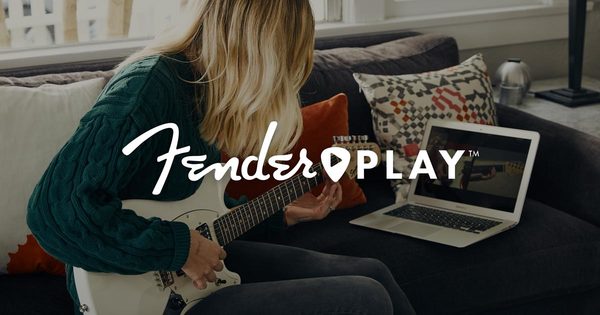 Lick Library – Most Experienced Teachers and Variety
If Guthrie Govan himself steps from his throne of virtuosity and teaches you his songs, you know the course is worth it. The teachers are next level, with sometimes famous players stepping in to teach their songs.
LIck library has been around for years, with both the DVD for sale content and the subscription service. They were the most sought guitar course company back in the day and still are one of the best.
The various genres, songs, and teachers make it a far broader choice than Justin Guitar if you want to get into a specific genre. I never learned a song from lick library that has an error or is identical to the original recording. Also, if you ever think a piece is too hard to be taught, someone from Lick Library probably figured it out note for note.
Another great thing is the backing tracks, which you can use if you want to put your online cover of a song.
You should check their website before deciding on another course if you're an intermediate player with a general idea of where they want to go with their playing.
David Wallimann is one of my favorite recent YouTUbe discoveries with an inspiring approach to teaching lead guitar. He was the one who finally helped me understand modes properly, among others things.

David is a rare gem to find if you are an intermediate player struggling to make your solos interesting. He intertwines storytelling with guitar playing in his lesson to put you in the right mindset for learning guitar. Referring to guitar legends and teaching their style and approach is his trademark. He also knows the right thing to teach to get you out of a guitar rut or tricky situation.
If you don't want to go through much theory and focus mainly on playing lead, his courses are excellent and easy to follow.
Tim Pierce is one of the best session musicians of all time, which tells a lot. His approach to teaching can take an intermediate or even advanced player to the next level.
Tim's methods of teaching how the fretboard works are extremely practical and can be used in most music styles and for every player level. He is very similar to Justin in terms of how friendly and easy-going his lessons are. Tim will make complex topics very simple as he draws from decades of experience as a professional musician.
To make it more appealing to upper beginners, he will sometimes do simplified versions of songs and slowed-down ones. Still, the course is focused more on the intermediate who wants to become an advanced student and won't go into the jazz or metal world if you're aiming at that.
Beato Guitar – Best Guitar Music Theory
The biggest music YouTuber known for his outstanding knowledge about music has finally released his guitar course. I'd suggest it for the intermediate player who wants to get into the music theory part and understand how things work beyond the guitar fretboard.
His Quick Lesson Pro course takes you through the jazzy, influenced 1-minute pieces he posts on Instagram. It's not a beginner course; even intermediate players with little music knowledge can struggle. The reward, though, is outstanding in understanding chords and scales and applying music theory in real life.
Rick just launched another news course on guitar playing from bottom to top, which I think even upper beginner theory-oriented players will like.
Hoomesskolin' – For a Special Learning Experience
In the end, I'd like to introduce a free resource from a player you might not know but have heard in one of the thousand records he has played. Nashville's top session guitarist, Tom Bukovac, a.k.a Uncle Larry, is the freshest thing in the guitar world with his Hoomeschoolin Youtube channel.
Started as a quarantine pastime activity, his channel now has hundreds of videos full of guitar lessons, especially wisdom. He is one of the most remarkable players today that can teach guitarist concepts and lessons drawn from his decades of experience working in Nashville studio and touring the world.
The connection between student and teacher is exceptional and goes beyond even learning guitar to sharing about his life, thus creating an army of "Hoomesckoolers" worldwide. Even though his concepts are for intermediate players, Tom's wisdom can be applied to all guitarists or ones that have yet to start playing.
FAQs
Question: How To Tell If You Need 1/1 Lessons?
Answer: If you are struggling with a particular aspect of playing, it's best to have a lesson with a teacher who can correct what you are doing wrong. Overall, 1/1 lessons are the best way to learn guitar and can be held in person or via Skype.
They are usually much more expensive than the normal lessons you buy or subscribe to online, with the price depending on the location of the teacher.
Question: Is There Any Good Metal or Jazz Guitar Teacher Online?
Answer: Jazz and metal are specific genres that require a teacher who is an expert. I would recommend some of the teachers from Lick Libray, JamPlay, Tom Hess for metal, Tomo Fujita, and Rotem Sivan for Jazz guitar.
Question: What's The Minimum Guitar Practice Time?
Answer: Whatever course you choose, you have to put at least 15-30 min every day into practicing the concept you learn. The recommended time is 1-2 hours every day or the more you can.
Final Thoughts on Justin Guitar Alternatives
Even though I recommend using one method, that doesn't mean you should limit yourself to only one course for a long time. As a beginner, I think one is enough; as you reach intermediate and upper levels, you will want to either blend in a different course or change to more specific ones for your style.

Don't underestimate your dedication's power and focus on whichever course you choose. Nothing will replace the hours you put into your instrument, especially playing with other people. A good teacher will always push you to use the internet as a recourse, a figure the rest along the way.
Latest posts by Altin Gjoni
(see all)