Keeley Electronics was founded in 2001 by Robert Keeley, in Edmond, Oklahoma, in the United States of America. What started as a small indie company that operated out of a small place turned out to be one of the world's leading pedal manufacturers, with several famous players swearing by the quality of their products.
In this Keeley Compressor Plus pedal review, you will learn everything about one of the most successful pedals of this brand. We will explore its features, the pedals that inspired Mr. Keeley to develop this amazing stompbox, and we will also take a brief look at other pedals that could also be interesting for anyone who is currently checking out what are the available options for a compressor in the market nowadays.
Bottom Line Up Front
After trying out several compressorspedals such as the BOSS CS-3, MXR Dynacomp, Xotic SP Compressor and high-end models like the Origin Effects Cali76 Compact Deluxe Compressor, I strongly believe that the Keeley Compressor Plus is hands down one of the best options in the marketplace today. The price/quality ratio is astounding, and you can get all sorts of tones out of it, something that I struggled to achieve with compressors that did not feature a "Blend" knob.
Having a dedicated switch that adapts the compression for single coils and humbuckers allows you to switch guitars seamlessly during a live performance without having to memorize your preferred settings and dialing them in under pressure, and you can easily go anywhere from a subtle, barely noticeable effect that increases sustain without compromising your picking attack to a completely squished signal in which the compression is the main focus.
It has been my main compressor since I have bought it and I recommend it to anyone without thinking twice, regardless of what their main genre of music is.
What Is a Compressor?
I remember starting out on the guitar, discovering the vast world of effects, and when I stumbled upon compression I thought "I will probably never buy this pedal, it doesn't seem to do much anyway!".
Fast forward a few years, and I could not have been more wrong. I have owned several compressors and it is one of my favorite pedals nowadays, but I have to admit that it can be a bit mysterious in the beginning, and you might have to search a little until you find one that you really enjoy.
In summary, a compressor helps you balance your guitar's volume automatically, making it more uniform. It will increase the volume of quieter notes and decrease the volume of louder notes, as if there was someone adjusting your amplifier's volume with a perfect timing in the exact amount necessary for each occasion.
Compressors are used in a myriad of circumstances, not just in guitars. When an artist is recording an album, compression is frequently applied to many instruments such as bass, drums, vocals, and it is not uncommon to add a compressor at the very end of the signal chain to help "glue" everything together, yielding a more consistent final project.
There are several types of compressors, each of them with its advantages and disadvantages:
Optical Compressors
FET Compressors
VCA Compressors
Tube Compressors
PWM Compressors
You can't really say that one is better than all the others. After messing around with them for a while, you will realize that they can really shine in some scenarios while being trickier to make the most out of in different cases.
The Keeley Compressor Plus, the pedal we are reviewing in this article is a FET compressor.
Keeley Compressor Plus Main Features
The Keeley Compressor Plus might be a small pedal, but it is packed with features that will appeal to guitarists everywhere, regardless of their guitar, amp and playing style. It is based on the Ross Compressor, one of the oldest and best-known compressors in the music industry. This compressor is also based on the MXR Dynacomp, which was originally released in 1972.
Also, if you are like I was when I started out and you feel a bit overwhelmed with the controls that many pro-level compressors have such as Attack, Release and Threshold, this gem by Keeley will allow you to get stellar tones easily by adjusting knobs that are more comprehensible than most.
Let's take a look at some of the most interesting features you will find in this pedal.
Blend Knob
This might not be true for everyone, but for me, the easiest and most versatile compressor pedals on the market are the ones that feature a Blend knob. This allows you to mix the dry, uncompressed signal with the compressed one, achieving what is called parallel compression.
I recalled when I plugged into a compressor pedal for the first time, and I was super excited about getting those funky, tight guitar tones I had been listening to compulsively. However, whenever I switched it on, I would either get no noticeable compression, or I would have too much of it and feel like my tone was not appealing to me at all.
Fast forward a couple of weeks, and after reading about a few of the most popular compressor pedals, I finally tried the Xotic SP Compressor, the first compressor I've tried that featured a Blend knob.
ll of my problems were instantly solved, and that pedal was engaged pretty much all the time! Now, I'm using the Keeley Compressor Plus because it not only has the Blend knob I love so dearly, but it also has a Tone knob to help craft my sound a bit more meticulously.
Single Coil/Humbucker Switch
The single coil/humbucker switch discreetly adds value and convenience to this pedal. Instead of having a Release knob, this switch tweaks the release time (time that passes until the compression wears off a note) in a way that makes it play better with single coils and with humbuckers.
Humbuckers generally have more output than single coils. When you set this switch to the humbucker mode, it gives you a slightly shorter release time, and it increases it when you set it to the single coil mode.
If you are an experienced compressor user, you might appreciate having separate controls for as many parameters as you can, but this can also be a great solution to crafting a quality tone in just a few seconds of knob twisting.
Tone Knob
The tone knob on the Keeley Compressor Plus was one of the things that made me switch from the Xotic SP Compressor. Even though the compression from it was great, I found that it made some of my guitars sound too dark, and I struggled for a bit trying to find a good workaround for this inconvenience.
Once I got the Keeley, it was as easy as adjusting the tone knob depending on the guitar and amplifier I was playing at that moment.
True Bypass
The Keeley Compressor Plus is a pedal that features true bypass switching. This means that whenever the pedal is not engaged, the signal passes through it without being affected or colored at all by the circuit, ensuring maximum transparency.
A nice advantage of using true bypass pedals is that if the power supply stops working unexpectedly, you will still have sound coming out of your amplifier, which is something that wouldn't happen with a buffered bypass pedal.
Complete Specifications of the Keeley Compressor Plus
You can find the full specifications of the Keeley Compressor Plus below.
Inputs: 1 x 1/4″
Outputs: 1 x 1/4″
Analog/Digital: Analog
True Bypass: Yes
Controls: Sustain, Level, Blend, Tone, Single Coil/Humbucker Toggle Switch
Power Source: 9V DC (not included)
Battery: Optional 9V Battery
Polarity: Center Negative
Power Usage: 5mA
Height: 2″
Width: 2.35″
Depth: 4.41″
Weight: 0.58 lbs
Pros and Cons of the Keeley Compressor Plus
Pros
Easy to use
Since compressors are not as popular as other pedals like distortion, reverb or delay, some people might feel a little bit overwhelmed when they start using one. If you're used to using compressor plugins inside a DAW (Digital Audio Workstation like Logic, Pro Tools or Cubase) in a recording situation, you have probably used compressors that have lots of different parameters.
The Keeley Compressor Plus is a fantastic pedal that I have absolutely no problems recommending to any player regardless of his skill level or experience with compressors. The controls on this pedal are comprehensible, easy to interact with, and it lets you obtain an amazing compressed sound without having to put in hours of fiddling with its knobs to be satisfied with the outcome.
Durability
Robert Keeley is known for using only high-quality materials in his products, and the Compressor Plus is no exception to this rule. The pedal's enclosure feels rugged, durable, and you will never worry about it getting damaged when carrying it around to rehearsals, sessions or gigs.
The internal components such as the resistors and capacitors are also carefully chosen to make sure that your pedal is going to be in tip top shape for years to come. Having this pedal on your pedalboard ensures you are always going to feel relaxed and light-headed about your source of compression!
Cons
Compressor-savvy users would appreciate more parameter controls
This is not going to be a disadvantage for many players (myself included), but it could be perceived as one by someone who is very familiar with how compressors work and understands what each parameter does very clearly.
Studio compressors usually have parameters such as Ratio, Attack, Release, Threshold and Gain. The Keeley Compressor Plus only has 4 knobs labeled Level, Sustain, Blend and Tone.
Even though they have different names, they end up controlling the same properties as the ones mentioned before, but I believe that these are often more user-friendly for most guitarists who aren't used to working with compressors.
Other Compressor Pedals to Check Out as Alternatives to the Keeley Compressor Plus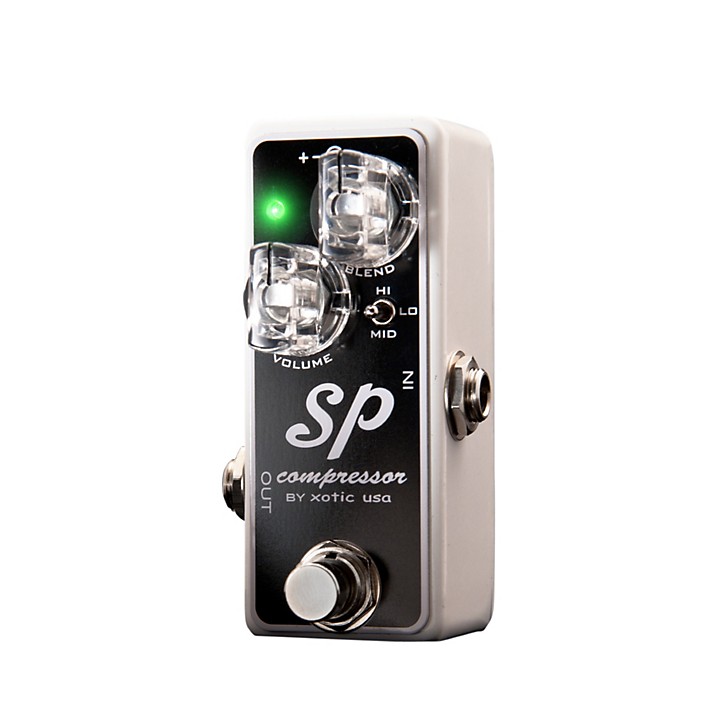 The Xotic SP Compressor stayed on my board for a very long time, and for many different reasons. I was running out of space, and this pedal is seriously tiny, a substantial advantage to anyone who is running out of precious pedalboard real estate.
It features a blend knob, something I can't live without in compressors. It helps me dial any kind of sound much more intuitively than with other pedals, from subtle compression to a fully compressed signal, or even using it as a clean boost instead.
Among other interesting features, you get true bypass, an internal dip switch to adjust the attack, and a switch that toggles the compression between low, mid and high.
You can generally find the Xotic SP Compressor for a price of around $140.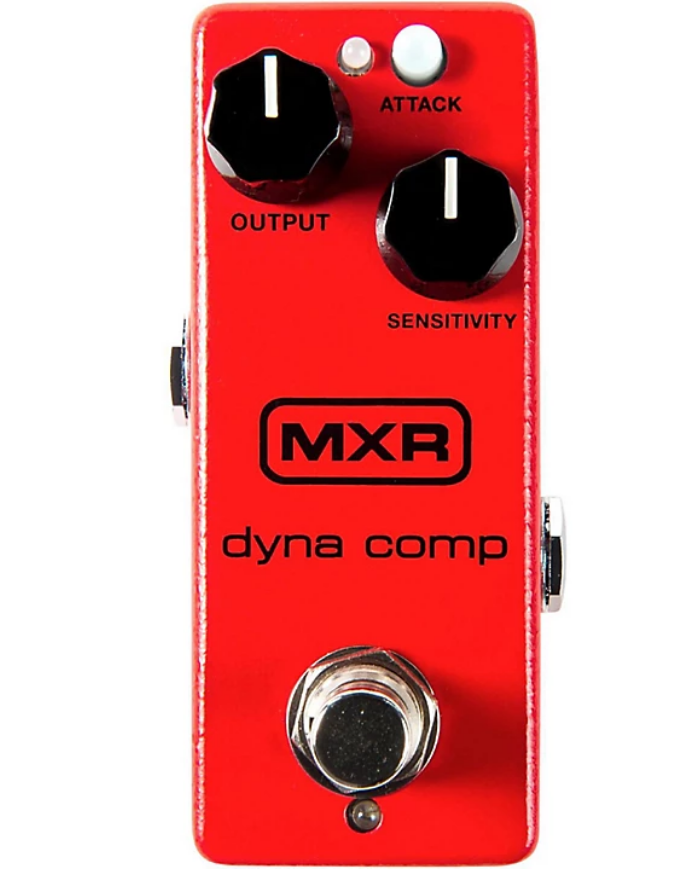 The MXR Dyna Comp originally came out in 1972 and it quickly became one of the most popular compression units in the music industry. You have most likely heard it in dozens of records that came out since its release, and many professional players still use it today.
The Dyna Comp Mini is a smaller version of this classic stompbox, and part of what gives it its appeal is the CA3080 IC chip used in its circuit, which is the same that was used in the vintage units.
This chip gives you less noise and a transparent, sweet tone. It also features a small Attack switch that lets you toggle between a faster and a slower attack speed, increasing the overall versatility of this pedal.
The MXR Dyna Comp Mini is usually found with a price tag of around $100.
Walrus Audio is known for making pedals that look amazing and sound even better. The Deep Six Compressor is a great example of the quality of their effects, and recently it has been updated to its 3rd version.
This compressor is inspired by the Universal Audio 1176, one of the most coveted units in the music industry, but strives to be easy to operate regardless of your skill.
This newer Deep Six is more comfortable to use with top mounted jacks and a soft switch to engage the effect. It also features an additional Tone knob that gives you more control over your compressed signal, and there are other upgraded components that enhance this pedal's sound and durability.
Other controls include Level, Sustain, Attack, and Blend.
You can find the Walrus Audio Deep Six Compressor for around $200.
The Wampler Ego Compressor has become one of the most popular choices for guitarists worldwide, and if you are running low on pedalboard space, you should know that they also have a miniature version of it.
Like all my favorite compressors, it features a Blend knob that lets you control the amount of compression present in your signal.
Other interesting aspects of this pedal are its soft switch and a Tone knob that helps you adapt the compression to a darker/brighter guitar or amplifier.
This pedal also has true bypass switching to ensure that it does not color your tone at all and remains as transparent as possible.
You can generally find the Wampler Ego Compressor for a price of around $200.
If you are looking for a studio grade compressor in a compact pedal and your budget can accommodate it, you should take a look at the Origin Effects Cali76 Compact Deluxe Compressor. It is one of the most expensive compressor pedals on the market today, but there are dozens of professional players that swear by it.
This FET compressor is based on the famous 1176 unit, and it combines tons of valuable features into a compact stompbox that you can carry anywhere.
Its main controls are Attack, Release and Ratio, and to top it off, the Dry Blend knob allows you to mix the dry signal with the compressed one, something that has been done in the studio for decades.
This kind of compression lets you keep the best of both worlds, as you retain your picking attack and other subtleties while enhancing sustain and your overall tone.
The Origin Effects Cali76 Compact Deluxe Compressor is usually sold for a price of around $360.
FAQ: Frequently Asked Questions about the Keeley Compressor Plus
Question: Is the Keeley Compressor Plus a true bypass pedal?
Answer: The Keeley Compressor Plus is an analog, true bypass pedal. This means that if you have it in your signal chain and it is not engaged, it will not affect or color your tone in any way, which is what many guitar players find appealing about true bypass pedals, choosing them over buffered bypass pedals that will still subtly change your tone while you are not using them.
Question: Which guitarists use the Keeley Compressor Plus?
Answer: Keeley Effects is a world-renowned brand that has caught the attention of many famous players. As a consequence, you can find their pedals on many pedalboards around the world.
Here are a few examples of players that use the Keeley Compressor Plus:
• Noel Gallagher
• Rabea Massaad
• Sarah Lipstate
• Jack Tatum
• Theo Katzman
• Daniel Donato
• Simon McBride
• John Bohlinger
• Jon Fratelli
Question: Should I use a compressor pedal?
Answer: Although it can be immensely useful in many cases, the compressor is not an effect for everyone. Some love it, some do just fine without it. The trick is figuring out where it could enhance your tone, giving it that little extra kick that it needs to stand out in the mix.
It is great to add sustain, balancing out your signal, or even as a clean boost for a certain section where you need to be just a bit louder. Music genres such as country and funk are some of the best scenarios to make the most out of a pedal such as the Keeley Compressor Plus.
Question: What is a good alternative to the Keeley Compressor Plus?
Answer: Even though the Keeley Compressor Plus is a fantastic pedal that does not break the bank, there are still many other great options readily available in many music stores everywhere. Here are a few compressors to take into account if you're in the market for one:
• Xotic EP Compressor
• Wampler EGO Compressor
• MXR Dynacomp
• Walrus Audio Deep Six Compressor
• BOSS CS-3
• Pigtronix Philosopher's Tone
• Fender The Bends Compressor
As always, the best thing to do is to always try out the pedal before buying, and with the rest of your usual setup if possible. That way you can fully understand whether it would be a good addition or not.
Question: Is the Keeley Compressor Plus a noisy pedal?
Answer: The Keeley Compressor Plus is not a particularly noisy pedal. You can always mitigate the noise you get from your setup by using a high quality power supply with isolated outputs, good cables, and you can never disregard the electrical installations of the place you are playing at, since these can play a very big role in the noise you hear.
In my experience, I found it slightly less noisy than the Xotic SP Compressor and the BOSS CS-3, but I also believe that the higher degree of control over the level of compression can help achieve the perfect balance you are looking for when setting up your gear.
Question: Can the Keeley Compressor Plus be powered by a 9V battery?
Answer: Yes, if you don't want to power the Keeley Compressor Plus with a power supply, you also have the possibility of powering it with a 9V battery. You will need to remove the back plate of the pedal to connect the battery to it.
Question: What kind of compressor is the Keeley Compressor Plus?
Answer: There are several kinds of compressors, such as optical, FET, tube, among others. The Keeley Compressor Plus is a FET compressor, meaning that its circuit uses a field-effect transistor (FET). One of the main features of these compressors is their speed when compressing the signal, which is much faster than optical compressors, for example.
Question: Where should I place the Keeley Compressor Plus in my guitar signal chain?
Answer: The placement of a compressor in your signal chain ultimately depends on the kind of sound you are hoping to achieve when you engage the pedal. However, most people tend to place their compression pedals early in the chain, before any overdrive or distortion. This compresses your clean signal instead of doing the same to a distorted sound which has lots of added harmonics and noise that you might not want to compress.
As always, you should experiment as much as you can. Maybe you will unexpectedly stumble upon a guitar tone that you wouldn't have if you just connected your pedals the way that people say you should.
Closing Considerations about the Keeley Compressor Plus
Whether you feel like you need a compressor pedal to increase the sustain of your guitar, to give it a little volume boost, smoothen out your picking attack, or any other purpose, the Keeley Compressor Plus is able to do it without breaking a sweat, at an affordable price.
It is an easy-to-operate pedal that does not require much knowledge about the typical compressor controls and how they interact, which can feel a bit overwhelming, especially for beginner players.
Switching from single coils to humbuckers was never easier. With a flick of a switch, the pedal adapts to the sonic properties of these pickups seamlessly, making your job exponentially easier in the studio or on the stage.
This pedal hasn't left my pedalboard ever since I got it, and I have used it to fulfill a myriad of roles since I discovered it. Judging by its build quality, I can predict having it around for many years to come!
Latest posts by Gustavo Pereira
(see all)