Marshall Code 25 is a digital modeling amplifier primarily targeting the musicians who are looking for an affordable yet powerful training amp.
This modern guitar amp provides you hundreds of impressive emulations, presets, and effects. But is it really the best you can get for the money? Our Marshall Code 25 review explores all the details, pros, and cons of this intriguing device.
When it comes to guitar amplifiers, Marshall is undeniably a legend – the brand has heavily influenced the sound of rock and metal over the past six decades of its existence. Owning a Marshall device is, understandably, a dream come true for many musicians regardless of their preferred genre, budget, or style of play.
Marshall addresses this massive and versatile demand by releasing various types and ranges of products for all types of users. CODE series, first presented in 2016, is one of its newest range, focusing mostly on modern connectivity and tons of presets.
The amp we're looking at in this review – Marshall Code 25 – is the smallest, least powerful, and most affordable product from this range.
Marshall Code 25 Amp | Guitar Center
Authentic modelling of Marshall tones with pro quality FX. 14 MST preamps, 4 MST power amps, and 8 MST speaker cabinets. Connect via Bluetooth to stream music from your iOS or Android device.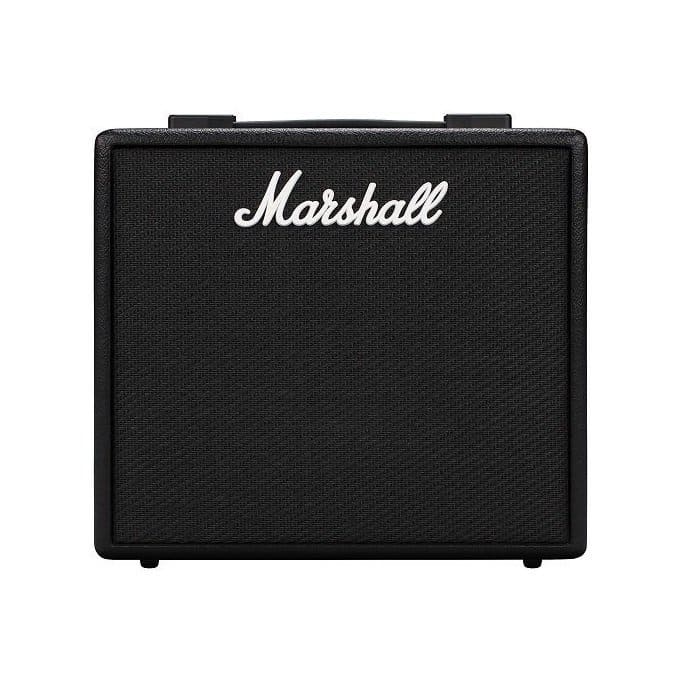 We may receive compensation from the companies whose products we review. We only recommend products that we believe in and test.
Let's start with a short summary of the amp's specifications:
Key specifications of Marshall Code 25
| | |
| --- | --- |
| Amp type | Digital modeling combo amplifier |
| Speaker/Power | 1×10"/25 W |
| Features | 100+ presets, 14 MST preamps, 4 MST power amps, 8 MST speaker cabinets |
| Connectivity and I/O | USB, AUX-IN, headphones OUT, instrument IN, Bluetooth |
| Weight | 13 pounds |
| Dimensions | 13.8 x 13.4 x 8.5 inches |
| Latest price | Click here for the latest price |
Core features of Marshall Code 25
Marshall Code 25 is an amp with several truly impressive strengths. The trick is that you have to know what you can and cannot expect from it – otherwise, you might eventually end up feeling a bit disappointed, which is partly what has happened to me. Let's discuss its most important features one by one to make it all clear:
Construction and connectivity
In regard to its construction, Marshall Code 25 is a typical training-style combo amp with a relatively compact body that allows it to be transported from place to place (e.g. your home to practice room) conveniently and almost effortlessly.
It measures 13.8 x 13.4 x 8.5 inches and weighs 13 pounds. Its simplistic design is dominated by a generic black plastic, yet the flashy metallic control panel on the top provides it with some uniqueness and character.
When it comes to input/output interfaces, there is a standard headphone output, an auxiliary input, a guitar input, and a USB port that allows you to utilize the DAW interface to record and stream sound directly to/from your computer.
This setup is complemented with Bluetooth technology that allows you to connect the amp to your smart device. You don't really need anything more from this kind of an amp, right?
Functions
Now, this is the part where we'll get to the core of what this amp really is – and what it isn't. To put it short, this device is all about effects, presets, and extra functions.
Modeling digital amplifiers such as Marshall Code 25 is, in general, designed primarily for those, who want to play around, explore, and experiment with their sound – and it's really good at it.
Code 25's impressive range of presets (>100), preamp models (14), amp models (4), and guitar cabs (8) allows you to combine, tweak, and adjust your sound pretty much endlessly.
I've spent long hours playing around with this amp and I still discovered new possibilities that surprised and amused me. If you're that kind of a musician who's always looking for something new, you might really love this amp.
On the other hand, if you're really just looking for an amplifier that would simply amplify your instrument's natural voice, I would probably look elsewhere – you'll be most likely able to find a cheaper and in some regards even better alternative. We'll get to that in detail shortly.
Controls
Marshall Code 25 can be controlled both manually and remotely through the dedicated app (Gateway) which can be downloaded for free on both iOs and Android platforms.
This is probably the most significant characteristic of the whole Code amp series, and I must admit that Marshall did a very good job on its app.
But first, let's discuss the traditional analog controls that can be found on a shiny panel right on the top of the device. The neatly organized and sleek looking golden knobs include Gain, Bass, Middle, Treble, Volume, Preset, and Master volume controls – pretty much everything you would expect and ask for.
There is also a row of pushbuttons with light indicators for the Pre-FX, Modulations, and Presets. For an even better overview, there is also a small display that indicates the name of your selected preset in real-time.
Moving on to the app control, this is probably the part where most users will get divided. To be honest with you, I am definitely not the kind of guitar player who would choose a musical gear just for the sake of its smart control functionality. Call me an old-school kind of player, if you wish.
That being said, I must admit that Marshall really created an app that does justify its existence. It's full of handy tweaks and controls including modeling, emulations, effects, etc. Firstly, I had to get used to looking at the display rather than on the amp itself.
But when you overcome the initial doubts, you'll see how easy, convenient, and fun it really is to swipe your sound in all directions with a single finger. Big thumbs up to Marshall for this neat and efficient app.
Marshall Code 25 Amp | Guitar Center
Authentic modelling of Marshall tones with pro quality FX. 14 MST preamps, 4 MST power amps, and 8 MST speaker cabinets. Connect via Bluetooth to stream music from your iOS or Android device.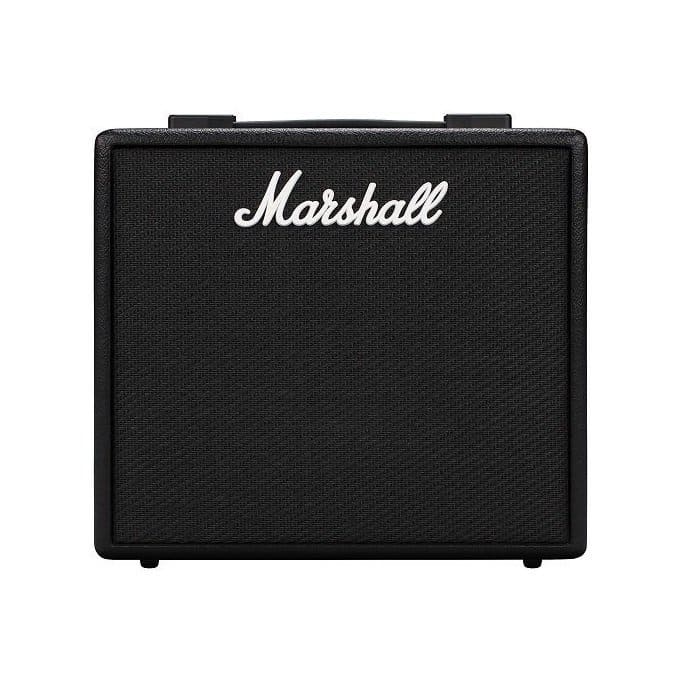 We may receive compensation from the companies whose products we review. We only recommend products that we believe in and test.
Sound
Great presets and models you'll find on this amp are surely attractive. But in the end, they all depend on the quality of the sound produced by the amplifier. In this crucial regard, I am afraid that Marshall Code 25 could perform better. But maybe it's just all about not having unrealistic expectations.
If you're buying this combo amp just for practicing, you're probably going to use it mainly with your headphones. And that's probably a good idea since I believe that the sound of Marshall Code 25 is a bit clearer, more pleasant, and definitely better articulated this way.
In contrast to that, the inbuilt speaker (1×10") of this amp really has its weaker moments. For example, it often produces quite an annoying electric buzz when your instrument's voice fades out.
The bass is also somewhat woofy, a bit too heavy and boxy, while the mids could be better harmonized too. To put it short, I was a bit disappointed by the mediocre sound I got from this amplifier's speaker.
Don't get me wrong – this is still a very good amp for a practicing beginner/intermediate guitarist, and it can probably even perform quite well in the mix if you're planning to put it through some friendly jam sessions.
But I truly missed some genuine character and identity that would justify this amp's existence – especially given the reputation of its legendary manufacturer.
Reliability
The more electronic elements a product has, the more things can possibly go wrong with it. This apparently doesn't apply only to cars, but it can also be true when it comes to musical gear.
Personally, I must say that I have not encountered any issues with this amp's reliability whatsoever – the app and Bluetooth connection worked flawlessly; all controls and settings did what they should.
Nonetheless, numerous other users do report occasional or even regular issues with unstable Bluetooth connection, presets that won't remain saved, or even the whole device turning off without a warning.
I honestly believe that these issues are related to a few faulty pieces and shouldn't shed a bad light on the whole product. Still, be informed that these things can reportedly happen.
Price
Marshall Code 25 is designed, promoted, and sold as an affordable solution for anyone who wants a modern solid-state amp of a huge brand, yet needs to stay on a budget.
In Marshall's exclusive portfolio, the Code series really represents a relatively cheap range of products. Nevertheless, if the brand is not so important to you, you could definitely find some cheaper amps on the market.
For the latest Marshall Code 25 price quote, click here.
Pros of Marshall Code 25
This digital modeling amp definitely has its qualities. Here are a few of them I would really like to emphasize:
The convenience of app control
If you're a millennial who never drops his smartphone out of sight, an app-controlled amplifier might be your dream come true. But even if you're not, Marshall's great Gateway app will persuade you about its quality very fast. The app that comes with this amp is really great and full of impressive and user-friendly controls.
Tons of great presets
If you're buying a modeling amp, you surely expect it to have dozens of great presets, emulations, and effects. In this regard, Marshall Code 25 really works miracles. The state-of-art software makes most of the sounds almost surrealistically authentic, so it's a real joy to explore them and experiment with them.
Compact and portable
Marshall Code 25 is the smallest, most compact device from the CODE series. If you need a lightweight practice amp that can be transported or stored almost anywhere, this is a good option.
Decent price
For a digital modeling amp full of modern technologies, this is a relatively affordable product. Especially in comparison with most of the other Marshall amps on the market.
Cons of Marshall Code 25
These are the downsides you might want to know about before making the purchase:
The inbuilt speaker could be better
The sound of this wonderful amp full of great models and presets is, unfortunately, somewhat limited due to the mediocre performance of its 1 x 10" speaker. If you're after a perfectly pristine sound, maybe you should look elsewhere.
Users report occasional issues with reliability
Some users reportedly experienced issues with failing Bluetooth connectivity or unreliable saving of their presets on Code 25. Since these are the main reasons why anyone would want to buy a modern modeling amp of this type, it must be really annoying to struggle with such faults.
Great for practicing, useless for gigs
This amp works the best as a practice amp either with your headphones or in a small practice room with good acoustics.
If you play with the settings a bit, it might even perform well in a mix, so you can enjoy some late-night jamming with your friends too. Nevertheless, don't expect it to perform well on any sort of stage or serious recording session.
Are there any alternatives?
If you're attracted to the great functionality and tons of options Marshall's CODE series amps provide, yet you're discouraged by the small dimensions and weak speaker of Code 25, you might want to upgrade directly to the Marshall Code 50 amplifier.
This alternative has pretty much everything you can find on the Code 25 amp while replacing the less powerful 1×10 speaker with a 1×12 one. It's a small difference, but if you ask me, it really sounds better. We've reviewed this amp in detail in this article.
Great Long Term Value
Marshall Code 50 Amp | Guitar Center
The Marshall CODE 50W 1x12 combo combines the Marshall legacy with state-of-the-art technology, culminating in a potent little amp that taps into all the tones you crave.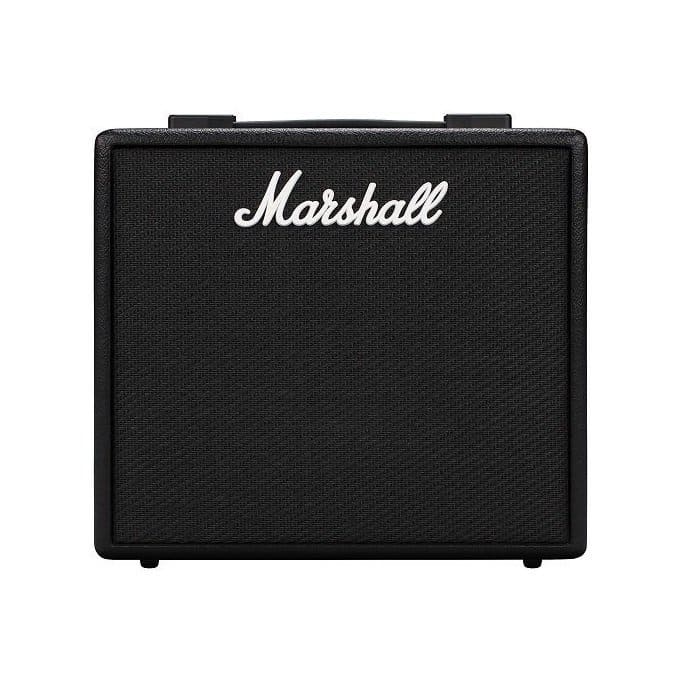 We earn a commission if you make a purchase, at no additional cost to you.
Just like Marshall, Fender is a brand with a great reputation, so at the very least, you can always rely on their products' quality and durability.
Trying to find the most comparable Fender counterpart for Marshall Code 25, I have stumbled upon the Mustang LT-25 – a handy digital guitar amp equipped with a 1×8 speaker, USB interface, and very good sound.
Although this amp does not offer all the onboard effects and presets you'll find on Marshall's modeling Code, it still works as a great practice amp for any type of guitarist. It also costs significantly less. Learn more details about this amp series in our Fender Champion vs Mustang comparison.
Fender Mustang LT-25 | Guitar Center
Mustang LT25 incorporates what we've learned over decades of producing the sounding guitar amps on the planet. It's ideal for beginners and students, with a super-simple user interface and a collection of 30 presets covering a wide range of music—a 'greatest hits' of electric guitar tones.
We earn a commission if you make a purchase, at no additional cost to you.
FAQs
Question: How do I set up a Bluetooth connection on my Marshall Code 25?
Answer: Setting up a Bluetooth connection on your Code 25 combo amp is very easy, yet some users do initially struggle with it. First, turn your Code amp on.
Then press the Power and Rev buttons at the same time – this will initiate the Bluetooth pairing with your smart device. Find the device through your phone's Bluetooth setting screen and confirm the pairing.
Some users report they had to go through the pairing procedure repeatedly at the beginning (this apparently happens with the iOS devices more often), but once you set up your connection properly, the pairing should be straightforward in the future.
Question: What type of software is used with Marshall Code 25?
Answer: The whole Code series features Marshall-Softube (MST) modeling software which is praised for delivering exceptionally accurate emulations of numerous classic and modern Marshall products.
Question: Is Marshall Code 25 a solid-state amp?
Answer: Yes, Marshall Code amps are solid-state guitar amplifiers.
Question: Can you use Marshall Code 25 for acoustic instruments?
Answer: Yes, you can use Marshall Code 25 with any acoustic instrument that has an electric pickup. The amp even has some dedicated settings for acoustic instruments. Nevertheless, it's obvious that this is not the main field of focus for this device. If you plan to use your new amp only with an acoustic-electric guitar, you will surely find some better options on the market.
Final thoughts: Marshall Code 25 is great, but not for everyone
Marshall Code 25 is a great practice amplifier for any young guitarist who is looking for some inspiration and support while mastering his skills and exploring his creativity.
I really love the smart app that allows you to control and play with the amp almost seamlessly. It works miracles, definitely well beyond my expectations, and I will surely explore it further in the future.
Nevertheless, the speaker inside this combo doesn't really do justice to all the features and functions the amp offers. I really can't imagine using this amp anywhere outside my practice room, let alone in front of some audience.
But, honestly, this is not the purpose of this compact modeling amp anyway, so maybe it doesn't pose much of a problem.
If you're still unsure whether this amp is or isn't right for you, I would simply suggest to go with one of the more powerful alternatives from the same series (e.g. Marshall Code 50). Although they cost a bit more, their sound is clearer and more powerful, which also expands their versatility.
Great Long Term Value
Marshall Code 50 Amp | Guitar Center
The Marshall CODE 50W 1x12 combo combines the Marshall legacy with state-of-the-art technology, culminating in a potent little amp that taps into all the tones you crave.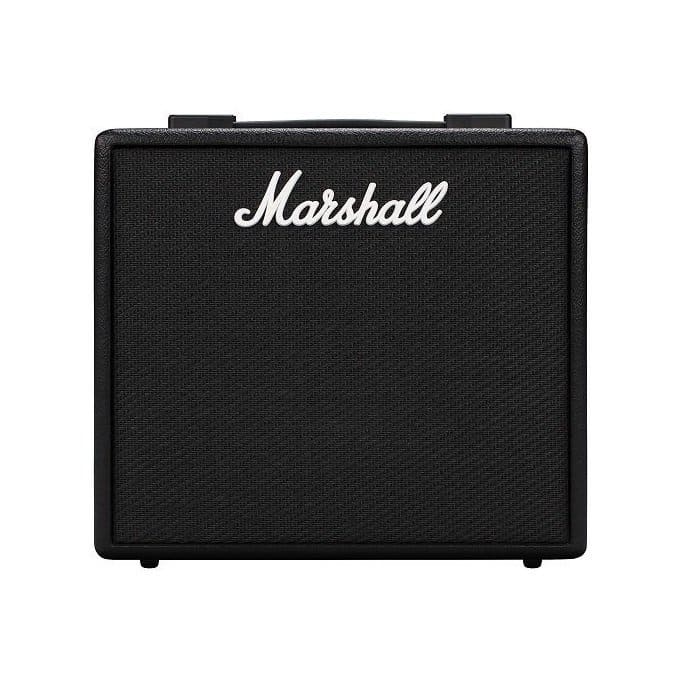 We earn a commission if you make a purchase, at no additional cost to you.
Latest posts by Jodie Chiffey
(see all)