In this Epiphone Probucker review, we'll be providing some of our own thoughts on this product, the pros and cons associated with it, some general FAQs, and a few notable alternatives we think are also worth being aware of.
Today we're excited to be running through a great piece of kit that has proved to be popular ever since its release. The Probucker pickup is now one of Epiphone's most successful pickups and features on a wide range of their electric guitar models.
Epiphone is a guitar brand that has been around for many years now and has become synonymous with quality but without reaching the same kind of status as your Gibsons or Fenders. In fact, Gibson purchased the brand in the mid 20th century and has been operating it as a subsidiary ever since.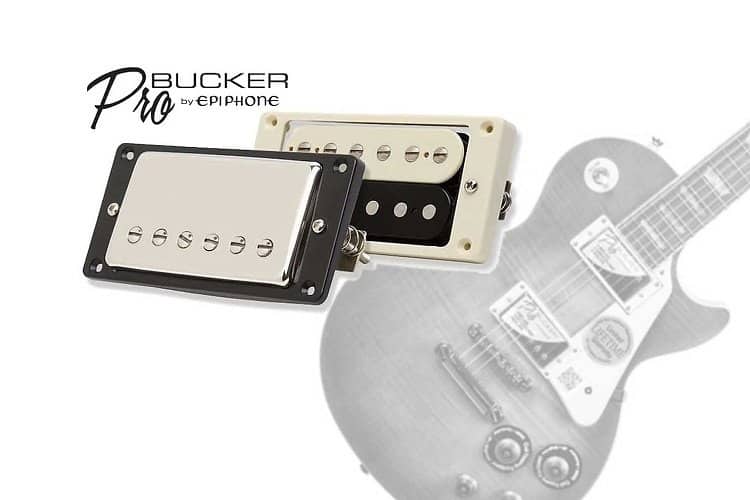 Despite not competing on a par with Gibson models, Epiphone produces excellent products for beginner and intermediate players. With this in mind, they also produce a myriad of accessories and attachments to an equally good standard, one of which we are looking at today in the form of their Probucker pickup.
Once you've read through this guide you'll be clued up on all things Probucker and be in a position to pick one up, should you be looking for one.
After that, make sure you check out other fantastic sections on the Guitar Space website where you can find out all you need to know about electric guitars, acoustic models, guitar maintenance, and even where to find the best online courses for beginners.
Before we get into the nitty-gritty of the Epiphone Probucker pickup, let's take a look at a product overview.
Excellent and Affordable Pickup
Specifications
| | |
| --- | --- |
| Style | Vintage |
| Base Material | 18% Nickel Silver |
| Cover Material | 18% Nickel Silver |
| Magnets | Alnico II |
| lead wire | high quality 4 conductor |
| Vacuum Wax Potted | Yes |
| Approximate DC Resistance | Neck: 7.9 KOhm/Bridge: 8.6 KOhm |
| Pole Spacing | Neck: 50 mm/Bridge: 52 mm |
What is a Guitar Pickup?
Before we get into the features associated with this particular product, let's take a look at what a pickup actually is, why eclectic guitars need them and why people like to upgrade them.
Pickups
Pickups get their name because they literally 'pick up' the vibrations of an electric guitar string, turn those vibrations into a signal and send that signal through to an amplifier. They do this via a series of magnets that are wrapped in copper wire.
Whilst there is much more technical detail to it than that, for the purposes of this piece all we need to know is that the key components are;
Magnets
Copper wire
Flatworks (top and bottom)
Why Are They Used?
Pickups have been around since the very inception of the first electric guitars and play an integral role in producing that iconic sound. Without this component, an electric guitar would be simply too quiet to function as the pickup provides the amplifier with signal to amplify.
Why do Some People Upgrade them?
Despite our overly simplified explanation of pickups and how they function, they are actually incredibly complex components. To produce a quality signal and therefore sound, you need a well-designed model that is made using high-quality materials.
As you can well imagine, not all pickups are created equal. Some are created to function but not particularly excel. These kinds of cheaper models are perfect for budget guitars and beginners but for those players who want optimal sound, they simply aren't good enough.
You then essentially have two options. First, buy a totally new guitar at a much greater expense or secondly, upgrade individual elements such as the pickup.
This is a much cheaper way for musicians to get a better sound out of their instruments. There may also be other elements, such as the look and feel, that players really like about their guitars so would rather not have to resort to purchasing and playing a different model.
Over the last few years since its release, the Probucker has quietly become one of the most exciting pickups in the industry. Experts and vintage purists alike have been fooled by the true tones this pickup produces. Apparently, even luthiers responsible for working on classic guitars from the 1950s and 1960s have been unable to distinguish between the two.
The Epiphone Probucker has developed a reputation for being the real deal with several key features that have helped it do so.
18% Nickel Silver
The Probucker uses 18% Nickel Silver for both its bases and covers. This is the same alloy Epiphone's parent company uses for their Gibson guitars, widely regarded as the best in the industry.
By using Nickel Silver, the occurrence of eddy currents can be dramatically reduced, leading to a much more crisp and transparent output.
Brilliant Bobbins
Bobbins are a key element for any pickup as this is where the vibrations from a guitar string are first picked up on their journey to your ears.
Epiphone has honed the size and shape of the bobbins present on the Probucker so that they are in line with those found on the industry-leading Gibson humbuckers. Doing this gives them a fantastic impact and tonal response.
High-Quality Elements Across the Board
The rest of the materials used to create these pickups are equally as good. By using sand cast Alnico II magnets and high quality 4 conductor lead wire Epiphone has ensured that the sound produced when using this pickup is well above its price bracket. They are even vacuum wax potted which eliminates the issue of microphonics.
How Does the Probucker Pickup Perform?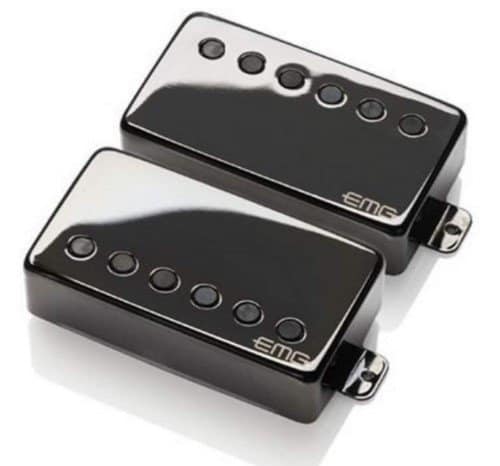 When testing a pickup it is important to remember that they are merely one component amongst many that need to work together in harmony to create a clean-sounding guitar. If the pickup is wound too tight, for example, the output and inductance will increase. If it is too loose, a brilliant sound but with less drive is achieved.
The magnets contained within pickups and their casing material are other crucial elements that go into making a good model. Lots of these pieces need to come together well in order to get a nice sound.
Thankfully, Epiphone balances these items well and the Probucker generates tones that, when set up correctly, are bright, rich, and true.
These pickups have developed a reputation as being a great alternative to some of the most expensive models produced by some of the more expensive brands out there. There is a huge number of guitars that would benefit from the addition of an aftermarket pickup like this one.
When assessing the performance of these pickups it's worth keeping the price point in mind. These perform well but when you consider how budget-friendly they are, that performance becomes just that little bit better. Who doesn't love value for money?
Pros of the Epiphone Probucker Pickup
When choosing which pickup you'll be using to upgrade your guitar with, it's important to understand the benefits and drawbacks of each one. Here, we'll take a look at some of the positive reasons that we think you should consider the Probucker.
Price
The price of these pickups is the main selling point in our opinion. They come in at a very affordable rate that makes them much more attractive to those on more of a budget. Despite their lower price, they perform more than well enough for the vast majority of musicians to benefit from them.
Quality
These pickups are of good quality. They may not have the same allure of the Gibson Humbuckers, but they aren't far off them in terms of performance.
This Epiphone offering has been designed to achieve performance that is comparable to the Gibson through the use of top quality materials like the aforementioned sand cast Alnico II magnets, 4 conductors lead wire, and vacuum wax potting.
Sound
The sound that these pickups help to produce is excellent and they are regarded as some of the best value pickups around. The materials used and the imitation of a more expensive model means you won't be disappointed with what comes out of your amp, should you choose to install one.
Excellent and Affordable Pickup
Cons of the Epiphone Probucker Pickup
Of course, despite all the good elements of this product, there are inevitably some drawbacks to consider before you purchase one.
They Can be Tricky to Install
Guitar pickups are always quite tricky to install unless you know what you're doing. Because they have to be set up precisely to achieve their sound, it is recommended to take your instrument to a professional for installation.
They Aren't Quite as Good as the Market Leaders
Whilst the offering here from Epiphone is a great one and we love it overall, when listening side by side with a guitar that uses the Gibson Humbucker, there is a noticeable difference. For many players this will not be an issue, but if peak performance is what you're after then it may be worth at least considering spending the extra cash.
What are the Best Alternatives to the Epiphone Probucker Pickup?
The guitar industry is flooded with so many models and model variants that is can be totally confusing and often a little overwhelming when trying to make a decision. In this section, we're going to highlight several other pickup options that we think are equally worth considering.
Seymour Duncan's Pearly Gates is the product of one of the best-renowned pickup manufacturers, re-tweaking and re-releasing one of their most popular products of all time. The Pearly Gates is a great example of the classic humbucker so the re-release was always going to be pretty good.
Regardless of whether you're a classic Les Paul player looking to upgrade your bridge position and its tone, or someone who is after that vintage sound – these pickups are well worth looking into.
A bright high-end produces and sustains rich harmonics alongside a well-balanced midrange. This pickup comes with a four-conductor hookup that allows for customization and plenty of switching options.
Features
Seymour Duncan Bridge Pearly Gates SH-PG1
Ideal for Blues, Classic Rock, Jam & Hard Rock
Comes With Four-Conductor Hookup Cable
Pros
Fantastic for Blues Sustain
Rock Styles Will Find it Well balanced
Cons
High Price Point
Metal Players Could be After a Slightly Hotter Humbucker
Notable Alternative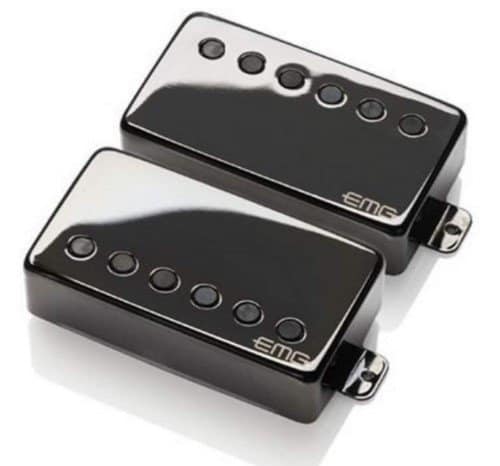 EMG was one of the very first manufacturers to begin the production of eclectic guitar pickups. This means that they have a pretty good standing and reputation within the industry and one of their latest most popular offerings, the EMG James Hetfield Het Set, continues to be a great option to this day.
It was back in 2009 that Hetfield asked EMG to merge the active tones they were so famous for with the character provided with a single coil.
This was the resulting product that became in effect the next generation of the EMG-81 bridge and 60 necks that had been popular with guitarists for over 30 years.
Features
Individual poles & bobbins
Large core
Extra percussive attack
High output
Full low-end response
Solderless Install System
Split Shaft Volume & Tone Control
Jack Output
Pros
Ideal for metal rhythms
Neck pickup offers excellent clean tones
Great attack and low ends
Cons
Guitar space needed for 9V battery
Price point
Now here's an option that will appeal to anyone on a budget. The Tex-Mex from Fender is perfect for anyone looking to upgrade an entry-level Squire, Fender Strat, Tele etc. This is, in our opinion, one of the best pickup options available if you're purely after great value for money.
This pickup set is available in either Tele or Strat options and comes with an overwound bridge pickup that really comes into its own with a bit of overdrive. If you're a blues fan you'll be pleased to know that these are the very same pickups that are found on the classic Jimmie Vaughan Tex-Mex Strat.
Features
Bridge Pickup
7.4K DC Resistance
3.7Henries Inductance
Middle Pickup
6.4K DC Resistance
2.75Henries Inductance
Neck Pickup
DC Resistance: 6.4K
Inductance: 2.75
Pros
Hard to beat value for entry-level Fenders
Boosted output for rock styles
Cons
Not great for players who want that clean country twang
FAQs
The pickup on your guitar is one of many vital components that help produce your preferred sound. They are intricate and complex elements that can be a little confusing and hard to get your head around at first. Here, we answer some of the questions and queries about this particular model that we hear the most.
Question: Can I Install These Pickups Myself?
Answer: We would not recommend inexperienced players from attempting to install pickups themselves. The work itself is relatively straightforward, you are just removing one component and replacing it with another, but it often requires an amount of electrical knowledge. Most of the time when replacing a pickup you will need to solder the new one in place.
If this is something that you feel comfortable with then replacing your pickup should be a fairly straightforward process. However, to get the job done correctly the first time we would always recommend taking your guitar to a professional.
Question: Why are Some Guitar Pickups Angled?
Answer: It's all about the tone. Moving the position of pickups can be a great way to alter the sound your guitar produces. So much so that brands and manufacturers factor this into their designs and require their pickups to be installed at an angle.
Generally speaking this difference in sound manifests itself in such a way that pickups positioned closer to the bridge will sound warmer and pickups placed closer to the neck will sound brighter. Angling them gives players the option to utilize both.
The Bottom Line – Our Final Thoughts on the Epiphone Probucker
When you look at the Epiphone Probucker, it's easy to see why it has become so popular since its release. The fact that it is almost a replica of the industry-standard model that comes at a much more attractive price kind of says it all.
Excellent and Affordable Pickup
We loved the tones this pickup produces and it's a clear upgrade on the vast majority of standard pickups (unless of course you already have a high-end one installed).
So for players looking to get a little more out of their guitars who don't want to break the bank and splash out on a totally new instrument, it's a great option.
Latest posts by Jodie Chiffey
(see all)