Harley Benton guitars are surprising instruments, hard to categorize among the many entry-level instruments due to their extraordinary value for the money. My first guitar was a Harley Benton Stratocaster copy, which I'm more than excited to review for all beginners looking for the best budget-level electric guitar.
This article is about how my first guitar became my favorite beater instrument and why you should consider Harley Benton Guitars before any other beginner electric guitars. A new world of quality budget instruments will open up for you as my goal is to go beyond my personal experience and guide you to what fits you best.
Bottom Line Up-Front: Harley Benton nail the price/quality ratio for beginner and intermediate players. Their ST-Style series is the best example: your first guitar doesn't have to be rough, can play well, and even lasts for years with proper care and mods.
There is no myth about Harley Benton's good reputation; only some know how's in choose the right instrument for you and know when it's the time to improve it.
My First Electric Guitars Story
I was lucky enough to receive a beautiful sunburst HSS Strat-shaped Harley Benton for my 14th birthday in 2009. As my father recalls, the guitar had stayed locked up in his friend's closet for years but, fortunately, was only consumed by dust and not especially beat up.
I had only just started playing electric guitar at the time and had no idea what to expect, nor did I not know how to tell if the guitar was objectively any good. I was just happy to pluck some power chords with the lead channel of my line 6 spider.
To add more to the mystery and my confusion, there was no serial number on the headstock! It was just the typical Strat-inspired headstock with the Harley Benton Logo. The instrument, though, felt special, as do all first guitars, deserving the nickname "red special" from my mom, a massive Queen and Brian May fan.
I played the guitar endlessly as a teenager and only bought another guitar years after when I had enough money to buy a Mexican Stratocaster. I didn't go for the obvious Squire because I didn't find them overall much different than my HB, the pickup configuration of which made it excellent for a metalhead teenaged into heavy metal and rock.
The guitar had problems. It went off-tune after a few songs, and the intonation was not the best. I don't remember if the action was high, but for sure, it was not as high as my first acoustic. My dad and I tried setting it up, but ultimately, a luthier took over the job and turned it into a much more playable instrument.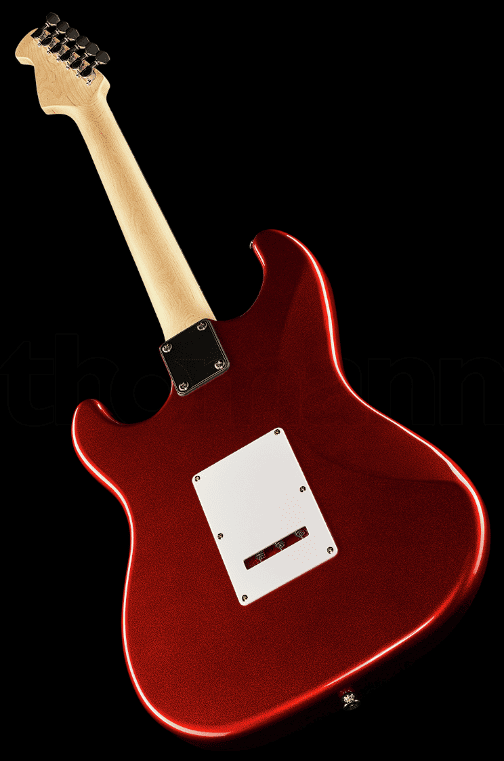 I used the guitar as my main electric for years before I became a working musician and naturally had to buy more expensive gear. I knew I should eventually sell it, but I felt that with the right tweaks, It would be more reliable and stick with me for a few more years.
A decade later, it's the only electric I still carry to practice on the road or holidays with my micro amp. It's not a reliable instrument, and I own much better guitars now; however, I enjoy jamming on it and finding some unique tones.
Since most of my session work is done online from home, I have even recorded album parts with it once I fixed up the typical issues every guitar under 200$ has.
I managed to date the guitar much later, contacting the company directly, and found it was an older version of their new ST series. The most similar one you can buy is the new Harley Benton ST-20HSS CA Standard Series which I tried a decade of practicing the instrument later and could tell that it felt/sounded almost the same as my old HB.
Regarding Harley Benton Guitars
In a previous rate on the best guitar brands of 2022, I ranked Harly Benton among the top choices for beginners. Naturally, the price was the main factor, but even more, the vast range of instruments was the main reason. You can find any shape, style, and sound for your budget.
What sets the brand apart from most, if not all, is the price/quality ratio. They might not be impressive instruments, but they are better built, last longer, and generally play better than everything in their price range.
Why Are Harley-Benton Guitars So Affordable?
The main reason Harley Benton Guitars are so affordable even when compared to other value brands is that they are the house brand of the giant German instrument retailer Thomann. As such, they save all logistics, marketing, and distribution and practically cut the middleman out of the transaction.
When you buy a Harley Benton, you only pay for the guitar and nothing else.
The downside is that they are harder to find in guitar stores, with the best bet being ordering one online. As with all budget instruments, it's risky to order online due to the possible inconsistency of manufacturing.
Many players have had HB sent back immediately after receiving them, either cause they didn't do the necessary setup or because they had big issues.
Another thing to note is that the ST-style series is the cheapest, and you could also buy a reliable instrument worth up to 500$ – the average cost of a Mexican Strat or good Epiphone.
Very affordable with the best value for the money
Well-balanced sound
Versatile Guitar with both the HSS or SSS configuration
No built flaws with an impressive fretwork
Stays in tune reasonably well
One the best guitars to modify
The new guitar always comes with a gig bag and accessories
The factory setup is rarely good
The tuning pegs and nut are not quality
The tone is balanced but doesn't have any edge
The tonewoods are not resonant
The Built Quality & Parts
The best thing about any Harley Benton is that you get more than you pay for. For the price my ST style HB is worth now, only a handful of instruments won't have any flaws. It feels right when you hold it and play it with none of the knobs loses or frets popping out of the fretboard as with some cheap guitars.
The parts are not impressive, yet they are made together to work. The tuning stability is usually good but only average if you weigh down on the tremolo. I pulled off many live bar sets without tuning them when playing mostly rhythm guitar and not abusing the tremolo.
It's not though, an instrument I'd take to play slow emotional David Gilmour-style tremolo-infused bends or for a big gig.
The Maple body and neck are impressive. Apart from some needed fretwork due to the age of the guitar, it's smooth and robust.
On newer models, as Tonewoods become endangered and expensive, you will most likely find roasted Maple and Rosewood replacement like Roseacer. It feels different, yet most players might not tell the difference on a blind test if the craftsmanship is good. In fact, many Squiers and Epiphones nowadays use alternative woods, and most people still believe they are playing a Rosewood neck only because it's dark looking.
So, where does the low price show?
The tuning pegs it originally came with were brandless and not the best. The nut seemed fine, but the friction of the strings made a squeaky noise that told otherwise. Replacing them was easy and immediately doubled in my perspective the guitar's worth, almost making it "stage-ready" for the bar gigs I played at the time.
The Tonewoods could be better, and not only cause they add little to the tone. My first bad experience was with them when the guitar got knocked off the stand.
The wood next to the bridge was damaged. As a result, the bridge moved, and all the frets were out of tune. That would never happen if the wood were more robust, like on any mid-range guitar.
The luthier did a great job adding some extra wood, and I also got his perspective on how the Basswood body on my HB is "soft" and not the most durable.
Playability
The guitar's playablity far exceeds what you pay for. Still, to this day, I'm surprised by how well the modern C-neck feels. It does not have the same feel as the C-neck shape of a Mexico or US Strat; it's different but not as inferior as the price would suggest.
First of all, it sits t well against the body, as any good Stratocaster would. It has 22 frets that give you all the range most rock guitarist need.
The main difference between this HB playablity from a mid-level guitar you'll is not from the fretboard but from the back of the neck. The finish is not as good and will wear out over time, leaving a rougher surface for your hand to move. You could always fix that by re-finishing the back every few years.
Depending on your style, you might need to change a few other things on the guitar, which our guide on hot rodding your guitar details best.
Tone
Tone-wise, Harley Benton guitars have little in common with the shape they suggest, apart from only a few nuances. The new and older ST models don't make an exception to this. The guitar is well-balanced, with some pickups more usable than others and a few surprisingly great tones.
The volume, two-tone controls, and the 5-way switch give much flexibility in getting the right tone.
The middle pickup is only a little use for anything apart from some plain-sounding clean rhythms. There's not much life to it, neither bite nor fatness. At a point, I even reversed its polarity to get a particular thin sound of it if I ever needed that funk tone.
The bridge pickup on the single-coil version does have a Strat-y character but is at times too bright and twangy and will sound opposite to the quite pleasing neck pickup, which does sound even better and more articulated than in most squiers I've tried.
Eventually, I changed the neck pickup to a single vintage pickup from an old Telecaster I old. However good the HB is, the gap is apparent when put in perspective with the best single-coil pickups.
The humbucker on the HSS version is the true gem on my Harley Benton and in most other ST styles. It is reminiscent of a mixture between classic PAF humbuckers and more aggressive metal ones. I don't think the builder meant to deliver the mix; however, it lives on mid-range, which I find very dynamic.
I would only keep the humbucker if I sold the guitar one day. If you buy a new model, It might sound less warm and full, as a time factor shaped my HBs tone to what it is today.
Other Harley Benton Alternatives
Strats are the only styles Harley Bentons are great at. Here are a few other models you might like, especially if you are into different styles. As you'll find, most of them are double the price of the ST shapes, as the cost of making them is far higher than the familiar Fender style, and they come with more quality pickups and hardware.
This is the ideal budget guitar for players interested in Jazz but that appreciate some rock as well. Consider it the much cheaper version of a Gibson 355 that Larry Carlton used to record thousands of records.
The hollow body gives the sound a unique color and delivers the exceptional dark clean jazz guitarist love to solo with. The Humbucker is hot, meaning you can also play rock n' roll and classic rock with great results.
It will through let you down if you are into heavier genres and can also sound extra muddy if you're not careful with your EQ. Being double, the price of the ST models easily suggests there's more to this guitar than just a classic hollow shape.
A Les Paul-style guitar is a must for every rock guitarist. Especially if it's a silver burst, one of the rarest colors in which you'll find them. HB is great at the replicas, which could rival even the average Epiphone.
This guitar is excellent for rock and metal beginner or intermediate players looking for a classic look and good playability. The two Tesla OPUS-1 Al are great for distorted tones, and they will only break down if you play heavily distorted down-tuned metal. I'm not a fan of the clean tones as much as they sound slightly compressed, almost lifeless, and too muddy sometimes.
I like that it's not a heavy guitar to hold and that the scale length and frets match what Les Paul players expect.
The Fusion series is the best for an intermediate or advanced player who wants a main/side instrument that can do everything. It's four times more expensive than my HB and won't need any improvement to sound and play great.
The HSS configuration on the pickup is the best I tried in an HB and can go from crips to clean to aggressive, distorted sounds. Technical players will appreciate the similarity to Charvel, Ibanez, and other brands famous for easy-to-shred necks and sold tremolos.
The only thing I dislike about the guitar is the finish and the tuners. The first might relate to my taste, but the second hinders the playability if you truly want to get the max out of the guitar.
Beyond these three, the best guitars for true proggers or metalheads are the R-446 Blue Metallica and the seven-string R-457MN WH from the adjacent name Prog series.
Harley Benton Stratocaster vs. Squiers
The main difference between Stratocaster-shaped Harley Benton guitars and Squiers is that the first is not trying to imitate the sound or feel of a mainline Fender. Squiers are great at sounding like affordable Fenders; Harley Bentons only take the shape of a Fender and are a better affordable "Jack-of-all-trade."
I have tried Squiers that are better overall than my HB, but the opposite is true. I still rate Squier as the most consistent of the two brands, especially the newer models that go through a better quality check.
FAQ
Where Are Harley Benton Guitars Made?
Harley Benton Guitars are manufactured in Indonesia, China, and Vietnam, similar to most modern affordable guitars.
Where to buy Harley Benton Guitars?
The best website to buy Harly Benton guitars from is thomann.de. They own the HB brand and ship the guitars from Germany worldwide. You can also find them in guitar shops, mostly in Europe.
Can you buy Harley Benton Guitars in the US?
Yes, Thomann ships them to the US, as it will take a lot of work to find them in guitars shops locally. Their international shipping reviews are great overall, and the guitars take anything from seven days up to 3 weeks to arrive.
Finally, Is a Harley Benton Truly Worth The Hype?
If you're a beginner in search of either your first guitar or improving on your faulty budget, they are the best choice for the price that will take you up until your upper intermediate years.
If you want to go further than that, buying the best HB and gradually modding them will make them last for up to your advanced years.
One thing is certain; the pros overtake the cons with every HB guitar, and indeed, you will find a replica of any style that will far outlive your expectations, as mine did!
Latest posts by Victor Carrera
(see all)