The Schecter C1 Platinum Electric Guitar is honestly the perfect guitar for extreme metal musicians; the nice physical appearance of this guitar is the first thing that makes a statement about this instrument, but the aggressive tone and versatility in the metal genre are what make it one of the best semi-affordable guitars to use in the metal genre.
While this is not a budget guitar by any means, the sound that this guitar produces will pay you back double fold.
When I first picked up the Schecter C1 Platinum Electric guitar, the first thing that I noticed about this instrument as the solid smooth satin black finish that covers this guitar. While I've seen a lot of black electric guitars in my time, the finish on the Schecter C1 really caught my attention because of how smooth and clean it looks.
Usually, when passing around a black guitar, people's fingerprints get on the finish of the guitar, which gives the appearance of the instrument a bit of dirty appearance.

However, the entire front, back, and neck are covered in this black satin finish, so there aren't any places on this guitar where there's a different guitar finish, which means you don't have any 'clean' spots for your eyes to compare to.
The neck of the Schecter platnium c-1 is covered with a satin finish, which also adds purpose to this instrument, besides a nice cosmetic appearance. Having a smooth satin finish also helps to increase the speed of playability, meaning that you can play fast on this neck, with the smooth finish allowing your hands to slide easier.
On top of the attractive finish that's on this Schecter guitar, they also used all Satin Chrome hardware, as well as silver binding on top of the fretboard and the top of the guitar. Plus, the Ebony fretboard that's on this guitar is unique to find on a moderately priced Korean instrument.
Best for Heavy Metal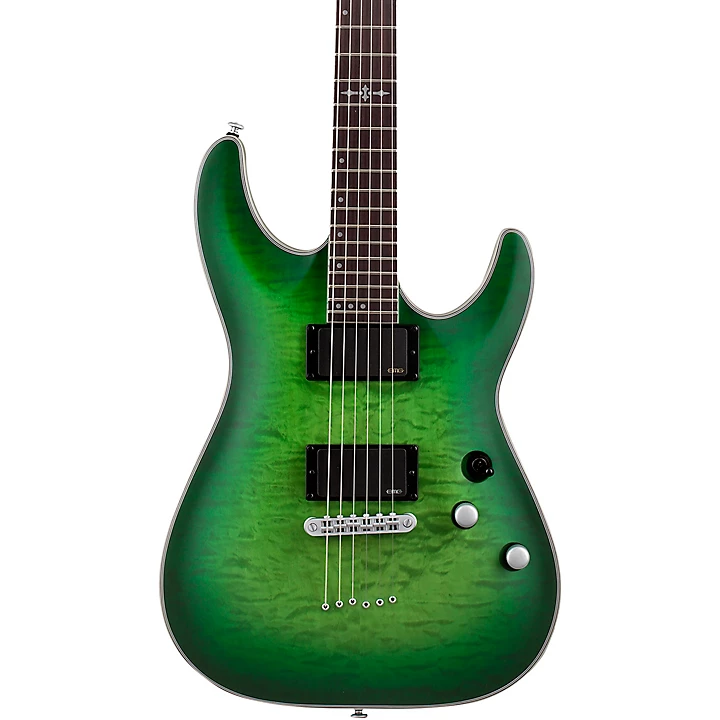 With all of that said, let's get into talking about the features that the Schecter C1 has to offer to musicians:
Features
Mahogany body
Ebony fretboard
Silver binding
Arched maple top
Maple set neck
Satin black finish
24 X-Jumbo frets
Tempest inlays
Thin 'C' shaped neck
5-inch scale length
Tone Pros TOM Bridge
Schechter Locking Tuners
EMG 66/57 Pickups
Sound
The Schecter C 1 Platinum is comprised of a mahogany body, a maple top, and a three-piece maple neck. Combining all three of these woods together will provide you with a tone that really highlights the lower end of your range. Using the combination of a mahogany body, ebony fingerboard, with a maple neck adds brightness to your overall sound.
As far as the sound that this instrument produces, the Schecter C1 would sound very well in any metal or rock genre, such as 80's metal, rock, heavy metal, and even thrash metal that all guitar players will love. The Schecter C1 has an 57/66 EMG Pickup active combo pick up installed in it, which provides this electric guitar with a great range of dynamic contrast.
The biggest complaint that I had about this guitar's sound is that when the sound is exposed to a lot of gain, the overall sound loses a lot of clarity; I also noticed that when exposed to a lot of gain, larger chords tend to sound very muddled together.
I do not think that this would be the best guitar to play if you are a musician who personally has built your sound around playing on a lot of gains.
I would also not recommend using this guitar if you are someone who plays a lot of chords or power chords in your music because you're going to lose the clarity of your personal sound (especially if you don't refine your amp).
Electronics
If you're an experienced guitar player, you may be familiar with the EMG 81/85 active combo pickup. The Schecter C 1 Platinum guitar offers the EMG 57/66 active combo, which provides users with a more vintage sounding tone in comparison to the EMG 81/85 active combo.
The pickups are that installed in the Schecter C1 provide this instrument with an incredible dynamic contract compare to other types of active combo sets on the market. The clean tones that the EMG 57/66 produces tends to focus on the lower range of your sound production but can provide musicians with an aggressive sounding tone when placed on higher gain settings.
However, if you switch to clean output on your amp, you may be surprised at the crystal clean tones that this instrument can produce when needed.
Playability
When playing around on this guitar, I found that the schecter platinum c-1 was extremely comfortable to play; matter of fact, I think it's one of the most comfortable electric guitars I've ever played on. The arch top on this guitar really provides users with an ergonomic feel on the right hand.
However, the thin 'C' shaped neck really allowed me to play at a fast pace without any feeling o drag or discomfort in my hand.
There are a lot of people out there in the guitar community make complaints about having a TOM bridge paired with the Schecter C1, but I personally believe that pairing a TOM bridge with an arched top guitar allows musicians to dig into the strings of the guitar, allowing for an easier time performing aggressive palm muting styles.
Build
For those who are looking to purchase guitars that are only manufactured in the United States, you may be disappointed to find out that the Schecter C1 is Korean built. Schecter usually manufacturers their instruments in a shop that they have in the United States; this difference in manufacturing locations is what many Schecter enthusiasts blame imperfection of the C1 on.
There are a few faults in the build of the Schecter C1, but nothing that is absolutely going to change the way that this guitar performs in an overall setting.
The overall finish of the guitar was completed really well, there wasn't any bubbling or scratching in the finish.
However, there were a few areas on this guitar where the black finish of the guitar bled into the binding on this guitar; this does not affect the overall playability of the instrument, but it does take away from the cosmetic appearance of this guitar if you're someone who is keen to details.
Pros and cons
Pros:
Cosmetically appealing
Provides users with a versatile tonal performance
Great neck for fast playing
Cons:
Only comes in the color black, which may be a downside for some people who are looking to expand on the color choices of their instruments
Bit expensive, especially when considering there aren't a lot of features that come with this electric guitar.
Is Korean built, which may be against some people who are looking to purchasing guitars that are made in the USA.
Other alternatives to consider
For a slightly higher price tag of 4799, the body Schecter Hellraiser C-1 is comprised of mahogany, while the entire fretboard of comprised of rosewood, with a Tune-o-Matic bridge system. The Hellraiser C-1's pickup system uses a humbucker paired with a mahogany neck to produce a strong tonal configuration.
Best Mid Range Price + Quality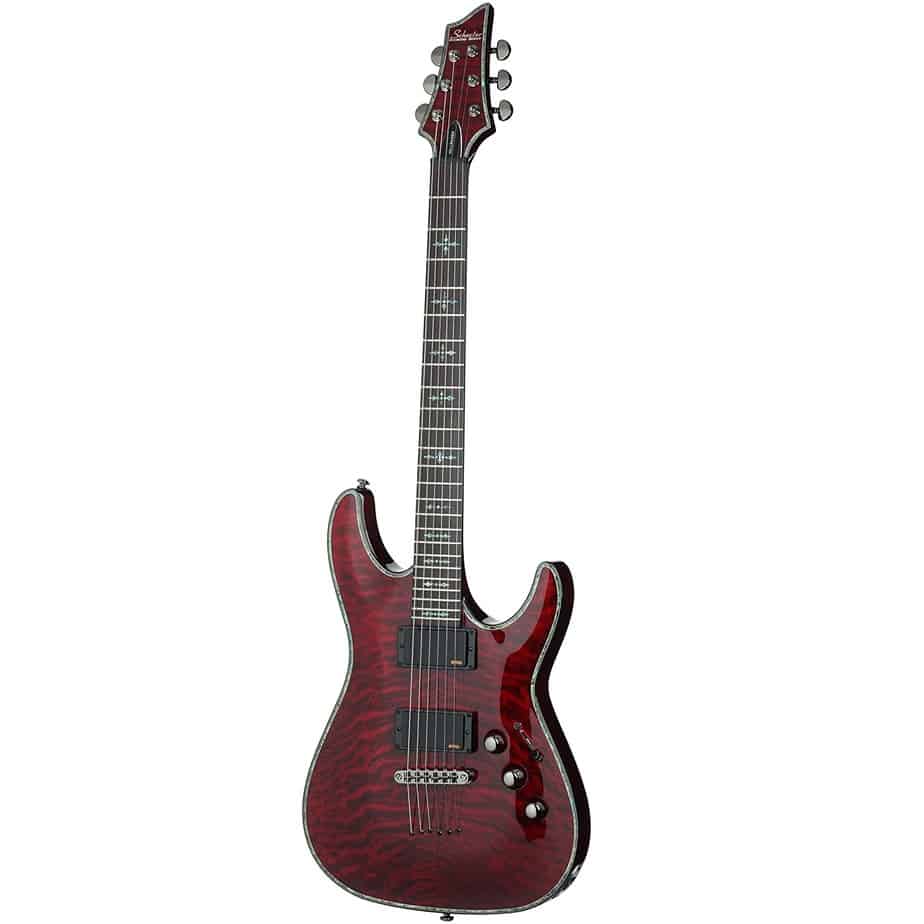 Schecter Hellraiser C-1
Schecter's Hellraiser C-1 lives up to its name. Not just because of its fiery red quilted maple top, but its screaming hot EMG active pickups, set mahogany neck, gothic cross inlays, and plenty more--perfect for veteran shredders and those about to rock.
Check Amazon Price
Check Sweetwater Price
We earn a commission if you make a purchase, at no additional cost to you.
12/04/2023 10:16 pm GMT
This is a much more affordable option for the Schecter C1 Platinum Electric guitar that has an appearance that's extremely similar. The 430 C-6 is priced at $269 For the latest prices and discounts, check here), while the Schecter C1 prices in at $700 (For the latest prices and discounts, check here).
While these two guitars do have similar appearances to one another, the 430 C-6 does not have as much tonal versatility as the C1 does, hence the difference in price tag.
Schecter 430 C-6 Deluxe Electric Guitar | Amazon
The C-6 Deluxe by Schechter is the first 'entry-level' guitar to bear the Schechter Diamond Series name. It features the Schechter quality you have grown to depend upon, as well as an incredible value.
Buy at Amazon
We earn a commission if you make a purchase, at no additional cost to you.
12/04/2023 09:36 pm GMT
Conclusion
The Schecter C1 Platinum is an electric guitar with a black satin finish that's incredibly appealing to the eye; while the cosmetic appearance of this guitar is jaw-dropping, the tonal flexibility and aggressive sound that comes from this electric guitar is truly astonishing.
There are some minor flaws in the cosmetic appearance of this instrument, which would only be truly noticeable to someone who is looking for a problem.
The biggest complaint that most people would have about this guitar is the lack of versatility that this instrument has for all styles and genres of music, but that honestly doesn't take away from the overall performance or playability of this instrument. While the price tag may be something that many people aren't ready to pay, this electric guitar is worth saving up for.
Best for Heavy Metal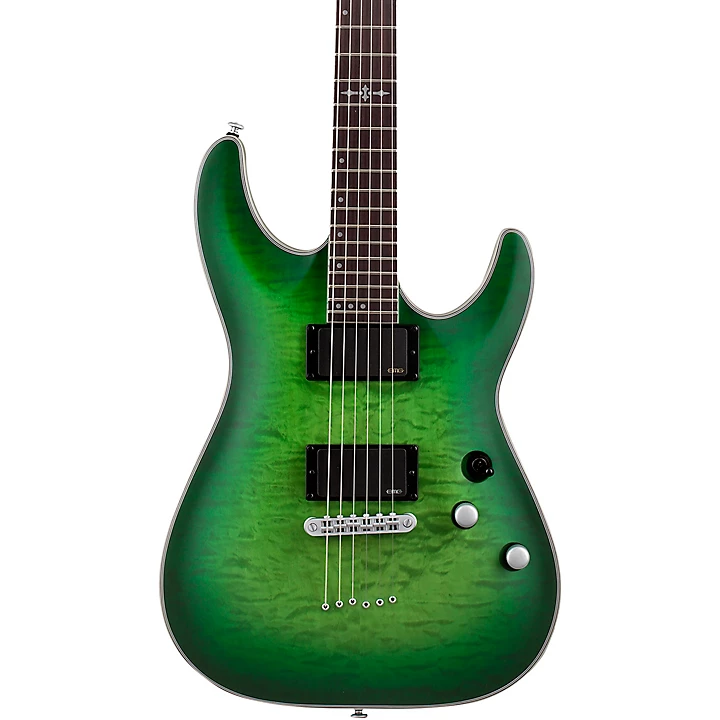 Read our guide on how to find the best Metal Guitar or check out more reviews from different guitar models by Schecter such as:
Latest posts by Guitar Space Team
(see all)