Latest posts by Stephanie Jensen
(see all)
There many reasons to consider buying this guitar, such as how they're built with EMG pickups. Here's our full Schecter Hellraiser review.
Schecter Guitar Research (usually referred to as Schecter) was formed in 1976 from a repair shop in Van Nuys. Since then, they have built some of the most reliable, innovative, and highest quality guitars on the market.
If you're looking for a new Schecter guitar, you may be considering the Schecter Hellraiser. And there's a good reason why — it's one of the best guitars for playing metal. The Hellraiser is affordable while still maintaining its aesthetics and playability.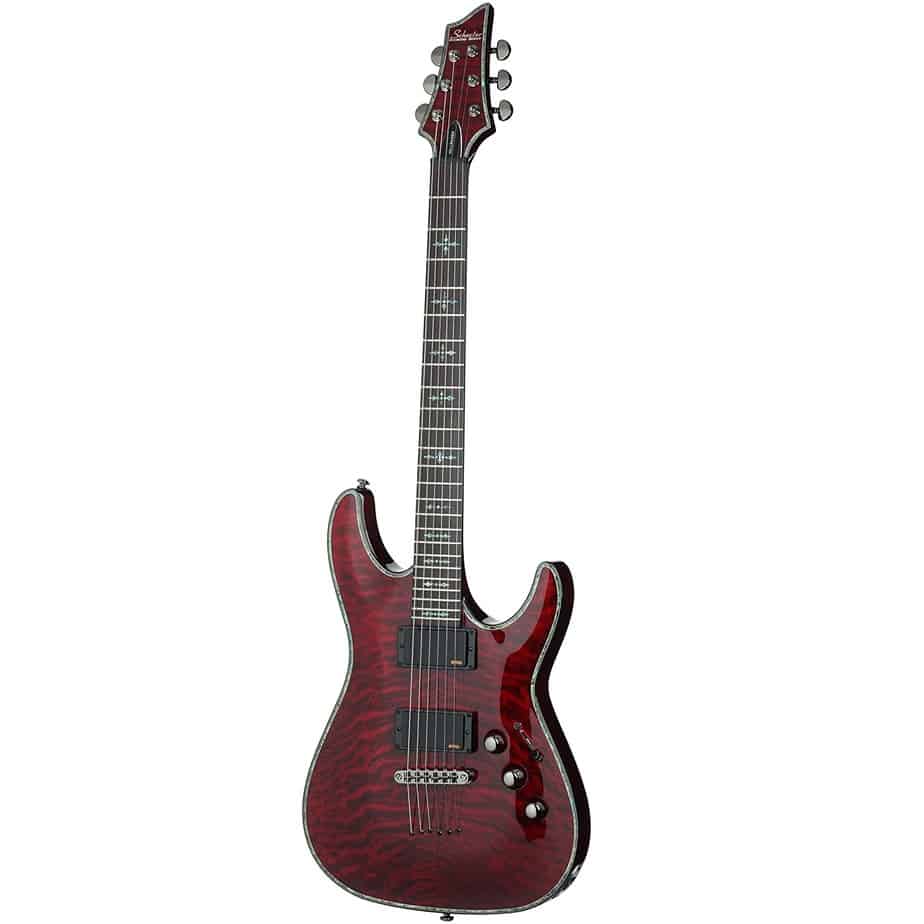 Pros
Perfect guitar for heavier music styles
Beautiful design and high-quality materials
Great pickups and hardware
Easy to play
Different colors (though cherry red is the most popular)
Cons
Specifications
Scale: 25.5"
EMG 81TW/89R Active Pickups
24 X-Jumbo frets
Body and neck wood: mahogany
Top wood: quilted maple
Fretboard: rosewood
Bridge: Floyd Rose Tremolo (though you can also choose the Tune Pros string-thru Tune-O-Matic)

Overview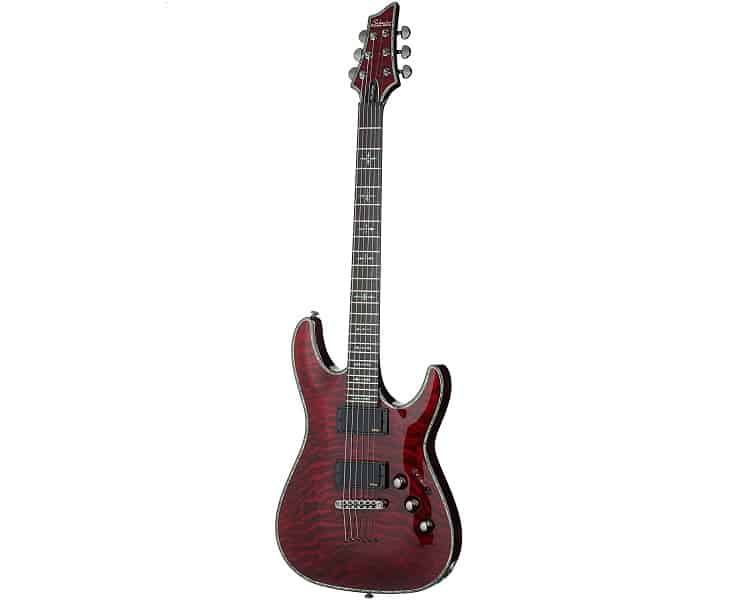 Schecter makes a variety of different types of guitars, but the Hellraiser should be a go-to for metal players. However, it's still a versatile guitar. It's easy to play, making it ideal for beginners but also for professionals who perform often.
Neck and Fretboard
Let's start from the top — at the neck and the fretboard. The neck on the C-1 is made from mahogany, as is the rest of the body. The neck itself is thin, which is a quality that Schecter is well-known for. This makes it easy to access the upper frets and play faster, especially if you have small hands.
The rosewood fretboard has a 14" radius so that you can use many pitch changes. The fretboard features cross-like inlays, which look very gothic-y. This is a popular feature on the Hellraiser for many rock and metal guitar players.
Body
The Hellraiser's body is pretty standard for most Schecter guitars. It has a classic double-cut super-strat with a curved top. Players will love the mahogany body, which has plenty of reverb.
The Hellraiser's sound is very warm yet big, making this guitar perfect for the stage. The EMG pickups definitely make the sound more defined — we'll discuss the pickups in a later section.
The Hellraiser C-1 comes in three colors: white, black, and cherry red. Cherry red is one of the most popular options for players.
EMG Pickups
For the Hellraiser C-1, Schecter chose the EMG 81TW/89R pickup set. Both pickups are coil-split, increasing your range of tones.
EMG active pickups have a naturally aggressive and big tone to them. This is one of the many reasons why the Hellraiser is such a coveted pick. These pickups increase the definition in every note you play, so your solos and riffing sound sharp.
Keep in mind, since the pickups are high-output and active, so they require a 9V battery. The battery compartment is in the back of the body.
Bridge
One of the best parts about this guitar is you have different bridge options. You can choose a Tune Pros string-thru Tune-O-Matic or an original Floyd Rose Tremolo.
We personally prefer the string-thru. The string-thru uses the mahogany body to uphold its natural reverb qualities. Not only that, but the sound is pretty much always uniform.
Sound
As stated previously, this guitar has a naturally big yet warm sound. The warmth is from the mahogany body, while the big and defined sound is thanks to the EMG pickups. That's why we have to thank the pickups for their great sound.
In addition to its varied and aggressive tone, they achieve both high gain and clear well. This is one of the reasons why it's the perfect guitar for heavy metal.
Hardware
There are two volume controls and one tone control. The volume knobs control the pickups; turn one knob down to get a softer and smoother sound. Schecter calls this their "dual-mode design."
Schecter uses their own locking machine heads to hold the tune, and it holds very well. The guitar comes with Ernie Ball Regular Slinky strings.
Feel
The first thing that players will notice about this guitar is the thin neck. It feels great when playing, especially how you can play all notes on the fretboard with ease.
Overall, guitar players will have fun with the Schecter Hellraiser. It has excellent playability and will last a long time, thanks to its excellent construction. Who knows, maybe this will become your new go-to guitar!
Is This Really a Metal Guitar?
Throughout this review, we have been saying this is the perfect metal guitar. However, you can adjust the tone to play a variety of different types of music. Great examples include progressive rock and even jazz licks.
Different Types of Schecter Hellraisers
There are a variety of models in the Schecter Hellraiser category. While they're all generally the same, they do have a few key differences.
Floyd Rose 1000 Series Bridge
Grover tuners
EMG 57/66 pickups
Telecaster body
It has a more vintage sound, ideal for classic rock n' roll styles
Ebony fretboard
Poplar body and neck
Carbon fiber biding
Maple neck
Basswood body with ebony at the back and top
Schecter Diamond Plus Pickups
Rosewood fret
These aren't the only Hellraiser models. The classic model comes in 7-string, 8-string, and 9-string varieties (look for either C-7, C-8, or C-9, respectively). There are also multiple variations of the Schecter C 1 Hellraiser model. Keep in mind, many of these models aren't being made anymore.
Benefits
Even though this guitar is versatile, it truly has a powerful sound when down-tuned. This makes it the perfect rock and metal guitar. But you can still change the tone without losing the weight of your sound.
No matter what style you play, you will have excellent tone clarity thanks to the EMG active pickups. The body and bridge design also contributes to the beautiful warmth you get from this guitar. The locking tuners and neck also help this guitar stay in tune, beneficial for musicians on the road.
Last but not least, the thin neck makes playing fast easy and is very comfortable for players with small hands. This is why many players say it's the perfect guitar for performing rock and metal guitar players.
Downsides
The guitar will require setup, which is essential to ensure the guitar is tuned correctly. Other than this fact, there aren't many flaws.
However, many players may want to tweak the guitar a bit more to fit their standards. For example, you can change the pickups if you don't like the EMGs. However, it's worth it to look at the other brand options listed above, in case you do want something a little different than what the classic offers.
Many people argue that this is a better guitar to play rhythm than lead. It could be the sound; some complain that the EMG active pickups sound too flat.
However, this is all based on preference and your individual role in your band. The neck is thin enough to play sweeps and fast leads, so this guitar is still worth considering if you're the lead guitarist.
FAQs
Question: Who Owns Schecter Guitar Research?
Answer: As of now, their owner is Hisatake Shibuya.
Question: Are Schecter Guitars Good?
Answer:
Schecter is a great brand to buy. They sell both electric and acoustic guitars, though they're most famous for their electric guitars.
While they're offered at a great price for the quality, their guitars may still be too expensive for beginners or occasional players. But know the price goes into other qualities, such as build quality, design, tone, and playability.

Because of these factors, Schecter is the best brand for serious and professional guitar players.
Question: What Are the Most Famous Schecter Models?
Answer: By far, the most recognizable Schecter guitars are their C series. The Hellraiser is a part of the C series, as well as the Blackjack models. These guitars come in 6-string, 7-string, 8-string, and 9-string varieties. Their Diamond series is also popular for those who want more affordable guitars.
Question: Which Schecter Guitar Should I Buy?
Question: Are Schecter Guitars Made in the USA?
Answer: All Schecter custom guitars are made in the USA. However, their non-custom guitars, such as those in the Diamond series, are made in either Indonesia, South Korea, or China.
Question: Are Schecter Guitars Cheap?
Answer: Schecter guitars are more affordable than other guitars on the market. Even their custom guitars are relatively affordable. But unlike most cheaper guitar brands, Schecter guitars generally have excellent build quality and playability. There are many theories why their prices are low, mainly because they're a newer brand compared to other major guitar companies.
Question: Are Schecter Basses Good?
Answer:
We centered our review around Schecter guitars. But what about Schecter
basses
? Many bass players also love Schecter basses. They're very comfortable to play with and are also offered at an affordable price.
Question: Is the Hellraiser the Best Schecter Guitar for Metal?
Answer: Most players agree that the Hellraiser is the best Schecter guitar for metal. It's one of their most recognized and renowned models. The EMG pickups are also perfect for producing those down-tuned, hard rock and heavy metal tones.
Question: What Strings Come on Schecter Guitars?
Answer: Most Schecter guitars are factory-equipped with Ernie Ball strings.
Question: What Are Some Good Alternatives?
Answer:
If you're a metal guitar player, Schecter isn't your only option. Other great alternatives include:
• Ibanez
• ESP
• Jackson
• Epiphone
• PRS
• Kiesel
• EVH (Eddie Van Halen Guitars)
• Washburn

Out of all of the guitars on this list, Ibanez, ESP, and Jackson are the best alternatives to Schecter:
• Ibanez guitars are comfortable and easy to play, have great features for metal, and have excellent build quality. They also make high-quality beginner guitars available at an affordable price.
• ESP is a premium line of guitars. They have an incredible build quality, some of the best hardware, and beautiful finishes.
• Jackson has excellent playability and versatility. While they're popular guitars for metal, you can play pretty much any genre with them.
Schecter Hellraiser Review: The Final Verdict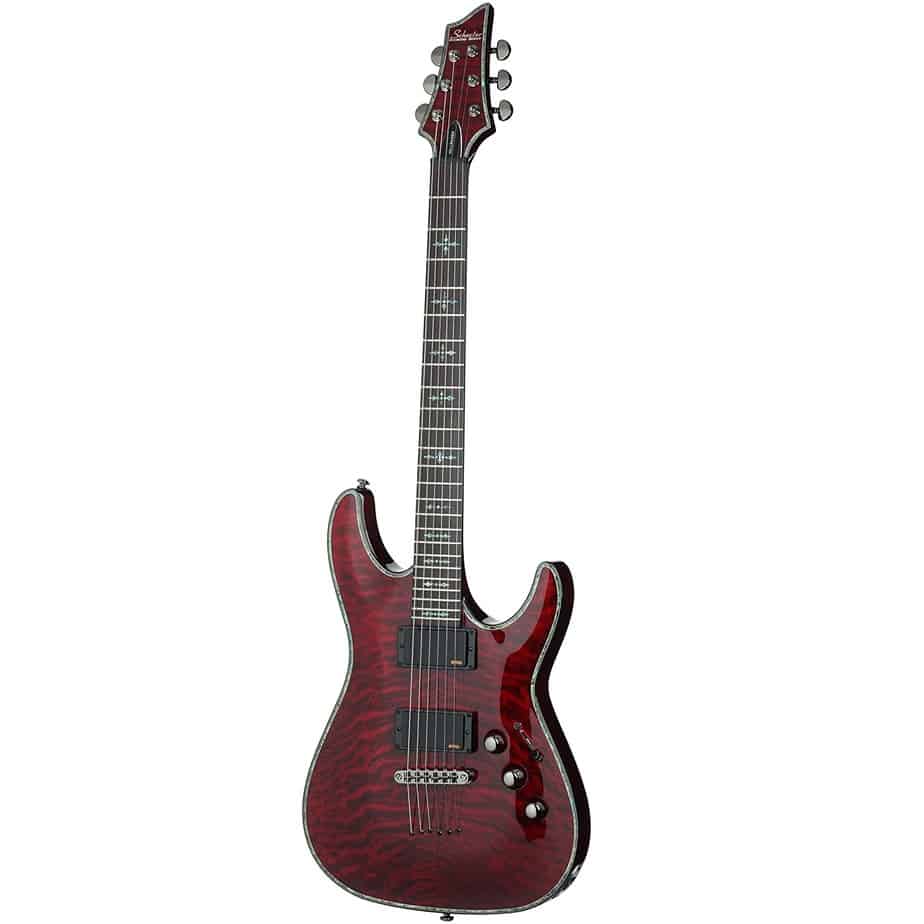 There are many reasons why many guitar players say the Schecter Hellraiser is one of the best guitars for metal. It has a striking design, excellent sound, and is comfortable to play. The EMG active pickups are perfect for down-tuned sounds, so you achieve a heavier sound while your tone stays uniform.
This is one of the reasons why Schecter is one of the go-to brands for metal guitar players. So take a look at the various guitars offered in the Hellraiser line!
Do you want more electric guitar recommendations? Les Paul is also a great guitar for metal. Here, we review the Les Paul Studio and Standard guitars.