Yes, yes, I know – this is an INCREDIBLY pretty guitar! Look at it!
Now, if you can roll your tongue back into your mouth, pick your jaw up off the floor, and wipe that drool from your chin, we can see if this baby is all looks, or if it's got some substance.
I'll take a look at the parts used and how they were put together, then move on to the all-important tones, and rounding things off with a consideration of the general playability of the instrument, and whether you'd take it home to meet your mom.
Core Features and Specs
In this price range, the Extreme-7 is a bit of an odd beast. While a lot of other budget guitars are based around a basswood or poplar body, this comes with a relatively swish mahogany body and a carved maple top, better associated with slightly more expensive instruments.
| | |
| --- | --- |
| Construction | Bolt-on |
| Body | Mahogany with a carved maple top |
| Neck | Maple |
| Fingerboard | Rosewood |
| Frets | 24 |
| Pickups | Schecter Diamond Plus – coil tapped |
The full specs are impressive: it also has a GraphTech nut, the carved maple top is quilted, and the body and neck is adorned with a crème multi-ply binding.
Interesting Read: Comprehensive Guide to the Best Schecter Diamond Series Guitars.
This will work well for…
I want to say metal, but actually, the looks and coil tapped pickups give a sense that it could be used for a little bit more than that.
Are we looking at a seven-string guitar that actually has the capacity to be a good all-rounder?
It's even available in a color that isn't black! Just one other color – a sexy black cherry finish – but that counts as progress, especially in budget seven-stringers.
There's an inkling that it could be useful for prog. In terms of specs, but definitely not looks, maybe jazz.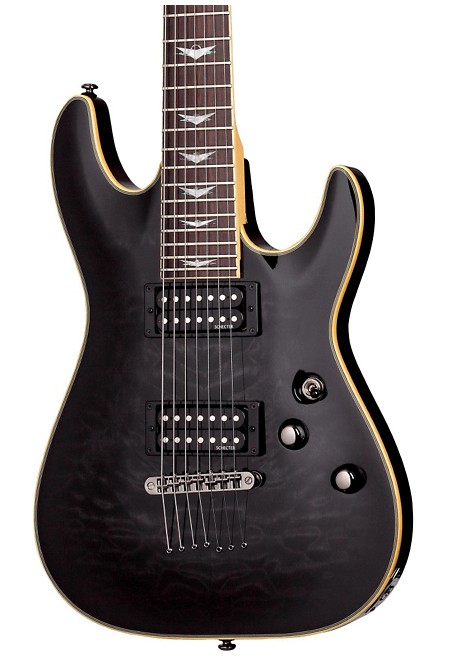 Does it do what it should?
Schecter has gone for a strong wow factor on the parts of this guitar.
One of the most striking features when you first look at it is definitely the inlays on the fingerboard. It's a very distinctive design. They're made of abalone and pearloid and are probably the most metal thing about the guitar. It's not that they do anything particularly metal – it is literally just the edgy shape.
The hardware comes in black chrome finish, and it all seems cleanly and sturdily attached. The GraphTech nut should reduce string breakages, and is a nice additional feature.
The quilted maple top lends an aesthetic best associated with more expensive instruments. The mahogany body it sits on give a nice weighty feel to it. At this price, though, it's important to remember that there's mahogany and there's mahogany – the mahogany used in this guitar will be of a lower quality in terms of density than mahogany-bodied guitars costing five times as much.
The pickups are a stock Schecter affair. They look cleanly fitted, but we'll find out more about their tones in a little bit.
Construction
The gloss and frills of the Omen Extreme-7 won't mean anything if it's not put together properly.
And to be fair, a manufacturer who has gone to this much effort on looks would be very foolish to let those looks down with poor construction.
Better known and more traditional guitars with the mahogany body/maple top combo would favor a set neck, but that's expensive. If you're going to look for a bolt-on neck that's as tidy as it's going to get at this price, you won't be disappointed.
Binding on some budget guitars can occasionally be a little sloppy – no such concern on this example. It's as clean as it's going to get.
The flashy inlays are perfectly fitted, as are the 24 jumbo frets housed on the smooth rosewood fingerboard. A look down the length of the fingerboard shows an even job.
As budget guitars go, this is quite curvy. The top has had work around the horns to give easier access to the higher frets, while the mahogany section has had a chunk carved out of the back which should give added comfort.
Tones
With the range of tones this Omen is aiming for, I lined up a couple of different amps to try and tease as much as possible out of it.
Before plugging it into anything, I played a little bit just to get a feel for it, and an idea of where it might stand tonally. Most importantly, there was no fret buzz. This was decently set up out of the box, with a nice low action.
It's at a kind of an in-between place in terms of markets, with the looks for metal, but the capacity for others, in a price range that could work for kids with some extra cash, or more seasoned enthusiasts who didn't want the cheapest. It was important to try and reflect all of that.
Starting with a 100-watt solid state head and half stack cab, I went for plenty of dirt with its built-in distortion. It sounded pretty glorious! The pickups were a little loud, as you'd expect from stock pickups at this price.
The pickups sounded quite hot – exactly what you need for lashing out all of the metal!
Moving the Omen on to a 30-watt valve amp to see if it was more than a one-trick metal pony, I rolled off the gain and volume, to have a barely breaking, gentle overdrive. Here, it actually sounded a little muddy – certainly not the sweet crunchy tones of other mahogany/humbucker combinations.
At this point, I pulled the volume knobs to put it them into single coil mode. It was an admirable tone. If you wanted to play or record experimental jazz, it probably wouldn't quite cut it, but the tapped pickups certainly put it in that ballpark.
Playability
In terms of playability, the Omen punches well above its weight.
Of course, you'll get clearer, more pristine sounds from more expensive guitars, but in terms of the joy of picking up a guitar to play? This is killer, and you'll look the business too!
The neck has a fairly slender profile, and if this is your first time with a seven-string, it won't take you long to feel comfortable with that wider neck and fingerboard. The binding helps keep things smooth for flying up and down the neck.
The low action and humbucker mode lends itself well to metal, whether it's full-fat riffs, or squealing out some solos. If you're looking for something else, there's potential to get more experimental in the range of tones, between switching to single coil mode, and the comfortable accessibility of the upper frets.
This guitar would score an A for the versatility and range of tones that could be squeezed out of a single instrument, but wouldn't score quite so high for the quality of those tones.
This will absolutely win for self-indulgent, hedonistic playing at home in any style, and for being loud and distorted for metal gigs!
Pros
Cons
Look at it!

Ridiculously high-quality materials in this budget range

Construction is solid, clean and tidy

Wide range of versatility and tones – good for non-metal players interested in pushing tonal boundaries

It can sound cheap to play

Tapped pickups are fine, but dedicated humbuckers or dedicated singles coils will always sound best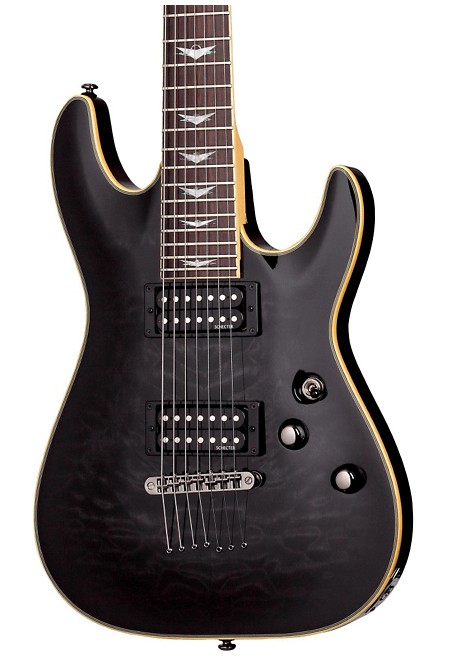 Some Alternatives to Try
Alternatives at this budget are pretty limited, with the same brands showing up. It doesn't seem to be a particularly competitive market.
For a few dollars more, you could try out another Schecter, namely the Demon-7. With a basswood body, the most important difference here is the inclusion of active pickups. These are Duncan-designed, so designed by Seymour Duncan and made in the east. This isn't the time or place to unleash the debate about active Vs passive pickups though!
Like the Omen, this body comes complete with some killer curves. It has three finish options: Aged Black Satin, Vintage White, and Crimson Red Burst. It has the additional options of a southpaw version or a Floyd Rose tremolo system.
Ibanez is most famous for its RG series of Superstrats, and it's here that we can see their seven-string iterations start to appear with the RG7421. Although at the cheaper end of the RG range, there's evidence that they're trying to enforce a degree of quality with simplicity.
At its core, this is a slab of mahogany with a couple of humbuckers shoved on it. However, those humbuckers are attached to a five-way selector, rather than a standard three-way that normally accompanies that configuration.
After that, it's simple dot inlays, two knobs controlling volume and tone, and a fixed bridge.
Interesting Read: How does Schecter compare to the Ibanez Brand?
Jackson JS32-7Q
The Jackson JS32-7Q feels like a hybrid of the other guitars mentioned here! It comes with a basswood body with a stunning maple top. Unlike the Omen, it doesn't specify that the maple top is carved, suggesting it's likely to be a veneer for aesthetic purposes, rather than affecting the tone in any major way.
Like the Ibanez, it has a simple setup: a volume knob and a tone one, and a hard-tail bridge. There are cutaways around the horns to help access the top frets, but that's the extent of any carving.
Read More: How to find the Best Electric Guitar or our Schecter Hellraiser Review.
In Conclusion
I would recommend the Omen Extreme-7 for noisy metallers looking for something pretty, and enthusiasts looking to get outside their comfort zone.
For the latter, the range and versatility available should send you on a wonderful journey. If you decide that actually, it's not the path for your playing, you won't have broken the bank. If it is the right direction, you may want to look at an upgrade.
Latest posts by Guitar Space Team
(see all)