Fender has produced some outstanding guitars over the years. From the iconic Stratocaster to the versatile Telecaster, there have been some truly excellent ones. In this feature, however, we are turning our attention to bass guitars and in particular the best Fender Precision Basses.
Which one is right for you?
If you're a bassist then you'll no doubt be familiar with the Precision Bass (or P Bass). They have been some of the most popular basses on the market since their initial release back in the early 1950s.
Since then we have seen the design reshaped and tweaked to favor different playing styles and incorporate advancements in guitar technology.
But which has been the best? Which has captured the imagination of musicians? And have there been any P Bass designs that haven't worked? Throughout this article, we'll be exploring five of the best P Basses, answering some of the most popular FAQs as well as giving our thoughts on which model may suit your style of play.
Before we get into the details of our favorite models, let's take a look at an overview of them.
Five of the Best Fender Precision Bass Guitars – An Overview
| | | | |
| --- | --- | --- | --- |
| Model | Color | Included | Price Range |
| Fender Player Precision Bass | Tortoise Shell | Guitar, gig bag, user manual | $ |
| Fender American Performer Precision Bass | Sunburst | Guitar, gig bag, user manual | $$ |
| Fender American Professional II Precision Bass | 3-color sunburst/Black/Olympic White/Miami Blue | Guitar, hardshell case, user manual | $$$ |
| Fender American Original '60s Precision Bass | 3-color sunburst/Lake Placid Blue/Surf Green | Guitar, hardshell case, user manual | $$$ |
| Fender Deluxe Active Precision Bass Special | Sunburst | Guitar, gig bag, user manual | $$ |
What is a Precision Bass?
The Precision Bass is a range of bass guitars designed and manufactured by Fender. The original concept was drawn up by Leo Fender in the early 1950s and launched in 1951. It quickly proved to be a hit and gained widespread attention due to its sound and build quality.
This attention led to it becoming one of the best-selling bass guitars of all time and has seen countless imitations from other brands.
The original model was one of the earliest basses to feature a totally solid body, single-coil humbucker pickups, and also include a 20 fret maple neck with a maple fingerboard. Although many of these features have gone on to become standard across many makes and models, the Fender P Bass was considered a pioneer.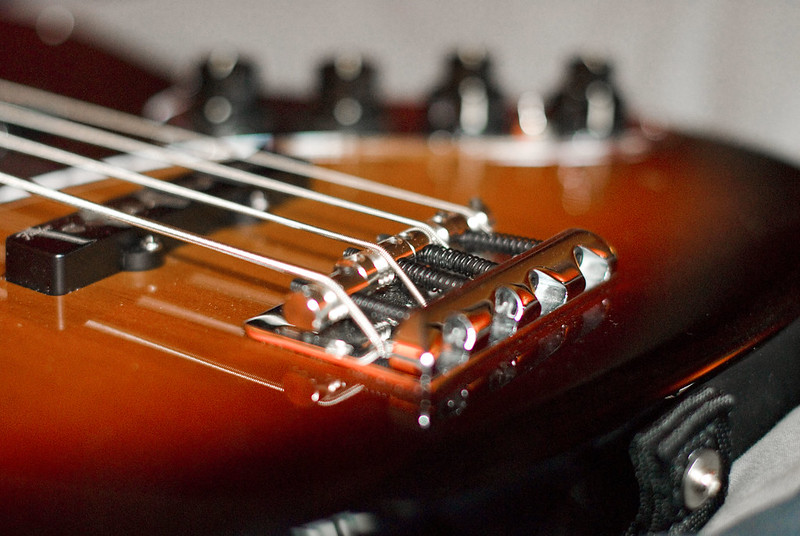 Where Did the Precision Bass get its Name?
To understand where the name comes from you must first understand a little of the instrument's history. Back when Leo Fender was first putting pen to paper and designing the original version, amplified instruments were only at the very beginning of their life.
The first of these amplified instruments to gain widespread use was the lead electric guitar. This then led to issues of traditional double bass players struggling to be heard over these amplified guitars. The release of the P Bass overcame them and allowed bass players to once again be heard in a band setting.
The name itself comes from the use of frets. The frets included on the P Bass were similar to those found on electric guitars and allowed bassists to be far more accurate in their play. The oversized double basses of the past were fretless and therefore much more difficult to master.
The introduction of these frets made the P Bass instantly accessible to musicians who may have been previously unable to get to grips with double basses.
What Kind of Styles Are Bass Guitars Used For?
Bass guitars play a prominent role in the majority of modern music produced with a band. They provide vital harmonic balance to tones produced by leading instruments such as guitars and pianos, as well as adding depth to the rhythm created on the drums.
That being said, there are some genres that stand out from the rest when looking at the importance of bass guitars.
Funk
The most obvious of these is funk. The unique sounds of bass guitars shine through when playing the genre and entire bass solo sections are not uncommon.
The prominence of funky basslines and the slapping of strings is what the genre is built on.
Metal
Another genre that relies heavily on bass guitars to create its sound is Metal. It's a pretty extreme genre from the vocals right down to the basslines so it's no surprise that basses play such a key part. From popping and grooving to slapping and sometimes screaming, playing metal well on a bass requires a wide range of skills and an instrument that can handle it.
Blues
The Blues is a genre that runs on emotion. Being able to bring this emotion to the fore and wear your heart on your sleeve is what it's all about. Having an instrument that allows you to do this is key and the best in the business is the bass guitar.
The blues is one of the oldest genres of music still popular today having outlasted many fads and other trends thrown up via modern pop music.
Jazz
Jazz is one of the most diverse and musically complex genres out there. Many instantly think of soulful saxophones or freeform drumming, but the bass has just as big a part to play. Good improv play on a bass guitar is something to behold and a discipline only a few elite players can master.
When watching jazz bands perform live it is not uncommon to see each section take it, in turn, to play a solo and show off their skills, this is where instruments like the bass come into their own.
Understanding and appreciating jazz bass playing can often be difficult at first, but once you begin to understand the music you'll quickly begin to appreciate the skill of the bassist.
Five of the Best Fender Precision Bass Guitars on the Market
First up on our list of the top five Fender P Basses is the Player. The Player P Bass is designed by Fender but constructed in Mexico. As a Mexican Fender, the price is much lower and more affordable than many of the premium US products. This is not to say the quality of work that goes into the guitar is any less than other models, just that it has been designed to appeal to a wider audience.
When it comes to the product itself, you are investing in a classic. The genuine Fender tones are present and an ultra-smooth feel with styling ready for the stage, the Player P Bass brings style, substance, and affordability together perfectly.
Paying homage to its heritage whilst pushing innovation, the Player series brings a punchy tone with its split-coil pickups delivering the legendary Fender tone. This model also features easily accessible tone controls and master volume for players who like to tweak their sound mid-performance.
Fender Player Precision Electric Bass Guitar | Guitar Center
The "Modern C"-shaped maple neck hosts a 9.5"-radius fingerboard with 20 medium-jumbo frets that are ideal for almost any playing style, while the 4-saddle bridge is engineered for accurate intonation and easy action adjustment, so you can personalize the feel to your playing style and taste.
Check price
Buy at Amazon.com
We earn a commission if you make a purchase, at no additional cost to you.
Specifications
Body
Double cutaway
Solid-body construction
Alder top and body wood
Gloss finish
Neck
C shape
Maple wood
Bolt-on neck joint
34-inch scale length
Standard truss rod
Satin finish
Misc
Maple fretboard
20 medium-jumbo frets
4 saddle adjustable bridge
Passive split-coil pickups
Fender Player Series Alnico 5 Split Single-Coil Precision Bass
Pros
The most affordable P Bass on our list
Classic Fender tones
Looks great
Feels as good as it sounds
Cons
It doesn't have the performance of the flagship models
More experienced players may value the features found on more premium instruments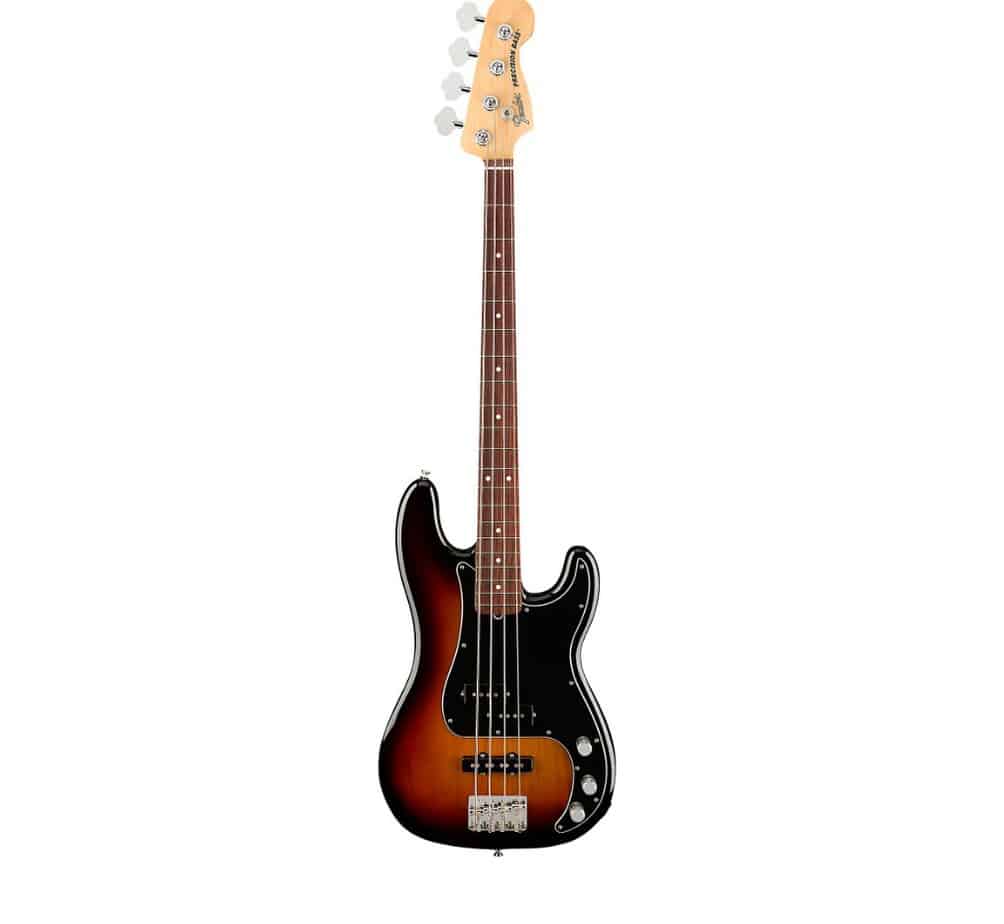 Next up sees the first US-made P Bass. The American Performer features upgraded hardware from the Player model and is built from the ground up with live performances in mind.
They are built to not only sound great on the stage but to also be reliable and sturdy, more than capable of handling any of the pressures touring bands come under. Night after night, the American Performer delivers. So for those who value consistency and reliability above all else, this is a great option.
Reliability and versatility are the names of the game here. The pickups include the Yosemite split-coil P Bass in the middle with a thundering Yosemite single-coil Jazz Bass on the bridge. This killer combination delivers rich, expressive tones that are sure to satisfy even the fussiest of musicians.
The P Bass also features the sought-after Greasebucket wiring that helps to shape highs without adding lows, thus protecting your sound. These, combined with flat-staggered pole pieces that improve output and a shellac coating on the Yosemite pickups lead to an excellent P Bass option.
Specifications
Body
Double cutaway
Solid-body construction
Alder body wood
Gloss finish
Neck
Modernized C shape
Maple wood
Bolt-on neck joint
34-inch scale
Standard truss rod
Satin finish
Misc
Rosewood fretboard
Passive Yosemite Pickups
22 jumbo frets
4 strings
Pros
Cheapest of the American made models
Nicely modified tones
Includes classic features
Ideal for touring musicians
Cons
A slight lack of attention to detail in the setup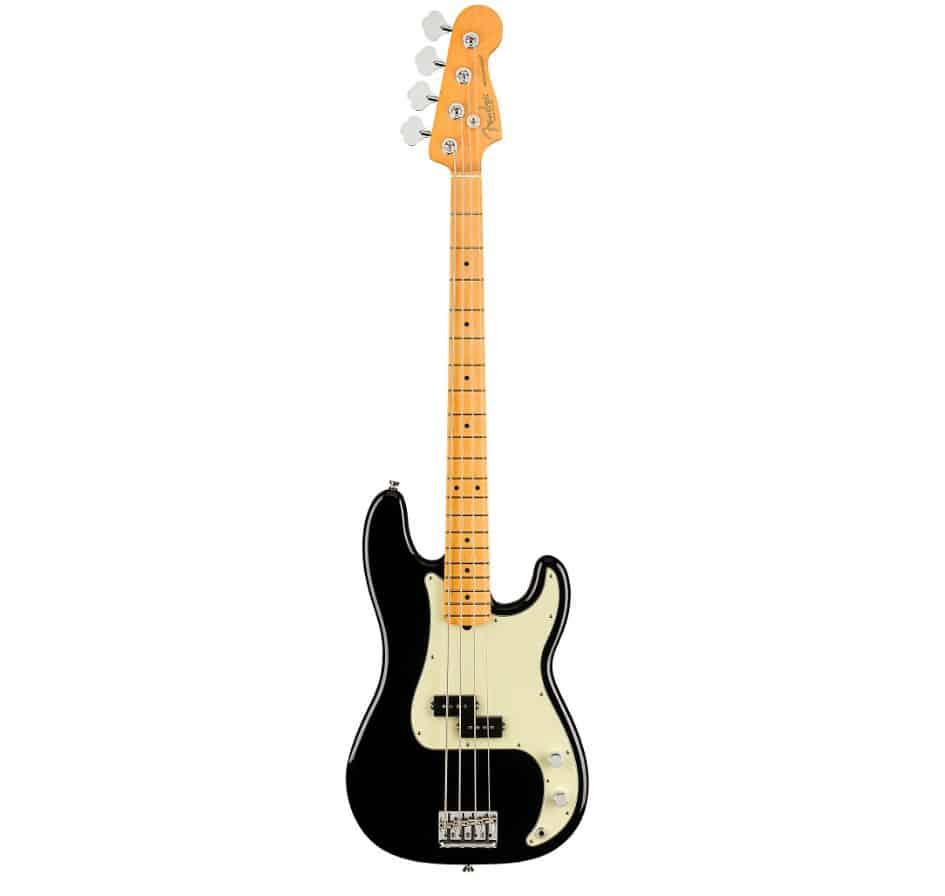 For those who are after the very best then this may be the perfect choice for them. The American Professional P Bass has been the weapon of choice for those in the music industry for years and continues to be one of the top guitars on the market.
There are some serious upgrades from other iterations of the P Bass, most notably in the form of Michael Bump-designed V-Mod pickups, a Hi-mass bridge for optimal sustain, and Narrow Tall Frets for awesome maneuverability.
Since its well-documented launch in 1951, the P Bass has been constantly refined and relaunched. This is why we have so many great options to discuss today. But the epitome of all Fender's R&D is the American Professional. Time and again players rave about this particular model and consider it to be the most complete version.
Another way in which this model impressed us is through its use of custom options. Despite being mass-produced and widely available across the globe, the Professional P Bass brings an element of individuality with it. The lightweight Alder body and '63 profile neck with smooth fingerboard and satin finish means this is also one comfortable instrument to play.
You can also check out our full in-depth review here.
Specifications
Body
Double cutaway solid body
Lightweight Alder construction
Gloss urethane finish
Neck
Comfortable C shaping
Maple wood
Bolt-on neck joint
34-inch scale length
Standard truss rod
Satin urethane finish
Misc
9.5-inch Maple fretboard
Hi-Mass bridge
Proprietary single-coil pickups
Pros
Widely considered to be the best P Bass available
Perfect for the studio or the stage
Ideal for professional musicians
Cons
This is not a cheap instrument
Not the most suited to beginners
If you're looking for a P Bass that is as close to the original designs as possible then you have a few options available. The Vintera, for example, is a great vintage P Bass that is slightly more on the affordable side due to it being manufactured in Mexico. However, our favorite vintage model has to be the Original '60s.
Although you can go even older with the Original '50s, we found the tones you can get out of a '60s are just too hard to beat. It perfectly captures the essence of those early P Bass designs and features Pure Vintage split-coil pickups with a nitro finish that help deliver classic '60s tones whilst looking fantastic.
Whether you're after the sound of Motown, Tinsel Town, or the Big Apple, this vintage P Bass delivers the sound of the '60s time and again. The clear definition with punchy mids sets it out from the rest and the modern feel adds to its overall playability. From the top to the bottom, this is one of the most fun to play on our list.
Specifications
Body
Double cutaway
Solid-body construction
Alder wood
Gloss nitrocellulose finish
Neck
63 C modern neck shaping
Maple wood
Bolt-on neck joint
34-inch scale length
Gloss nitrocellulose finish
Misc
9.5-inch Rosewood fretboard
20 vintage tall frets
Passive split single-coil pickups
Pros
Fun to play
Great vintage sounds
Cons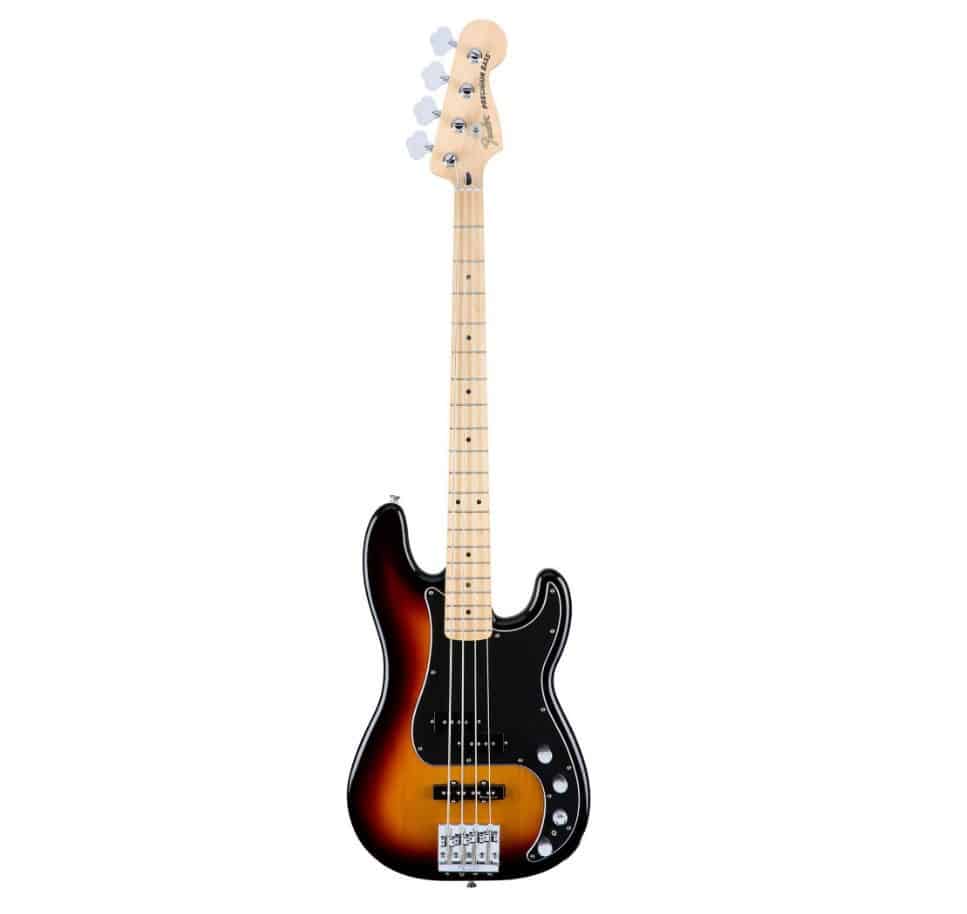 Last up we have the Active P Bass Special. This is a model that we simply had to include in our list as it's one we thoroughly enjoyed reviewing in detail recently.
The model is primarily aimed at the modern player. By this, we mean those who value the playability and comfort that come with more modern designs. With its ultra-light body and curved neck profile, the Active P Bass special works well in most surroundings.
Another key area that this P Bass specializes in is genre versatility. Some of the more traditional versions can be quite specialist and do one or two things very well. Whilst this is perfect for musicians who have a very rigid sound they want to produce, if you like to experiment a little more then this is a great option for you.
It's one of the pricier Mexican-produced P Basses, but still provides an excellent option for a wide range of musicians, particularly beginners.
Read our full review of the Fender Deluxe Precision Bass Guitar.
Great Guitar Suitable for All Skill Levels
Specifications
Body
Double cutaway
Solid-body constructions
Ultra-lightweight Alder wood construction
Gloss polyester finish
Neck
Modern, comfortable C shape neck
Maple wood
4-bolt neck joint
34-inch scale length
Reinforced with truss rod
Satin polyurethane finish
Misc
Passive PJ configuration pickups
12-inch maple fretboard
20 medium-jumbo frets
4 strings
Pros
Super-versatile
Easy to play
Good for beginners and intermediate players
Cons
Not the ideal model if you are after traditional Fender tones
If white color is your preference, check out our list of best White Bass Guitars.
Frequently Asked Questions
Question: Are P Basses Active?
Answer: The classic models are all passive. However, some of the modern versions are active, it's worth checking the specifications for your particular model.
Question: Why Are P Basses Considered to be so Good?
Answer: The answer to that is fairly straightforward, a good design, and great build quality. These designs are also easy to mass-produce, hence why they initially became so popular.
Question: Can You 'Slap' Any Bass Guitar?
Answer: Pretty much, yes. However, some models are easier to slap than others and the technique of the player is ultimately more important. Pay close attention to the action setup of your guitar and make adjustments if needed.
The Bottom Line – Which P Bass is Right For You?
As our list shows, there are plenty of options when it comes to choosing the perfect P Bass for your style. Whether you're a modern player, more of a traditionalist, value versatility or like to stick to your sound – there is an ideal model for you.
For those you want the absolute best, you cannot overlook the American Professional Precision Bass. It does everything that you want from a P Bass and much more. Perfect for either the studio or the stage, the professional model is ideal for a whole host of players, not just those who are paid to play.
If, however, you're looking for something slightly less expensive and a little more versatile than the Deluxe Active P Bass is pretty hard to overlook. We loved its modern twist on the blueprint and its playability won us over when we reviewed it in-depth.
But regardless of which model you ultimately chose, any Fender Precision Bass is sure to be a winner.
Latest posts by Jodie Chiffey
(see all)