They may be declaring it as "new for 2018," but Danelectro's '59XT certainly has some strong familiarity about it!
Based on their classic '59 design, made famous by everybody from Beck to Jimmy Page, this version of the iconic body shape has some differences. Danelectro doesn't say what the XT means, but experience makes me guess it stands for "extreme." It usually does with guitar gear.
Danelectro is regarded as a budget brand, but there's no questioning their ability to create wild-looking products. With that in mind, let's see if this '59XT is actually extreme and if it's any good.
Core features and specs
| | |
| --- | --- |
| Construction | Bolt-on neck |
| Body | Masonite |
| Neck | Maple |
| Fingerboard | Rosewood |
| Frets | 21 |
| Pickups | Stacked Danelectro lipstick humbucker at the bridge, and a P90 at the bridge |
So yeah… the most striking thing about that specs list is that the body isn't even made of real wood. But let's be open-minded about this, OK? This is how the '59 is made, and not just that, it's made with a chambered body.
The pickup combination is also intriguing. I'm starting to wonder what kind of noise this guitar is going to make – it's generally agreed that the most influential parts of a guitar's sound are the tonewood and the electronics: the '59XT's fall well outside the box for this.
We earn a commission if you make a purchase, at no additional cost to you.
This will work well for…
I've never struggled to consider this for a guitar, but I'm leaning towards describing it as new age fun with a vintage feel.
While it certainly retains the vintage stylings of the '59, the pickups and tremolo bar on the XT point it in a different direction. It's definitely not looking to be another vague iteration of the guitar with minor differences. For reference, head to Gibson's website and check out how many different Les Pauls there are, all of which come down to being a slab of mahogany with a couple of humbuckers.
Does it do what it should?
It feels like changing electronics and hardware, rather than aesthetic stuff is more impactful of having a different style of guitar. With that in mind, let's consider its functionality regarding its parts.
The presence of a humbucker and tremolo on the '59XT seems to point in a harder rock direction for Danelectro. The usual single coils of the '59 give it a bright sound, especially good for blues-oriented sounds, but we'll see what that humbucker does later. At the same time, the P90 should lend some brightness if you need it, but in the neck position, it might still sound a bit thick.
The tremolo is Wilkinson-designed, so that's cool. They make good stuff. The machine heads are said to be Kluson-inspired, so not the real deal, but they look fine. If you're super into aesthetics, but sneered a little at the Masonite body, that's silly. Think about it: most guitars are so heavily lacquered anyway, so between that, and the fact that it's a solid color, it really doesn't make any difference there.
Apart from those possible oddities, everything looks like it is where it should be. So, let's see how it holds together.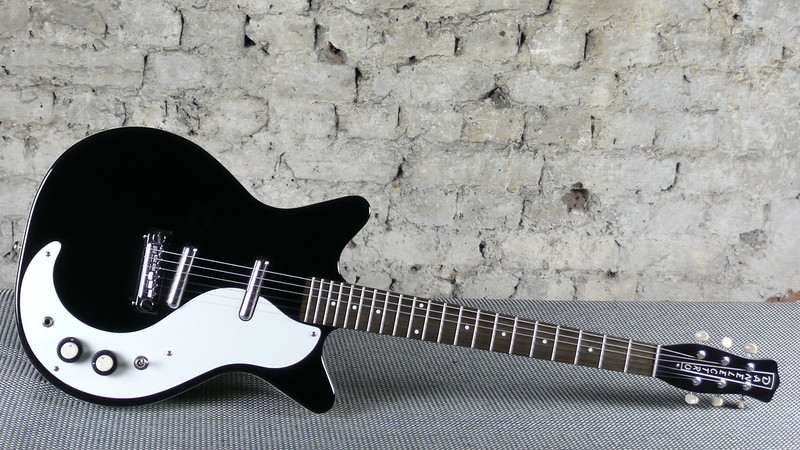 Construction
I'd love to take a saw to this guitar to find out more about the Masonite and chambered body, and the construction details that surround that. But, unfortunately, for this review, it'll be a surface-level evaluation of its construction. Maybe next time.
If it wasn't highlighted though, you wouldn't really know any different. This unique construction doesn't seem to have any influence on putting the rest of the instrument together in a traditional way.
The neck is a bolt-on. I'm not sure how attaching that is affected by the Masonite body compared to a standard slab of wood, or if it is at all. It doesn't really matter at the player's end, I guess: the important thing is that it's solidly and cleanly attached. There is no gaps, scrapes, or glue residue.
The hardware all looks and feels solidly attached. I'm particularly looking at the tremolo for that: I'm looking forward to flexing that to see how it goes! The '59XT has largely kept what makes the construction of the original '59 so important: simplicity. Even the inclusion of a simple tremolo on this model is an extension of how fancy this is beyond the regular '59.
Of course, this simple construction isn't worth squat if the guitar sounds terrible.
We earn a commission if you make a purchase, at no additional cost to you.
Tones
I've been looking forward to this bit. The pickup combination on the '59XT makes it quite the curious beast! I'll be using a 15 watt, British-style combo. My go-to settings are treble and middle and six, with bass at four, and drive at six.
On the clean channel, the lipstick humbucker at the bridge is as you'd expect: bright, but not as biting as say the bridge pickup of a Strat until you yank the tone knob out, which engages the coil tap.
Personally, I'm not a fan of coil-tapped pickups. I feel the quality of either sound is compromised when it's trying to do both. I'm also not a fan of single coil bridge pickups, but if I had a choice, I'd rather a dedicated one. It's not that it sounds bad, it's just not my bag. I can imagine it being useful if you are trying to minimize the number of guitars you have around.
The P90-style pickup on the neck gets a typically fatter sound, but I'm not quite feeling it. It's time for the overdrive channel, and there it is. That's what I was looking for! I don't have a great deal of experience with P90s, but it's a fun sound. Bright enough for bluesy widdling, and fat enough for chugging punk power chords.
Returning to the bridge pickup in humbucking mode, and it sounds like hard rock territory. If you're coil tap inclined, that sounds will be fine for cutting through with solos. After that, it's becoming evident where the XT in this guitar's name came from. There's a multitude of styles to be achieved, that I'm not convinced a standard '59 could pull off.
Playability
The variety of sounds outlined above make the '59XT a massively playable guitar. You could spend quite some time just playing around with it, doing this and that. If you're in a punk/blues fusion project, it could well be the only guitar you ever need.
Beyond the contribution of its tones to its playability, the construction and parts all have their roles. The neck is an excellent shape. Its curve is just comfortable, and no more than the tones, it would suit a variety of players, regardless of hand-size.
A few runs up and down the neck demonstrate the cleanliness of the fretwork. There's no real sharpness. There's no binding to cover it up, so it has to be good. Out of the box, it comes with relatively low action. That won't be to everybody's taste, but it can be adjusted as you like.
Pros

Cons

The price: it's a pretty affordable guitar

Versatility: you can cover a lot of sonic ground with this

Design: it's just iconic really

Coil tap pickup: versatile at the expense of quality

Masonite body: won't appeal to purists

Design: won't be to everybody's taste
We earn a commission if you make a purchase, at no additional cost to you.
Alternatives
It's difficult to suggest alternatives for such an odd guitar, but that's what we're going to do. If you like the idea of the '59XT's versatility, but something about it doesn't sit right with you, here are some other ideas.
Hagstrom are not the most massive of guitar brand names. But they're played by Dweezil Zappa, Pat Smear, and Will Sergant, so they can't be terrible. Among their range of guitars is the Ultra Swede. If you like the idea of a versatile instrument, but with more traditional looks, this could be a goer.
Clearly influenced by a Les Paul, both in shape and a maple top, the Ultra Swede toes the line of tradition and ambition.
Sticking with traditional body shapes, and indeed, I guess more traditional guitar brands, Fender have the Deluxe Strat HSS. The HSS stands for "humbucker, single coil, single coil" in reference to the pickups and their layout, as opposed to the usual three single coils.
I've listed this as an alternative to the '59XT because the humbucker is actually coil tapped. Strats are generally held in high regard as one of the most versatile guitars, so this adds even more dimension to that.
If you're looking to go a bit more high-end, Ibanez's S6570SK Prestige from their S series should pique your interest. Now, wild coil tapping pickup options aren't that big a deal for Ibanez. What makes the S6570SK stand out is that it's a Prestige model, so it's made in Japan. It's pretty evident to look at that this is a different beast to the other instruments we've looked at.
The Super Wizard neck leans it towards shredders, but the pickup variations make it suitable for pretty much anything, possibly even more so than the '59XT.
Conclusion
The '59XT is certainly a versatile instrument, but I feel like it lends itself best to rock-oriented music, especially stuff that requires solid riffs. I'm thinking along the lines of punk, garage rock, maybe some hard rock. It feels like a rhythm guitarist's guitar.
As with any guitar though, it's important to play it first. If you like the idea of coil tapping, it's certainly worth getting some real-world experience with the feature before committing your cash to it. For recording quality, you might be better with separate guitars, but you might get away with coil tapping in a live setting.

Further read,
Latest posts by Guitar Space Team
(see all)