Amps are an integral part of any electric guitarist's setup. They allow your sound to be heard properly by your audience and they allow for balance when playing with others. But which type of amp should you be using? Today we're looking at the best Victory amps and exploring what they have to offer.
The amp that a musician uses can be a deeply personal choice. After all, they are known to create very different sounds depending on the style and size that you chose. These differences mean performers make the right choice and buy one that suits their musical style as well as their playing needs.
Victory is a brand that has been around since 2013 and has become synonymous with producing quality products. We'll be highlighting five of our favorites, assessing the pros and cons of each, answering some of their most frequently asked questions, and giving our thoughts on which amp suits which playing style.
But before we get into it, let's take an overview of the five best Victory amps.
Five of the Best Victory Amps – An Overview
What Are Victory Amps?
Victory amps are guitar amplifiers designed and produced by the company Victory. They were founded and launched in 2013 and have quickly grown in both size and reputation. They have gone from strength to strength and have built up a loyal following as well as an established line of amps.
It is not common for companies to see such success after a relatively small amount of time, particularly within the music industry. With huge names such as Fender and Marshall around who have already been producing guitar amps for well over half a century, these smaller challenger brands can often find it tough to get going.
What Victory has done is to cover all bases. Their main lines are split into three very distinct styles;
Compact
Metal enclosures surround lunchbox-style heads with streamlined valve tones that result in an easy-to-manage form factor.
Heritage
These are full-sized valve amps with powered heads & combos. They feature increased controls, durable pine bodies, and more power via higher wattages.
V4
These are compact pedal-style amps. They are the most popular line that Victory produces and offer a great alternative to more traditional amps.
All of the amps produced by Victory are designed, tested, and produced in the United Kingdom as their branding suggests. Led by an ex-Marshall and Cornford employee, their rise comes as no surprise to any guitarist who has had the chance to try one out.
They pride themselves on catering for the vast majority of sounds, creating amps that cover all of the most popular tones. Versatile and stylish, Victory amps have taken classic British designs and tweaked them for the modern musician.
Which Victory Amps Suit Your Style?
As well as being designed and placed into the categories discussed above, Victory has seven or so families of amp that cater to specific sounds and styles of play. Here, we'll take a look at each one and tell you which styles suit them best.
Victory Sheriff Guitar Amps
The Sheriff range takes on the famous Plexi sound both sonically and visually. Players will enjoy a plethora of hot British gain with simple but precise controls. There is a natural bump to the midrange, clear highs, and saturated lows. These amps also come with a bright switch that allows you to control your sound and trim the top end if you need a little more warmth.
As with all of Victory's amps, the Sheriff comes in several variations. The compact Sheriff 22 houses powerful EL84 tubes and is ideal for large gain at high volume. There is also a larger version, the EL34, that is perfect for live performances. Finally, the V4 preamp version manages to fit all of the huge sounds this amp produces and houses them in pedal form, a great option for recording for live DI-ing.
Victory Duchess Guitar Amps
If high amounts of reverb and tremolo are your thing, the Duchess range could be perfect for you. With high headroom, this versatile amp brings together classic California cleans with British chime straight from the '60s.
The bass response is rich and velvety with tops that feature a harmonic depth. You can really push the Duchess to the limits without the risk of slipping thanks to the high valve power and single-channel design. You can also tweak the output using voice switches to perfect your sound to suit your style. Thanks to her high headroom, the Duchess is an ideal pedal platform amp.
Available in multiple forms, the Duchess comes as a compact V40 through to the huge V140. Smaller versions feature digital reverb options while the full-sized offerings include valve-driven tremolo and reverb by the bucket load.
Victory Countess
The Countess range of Victory amps is considered to be the flagship product. They are Victory's original designs and are regarded by many to be the most versatile. They have received plaudits across the world for their uniquely British sound.
Guthrie Govan played an integral role during the design phase and the resulting range features crystal clear tones with a noticeably biting overdrive. Despite being a two-channel amp, the inclusion of a foot-switchable crunch mode adds what is effectively a third channel.
Just like the other Victory amp lines, the Countesses come in several pre-configured setups. V4 preamp is the smallest, with the mighty V130 Super Countess being the largest and loudest. If you're in the market for a compact amp then the EL34 or 6L6 could be just what you're looking for.
Victory Kraken Guitar Amps
If modern tonal options are what your style requires then the Kraken line will be right up your street. Victory's most up-to-date and modern-sounding amps are Krakens, perfect for high-gain or cutting-edge playing styles.
Extended range players will benefit from using these amps with the VX Kraken receiving acclaim for its focussed distortion. This ensures that 7 and 8-strings sound just as good as the more common 6-strings.
Again, this is a two-channel amp that allows you to easily switch between warm tones and saturated high-gain. Versatility is also a plus here with the Kraken able to deliver and sculpt a wide range of sounds. Two gain modes feature on the distortion channel; Bulky USA-style tones and Marshall-Esque crunch.
Just like all Victory amps the Krakens are available in several configurations. V4s are the smallest, with the 100W Super Kraken being the go-to for those that need everything a little louder.
Five of the Best Victory Amps on the Market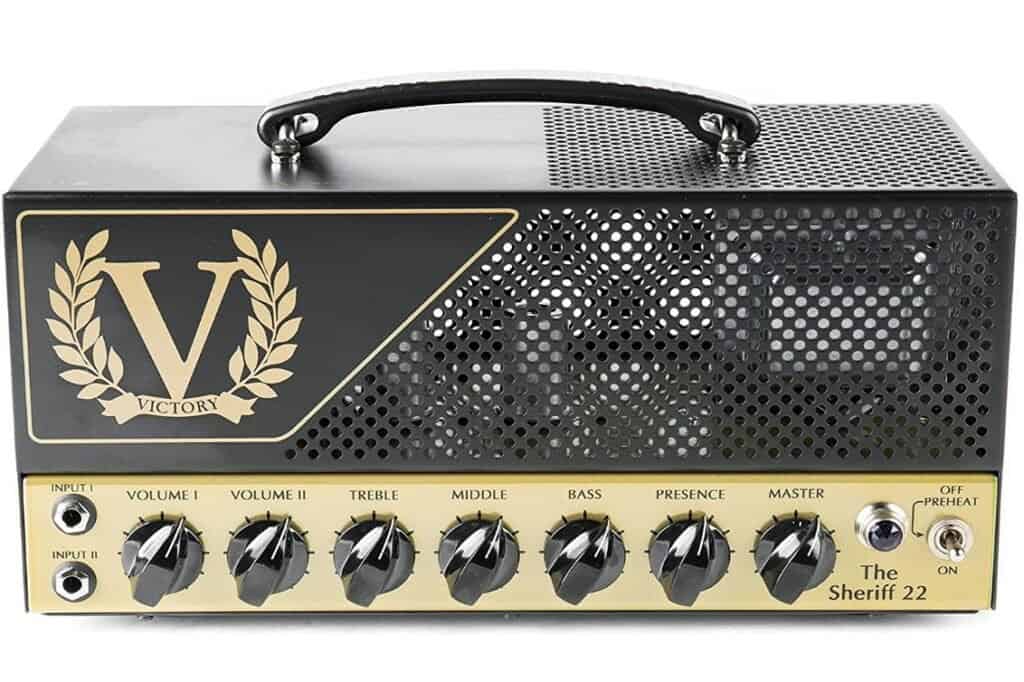 The first Victory amp to make it onto our list is the Sheriff 22 22w EL84 Plexi Style. This is one of the latest additions to their lineup and has proved to be an instant hit amongst guitarists around the world.
Due to its compact nature, it is suitable for gigging, taking on the road with you, or honing your sound in the studio. It features a valve-driven head that provides a classic crunch with two separate channels. Switching between them is quick and easy thanks to the footswitch option.
The first channel includes a standard Plexi sound whereas the second features an effect similar to older style Plexi that jumped across both channels. This results in a surprising amount of gain for a relatively small amp.
Another cool feature we loved about this amp is that you can use it as a regular speaker. There is a separate output option that uses around 1w of power, compared to 22w when in amp mode. You don't lose any of the amazing Victory sounds but it allows you to use them in any space.
Specifications
All-valve heads featuring two channels
22 watts RMS
Four 12AX7, two EL84 valves
Independent Volume 1 & Volume II channels with separate inputs. Series effects loop, 22w and 0.5w outputs.
Size: 342x185x185 (mm)
6.5kg overall weight
Pros
Surprisingly versatile
Suitable to use at home
Great overall tones
Cons
Not loud enough to use for major live performances
Next up is an amp from the Duchess range. The Super Duchess has released in 2019 so some applause and quickly helped cement Victory as serious challengers to the big boys. The V140 is a 100-watt single channel amp that crucially features valve-driven reverb and tremolo in abundance.
This amp is the product of years of development and has evolved from the V40 Duchess that was released in 2014. Whilst this was a much smaller product aimed almost exclusively at roots, blues, and classic rock players, 2019's V140 see's the successes of the V40 built on.
This has been done by adding more power. The V140 is 100-watt whereas the V40 was 40-watt. Effects were also added, like tremolo and reverb, alongside two 6L6 power valves. All of these additions have created an amp that delivers beautifully crisp and clear highs, chunky mids, and a real depth of bass. All with plenty of headroom for those players that like to use pedals.
Specifications
Single-channel
Two Distinct EQ Response Voice Settings
Mid Kick Switch
Valve-driven foot-switchable tremolo
Valve-driven foot-switchable spring reverb
Adjustable power settings (30-100 watts)
Hard bypassable series effects loop
External bias test points & adjustment
TRS connection for reverb & tremolo
Four 12AX7 & two 6L6 valves
Pros
Fantastic tones
Plenty of headroom for pedal use
Tremolo & reverb options
Cons
Not the most portable option
The Victory Kraken series takes a powerful turn with the Super Kraken. 100 watts of pure 6L6 power provides the volume to each channel. The first is a British-inspired gain channel with the second being a US-flavored beast.
The foot-switchable clean mode and preamp focus bring flexibility to both channels and allow the player to craft their sound on the go. We also loved the inclusion of a prest bass focus in the power section, FX loop, and dual master volume switches. Like many of the other Victory amps featured in our list, the Super Kraken comes with a low (30-watt) power mode for when you're playing or practicing and don't need everyone within 10 miles to hear.
The plethora of options and additions included with this amp makes it one of the best on our list. Although suitable for practicing at home, this amp really comes to life when turning the gain up in either a studio or live setting. For that reason, we'd recommend this for guitarists who regularly get the opportunity to crank their amps right up.
Specifications
Four 12AX7 & four 6L6 valves
Dimensions: 480 x 235 x 235mm
Weight: 27.5lbs
2 dual footswitches (Gain I/II, Master I/II & Preamp Focus, Clean/Crunch)
Pros
Great sounds
Perfect for rock and metal tones
Plenty of headroom
Great gain options
Cons
The clean channel lacks a little sparkle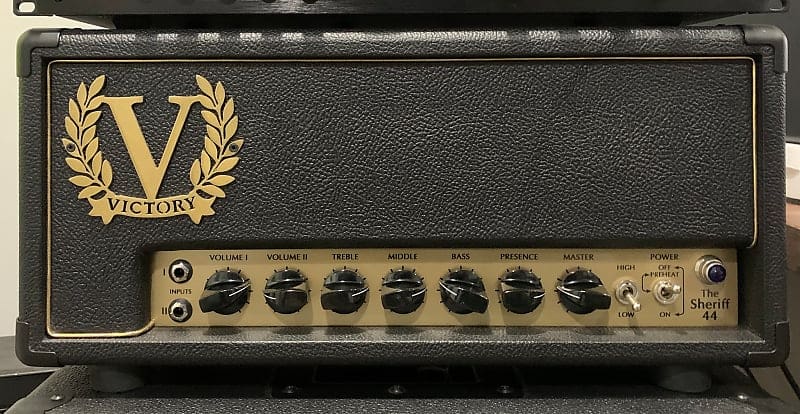 The Victory Sheriff 44 is very similar to Sheriff 22 you'll find further up the page. What we love about this version is that due to the increase in power, the sound has a much grittier tone. Whilst each will suit different players' ears, the Sheriff 44 is a great amp for those who want the classic British tone the 22 delivers, but with a bit more bite.
The Sheriff 44 is more than loud enough for most gigs and any studio situation. Its fixed bias option delivers a clean and refined sound, but with enough power to protect a subtle harmonic edge from being drowned out. There is also a cathode mode that harnesses a more dynamic feel that shines through at lower volumes, although when pushed does feel a little squashed.
Aside from the obvious differences in power output between the 22 and 44, the 44 excels in terms of its versatility. It gives users a much greater range of tones, both vintage clean and nearly clean sounds come in abundance.
Specifications
45-watts at high power with fixed bias
30-watts at high power when in cathode bias
6-watts when in low power mode and in either fixed or cathode bias
4 x 12AX7 & 2 x EL34 valves
Size: 480 x 235 x 235mm
Weight: 27.5lbs
Pros
Wide range of both distorted and clean tones
Loud enough for most settings
Perfect for rock and blues
Cons
The effects loop is switchable but not footswitchable
Victory V40 The Duchess – The Smaller Sister of the Super Duchess Still Packs a Punch
The Duchess range of Victory amps is perhaps our favorite. The tones produced throughout the line are nothing short of remarkable and really carve their own sound out against the backdrop of other modern rock amps that can all sound similar.
The V40, although not as powerful as the larger V140 Super Duchess, lives up to the billing. This particular amp is ideal for both bedroom and professional use. Despite its smaller appearance, it more than holds its own and delivers tones that will please all manner of guitarist.
One of the V40's standout features is the two-position voice switch. It really adds to the tonal options of this amp and changes its character at the flick of a switch. Further toggle controls like the 'mid kick' switch are perfect for searing solos and further tweak the sound depending on your play.
As you would expect, this Victory amp comes with all of the standard features such as a series effects loop, switchable bias, single-ended mode, and two defeat switches that let you remove effects and reverb if required.
Specifications
Single-channel head
42-watts
7-watts when in low power mode
1.5-watts when in high power single-ended mode
0.5-watts when is low power single-ended mode
3 x 12AX7 & 2 x EL34 valves as standard
Size: 342 x 185 x 185mm
Weight: 18.1lbs
Pros
Unique sound
Ideal for medium/low overdrive
Great additional features
Good value for money
Cons
Frequently Asked Questions
Question: Which Fuses do Victory amps Use?
Answer: Victory is known to exclusively use 20x5mm UL-approved 250v fuses. They are timed, or 'slow-blow' to avoid being blown early. Make sure you check the mains power in your local area and ensure you fit the correct fuses when changing.
Question: What is the Difference Between V30 and V40 Models?
Answer: All Victory V30 amps, such as the V30 Duchess, are designed as general-purpose amps and suitable for the majority of players. V40 amps, however, come with much higher headroom and are ideal for those looking for a pedal platform amp.
Question: Do Victory Amps Work For Bass Guitars?
Answer: The entire Victory range is currently geared towards the lead guitar. Despite this, Victory has stated that they may look into producing bass guitar amps in the future.
The Bottom Line – Which Victory Amp is Right For You?
Unfortunately, that isn't something we can tell you! What we can tell you, though, is that if you've decided on getting a Victory amp then you won't be disappointed. They have established themselves in the guitar industry for a reason. Their superior build and classic yet modern tones have pushed them to the forefront of many guitarist's thinking.
However, if we had to make recommendations then we would go for the Super Duchess if we needed an amp that would deliver when playing to an audience. We love the tones the Duchess line brings, it has a real uniqueness and character that shines through.
If we were looking for something a little more portable, or suitable for practicing in a bedroom then the Sheriff 22 would be on our radar. It's one of the more popular Victory amps and with good reason, packed full of tonal options and additional features it's a great addition to any musical setup.
Latest posts by Jodie Chiffey
(see all)