No home audio studio is complete without a powerful DAW that is equipped with all the features you need to produce music at a professional level. Music industry professionals often face the Reaper VS Ableton choice as these are some of the best DAW software products ever created. Still, it is hard to determine which one is a better option.
Whether you are a guitar player or an electronic music producer you'll need a music production software that lets you record and process all songs you're working on. So, in this article, we are going to take a closer look at Reaper and Ableton in order to help you decide, which DOW is the best choice for you.
Main Differences Between Reaper vs Ableton
The main differences between Reaper vs Ableton are:
Reaper features a powerful ReaScript scripting engine that allows you to code any improvement you want in Python, EEL, or Lua, whereas Ableton doesn't have a scripting engine.

Reaper doesn't have built-in instruments, whereas Ableton does come with some.
Reaper is small enough that you can run it from a USB stick, whereas Abelton can occupy more than 70 GB of hard disc space.

Reaper is famously stable even while handling a demanding project, whereas Ableton can crush if you try to do too many things at the same time

Reaper sound collection is significantly smaller, whereas Ableton offers a large sound collection.

Reaper enables you to edit audio while the recording session is still in progress, whereas in Ableton you can only edit your material after you're done recording it.

Reaper struggles with MIDI latency, whereas Ableton doesn't have such issues.
Comparing Ableton's vs Reaper's features
Both of these DAWs have been on the market for a long while and for countless musicians they are a go-to environment in which they can perform live or create compositions with virtual instruments.
Furthermore, Ableton and Reaper let you build music tracks effortlessly and they give you complete creative freedom over your projects. Let's take a closer look at their features:
Installation and interface
Reaper's system requirements for both Mac and PC are minimal as you won't need a lot of processing power or an advanced sound card to start making music with this DOW. In addition, the software takes just 66MB of hard disc space, which means that you can install it on any computer or run it from a portable drive.
Reaper's interface may seem underwhelming as the design of the menus, audio tracks and equalizers are outdated. However, this can be easily fixed, since the software comes with a huge selection of preset skins and layouts. What's more, you can download additional themes that make the software's interface more up to date from the manufacturer's website for free.
You'll need at least 3GB of free disc space for the basic installation on your PC or Mac and between 6GB and 55GB more if you want to install all sounds Ableton offers. This DOW requires an Intel or AMD multi-core processor, as well as a minimum of 4GB RAM, although 8GB RAM is recommended.
Ableton's interface is intuitive and modernly designed, so you won't need too much time to get used to it. You just need to push the Tab key to switch between Session and Arrangement views while all navigational tools can be accessed quickly.
The windows that are located at the bottom of the window change depending on the type of clip you selected, which enables you to have quick access to the tools you need to edit them. Despite having lower technical requirements than Ableton, Reaper's outdated interface makes this DAW a less attractive option for professional musicians.
Audio recording and editing features
Creating a recording of a real or virtual instrument with Reaper doesn't require too much effort, as you just have to click on the red button to prepare the software for a recording session and then click on the Master Record button when ready to start the session.
You should keep in mind that Reaper doesn't come with built-in virtual instruments or loops, but there are plenty of plug-ins for this DOW you can install for free. VST3, JS, or Direct X are among the plug-in formats Reaper supports.
The software lets you use a variety of monitoring effects so that you can keep track of the input audio. Reaper can record several audio channels of live instruments at the same time, which enables you to record an entire band provided that you have the necessary equipment.
After you're done recording, you can do virtually anything with your material because Reaper offers a versatile set of audio editing tools. Quantization of the MIDI data is not possible unless you load the piano roll.
Melodies, sample beats, or harmonies you record in Ableton can be easily turned to MIDI. What's more, you can alter pre-existing samples and recordings freely and use them to create something authentic. Ableton is also famous for its sample warping capabilities which enables you to alter a song's rhythmic flow or rearrange the notes.
Unlike other professional-grade DAWs that only let you apply automation to audio tracks, Ableton allows you to add automation directly to clips. In addition, it takes a single click to gain access to the automation data and you can also use the keypad to insert new values.
Rearranging the clips, nesting several levels of track groups, or using keyboard shortcuts are just a few among countless editing features Ableton offers. Furthermore, you can use the Ableton Push hardware controller to adjust waveforms or perform any other complex audio editing task.
Correcting the pitch or composing several takes is not something you can do in Ableton, while the DAW's MIDI editing options remain limited. In terms of audio recording and editing both DAWs have a lot to offer, and which one is a better choice for you depends on the genre of music you want to produce.
Check out how Reaper compares to:
Mastering and mixing songs
With the collection of 3,000 instrument sounds, 390 drum kits, and 4,000 royalty-free loops, Ableton is easily one of the best DAWs for mastering on the market. However, you should keep in mind that the amount of available sounds and effects depends on the package you have.
A pedal effect for classic guitar distortion, the Wavetable dual-oscillator, and dual-filter synthesizer that is equipped with a modulation matrix or echo tape-delay box are among the features you can use while creating your music in Ableton.
Furthermore, the DAW grants you access to an impressive amount of acoustic material and a rich orchestral library, which enables you to experiment with different genres of music.
In case you need more than Ableton's built-in mastering features have to offer, you can find lots of plug-ins, while the Cycling 74 modular Max that features a variety of different virtual instruments and audio effects is directly integrated into the software.
Ableton's mixer is not impressive, but it is still powerful enough to create a perfectly smooth mix. The Channel EQ, gate and compressor displays feature graphs which makes it easier to spot mistakes.
On the other hand, Reaper's mixer contains all standard options so that you can quickly mute or pan an audio track. This DAW also lets you group tracks and track parameters within a signal chain or generate multifaceted routing schemes.
Automation for all tracks, instruments, and effect parameters is available and you can freeze or bounce tracks during the mastering process. Reaper is equipped with Rea VST effects that extend the scope of its capabilities.
ReaTune effect can be used to fix the vocal pitch, while ReaVerb lets you create a realistic convolution reverb. Despite having a lot to offer Reaper is still not a better option than Ableton if you are looking for a DAW you can use for mixing and mastering purposes.
The price difference between Reaper vs Ableton
Both Ableton and Reaper offer free trials since you can use Ableton for 90 days free of charge or Reaper for 60 days without having to spend a cent. The only difference is that you have to purchase one of the Ableton's packages after the free trial expires, while you can continue using Reaper for free even after the free trial period is over.
In case you decide to purchase the license to use Reaper you will be able to choose between a Discounted license that costs $60 and a Commercial license that costs $225.
Although both of these licenses enable you to install Reaper on multiple computers, using the software from several computers simultaneously is not possible. There are three different editions of Ableton to choose from. The Intro version is the least expensive and it can be purchased for $79, while the Standard and Suite versions cost $349, 00, and $599, 00.
Purchasing the Reaper's Discounted license will get you a wider set of audio recording and editing tools than the Ableton's Intro version that offers only a fraction of the DAW's full potential.
Comparing the Ableton's and Reaper's audio recording capabilities
DAW's audio recording options are not equally important to all types of musicians. Electronic music producers don't often have to record multiple instruments simultaneously, while the opposite is true for the bands that work with live instruments.
That's why the choice between Ableton and Reaper comes down to the type of music you want to produce. In case you are looking for a DAW that lets you record several guitars at the same time, then Reaper is a more reliable option.
Its multichannel recording options on separate audio tracks enable a five-member band to work together, while the software's comping capabilities make combining several different takes easy.
All comping in Ableton must be done manually, and you can only record one instrument at the time, which makes this DAW better suited for electronic music producers who work with fewer live instruments.
Pros and Cons
Ableton Pros
Offers an unlimited number of audio tracks

Modernly designed and customizable interface

Rich sound and effects collection

Integration with Cycling 74 modular Max extends the DAW's selection of virtual instruments

Ableton offers 17 MIDI effects

Offers complex warp modes

Automations can be applied directly to clips

Compatible with Ableton Push hardware
Ableton Cons
The Pitch Correction tool isn't available

Comping tracks isn't possible

Pricey

No multi-track recording options
Reaper Pros
Excellent multichannel audio recording capabilities

Compatible with a broad range of plug-ins

Low technical requirements

Customizable to the user's demands

Free to use even after the free trial period expires

Remarkably stable and fast

Features a collection of Rea VST audio effects

A well-rounded mixer
Reaper Cons
The interface looks outdated

No built-in loops or virtual instruments

You cannot quantize MIDI data before you open the Piano Roll

No EQ, compressor or gate graphs
The best alternatives to Reaper and Ableton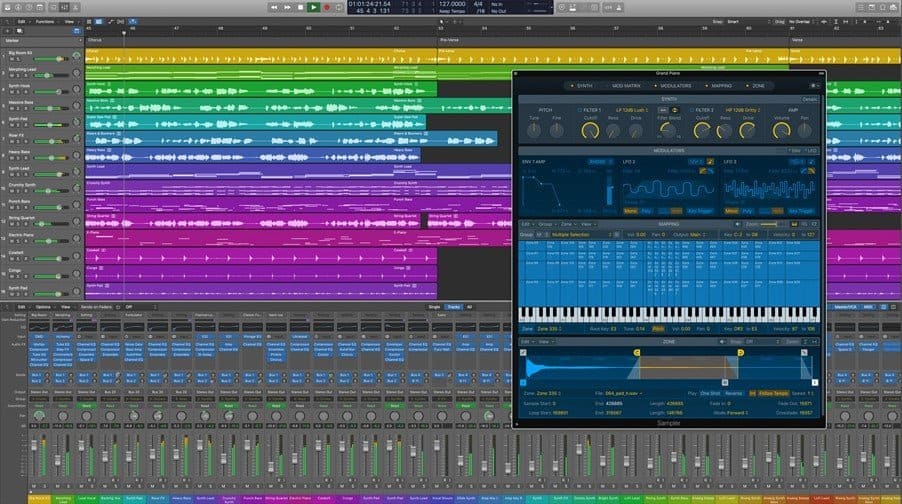 Ableton and Reaper are far from being the only DAWs you can use to record, mix, or edit your music. Here are some of the best alternatives you can find on the market
LogicPro
Multi-touch mixing, a large selection of virtual instruments, or the state of the art Step Sequencer are just a few among countless features Logic Pro has to offer. DAW also lets you use a broad range of DJ effects that fit perfectly into your mixes.
The Drum Machine Designer enables you to build electronic drum kits with ease, while the Drum Synth plug-in lets you customize different types of drum models. LogicPro is only compatible with macOS, but the software can be paired with iPhones and iPads if you want to play different virtual instruments.
Furthermore, the Alchemy sample-manipulation synthesizer features a library that contains more than 3000 sounds. LogicPro is probably one of the most powerful DAWs you can get although it is aimed only at Mac users.
Cubase
Besides being one of the most powerful DAWs ever created, Cubase is also one of the oldest software packages for music creation. Unlike Ableton, Cubase grants you access to comping features so that you can combine several takes into a single recording effortlessly.
Its mix console that resembles analog consoles can be controlled from the keyboard which gives you more precision during an audio recording session. In addition, you can organize your workspaces in order to increase your efficiency and have quick access to the settings you need.
Cubase is equipped with a variety of tools that simplify the process of composing a tune, as it gives you access to a chord track, chord pads, and a score editor that shows you the notation of the song you're working on.
ProTools
This DAW lets you create recordings on 768 audio and 1,024 MIDI tracks in stunning 24-bit and 192kHZ audio quality. In addition, ProTools enables you to layer sounds, nudge notes, or transpose entire sections of your songs.
This DOW has more than 5GB of built-in sounds which enables you to find the beats or piano tones that fits perfectly into your project. ProTools' editing features are impressive since you can fix pitch and timing, comp several takes together or change the tempo of the entire session.
The software lets you isolate instruments, automate pans or plug-in settings and freeze tracks to optimize the playback. What's more, if you purchase ProTools you'll have access to more than a hundred plug-ins and you'll get the UVI Falcon 2 virtual instrument.
The Verdict: Does Ableton have more to offer than Reaper?
Ableton and Reaper are undoubtedly some of the best DAWs for aspiring and professional musicians that will make any home studio better. The choice between these two DAWs comes down to the genre of music you want to create, since Reaper is better suited for live music recording, while Ableton is better adjusted to the needs of electronic music producers.
Ableton's lack of comping and multichannel recording options doesn't impact the musicians who predominantly work with virtual instruments, but can be a major downside for composers who prefer to record live instruments. Reaper is also much less expensive than Ableton, so if you are looking for an inexpensive DAW that doesn't require a lot of processing power to run smoothly, Reaper is the right choice for you.
Ableton is a great choice for all music producers that want to have access to a large sound collection or apply automation directly to clips. Follow this link to find out how Reaper compares to Audacity.
FAQs About Reaper and Ableton
Can I use virtual instruments in Reaper?
There are no built-in virtual instruments in Reaper, but there are lots of free plug-ins for this DAW that enable you to use different types of virtual instruments.
Does Reaper support video file formats?
Video files that are imported into Reaper are displayed as the waveform of the video's audio. You can import any video file format into Reaper since the software is using the VLC playback engine.
Is there a free version of Ableton?
Ableton offers only a 90-day free trial, and you must purchase one of the available software packages after the trial period expires.
How to load plug-ins into Ableton?
Select the Preferences option from the File menu and then head over to the File and Folder tab. Choose if you want to use AU or VST plug-ins and proceed to click on the Rescan button.
Conclusion
The choice between Ableton and Reaper is certainly not an easy one, since both DAWs have a lot to offer to musicians who like to work with virtual and live instruments.
Reaper is a more affordable option that doesn't require you to have lots of storage space or processing power and it enables all of its users to create professional audio recordings. Ableton features a great selection of virtual instruments, loops, and sounds, which gives you versatility during the process of making a new track.
We hope that this article has helped you solve the Reaper VS Ableton dilemma. Which of these DAWs are you going to choose? Leave a comment and let us know or click here to find out more about ProTools and LogicPro DAWs.
Jodie is a trained classical guitarist. She is also a full-time blogger and loves to write about different types of guitars. Just give her 60 seconds of your time, and she'll tell you all that you need to know about any guitar of your choice.