A guitar you can take anywhere without fear of the elements is a must-have. I discovered that a beater guitar solves the problem. Having owned a bunch, I will help you find out what are the best beater guitars for you.
The thought of having your expensive main axe in the wilderness or laying in a hot trunk for days hurts even the most adventurous musician. Even at home, I can't leave my Strat lying everywhere as not everyone from the family is as careful as I am with it.
Bottom line up-front: Beater guitars will save you a lot of worry and money for possible guitar damage. The best part is that there are so many choices of beater guitars at a low price that you can find any possible guitar shape and style.
Keep in mind that there is no one-size-fits-all for the best beater guitar. You choice depends much on your lifestyle and playing style. Every player's needs are different.
Some need a beater guitar to take on holidays, others a power horse to tour the world. I have needed both in my career and will guide you towards the best beater guitars you can buy today.
Top Picks at a Glance
Orangewood never fails to deliver impressive guitars at an affordable price. Each of their guitars could be a great beater.
For a price of a starter guitar, you can get a good-sounding acoustic with a pickup installed. You never know when you might need to plug in your guitar for a jam.
For Strat shape lovers, the Squier is the best low-cost version you can buy. It's still a Fender, sot it can take a beating and sound as you'd expect.
Harley Benton is one of the most underrated brands of affordable guitars. This particular guitar is a fine instrument for all rock and metal musicians.
What is a Beater Guitar?
Put simply; a beater guitar is a guitar that can take a bump without the owner suffering a mini heart attack. They are easy to replace but play a crucial role in practicing and having fun.
As terrible as we all feel when a guitar gets damaged, sometimes there's no other option but to accept that. In this case, it's better to have a solid, affordable guitar. The possibilities are many, yet all beater guitars have some typical specs.
A beater guitar doesn't have to be a poor instrument. Depending on your budget and with some research, you could find an instrument that plays well, and even sounds good.
On the other hand, there are guitar heroes who played some of the most iconic solos and toured countless times with the same beater guitar.
Why Have a Beater Guitar?
Apart from campfire nights when the guitar is needed, staying without playing for too long can affect a guitarist's mood and skills.
As a professional musician, I need to keep my chops up continuously. A beater guitar that stays in my camping tent, car, or hotel room during weekends is a must. Even as a casual player, I always had a guitar I could rely on special occasions.
I keep a guitar in the car during the summer just in case I forget to bring one. A holiday is not the same if I can't play for the joy of it on a hot summer night.
A beater guitar is very handy and avoids damage to your main one. You can't leave your expensive Gibsons around pets or kids out of the case, but you can leave a 200$ Squier. It won't cost much and won't need regular repairs. A slight freet buzz is not an issue when playing chords for fun.
Orangewood Rey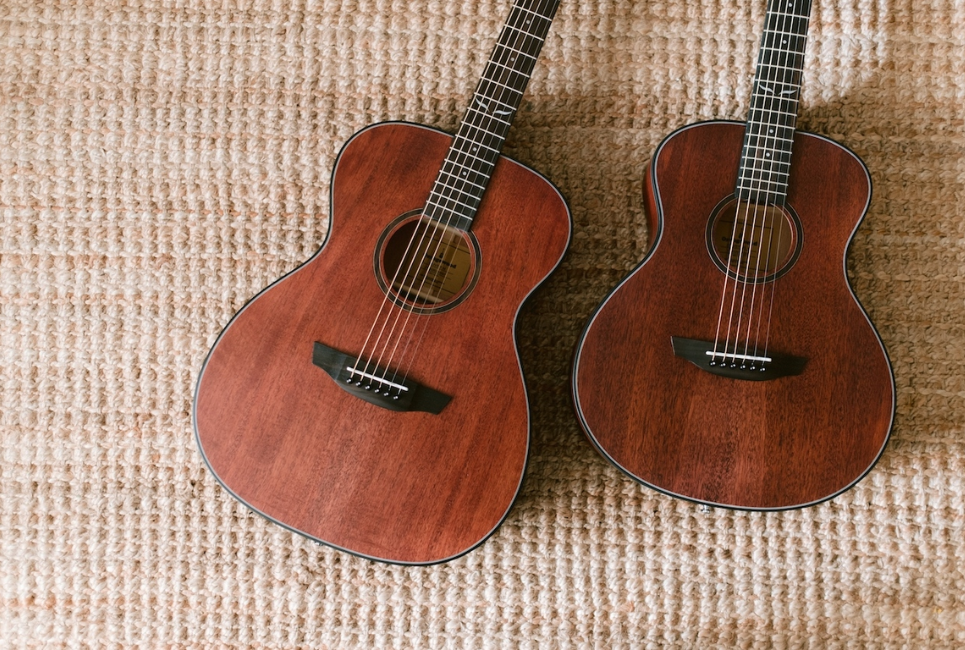 This guitar is probably one of the best for under $150. It's hard to even think of a more solid guitar for the price. As such, it makes a perfect beater guitar.
Surprisingly the parts used on the guitar are not as cheap as you'd imagine. The tuners feel great, the neck plays well, and tuning stability is decent. There's not much more you can ask from a beater guitar at this price.

On the other hand, the tone suffers from the lack of quality tonewoods. It's not rich yet balanced enough with some mid-range punch. I have played guitar for double the price; that sounded way worst.
Orangewood Rey Pros
Strong built

Decent tonewoods

Classy finish and look

Excellent price
Orangewood Rey Cons
Lack of low-end the tone

The included gig bag is poor
Want to learn more about this guitar? Check out our comprehensive Orangewood Rey Review.
Epiphone J-15 EC
I added this Epiphone for when you need a Beater guitar to jam or play a small club show. It has a reasonably big body and sounds good enough for any campfire singing or fingerstyle playing.
The tonewoods used are my favorite thing about the guitar. Select Spruce and Mahogany are not as good as the solid-aged versions of the woods but still impressive for the price. The result is a balanced tone with enough mid-range. It can take a hit and be fun to play on the couch.
The guitar's acoustic pickup system is ingenious and more reliable than the common under-bridge piezo for this price range.
Epiphone J-15 EC Pros
Decent Tonewoods
Loud and balanced tone
Built-in pickup
Epiphone J-15 EC Cons
No gig-bag Included

Harder to carry on due to the body size
Squier Affinity Series Stratocaster
A Stratocaster type is a must-have for most rock guitarists. The extra versatile electric guitar can fit into most genres and please most players' needs. The affordable Squier version will not give you the same sound and feel but will go very close.
The pickups on this Squier sound surprisingly similar to a US Stratocaster. The neck position has the sweet woody attack you'd expect. It won't be as versatile as a Stratocaster or offer the same reliability or playability.
Stratocasters are known to be strong guitars. Squier is still a branch of Fender, so you can rest assured it will take a beating.
Squier Affinity Series Stratocaster Pros
Vintage Stratocaster look
Good Neck Pickups
Versatile for a beginner guitarist
Decent tuning stability
Good price
Squier Affinity Series Stratocaster Cons
Harsh-sounding bridge pickup

No gig bag included
Harley Benton SC-DLX Gotoh Daphne Blue
Harley Benton is a brand that has a way of making cheap guitars feel much more expensive. My first electric was a Harly Benton that I still have and successfully turned into a beater.
This guitar is focused on more technical players that won't take their expensive Ibanez or Gibson out of the case unless some serious guitar work is due.
The Les Paul shape with the two pickups sounds as good as it looks. It won't compare to a Gibson Les Paul but is a very close match to any Epiphone. Think of it as a cheaper Gibson.
Harley Benton SC-DLX Gotoh Daphne Blue Pros
Versatile rock guitar
Coil-Split humbucker pickups
Easy to play C-shaped neck
Harley Benton SC-DLX Gotoh Daphne Blue Cons
Not very articulate when using distortion

It's a relatively heavy guitar
How to take Care of a Beater Guitar?
Like all instruments, a beater guitar needs some care if you want it to last long. It's better to avoid damage than to repair it.
Purchase an Excellent Gig Bag
A good gig bag is the best favor you can do to yourself and your beater guitar. Don't settle for a poor one, as it will short the guitar's life and will probably be a pain to carry around.
Know how to Transport it
Don't just throw the guitar anywhere. Avoid scorching places and never put anything on top of the guitar. Temperature changes might shrink the wood and make the guitar unplayable.
Take Care of it in Nature
Never take the guitar in nature without taking the gig bag. The worst thing I ever did to my beater guitar was leaving it on the beach unprotected. The soundhole eventually filled up with sand, and I don't think I ever got it all off.
It's not for Everyone to Handle
It's always good to have others playing your guitar, but you should not let them handle it without care. Picking it up from the strings or the headstock are things my non-guitar player friends do if I'm not careful and let them know they shouldn't
Change String when You Have to
Some players like the warm, bassy tone of old string. However, the guitar won't sound as good as it can when they get rusty and rough.
Occasionally Take it to a Luthier
A new nut, a setup, and some fixing up are inexpensive things that make much difference. If Willie Nelson took the half-destroyed Trigger to a luthier after 50 years, so can you!
Alternatives to Buying a Beater Guitar
My history with beater guitars is an odd one. Even though I now recommend getting a guitar for the role, I sometimes did the opposite of finding an affordable, sturdy instrument.
I started needing a beater guitar when I was old enough to travel around with it. The first old classical guitar I started playing fit the role perfectly. It was always there, either for fun or for the need to practice.
When I started playing with bands and bought better guitars, I refused to carry a guitar anywhere apart from the stage. The thought of them taking a bump was too much for me to handle.
Later, when I had to go on a long solo trip, I had no choice but to find a solution. My solution was expensive but successful.
I purchased my Martin D-18 as my main acoustic guitar and turned my previous main instrument into a beater guitar. As a professional musician, I needed a good-sounding and easy-to-play guitar even when not on stage.
Even though getting my hands wet on the beach and playing my Washburn hurt at first, it was way better than my first classical guitar. The better I got a guitar, the better I wanted even my beater ones to be.
Consider a Travel Guitar
The other option is purchasing a new Travel mini guitar. Travel guitars are often used as beater guitars, even though they don't always fill the same roles. There are some pros and cons to using them.
Travel Guitar Pros
Great for carrying a round, especially on a plane

Excellent for long trips, especially backpacking

Suitable for children and people with

small hands
Travel Guitar Cons
Not much volume and tone

Often not very sturdy if affordable
Good travel guitars are expensive and rarely sound as good as an affordable big-body instrument. If you don't travel much and only need a home-bound beater guitar, there's not much point in purchasing one. On the list of best travel guitars, I chose two good examples.
Orangewood Dana – Affordable Travel Guitar
As with the Orangewood Ray, this guitar's build quality is impressive. It passes the test of playability and is small enough to fit anywhere.
The best part is the price, while the downside is the lack of a rich tone. I'd also recommend this to any child just starting to play.
Taylor Baby Mahogany BT2 Acoustic Guitar – Best Sounding Travel Guitar
Travel guitars generally share the same cons due to the small size. The only way to compensate for that is to use highi quality material as Tayld did with the BT2.
This guitar can not only handle a beating at home or on the road but please you with the decently rich tone. It's not cheap, so consider it only if you travel much.
Legendary Beater Guitars
The history of rock is full of iconic flashy instruments. Some guitars became iconic not because they were flashy but because they were overused and beaten enough to build a character.
Eddie Van Halen's Frankestrat

The most famous beater electric guitar is undoubtedly Van Halen's Frankestrat. The homemade chimera of Stratocaster parts was Eddie's main guitar for most of his career.
One volume control and two hot pickups were enough for Eddie to revolutionize rock guitar. It's said he even installed a fake pickup switch on the guitar to confuse guitarists who wanted to copy his tone. "Eruption" and everything that came after was recorded and played with this guitar.
Countless hours of playing shows turned the already makeshift instrument into a rough, primitive workhorse.
If you want an iconic instrument to play daily on the studio or stage, you can purchase a signature model with the original specs. It's expensive but justifies the price.
Check out the following guide to learn more about Van Halen's Frankestrat.
Nunno Bettencourt's Washburn N4
The next beater guitar that changed rock in the 80s is Nunno's Washburn N4. Inspired by Van Halen, young Nuno had a guitar build with the most straightforward specs and looks. No paint, no tone control, rough rock tone, and an easy-to-access neck are what make the N4 unparalleled.
Unlike the Frankestrat, Nuno still uses this same guitar model for almost everything he does. He never changed the pickups or modded the guitar, which by now is unmistakably tied to his funk metal groovy virtuoso playing.
The N4 is Washburn's best guitar, and as such, it's expensive. I recommend it to any rock guitarist who wants an ultimate axe for rhythm and lead.
Willie Nelson's Trigger
Willie Nelson took the idea of a better guitar to the extreme by copying a large hole near the bridge. Named after Roy Rogers' horse, Trigger has been Willie's main guitar since the 60s.
The Martin N-20 is one of the only 20 instruments produced for this series. After trying many guitars, Nelson picked it up as his favorite and didn't give up on it even after a hole was formed by the pick hitting the wood.
The guitar developed its unique tone and road-worn look from thousands of shows he played in his long 50+ years career.
The Trigger is not a guitar you can buy, or even one I recommend you imitate! It would be tough to replicate the look without ruining the guitar.
FAQs
Question: What Brand Has the Best Beater Guitars?
Answer: Usually, it would be best to look for affordable brands like Squier, Epiphone, Harley Benton, Yamaha, etc. Big brands offer expensive instruments, even when they are used.
Question: How Much Should I Pay for a Beater Guitar?
Answer: There is no set limit, yet Irecomed you spend more than $150-$200 on one.
Question: Can I Play a Show with a Beater Guitar?
Answer: If it plays well, sounds good enough, and doesn't have any intonation issue, then you can fore sure play one stage with a beater guitar.
Final Thoughts on Beater Guitars
The time will come when you will need a beater guitar. It's better to act now and save yourself the trouble of repeating your favorite instrument. A few hundred dollars could save you that same amount on repair while giving you an extra instrument.
The two things to keep in mind are considering your budget and ensuring you are not over-abusing your beater guitar.
Latest posts by Altin Gjoni
(see all)