My Top Recommendations
Although different pickups are depending on the installation, budget, and what instruments you intend to use them with. When it comes to the best acoustic pickups, I would recommend blended pickups such as these two Fishman pickups:
I bought my second acoustic guitar without a pickup. After trying out about ten different acoustic guitars in 3 different stores, the one that caught my eye as a bargain for the feel and sound was a Guild D-125, even though it came without a pickup.
This wasn't a big deal for me at the time, and quite honestly, I don't regret my decision because three years later, I fit it with a Fishman Matrix Infinity for about $300 more.
Fishman Rare Earth Mic Blend | Amazon
The Rare Earth Blend features a humbucking pickup with a miniature electric condenser microphone prewired. The benefits of combining a string-sensitive pickup with an internal microphone are well known among professional musicians.
Buy at Amazon
Buy at Sweetwater
We earn a commission if you make a purchase, at no additional cost to you.
09/29/2023 09:36 am GMT
Bottom Line Up Front
Acoustic pickups are split into different categories, from transducer pickups to piezo pickups, microphone pickups, and a mixture of more than one type. This blend pickups usually deliver the best result with minimal feedback, so I would go with the Fishman options of these brands. If your budget can´t reach that, go for soundhole pickups, that require no installation and can be found for under $100, like the Fishman Neo-D pickup.
The biggest challenge when buying an acoustic guitar pickup is finding the right fit that does not distort or output unwanted noise and, at the same time, delivers the best quality your acoustic guitar possibly can. In this sense, it is necessary to consider the different pickups that we can install.
They vary on the ease of installation and final sounding output they can deliver. You should consider why you want your guitar amplified: Is it just for gigs, busking, or playing at home? Or is it to have a decent option for recording your acoustic guitar into a DAW?
There are various techniques for recording acoustic guitar, some of which I'll go over later on, but most of them usually involve specific micing equipment and correct placement.
Acoustic Guitar pickups fall under these several categories: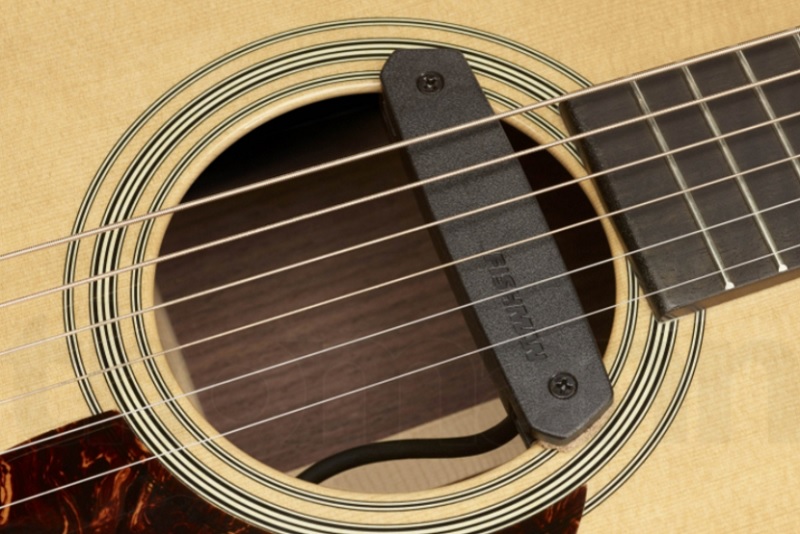 Soundboard Transducer Pickups
The most basic acoustic guitar pickup is the soundboard transducer, which is glued to the face of the guitar to pick up vibrations through the top. They are usually attached with a non-permanent adhesive, which means installation tends to be the simplest of all pickups while removing the device is just as easy.
The transducers tend to lower sound quality and volume in the lower price ranges of acoustic pickups. Therefore, they are ideal for smaller gigs, where the demands are not the highest.
Piezo Pickups
One of the most common acoustic pickups is the piezo pickup. They are made of thin strips of sensory material, which, as the name implies, sit directly under the bridge, picking up the pressure changes produced by string vibrations. Unlike a transducer of each resonance, the piezo pickup is generally not visible.
Undersaddle pickups offer a very bright and prominent sound, i.e. they are very focused on capturing the sound of the strings (not the ambiance). Therefore, it is particularly good for the fingerstyle and classical guitarist, as it picks up a very bright sound – with more punch and presence than resonance transducers. And little feedback problems. However, these pickups are prone to offer a slightly brittle sound.
Soundhole Pickups
Introduced in the 1960s, this style of pickups has not lost popularity over time because they are affordable versatile, and their installation is simple and can be easily removed. As the name implies, this pickup is placed through the soundhole under the strings. While all models are different, most will have magnets and coils that produce sound like a standard electric pickup for an electric guitar.
The advantage of being placed directly under the strings is that they provide a clear and crisp sound, with a pleasing warmth that is just right. Their disadvantage is that they can produce an overall sound that can appear somewhat artificial. In addition, feedback can also be a problem with single-coil versions, although humbuckers are available, but usually at a higher price.
Microphone Pickups
Many guitarists share the opinion that internal mics are the best way to amplify the sound of an acoustic guitar naturally. However, they come at a higher price. These pickups are mounted inside the guitar's body and pick up vibration from a larger area of the instrument, delivering a more natural timbre that captures the warmth and detail of any acoustic guitar chord. However, these pickups do have some disadvantages, such as feedback.
But the microphones can be easily adjusted and corrected, especially in a quiet environment. On the other hand, installation can also be tedious and is often best left to a professional.
Guitar Microphones can also be part of a mixed or hybrid system, including a fuller sound.
Mixed Pickups
These blended systems mix and match some previous options, usually a blend between a microphone pickup and a piezo pickup. This is a great option for many guitarists. Blending these two options gives a sweet spot for low-end and cavity resonance, controlling feedback in concerts or loud venues.
I love the sound a microphone pickup can bring out, and if you have a high-end guitar, this is the option that will make your guitar shine the most. Having the piezo pickup too can provide just enough brightness without making the tone of the guitar sound too sharp.
Best Acoustic Guitar Pickups
Selection Criteria
These pickups are the ones I would recommend taking into account
Price to sound quality ratio.
Build quality.
Ease of installation- which also depends on the type of pickup.
Reliability of the brand.
The Seymore Duncan Woody Series is a magnetic soundhole pickup- you can easily mount it within seconds onto the soundhole of your guitar. It is a vertical humbucker and has a warmer sound than placing a single-coil one. Its wooden housing gives it a sweet aesthetic, although I prefer black piezo pickups if it's going to cover the soundhole.
Moderate output, hum-canceling with maple top and double winding. The tone is warm, ideal for strumming and delicate fingerpicking, and includes a studio-quality cable. Being a magnetic pickup, it does not work with nylon strings. If your budget is under $100, this is a great option.
Pros:
It fits into the soundhole very well and has very little noise to sound ratio.
Seymore Duncan is a very reliable brand and has good pickups in all their range, even for electric guitars.
Cons:
The wire is a bit thin, might be a bit brittle.
Very present high-end, and the output is not that great compared to other microphone or blend pickups.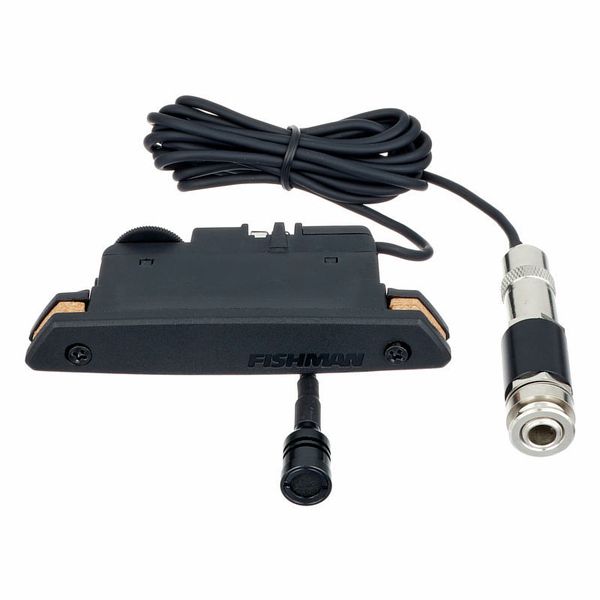 This will set you back about $180, but it's well worth it. There is no need for any complicated installation; it's a blend of a humbucker magnetic pickup and a flexible cardioid microphone.
It is an active pickup- which means you will have to use a battery (which boasts 100 hours of duration), which gives this pickup a perfect balance between ease of use and sound quality.
You can also feed both signals separately, the mic to monitors and pickup to FOH, which reduces the possibility of feedback in full-on live shows. I know many guitarists who have set this pickup permanently in their guitars and have no regrets.
Fishman Rare Earth Mic Blend | Amazon
The Rare Earth Blend features a humbucking pickup with a miniature electric condenser microphone prewired. The benefits of combining a string-sensitive pickup with an internal microphone are well known among professional musicians.
Buy at Amazon
Buy at Sweetwater
We earn a commission if you make a purchase, at no additional cost to you.
09/29/2023 09:36 am GMT
Pros:
Pickup wired in stereo, though it works with a mono jack, too.
You can adjust the amount of magnetic and mic signal.
Mixing in the mic signal with slightly less output than the magnetic one will give you that presence without risking much feedback or on stage problems.
The sound is spectacular.
Cons:
The battery installation is a bit flimsy, and I had problems changing the battery every now and then if I didn´t take all the strings off the guitar.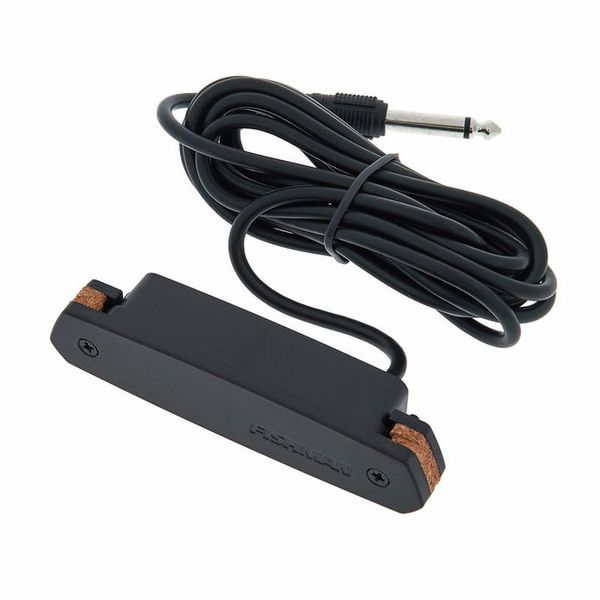 This would be the Rare Earth Mic Blends budget-friendly option, and overall one of the cheapest options on this list, especially the single-coil version of this Fishman Neo D.
It has a decent level of signal to noise ratio and a straightforward setup (just fit into your soundboard and you're ready to go!).
It's a passive pickup, so no worrying about batteries. However, the output level is considerably lower, so for live gigs and anything that's not quite scenarios and such, I wouldn't recommend it as much.
Pros:
It´s quick and easy installation.
The cable, though flimsy, is quite long.
The humbucker version sound good, and with EQ or a DI sound loud enough
Cons:
Output is a bit limited, cable runs through the front, so if you are playing standing up you have to be careful about not tugging it or tripping over it.
If it were detachable it would be a huge plus.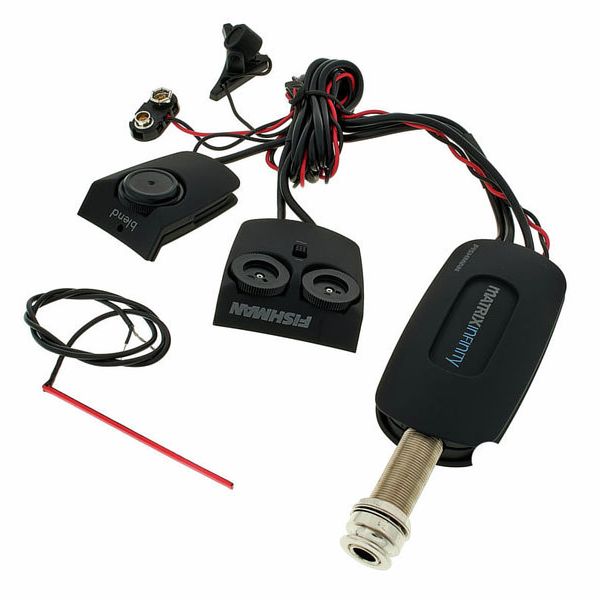 This must be my top pick. The one I installed in my acoustic guitar and couldn't be happier with. It has gone down in price because back in the day I had it fitted and it cost me around $300. Now it's around $228, so even more impressive.
This blend is a microphone pickup that goes inside and picks up resonance very well (my Guild is made of caoba wood and its low-end resonance is uncanny), with an under-saddle pickup, which blends in the high end, and details very well.
The battery holder is placed inside the guitar, out of sight, and the preamp tone knobs are just inside the soundhole, with volume and tone controls.
I would recommend a professional to install this correctly in your guitar. It also comes with stereo output, depending on which cable you route to the jack output.
Pros:
Stereo output blended between two excellent pickups.
The blend with the piezo pickup sounds pristine and very clear.
It has good output, and hardly any apparent changes to your instrument once it is installed, something that I appreciate very much.
The tone and volume control are neatly hidden but very accessible.
Cons:
The installation is quite complicated so you´ll probably have to get a professional to do it.
The price is quite hefty for an acoustic pickup too.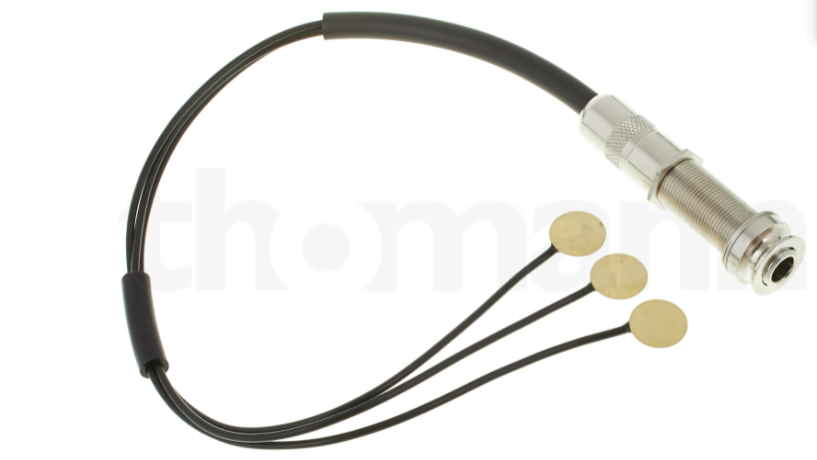 I have no transducer pickups on the list because I prefer any others over them, from my experience. They do have one very pro, though- they are reliable and fit many different instruments, not only acoustic guitars.
You can place them in a banjo, ukelele, etc. With the Pure Mini and the three different passive "pickup patches", you can get very different results depending on where you place them.
This is why is recommendable to first try to find your instrument's "sweet spot" and fine-tune the placement for the best results. You only have to widen the output to fit the jack output, and bob's your uncle.
If you consider this for home practice or intimate shows, it will get you by, but not for concerts, as the reverberation from the stage will muddy up your sound.
Pros:
With hardly any installation, you can get a very decent sound, although not as bright as a piezo or under saddle pickup. It is, however, very much like a microphone pickup, with a good full tone.
Slightly changing the placing of the pickups can get you a different sound if you wish.
No preamp, so you´ll have to take the output directly to a DI to amplify it properly.
Cons:
Feedback may be an issue with this pickup if you plan on playing venues or loud gigs.
It also may pick up unwanted sounds like bumps to the body itself.
What about The Preamp?
Many acoustic guitar pickup systems come with a preamp included, allowing you to shape the guitar's sound directly. These controls can range from essential volume and tone knobs to more complete and advanced systems, including individual EQ sliders (bass, mid and treble), blend controls (if you have two different pickups), feedback controls, digital tuners, and even effects.
While the simpler systems are usually tucked into the soundhole, the more advanced preamps tend to be placed on the side of the guitar in the form of a control panel or as an external accessory.
If the pickup you like doesn't come with a preamp, don't worry. You can buy it separately and fit it in sat the same time as the pickup.
Although you can have the preamp fitted into your instrument, my advice is that, if it's not already fitted, don't bother with doing it yourself or at a later point like in this previous video.
You are cutting out a piece of resonant material, which will always take a toll on how the instrument sounds. There are plenty of good "external" and portable preamps that are fantastic, which I'll mention now: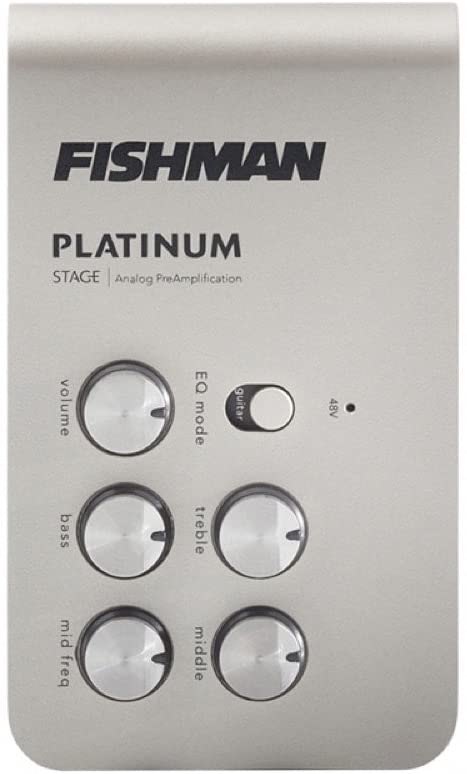 This preamp has an XLR DI output that sounds terrific. It suits double basses, fiddles, or ukeleles- not only acoustic guitars.
It has a belt clip-on system that makes it very portable, with a class-A preamp system. EQ settings include bass, treble, and variable mid freq settings.
The boost function may come in handy for live performances, but the most useful setting it has is the Out/In phase switch for mixing pickup settings and managing to get as little feedback as possible.
I've seen this used by countless musicians, and for its price, it has become a must-have for most acoustic musicians.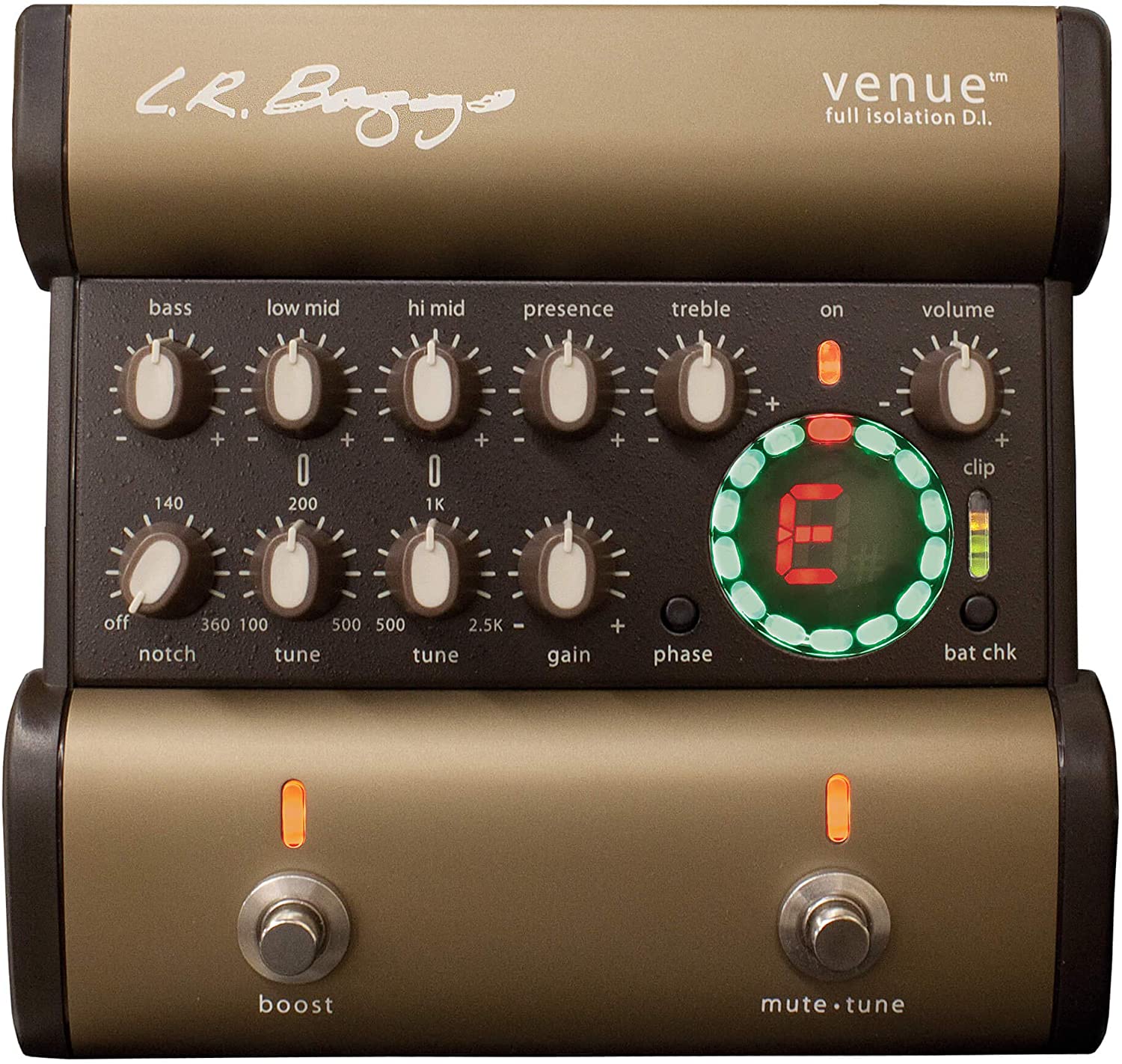 LR Baggs is already a well-known brand for acoustic pickups and their previous version of this pedal. This pedal will set you back nearly $300 but is feature-packed and works as a live-venue pedal for a plethora of acoustic instruments.
It has a volume boost, like the Fishman, as well as the DI box function. Its rugged build makes it great for long-term use, though it may not be as portable as the Fishman Platinum Stage.
It has a 5-band EQ, phase switch, tuner, and even an FX out/in loop option. Many musicians use this with piezo pickups and blend pickups. The notch filter is great for scooping out unwanted frequencies.
What if you only practice at home and want a pickup + preamp for recording?
In that case, although installing a pickup is a decent option, I would argue that the method still has dedicated microphones for picking up your acoustic guitars sound.
Sometimes, the most simple setup is a cardioid condenser microphone to a sound card- which will also solve the problem of recording vocals for singer-songwriters like myself.
I have also tried recording my acoustic guitar's pickup output. Naturally, I prefer to record myself in a room with a condenser microphone (in my case, the AKG C3000) about 0.2m from my guitar's soundhole.
You'll pick up the strumming, feel, and warmth of most guitars in a very effective way.
This one, if you're on a budget, goes for about $150 and comes with the complete setup, pop shield for recording vocals, etc.
It is designed for recording vocals but will do a great job recording guitars and other acoustic instruments in silent rooms.
You'll see most YouTubers out there use this microphone, shining a light on how much of an "industry standard" this microphone has become. It is double the price of the Rode NT-1 A but is well worth it.
From acoustic guitars to great sounding vocal performances, sounds spot on with this cardioid microphone.
It has a swivel mount, mid-boost and bass roll-off switch (something you won't be activating when you record acoustic guitars), and I can't say anything wrong about this beast except for the price tag.
Shure SM7B Vocal Dynamic Microphone | Amazon
The SM7B dynamic microphone has a smooth, flat, wide-range frequency response appropriate for music and speech in all professional audio applications. It features excellent shielding against electromagnetic hum generated by computer monitors, neon lights, and other electrical devices.
Buy at Amazon
We earn a commission if you make a purchase, at no additional cost to you.
09/29/2023 10:06 am GMT
FAQ
Question: What does a pickup do in an acoustic guitar?
Answer: The pickup, that is already installed for example on electric guitars, picks up the vibrations and sound of the acoustic guitar- as the word indicates, all the sound it produces is "acoustic" and converts it to a digital signal that can be output to a jack cable, commonly.
Question: What are the best brands for acoustic pickups?
Answer: The top-tier brands are Gibson, Fishman, Seymour Duncan, L.R. Baggs, amongst others. But there are a lot of lesser-known brands that make great pickups too, don't let that fool you.
Question: Can I add a pickup to my acoustic guitar if it didn't come with one?
Answer: Most certainly you can. I did that. Back in the day, I chose my acoustic guitar for its feel and sound. It didn't have a pickup, so I installed one a couple of years later when I needed it. There are other forms of amplifying an acoustic guitar without a pickup, as I have mentioned in the article.
Question: What is an electro-acoustic guitar?
Answer: An electro-acoustic guitar is a word coined to mention that it is an acoustic guitar that has electronic circuitry- it has a pickup and a preamp installed into it. This will output the sound of an acoustic guitar, not an electric guitar. This wouldn't be a substitute for an electric guitar.
Summary
As you have seen, there are many things to consider when it comes to buying acoustic guitar pickups. I hope all this information has given you a better perspective on how to choose a pickup that suits your style and needs.
Although there are many more, the list I've drawn up is a good starting point. If possible, try the pickups you want to choose, and if not, read some reviews or videos.
As I always say, it's better to invest a little more money in something that will last you for many more years than to cut corners and end up disliking your acoustic guitar's sound or feel.
Latest posts by Taylor Petrie
(see all)