Jimi Hendrix is one of the guitarists who paved the way for the rest of the mortals — cataloged by Carlos Santana himself as the Leonardo Da Vinci of the electric guitar for his innovative capacity ahead of his own time.
Bottom Line Up Top
Jimi Hendrix mainly played Fender Stratocaster guitars, alongside his Gibson Flying V. He relied mainly on Marshall amplifiers, with huge stacks and gain knobs turned up as high as they could go. His effect pedals were his coup de grace, including a Vox Wah pedal, several fuzz pedals, and some other exciting gear too.
James Marshall Hendrix was born in 1942 in the American city of Seattle, and through his veins ran Cherokee blood on his mother's side and African-American blood on his father's side. He started playing the guitar at the age of 12, practicing like any amateur, playing over the music of his Blues idols such as B. B. King. He progressed as a musician thanks to his dedication and perseverance.
After his time in the U.S. Army, he dedicated himself entirely to music and became recognized in his teens as a great blues guitarist in the early 60s. He even played with renowned bands such as the duo Ike & Tina Turner and with one of his idols: B. B. King. Curiously, Tina Turner's mother also had Cherokee ancestry, just like Jimi.
Despite Hendrix's recognized cachet to be able to play with established bands, Jimi needed freedom to develop his own music, and in 1964 he settled in the Harlem neighborhood of New York City. By that time, Hendrix was already able to walk into a club, join an impromptu band, and put on an impressive performance.
A year after he arrived in New York, he created his band composed only by Jimi, a bass player, and a drummer, Jimmy James & The Blue Flames. Although his band was already beginning to be recognized, primarily because of Hendrix's talent, the economic situation was not very favorable.
After the last tour of the United States of the British group The Animals, the bassist of the band, Chas Chandler, attends a performance of Jimi Hendrix at the Café Wha in New York. Surprised by Jimi's virtuosity, he offers to be his manager and to travel to England. The only question Jimi asked him was: will you introduce me to Jeff Beck and Eric Clapton? Chas said no problem, and they both went to England.
The Jimi Hendrix Experience
Chas Chandler creates this talented trio with Jimi and two English musicians on bass and drums. Thus, the band The Jimi Hendrix Experience is founded. Their songs soon reached the top of the British charts. On his return to the United States, Hendrix definitively became a legend after his performance at the Monterey Festival.
And at the Woodstock Festival, no band dared to play after the Hendrix performance. He was the selected artist who drew this mythical festival to closure in 1969, after three days of performances by mythical bands and outstanding musicians.
Hendrix was really an innovator in using techniques to extract new sounds from his guitar and his Marshall 1959 amplifier, together with a Wah-Wah and fuzz pedal. These new sounds, which at that time had not even been imagined, paved the way for guitarists to come.
Jimi was so innovative that he even came up with the famous Dive Bombs. Even doing a couple of these on a semi-floating bridge and losing tuning completely didn't stop Jimi. He would give the tuning a once-over on the fly, and off he went.
Jimi Hendrix: Guitars
Jimi mainly used right-handed Fender Stratocasters, played the other way round. From '66 to '68, basically Strats with rosewood fretboards, but he then switched to maple in October '68, until his death.
His two main guitars from '68 to '70 were a white Stratocaster ( Woodstock) and a black Strat with a white pickguard (Band of Gypsies, Isle of Wight). He bought a cherry red Gibson Flying V with psychedelic patterns in 1967, then a black one in the spring of 1970.
These were used for the softer tunes, such as Red House and Hey Joe. He is also known to have played:
Fender Jaguar on Top Of The Pops in 1967.
A Fender Jazzmaster in '68.
A black Gibson Les Paul in '68
A white Gibson SG TV in late '68 and '69.
Something you should know by now is that Hendrix, despite being left-handed, used the Stratocaster models for right-handed guitar players, inverting the order of the strings (a trick that Dimebag Darrel would also use, but instead of inverting the strings, he would invert the pickup of his guitar).
The string gauge used by Hendrix was 0.10-38, and he would compensate for this thickness by lowering the strings a semitone, which made it possible to do those extreme bending that he used to do in his performances. Hendrix liked to attack his strings with a ferocity that would have had a smaller gauge breaking constantly.
The most popular guitars played to date that Jimi Hendrix used were:
The Custom Shop Flying V is one of Gibson's most famous guitars to date. The guitar was originally black, and Jimi handpainted it himself. Made from Mahogany with a custom neck profile and '57 Gibson Classic humbuckers, he used it during the Band of Gypsys era. It was made famous by Hendrix's performance at the Isle of Wight Festival on August 31, 1970. It featured a Murphy Lab Aged Ebony finish and aged gold hardware.
Recently, there was a reissue of 125 right-handed models created as part of this extraordinary series, handcrafted by the expert luthiers and artisans at Gibson Custom Shop in Nashville, Tennessee, USA. If you managed to get your hands on one, you are definitely a fortunate few.
1968 Fender Stratocaster Woodstock
This is one of the most famous guitars Jimi Hendrix used throughout his musical career. It is a beautiful Olympic white Strat with a maple fretboard and three single-coil pickups, giving it its distinct Fender sound.
As its name says, it was made famous by his performance with it at Woodstock. This guitar was passed on to Mitch Mitchell by Jimi and, later on, got auctioned off several times. Today, you can find it at the Museum of Pop Culture in Seattle.
Silvertone Danelectro "One Pickup"
This is a lesser-known guitar that Jimi played, a 1958 Danelectro Shorthorn 3012. He named it "Betty" after a girl he was seeing at the time, back when he was serving in the military. He used it for his first jams with Billy Cox and other gigs but didn't keep it for long. Legend has it he pawned it to the owner of a club in Nashville and never got it back.
The U models later on replaced the Shorthorn model. It features a very slim neck, a "lipstick" pickup with a three-way switch, and a rosewood fretboard. Danelectro is not known as a colossal guitar brand, but these guitars were said to be very well made.

This Strat was the other of his two favorite starts that he would play in the late '60s until his death in 1970. The "Black One" was seen at the Isle of Wight Fest, the Royal Albert Hall, and the Lulu show.
Rosewood Stratocasters were much more available around that time because Fender only brought maple fretboards back in 1967. Still, Jimi seemed to much prefer maple necks to rosewood.
Jimi's Amplifiers
His set of amplifiers was somewhat reduced due to the limited amount of equipment available at the time, and we find Fender and Marshall as the brands most used by Hendrix in his career.
His sound, as it should be assumed, partly due to the limitations of the time, was based on tube equipment; in his set, we find: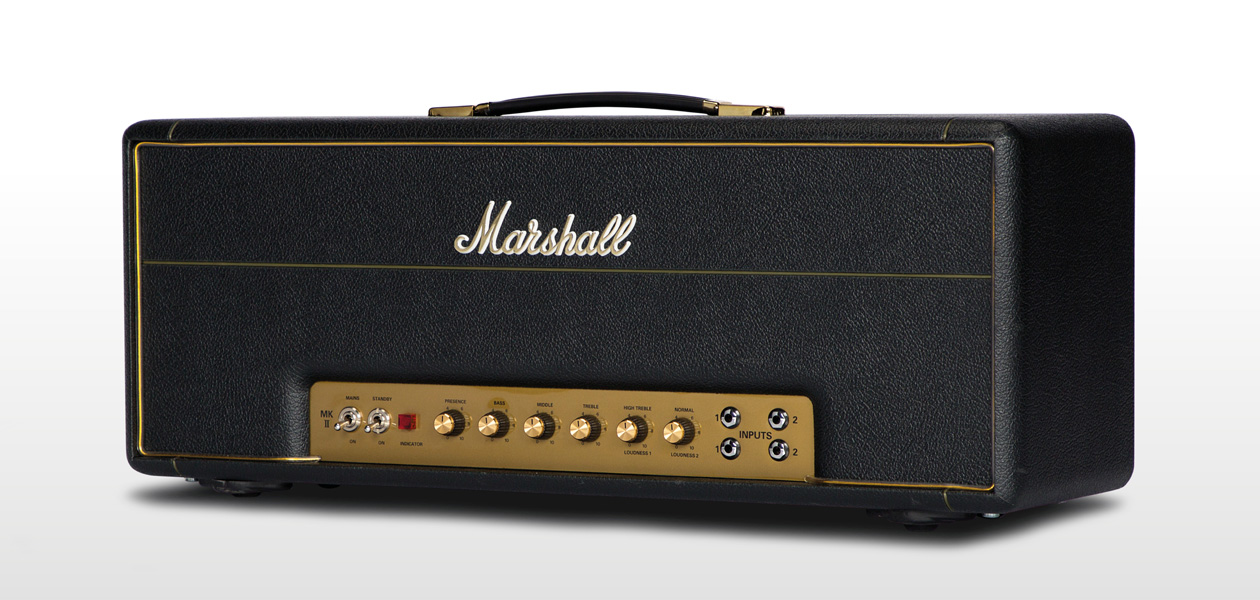 This Marshall super lead, also referred to as a "Plexi" marshall because of its circuitry, is one of the most sought-after amplifiers of the rock genre in the world. You had to blast it out to its total capacity to get the roaring sound that we all love. It was introduced in 1965 and together with the 4×12" cabinets, creates the "Marshall stack".
Packing 100watts with four KT66 tubes, two channels, and four inputs, this amp had what's called a "jumping" mechanism, which would re-feed the signal through both channels simultaneously, for increased gain.
It was described as "huge, frightfully loud and expensive" and my god, they were not wrong. This amp has been used by many of the greats apart from Jimi Hendrix, such as Erc Clapton, John Frusciante, Angus Young, and Eddie Van Halen.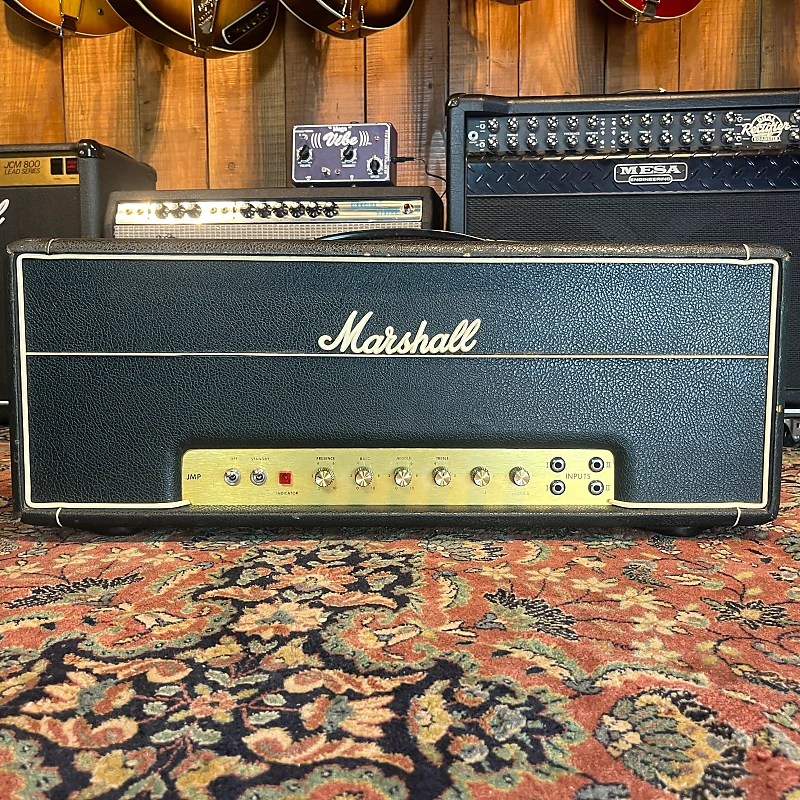 The Fender Showman amplifier is a guitar amp model that was produced in the mid-1960s. After being discontinued, this amp has become one of the rarest and most coveted guitar amps. Adding to the amp's legacy, many of today's top guitarists, like Jack White of The White Stripes, sought after Showman vintage models in their musical arsenal.
The Dual Showman is like the Fender Twin Reverb but with a lush clean sound and without the reverb. It has two instrument inputs and two vibrato inputs for effects loops. Its blackface aesthetic and relatively simple controls make it not that expensive to get even nowadays on secondhand websites.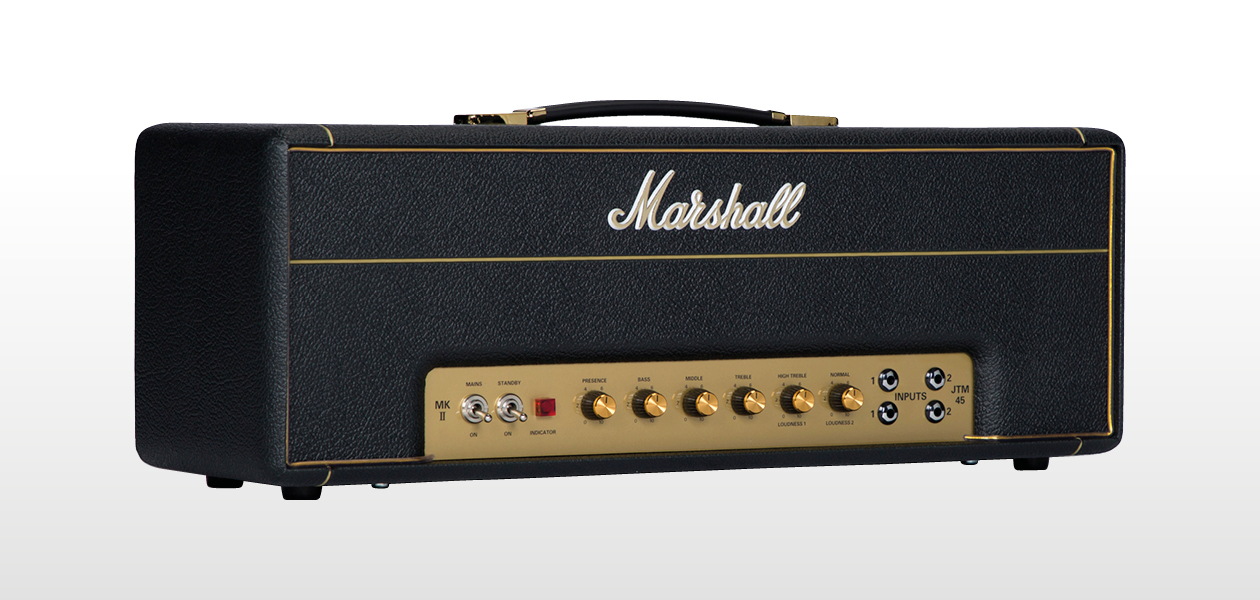 Hendrix used the 100w version of this amp heads, crunched up to the maximum volume that this amp could output. He would stack them with an angled 1982AJH 4x 12" cab and a tall, straight one to ultimately achieve the loudest wall of sound he could get.
This Marshall JTM is a relatively simple amp, like the Dual Showman- this goes to show that his sound was built around pure tube sound and the pedals he plugged into them.
The circuitry in this amp includes KT66 valves and 3 x ECC83 (12AX7) valves. It has two channels and a four band E.Q., the two channels being labeled "high treble" and "normal" inputs. Jimi Hendrix was said to have been in direct contact with Jim Marshall himself, who set Jimi up with all the gear he wanted. Hendrix owned dozens of Marshall amps throughout his short musical career.
Effect Pedals
Jimi Hendrix's sound was characterized by the use of three effects, the Fuzz, the Wah, and the Octavizer. These are a fundamental part of his sound and are necessary for anyone who wants to achieve a similar sound. At the time, many guitarists sought ways to achieve greater saturation in the amplifiers, Hendrix was one of the few who chose the path of the Fuzz.
His set, although simple, was enough for him to make guitar history. One wonders what he would have accomplished with all the equipment available to us today- or maybe the fact that he was such a determined player that having the odds against him made him that perseverant.
We find a plethora of pedals that he adds and removes from his chain signal throughout the years. Amongst others, we can find:
This Ubiquitous Wah pedal is hand-wired, with an excellent build and great looks, and a price that might be a bit prohibitive for most guitarists. The original one was used by Jimi Hendrix at Woodstock, and today the closest thing you can get to it is the H.W. reissued version.
It's quite a straightforward Wah pedal, but if you have tried other Wah pedals before, you'll find the smoothness of this pedal to be very satisfactory.
This pedal that uncannily resembles a spaceship or the exhaust pipes of a vintage American car, was used on Purple Haze and Fire. This pedal is an octavizer- that is, it produces a signal that sits an octave lower or higher, or both, to the signal it is fed.
This analog pedal reacts differently if there is a fuzz pedal or a wah pedal before it- the amplitude modulator acts in a different way. This makes it a cool pedal to experiment with and definitely made it one of the key elements to Jimi Hendrix's sound.
Roger Mayer Octavia | Reverb
The OCTAVIA is probably our most famous and distinctive creation. This guitar effect was designed in early 1967 and featured on "Purple Haze" and "Fire" by Jimi.
Check Price
We earn a commission if you make a purchase, at no additional cost to you.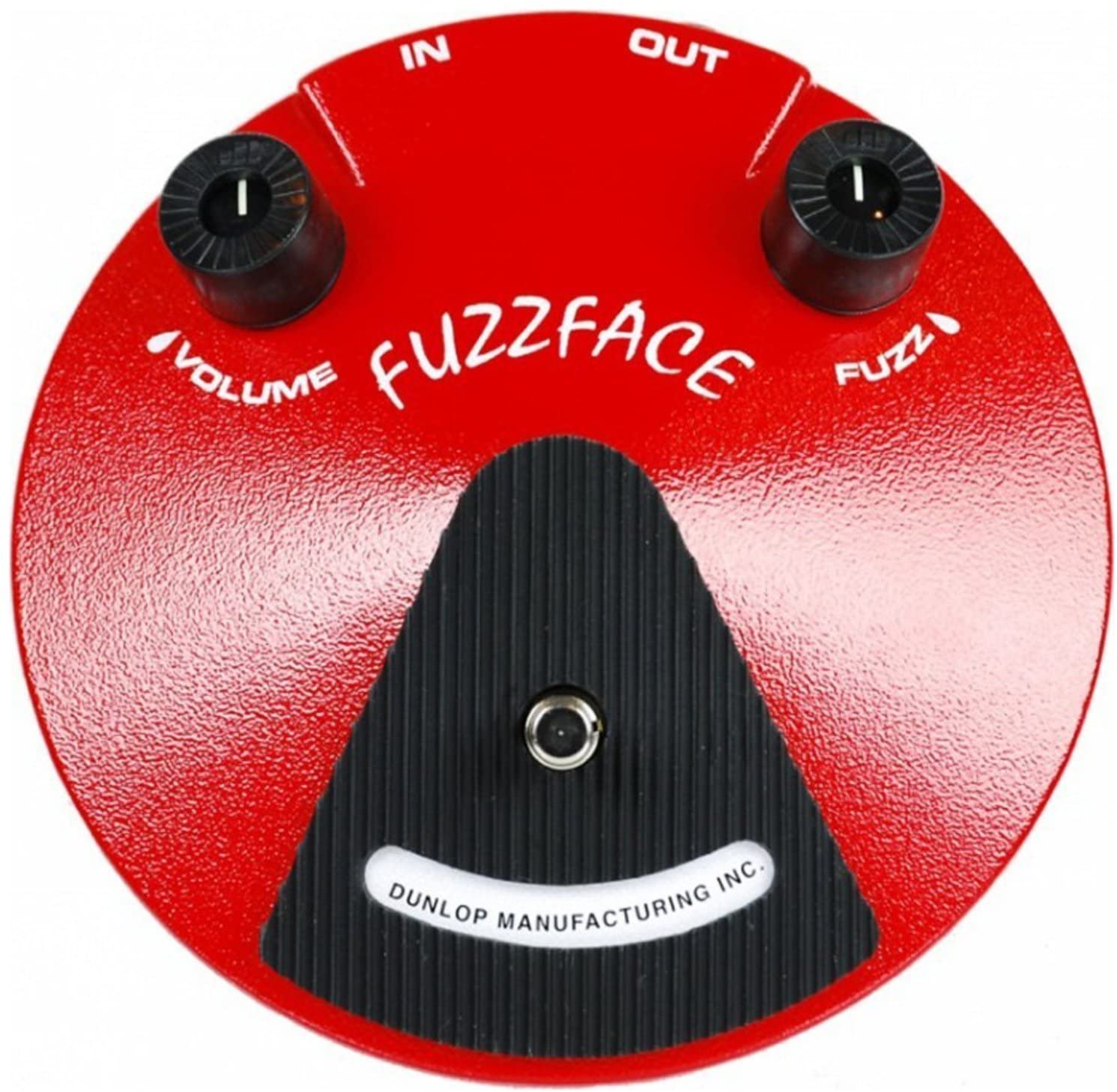 Along the line of funny-looking pedals, this curious pedal that looks like a fire alarm is made by Jim Dunlop, has two knobs for controlling fuzz amount and volume, and an in and out.
It houses a PNP germanium transistor and can be powered with a 9v battery and was used by Eric Johnson, too.
Dunlop Dallas Arbiter Fuzz Face / Amazon
A dynamic pedal with beautiful vintage aesthetics. The Jim Dunlop Eric Johnson Signature Fuzz Face distortion guitar effects pedal was built to EJ's precise specifications.
Check Price
Buy at Sweetwater
We earn a commission if you make a purchase, at no additional cost to you.
09/22/2023 06:56 pm GMT
Univox Univibe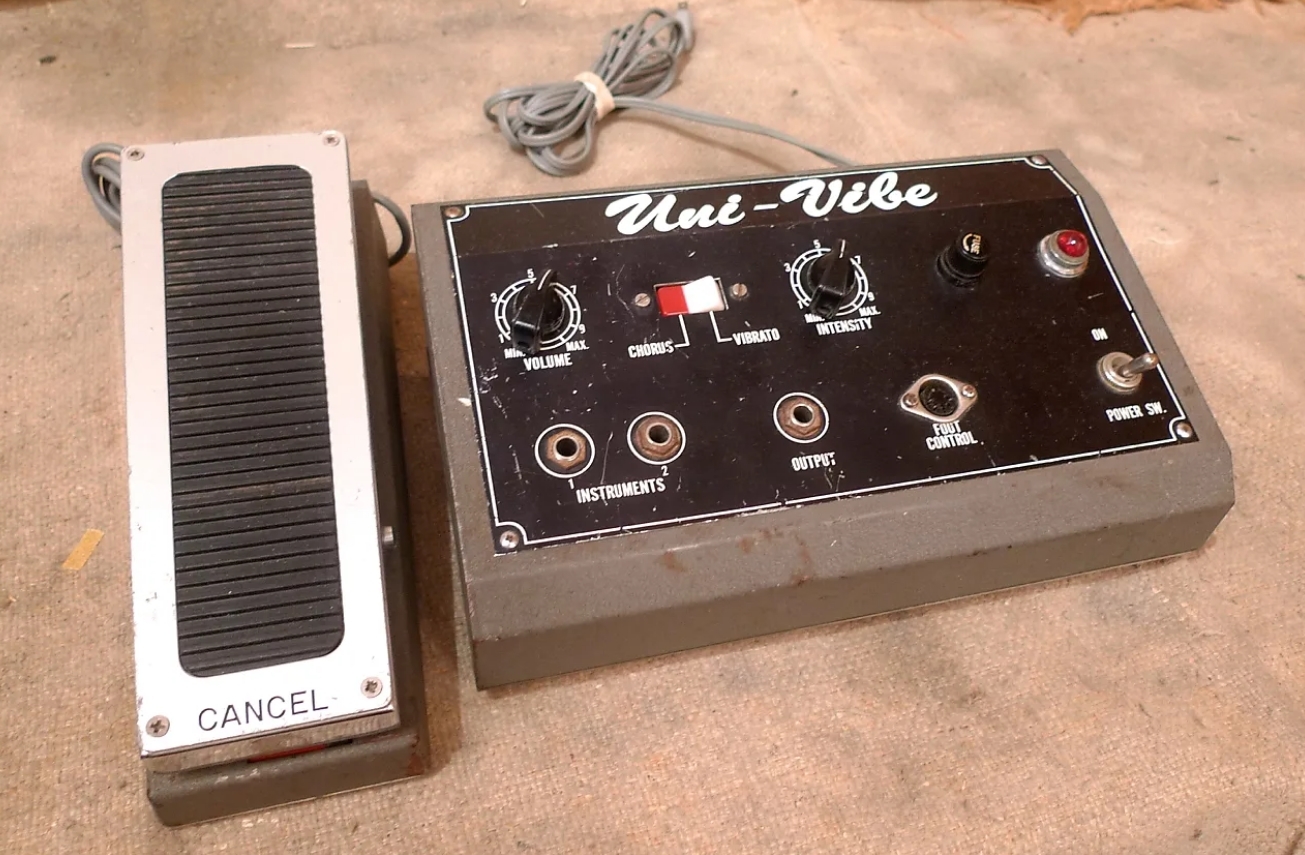 This pedal is a modulation-based pedal that can add a certain distorted phaser tone that was very precious to players back in the day when Jimi first used it. It has two instrument inputs and a toggle between a Chorus and Vibrato effect, with its intensity knob for dialing down or going absolutely crazy.
If you find one nowadays it would probably sell for over a grand. Used later on by the likes of Dave Grohl, John Mayer, or Stevie Ray Vaughan. The more modern versions of this pedal add a parameter for controlling the speed of the effect.
Jimi Hendrix Guitars and Gear FAQs
Question: What was Jimi Hendrix's band called?
Answer: The Jimi Hendrix Experience, from 1966 to 1969, was formed by Hendrix, Noel Redding and Mitch Mitchell on drums. Jimi Hendrix then joined "Band Of Gypsys for a year until he died in 1970
Question: Was Jimi Hendrix left-handed?
Answer: He was a lefty on guitars, but he wrote and generally could use his right hand very well. He probably just got used to playing a right-handed guitar upside down from an early stage
Question: Who was Jimi Hendrix's inspiration for guitar playing?
Answer: Jimi Hendrix idolized B.B King and Albert King, amongst others. He, of course, got to play with his guitar heroes at a very young age.
Question: Who taught Jimi Hendrix to play the guitar?
Answer: Although he was primarily self-taught, under his father's strict surveillance of wanting him to play right-handed, Billy Davis was known to be his mentor, a very versatile blues guitarist himself.
Summary
Jimi Henrix went down in history- not only because of how much he pushed his guitar playing to his limits but also thanks to his charisma and perseverance with new techniques that makes him a reference for nearly every guitarist out there, whatever the genre you're into. The last modern guitar heroes like Matt Bellamy, or John Mayer, have irrefutable marks of Jimi Hendrix mixed into their playing and soloing.
His vibratos and bendings have marked a before and after for guitar theory and practice. Every guitarist who wants to get the most out of their instrument will have to tread in some of the footsteps Hendrix laid down years ago.
Latest posts by Taylor Petrie
(see all)