Fender Frontman amps deliver quality sound at an affordable price, with the unmistakable Fender Blackface look. The 100-watt Frontman 212R features two specially designed 12″ speakers, classic styling, simple controls, drive and more drive distortion, channel selector, and reverb. One of the best value-for-money amps you'll find.
This was one of the first amps I upgraded to from a practice amp, mainly for its twin speakers and being loud over a drumset, even in a small space. It has a perfect channel ideal for all types of music without saturation, and thanks to the Mid Contour, you can vary the style from Rock to Blues or from Metal to whatever.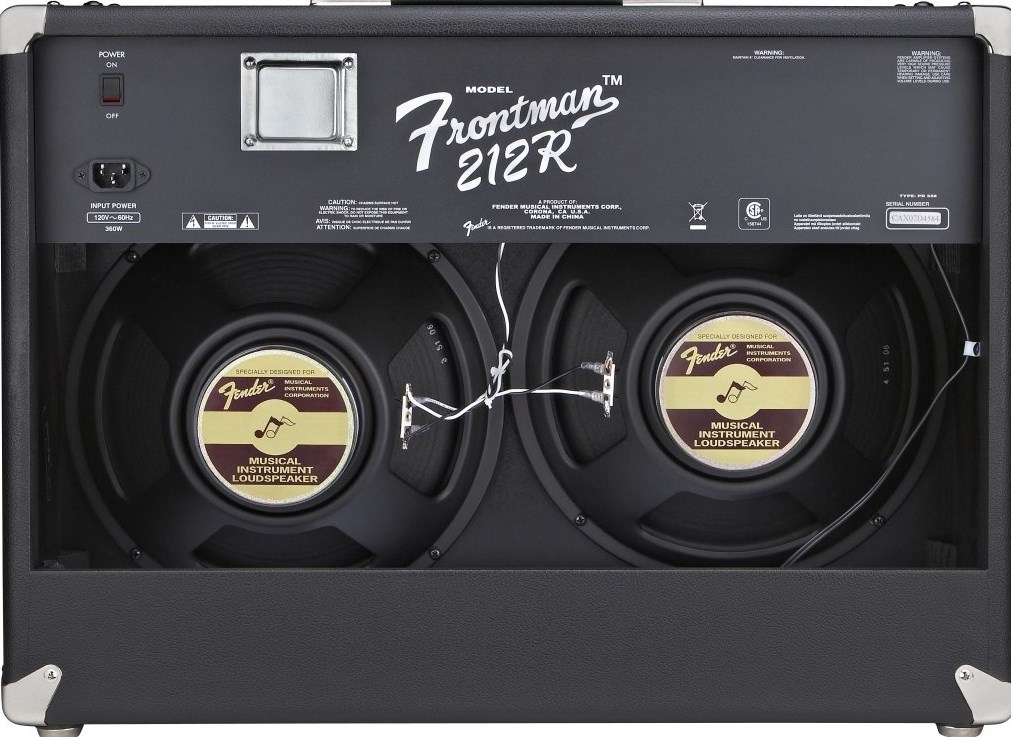 In addition, it has two inputs for two guitars, or one guitar and another instrument. The first one has a normal sensitivity and is used for most guitars. The second has a lower sensitivity and is used for guitars with high-power converters.
Before we continue, check out our full guide on how to find the best Fender Guitar amps available on the market today.
What Does This Amp Pack
This Fender Frontman 212R is a good option for its price. It is a powerful, transistor-based amp that, regardless of sound, has a Twin Reverb aesthetic that makes it appealing enough. And for sure, you can make it work very well even with a long chain of effect pedals
This amp is a complete transistor amp. It is not hybrid and has no valves if that warmth is what you're looking for. For that same reason, it has a bit of a sketchy overdrive. It features 2 x 12″ speakers, explicitly made by Fender for this amp, and they deliver an astonishing amount of volume. You will probably find yourself not turning it up louder than "4" on the knob.
The two inputs have different channels throughout the amp, and both are affected by the volume, treble mid, and bass knobs. After that, we have a drive channel, with a switch button on the front of the amp, or you can use the 2-switch foot pedal that comes with the amp- a very robust and straightforward pedal that does its job well.
The "more drive" option gives you a little boost for soloing and can be modified by the EQ and the mid-contouring.
The last knob is for the only effect prebuilt into the amp, a very, very spacial reverb. Probably bringing it up to around "2" is more than enough if you don't want to feel you are gigging in the middle of a church.
Last but not least, we have a footswitch input and pre-out and pwr-in, which you can use for connecting your effect chain before sending the signal to the speakers. It is a series effect send and not a parallel send, effectively going after the preamp and before the actual speaker output. One major con is it does not have a Master volume, just two volume knobs for each channel independently, which are quite exponential when raising the knob- after 2, it absolutely shoots up instead of doing so in a more linear way.
Behind The Amp
The On/Off switch is right behind the amp, as it is on most Fender amps, which I tend to find troublesome if I want to put it against the wall. The open cabinet acts as a resonance chamber, and the connections to each speaker are exposed in a way that doesn't make the amp look very expensive. This, on the other hand, gives us access to the left speaker, which is useful for the following:
Bringin the total output of the amp down: The two speakers have an amperage of 4 ohms. This is important to note because we can feed a speaker with a signal that is above that but not below. You can use increments of 8 Ohms or even 16 Ohms.
If you disconnect the left speaker, the signal is output only through the right speaker and at 8Ohms, significantly reducing its total output if you want to gig at home and raise the volume past 3 or 4.
Sound
Sonically, there is not much to the Fender Frontman 212R. Its distortion is a typical transistor distortion. i.e. not a very good one. If you're a beginner, you might not notice anything amiss, but if you push the gain and volume, it may become quite harsh if you don't EQ it properly. Having said that, I will admit that the clean channel is quite useable, even just throwing some reverb on it.
Having the effects send means you can further tune its clean with some soft overdrive, maybe with an Ibanez overdrive, but something like an aggressive MXR heavy gain will probably not fit well with it. I haven't tried the clean channel with an independent reverb pedal, but that most surely would have a good outcome.
There is so much power that this 100W amp can output that I think they could have sacrificed some of the brute force for more fine-tuning options for the reverb, or an upgrade on the 12″ speakers. A built-in option to dampen the total output volume would have been nice, too.
Pros and Cons
Pros
100W at 4 Ohms through 2×12″ Speakers. Loud.
It has a decent clean channel and is quite useful used only as a cabinet or speaker for another signal chain.
Black Fenderface looks really neat.
Cons
Reverb is not very good quality, lack of reverb controls.
No Master Volume
No headphone output.
The electronics are not durable. The transistors are known to break down from overheating.
Other Amplifiers to Consider
Considering the Fender Frontman 212R was priced at around 250€, it has been discontinued. Even though you can find it on second-hand websites for under 100€, quite honestly, I don't think they are durable enough to be worth buying second hand. Let's check some other options that are a great pick: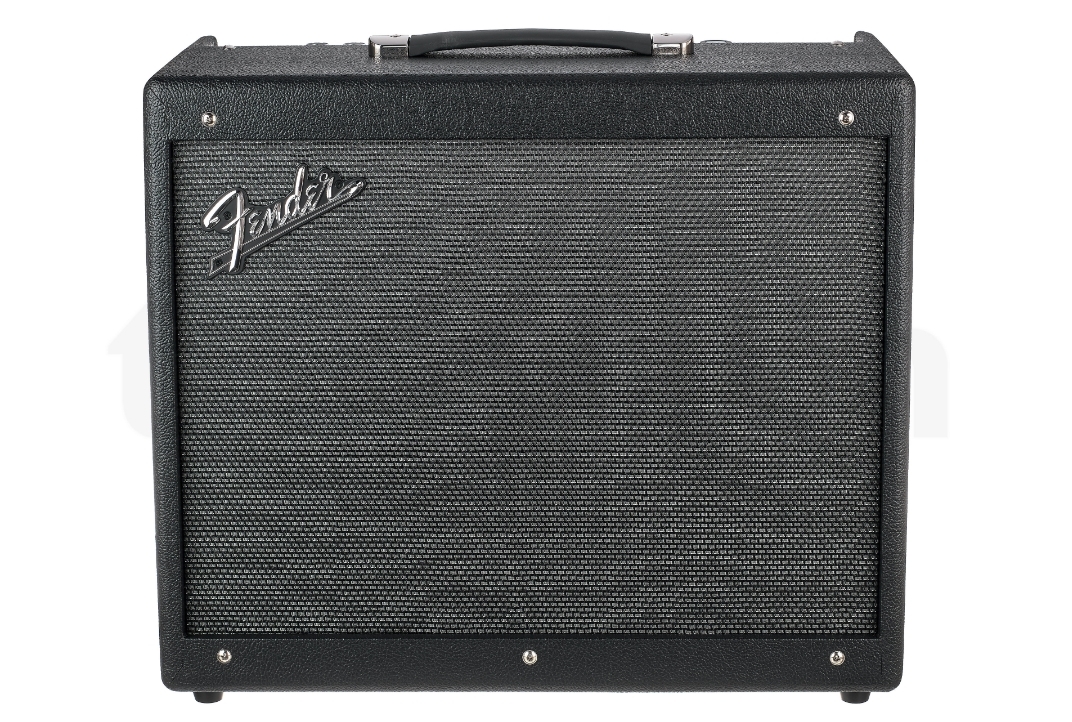 This first option equals the 100W of the 212R but as a modeling amplifier and better Celestion speakers. You will have to dish out close to 450€, though. The Fender Mustang GTX 100 is the top-of-the-line version of the Mustang family.
It is equipped with an important set of features and a wide selection of amp models and sound effects with which you can play any style of music, you can intervene on them in a simple and intuitive way by creating your own presets, and with them, your sound.
It implements interesting connectivity functions, WI-FI, Bluetooth that allow you to have the amplifier always up to date.
The sound is quite convincing, as always in these cases the clean sonorities are more realistic than the crunchy from our point of view, although the latter is quite successful and if you like to tinker and investigate, there are options of the most fun. It delivers a not negligible power and the Celestion help to propose a good tone.
In terms of production, the 212R got revamped into this amp. The Fender Champion 100 has 100W and as a solid-state amp, continues it's 212R prior aesthetic and most of its functionalities. And price! Its modeling capabilities do set it apart, and its sound is much cleaner and rounded.
You won't get a guaranteed heavy metal sound, but it is versatile enough to be a beginner's amp with a twist. at under 20Kg, it is easy to lug around to rehearsals or gigs, and aesthetically it looks as good as the 212R.
It also has fixed the downside of the lacking effect options of its predecessor and has put in plenty of more effects that, thank christ, are tweakable. If you miss your 212R, or can't find one on the second-hand market, definitely get this Champion.
Champion 100 | Fender
Easy to use and versatile enough for any style of guitar playing, the 100-watt Champion 100 is an ideal choice as a powerful 2x12" practice amp and affordable stage amp.
Check Price
Buy at Amazon
We earn a commission if you make a purchase, at no additional cost to you.
Want to know more about this model? Check out our comprehensive Fender Champion 100 Review.
If you want a word of advice: Go straight for a valve-powered amplifier. Marshall introduced their new Origin series as recently as NAMM 2018, so seeing this Marshall Origin 5C combo drop its price in 2019 meant that the bar was set higher now for price and quality with valve amplifiers.
This power amp with a single EL84 valve provides 5W to the 8″ Celestion Eight-15 speaker. Two 12AX7 and ECC83 valves work in the preamp stage and give you classic Marshall crunch timbres, albeit at a lower volume than a big half stack. At under 200€, it is a perfect practice amp and suitable for small gigging scenarios.
The Origin 5C has a 3-band EQ and tilt control that perfectly mixes the sound between Normal and High Treble. It also has a dedicated volume control button that activates the boost via a push-pull or an optional footswitch, which pushes the amp into crunch territory.
Blackstar has made itself a name within the modeling amp world. This is the second version of their 5R series, and they have made a good and solid amp the second time around. The amp is advertised as having a hefty sonic size and bulky sound even at low volume.
Even turned down low, it already delivers a good portion of pressure, harmonics, and compression, something you will love if you're a guitarist who is forced to play quietly at home. This all-tube top delivers significantly more in terms of power with 20 watts, throttleable to 2 watts.
Not to mention the USB audio output with stereo cabinet simulation and switchable 1×12″ and 4×12″ voicing. Clean and overdrive channels can be easily controlled with a footswitch as before. The reverb sound has also been redesigned, which is far superior to the effects on the 212R or the Fender Champion 100.
This amp has a solid build and definitely doesn't feel cheap. In my opinion, I missed a more bluesy sound an EL34 or 6L6 can give you, but that is always determined by each ones playing style.
Fender Frontman 212r Review FAQ's
Question: How loud is the Fender Frontman 212R?
Answer: Its 100W output a very surprising amount of loudness
Question: How many channels does the Fender Frontman 212R have?
Answer: It has two channels, one clean and one saturated, it also has a preamp to increase the drive to double, thus achieving a typical Heavy Metal sound. It has a channel selector switch, plus a footswitch to switch from clean to drive, and a high-gain drive. It has an output for the effects loop.
Question: How versatile is the Fender Frontman 212R?
Answer: It is versatile enough, it just needs a good EQ, a poor EQ will not give us the style we are looking for. So, for a Led Zeppelin style Hard Rock the configuration will be: Treble: 6-7 Mid: 10-8 Bass: 4-2 For an ACDC style, for example, we only have to invert the mids and highs, leaving us with: Treble: 10-8; Mid: 6-5; Bass: 4-2.
Question: Why are valve amps better than transistor amps?
Answer: Objectively, valves produces a cleaner distortion, are more consistent and last longer. they do have the drawback of having to be changed every certain amount of time.
Question: Do speakers use more electricity when the volume is turned up?
Answer: The volume does have a direct correlation with the power consumption of the amp: the louder, the more power it will be drawing.
Summary
This amplifier, though a decent option for those looking for a loud amplifier for a practice room, or just upgrading to the price point (below 200 euros), is an amp that can be described as: "quantity before quality".
You sure can get used to the clean channel, very much usable, and with a decent effect chain signal you could probably get usable overdrive.
But don't expect to go all-out heavy Metal with this amp, or get the blues tone of your dreams. It is what it is, and it does what it does. And for that, I don't think it's a bad amplifier at all.
Latest posts by Taylor Petrie
(see all)