Taylor Guitars has a reputation for building instruments that are simple, but maintaining a certain elegance and beauty to them; the Taylor T5Z certainly does fall into this description, as at first glance of the guitar truly does speak a certain amount of timeless elegance.
As for the physical makeup of the Taylor T5Z Classic, this guitar has a mahogany top with a Sapele heel and neck; the sides and back of this instrument all come in a stunning satin finish.The headstock overlay, bridge pins, and fretboard all have comprised from Ebony while featuring a simplistic diamond inlay pattern.
The top of this guitar also features two sound holes that are shaped into a leaf-like pattern, which really helps to provide the instrument with an amazing natural resonance.
One of my favorite parts about the Taylor T5Z Classic guitar is the neck, as it's thin enough to be comfortable enough to play for people who have more experience playing electric guitars.
However, if you are someone who spends a lot of time playing acoustic guitar, you may find that the thinness of the T5Z neck may take some time to get used to, as it looks and feels a lot thinner than any typical acoustic guitar neck.
The Taylor T5Z has a 21-fret fretboard with a 24.87-inch scale that allows musicians to attain a perfect balance between the comfort that an electric guitar provides and the tension that is needed for the production of clean acoustic tones.
Another great perk that Taylor added with the T5Z is the Venetian cutaway, which allows guitar players to have an easier time playing on the top frets on the fretboard.
As with any Taylor guitar, this instrument has an incredible build quality and has the look (and feel) that it's made to last decades of playing.
This guitar was built to be played while being plugged in, as the T5Z gives musicians a wide range of tones all with the flick of the five-way switch that is mounted on the side of the guitar.
The first position uses the humbucker in the neck as well as the bony-senor system, which will you give you a natural acoustic sound.
When I tried out the first position, my biggest complaint about the position was that when I had the instrument turned up too loud, there was an extreme amount of feedback. As for the second and third positions, these two really future the neck and bridge humbuckers.
Position four provides musicians with a clear tone, as both buckers are being used in a parallel mode; Position five puts the humbuckers in a series, which will deliver you with a heavier, meatier sound. All of these positions can be adjusted to your own personal tastes by adjusting the bass, treble, and volume control knobs that are located on the guitar.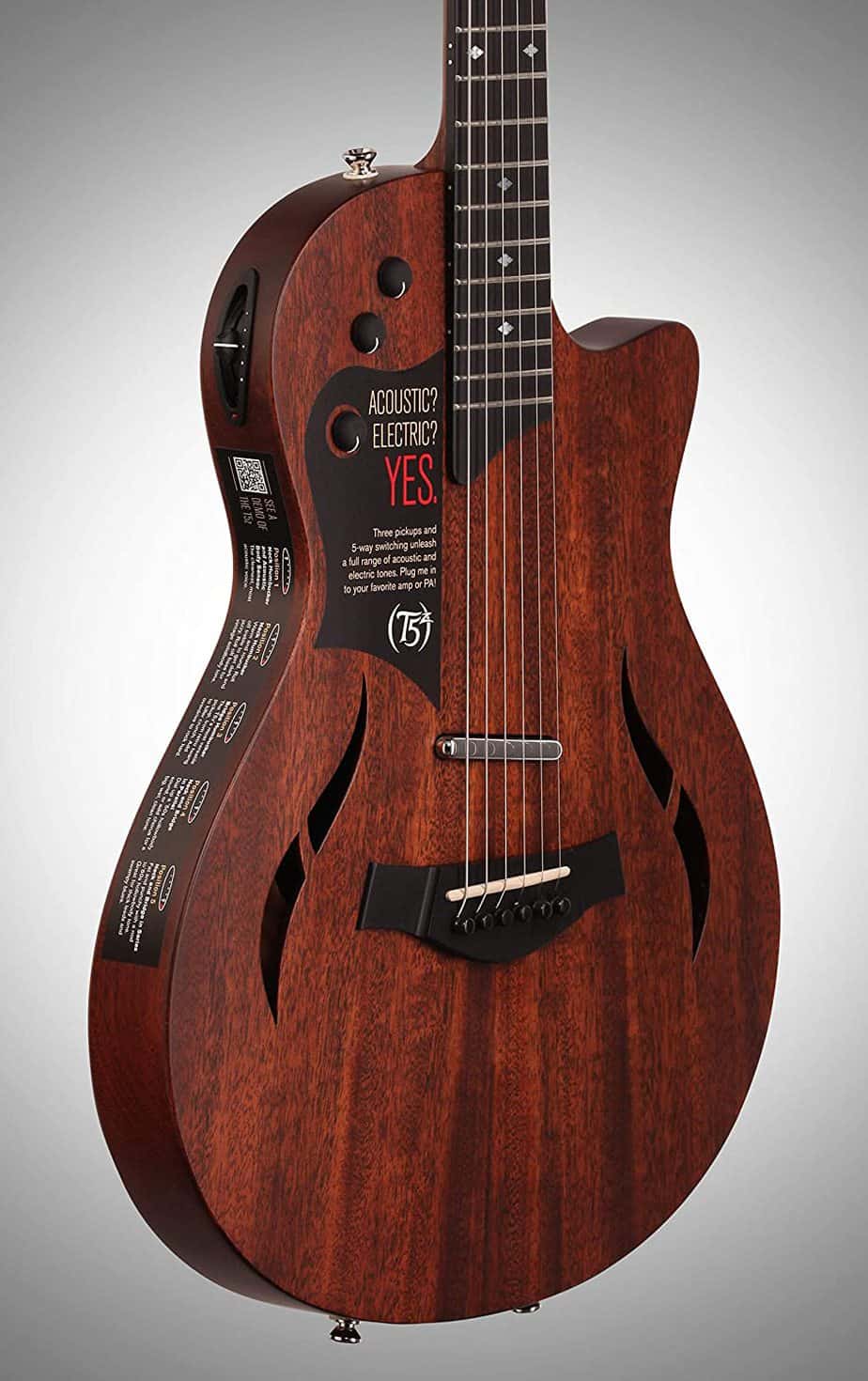 Even when I switched the T5Z over to amps that were made to be used by acoustic guitars, the tone of the instrument did an amazing job of translating really well; I also used this guitar on a PA system and tried using to do direct recordings.
I didn't have any problems with the translation of the tone downgrading quality. I also really enjoyed playing the T5Z on several different effects pedals.
If you've ever played the Taylor T5 guitar, be prepared for the T5Z to feel and sound extremely different. The original T5 is a larger sized guitar that has a solid spruce top; the T5Z has a flamed maple top.
I also found that when switching between the T5 and the T5Z that even though the T5Z is more lightweight than the original T5, the T5Z has a heavier neck and is a little off balanced; the neck weight of the T5 was evenly distributed and I didn't have any problems with the feeling of an unbalanced guitar.
I also found that when comparing the original to the T5Z on amps, that the T5Z was more resistant to feedback, which I thought was great. As the sound quality of the T5Z, the T5Z does feel and sound does make this guitar seem to be electric, but the guitar produces just enough wooden tonality (as well as a shorter sustain) that gives this guitar a hybrid sound.
Core features of the Taylor T5Z Classic Acoustic-Electric Guitar
S-curve cutouts
Slender hollow body
Venetian cutaway
Sitka spruce top
Sapele sides and back
Polyester gloss finish that has been UV cured
Sapele heel and neck that have been supported with Taylor's T-Lock neck joint
Nickel Taylor tuning pegs
Ebony fretboard
Slimline humbucking pickup (located near the bridge)
Slimline humbucker pickup (concealed under the top, located near the neck)
Acoustic body-sensor pickup (located under the top)
Has a very similar feel to the Gibson Les Paul
11 1/16 inch nut width
12-inch fretboard radius
24.87-inch scale
Jumbo sized frets
Five-way selector switch
Limited lifetime warranty
Comes with a Taylor T5Z hardshell case
Comes strung with Elixir Nanoweb electric guitar strings (.011-.049)
What are the genres of music the best to play on the T5Z?
The T5Z produces a strong, yet clear tone, that really highlight frequencies that are in the midrange. If you are looking for a guitar that has a heavy bass sound, the Taylor T5Z Classic Acoustic Electric is not the guitar for you.
When playing chords on this guitar, I noticed that all of the chords that I played had a warm ring to them with a slow decay, which was really pleasant to listen to.
I also tried fingerstyle playing on the T5 and found that each melody line that I played really sung out nicely, without being
too overpowering.
When unplugged, this acoustic electric doesn't have a whole ton of volume. While this guitar will be great to apply in genres that feature acoustic guitars, such as country,
I would not say that this guitar is great to use if you're planning on doing a lot of unplugging acoustic sessions.
If you are looking for a guitar to use when practicing, recording, or writing songs with, the T5Z will suit you perfectly.
Since this is an acoustic electric guitar, I find that this would work perfectly with a lot of genres and would work the best with any recording that you're looking to do in a studio.
I would not recommend that you purchase this guitar if you are looking to play the following genres:
Heavy metal/metal
Hard rock
These were the only two genres that I feel like the T5Z would not play with very well. Everything else, I know that T5Z will fit perfectly with!
Pros and Cons of the Taylor T5Z Acoustic-Electric Guitar
Pros:
Comes with a left-handed option
Can be strung for left or right handed, at no extra charge
100% made in the United States
Cosmetically appealing
Great for all genres, especially since this is an acoustic-electric guitar
Has a reduced size compared to the 2005 T5 release; the downsizing of the body gives this guitar a grand auditorium outline
Comes with the ability to customize the appearance of your guitar. You can choose from: custom, which has a flamed Koa top with gold hardware, Pro Special Edition that has a two-tone quilted maple top, Classic which comes with your standard mahogany top and a satin finish, and Pro, which has a curly maple top.
Is pricey, with a $3,000 list price; however, it does have a $2,299 street value
Cons:
Is pricey, with a $3,000 list price; however, it does have a $2,299 street value
A lot of people have the mindset that the T5Z is an acoustic guitar first and an electric guitar second, when in fact, it's the other way around.
Other Guitars to Alternatives to Consider
The Fender CD-60 Dreadnought Acoustic Electric sports a laminated mahogany top, back, and sides, which provides the tonality of the guitar with a warm and rich voice.
The Fender CD-60 guitar also has a rosewood fingerboard, vintage-style open-gear tuners, Fender's advanced scalloped bracing, and a maple neck.
The Scalloped X Bracing helps to increase the resonance of the CD-60, as well as to expand the reach of its volume and tone.By using laminated mahogany provides the guitar with a professional look, as well as a bold and rich sound.
Using laminated wood instead of real mahogany ensures that the guitar is light weight for beginners to feel comfortable playing, as well as being in a price range that's comfortable for all levels of users to afford.
Conclusion
While the Taylor T5Z Classic Acoustic Electric guitar has the appearance of an acoustic guitar, this instrument was created to be a high performing hybrid of both acoustic and electric guitars.
The only thing that I have to say about this guitar is that if you are considering investing into this instrument, I would highly recommend that you invest in two separate electric and acoustic rigs, in order to get the most of this guitar's capabilities.
Latest posts by Guitar Space Team
(see all)