In our Fishman Fluence Review we'll look at the qualities of Fishman Fluence pickups and how well do they stand against the competition.
Pickups are one of the most underrated tools in a guitar player's kit. Some guitar experts even argue that pickups are the third-most important element for players. Fishman is one of the most notable guitar pickup brands, promising guitar players to produce the truest sound from their instruments.
Out of all of their pickups, the Fishman Fluence is one of the most popular. Since this was Fishman's introduction to the electric guitar pickup world, they successfully broke barriers even though they're late-bloomers to the electric guitar pickup world. And they expanded the Fluence pickup line ever since their introduction in 2013.
Pros
Versatile
Produces amazing tones
Cons
Specific requirements if you need more power
Not the most aesthetically pleasing pickups
As stated previously, the Fishman Fluence is the first line of pickups from Fishman that's built solely for electric guitar. Previously, the brand built notoriety because of their quality pickups for acoustic guitar and for founder Larry Fishman's accomplishments as a player. Fishman is also renowned for producing other musical equipment, such as preamps, controllers, and effects.
For the better part of their 40-year legacy, Fishman focused solely on gear for acoustic instruments. However, they truly broke barriers with the Fishman Fluence.
The secret lies within the two Fishman Cores, completely replacing hand-wired coils. The result is no hum, tonal consistency, and a 2-voice system that can only be described as two pickups in one.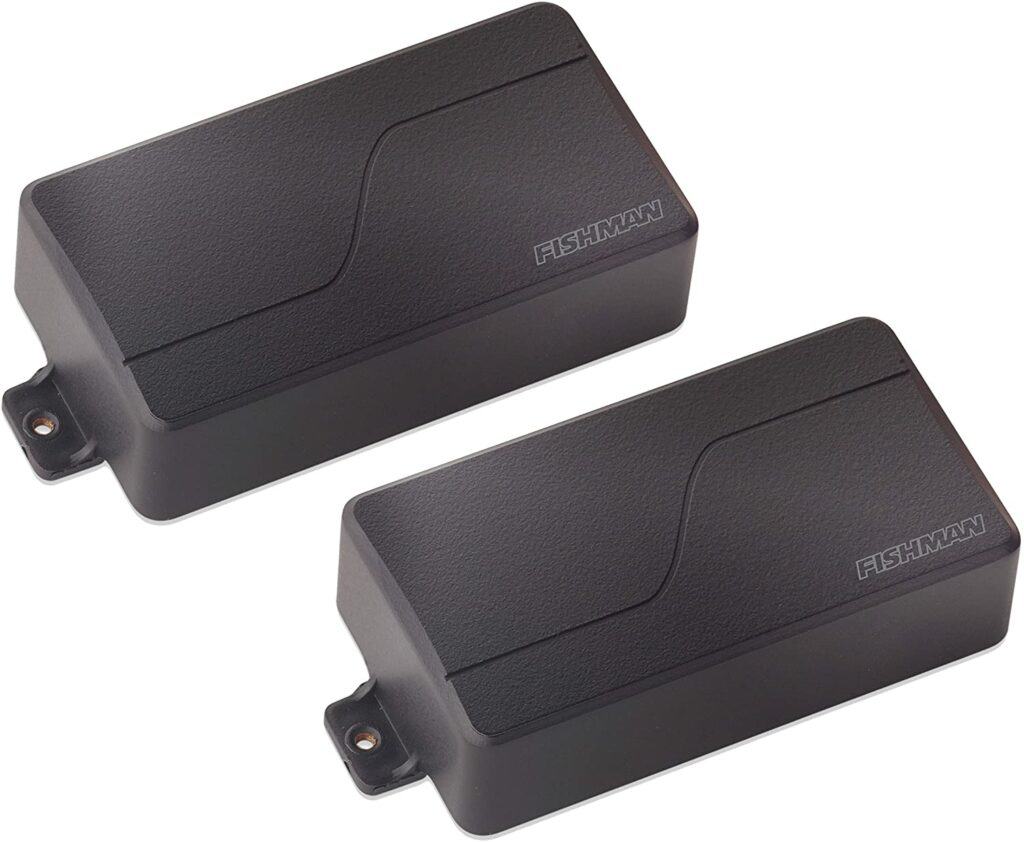 Performance
There are various Fishman Fluence pickups in the line and they all vary in performance and style. However, just about all hold the same quality that guitar players desire in their pickups.
If your playing requires multiple tones, these are the pickups for you. One of the aspects that stands out is the ease of switching tone. The Fishman Fluence can cater to various tones, almost sounding as if you're playing different guitars.
No matter what tone you're playing, it will always stay consistent — even if you have to change cables or adjust the volume.
Fishman promises noise-free pickups, and that's exactly what they delivered. Guitarists also love how the pickups are generally noise-free, resulting in excellent tone clarity. That's why these are the perfect pickups if you use high-gain amps.
The Fluence pickups are also completely versatile, making them perfect for life and the studio. They can pick up all of the details in your tone, no matter how your audience is listening to your playing.
Features
The main reason why Fishman Fluence stands out is because of the Fluence Core. The Fluence Core uses two multi-connected-layer boards, rather than wound copper wire coils. This is the reason why Fishman Fluence pickups eliminated all interruptions, such as noise.
All of the pickups in the Fluence line are about the same size as traditional humbucker pickups. You have a choice of nickel, black plastic, gold, and a brushed stainless steel finish.
You'll need a nine-volt battery rechargeable lithium-ion battery pack to use these pickups (lasts 200 hours). Most users say investing in the rechargeable battery pack is worth the extra money, but this depends on preference.
How They Differ From Traditional Pickups
Fishman Fluence pickups use precision in the manufacturing of coils. The coils are what's called "printed," similar to traces on a circuit and not wound around a bobbin.
There are 48 of these circuit boards that form the Fluence Core. Two Fluence Cores are separated by a spacer and six Alnico-IV rod magnets through the middle. This design is what helps them cancel hum. In addition, this construction ensures that the sound is consistent and controllable.
These pickups are active to solve problems related to cable capacitance, but the Fluence pickups still use an analog system. The result is a groundbreaking line of pickups where guitars players can have versatility jumping into new territories.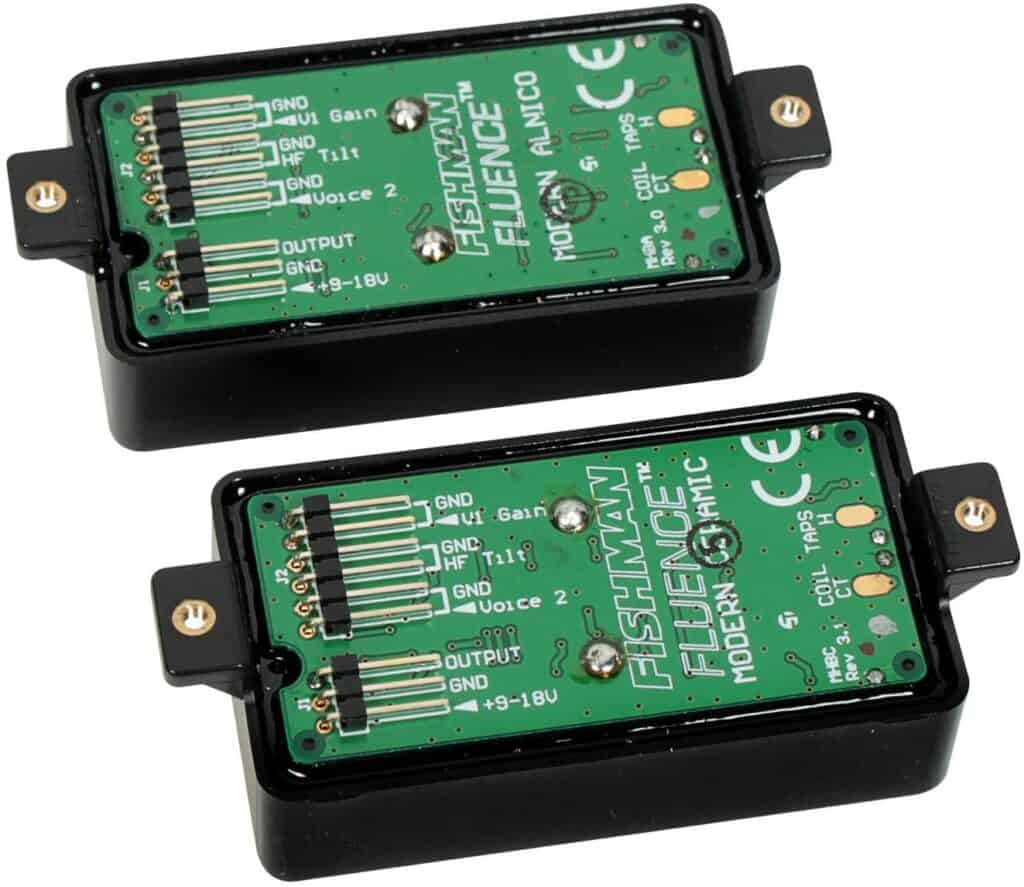 Minimal Noise and Consistent Sound
The Fluence Cores are constructed differently compared to traditional pickups, resulting in better tone, noise reduction, and other common problems that guitar players experience with pickups.
Because of the carefully engineered circuit boards, Fishman Fluence pickups are long-lasting and reliable for all settings.
Two Voices in One Pickup
Each pickup is made with two Fluence Core boards, resulting in two switchable voices in a single pickup. This innovative feature helps guitar players achieve two different tones.
Range of Styles
While Fishman Fluence is most ideal for heavy music, they support a range of other music playing styles.
Notable Players
Some of music's biggest guitar players use Fishman Fluence pickups, including:
Devin Townsend
Tosin Abasi
Sarah Longfield
Greg Koch
Stephen Carpenter
Fishman also collaborated with these artists to make signature lines. You can see Animal as Leaders mastermind Tosin Abasi demonstrating his signature series at NAMM 2017 here:
Fishman Fluence Pickups
There is a wide range of different pickups in the Fluence line. Some of the most notable include:
Classic Humbucker
7 String Modern Humbucker Alnico
Modern Alnico Neck Humbucker
Multi-Voice Single Width Strat Set
Modern Ceramic Bridge Humbucker
Related: Neck vs Bridge Pickup
Alternatives to the Fishman Fluence
While Fishman Fluence pickups are innovative, there are other high-quality pickups on the market. Here are others you should consider.
Bare Knuckle is based in the UK and founded by session guitarist Tim Mills. Mills formed the company because he needed pickups that covered a huge range of sounds, so he decided to make his own. To this day, he makes all pickups by hand from his workshop in Southwest England.
They make hand-wired pickups in a variety of shapes and sizes. Like Fishman Fluence, they go outside of the traditional path and make pickups for guitarists who really want to stand out. Their pickup selection includes extended-range all the way to vintage-style. They also accept custom orders.
Some of the most notable artists on their roster include Misha Mansoor, Matt Bellamy, Johnny Marr, and Rabea Massaad.
One of the advantages that EMG pickups have over Fishman is their notoriety. While Fishman is an iconic brand in the acoustic guitar and bass world, EMG has dominated the electric guitar and bass world for decades. Just about all guitarists or bass players have tried EMG pickups.
EMG specializes in high-output active pickups. This was especially important during the 80s. Heavy metal was born and only growing. The musicians of this time demanded more saturation and higher volume outputs.
EMG's pickups not only supplied this demand but offered more. They provided consistent sound and dense tones. Guitarists and bassists were able to achieve sounds they weren't able to produce before, leading to groundbreaking innovations.
Because of this fact, EMG has always been the staple pickup brand in the rock and heavy metal world. The only exception is that musicians today have more choices with their pickups.
They still have this dominance to this day. EMG arguably has the highest output of any other pickup brand on the market. Before you plug your guitar in, you know what sound you'll get — even if you're using a new EMG product. This trust that musicians have with EMG is what has truly made them legendary.
Some of the most iconic musicians have used or are using EMG pickups. Notable examples include James Hetfield (Metallica), Zakk Wylde (Ozzy Osbourne, Black Label Society), David Gilmour (Pink Floyd), and Jeff Loomis (Arch Enemy, Nevermore).
Last but not least, EMG pickups look cool. Many musicians claim this reason when sticking with EMG.
Fishman Fluence FAQs
Question: Are Fishman Fluence Pickups Active or Passive?
Answer: Fishman Fluence pickups are unique because they have both active and passive qualities. Referring back to the two "voices" or "tones," this is where musicians will hear the biggest difference compared to other pickup brands.
Voice one is the aggressive active output that rock and metal musicians crave. Voice two is a passive voice that's best described as crisp and clean. The result is a clear sound with a punch that doesn't sound too thin.
Question: Why Do Some Musicians Love Active Pickups?
Answer: Active pickups are popular among rock and metal musicians for a reason. They can handle high gain distortion with ease, have less feedback which results in a cleaner sound, and your tone will improve — no matter what guitar or bass you're using.
Question: Do I Need a Preamp With Active Pickups?
Answer: A preamp allows you to control more aspects of your sound. This includes bass, volume, treble, mid, phase, and more. To know if you truly need a preamp depends on your instrument, your pickups, and the sound you want.
Next time you play your instrument, ask yourself these questions:
• Is my sound balanced?
• Is the signal loud enough?
• Is the sound smooth?
If you said no to these questions, you likely need a preamp. But if you said yes, you're probably fine. For Fishman Fluence pickups, though, you most definitely need a preamp. This is necessary for gain and filtering.
Question: Are Fishman Fluence Pickups Good, Compared to Their Other Products?
Answer: Fishman Fluence pickups are excellent. It's difficult to compare Fishman Fluence pickups to the rest of the products in their line, but that's because the Fluence pickups are unlike anything else in their catalog.
If you're not sure which Fishman pickups to use, the Fluence line is primarily for electric guitars and basses. The high output is ideal for heavy metal musicians who want a cleaner sound compared to the competition, though these pickups are ideal for countless other styles and players.
Question: Can Fishman Fluence Pickups Work Without Batteries?
Answer: No. You need the rechargeable lithium-ion 9-volt battery. The battery lasts up to 200 hours.
Question: How Do You Install Fishman Fluence Pickups?
The way you install your Fishman Fluence pickups depends on the pickups you're using, the specifics of your guitar, and other factors. This tutorial is for the Fishman Fluence Humbucker and applies to both classic and modern.
If you're using a different model, we suggest finding another video, reading the manual if you received one, or contact the helpline for advice.
Question: How Do Fishman Pickups Work?
Answer: The coils in Fishman Fluence pickups are applied rather than wound. Think of a circuit board, where the coil spirals are printed. This is why there is so much flexibility in one pickup.
Fishman Fluence Review: Receive Pickup Recommendations and More
Fishman Fluence pickups are groundbreaking because of their innovative design that produces two voices in one pickup. However, Fishman Fluence pickups aren't your only choice. Fishman has a whole line of products and there are various other high-quality pickup brands. The pickups you choose depend on what you want out of your sound.
We recently reviewed Epiphone Probucker, Gibson pickups, and other accessories for guitar and bass players, such as strings and amps. Continue reading our guitar accessories section for more reviews, buying advice, and more
Latest posts by Stephanie Jensen
(see all)