Finding the best guitar cleaning kits is no easy task – there are just so many of them on the market today that finding the best from the rest is a challenge. When it comes to this product type, like many other guitar accessories, they're not made equal; and the price range is pretty vast.
Guitar cleaning kits can include a wide range of accessories or be much simpler. They can be budget-friendly or at the highest end of the price spectrum. They can be highly efficient or just not worth using. So, to save your time, I have reviewed a selection of the most popular guitar cleaning kits to bring my findings to you.
If you're in a hurry, here's my bottom line:
My Bottom Line Up Front
My top recommendation is the Fender Guitar Super Care Kit Bundle. It comes with a cleaner, polish, quick-clean tonic, and an effective fingerboard remedy. Also included:
Special string cleaner
Two branded microfiber cloths
This complete, and practical kit, will take care of all your guitar cleaning needs while still being affordable.
At a Glance: 6 Best Guitar Cleaning Kits
The Importance of Guitar Cleaning
Proper care and maintenance are an often overlooked part of guitar ownership. While players know they must clean guitar strings to protect the sound of the instrument, few look at other areas of the guitar – which can be just as vital to the overall playability, sound, and longevity.
Just like with any other investment, it makes sense to keep your guitar in its best condition to protect its financial value. Moreover, it will look better, be smoother to play, and last a whole lot longer if it is well maintained.
Getting into a basic maintenance habit of wiping down your guitar after play is the best way to keep it free from oils and dirt that build up over time. This will also extend the longevity of the strings, and although changing and replacing strings isn't a huge chore, it is one you won't have to do much if you regularly clean your guitar.
Guitar Cleaning and Maintenance Guidance
A more long-term concern for a fretboard that sees little care is cracking, wearing, or drying out. To prevent this, it is wise to consider using specialty wood oils (you'll find my favorite ones in this guide), but generally, the better oils tend to be more natural such as the Fender Custom Shops Fingerboard Remedy; found in my #1 top pick.
Applying wood oil to your fretboard should protect it and keep it in tip-top condition for many years to come.
It is a good idea to keep your guitar stored in a bag or case to keep it free from dust. While dust isn't a significant issue or comparable to finger sweat, it can build up and affect the guitar's functionality over time.
You know the crackling noise you hear when moving the volume pot or pickup selector? Yeah, that's dust. It's a headache to remove at this point and requires the removal of the cavity plate to blow the dust out. This is even more of an issue if you own a Strat or similar.
Find the best guitar cases you'll ever need here, and keep your guitar mostly dust-free to ensure it stays reliable and with you for a long time to come.
What to Look for in Guitar Cleaning and Polishing Kits
However much you paid for your guitar, it is an investment, and the more you put into it, the more you'll get out – and this doesn't just apply to practice!
A well maintained guitar looks nice and plays better but finding the right kit can be tough.
Below are the things I recommend looking for to ensure you buy the right guitar cleaning kit to suit your preferences, circumstances, and budget.
Finish Specific Products
Suppose you have spent a large sum of money on a specialized guitar. In that case, it is essential you find the right cleaning products for the finish.
For example, Gibson guitars are finished with a nitrocellulose lacquer that is more fragile to damage from harsh chemicals than a polyurethane finish. The guys at Fender discuss the differences between these finishes, in great detail here.
Look at the guitar cleaning solution properly to ensure it is safe for your guitar finish – and don't be afraid to inquire if this isn't obvious; it is better to be safe than sorry in this case.
Neck Support
To prevent damage, you have to stabilize a guitar during cleaning properly, so if you find a guitar kit that includes proper neck support, this is a huge bonus. Of course, it will raise the price point, but this will undoubtedly be cheaper than a repair or replacement.
Multi-Step Products
While some guitar cleaning kits are nothing more than a cloth and bottle of solution, others are more comprehensive and include various products for a 3, 4, or even 5-step cleaning process.
Some cleaning products will strip away the natural oils of the wood, which are important to replenish, especially on open pore areas such as the fretboard. A complete guitar cleaning set may have items like specialized fretboard oil, grime stripper, wax, and top polish.
Cloths
A good guitar cleaning kit should include one cloth, at least, and this should be either chamois or microfiber. Linen, muslin, terry towel, and other types of cloth are best avoided as they don't pick up as much dust and debris and can leave thin scratches on more delicate guitar finishes.
I prefer microfiber over chamois and find this does a highly efficient job trapping dirt while causing no damage to the guitar.
Product Criteria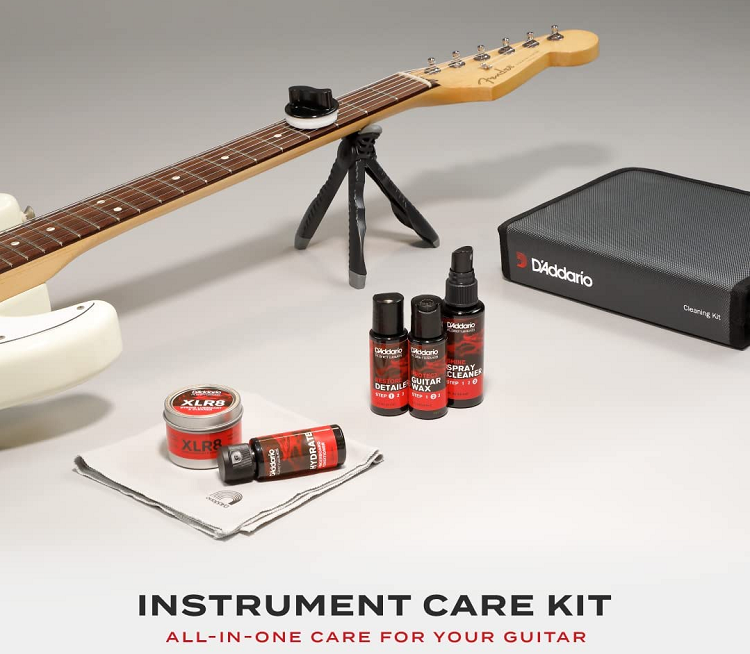 As touched upon at the start of this post, hundreds of thousands of guitar kits are out there for your consideration. I didn't know these even existed in my early days of playing now; I wouldn't be without one. I looked with fresh eyes for this post, and these are the things I considered:
Quality
If you're anything like me, then your guitar is your pride and joy, and only the best will do. I would never consider any cleaning products that could potentially cause any damage to my guitar, and to guarantee this, the quality of the equipment has to be high. I would happily continue using any of the guitar cleaning kits I have included in this guide.
Accessories
Some guitar cleaning kits are little more than a cloth and oil (such as the aptly named Ernie Ball Polish with a Cloth) and can be just what you're looking for.
However, the D'Addario Accessories Instrument Care Kit is a more comprehensive set with everything you could imagine. The rest of the kits in this guide are somewhere in the middle. This way, there are lots of choices.
Price
By looking across the price points and finding the best at each level, I have ensured that readers with every budget can find a suitable guitar cleaning kit here.
Feedback
I always feel that it is important to recommend products to you guys that other consumers have had a good experience with. As we know in the music world, what one person loves another loathes! So, I wanted some backing from other players, and if this wasn't the case, I didn't review the kit – or include it here.
Brand
I am far from a guitar snob and happily play my knock-off LP all day long, but I have found that branded accessories tend to take the lead over non-branded. With just one exception, all of the guitar cleaning kits here are made by well-known brands, such as D'Addario, Fender, Ernie Ball, and Jim Dunlop.
6 Best Guitar Cleaning Kits
Fender Guitar Super Care Kit Bundle – Our #1 Top Pick

Four Step Kit
High-Grade Carnauba Formulations
Included String Cleaner and x2 Microfiber Cloths

Find it Here
Ernie Ball Polish with a Cloth – Our #1 Top Budget Pick

Oil Free Guitar Polish
Safe on Most Woods and Finishes
Made in the USA

Find it Here
MusicNomad The Nomad Tool Set

No Cleaning Solution Needed
String Cleaning Tool
Online Best Seller

Find it Here
Jim Dunlop Body & Fingerboard Cleaning Kit

Dunlop's Most Popular Maintenance Products
Invisible Sealant
Included Polish Cloths

Find it Here
FOLLOWIN Guitar Cleaning Kit

All in One Inclusive Kit
Streak Free Formulas
Included Three in One Guitar & Bass String Winder

Find it Here
D'Addario Accessories Instrument Care Kit

High Quality Travel Case
Non-Slip Protective Body Mat
3-Step Polishing System

Find it Here
Fender Guitar Super Care Kit Bundle – Our #1 Top Pick
The Fender Guitar Super Care Kit Bundle is an excellent choice for any serious player. The box includes cleaner, polish, quick-clean solution, fingerboard remedy, string cleaner, and two microfiber cloths (one is double-sided).
The solutions are high-grade carnauba and contain no alcohol, bonding agents, polymers, resins, or silicone. I found the bottles a little troublesome when squeezing out the solutions but was impressed with the no-streak finish. Players with black or dark guitars are especially impressed with this bundle, but the high-shine finish looks good on all colors.
There are a few packaging issues, and although this doesn't affect the products, it does seem to be a problem a lot of people have experienced. One of the benefits should be the neat box that can store the bottles in, but a lot of players have received this in a damaged condition.
However, for what you get in the box, the value for money is incredible, as I suspect these solutions will last a long time, keeping your guitar in its finest condition for years. I am confident that this complete and practical set is an excellent buy for most players.
Pros
Four Cleaning and Polishing Formulas Included
High-Grade Carnauba Solutions
Included String Cleaner
Included Microfiber Cloths
Fender Branded Products
Cons
Issues with Damaged Packaging
Ernie Ball Polish with a Cloth – Our #1 Top Budget Pick
The Ernie Ball Polish with a Cloth is an excellent option if you are just figuring out your guitar cleaning needs or looking for a convenient spray. This product offers remarkable value for money as there is double the fluid ounces of most other brands. I did find the solution to be thinner than some but highly effective.
The EB Polish and Cloth is perfect for daily use and gets rid of fingerprints well. The smell doesn't linger and is non-offensive. A huge plus is that you don't have to remove your strings before using this, and it does condition them a little in the process.
The primary role of this cleaner is to tend to the bodywork and leave a protective layer, but it also brings out the wood grain and leaves the guitar with a fresh new shine. The microfiber cloth is of good size and has double overlocked edges to prevent any lint issues. Overall, a great buy for everyday use.
Pros
Convenient, No-Nonsense Application
Fragrance-Free
Good Volume of Fluid
String Conditioning
High-Quality Microfiber Cloth
Top Quality American Brand
Cons
Not Intended for Deep Clean
Thin Solution Compared to Most
MusicNomad The Nomad Tool Set
For players who don't want to, or can't, use solutions, the solution-free MusicNomad The Nomad Tool Set is a good choice. Highly affordable and with fast delivery to most States, this product makes a convenient companion for other cleaning and buffing cloths.
It could, too, be used as a stand-alone product, but sometimes you just have to get your fingers in there, and that can't be done with the two tools included. The Nomad tools brush dust and debris away from all areas of your guitar, including those hard-to-reach places.
Most of the feedback online is highly complementary, and the tools do exactly as described. I'm not sure how well this would do as the only guitar cleaning kit in your home, but it certainly performs well as an in-between deep clean or for more regular use.
Pros
Great Price
Gets into Hard to Reach Places
Solution Free
Great Feedback Online
Fast Delivery
Cons
May Not be Adequate as the Only Cleaning Kit in the Home
Not Sufficient for a Thorough Deep Clean
Jim Dunlop Body & Fingerboard Cleaning Kit
Essentially, the Jim Dunlop Body & Fingerboard Cleaning Kit is a combination of the brand's best-selling cleaning products and makes for an affordable and practical option. This kit is great for acoustic guitar players looking for an inexpensive cleaning solution from a highly trusted brand.
I found the polish excellent for buffing the body of an acoustic, and it provides a deep clean with no residue. There is a strong yet invisible, protective seal left behind that helps to keep the guitar in good condition between cleans. The Ultimate Lemon Oil removes grease and grime from the fretboard with no effort.
There is a slight lemon scent left behind, but this isn't overpowering and doesn't last too long – it is personal preference as to whether this is a pro or a con; personally, I like it. Included with the solutions are two microfiber cloths – one for each product. The cloths are sufficient but on the smaller side.
Pros
Fantastic Reviews Online
Non Abrasive Solutions
Affordable Price
Highly Effective Clean
Nice Lemon Scent
Trusted American Brand
Cons
Cloths Are a Little Small – Maybe fiddly for those with larger hands
Lemon Scent Won't Suit Everyone
FOLLOWIN Guitar Cleaning Kit
The FOLLOWIN Guitar Cleaning Kit truly is an all-in-one guitar cleaning and maintenance kit. It comes neatly packed in a strong cardboard box, which makes it ideal for giving as a gift or just for convenient storage. Everything you could need is inside, including cleaner, polish, lemon oil, and wax for the body.
Additionally, there is a specialized two-in-one string cleaning pen and a three-in-one string winder. I found the shine to be pretty long-lasting, and the brand states that the solutions protect from sun damage – although I can't verify this yet, I have noted a strong protective sealant, so I have every confidence.
The polish works well and restores shine, and I love that the solutions are sprays which are really convenient to use. The string cleaning pen is new to me but certainly seems to do the job well.
Overall, I think this is an excellent buy for anyone looking to buy everything they could need to perform guitar maintenance, but that doesn't want to break the bank.
Pros
Nice Presentation and Storage Box
Practical Set Includes all You Could Need
Spray Solutions Are Convenient to Use
String Winder Included
String Cleaning Pen Performs Well
Good Value for Money
Next Day Delivery Available
Cons
Reviews Thin on the Ground
Lesser-Known Brand
D'Addario Accessories Instrument Care Kit
The D'Addario Accessories Instrument Care Kit has everything you need to perform a deep clean on your guitar and then some. The 3-step cleaning system consists of a restorative detailer, wax, and cleaning fluid that is non-alcoholic and non-abrasive. Again, they're spray bottles for great convenience.
If you have a rosewood fretboard, then the fingerboard conditioner is ideal. There are five fret polishing sheets and a jar of specialized string lubricant, which completely restores them to factory fresh in mere moments. rosewood guitar
I love the included headstand rest and non-slip body mat to clean your guitar on, as this allows you to safely use pressure to get into those nooks and crannies.
Everything fits back into the carry case for great storage. Due to the price, I would recommend this to those fully committed to taking care of their instrument and who are ready to invest in a guitar cleaning kit.
Pros
3-Step Polishing System
String Lubricant
Fret Polishing System
Headstand
Non-Slip Mat
Travel/Storage Case
Best Selling D'Addario Accessories
Trusted American Brand
Cons
Expensive
Long Delivery Wait Compared to Most
Frequently Asked Questions
Question: What is the Best Preventative Measure to Keep my Guitar Well Maintained?
Answer: One of the best things you can do for your guitar – and you may not want to hear this, especially if you have a stunning guitar you want to show off – is to store your guitar away.
The huge downside to leaving a guitar on display, or out of its case, is that dust and debris will begin to accumulate, greatly affecting sound, playability, and reducing the guitar's lifespan.
Getting into the habit of washing your hands before you play is another good preventative measure.
Question: How Much Cleaning Solution Should I Use?
Answer: When applying wood oils and solutions, little is more. Only a minimal amount is needed, which makes the products cost-effective. The oil should be applied via a damp cloth; then, the guitar wiped over with a dry cloth to leave it fit for immediate play.
Question: How Often Should I Use a Guitar Cleaning Kit?
Answer: I consider using a guitar cleaning kit to be more of a deep clean and do this every 3-6 months, depending on how much use the guitars had.
The Best Guitar Cleaning Kits – My Verdict
I would happily use each of the guitar cleaning kits featured in this article, but each has its own appeal making them more appropriate for different users. For a new player, the Ernie Ball Polish with a Cloth offers a great gateway into the world of guitar cleaning; it's also highly effective and has a great price point.
For people who want to avoid solutions, the MusicNomad The Nomad Tool Set performs well and is straightforward to use. I like how it fits into all the nooks and crannies of the guitar, but I feel the shine is somewhat lacking compared to other guitar cleaning kits.
The Jim Dunlop Body & Fingerboard Cleaning Kit is a great little kit, coming from a trusted American brand and at an affordable price. I'm fond of the lemon scent too! Although reviews for the FOLLOWIN Guitar Cleaning Kit are sparse, I feel confident it can match longer-standing brands and think it's an ideal gift for the guitar player in your life.
If you are a serious player with money to invest in your guitar, then the D'Addario Accessories Instrument Care Kit is worth considering. It is expensive, but it outshines most other kits in most areas.
The guitar cleaning kit that I was most impressed with was the Fender Guitar Super Care Kit Bundle. This complete, and practical kit, will take care of all your guitar cleaning needs while still being affordable.
Latest posts by Jodie Chiffey
(see all)