Growing up as a right-handed young man, I was always a bit jealous of my left-handed friends. It seemed like a unique party trick to me at the time, and I was always trying to write, create, and do other activities with my left hand. Little did I know that being left-handed can be quite the pain in the butt, especially when it comes to finding acoustic guitars.
Unlike the thousands and thousands of standard right-handed acoustic guitar models, finding a left-handed acoustic guitar can be quite tricky. There are still tons of options out there for you to explore, but there's no denying that the market can be a bit of a minefield. How are you supposed to know which brands are producing the best left-handed guitar? Do they even know how it feels to play acoustic guitar left-handed or have they just designed a cheap left-handed cash-in?
These are all very valid questions, and I've brought answers. I'm writing this guide to help all the left-handed musicians out there find the best acoustic guitar specifically designed for their dexterity. From key criteria to my recommendations, we'll be covering a ton of ground today, so read on to find out more!
Bottom Line Up Front: The best left-handed acoustic guitars should always be designed specifically for left-handed comfort, should have excellent reviews, be of a suitable size and type for you, and of course look and sound cool. There are many cheap and expensive left-handed acoustic guitars out there, but I would recommend the Fender Redondo Player Left-Handed Electro-Acoustic over any other option due to its mid-range price, value for money, and unbeatable brand reputation.
How Do You Know If You Need a Left-Handed Acoustic Guitar?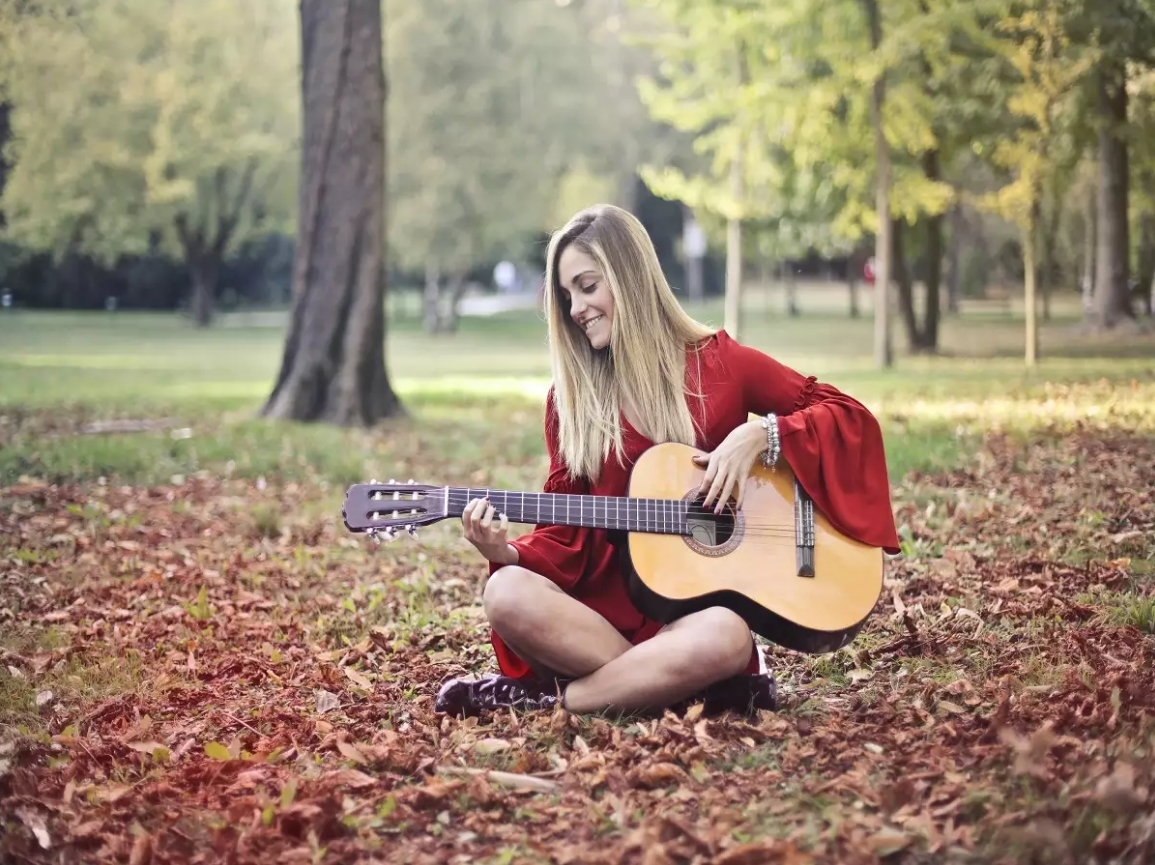 Before we get started with investigating the key criteria to look for in left-handed acoustic guitars, I think it's important to first answer the question: how do you know if you need a left-handed acoustic guitar? This might sound like a stupid question to some people – obviously, you should know this depending on whether you are left-handed or not…right?
Well, it's not that simple really. Firstly, many people don't discover whether they are right-handed or left-handed until a later age, once they've tried their hands at a variety of different activities. I knew a ton of people in school who claimed that they were right-handed, only to discover that when performing certain tasks, it was easier to use their left hand. In contrast, I knew a lot of left-handed kids who were right-footed when it came to playing soccer… I even knew some kids who claimed to be ambidextrous!
This is why every new guitarist must try out both left and right-handed acoustic guitars before making a decision. Despite being right-handed, there are still several tasks that I perform daily which feel more comfortable when I use my left hand. No matter how confident you are with which hand is your primary, I would always recommend testing both guitars to see which feels most natural.
It's undeniable that if you've never played the guitar, either way round will feel strange, but you should be able to get an idea at least of what is most comfortable.
Overall, whether you're buying an acoustic guitar for a child who hasn't quite figured their dexterity out yet, or you're a grown adult who has years of right-handed experience in other activities, you just never know when it could be your left hand's time to shine. Head to a music store such as Guitar Center, test out right and left-handed acoustic guitars, and see what works for you. Only then should you consider purchasing an instrument!
What to Look For In the Best Left-Handed Acoustic Guitars
By the end of this guide, I want to leave you to do some independent online research about the best left-handed acoustic guitars – this is the only way you'll find something right for you! However, this is going to be difficult if you don't have the right knowledge to hand, so I've put together the following sections on what to look for in the best left-handed acoustic guitars. Read on to find out more about my thoughts!
Designed for Left Handed Guitarists
The first thing that I would always look out for when purchasing a left-handed acoustic guitar is that the producer of the guitar has designed it specifically to be used comfortably by left-handed guitarists. This might sound a little bit dumb and obvious – surely every left-handed acoustic guitar is going to be designed for left-handed acoustic guitarists?
Whilst, in theory, this may be true, it doesn't work in practice – let me explain why that is. Left-handed acoustic guitars (or any guitar for that matter) are much like 12-string guitars, bass-guitars, and fretless guitars… they are all designed with a particular audience and purpose in mind. Left-handed instruments aren't just about swapping the position of the neck – the whole guitar needs to be designed to be comfortable, accessible, and uncompromising to the left-handed guitarist.
Unfortunately, niches such as left-handed acoustic guitars come with a problem – some nasty companies treat it like a cheap cash-in. Perhaps they only produce right-handed guitars and have noticed a gap in the market. They're thinking, "Why don't we just swap the neck around on this guitar, reversing the building process so that left-handed guitarists can play it too?"
If only it was that simple! There's not always malicious intent going on here, with some guitar brands simply being unaware of the intricacies of a left-handed instrument. Regardless, it's frustrating that many left-handed guitars on the market simply are not comfortable to use, and that's a problem.
Imagine saving up for a left-handed guitar only to discover that you are incredibly limited in terms of how you can play the instrument. Dexterity does not have any negative effect on potential skill and talent, so you should never compromise in this regard. So, how are you supposed to know whether a left-handed acoustic guitar is comfortable for left-handed performers? Let's find out through this next section!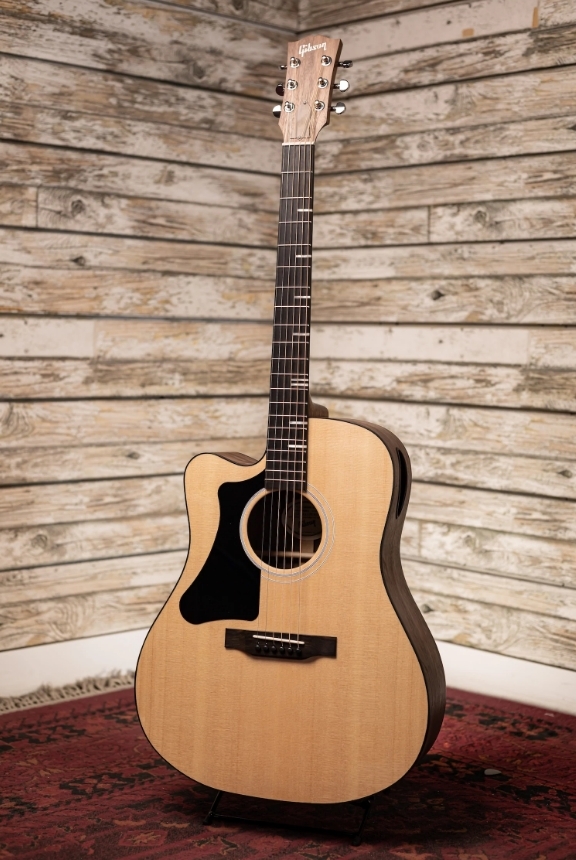 Reviews, Testing, and Research
So, you've discovered a left-handed acoustic guitar that looks pretty darn good – it's in your price range, it looks cool, and everything looks in order. However, how are you supposed to know whether it's a proper left-handed acoustic guitar as opposed to a cheap cash-in? Well, you can uncover the truth through reviews, testing, and research.
Reviews in my opinion are the most important aspect here. If you have ever shopped for any products online, you should be familiar with online commerce reviews already. People who have previously purchased a left-handed acoustic guitar can head online and provide a review based on their experience with the instrument, whether it was a positive or negative one.
It's a fantastic way to bypass any pesky marketing talk, uncovering the truth as to how comfortable the instrument is for a left-handed player. Trust me – if left-handed guitarists have bought an acoustic only to discover that it doesn't suit left-handed people well, they'll be ranting about it in the reviews!
Arguably even more important than reviews is testing – instead of relying on the anecdotal experiences of others, testing a left-handed acoustic guitar in person provides an invaluable physical experience that you simply cannot gain from reading information online. Not every left-handed acoustic guitar is going to be available for you to rest IRL.
However, I would recommend heading to some local guitar stores such as Guitar Center to see what they have on offer. You could even give some stores a phone call in advance to ask them what options they have – they'll always be happy for you to head to the store and test some guitars out!
Last but not least, it's all about the research baby – research is essential when it comes to purchasing the best left-handed acoustic guitars, especially when it comes to the brand. Many people claim "brand, shmand", and whilst there is some element of truth here, there's no denying that guitar brands with solid reputations produce the best left-handed acoustic guitars.
Let's take Martin for example – this guitar producer has an unbelievably positive track record for producing the best acoustic guitars. Do you think that they would risk ruining this reputation by producing a rushed left-handed acoustic guitar cash-in? Absolutely not!
This may all seem like a lot of information, but as long as you read product reviews, test instruments when possible, and do your research on every guitar brand, I'm sure that you will find a left-handed guitar that suits your style in no time. Just please do not go into a left-handed acoustic guitar purchase blindly, no matter the price. There's no point saving money on a cheap left-handed guitar if you can't even play it comfortably!
Size and Type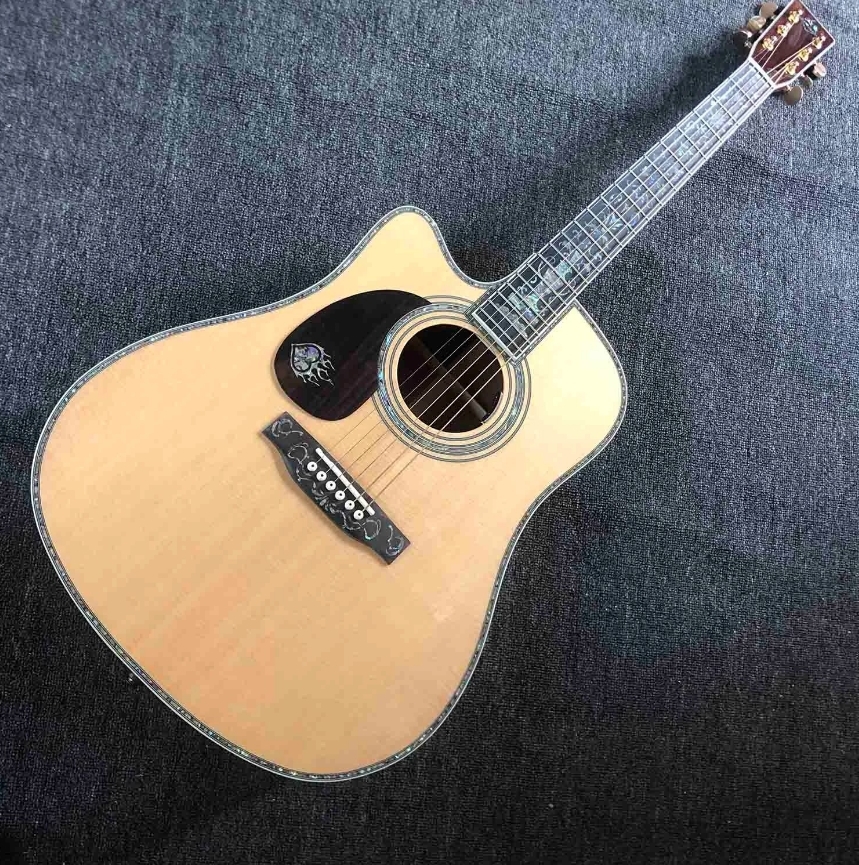 Right, we've got most of the left-handed specific criteria out of the way, so now let's get started with something a little more general – size and type. No matter whether you're searching for a left-handed acoustic guitar or a right-handed electric guitar, you will always need to consider the size. Many people falsely believe that guitars are "one size fits all", but this couldn't be further from the truth.
There are tons of different sizes of left-handed acoustic guitars available – from large jumbo acoustics to standard 4/4 guitars, smaller parlor guitars, and even travel-sized or children guitars, size really does matter when it comes to guitar. Give a child a jumbo acoustic and it won't matter whether they're right or left-handed – they won't be able to play it comfortably.
On the other hand, some adults simply do not have large enough hands and arms to comfortably use a full-sized guitar, preferring a ¾ or parlor-sized acoustic.
If you are already familiar with the size of acoustic guitar that you are looking for, you're all good. However, if you're a new guitarist who has yet to purchase their first left-handed acoustic guitar, I would highly recommend that you do some research on guitar sizing. If you're an average or above sized adult, a jumbo or regular-sized acoustic will do you fine.
If you're a smaller adult, a parlor or ¾ acoustic will do the job. Any smaller, and you should be looking at ½, ¼, or even 1/8 guitars. Whatever you do though, make sure you head to a shop such as Guitar Center to try various sizes out to find what works best for your body type.
There is also the important matter of choosing the right left-handed acoustic guitar type. Perhaps you just want an acoustic guitar, or maybe you want to spice things up with an electro-acoustic. You may even be looking for something more niche such as an electro-acoustic 12-string left-handed acoustic. It doesn't get much more specific than that, but believe it or not, these guitars exist! You might be a little more limited in terms of options, but trust me – you'll find something in your size!
Appearance and Tone
The final two things that I'd like to mention are perhaps the most universal struggles of guitar hunting – finding something that looks and sounds good! Some people claim that the appearance of a guitar does not matter and that the quality lies 100% in the tonality. Whilst I would agree that tonality is far more important in theory, let's be honest – we all became obsessed with guitars in the first place cos they look darn cool!
In my opinion, you should find a left-handed acoustic guitar that ticks both of these boxes. Firstly, you should find something that features tonewoods that are within your budget – sure, noble tonewoods such as mahogany, spruce, and ebony can do wonders for the sound of your guitar, but if you can't afford that then don't worry.
Even the cheapest guitars these days have pretty decent tone – just investigate the tonewood specifications, read the reviews, and check out some online videos to get an idea of what the guitar sounds like.
In terms of appearance, this is all down to your taste. However, I would recommend choosing a left-handed acoustic guitar that you know you will still like the look of in a few years. Choose something subtle and tasteful, yet unique. Trust me – you don't want to be that one guy who has a tacky flame printed across their otherwise beautiful acoustic guitar!
My Top Left-Handed Acoustic Guitar Recommendations
Now that we've covered the basics of searching for and researching the best left-handed acoustic guitars, I'd like to do you one last favor by providing some of my recommendations.
These are all guitars that tick the previously mentioned boxes, whilst being available at a variety of different price points. Read on to find out which guitars I chose – I'm sure there'll be something that you'll like the look of!
I mentioned earlier how important I think it is to consider various budgets when recommending guitars to purchase, so I'm going to stay true to my word by beginning with a seriously cheap yet good-quality left-handed acoustic guitar – the Eastcoast G1CEL Grand Auditorium!
Give this guitar a quick look online and you'll be baffled by the price – it's a full-on electro-acoustic guitar for left-handed players for just over 100 bucks. Whilst there's no denying that the tonewoods and materials used to produce this guitar are nothing special, it's a seriously comfortable instrument designed specifically for lefties.
Due to its low-range quality, I wouldn't necessarily recommend this to guitarists with experience – you'll probably be able to notice the lower sound quality. However, if you are a beginner who has a hunch that they may be left-handed, it's a great place to start. It's easily affordable so it's not the end of the world if it doesn't work out for you. However, if it does feel right, this is going to be one heck of a beginner acoustic guitar!
Pros
Seriously cheap price
Electroacoustic, allowing you to boost the acoustic guitar volume through an amplifier
Designed specifically to be comfortable for left-handed guitarists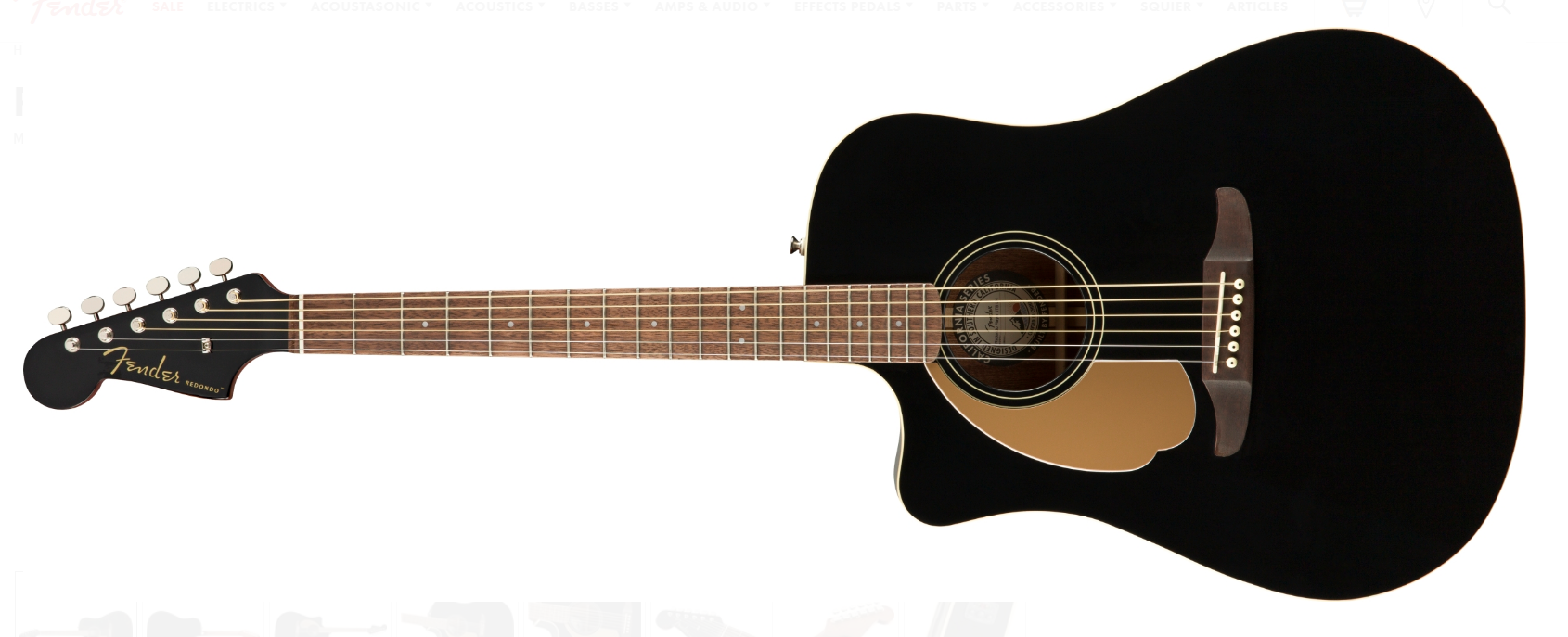 Now that we've taken a look at the best budget option, let's have a look at a more mid-range left-handed acoustic guitar – the Fender Redondo Player LH. If you've never heard of Fender, where the heck have you been? They're only one of the most respected and prestigious guitar brands in existence!
This acoustic guitar is a prime example of what Fender does best – it features a Fender-exclusive Redondo body shape, a solid spruce top with a mahogany back and sides, and a vibrant tone… what more could you want from an acoustic guitar?!
Well, how about electronics? That's right, despite the high-quality tonewoods used, unique design, and reasonable price, this left-handed acoustic guitar still includes pickups, a preamp, EQ controls, and a tuner! I've come across a lot of good left-handed acoustic guitars in my time, but when it comes to mid-range products, this is the best I have seen.
It's ideal for any intermediate acoustic guitarists who are looking to upgrade from a budget option, without breaking the bank. Plus, you simply cannot go wrong with Fender – any guitarist will tell you the same.
Pros
Fender has an unbeatable reputation for producing high-quality guitars
Designed with a spruce top and mahogany back and sides
A very reasonable price considering the quality
Includes pickups, a preamp, EQ controls, and a tuner
Cons
Not everyone is going to be a fan of the unusual Fender-exclusive Redondo style
Whilst it's a great upgrade option for intermediate players, the quality probably won't cut the mustard for professional guitarists.
Did someone say "professional guitarists"? Now that is something I have a recommendation for, but brace yourself, because the price of this product has taken a significant step up. I'm talking about the Martin D28 Left Handed Acoustic guitar, and my gosh what a beauty it is.
This stunning instrument has been designed with solid Sitka spruce (the highest quality spruce out there), Solid East Indian Rosewood for the back and sides, and even ebony fittings! This combination gives the guitar an unmistakable tone – Martin is just on another planet when it comes to crafting finely toned guitars.
It's also a purely acoustic guitar, meaning there are no electronics involved here. Whilst this may seem like a downside to some people, a lot of acoustic guitarists prefer the simplicity of pure acoustic guitars, simply mic'ing up the instrument if it isn't quite loud enough.
It's honestly difficult to think of an acoustic guitar brand that I would trust to produce a left-handed instrument more than Martin, but the price tag of almost $5,000 is enough to make even the most experienced guitarists weep.
It's certainly not a beginner or even intermediate guitar, but if you are serious about this instrument and are willing to save up some paycheques, I guarantee that you would be satisfied with this absolute masterpiece.
Pros
You simply cannot beat Martin when it comes to acoustic guitar quality
A simplistic pure acoustic guitar design without any electronics
Built with Sitka spruce and Indian rosewood, two of the best tonewoods on the market
A carefully designed dreadnought guitar that is perfectly comfortable for left-handed players
Cons
Some people will think the lack of amplification is a major downside, especially considering the price
Do I need to say anything more than "the price"? It's extremely high, enough said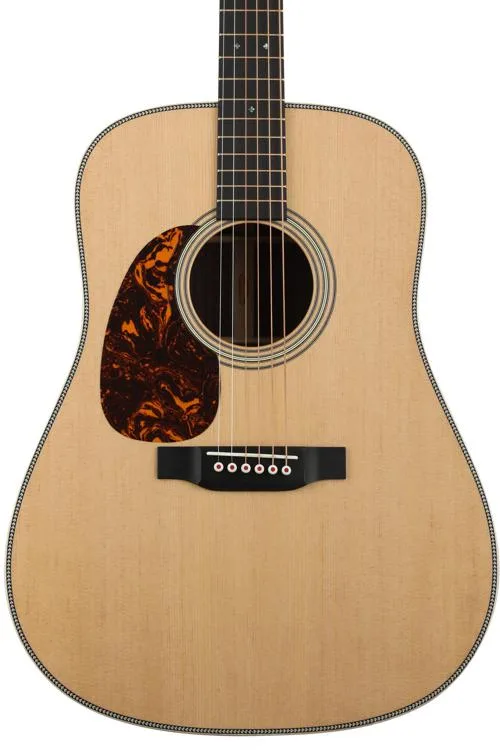 Best Left Handed Acoustic Guitars FAQs
Well, that just about covers everything that I wanted to inform you regarding the best left-handed acoustic guitars on the market. We've covered a ton of information, so let's round things off with a quick FAQ. Hopefully, it will answer any final burning questions that you may have!
Question: What Should You Look For In The Best Left-Handed Acoustic Guitars?
Answer: The best left-handed acoustic guitars should include tonewoods that fit your budget, be designed specifically for left-handed comfort, size, and style that works for you, and of course be well reviewed!
Question: How Do You Know If You Need a Left-Handed Guitar?
Answer: If you're a beginner, you should always test both left and right-handed guitars to see which feels most comfortable. This is important even if you are usually right-handed, as peoples' dexterity often differs when it comes to musical instruments.
Question: Are All Left-Handed Acoustic Guitars Expensive?
Answer: Absolutely not – just because a guitar is left-handed does not make it expensive. I've found electroacoustic left-handed guitars for as low as $100, with some reaching dizzying heights of $10,000!
Question: What Is The Best Left-Handed Acoustic Guitar Brand?
Answer: The answer to this question is subjective with so many high-quality acoustic guitar brands out there, but in my opinion, you simply cannot beat the attention to detail that Martin guitars provide.
Final Thoughts
Well, that just about brings me to the end of this guide to the best left-handed acoustic guitars! There's no denying that masterpiece designs such as the Martin D28 Left Handed stand out amongst the crowd, but that's a seriously expensive guitar that most of us cannot afford. Therefore, my top recommendation would be the Fender Redondo Player Left-Handed Electro-Acoustic – it's packed full of high-quality features and design points, yet the price is very reasonable!
Whether you're a beginner guitarist who has just figured out they are left-handed or a heavily seasoned guitar master with a ton of left-handed acoustic experience, I truly hope that this guide has helped you in one way or another. I wish you the best of luck on our journey – never stop practicing!
Latest posts by Calum Vaughan
(see all)