David Bowie left us on the 10th of January, 2016. Just days after releasing his last album Blackstar. He was 69 at the time and left us a musical and social legacy that very few composers or artists have done before him. The British pop icon artist, who became famous for his flamboyant alter ego Ziggy Stardust was considered one of the greatest stars of all time and ranked number 23 on the Rolling Stones' list of 100 greatest singers.
His success crossed borders, and he became a style icon. The cover of his album Aladdin Sane, with the red and blue lightning bolt decorating his face, has gone down in history and has been elevated to the category of a pop icon. He moved to the United States in 1974, where he continued to work and reap success. In addition to music, David Bowie made the leap to the big screen in films such as The Man Who Came from the Stars in 1976.
Shortly after, he moved to Switzerland and Germany. He released three more albums during those years, including Heroes, probably his best-selling album of all time. Thanks to this and more, David Bowie entered the 80s as a star. His reinvention of rock, glam, and other musical styles that influenced his work made him the king of the new wave. His style and aesthetics evolved, but he always remained true to himself.
This decade began with Scary Monsters and the collaboration with Queen´s Freddie Mercury on the single Under Pressure. This song quickly became number 1 in the United Kingdom and entered the charts in more than ten countries.
Let's dance, from 1983, was the song that took him from star to superstar. With this hit, he went platinum in 1986. David Bowie tried his luck again as an actor during this period, this time in the film "Inside the Labyrinth", a children's fantasy feature film.
David Bowie the Multitalented Musician and Artist
Apart from being an all-rounded musician and actor, Bowie started playing the saxophone when he was 12, guitar all throughout his career as well as keys, and had one of the most recognizable voices of the late ´70s and ´80s. You won´t find him categorized as one of the most technical guitar players, but his Supro Dual-Tone electric guitar had a reissue some years back, in 2018.
He also played a peculiar-looking guitar from Steinberg- a brand you might more commonly know nowadays for Cubase, their DAW, and keyboards.
Although he did play the guitar himself on most of his albums, David often invited other more experienced guitarists to add their flavor and lines to some of his songs. Robert Fripp, from King Crimson, played the guitar on "Heroes" back in Berlin in the late ´70s. Bowie also played with Stevie Ray Vaughan and Nile Rodgers; the latter was cast for the band but didn´t get chosen.
Guitars
Bowie was never devoted to any single brand, so he played many guitars throughout his career. Aside from many Telecasters, Gibson Les Pauls, and Stratocasters, I´ll go over some of the more unique guitars he played, which funnily complemented his style both as a singer and a fashion icon:
This guitar is from a Swedish brand that is still on the market nowadays. They brought out this model, which is very reminiscent of a Stratocaster style shape, around 1962.
This was an age where the surge in demand for electric guitars arose and introduced this line, meaning that the vinyl covering on the body made it much easier than other brands that would paint the guitars.
It had a tremolo system similar to the Strats and 22 frets. Birch neck, Teak fretboard, and two single-coil pickups with a four-way switch and a bolt-on neck, the two colors available were both a flashy red and a flashy blue model, purple, and orange-brown. David had the red model in his video Rebel Rebel.
David Bowie had a natural finish Telecaster which he took on tour on various occasions. Instead of having two or three single-coil pickups, it had a humbucker on the neck, a single middle coil pickup, and a three-way switch system. This was that was not the usual Fender three-way switch, but more like the system on his Hagstrom guitars, which consist of individual switches.
Telecasters are known to be quite heavy guitars, so maybe for that reason, we didn´t see him hanging on to these for long. Or maybe it was just the longing to reinvent himself constantly. He was also seen with standard Strats, which, together with the Telecaster models, were very popular, thanks to other previous legends like Jimi Hendrix.
Supros have a distinctly different sound than Fender- much warmer and with less pristine clarity. It is said that David got his hands on this guitar on eBay in the early 2000s.
It has a Les Paul style mahogany body and rosewood fretboard with 20 frets. It carries two Supro Vistatone pickups, two volume knobs and two knobs for tone, one for each pickup, and a three-way switch. The bridge is a T.O.M. style bridge, with a bigsby tremolo. Jimi Hendrix´first guitar was a Supro, and Bob Dylan was a known user, too.
Following Bowie´s death, Supro released a limited 400-set edition of the original Dual-Tone owned by David Bowie, with some minor upgrades over the original model, a more accurate headstock and tune-o-matic bridge replacing the wooden one, mahogany body with the characteristic white finish; a glued maple neck with Pau Ferro fingerboard and Bowie logo on the headstock; 24 ¾" scale; 12″ radius; and a pair of Vistatone pickups manufactured by the Roadhouse company with the same specifications as the original Valco.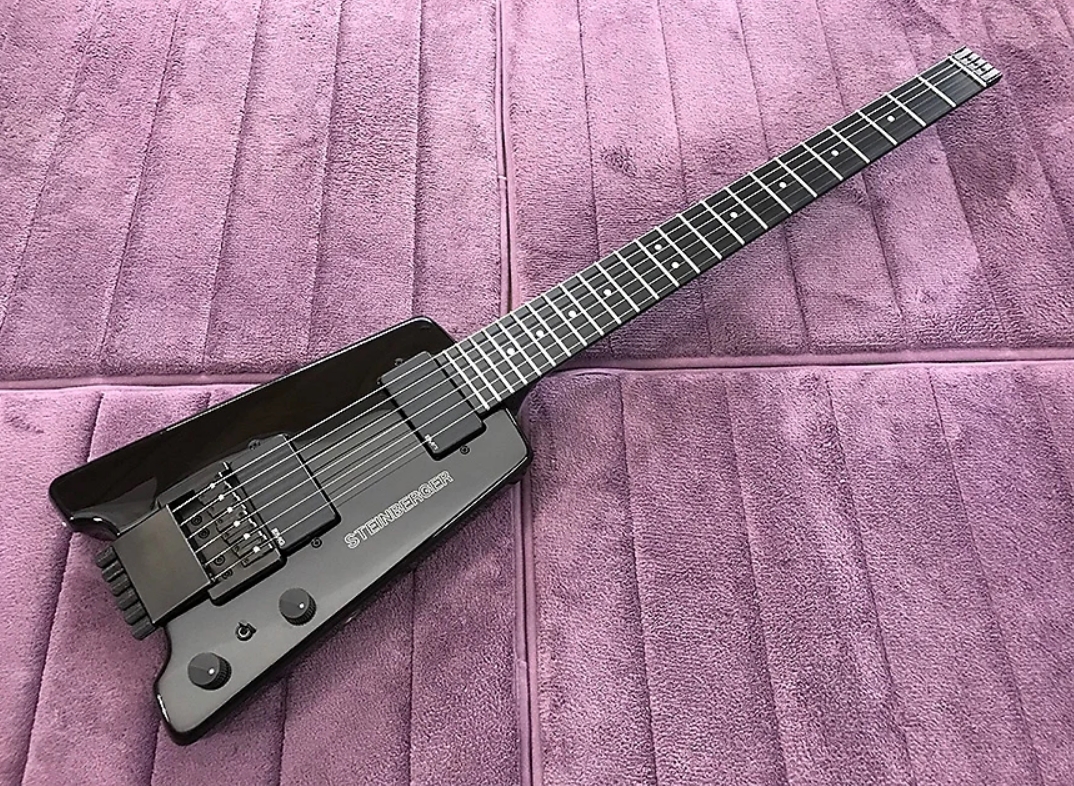 Steinberger, the guitar manufacturer, was acquired by Gibson in 1987 because of its inability to produce the number of guitars to satisfy demand. But the complex manufacturing method and the high cost of materials resulted in an uncompetitive price. Gibson stopped producing Steinberger guitars in the mid-1990s and only started again very recently, in 2018. This GL2 guitar is derived from the state of the art new headless Stenberg bass guitar introduced back in the early ´80s.
Like the previous ones I have gone over, these guitars also have a particular aesthetic, which either fits your liking or doesn´t. The neck and body were made out of a single carbon-fibre piece, which gave it distinct harmonic properties that wooden instruments couldn´t achieve. The sustain was uncomparable, and the mounting of active EMG pickups with a three-way toggle switch added to the instrument's overall sound.
Its unique headless mechanism made it a versatile instrument to carry around or travel with while still having 24 frets and an excellent sonic response. If you wanted to play sitting down, you could purchase a separate leg rest to attach to the guitar to avoid severing your leg against those sharp guitar corners.
In 1963, Vox introduced the teardrop-shaped Mark VI, the prototype of which was made specifically for Brian Jones of The Rolling Stones, using a Fender Stratocaster bridge without tremolo. Several versions later, David Bowie's Vox Mark XII is now on display at Hard Rock Café in Varsovia, Poland. It resembles a classic lute form, imbued with the electronics of nowadays rock and roll guitars.
There was a 12 string and a six-string version of the famous Vox teardrop Mark XII and XI, and Bowie had both, probably. They both had a solid top body, a Tune-O-Matic bridge, a Maple body and neck, with a rosewood fretboard and three single-coil pickups.
Amplifiers
Although some of the guitarists he played with, like Mick Ronson, were sponsored by certain guitar amps like Marshall, we do know that David Bowie played through Mesa Boogie amps. However, some say that the Rebel Rebel opening riff sounds like more of an AC30 Vox sound- later found out to be played by Mick Ronson, too.
Although we do not know for sure if he played this amp on all his records (he probably didn´t, seeing how rapidly he transitioned through guitars, too), you can see this Mesa Boogie in a 1991 photograph of his rig with a Steinburg guitar.
In the mid ´80s, Mesa/Boogie released the first "Tri-modal" amplifier. Tri-modal because it has separate modes for Clean, Crunch and Lead sound. The Mark IV, six years later, greatly improved the ability to control each channel separately by introducing two runs of control knobs on the front panel, thus optimising the available space without increasing the convenient and versatile size of the Mark III. This amp is, simply put, one of the most incredible and versatile amps still in existence.
It takes getting used to the knob controls and dialling in a proper EQ and the right level of distortion, but you´re in for it. There are still many nowadays, but they are not cheap at all. Sporting 4 x 6L6 and 5 x 12AX7, it outputs 85W of power. It has three channels, along the tri-modal amplifier line, with a whooping 5-band EQ, FX loop, spring reverb, and many other functions for recording the output.
This is not an amp for beginners, but you can get a lot of juice out of this tube amp if you come across one and are patient enough!.
Other Instruments and Miscellaneous
This is a very recognizable microphone. I myself had seen it many times before and wasn´t aware Bowie was one of the reasons it was so ubiquitous. It sounds very warm and adds body to most instruments.
As a dynamic microphone, it has low sensitivity, which forces you to boost the gain on the preamp. Its output impedance is a little lower than normal, so it is affected by the preamp's input impedance that will amplify it, giving it a plethora of different sounds depending on what setup you have.
It´s not the go-to option for most musicians but definitely colors your voice in a peculiar and "retro" way.
This strange Star Trek-looking piece of machinery is what is called a "Keyboard Arranger". It´s basically a keyboard or sample drum machine, but with more functions and set up more unconventionally, so you can play it upright. It can generate drum patches and modify chords and progression. Its sounds range from steel drums to guitar, marimba, and piano sounds.
Read also: How to Find the Best Guitars to Modify.
This is a pioneering sample machine from back in the day and is even used by top artists today like Flume or Damon Albarn. If you´ve listened to Polo&Pan, you will also notice a similarity in their sound to what this is capable of producing.
FAQs
Question: Was David Bowie a good guitar player?
Answer: He won´t go down in the books as the most technical player in history, although he will come as one of the most influential. He mainly was a singer and performer. He wasn´t wholly comfortable playing complicated guitar parts in the studio, but he was perfectly capable of playing rhythmically and mostly anything in his songs.
Question: How many instruments could David Bowie play?
Answer: Apart from guitar, bass, singing, and saxophone, he played many other instruments and even played right-handed guitars being left-handed.
Question: Why did David Bowie not use his real name?
Answer: At the time, there was another musician gaining popularity in Britain called Davy Jones- who incidentally was later on the frontman of The Monkees- and never rose to the amount of fame David Bowie did.
Question: How did David Bowie get a permanently dilated pupil?
Answer: Aniscocoria, the term for what David Bowie had, was an unfortunate accident when he was a little boy in a silly argument over a girl. He stayed good friends with the boy who did it, so supposedly no hard feelings!
Question: Who was the guitarist David Bowie played with the most?
Answer: Mike Ronson played with Bowie on his album Spiders From Mars and many others up until the moment he passed away in 1993.
David Bowie Guitar And Gear List: Summary
Bowie became one of the greatest frontmen of rock thanks to albums such as Hunky Dory, The Rise and Fall of Ziggy Stardust, and the Spiders From Mars. He strolled through genres as diverse as cabaret, jazz, and what he called Plastic Soul -an African-American soul sang by a white man.
He had the ability to take his followers through diverse eras and styles, ranging from German expressionism to space suits. In his songs, he talked about pop, romance, the industrial age, and excesses; simply put, he was an inexhaustible source of creativity and was nourished by his context. Such impetus led him to collaborate with great minds like Brian Eno, Iggy Pop, Freddie Mercury, Arcade Fire, Lou Reed, John Lennon, and, of course, inspired figures like Philip Glass.
This is not to mention the experiments he carried out through performance. His gear list is as varied as his adopted identities through the years.
Latest posts by Taylor Petrie
(see all)