When I was a kid started playing the electric guitar about 15 years ago, I discovered AC/DC and I was in awe. I spent countless hours listening to them because of the electrifying riffs and solos of the Malcolm brothers. I was in love with rock n' roll, and I can't think of anything that made me feel better at the time.
Every time I saw a Gibson SG after that, I would admire it, and I'd that feeling of happiness from when I was discovering music as a kid, and dream of having one someday. Years later, I fulfilled that dream, and I finally got the guitar that I had on my mind for such a long time.
The SG is one of the most recognizable guitar designs ever, and you have surely seen it in the hands of many famous guitar players such as Derek Trucks, Frank Zappa, and Tony Iommi.
In this Gibson SG Standard '61 Maestro Vibrola review, I will share my thoughts about the Gibson SG Standard '61 Maestro Vibrola from 2019 that I recently acquired. I will talk about the guitar from a technical standpoint, its strong points, disadvantages, and everything that comes included with it when you purchase this instrument. I will also go over a few other examples of similar guitars from other brands that you might want to consider depending on your taste.
A little history about the Gibson SG
Gibson is without a doubt one of the biggest names in the music industry, and it is no wonder they have reached this legendary level of fame. It was founded in 1902 and it is the responsible brand for creating some of the most iconic designs in the history of musical instruments, such as the Les Paul, SG, Flying V, Explorer, and others.
The SG originally came out in 1961 under the name of "Les Paul", as it was intended to replace it. However, Les Paul himself hated the guitar's design and had his name removed from it. Gibson renamed it SG, which stands for "solid guitar". Some of the reissue models even feature a plaque labeled "Les Paul" to be more historically correct. The guitar we are reviewing doesn't have that name mentioned anywhere, though.
See how Gibson SG compares to Les Paul here.
Since its release, Gibson has come up with several distinct variations of this design. Some of these feature different tremolo systems (sideways vibrola, Bigsby), different finishes, pickguards, and pickup configurations, among other things.
The SG Standard '61 Maestro Vibrola is a part of the Gibson Original Series. The other guitars in this range are the following:
Gibson SG Special
Gibson SG Standard '61 Sideways Vibrola
Gibson SG Standard '61
Gibson SG Junior
Gibson SG Standard Bass
The Gibson SG has been a certified rock n' roll machine for decades, and most people that buy one are fans of this genre of music, as well as other heavier styles such as hard rock, punk, heavy metal, stoner, doom, etc.
Many legendary guitarists have made it their main guitars, such as Derek Trucks, Tony Iommi, Angus Young, and many other players who have used it frequently. Since this model features the Maestro Vibrola, it can help you cover more music genres. It can be used in surf rock, country, or rockabilly contexts, just to name a few. However, it is recommended to you have it well set up so that it doesn't make your guitar go out of tune when you use it.
Overall, this is a very versatile guitar that is also light and comfortable to play. The dual humbuckers can cover everything from crystal clean to highly distorted tones, and won't disappoint players who play a wide variety of music genres.
Let's discuss some of its properties in a little more detail:
Body
The SG is an amazing guitar for several reasons, and one of them is the fact that it is light and easy to play whether you are sitting down or standing up. The SG Standard '61 Maestro Vibrola only weighs 3.33kg, making it much easier to play for extended periods than a Les Paul or any other bulkier instrument.
Aside from the comfort, I can't leave out the fact that the Vintage Cherry with Gloss Nitrocellulose Lacquer looks stunning. The wood grain is beautiful and gives it a unique aesthetic. I always preferred red SGs, but I don't appreciate dark red finishes as much. As you can see from the pictures, this one looks amazing when it is under direct sunlight.
Neck
One of the features that stands out on this guitar for me is its neck. If you have played an SG before, chances are it had a very round, thick neck. This is typical of these guitars, but this model has a SlimTaper neck profile instead.
This is a thinner, slimmer neck that will feel comfortable to most players, allowing you to play intricate melodies, tricky chord melodies, and much more. It is also amazing how easy it is to access the higher frets, it is even easier than on my Stratocaster.
The rosewood fretboard looks nice and dark and looks even better after hydrating it with a little lemon oil during the first restring. The medium jumbo frets feel comfortable, and there was no audible fret buzz or notes dying out during bends.
In any case, the neck profile ultimately comes down to your preference, and you might be fond of the rounded profile that many SGs have. If that is the case, I suggest you take a look at the Gibson SG Standard from their Modern Series.
Pickups and Electronics
The electronics on this guitar are simple but effective. You have two humbuckers (Burstbucker 61R in the neck and Burstbucker 61T in the bridge), a three-way toggle switch, as well as volume and tone knobs for each pickup, hand-wired with Orange Drop capacitors.
These pickups are voiced for a vintage sound. They are powerful, bold, and easily cut through the mix in any of the 3 available positions. The bridge pickup can get bright, but you can adjust the volume and tone knobs to roll down some of the high frequencies.
The neck position does not sound muddy when using clean and saturated sounds, but I found it a little challenging to get a really warm, round jazzy tone. Maybe experimenting with different amplifiers and strings will allow me to get a bit closer to that kind of sound.
In the middle position, you can blend the sound of both pickups very easily with the volume knobs, but being used to playing a Stratocaster and an ES-335, I had a bit of trouble accessing the knobs quickly while playing because the Vibrola got in the way.
I play a lot of different music genres such as blues, jazz, funk, soul, rock, and fusion, and I can safely say that this guitar can easily do it all. While it is true that my semi-hollow body guitar can get a more convincing jazz tone in a more traditional context, the SG still sounds notably pleasant.
These humbuckers respond well to overdrive, distortion, and even the fuzz pedals that generally sound better to my ears when played through single coils. Operating the volume and tone knobs is a bit trickier than on my Stratocaster and ES-335, but you can achieve a large range of tones regardless.
Maestro Vibrola
The Maestro Vibrola can be seen on many SGs from the 60s, and while it is not the same as having a tremolo on a Stratocaster or a Bigsby, it gives your instrument something else to take advantage of.
I got the model with the Maestro Vibrola because I think the SG looks gorgeous with it. The metal piece and the lyre engraving were always attractive to me, and fortunately, I can use them moderately without making the guitar go out of tune.
If I abuse it a little more, I notice that the B and G strings get a little flat. I am sure that a nicer setup and a little maintenance on the saddles and the nut can further improve the stability of this guitar.
I wouldn't recommend the Sideways Vibrola model unless you like how it looks, because it is not as practical to use as the Maestro. Alternatively, you can just drop the tremolo entirely and get a hardtail model.
Complete Specifications of the Guitar
This section is dedicated to showing you the full specifications of this guitar so that you are informed about every important detail about it.
Check the complete list of specifications of the Gibson SG Standard '61 Maestro Vibrola below:
Body
Body Shape: SG
Body Wood: Mahogany
Type of Finish: Gloss Nitrocellulose Lacquer
Neck
Neck Wood: Mahogany
Neck Profile: SlimTaper
Scale Length: 24.75″
Fretboard Wood: Rosewood
Fretboard Radius: 12″
Frets: 22, Medium Jumbo
Nut Material: Graph Tech
Nut Width: 1.69″
End of Board Width: 2.26″
Inlays: Acrylic Trapezoids
Hardware
Hardware Finish: Nickel
Bridge: ABR-1 Tune-O-Matic
Tailpiece: Maestro Vibrola
Tuners: Vintage Deluxe with Keystone Buttons
Pickguard: Black 5-ply
Truss Rod: Adjustable
Knobs: Black Top Hat with Silver Reflector
Switch Tip: Cream
Switchwasher: Black
Strap Buttons: 2
Electronics
Neck Pickup: Burstbucker 61R
Bridge Pickup: Burstbucker 61T
Controls: 2 Volume, 2 Tone, Handwired with Orange Drop Capacitors
Pickup Selector: 3-way Toggle Switch
Output Jack: 1/4″
Other
Factory String Gauge: .010, .013, .017, .026, .036, .046
Case: Hardshell Case
Accessories: Gibson Accessory Kit
The Gibson Accessory Kit features a Gibson Strap, a multi-tool that has everything you need to adjust every part of the guitar such as the truss rod, bridge, vibrola system, and more. It also includes a polishing cloth, Gibson's warranty, the quality control documents, and the owner's manual.
Lastly, I found a printed photograph of the guitar just before leaving the Nashville factory inside the hard case, which I thought was a nice touch.
My final assessment of the Gibson SG Standard '61 Maestro Vibrola
The bottom line for me is that if you love the SG design and this guitar fits into your budget, it is the perfect addition to your collection.
It is comfortable, light, and versatile, and it just looks plain gorgeous. If you are unsure about tuning and intonation issues, you might want to go with one of the models that don't feature a tremolo system.
Played through a Fender Blues Jr Tweed, a 68 Custom Deluxe Reverb, or even straight into your favorite DAW and an amp simulation plugin, the pickups sound crisp, clear, and responsive to picking dynamics and the volume/tone knobs.
The Burstbucker 61T and 61R also take overdrive and distortion exceptionally well, as you would expect, and can do everything from blues to heavy metal or doom. If you want to tune it lower than E standard, just make sure you have it set up properly to avoid intonation and tuning issues.
As for the Maestro Vibrola, my experience has been surprisingly good. I was fearing that using it would make the guitar go out of tune instantly, but I've been using it for light vibrato now and then and haven't had any major issues.
The tremolo on my Stratocaster allows me to be much more expressive and it is far more convenient to use, but this one has its own thing going on and I appreciate having it very much. I have heard other guitarists complaining about theirs, but I'm certain that a good setup and upgrade to the tuners can improve the tuning stability exponentially.
As of now, I don't see myself upgrading anything on this guitar. If I ever swap the pickups, it will probably be to experiment with a new voice out of curiosity, and not because I think the stock ones are lacking in any way.
I am excited to observe how this guitar will age, taking into account that it features a nitrocellulose finish. It will slowly degrade over the years, probably start developing small cracks, and the wood itself may become more resonant. I am certain that I will keep this guitar for a very long time, which makes me wonder how will it play many years from now.
The included hardshell case does a fantastic job of protecting the guitar, keeping that slanted headstock and neck joint safe at all times. The Gibson multi-tool is a must-have for when you need to adjust anything on your instrument, and the Gibson strap is a nice touch in case you don't have an extra strap for the guitar.
What other brands manufacture SGs and SG-inspired guitars?
If you don't want to get a Gibson for any reason whatsoever, several brands make SG-style guitars, and many of them are more affordable than the Gibson models.
Here are a few examples in case you want to explore alternative options:
Epiphone
Epiphone is Gibson's subsidiary brand, and it manufactures a few different SG models that are much more affordable, and still have a great price/quality ratio. There are several different options available with different finishes, pickups, and other features.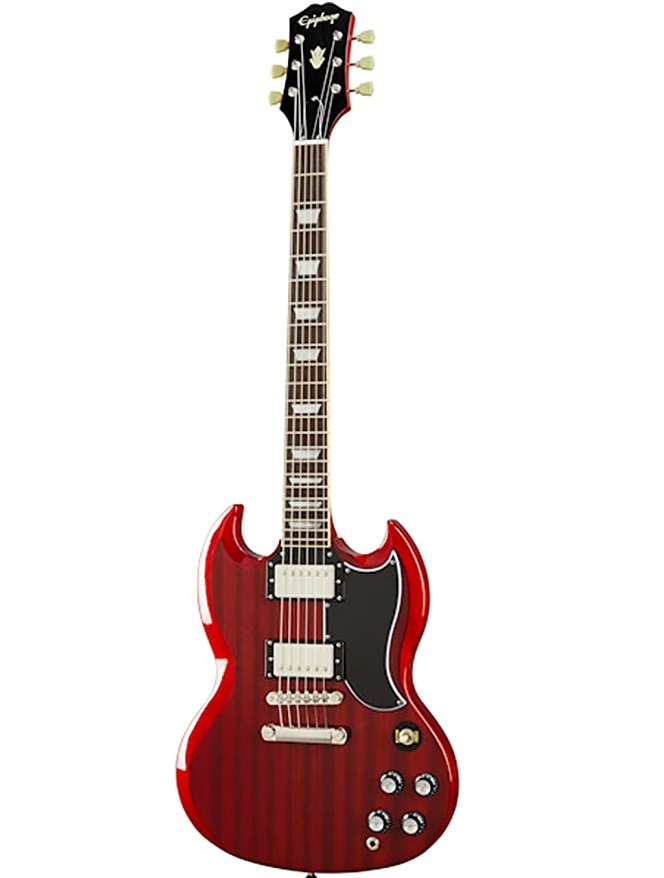 Epiphone SG Standard 61 Electric Guitar | Amazon
The Epiphone SG Standard '61 from the new Inspired by Gibson Collection recreates the rare 1961 Gibson SG, from its first year of production. Featuring a classic Mahogany body in a Vintage Cherry finish and is powered by ProBucker humbuckers with CTS electronics.
Buy at Amazon
Buy at Guitar Center
We earn a commission if you make a purchase, at no additional cost to you.
11/30/2023 09:11 pm GMT
LTD
LTD manufactures guitars that are more oriented towards heavier music such as hard rock and heavy metal. Some of them feature active pickups, which are frequently found in guitars of this style.
One of their models resembles the SG, but with a slightly different body, along with some other modifications.
Yamaha
Yamaha manufactures a huge variety of musical instruments, and among them is the Yamaha Revstar. It is not exactly an SG but it is a double cut design that deserves to be mentioned. Chris Buck is a British guitarist who frequently uses these guitars and he gets an impressive tone out of them. There are Revstar models in several price ranges, so there's probably one that fits your budget.
GuitarCenter – Yamaha Revstar RS502T Electric Guitar Vintage Japanese Denim
GuitarCenter – Yamaha Revstar RS420 Electric Guitar Maya Gold
FAQ – Frequently Asked Questions about the Gibson SG Standard '61 Maestro Vibrola Review
Question: What are the differences between the Gibson SG Standard '61 Maestro Vibrola and the rest of the Gibson SGs?
Answer: The Gibson SG Standard '61 Maestro Vibrola is one of the guitars in the Original Series by Gibson. Aside from this one, 4 other SGs are featuring slight variations that will appeal to all kinds of players. The 5 guitars in this range are:
• Gibson SG Standard '61 Maestro Vibrola
• Gibson SG Standard '61 Sideways Vibrola
• Gibson SG Standard '61
• Gibson SG Junior
• Gibson SG Special
The difference between the first three guitars comes down to the tremolo, everything else is the same (neck profile, pickups, hardware, woods, etc). If you prefer to have no tremolo in exchange for higher tuning stability, you should go with Standard '61, or the Junior/Special.
The SG Junior and SG Special are the right guitars for players who want a simpler guitar or prefer the P-90 pickups that are installed on these two models.
The SG Special features a double P-90 configuration with volume and tone knobs for each one, and the SG Junior has a single P-90 in the bridge position.
Other slight differences from the Standard '61 models include dot inlays instead of acrylic trapezoids and the compensated wraparound bridge instead of the ABR-1 Tune-O-Matic bridge.
Question: Which guitar players are known for playing Gibson SG guitars?
Answer: The SG is one of Gibson's most popular guitars, and since its release, more than 60 years ago, many iconic musicians have been seen playing them around the world. Here are a few examples of guitarists who have used the Gibson SG:
• Angus Young (AC/DC)
• Tony Iommi (Black Sabbath)
• Derek Trucks
• Duane Allman (The Allman Brothers Band)
• Eric Clapton
• Jimi Hendrix
• Frank Zappa
• Pete Townshend (The Who)
• Robby Krieger (The Doors)
• Jerry Garcia (Grateful Dead)
Question: Does the Maestro Vibrola keep in tune consistently?
Answer: Many players are wary about purchasing an SG with a tremolo system such as the Maestro Vibrola or the Sideways Vibrola because they fear that it will make the guitar go out of tune easily.
While it is indisputable that a hardtail guitar has better tuning stability, if you make sure that your guitar has a good setup, lubricate the nut and take good care of it, you should not have tuning problems with an SG that has a tremolo even if you use it frequently. Just don't go too crazy, it is not a Floyd Rose system.
In any case, the Maestro Vibrola still performs better than the Sideways Vibrola seen on some Gibson SG models. That one is a lot clunkier and uncomfortable to use. Think of the Maestro as a variation of the Bigsby in terms of what you can achieve with it.
Question: What comes included with the Gibson SG Standard '61 Maestro Vibrola?
Answer: The Gibson SG Standard '61 Maestro Vibrola comes inside of a beautiful brown Gibson hardshell case with a soft, pink interior. It has a storage compartment inside where you'll find the accessories that come with the guitar.
You get a Gibson polishing cloth, a Gibson multi-tool to help with setups and minor adjustments, a Gibson strap, an owner's manual, quality control documentation, and Gibson's warranty. You may also have a printed photograph of the guitar before leaving the factory.
Closing Considerations about the Gibson SG Standard '61 Maestro Vibrola
The SG is Gibson's highest-selling guitar of all time for several reasons. Apart from its gorgeous looks, it is extremely versatile, lightweight has excellent access to the higher frets, and the models equipped with a tremolo system further expand on the sounds you can get out of it.
Many legendary players like Angus Young, Derek Trucks, Frank Zappa, Tony Iommi, and Robby Krieger have picked up the SG early in their careers and stuck with it for decades because it is such a fabulous instrument.
I am completely in love with the '61 Maestro Vibrola. It looks as gorgeous as I imagined, sounds fantastic with clean, overdriven, and distorted tones, and it feels super comfortable to play. I prefer the SlimTaper neck to the rounded profile that is found on other SG models. It was one of the main reasons that made me gravitate toward this version of the guitar.
If you are a fan of the SG, you should try one out the next time you visit your local guitar shop. Play one from the Original Series if you prefer vintage-oriented guitars, and check out the Modern Series if you prefer something more contemporary.
Latest posts by Gustavo Pereira
(see all)