Latest posts by Candace Osmond
(see all)
You would not believe how many fine details can make the difference between a bad guitar cable and a good cable. A lot of people think "Meh, it's just a cable, how complicated could it be to choose one?". It isn't… not until you learn about what's inside that black rubber, and how each of its components can maximize or diminish the quality of the sound output.
Choosing a Guitar Cable
There are a lot of people who don't really care much about what's inside a guitar cable, as long as it gets the job done. However, if you're really passionate about your guitar and want to learn more about all the accessories that are paired with it, we're going to give you a little bit of cable-related information, to get you started.
In the middle of the cable lies a center conductor. It's typically made from copper shielding and it carries the audio signal using electrical current. This part of the cable is generally insulated, plus surrounded by an electrostatic shield. The reason for having such construction is to avoid all cracking noise that could be caused when the cable is moved. There is also a braided shield that prevents external sources from interfering with the conductor.
The outer jacket is the visible part of the cable. It what protects every other component inside the cable from damage caused by external factors, keeping the insides of the cable protected from elements.
From the outside, pretty much all cables look similar. However, there are lots of differences that set one cable apart from another. While there are a lot of things to learn about cables, we're going to avoid the in-depth terminology, and focus on the aspects that could interfere with the durability and quality of the sound.
Length
When you're out shopping for… well, pretty much any type of cable, the first thing to keep in mind is how long you need this cable to be. Although you might be tempted to purchase a longer cable, "just in case", remember that the length of the cable will also determine the strength of the signal. When the cable is shorter, the signal is more powerful. Because of that, you should avoid falling into the trap of purchasing a cable than needed, unless you plan on using every inch of it.
There is always the inconvenience of a longer cable constantly getting in the way, so you might accidentally trip over it if it's too long (of course, that can also happen with short cable, but there are greater chances of happening with a longer one). The length of the cable can also be chosen depending on where you're playing.
If you're playing inside a room of your house, standing close to an amplifier, you won't need a cable longer than five feet. If you play in a bigger space or on a small stage, about 15 feet max should do the trick. For large stages, you'll need around 20 to 30 feet.
Conductor
As we mentioned before, the core of the guitar cable is the conductor. Because of that, you should pay attention to what this conductor is made of. On a general note, they are made from standard copper. That's because they are cheap to produce and are really good at signal transmission.
So, if you want a cable with a good conductor, look for those made with linear-crystal or oxygen-free copper. These are considered pure versions of the material and are capable of improving the performance of the cable.
Connector
At both ends of a guitar cable, you have connectors: one of them is plugged into the guitar, and the other one goes into the amp. The best connectors are gold or silver-plated ones. They are ¼ inch jacks that can really determine the quality of the connection.
Out of these two available choices, gold is believed to be the best one, but it's pretty much the same difference as with solver/gold connectors of other cables (like HDMI, for instance). The difference between the two isn't really that noticeable. Sometimes, you will have to pay attention to the shape of the connectors as well. Remember that shape doesn't affect the quality of the sound but is rather a matter of personal preference.
Jacket
The exterior side of the cable is covered by what the industry refers to as the "jacket". Since this is meant to protect the other components that are inside the cable, it rarely affects the quality of the sound. They only way it could do that is if the outer shell tears and the inner parts of the cable are exposed.
Again, choosing the jacket is also a matter of personal taste. In general, these jackets are made from either black rubber or black polyethylene, but manufacturers are now making them with all sorts or cool and vibrant colors, because people like to stand out from the crowd. If you perform on a crowded stage on a regular basis, having a lime green cable will definitely help you spot it easier, out of dozens intertwined black cables.
Shielding
If you paid attention to some of the stuff we've explained so far, you know that shielding is a part of the cable, one that keeps interference separated from the center conductor. A high-quality cable will have a braided copper shield, but you can opt for cheaper cables, that are made with foil or serve shields. Obviously, the latter options won't protect the center conductor as efficient as braided copper can.
Top 6 Guitar Cables
In general, guitar cables are also named musical instrument cables, mostly because they will connect several instruments to an amplifier, not just your average guitar. In this round up, we tried to go over the best cables for different kinds of situations, and suitable for all budgets.
GLS Audio Guitar Instrument Cable
Label: best for big stages
If you're looking for a solid cable to accompany you on a large stage, you'll need something that's at least 15 or 20 feet long. That GLS cable meets those requirements, and then some. The center conductor is made with oxygen-free copper, just like the insulation shield.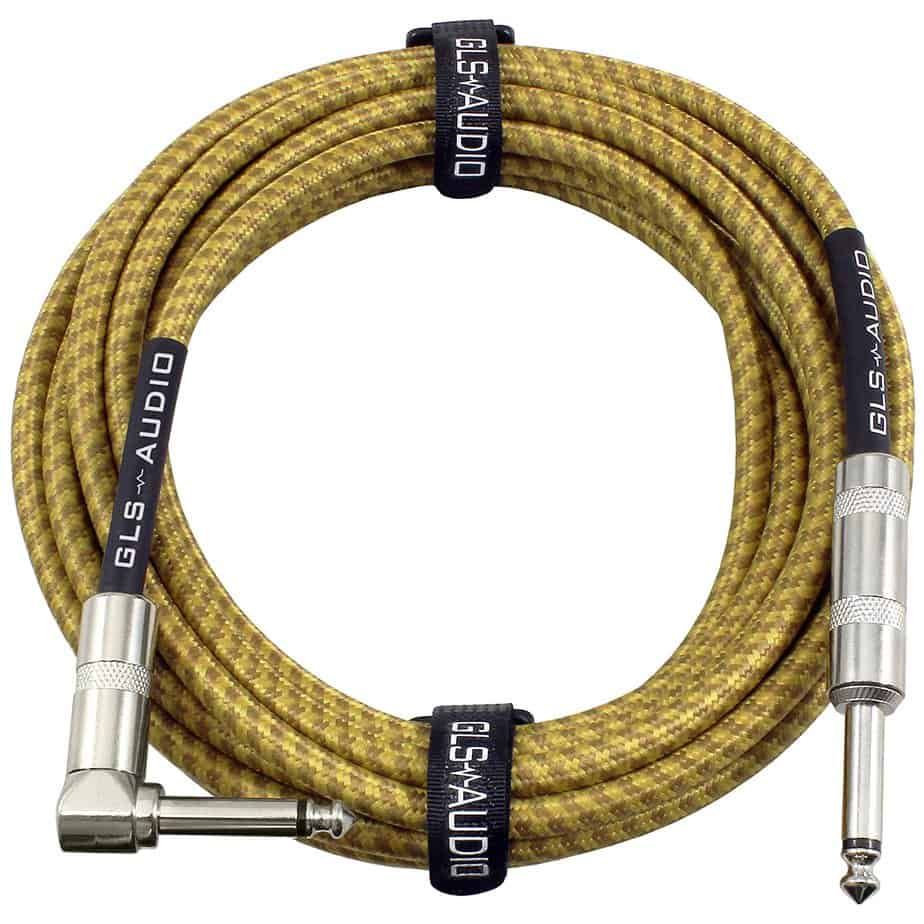 The connectors are ¼ inch jacks, with a right angle at one end, and a straight connector at the other. The jacket of the cable is a thick protective casing made with flexible tweed, and a nice golden color, that makes the cable stand out without making it too tacky. The jacket makes the entire cable very flexible and easy to handle, and there's definitely some noticeable improvement from the average black rubber jackets we're used to seeing.
Who Should Purchase This?
Because of its length, this version of the GLS cable is only worth buying if you really need a long cable. If you constantly perform on big stages or practice in immense halls, the high quality and durability of this cable make it a worthy choice.
Pros
Flexible cloth jacket
Easy to notice the color
An oxygen-free copper center conductor
Really good price
Cons
Connectors sometimes don't fit tight
| Cable Length | 20 feet |
| --- | --- |
| Connector Type | Right angle to straight |
| Jacket | Braided tweed cloth jacket |
| Product Weight | 9.6 ounces |
| Package Dimensions | 7 x 7 x 1.5 inches |
Fender Performance Series Instrument Cables
Label: best length variety
Unlike many other cable models we've seen, the Fender Performance Series is available in seven different length options, varying from 5 to 25 feet. This automatically expands the product's potential target market, as some people need really long cables, but others play in their garage and would benefit from shorter ones.
The Fender cable is not just limited to guitar players, but can successfully be used by people who play keyboard, or mandolin. The outer jacket is made from black PVC, which is flexible enough for use to fiddle around with the cable and move freely just as you want. The coverage shield is made with 90% copper, while the connectors are straight to straight. You can also check out some of the different types of connectors on models sold by Fender.
Who Should Purchase This?
Because it's available in different lengths, the Fender Performance cable is perfect for everyone who needs such a product, whether we're talking guitar, keyboard, bass, or mandolin players.
Pros
Seven different length options
Different connector options
90% copper shield
Thick PVC jacket
Cons
Plugs don't always sit properly
| Cable Length | ranges from 5 to 25 feet |
| --- | --- |
| Connector Type | straight to straight |
| Jacket | PVC |
| Product Weight | 10.6 ounces (for the 10 foot cable) |
| Package Dimensions | 10 x 2 x 10 inches (for the 10 foot cable) |
KIRLIN Cable LGI-202-10/BK
Label: best value
Here is a very straightforward product, for people who need a basic cable, without any fancy features or made from expensive materials. This cable was conceived as a low-cost option for people who need a guitar cable at home.
Since it measures 10 feet, it should cover you home need for such a product, as the cable is long enough to connect to the amplifier even when you're playing your guitar in a larger space. The connectors are straight to right angle, with the usual ¼ inch jack that we're used to seeing in such products. The jacket is made from black PVC, and the conductor is a 20 gauge CCAM.
Who Should Purchase This?
Looking to buy a guitar cable, but you don't want to spend too much money on one? You'll find that the LGI-202-10/BK is very affordable and decent choice, one that doesn't compromise quality to make a product with a cheap feel.
Pros
Affordable price
Flexible jacket
Nickel plated contact connectors
Cons
Questionable durability
Not the best choice for pros
| Cable Length | 10 feet |
| --- | --- |
| Connector Type | straight to right angle |
| Jacket | PVC |
| Product Weight | 5.3 ounces |
| Package Dimensions | 5.2 x 7.8 x 1.5 inches |
Donner Guitar Cable
Label: best for home use
The Donner guitar cable is quite an awesome product, but this is a judgement that you can make for yourself once you've heard some more specifications. The construction of the cable is quite satisfying considering its low price (compared to the more medium to high-end cables on the market). It has a center conductor made from pure copper, covered by insulation and conductive PVC.
All that combined allows the Donner to reject interference, resulting in a high-quality sound output, much to the delight of the people who've tested it so far. The tweed jacket comes in different combinations or black, white, and blue. You can choose between the 10 or the 18 foot version of this cable, although the former option should be more than enough to keep you covered.
Who Should Purchase This?
Because it manages to balance the price and feature aspects of a product falling into this category, the Donner guitar cable is perfect for the average guitar players that enjoys a jamming session at home.
Pros
Oxygen-free copper conductor
Tweed woven jacket
Rejects interference
Easy to disassemble
Five different jacket/connector combo options
Cons
Cable can constantly twist itself
| Cable Length | 10 or 18 feet |
| --- | --- |
| Connector Type | straight to right angle |
| Jacket | Black & White tweed |
| Product Weight | 8 ounces |
| Package Dimensions | 8.7 x 3.3 x 1.4 inches |
Mogami – GOLD INSTRUMENT-10R Guitar Instrument Cable
Label: best high-end option
If you were impressed with the gold connectors we mentioned in the buyer's guide section of this article, we've decided to take a look at a guitar cable that has this feature. The quality of this cable is superior, meaning it can render a crystal-clear tone. Mogami cables are one of the top choices in recording studios, and this can only vouch for its quality even further.
The cables have an oxygen-free copper center conductor, which is one of the best choices for this type of cable. They also feature a conductive polymer sub-shield, which is paired with an ultra-high density spiral shield. With all of these items combined, interference is kept at a distance, while the result is high-definition sound.
Who Should Purchase This?
If you want the best guitar cable with a pair of elegant gold connectors, superior interference blockage, and don't mind paying the price, the Mogami gold cable is the perfect choice.
Pros
Seven length options available
Gold connectors
Professional choice
Spiral shield + conductive polymer sub-shield
Oxygen-free copper conductor
High-def sound
Cons
| Cable Length | Seven options available. from 10 inches to 25 feet |
| --- | --- |
| Connector Type | Straight to right angle |
| Jacket | N/A |
| Product Weight | 8 ounces |
| Package Dimensions | 10.8 x 8 x 1 inches |
Rig Ninja Instrument Cable by NINJAMUSO
Label: best overall
To end our round up in style, we chose one that provides the best price-to-features ratio out of all the products we've seen. It's not the cheapest cable, not does it have the best quality materials, but it does balance these two worlds, in order to provide a solid and reliable product.
There are five different cable lengths to choose from, depending on where you plan on using it. The 5 or 10 foot versions are ideal for home use, while the 15, 20, and 25 versions are best suited for small to large stages. The guitar cable has an oxygen-free copper core, which is protected by a braided shield, blocking interference and reducing any unpleasant or unwanted noise.
Who Should Purchase This?
The Rig Ninja guitar cable seems to be right at the border of what an average home guitar player needs, and what pros expect to get from such an accessory. It's a medium-line product, perfect for those of you who want an upgrade from the most basic guitar cable.
Pros
Oxygen-free copper conductor
Oxygen-free copper braided shield
Five different length options
Plastic stress relief
Cons
Not very stress resistant
| Cable Length | five options available, from 5 to 25 feet |
| --- | --- |
| Connector Type | straight to straight |
| Jacket | N/A |
| Product Weight | 6.1 ounces |
| Package Dimensions | 8 x 1 x 7 inches |
FAQ About Guitar Cables
Question: Are all instrument cables the same?
Answer: Before we dive into the different types of cables and which ones are best for guitars, you should know that not all instrument cables are the same, which is why you should not be using them interchangeably. The main difference between the cables is their power and the quality of sound they produce.
You don't want to end up sounding like a swarm of bees, do you?
Question: How to choose a guitar cable?
Answer: Of course, the budget might be the first thing that comes to your mind, however, the quality of the cable should be of utmost importance when considering this purchase as it is one of the most important things for your guitar. There are several things that really set every cable apart and these are the following: length, conductor material, design, connector quality, shielding and insulation materials.
Thanks to our guitar cable review today, you will not have to search what all of these are important for, because the choices we have made are definitely one of the best out there.
Question: What are coiled guitar cables?
Answer: Coiled guitar cables are high in capacitance and have higher copper levels than regular straight cables of the same length. In addition, it's easier to play with high capacitance cable, as they usually don't get tangled while playing.
Question: Do high end cables make a difference?
Answer: No. High-end cables will not make any difference, so investing in speakers, turntables and other electronics should definitely be your first start if you are not satisfied with the sound.
Bottom Line
It's quite surprising how an item that seems so basic and costs so little, can be this complex. Guitar cables will expand your instrument-accessory knowledge more than products like stands or straps. The beauty of a guitar cable is that it can cost as low as $3, and as much as $6,000. The average premium cables can cost anything between $30 and $80, which is still good considering how expensive the most expensive models can be. But, unless you play the guitar for a living or work in a recording studio, you'll never need a cable that costs thousands of dollars.
Recommended Reads: