Latest posts by Kyle Baker
(see all)
In this review, we decided to take a deep dive into some of the products that the Michael Kelly Guitars offers, what makes them such great instruments, and some potential drawbacks to be aware of. Let's get started!
For working musicians, it's important to have instruments that are crafted with care, sound great, and feel great in your hands. It's rare to find this combination in an affordable package.
But, Michael Kelly guitars have succeeded in doing just that; creating guitars that look, feel, and sound great without breaking the bank. The line of guitars available through Michael Kelly is truly unique and beautiful looking and have an aesthetic that is way beyond their price point.
These instruments have been steadily growing in popularity in the last decade, piquing the interest of amateur and professional musicians alike with their boutique aesthetic and affordable price tag.
The Michael Kelly Guitars Story
Michael Kelly guitars began in 1999 with the vision to make affordable, yet great-looking and more importantly, great-sounding guitars made for working musicians, amateurs, and professionals.
The company was founded by Tracy Hoeft and named after his children — Michael and Kelly — and aimed to offer musicians quality instruments that didn't break the bank. But, he also didn't want any sacrifice in tone.
This has always been the cornerstone of the brand, with a core vision of tone coming first. The second core tenant of the Michael Kelly brand is the unique, boutique aesthetic.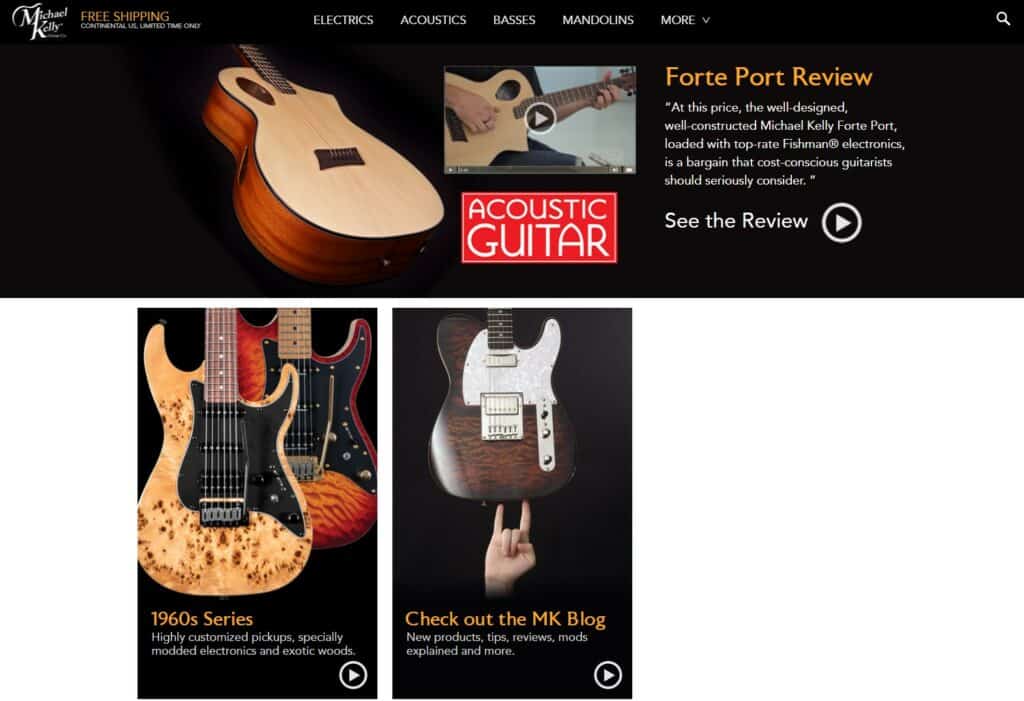 When the company first launched, it only offered mandolins and acoustic basses. These were the two markets where musicians couldn't easily find high-quality instruments that were not too hard on their wallets.
This became the "Dragonfly" series — a line of basses and mandolins that swiftly became hard to get. By 2001, Michael Kelly Guitars introduced its electric and acoustic guitar lines, which have since evolved and become revered around the world.
Let's take a deeper look into some of the instruments the company has to offer.
Electrics
Michael Kelly Guitars has 4 different guitar lines in its electric range, from the vintage-themed 1950s range to the unique hybrid range. There's really something for everyone, no matter your taste or playing style. All these lines have 5-10 models, from more affordable standard instruments to premium guitars that can hold their own with some of the best brands around.
1950s line
The 50s and 60s are often referred to as the golden era of guitar making, with guitars like Fender Stratocasters and Gibson Les Pauls coming to the forefront of electric guitars and making the instruments accessible to every player.
Michael Kelly guitars have taken these classic designs and aesthetics and added modern appointments to make a classic-looking guitar with a modern feel and tone. All the models in this range feature a beautiful exotic wood top with a countered arm cut, and master volume and tone controls.
1960s line
The 1960s line features a range of guitars that have classic Stratocasters at the heart of their design, with all the trimmings you'd want in a modern guitar. The guitars are loaded with custom pickups, feature exotic woods, and have a beautiful modern, yet classic look and feel.
Patriot guitars
The Patriot range is a line of single-cutaway archtop guitars that are a hat-tip to Paul Reed Smith electrics. Like most of the Michael Kelly range, these guitars have beautiful exotic woods, custom pickups, and a great modern appearance. From the Standard "Decree" to the "Instinct" Custom, there is something here for every player who seeks a modern design.
Hybrids
The Michael Kelly Hybrid series is truly something special, a range with 3 different models that allow you to alternate from a powerful electric guitar to a full, acoustic guitar sound with the flick of a switch. You can also blend the two sounds, making for a truly unique sound suited for any style of playing.
59 Thinline – Our favorite choice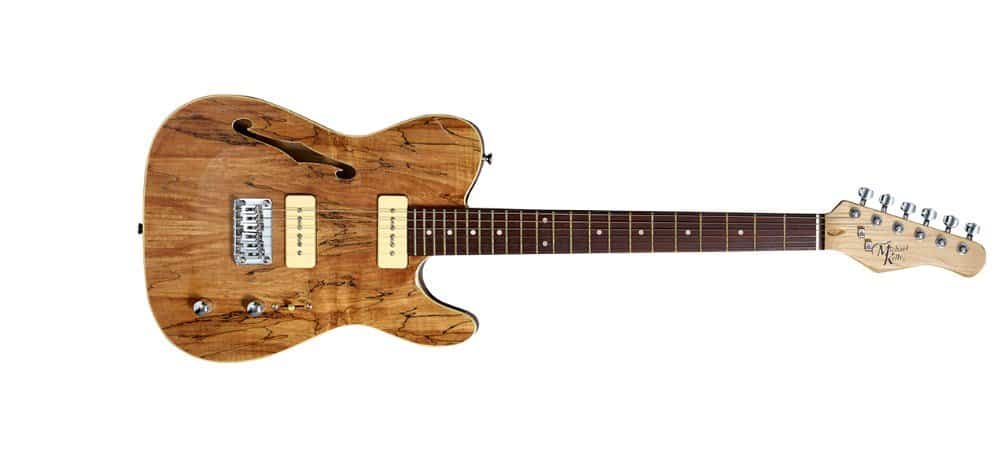 The 59 Thinline has the aesthetics of a classic 50s Telecaster, but with a modern look and sound that is hard to beat. The semi-hollow design gives the great sustain that we know and love from solid body electrics, combined with the warmth and resonance of hollow bodies.
The body is made from mahogany with a spalted maple top, and the guitar features a maple neck with Jatoba fretboard, 2 P90 pickups, and chrome hardware.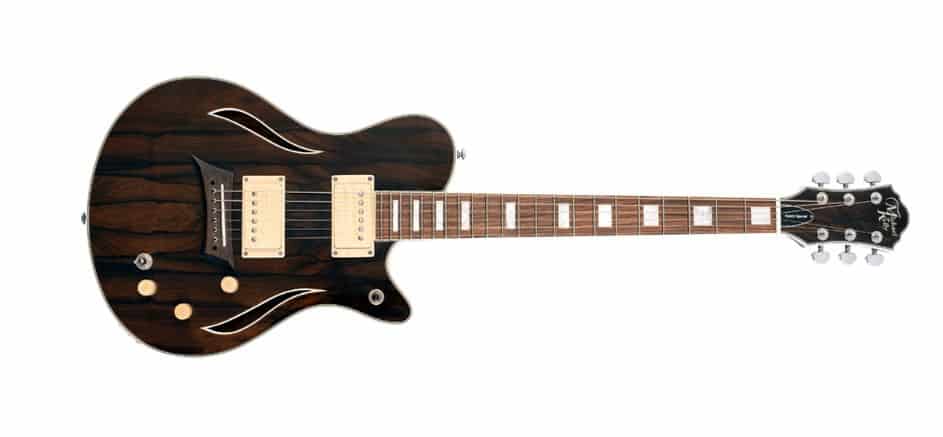 One of Michael Kelly's top-selling guitars worldwide, the Hybrid special is made from mahogany. It also comes with a spalt maple top, a mahogany neck, a Pau Ferro fretboard, and two push-pull split-coil humbuckers.
Plus, you'll find a Fishman under-saddle pickup for acoustic tones. With the "Y-cable" from Michael Kelly, you can even split your acoustic and electric signal for a truly hybrid sound.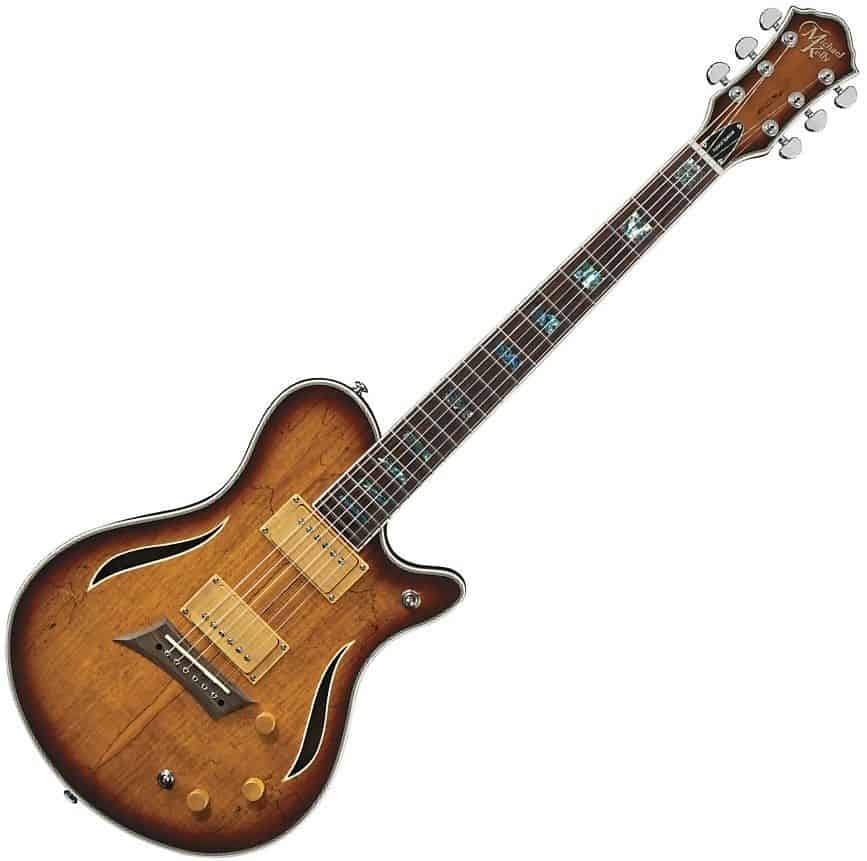 Michael Kelly Hybrid Special | Reverb
Quickly switch from powerful electric guitar tones to big acoustic guitar sounds, with just the flip of the switch. That is what makes the Hybrid Special a top selling guitar world wide.
Check Price
We earn a commission if you click this link and make a purchase at no additional cost to you.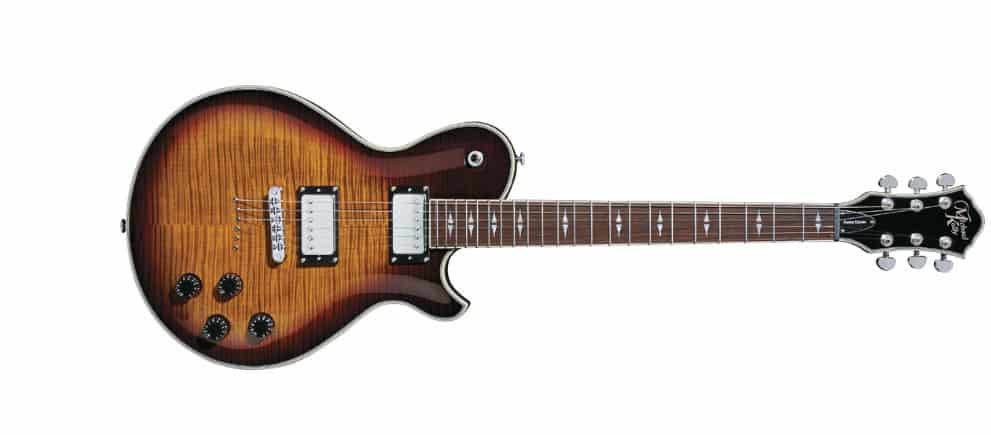 The Patriot Decree, with its Paul Reed Smith look and aesthetic, has long been a favorite choice for Michael Kelly fans and was the "Guitar Player Magazine Editor's Pick" for under $500.
The guitar features a carved, figured maple top with a mahogany body and neck, with a set neck construction that makes for incredible sustain. The PAF pickups sound wonderful and have a coil tap tone for added tonal variety.
Michael Kelly Patriot Decree Electric Guitar | Amazon
Patriot decree has been an award winner for years. We have packed it with great features all to make it fun to play, great sounding and guitar-lust-worthy. The decree is a feature packed single cutaway for sure. The deeply carved top is figured maple on a mahogany body with a mahogany neck.
Buy at Amazon.com
We earn a commission if you click this link and make a purchase at no additional cost to you.
06/15/2022 12:28 am GMT
Acoustics
Just like the company's electrics, the Michael Kelly acoustic line features truly unique designs with a distinctly modern feel, and beautiful exotic woods to further emphasize their unique character.
Each guitar features dovetail construction, solid spruce or exotic wood tops, and unique offset soundholes that are placed on the upper bout of the guitar. There are cutaway models for players who want to reach further up the fretboard, and classic dreadnaught models for a full, rich tone.
With the signature offset soundhole design and specialized bracing system that creates a potent soundboard between the neck and bridge of the guitar, the Prelude Port OM is a unique new look at the acoustic guitar.
The OM body size is small and comfortable but doesn't compromise on tone with a full, rich sound and surprising projection. The guitar also features a sound port on the top of the guitar, directing the sound directly toward your ears like a personal monitor for a truly in-depth playing experience. The guitar has a solid spruce top, Sapele back and sides, and an ovangkol fretboard.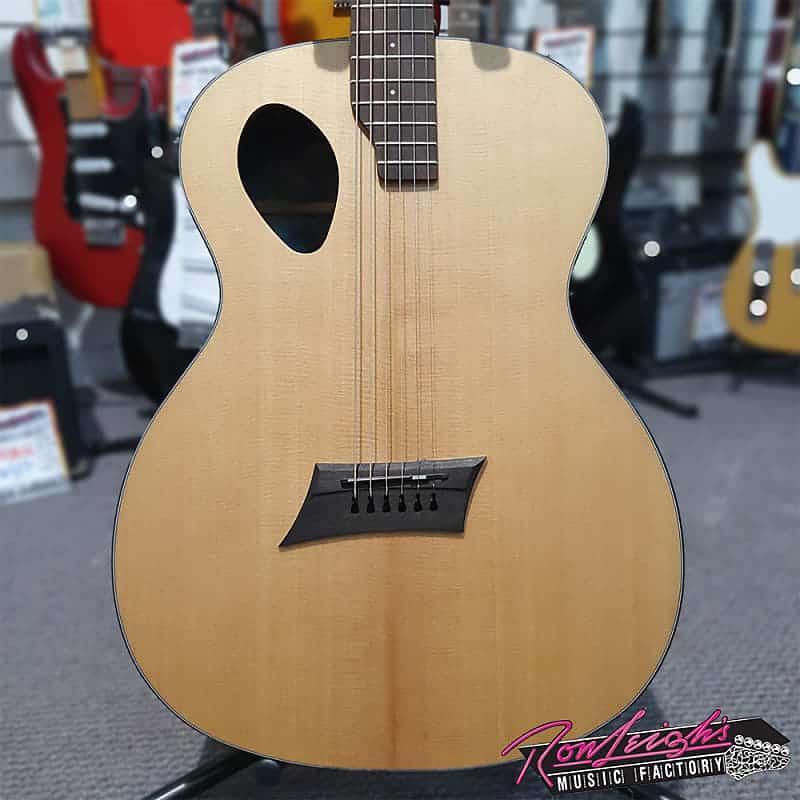 If you are on the hunt for a truly unique-looking guitar that is sure to turn heads but still produce fantastic tone, the Forte Port Exotic Dragonfly is a great option.
This guitar also features the unique offset soundhole and specialized bracing system of other acoustic models, but with some beautiful inlays on the fretboard. It includes active Fishman under-saddle pickup if you want to a plugin, too. The top is a Java and Mahogany blend, with Okoume back and sides and a mahogany neck, and a large cutaway to get to those high upper frets.
Michael Kelly Forte Port Guitar | Amazon
The Michael Kelly Forte port exotic is an exceptionally unique Acoustic-Electric at an ultra affordable price point.
Buy at Amazon.com
We earn a commission if you click this link and make a purchase at no additional cost to you.
06/15/2022 08:29 am GMT
Forte Port Jr Ziricote — Great for travel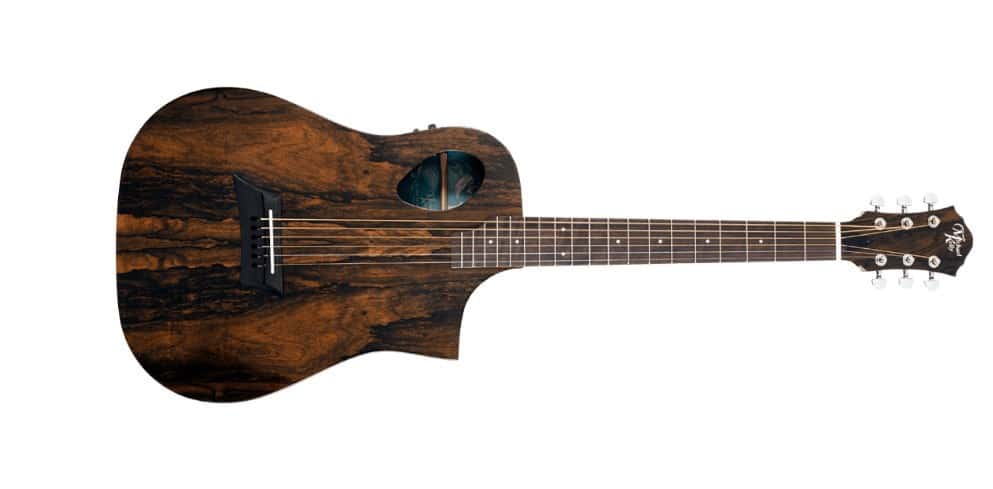 The Forte Port Ziricote is a short-scale guitar with a smaller body, making it an ideal travel companion, practice guitar, or first guitar for children. The guitar also features the iconic offset soundhole with the uninterrupted section of the soundboard between the bridge and neck.
It also comes complete with a Fishman Presys II preamp and Sonicare pickup with a built-in tuner for plugging in. The guitar features a Ziricote top and mahogany back, sides, and neck, ovangkol fretboard, and chrome hardware.
Basses
Michael Kelly Guitars make excellent acoustic and electric basses, both of which keep in line with the company's modern aesthetic and exotic wood design. The company has been creating and refining its acoustic bass models for the last 15 years and created some of the most diverse and compelling acoustic bass guitars on the market.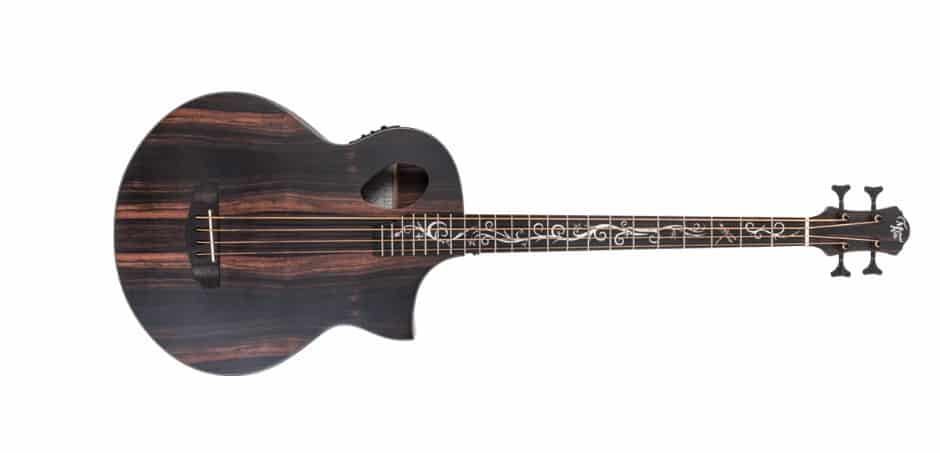 Made with a gorgeous Macassar Ebony top, the Dragonfly 4 Port redefines the acoustic bass as we know it, with the signature offset sound port and beautiful dragonfly pearl inlay. The bass has a 34-inch scale length, a standard C neck profile, and a dovetail neck joint.
Plugging in is no issue with the pre-installed Fishman "Presys + Bass" pickup that delivers a warm, chunky bass tone that is difficult to achieve with acoustic bass guitars.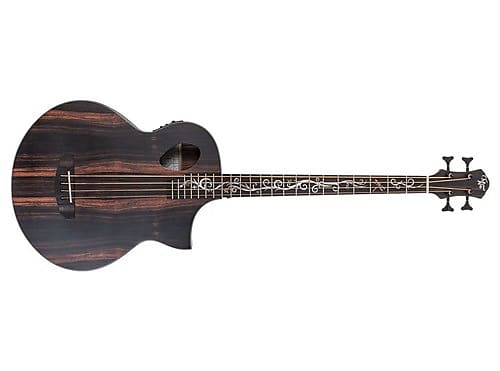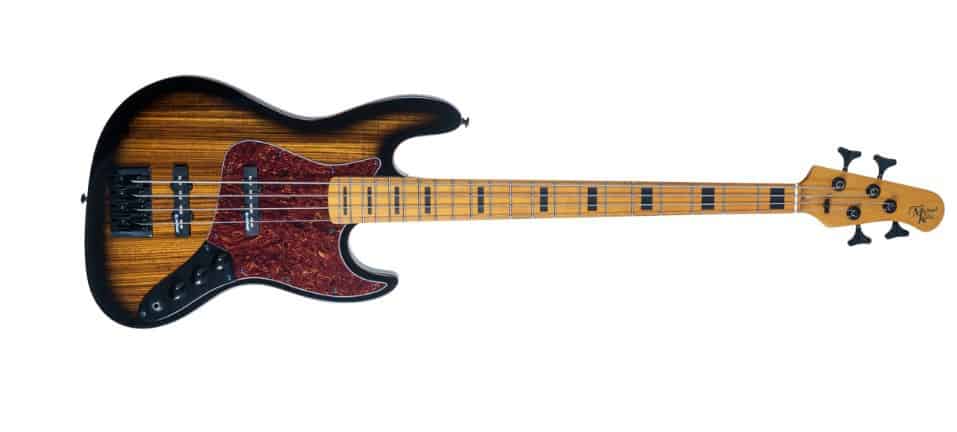 The Vintage Element 4 has a striking resemblance to a classic Fender Jazz Bass — a look that a lot of bass players are looking for —but with some minor yet effective modern adornments.
The bass has an alder body with a beautiful zebrawood top that is finished in a classic sunburst, with a bolt-on, rock maple neck, and vintage tinted maple fretboard. It has a 34-inch scale length, great-looking black hardware, and classic custom vintage pickups. A truly uniquely beautiful bass that still has the classic look and feels that bassists are accustomed to.
5-string electric bass guitars need to have playability at the forefront of their design, and the Element 5OP does just that. The bass has a unique open-pore grain finish that allows the wood grain of the sungkai body to come through, resulting in a tone and sustain that is not inhibited by a thick layer of paint.
It has a 35-inch maple neck and fretboard with a "C-Shape" profile, two Rockfield single-coil pickups, with a 2-band EQ and preamp. If you prefer the vintage passive sound, the built-in push-pull switch seamlessly diverts the EQ to a traditional passive bass tone.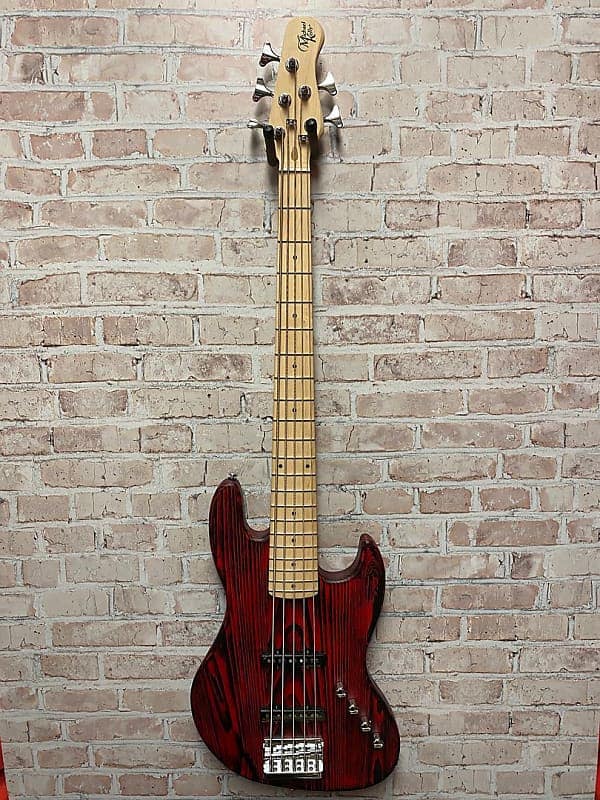 Michael Kelly Element 5OP Bass Guitar | Reverb
This bass is super comfortable and has a large strong sound to suit lots of different genres. This bass features a Sungkai body which is similar to ash in its brighter tone.
Check Price
We earn a commission if you click this link and make a purchase at no additional cost to you.
Mandolins
The F-style mandolin has been around longer than guitars, and not much has changed since Gibson popularized these instruments in the late 1800s. Michael Kelly Guitars decided to change that and released affordable yet great-sounding mandolins that sound as amazing as they look.
Legacy Dragonfly Flame Mandolin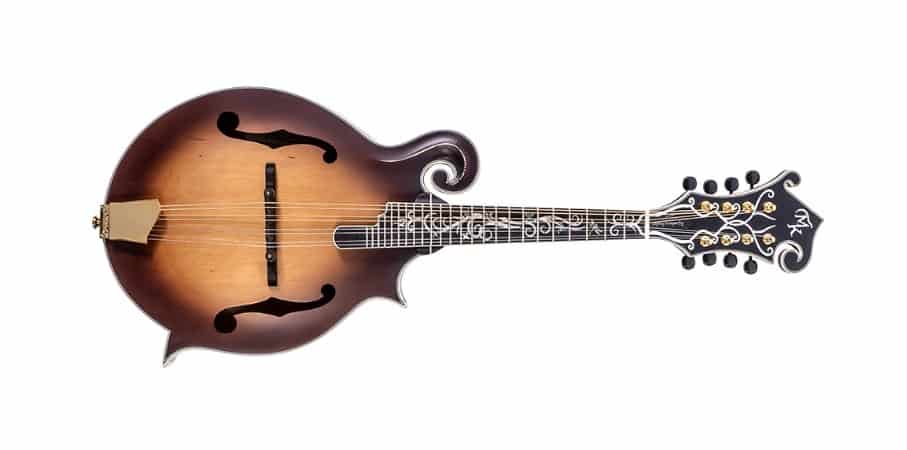 A best-selling mandolin for over 5 years, the Legacy Dragonfly is a high-end instrument with all the furnishings you'd expect but at a price that won't break the bank.
It has a carved, solid spruce top with a gorgeous sunburst finish, solid flame maple back and sides, and a dovetail neck joint. The bridge and fingerboard are both radiused to enhance playability and furnished with a beautiful pearl and abalone inlay. It's completed with gold hardware, Grover white pearl tuners, and 3-ply white and black binding.
Cases
Michael Kelly Guitar also has a wide range of rugged bags and hard cases for electrics, acoustics, basses, and mandolins to keep your instruments well protected.
Pros and Cons
Pros
Affordable
Great value for money
Variety of available models
Unique, exotic woods
Great sounding
Custom pickups on electrics
Unique soundport design on acoustics
Cons
Some quality control issues
Inconsistant finishes
Instruments often don't come well set up
Some Micheal Kelly Guitars Alternatives
If you enjoy the Fender aesthetic of some of the Micheal Kelly guitars, it makes sense to go straight to the source: Fender! Of course, Fender guitars can be prohibitively expensive, but Squire — the affordable offshoot of Fender guitars — makes some great Fender replicas at a fraction of the price, and they are great guitars if you're on a budget.
The Squire Classic Vibe 60s Stratocaster is a great example, with a classic "C" shaped neck profile, a 9.5-inch radius fingerboard, narrow frets, and 3 single-coil alnico pickups that give you a classic Fender Stratocaster tone.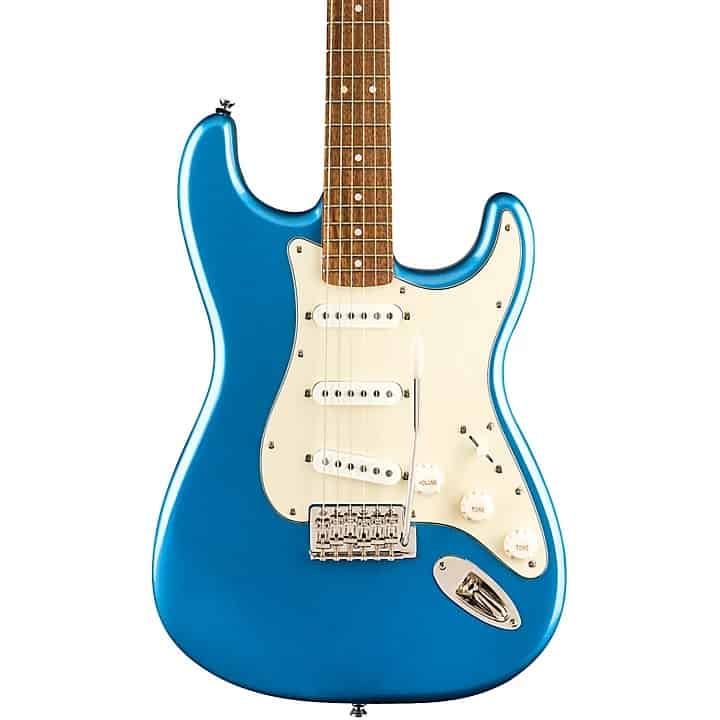 Read our full Squier Stratocaster Review here.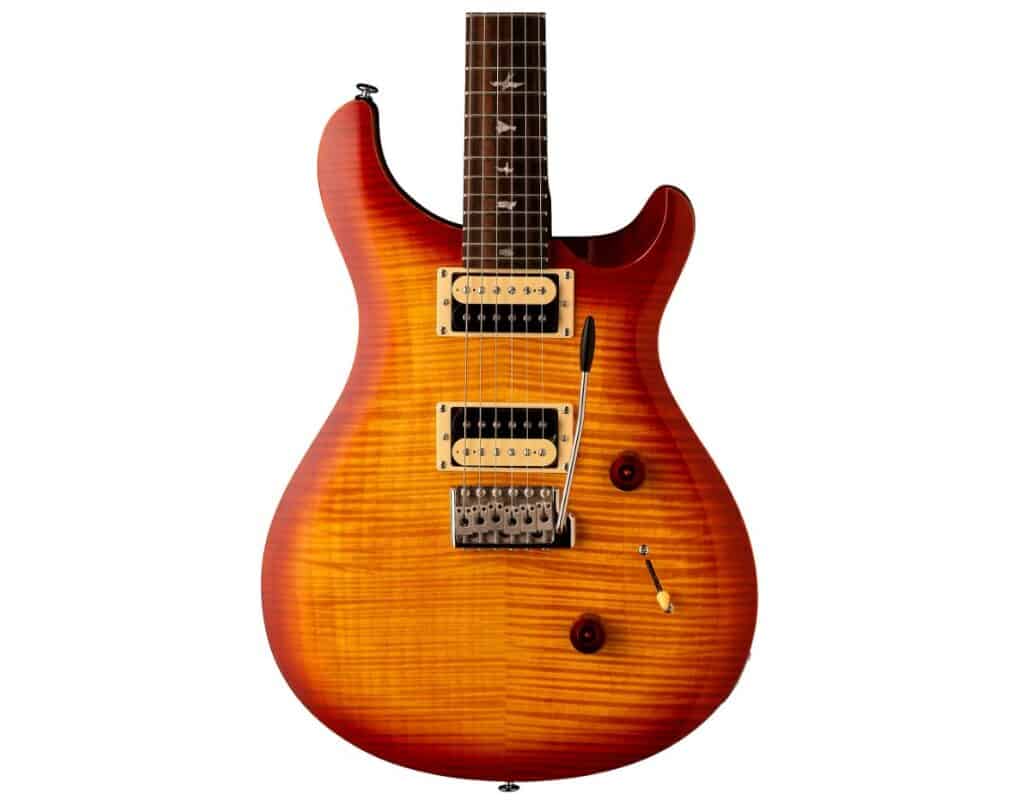 If the Paul Reed Smith style guitars from Micheal Kelly are what you're looking for, the "SE" range from Paul Reed Smith guitars is an inexpensive but gorgeous line to consider.
The guitars are modeled around the PRS guitars we all know and love, but at a far more affordable price bracket. The SE Custom 24 is a great example, with a flame maple top, mahogany back, maple neck and rosewood fingerboard, and the instantly recognizable flying bird inlays.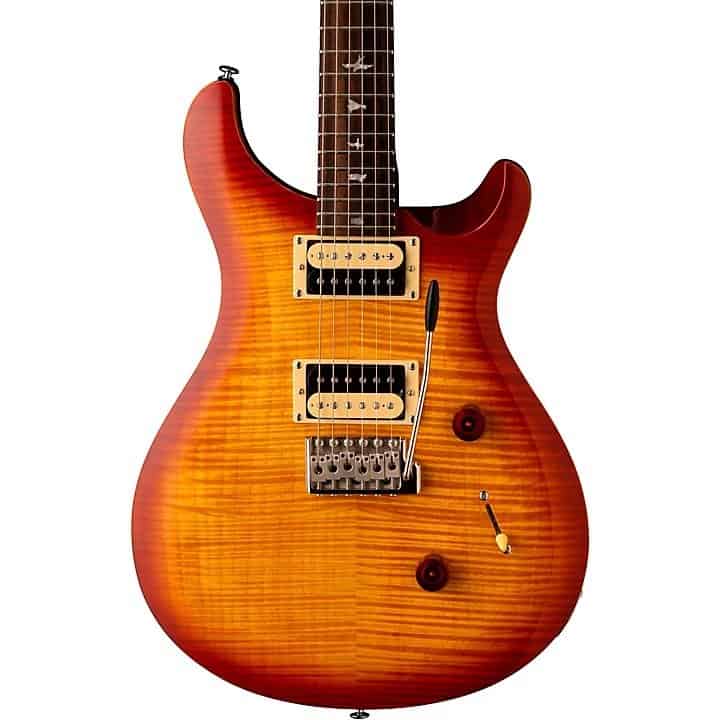 PRS SE Custom 24 Electric Guitar | Guitar Center
Its versatile sounds come from the SE 85/5 Treble and Bass pickups, which have volume and push-pull tone controls and a 3-way pickup selector. The SE Custom 24 is a modern classic with roadworthy durability, addictive playability, and wide array of tones, making it a perfect workhorse guitar.
Check Price
Check availability on Reverb
We earn a commission if you click this link and make a purchase at no additional cost to you.
Ibanez makes the full range of guitars, from affordable beginner instruments to beautiful, inlaid, custom models that can easily stand alongside some of the best guitars in the world.
One of the most popular products in their more affordable line is their acoustic basses, offering great tone and playability with a low price tag. The AEB5E acoustic/electric bass is one of the company's most popular acoustic bass models, with a distinctly punchy low end (plugged in and acoustic), a built-in piezo pickup, a built-in 2-band EQ with onboard tuner, and agathis back and sides.
Ibanez AEB5E Acoustic-Electric | Guitar Center
The Ibanez AEB5E acoustic-electric bass delivers a punchy low end, whether amplified or not. As an unplugged acoustic bass, its agathis body and sides give it a warm tone.
Check Price
We earn a commission if you click this link and make a purchase at no additional cost to you.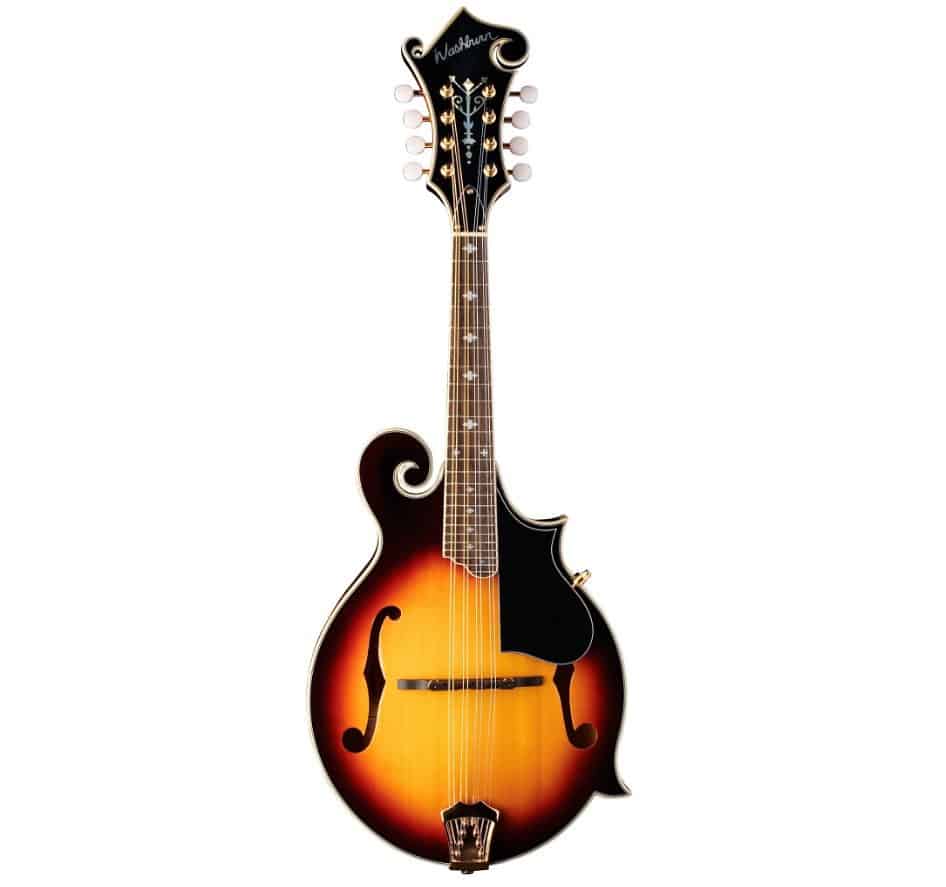 Washburn is another company known for its affordable yet quality instruments, and if you're looking for a great-sounding mandolin on budget, the M3SW F-Style mandolin is amazing.
This model is one of the company's most popular; an all-solid wood instrument with Sitka spruce top and Canadian maple back and sides, a maple neck with ebony fretboard, and a gorgeous sunburst finish. Washburn makes some incredible electric and acoustic guitars too.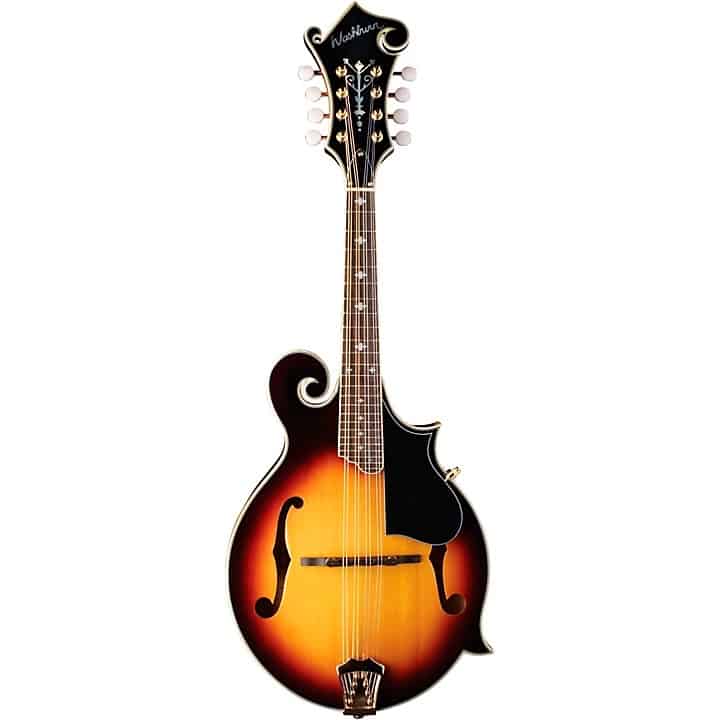 Frequently Asked Questions
Question: Where is Michael Kelly Guitars build?
Answer: All Michael Kelly Guitars are built to the company's exact specifications predominantly in South Korea. This is largely what makes such high-quality instruments so affordable. They go through detailed quality control and setup in the United States, though, to make sure your guitars feel as good as they look and sound.
Question: Are Michael Kelly guitars any good?
Answer: In general, the consensus among musicians is that the guitars are overall great value for money with excellent pickups and electronics, gorgeous finishes, and a great selection of models.

Outsourcing construction to Korea does cause some issues, as you'd expect, and there have been some quality control problems. There have been reports of issues with the finishes: inconsistent staining and buffing, some poorly setup instruments (which is an easy fix), and some playability problems.
The problems are common among large guitar companies, however, and there are very few guitars in the same price range that can compare.
Question: Do the exotic woods used on Micheal Kelly guitars sound better than regular guitar tonewoods?
Answer: With electric guitars, the majority of tone comes from the pickups, and so guitar builders have a wide choice of woods they can select. There is very little difference in tone when using these exotic woods on electric guitars, and for most people, it's not something you'd notice. In general, heavier, denser woods will give more sustain but will be heavier to hold too, so it's a fine line that builders need to walk between weight and aesthetics.

For acoustic instruments, the wood choice will make a massive difference in tone, especially the choice top. The back and sides have less of a part — but still important — to play in tone, but the top is where the magic happens! Exotic woods do not necessarily sound better or worse, but will certainly sound different. The only way to make a real assessment is to play guitars with different tops alongside each other, and see what sounds good for you.
Conclusion
Michael Kelly Guitars offers some excellent guitars that very few other manufacturers can compete with for the price point.
The 59 Thinline, with the aesthetics of a classic 50s Telecaster, is our favorite choice of electricity. The semi-hollow design has great sustain combined with the warmth and resonance of hollow bodies with a truly unique tone and feel.
As for the acoustic range, we love the Prelude Port OM with its signature offset soundhole and side sound port. The OM body size is small and comfortable, with a solid spruce top, Sapele back and sides, and an ovangkol fretboard.
The Dragonfly 4 Port is our favorite acoustic bass model, with the signature offset sound port and beautiful dragonfly pearl inlay, a 34-inch scale length, and Fishman "Presys + Bass" pickup that delivers a warm, rounded bass tone when plugged in.
All in all, Michael Kelly Guitars makes some great quality instruments that are hard to beat when compared to other guitars in a similar price bracket. They are amazing looking with exotic woods and unique designs and sound great too. If you're on the lookout for an affordable yet capable guitar, any of the models from Michael Kelly are sure to impress.