Stratocasters are the joy and passion of millions of guitarists and are arguably the most popular electric guitar model. Growing up under the guidance of Jimi Hendrix and David Gilmour, my dream and ambition were to own a Strat. A decade later into my career, I have owned several, yet the main one I still use today is my made-in-Mexico Stratocaster.
Through this article, I want to detail what drove me to choose this affordable guitar compared to the all-familiar yet expensive US-made Stratocaster. Besides inspecting my 2008 Fender Mexican Standard Stratocaster in detail, I'll guide you into modding the guitar to match any expectation or stage.
Bottom line up-front: The best alternative to US-made Fenders is doubtlessly their Mexican neighbors, who are doing a better job than ever in matching up to the quality standards.
Suppose you are on a budget or plan on building your own personalized Stratocaster. In that case, The Mexican Standard will be an excellent instrument for you, as it has been for me on the stage and studio. Some necessary mods over the years ensured it never lets me down.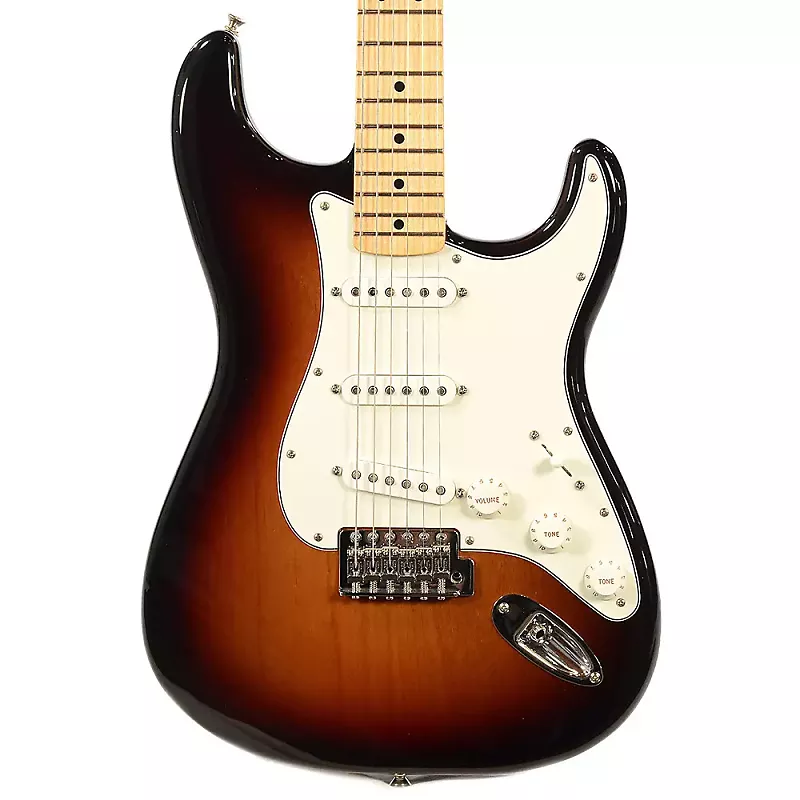 From a Dubious Online Advert, To The Studio
I purchased my second-hand Mexican Standard in 2015, a few years after I had bought myself three Stratocaster copies. Before landing my first real Strat, I had gone through Harley Benton's to Squiers and even nameless beginner guitars. Some were good, yet they never matched the quality I sought as a young guitarist who wanted to be a studio pro.
Chance was that, at the time, I had played multiple US Strats I borrowed to play on the occasional big shows until I could afford one. This way, I could immediately tell a good Strat from a not-so-good one.
Used guitars are always a risky bet, especially when it comes to shapes that have been replicated endlessly. Picking the guitar from an online advert with only one badly pixelated picture, I expected it to be worn out with some damage to the body in the best-case scenario. I headed out, cash in hand and eager to look it up close.
To my surprise, the guitar's back was still wrapped in plastic, and there was no sign it had ever been used for long! The seller was a hobbyist who even offered an excellent Fender Tweed amp alongside the guitar for almost nothing. Therefore, I decided to buy the white Strat immediately, but with no money to spare, I couldn't bring it home with the combo amp.
What impressed me first was the neck. It didn't feel any different from the expensive Fender's I borrowed; it just felt like another one I wished I owned. It also sounded just as expected; all clean and spanky, with the mandatory "woody" neck pickup the model is famous for.
Excited about the new purchase, I turned into an all-Strat player for some years and even adapted my style to the instrument's versatility. Everything was in tune for the first time, no matter where I played a chord on the neck, and Jeff Beck's whammy tricks were finally achievable!
In the years to come, I owned multiple other Fenders, which I traded for even more fancy gear, yet I always kept my Mexican Standard. I never thought it was worth selling but only improving on. The better I became at playing, the better I surprisingly found the guitar and even easily fixed some of its flaws.
The guitar never became an even match to a vintage US standard Stratocaster; however, it never needed to do that as it always had its place by my side.
Stratocasters have a unique quality of fitting in almost everywhere. The overall design, whether US-made or not, is thought to suit every player's need, with the pros outweighing the cons.
The value is unbeatable.
Great built quality & quality parts
Well-balanced tone with the typical Stratocaster snap but slightly warmer
The contoured comfort body Sits well against the body, and the neck is easy to play
Extremely versatile instrument
A great guitar to modify
Fender Mexican Standard Stratocaster Cons
The cons of the Mexican Standard Stratocaster are not all related to its lower cost or manufacturing country. The design itself has its limits for some specific styles of music. Fortunately, you can fix most of the issues with some simple mods.
Not very reliable when it comes to tuning stability at high stress
As with all SSS starts, it doesn't handle high gain well
The quality is not consistent in every model of the series.
Fender Mexican Standard Stratocaster Specs
Bolt-on 5-piece Alder body with a Polyester finish
21 Medium Jumbo frets with White dots potions inlays and Synthetic Bone nut
Vintage-Style Synchronized Tremolo Bridge
C-Shaped Maple necks with Rosewood fretboard
1.650″ (42 mm) nut width, Scale Length: 25.5″ (64.8 cm)
3 Standard Single-Coil Strat with 5-way switch, two tones, and 1 volume knob.
Standard Cast/Sealed Tuning Machines
Built Quality & Parts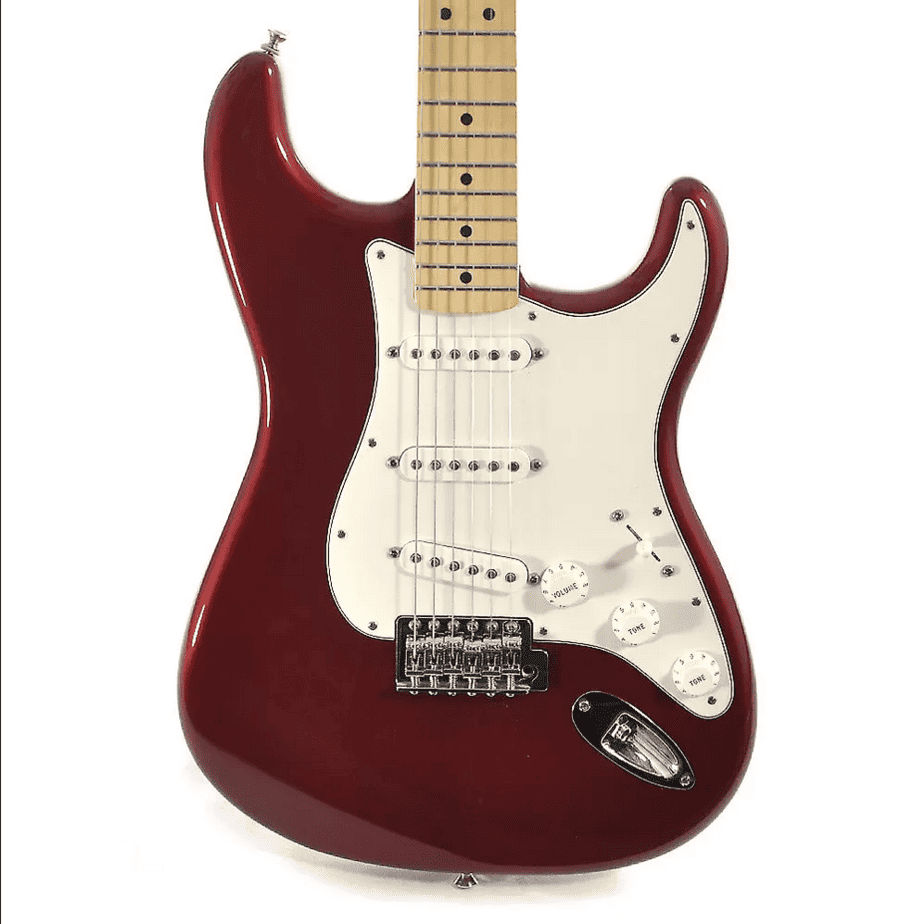 From the headstock to the body, the guitar is built almost with the same care as a US-made Stratocaster, the only noticeable difference being the reliability of the hardware. The finish is an arctic white vintage one, inspired by Hendrix's white Strats that contrasts beautifully with the dark Rosewood neck.
The fretwork is smooth at both sight and feel. I bought the guitar immediately after running my hand through the neck, as good fretwork is a sign of a quality instrument. Besides the pickups, which are best detailed in the tone section, the volume and tone knobs were plastic but felt nice and resistant when using them.
The tuners, nut, and bridge are good but could be better. They are branded with the Fender logo and do their job well, yet if you want to play for hours on stage or in the studio, they don't offer the same security in high-pressure situations as the expensive ones a US strat has.
Tonewoods
The Tonewoods might not be as crucial as on an acoustic, but they give a certain character to the guitar's sound. Rosewood and Maple for the fretboard and neck and Alder for the body are the typical Fender mix that left me no doubt in the quality.
The guitar is slightly heavier and sounds warmer than most US Stratocasters, I tried, and I suspect it has something to do with using Alder rather than Ash for the body and the carving. However, none of these qualities make it inferior, just different.
Tone
Objectively, I would only tell the sound of my MIM strat from a US one if both guitars are put under specific tests. The Mexican Standard sounds just as you would expect a Strat, with some differences that become apparent only when you play at higher levels or look for a specific sound. The Standard pickups keep the promise of being standard and are just slightly less versatile than some of the best single-coil pickups.
Overall the Mexican Standard Strat is warmer, with more low mids and warmth than most US Strats. I found this quality very pleasant to the ear, even if it sacrifices some of the high-end shimmer. The Tonewoods are a factor, but also the value of the pots, as I found out recently.
Hear it in action in one of my loops. To give you a good perspective on the tone, I connected the guitar straight to the console with only a touch of reverb. You can easily hear how bassy the low-E string is.
The neck and bridge pickups are virtually identical to most US Stratocasters due to their very specific nature; however, I found that US-made ones are more defined in the three middle positions.
An important detail is the edge of the breakup tone you can achieve with the guitar's volume knob. It cleans up exceptionally well, giving you a full range of tones from crips clean to crunchy and distorted.
What the Mexico-made lacks, I found, not only on my guitar but on most models, is high-level note articulation and snappiness that makes Strats great for cutting on the mix.
Simply put, a US Strat is better at being a Stratocaster and has the extra edge and reliability. On the other hand, the MIM remains a great-sounding instrument with all the typical Strat sounds.
With a good tube amp and some pedals, it's possible to recreate most rock and blues classic record sounds almost to perfection.
Playability
The thin C-Shaped modern neck is the guitar's biggest asset. It's neither too big nor too small, making it a great middle-ground for every hand.
What I especially like about the guitar's necks is how easy it is to make big stretches. There's no better fit for blues guitarists who use the thumb-over technique and easily bend.
If you like to play any good Strat, you will also like playing this guitar. The only difference from most mainline Strat is that it's slightly thinner.
The Problem with MIM Strats
The scope of detailing one MIM Strat is to give you an idea of what you should expect from yours. After trying many, I find the biggest issue is inconsistency on the different series or even the same one.
With my 2008 MIM, I had to tackle slight tunning problems when using the tremolo and the need for a much hotter bridge pickup due to the nature of my work. Being on stage with artists of various genres, I needed the reliability of playing bends and using the tremolo extensively for the entire set. Most US-made Strats are already that good; MIM Strats are only sometimes and might need some slight improvement.
I consider myself lucky, as I have played other MIM Strats over which I would choose a good Squire. You will hear this story from almost all guitarists, who have biased opinions on everything non-US made due to their unique experiences.
The quality control is not t]at great on MIM guitars besides the Modern Player Series. The price gap causes some models to be exceptional while others are flawed. However, there's a good side to everything, and you should be able to get a reasonable price for the not-so-good MIM Strats and get yourself a perfect guitar for beginner or intermediate players.
Modifying My Mexican Stratocasters
Now, here's the part all eager Strat-wielded guitar nerds were waiting for; Modding! Stratocasters are undoubtedly the most accessible and versatile guitars to modify. Even though my guitar was solid from the moment I got it, I had to make a few mods over the years to turn it into a reliable jack-of-all-trades.
Initially, I kept the guitar untouched; it even had wrapping plastic on its back plate until I replaced one of the tremolo tension springs just to try what would change. I used to for playing blues and pop shows and sometimes took in the studio to record local sessions.
When I needed to choose only two guitars for touring, I replaced the stock bridge pickup with a single coil-sized humbucker. There was no alternative to getting heavier tones on stage and no feedback, even though single-coil crunchy tones are my favorite sounds.
The tuning keys were the next step to getting more stability when abusing the tremolo bar. It was not necessary, but it did help on the few occasions the pressure was too high even to tune on stage. The nut was next to go, as it's always the main culprit in tuning issues, while I kept the original bridge, as the intonation was perfect.
The next mod was changing my pots to higher-output ones and successfully making the guitar brighter sounding. I like the warm tone, but I needed to roll off the low end out of every studio take, and there's not much use for low-end on stage anyway.
You can check out our other articles on pickups and hardware for a fuller guide on hot rodding your guitar.
Fender MIM Alternatives
Stratocasters are extraordinary guitars, yet the guitar world does not spin only around them. Other legendary models had an equally important role in rock's history and have their own affordable yet quality spin-offs.
MIM Standard Strat vs. PRS SE-24
The PRS SE series is arguably the best value series in the world for what it offers. It's a great instrument and not that far away from the mainline series, as many would think.
Suppose you are into heavier genres or want a better all-around experience. In that case, this could be a superior yet more expensive choice over any MIM Stratocaster, not only my Mexican Standard.
PRS SE Standard 24 | Sweetwater
PRS SE Standard 24 has been a favorite for years thanks to its focused tone, straightforward aesthetics, and top-tier quality. Today's SE Standard 24 wraps all of that into an attractive, value-packed instrument that plays as good as it looks.
Check Price
Buy at Amazon
We earn a commission if you make a purchase, at no additional cost to you.
Epiphone is Gibson's affordable take on its mainline series that every Les Paul lover on a budget rightly opts for.
If you're into something different that feels, plays, and sounds more rock, then an Epiphone Les Paul Custom is the right guitar for you.
The price is almost the same as a good MIM Strat or slightly lower than the new Fender Player Series, making it the exact 'opposite' instrument on the other side of the sound spectrum.
Epiphone Les Paul Custom Electric Guitar | Sweetwater
The Les Paul Custom was one of the classiest of the Gibson line. After Les Paul himself requested a high-end version of his signature model, the Les Paul Custom was born. Featuring an all-mahogany body, an ebony fingerboard, decadent binding, and ornate inlay work, he got what he asked for.
Check Price
We earn a commission if you make a purchase, at no additional cost to you.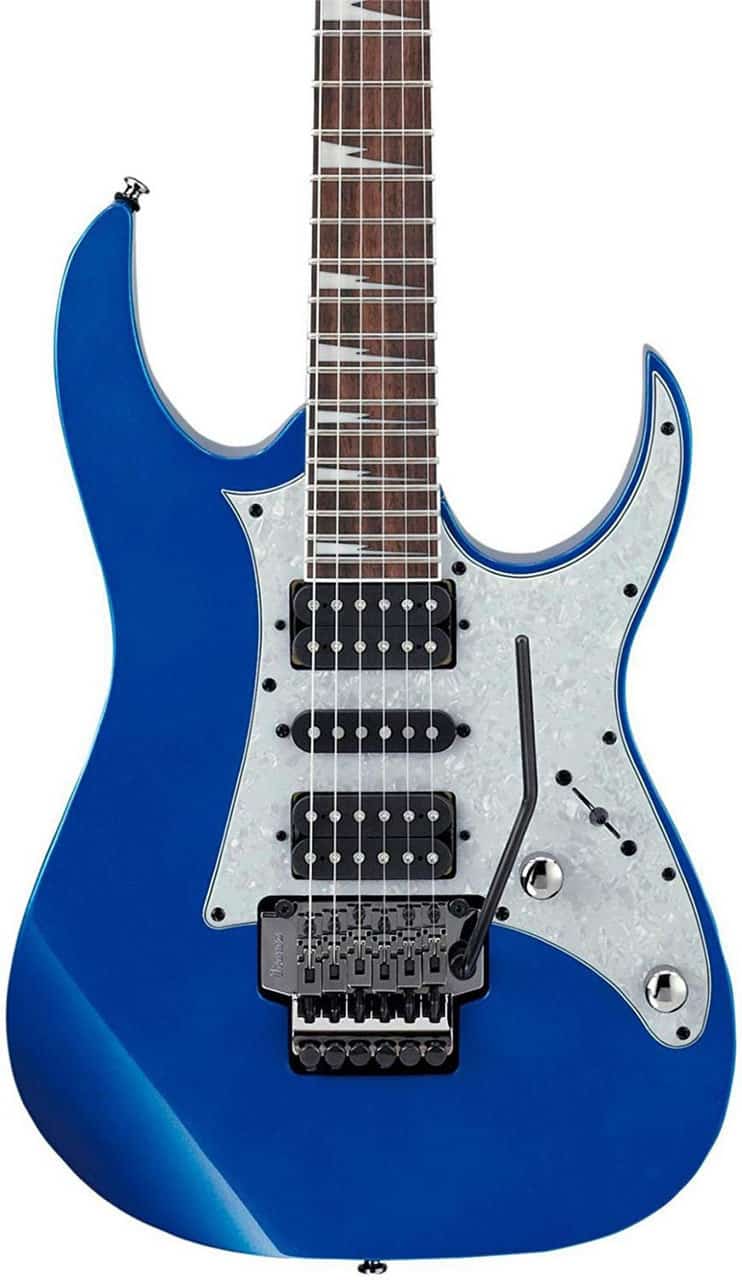 The most famous value guitar for rock and metal players is the Ibanez RG Standard. It struck a chord among players when it was first released, as everyone wanted to own a quality Floyd Rose bridge.
Compared to the rock-friendly Les Paul Standard, it's more aggressive sounding and a treat for technical players that like an ultra-low action and flat fretboard.
Ibanez RG Standard RG450DX Electric Guitar | Sweetwater
The Ibanez RG450DX solidbody electric guitar is purpose built for high-speed, low-drag shredding! It all starts with the RG body style, which is primed for players with attitude. The RG450DX also gives you a fast-playing 3-piece maple Wizard III neck and a resonant, well-balanced meranti body.
Check Price
We earn a commission if you make a purchase, at no additional cost to you.
FAQs
Question: Which Famous Players Play MIM Strats?
Answer: Jimmie Vaughan, Henry Graza, Curt Cobain, Tom Morello, and Mark Speers are some famous players who used MIM Strats live and in the studio.
Question: Which is the best Fender MIM series?
Answer: Overall the new Fender Player series is the highest-rated and most reliable Made-in-Mexico Fender series. You can find all the best Fender guitars over the decades reissued at an affordable price.
Question: How do I tell a Mexican Strat from a US-made one?
Answer: Apart from the serial number starting with "MX" on the headstock, which you can check on the Fender Website, the main ways to tell a Mexican Strat from a US one are. Note that these differences don't always apply and depend much on the series.
• Mexico Strats typically have lower quality Tonewoods put together in a 5-piece body compared to the 3-piece US design. Alder or other woods are often used instead of Ash.
• Mexico Strats generally have 21 frets vs. the 22 of the corresponding US model.
• Mexican Strats generally use metric system measuring and tools if not directed for sale in the US market, while US ones are only imperial.
• Mexican Strats typically have thinner necks
Final Verdict: Should You Go For A MIM Stratocaster?
If you are looking for the Stratocaster experience at an affordable price and would rather create your ultimate Strat rather than buy an expensive one from the bat, the MIM Strat is perfect for you.
I would not think twice about purchasing a MIM Strat for intermediate players, especially the Standard Mexican or Player series. For advanced players, it takes a dose of luck to find a solid model. The payoff, though, after some modding, is immense.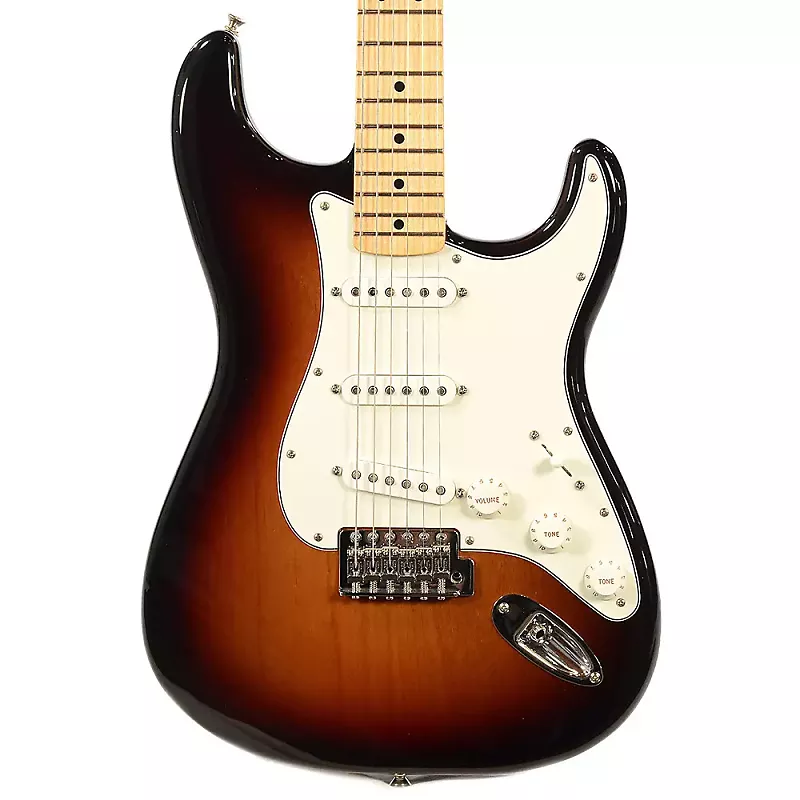 Latest posts by Altin Gjoni
(see all)