Latest posts by Jodie Chiffey
(see all)
When it comes to obtaining the semi-acoustic guitar's classic sound, it is only fitting that Rickenbacker is mentioned. When getting the sweet, vintage tone with fantastic clarity, we need to review the Rickenbacker 330 Vs 360.
Rickenbacker guitars have a distinctive tone, recognizable upon hearing it. They're amazingly good strumming guitars favored by musicians, including The Beatles and U2, yet they're nowhere near as popular as they deserve to be. The 330 is the brand's biggest seller, followed by the 360 and the 4003. The three models make up for 70% of Rickenbacker sales.
Guitars, by Rickenbacker, are much more versatile than people realize. They're jangly and bright, but you can get a nice overdrive out of them and they have a nice string guitar twang too.
In this article, we are going to explore the differences between the 330 and the 360 to see which guitar is better, as well as look into some alternatives if neither the 330 nor 360 are right for you.
Main Differences Between the Rickenbacker 330 vs 360
The main differences between the Rickenbacker 330 vs the 360 are:
The Rickenbacker 360 doesn't have neck binding, whereas the Rickenbacker 330 does.
The Rickenbacker 360 Fret Marker style is dots, whereas the Rickenbacker 330 has triangles
The Rickenbacker 360 output type is mono, whereas the Rickenbacker 330 output type is mono and stereo
The Rickenbacker 360′ overall length is 39 ½ inches, whereas the Rickenbacker 330 has the size of 39 ¾ inches
Rickenbacker 330 and Rickenbacker 360 – Key Specifications
| | | |
| --- | --- | --- |
| Specifications | Rickenbacker 330 | Rickenbacker 360 |
| Body Type | Semi-acoustic | Semi-acoustic |
| Wood Used | Maple | Maple |
| Neck Wood | Maple | Maple |
| Neck Binding | No | Yes |
| Fingerboard Wood | Rosewood | Rosewood |
| Fretmark Style | Dot | Triangle |
| Number of Frets | 24 | 24 |
| Scale Length | 24 ¾ | 24 ¾ |
| Number of Pickups | 2 | 2 |
| Type of Pickups | High-gain | High-gain |
| Output Type | Mono | Mono & Stereo |
| Length | 39 ½ inches | 39 ¾ inches |
| Weight | 8lbs | 8lbs |
| Latest Prices | See here for the latest price | See here for the latest price |
Exploring Rickenbacker 330 and Rickenbacker 360
The brand has its forum where genuine fanatics have compared the two models. The two guitars are both from Rickenbackers 300 series and are highly similar, almost identical in many ways, so it can help see a side-by-side comparison. Next, we're going to look into the two models more closely.
Rickenbacker 330
The Rickenbacker 330 has incredible playability, with twin truss rod adjustment, which could take some time for newer players to grips with. It's a versatile instrument, crafted to play vintage sounds how they deserve to be played.
With a low action, you may find the Rickenbacker 330 a little tricky to play at first if you're used to some tension. The model's neck is relatively thin, as Rickenbacker guitars generally are, whereas some guitarists prefer this, others may not. It's a matter of personal preference. The 330 has a slightly slimmer neck to that the 360.
The Rickenbacker 330 could be considered a collectible item; there weren't many produced, and they're not readily available online. Sourcing one can be difficult, but guitar enthusiasts the world over rate this model highly and state that Rickenbacker just doesn't produce poor-quality guitars. Jimmy Page is particularly fond of the Rickenbacker 330.
Rickenbacker 330 Features
Body Type – Semi-hollow
Body Material – Solid wood (Walnut)
Body Finish – Hand-rubbed oil
Right or Left-Hand Players – Right
Scale Length – 24.75"
Number of Strings – 12
Pro Coverage – Available at Guitar Center (if purchased there)
Country of Origin – USA
Date of First Release – 1958
Versatility
Playability up and down the neck of the 330 is said to be a breeze, and the guitar itself is easy and enjoyable to play. Its lightweight and excellent retro aesthetics make this a perfect piece to add to any guitar collection.
The Electric Rickenbacker 330, which comes in Jetglo or Maplego, features a unique hollow body construction with a slim neck and contoured body to make play comfortable and easy. A single piece of maple wood is carved to form the body, with rosewood used for the neck. Match the model to a highly-rated amp for concert-worthy guitar music.
Ease of Use
The 330 is the more accessible of the two compared models to play due to its neck being slightly roomier and not having the banding. Rickenbacker guitars, in general, are noted for their ease of play and are comfortable to handle.
Variations
Rickenbacker 330/12W Natural Walnut and the Rickenbacker 330 Electric Guitar are available to purchase online from Guitar Center. However, prices are currently unavailable, and you need to enquire through email about current fees.
Rickenbacker 360
A highly playable, durable, and comfortable guitar, the Rickenbacker 360 is said to be a 'blast to play. It is the brand's 2nd most popular guitar and used by professional musicians the world over, including; George Harrison and John Lennon of the Beatles, Mike Mills and Peter Bucks of REM, Noel Gallagher from Oasis, and Peter Townsend from The Who.
The Rickenbacker 360 guarantees the legendary jangle sound used by The Beatles primarily and recognizable instantly. An electric guitar that sounds just as amazing when played as an acoustic instrument, the 360 offers something for every player. Consider a high-quality guitar speaker cabinet for enhanced tone and resonance.
The thin neck and body shape's uniqueness can mean that a newcomer to Rickenbacker guitars may need some time to adjust. Once you get to grips with the brand's design, many say there is no going back.
Rickenbacker 360 Features
Body Type: Semi-Acoustic
No. Frets: 24
Scale Length: 24 ¾
Neck Width at Nut: 1.63"
Wood: Maple and Rosewood
Weight: 8.0 lbs
Neck Binding: Yes
Fret Marker: Triangle
Pickups: 2
Type of Pickups: Hi-gain
Output Type: Mono and Stereo
Country of Origin – USA
Date of First Release – 1958
Versatility
The 360 incorporates many standard features of Rickenbacker guitars, including; double truss rods, stereo or mono output, thick rosewood fretboard, the shallow headstock angle, and a three-ply maple/walnut neck. A 12 string version 360/12 is available, as is a three-pick version – the 370.
Rickenbacker listens to their fans and once produced the 360 with slanted frets to give a natural finger angle. However, this received a negative response, and so Rickenbacker went back to their traditional perpendicular frets.
Ease of Use
The 360 is said to have a cleaner, tighter, and more focused sound than the 330. It is comfortable to hold and a recommended model for people who are learning to play the guitar.
Variations
There are four variations currently available at Guitar Center; Rickenbacker 360 12-String Electric Guitar, Rickenbacker 360 Electric Guitar Fireglo, Rickenbacker 360/12C63 C Series 12-String Electric Guitar Fireglo, and the Rickenbacker 360/12W Natural Walnut. You will need to enquire through email about current prices.
Rickenbacker 330 Vs Rickenbacker 360 Pros and Cons
Rickenbacker 330 Pros
Iconic, retro guitar
Comfortable to play
Mono and stereo output
Lightweight
High-quality wood – Maple and Rosewood
Rickenbacker 330 Cons
Opinion differs as the whether the slim neck is a pro or con but personally, I'm going to leave that here.
Not easily accessible
Expensive
Rickenbacker 360 Pros
A legendary, classic instrument
High-quality wood – Maple and Rosewood
Essentially rated online and highly recommended by enthusiasts
Rickenbacker 360 Cons
It can be difficult to source
Expensive
One input method
Unique thin neck (again, personal preference)
Here Are Some Alternatives to the Rickenbacker 330 and Rickenbacker 360
Takamine 12-String Acoustic-Electric Guitar
The Takamine Pro Series 3 Dreadnought Cutaway 12-String Acoustic-Electric Guitar Natural has been crafted through 50 years of consistently high-quality instruments from Takamine. It's an understated good looking guitar with buttery playability. Play as an acoustic guitar or plug it in and experience the sound the way it was meant to be heard with a pure amplified acoustic tone.
Takamine Guitars are suitable for any budget, ranging from a few hundred dollars to thousands of dollars; these acoustic-electric instruments have the traditional cutaway guitar body with a range of features, such as built-in chromatic tuners.
With elegant appointments, resonant tonewoods, state-of-the-art electronics, and smooth playability, this guitar offers an exquisite playing experience on or off stage. Hand-made using expensive materials such as mahogany and ivory explain the hefty price tag for the Takamine 12-string acoustic-electric guitar.
Taylor 110e Acoustic-Electric Guitar
Taylor is capable of producing some of the most incredible high-end guitars in the world, but they also know a thing or two about making high-quality guitars with lower price points, such as the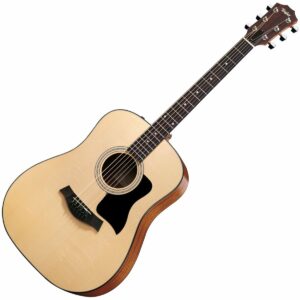 With a solid spruce top, EQ controls discrete volume and fitted with Taylors Expression System 2 this layered walnut guitar is a real contender for a high-quality instrument that doesn't have the price tag of Rickenbacker.
Similar to the Rickenbacker 330 and 360, the Taylor acoustic-electric has a slim-neck profile with a 1-11/16inch nut width that's slightly narrower and can make for extra comfort – especially for players with smaller hands.
A real treasure from Taylor is that they've produced a particular version of the Taylor 110e for left-handed players – and it retails at the same price as their right-handed guitar.
Yamaha F335 Acoustic Guitar
Offering excellent value for money, Yamaha is not considered one of the more luxury guitar brands in the acoustic world. Yet, it regularly delivers instruments that appeal to the wallet just as much as the ear. The Yamaha F335 may not take your breath away with its simple appearance, but it has a lot to offer to players of every level and ability.
With the classic dread note shape and sound, this guitar has a laminated spruce top, meranti sides, and back with a rosewood fingerboard and bridge. The gold die-cast tuners provide accurate and smooth tuning, and with 3 styles to choose from (black, tobacco brown sunburst, and natural), you can find one to suit your taste.
The compatible case is sold separately.
Epiphone Les Paul Electric Guitar Player Pack
Coming in two different styles, Ebony or Sunburst, the Epiphone Les Paul Electric Guitar Player Pack is such a bargain find it can't be ignored. With everything, you need to jump straight into a music career.
This budget-friendly guitar player pack includes; The Epiphone Les Paul Special II guitar, guitar picks, gig bag, Electar-10 amp, strap, pinch-on tuner, and free eMedia guitar lessons. It comes with high recommendations online and is a low-cost way to determine if you enjoy playing an electric guitar.
Frequently Asked Questions About Rickenbacker 330 and Rickenbacker 360
Question: Why are Rickenbacker Guitars so Expensive?
Answer: Rickenbacker guitars come with a high cost, and there's no getting around this; even second-hand models can be valued at over a thousand dollars. Their high price tag is down to several reasons, with the main one is made in the USA with superior components and expert craftsmanship.
Question: Is the Rickenbacker 330 or the Rickenbacker 360 Good For a First Bass Guitar?
Answer:
The main advantage to a Rickenbacker guitar is its distinctive jangly tone. Their downsides are that they can be fragile, hard to maintain, and they're expensive guitars.
When learning to play bass guitar, you really need a durable instrument and preferably one that comes at a low cost. It may be that you decide bass isn't for you, so you don't want to have invested a lot of money in the beginning.
Question: I've Brought a Second-Hand Rickenbacker; how Can I Tell What Model it is?
Answer:
With Rickenbacker being expensive, they're often purchased second-hand, but you can come across difficulties here, especially if the instrument has been modified in any way. Many models, such as the 330 and 360, look strikingly similar to one another, so it can be confusing to determine the model you have.
Rickenbacker is aware of this confusion, and so has an identification page to help you identify the model you have. Their website is simple to navigate and helpful to compare models, find out more about a certain one, or discuss the guitars on the dedicated forum.
Question: What are the Best Strings to Use For the 330 or 360?
Answer:
You're best to avoid heavy strings as the thinness of the 330's and 360's neck can mean they're fragile guitars and sensitive to heavy strings being strummed over and over. Medium strength, nickel-plated strings by reputable brands, such as
Dunlop
, are a safe buy.
The Verdict – Which is Best, Rickenbacker 330 or Rickenbacker 360
The Rickenbacker 360 is slightly longer than the Rickenbacker 330, and by slightly, we are talking a quarter of an inch – unnoticeable to the naked eye. The fretboard inlays are more notably different; large triangular inlays for the 360 and the standard dot inlays for the 330; both frets are made of pearl.
Both Rickenbacker models play well but may take a newcomer to the brand some time to adjust. They're highly versatile instruments designed with the vintage sound that the brand is famous for to be showcased. Some people find the thin necks of the Rickenbacker guitars a good thing; others prefer it.
Their sounds are almost identical, no matter what amp you decide to use. However, the 330 has better distorted or driven tones, whereas the 360s tones are cleaner and more focused. Both guitars feature the same onboard electronics. The 330 can have a more punky or aggressive feel, with the 360 being considered the more sophisticated of the two.
Rickenbacker does not produce cheap guitars; even pre-owned guitars will retain a price tag of over $1,000. They differ from many other manufacturers because they refuse to use any offshore licenses or manufacturing and profit from producing high-quality guitars at a lower volume than demand.
Regarding the 330 and the 360, the 360 is the more expensive of the two and is considered a more deluxe model. If you are concerned about budget, then for the models' differences, I would opt for the cheaper 330 and bag yourself a Rickenbacker for a more affordable price.