The selection of acoustic guitar brands in stores today is so vast that you can easily get lost.
However, among the many smaller guitar manufacturers, quality ones like Teton guitars always stand out. This Teton guitars review and guide will help you decide whether this affordable quality guitar brand is a good fit for you.
Bottom-line up-front: Teton guitars are the best example of a new quality guitar brand that producer affordable acoustic guitars. The wide variety of guitars they offer and the superb tone in every model stand out the most on Teton guitars. They are a great choice for players of all levels, especially beginners and mid-range players.
The tone and playability of an acoustic guitar are the most sensitive topic in all music.
Being a studio player, I have tried my hands on hundreds of models, and I know the importance of a quality hand-crafted instrument. During the article, I will lay out some of my tips for choosing an excellent acoustic.
Teton Guitars Pros
The balance between quality and price is excellent

You can choose between many body shapes,

sizes

, tonewoods, etc.

The build quality is good even on cheaper models.

The brand offers great packages for beginners at an affordable price

Reliable guitars with exceptionally sturdy necks

The Tone is rich and deep in most models, especially big body ones.
Teton Guitars Cons
The guitars will, in most cases, need a setup to adjust the action and playability.

The most expensive guitars of the brand lose their competitive edge as for the same price you could buy a major brand with superior tonewoods.,

The brand is relatively not very popular, and you won't find much video content for all the guitars models to hear one in action before purchasing online.
Teton Guitars History
'Teton guitars' was founded in 2010 near the famous mountain range in Eastern Idaho, after which the brand is named. Even though the brand is new, the team behind the management and manufacturing is highly experienced, being part of the century-old Chesbro Music Company.
There are many reasons to choose an acoustic Teton guitar among the hundreds of smaller and bigger brands. The main one is the convenience of a great-sounding acoustic on a budget. Many brands promise a rich tone at a low price, and it might be decent enough for a beginner. However, when an experienced player plays one, they can tell it's tiny and not that rich in most cases.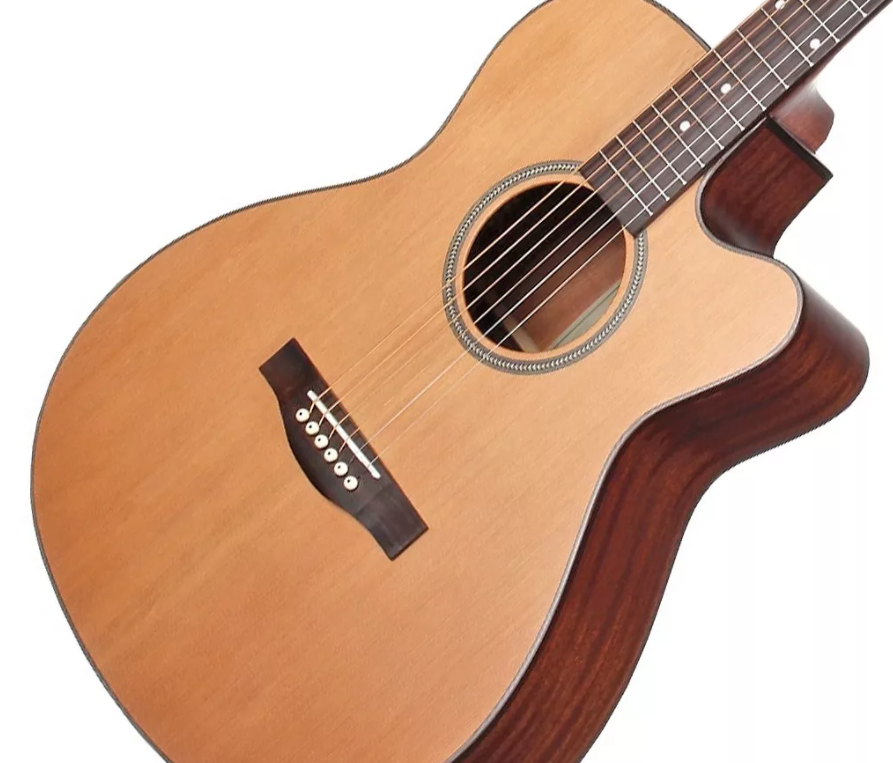 Teton, however, delivers when it comes to tone, whatever the price. The higher the price, the more "woody" and rich the tone.
Beginners and Intermediate players will find an excellent alternative for the first guitar or replace the existing cheap one. The only front where I would suggest going for a major brand like Taylor or Martin is the expensive high-end models' range. Even though pricey Teton's are excellent guitar, fit for any stage or studio, a premium US-made brand's classic vintage tone still gets the upper hand.
Where Are Teton Guitars Made?
All budget models still have a deep style that matches some higher-price major brand models. To achieve all this at a lower price, the company produces all the guitars in China. Today, it does not matter much where the guitar is from as long as it's quality made and properly checked.
Teton Guitars Tonewoods
Most of the tone and resonance of acoustic guitars depend on the type and quality of the Tonewoods used.
There is no way around a very cheap tonewood, no matter how skilled the luthier is. This shows that there is some quality to the ones used in budget Teton Guitars like the 10 Series Dreadnaught or any of the guitars ranging from 300 to 500 USD.
However, you should keep in mind some things about Tonewood on-budget guitars.
For example, even the same tonewood, Mahogany, has many variations depending on where and how it is cut. There is a cheaper and more expensive version used on expensive instruments. The mahogany used in a 300 Teton is not the same as the one in the

"The Spruce Moose" 200

The other aspect to keep in mind is wood aging. A premium instrument uses seasoned woods and even specifies how long the wood was treated. For example, it's very common in violin descriptions to read 'minimum ten years aged ebony.' The same logic applies to guitars and every acoustic instrument.

A laminated top, layered top, and solid wood top are different terms.
A solid wood top is the most expensive alternate with a single piece of wood on the top. Only expensive Teton models of acoustic guitars, in general, have this trait. The solid wood top and back of the guitar enrichen the guitar's tone with the properties of the wood. A popular bright-sounding tonewood used for the top and back is spruce, as it has a unique quality of propelling the sound in front of the guitar to the listener.
A laminate top is a multi-layered construction that blends synthetic materials and wood. Using laminated top and back reduces the cost of the guitars significantly. Nowadays, all the budget guitar models generally use laminated wood as it's the easiest to "sacrifice" for guitar building. It's a resistant material but does not contribute much to the guitar's tone.

A layered top is a confusing term. Many builders, like Taylor, use it instead of saying laminated top as it just sounds better for buyers. Others use it to express a higher quality than laminated ones as the layers could all be wood and not synthetic. It's still a cheaper alternative compared to solid wood. Teton uses the term layered and not laminated in all the models; however, it could be the same thing judging by the price of the guitars.
The layered vs. solid wood top is so essential for the guitar that Teton have their category of expensive guitars labeled as "All Solid Series"
Teton is for sure doing something right with the Toneewoods, no matter how they treat them during production or mix-up layerings. Once you hold one play, you will feel the natural resonance that a good acoustic gives in your body. I suggest you give a lot of importance to that resonance when choosing a guitar, as sometimes that's the best indicator.
For expensive models like the "All Solid 205 Cedar", I can say that the tonewoods are of high quality. However, I'd give the second one the upper hand when compared to an evenly priced or just slightly more vintage Martin.
Teton Guitars Tone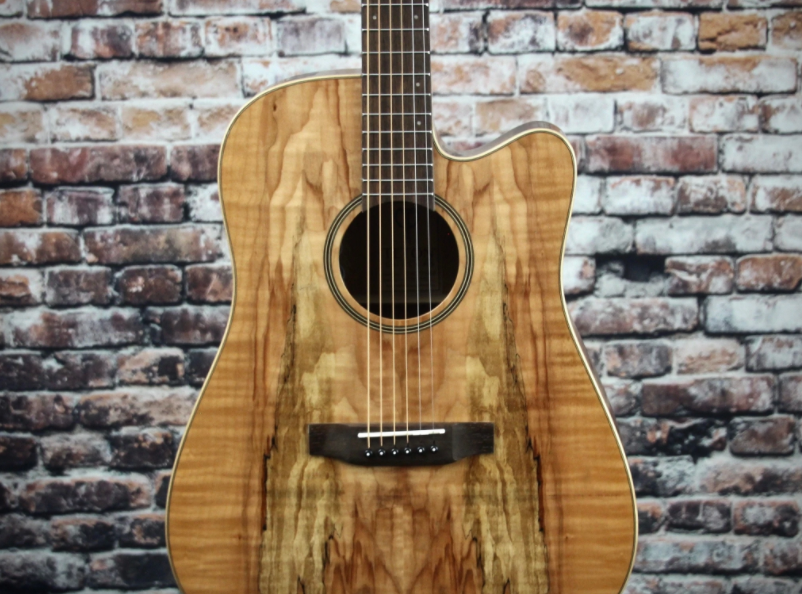 The best part about Teton guitars is for sure their tone. Other guitar brands feel equally good or even better when played; however, it's hard to find a match on the tone for the price.The best way to describe a Teton guitar tone is just as you would except for a pricey guitar to sound.
No model, even 300 USD ones, sound hollow. For a campfire guitar, the tone is as good as it can be. The guitar will sound decent enough for an intermediate player who occasionally plays shows or records in his home studio.
Professional musicians who need the high-end sparkle and punchy woody tone will find it only in the costly models. But is a 1300 USD Teton better sounding than an equally priced Martin? I believe the answer to that is yes and no, depending on what you are looking for. One thing is for sure that the guitars have a lot of necessary sustain for solo work.
Acoustic-electric models like the 000 Ziricote Dreadnought feature a Sonitone electronic system while pickup that captures the guitar's tone without too much excessive "coloring." More expensive models use Fishman electronic that responds better to musicians on stage by dealing with the bothering low-mids and bummy low end.
Teton Guitars Playability
As with all quality builders, the guitars play well, and there are no apparent flaws or fret buzzes in on any model.
Acoustic guitars, in most cases, do require e good set-up before playing, and your new Teton will need that. Even if your budget one has some slight flaws, high action, or feels weird, in most cases, a set-up fixed everything.
Judging from the perspective of a guitarist that has tried many quality acoustics, I wouldn't say that Teton guitars are easier to play than other brands. The action can be set as low as you want it, and the fretboard feels as good as you would expect from any quality brand.
Best Teton Guitars: Which Teton Guitar Model Should I Buy?
The cast selection of Teton guitar makes them fitting for all genres, styles, and playing levels. I put up a list of what I think are the best Teton guitars in the context of a beginner and mid-range guitarist.
Every budget model of Teton guitars would satisfy all the needs of beginner players.
The 10 Series Dreadnought, however, is guitars that would outlast most entry-level guitars and stick with you beyond your learning years. It's a loud big body guitar ideal for singing along on a campfire or playing fingerstyle music. Perhaps it's priced just slightly more than your average first guitar, but it's far more worth it when you consider the quality and could easily replace any budget model you own.
Dreadnought body type

Sitka Spruce Top Wood

Layered Mahogany back and sides

Nicely done Natural Finish

Mahogany headstock

Chrome hardware

It comes with a gigbag
This guitar is a mid-range acoustic-electric guitar fit for any stage. It's an excellent choice for playing any genre due to its reliability and easy-to-access frets. The price point makes it accessible for casual players and working musicians alike.
One tip you should keep in mind is that a plugged-in guitar sounds only as good as it sounds acoustically. Fortunately, this guitar has a good deep tone, and the pickup is also a quality one.
Auditorium single Cutaway body type

Werned Red Cedar Top

Layered Mahogany Back and Sides

Natural Finish

Teton Blackboard electronics

Indian Laurel Neck

Mahogany Headstock

Chrome Hardware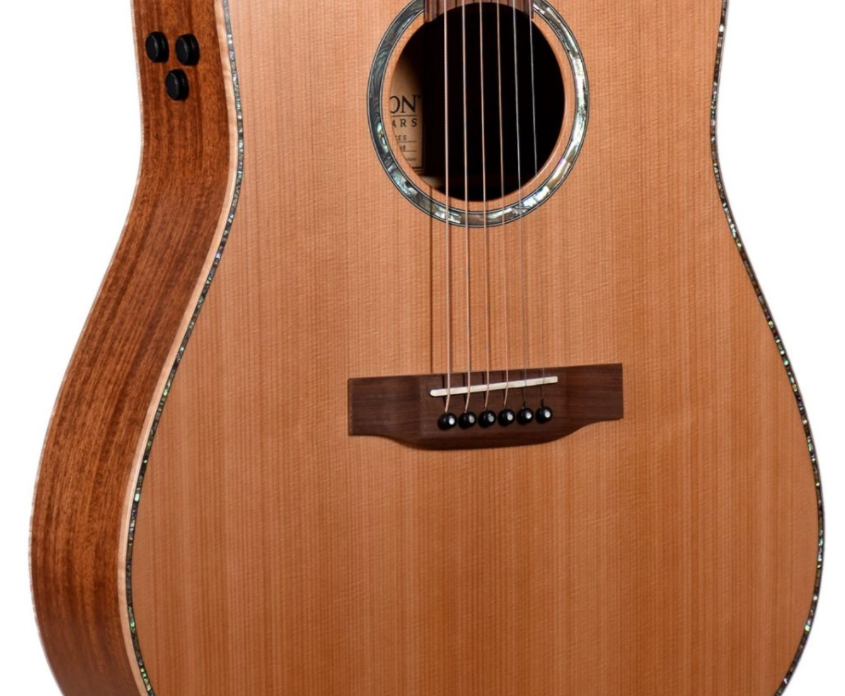 My favorite Teton guitar in the premium price range is the 205 Cedar. You can consider it an upgrade to the 105 Cedar that's good enough for the professional musician of levels. I would pick this one if I were to take on Teton guitar to the studio for a recording session.
It's an expensive guitar; however, it features premium electronic and superb tonewoods that make it worth as your 1st choice acoustic-electric.
Dreadnought body type

Cedar Body

Western Red Cedar Top

Solid Mahogany Back and Sides

Natural Finish

Fishman Flex electronics.

Indian Laurel Wood

Abolone Ring Rosette
FAQ
Question: Does Teton make electric guitars?
Answer: Yes, they do; however, they are limited and not yet available. You can check out Teton Electric guitars on their website.
Question: Are Teton guitars handmade?
Answer: The Standart series and all expensive models are handmade by Teton Luthiers. For cheaper ones, there is a balance between factory and handmade parts.
Question: Who plays Teton Guitars?
Answer: The guitars have not endorsed major top-of-the-charts artists. However, many great musicians, like Kenny Lee Young, Truman Brothers, Sebastian Lane, and Brady Park, play Teton Guitars.
Final Thoughts on Teton Guitars
Teton keeps its promise of offering the best tone for the price. Whether you play rock, country, folk, or fingerstyle arrangement, an affordable Teton guitar fits you.
If you want to replace your first acoustic or are looking for a good road solution that won't busk the bank, the budge and mid-range Teton guitars offer superb value. There is a selection of guitars that major rival brands for pro players that need more serious gear.
Latest posts by Altin Gjoni
(see all)