Are you looking for the best acoustic guitar? This article compares two great mid-range options you should certainly consider: Gibson J-45 vs Martin D-28. But which of these dreadnought guitars should you get?
Gibson J-45 and Martin D-28 guitars have a lot in common. They are both produced by some of the finest brands in the industry, they both have dreadnought body shapes, and even their price is very similar.
Nevertheless, before you choose one of them, there are also some important differences between these guitars you should know about. This comparison will help you decide which of these instruments should suit you better.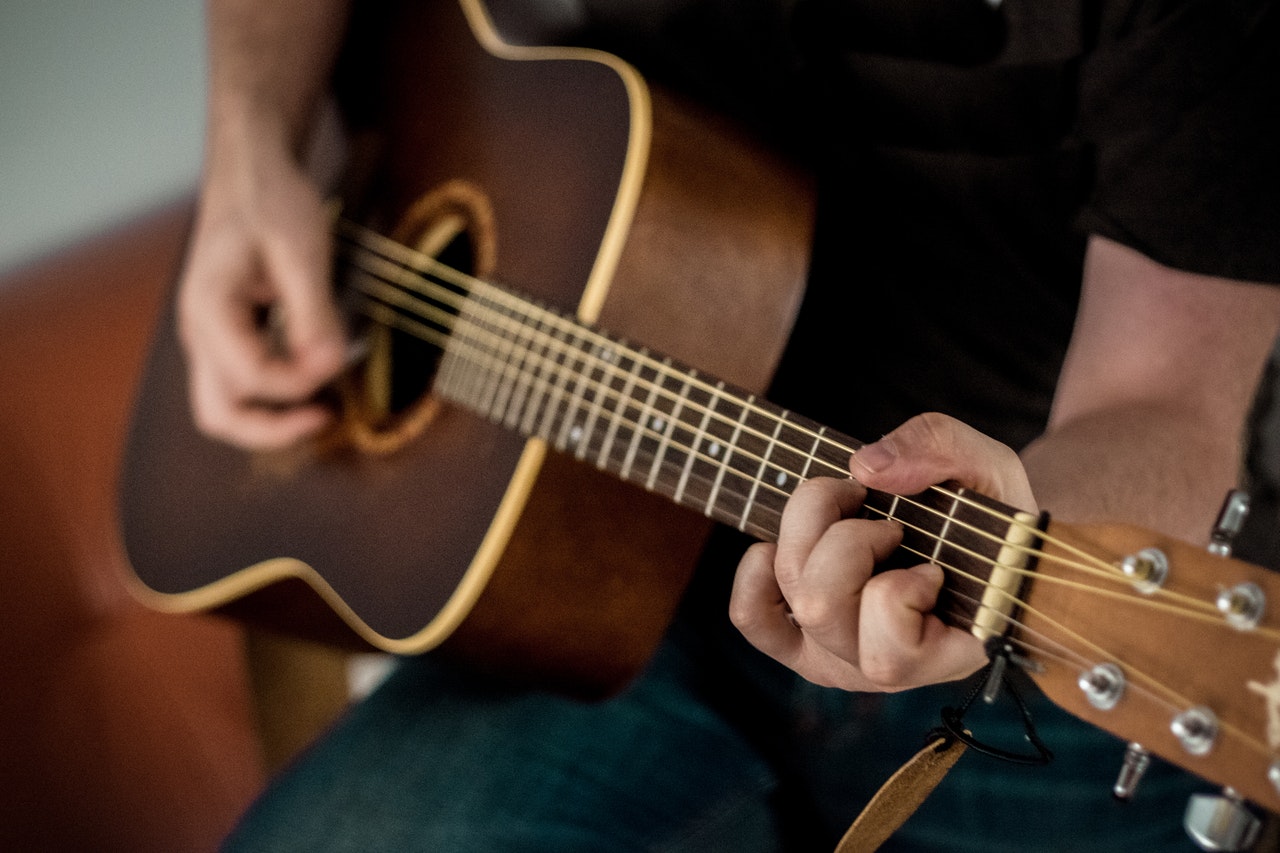 My Bottom Line Up Front:
Gibson J-45 is an iconic acoustic with a warm voice and typical Gibson character. It looks great and sounds even better, so it easily beats most of the competition in its class.
Nevertheless, Martin D-28 goes further with its excellent bassy sound and outstanding durability. This is your ideal new acoustic if you can cope with its robust design.
Main Differences Between Gibson J-45 vs Martin D-28
The main differences between the Gibson J-45 vs Martin D-28 are:
Gibson J-45 has a sloped shoulder dreadnought body, whereas the Martin D-28 has a square shoulder dreadnought shape.
Gibson J-45 has traditional hand scalloped X-bracing, whereas the Martin D-28 has a forward shifting non-scalloped X bracing.
Gibson J-45 produces a warm and woody tone, whereas Martin D-28 is famous for its deep voice and overtones.
Gibson J-45 is not very loud, whereas Martin D-28 produces excellent volume.
Gibson J-45 has a shorter scale, whereas Martin D-28's scale is a little bit longer.
Both J-45 and D-28 guitars come in multiple variations. Before comparing them, I should clarify that I have focused on Gibson J-45 acoustic guitar in the 60's edition and Martin D-28 in the standard acoustic version.
Key Specifications
| | | |
| --- | --- | --- |
| Guitar | Gibson J-45 | Martin D-25 |
| Body Shape | sloped shoulder dreadnought | classic dreadnought |
| Body Material | Sitka spruce top with a mahogany body | Sitka spruce top with East Indian rosewood sides |
| Neck | Mahogany neck with rosewood fingerboard, 24.75″ scale length, SlimTaper neck shape | Mahogany neck with ebony fingerboard, 25.4″ scale length, Modified low oval with High-Performance Taper |
| Frets | 20 frets, nut width: 1.725″ | 20 frets, nut width: 1.75″ |
| Bracing | Traditional hand scalloped X-bracing | Forward shifting non-scalloped X bracing |
| Tuning machine | Grover Strap Cream Button | Nickel open gear |
| Latest price | See here for the latest price info. | See here for the latest price info. |
Exploring Gibson J-45 vs Martin D-28 features
Now let's compare the guitars in detail. First, I will focus on Gibson J-45.
Gibson J-45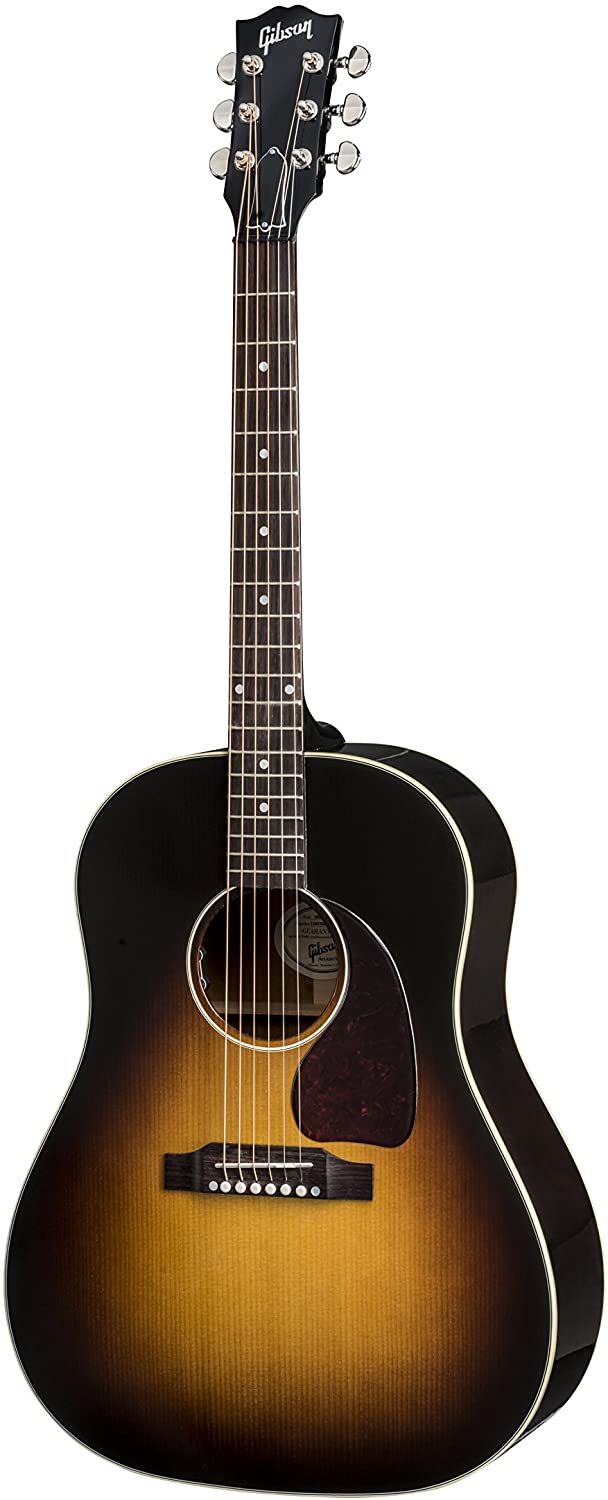 J-45 is one of the best-renowned dreadnought acoustics by Gibson. First introduced in 1942, this guitar is an integral part of music history. It certainly influenced many great artists throughout the years. Its famous players include Bob Dylan, David Gilmour, and John Lennon.
Although Gibson J-45 is nowadays perceived as a high-end instrument, initially, it was promoted as an easy-going all-rounder for every budget. Its lovely mellow sound and perfect accessibility, even for inexperienced guitarists, suggest it didn't change so much over the decades.
On top of that, this humble iconic instrument is also very reliable and looks well. Is it the guitar you were looking for?
Key Features
Acoustic guitar in sloped shoulder dreadnought design
Thin mahogany SlimTaper neck for excellent playability
Rosewood fingerboard with 20 frets and mother-of-pearl inlays
​​Sitka spruce top with a mahogany body
Traditional hand scalloped X-bracing
Nickel-plated hardware
TUSQ Saddle and Bone Nut (Check out the differences between TUSQ vs Bone Nuts)
It comes with a lifetime warranty
Made in the US
Size and Shape
Gibson J-45 is a classic dreadnought with a twist: sloped shoulders improve the guitar's convenience and playability by making it more compact. The guitar's body consists of Sitka spruce top and mahogany sides and back. It fits well even into smaller hands.
Moreover, it also comes with a slimmer mahogany neck, making the fretboard perfectly accessible even to smaller hands and slightly shorter scale (24.75″) than Martin's competition.
For this comparison, I have used Gibson J-45 in a unique 60's version, including a stylish 60's pickguard with Hot Stamp logo and traditional vintage finishes (besides the black-and-white Ebony classic, which I had). You can also get a classy Wine Red alternative).
Other great styles are also available, including the original 50's edition or exclusive 1942 Banner model. The instrument is sold along with a high-quality hard case.
Sound
Gibson J-45 is one of those guitars immediately recognizable by its unique characteristic sound. Its voice is warm, smooth, a little bit earthy, and velvety at the same time. It is perfect for many different genres, but most musicians I know use it for classic folk-rock or blues.
However, the guitar could definitely be a bit louder as it tends to blend too much in a large mix. It is great for rehearsals, recording, solo jams, or even gigs in smaller venues. But if you want to play J-45 with a louder band, opt for the electric-acoustic version of J-45.
This guitar is great with finger-played melodic chords. It sounds the best, in my opinion, when accompanied only by vocals or some acoustic percussions. If you like the typical Gibson signature sound, you will love it.
On the other hand, don't expect J-45 to provide massive overtones or a distinctive shimmery sound. These characteristics are typical for Martin guitars and Gibson, in general, stays a bit behind here.
Reliability
When it comes to reliability, Gibson guitars are some of the best. They are made of top-quality tonewood and meticulously assembled by professionals directly in the US. They also come with a lifetime warranty on any possible factory defects.
Of course, as with any other instrument, a proper care routine is key to the longevity of this guitar. Moreover, I suggest paying extra attention to the guitar's neck, as I've heard from multiple players that it is prone to mechanic damage ranging from total breakage to small cracks demonstrated by odd buzzing.
Take full advantage of the included hard case and consider professional neck resetting if you suspect it might be slightly moved or loose.
Price
Although Gibson J-45 was initially released as a basic budget-friendly instrument, after decades on the market, numerous bold innovations, and many famous players improving its reputation, J-45 made it into the mid/upper-mid-range (depending on the exact model you choose).
Although it is still quite an expensive instrument, it is not overpriced given its reputation and qualities.
Find the latest price for the Gibson J-45 guitar here.
Martin D-28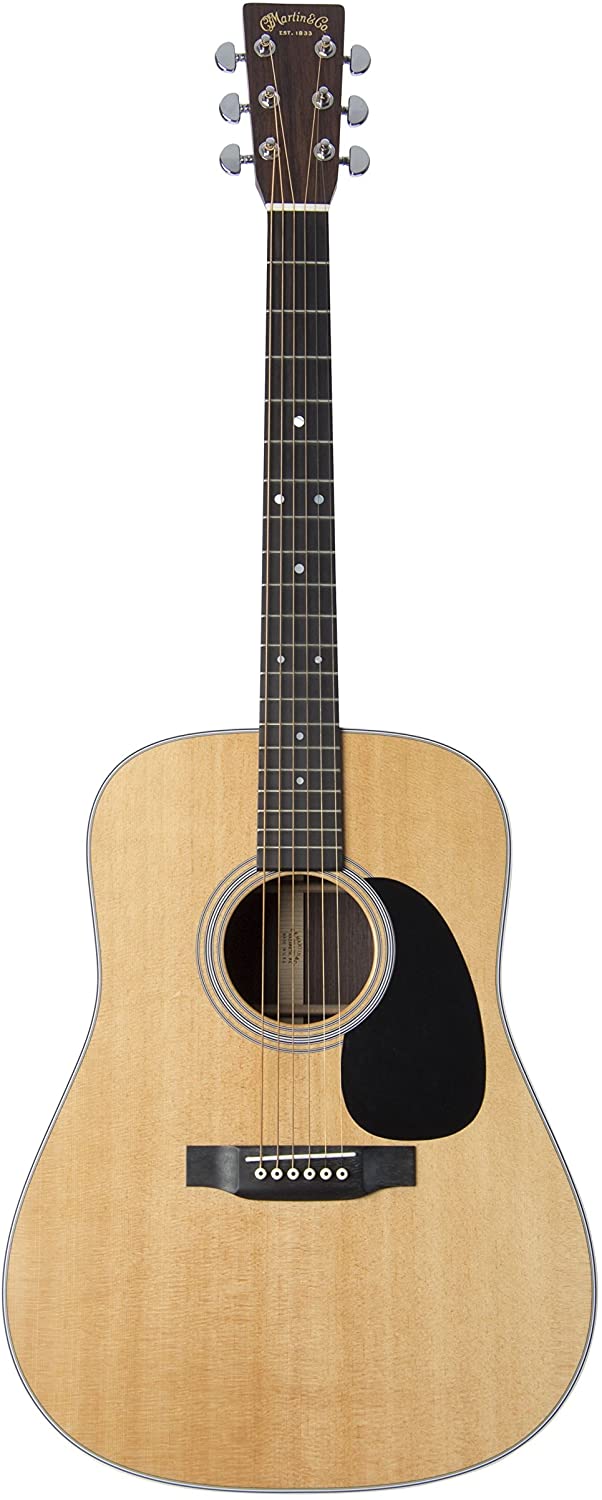 Martin D-28 is, according to many professionals, an uncontested icon in the field of all-American acoustics. Its simple yet sleek design is unmistakable, and its classic, incredibly well-balanced sound doesn't leave much to be desired.
Martin started experimenting with dreadnoughts around 1916, but it truly mastered this design only a decade and a half later when D-28 was introduced (1931). It took a while for the guitarists to discover and admire the instrument's quality, but eventually, they did.
The guitar achieved a stardom status thanks to its famous admirers like Johnny Cash, Hank Williams, Joni Mitchell, Neil Young, and Bob Dylan. It's a popular acoustic guitar in many genres but usually linked mainly to folk and country. Its deep bass voice also suits blues-rock well. Is it your best option?
Key Features
Acoustic guitar in the classic dreadnought shape
Low oval mahogany neck with a dovetail joint
​​Sitka spruce top with East Indian rosewood body
Forward-shifted pattern non-scalloped X-type bracing.
Bone saddle and nut
Ebony fingerboard with 20 frets and 28 mother-of-pearl inlays
It comes with a limited lifetime warranty
Made in the US
Size and Shape
Dreadnought is a relatively robust and large type of guitar. Unlike the J-45 with its sloped shoulders, D-28's classic curves don't make any compromise in this regard. If you're petite or have experience only with smaller guitars so far, it may take you a while to get used to it.
Nevertheless, the guitar still fits into your hands very well with its mahogany neck and body, ebony fingerboard, and Sitka spruce top.
The scale is 25.4″ long, slightly longer than J-45's. Also, unlike its competitor, Martin D-28 has a forward shifting non-scalloped X bracing, which adds a slight shimmer to its sound while maintaining its strength and harmony.
The neck is round but not too thick, allowing fast action across the fretboard. It also looks beautiful thanks to the contrasting combination of ebony, mahogany, and mother-of-pearl inlays.
The whole instrument is also very aesthetic, with its satin gloss made of nitrocellulose and vintage aging finish tone.
Sound
Though Martin D-28 will first attract you with its look, the real strength of this guitar lies in its majestic and unique sound, mainly characterized by the deep, bass-like voice. After all, Martin even first advertised the instrument as a 'bass guitar,' although this would have a different meaning today.
The sound of this guitar is bold and well-rounded. It can also produce significant volume, which distinguishes this model from the less hearable J-45 (it might have something to do with the different bracing and tonewoods).
When the guitar is played enthusiastically, it produces a nice overtone and lots of vibration. The sound is very classy, and I can imagine it in a classical guitar composition very well. On the other hand, it can also sound raw and deep, perfectly fitting modern rock or alternative genres.
Martin D-28 is simply an all-rounder that won't let you down in any arrangement or situation.
Reliability
Just like Gibson, Martin is considered to belong among the most trustworthy guitar producers in the world. It is made in the US and constructed from solid, first-class tonewoods using the most advanced techniques and components.
If you treat this guitar well and pay attention to its regular maintenance, it can easily last a lifetime. After all, Martin offers a limited lifetime warranty on its acoustics.
Of course, like any other acoustic guitar, Martin D-28 will age a bit over time, which might affect its tone and character. I personally love the mature, well-aged sound of Martin guitars, though, so I believe it's nothing to worry about.
Price
Martin D-28 is quite an expensive acoustic guitar, definitely not that type of an instrument you just randomly buy from a local shop for your beginner lessons.
Nevertheless, the investment is worth it, and if you take good of this instrument, you might even be able to sell it later for more as a vintage piece.
Check out the latest price for the Martin D-28 guitar here.
Gibson J-45 vs Martin D-28 – Pros and Cons
Gibson J-45
Pros
Excellent playability compared to standard dreadnoughts.
A slim neck enables fast action across the whole fretboard
Lovely warm, and mellow sound
Fits numerous genres
Tasteful vintage design with numerous special editions
It comes with a limited lifetime warranty
More affordable than the competition
Cons
Volume is relatively low
Sounds a bit lost in the large mix or live band gig
The neck is somewhat fragile
Martin D-28
Pros
An iconic instrument that stands out in the crowd
Lovely classic dreadnought design
Mesmerizing deep bass-like voice
Versatile instrument for numerous genres
Great for both performance and recording
It comes with a lifetime warranty
Reliable and sturdy construction
Cons
It's an expensive guitar
Large proportions – not suitable for petite players
Are there any alternatives?
Would you like to see some other great acoustics? Here are a few nice alternatives to Gibson J-45 and Martin D-28:
Martin D-18
Are you looking for another great Martin acoustic? I suggest considering Martin D-18, a lovely dreadnought instrument with distinctive warm basses, a perfectly balanced tone, and a modified oval neck for improved playability.
This model was famously played by Elvis Presley, Kurt Cobain, or Paul Simon. This guitar's rich tone and lovely design make it great for performances. Still, it is equally useful in the studio or practice room.
Martin D-18, although still quite pricey, will also cost you a bit less than D-28. Find out all you want to know about this guitar in our Martin D-18 vs D-28 comparison.
Gibson J-15
Gibson J-15 is a great alternative to the J-45. This lovely acoustic/acoustic-electric guitar shares the same body shape and numerous tonal qualities at a considerably lower price, thanks to being made of slightly cheaper materials.
Players appreciate this model for excellent playability, good sustain, clear mids, and enthusiastic heights. Although J-15 is mainly considered an entry-level instrument thanks to its affordability, professional guitarists often use it too as a no-trills alternative for practicing and private jamming.
You can learn more about this handcrafted guitar in our Gibson J-15 review.
Yamaha F-335
Is your budget too small for any of the guitars I have mentioned so far in this article? If you're open to trying other brands besides Gibson and Martin, maybe you should check the Yamaha F-335 – a versatile entry-level guitar ideal for beginners and advanced players.
The guitar comes with a laminated spruce top, meranti back and sides, and rosewood fingerboard. The body is sturdy and provides great playability. It is also renowned for staying in tune for a long time, which is ideal if you're a beginner and lack tuning skills.
Of course, you cannot expect this budget-friendly guitar to perform as well as a premium instrument. Learn more in our full Yamaha F-335 acoustic guitar review.
Frequently Asked Questions about Gibson J-45 vs Martin D-28
Question: Are Martin D-28 guitars fragile?
Answer: Martin D-28 acoustics are no more fragile than any other guitars of the same type. In fact, the brand uses top-quality wood and firm, reliable joints making the guitar less prone to potential mechanical damage.
Question: Is the Martin D-28 the best acoustic?
Answer: Players can have diverse preferences, so it's probably pointless trying to establish which guitar is the best, but Martin-28 is certainly among the world's most admired and famous acoustic guitars.
Question: Where is Gibson J-45 made?
Answer: All Gibson's acoustic guitars are manufactured in the brand's factory located in Bozeman, Montana. The extraordinary quality of Gibson's cratsmanship is often attributed to these guitars being still 100% made in the US.
Our Verdict: Should you get Gibson J-45 or Martin D-28?
Gibson J-45 is a lovely guitar with great history, beautiful sound, and superb playability. It is a wise choice if you're looking for a guitar with a character for composing, practicing, recording, or small unplugged performances.
Nevertheless, if you're after a bold, vibrant, bassy tone loud enough to pull off even gigs for larger crowds, Martin D-28 might suit you better.
Thanks to its forward-shifted bracing and robust dreadnought body, this guitar produces one of the most self-confident sounds I've ever heard from an acoustic. That makes this model a winner for me. Just be prepared for slightly more demanding playability caused by the larger dimensions.
Latest posts by Jodie Chiffey
(see all)